Motor Yachts
Why Croatia Yacht Charter on a Motor Yacht?
Compared to sailboats or catamarans, motor yachts have a shallower draft, which allows them to enter smaller and shallower inlets. They are comfortable, spacious, nicely furnished, well-equipped, and most importantly-fastest on the sea. In our experience, A luxury yacht charter in Croatia on a motor yacht is the best way to explore the wonders of the country's major island chains and the natural beauty of Croatia's coastline.
Croatia yacht charter itinerary includes island hopping comparable to the  "Caribbean" quality, which often lasts 8 days and 7 nights. So, crewed motor yacht charters offer private yachting experience and with it, you can visit many places in little time; if you find yourself in a port you don't particularly like, you can simply anchor somewhere else in a short period. Speed not only gives our private yacht charter clients the freedom of movement but also excitement and pleasure while cruising at top speed and hopping the hot spots of the Croatian coastline.
Motor yachts have "grown" in size in recent years so our top-tier luxury motor yachts are now able to accommodate a large group of guests as well as state-of-the-art amenities and comforts that were seldom found a few years back, such as a variety of water toys, jetskis, open-air jacuzzis and more. Larger motor yachts use a considerably larger amount of fuel and can cost higher compared to other types of yachts (sail or catamaran). So few of our smaller group clients opt for smaller motor yachts without exhausting their budget. The smaller crewed motor yachts are not as comfortable or rich in amenities as larger models, but they can still take you across the Croatian coastline at speed.
Luxury Motor Yacht Charter Croatia
Croatia allows large yachts for charter 6-36 guests, unlike many charter destinations. Larger yachts have custom-built interiors, onboard facilities such as fishing gear, diving and water sports toys, and expansive living compartments.
If you want to Visit Croatia during summer with family and friends, charter through the stunning coastline with the 236-feet long superyacht SERENITY. She has a hefty rental cost of €550,000/week, but the 15 well-designed cozy cabins and facilities for diving, fishing, and water sports make it worth the price.
Yachting enthusiasts can visit Croatia and enjoy the stunning coastlines via bareboat charter. SPRAOI NA MARA, a 58 feet boat with a weekly price range of €9,900 – €13,900, will be perfect for a small group of 6 people,
The private yacht charter scenario is unique in Croatia. Often the boats are operated by the owner or his son. Upon sailing through the Croatian coastline for decades, the Captain makes the best of a one week charter by suggesting hidden attractions and secluded coves.
When and how to charter a motor yacht in Croatia?
Most of our clients with multiple types if yacht charter experience, always prefer luxury motor yacht charter in Croatia over sail or catamaran, and they always say it is the most comfortable and efficient way for cruising for a luxury yacht charter vacation.  These yachts offer more cabins, larger spaces, better service, and are easier to live on.
July and August are the high seasons, with heat and hubbub all around. If this does not appeal, keep in mind that you can opt for pre-season or postseason, as the climate in the area is warm enough, with mild winters too, to consider a wider time window during which to find the perfect yacht for your Croatia charter. The months of May-June and September-October are quieter and less crowded as far as anchorages and routes are concerned, also the charter rates are considerably cheaper than during the high season, especially for popular destinations such as Dubrovnik.
It is advised to book well in advance, some of the most popular dates and luxury yachts are booked two summers ahead.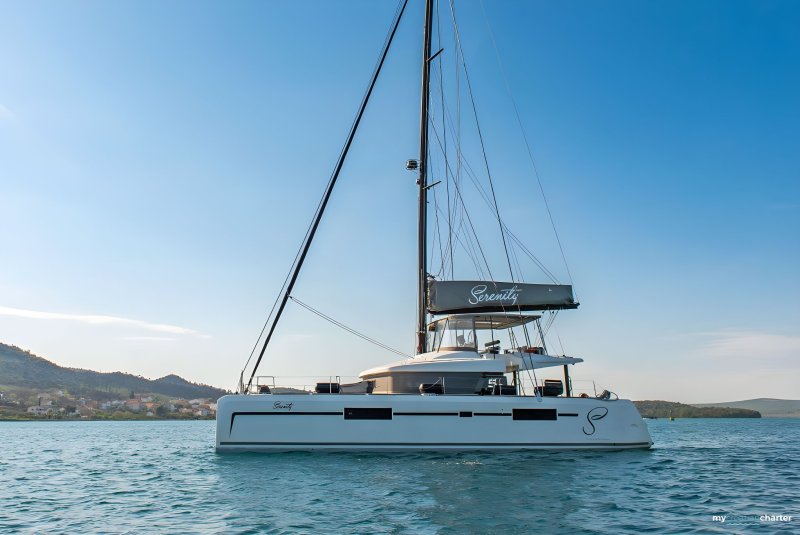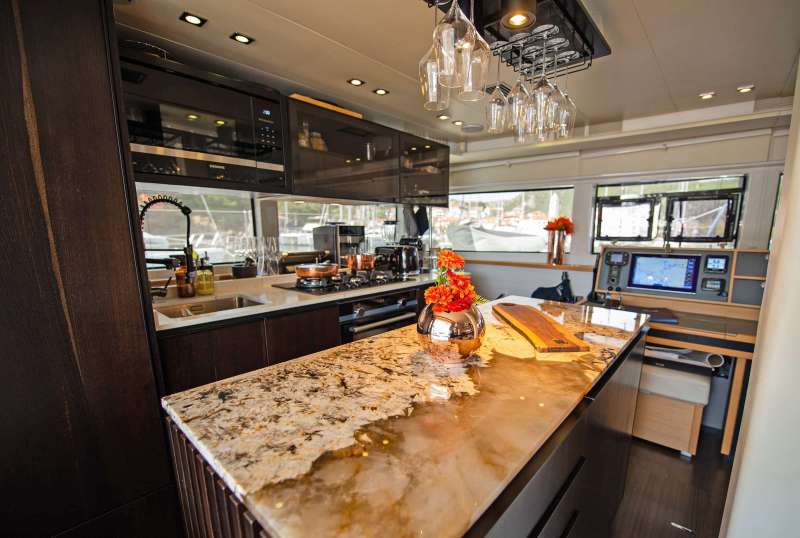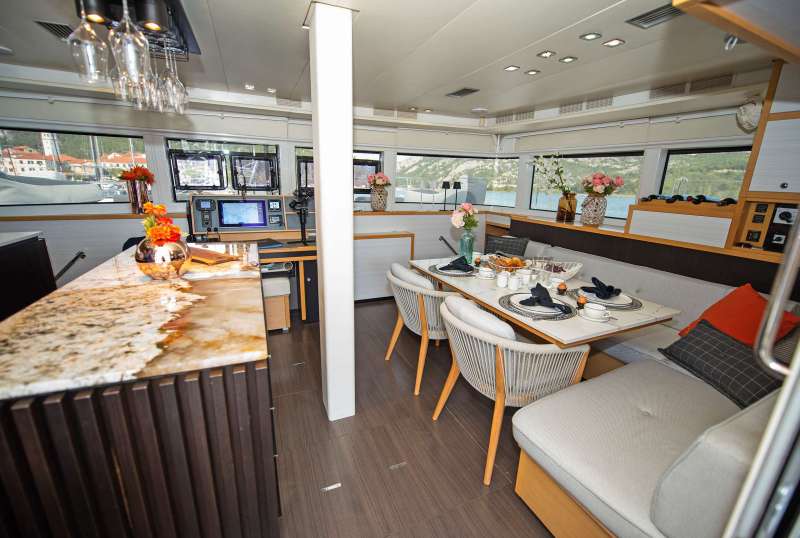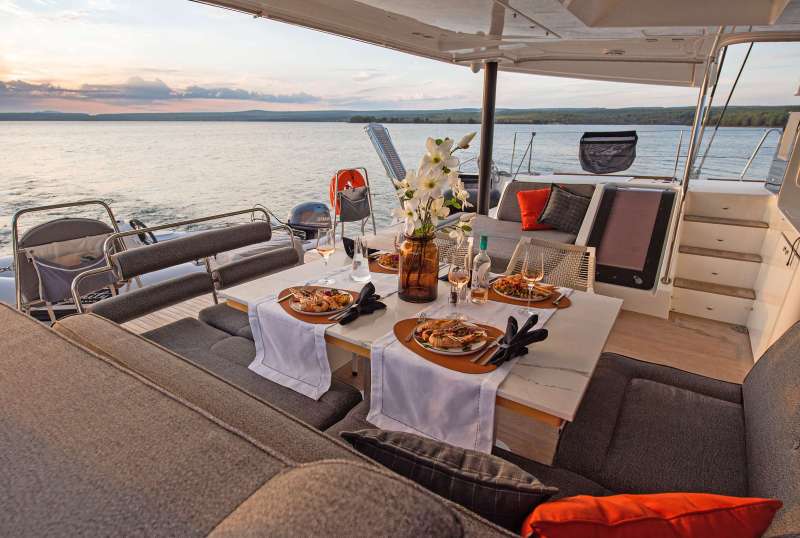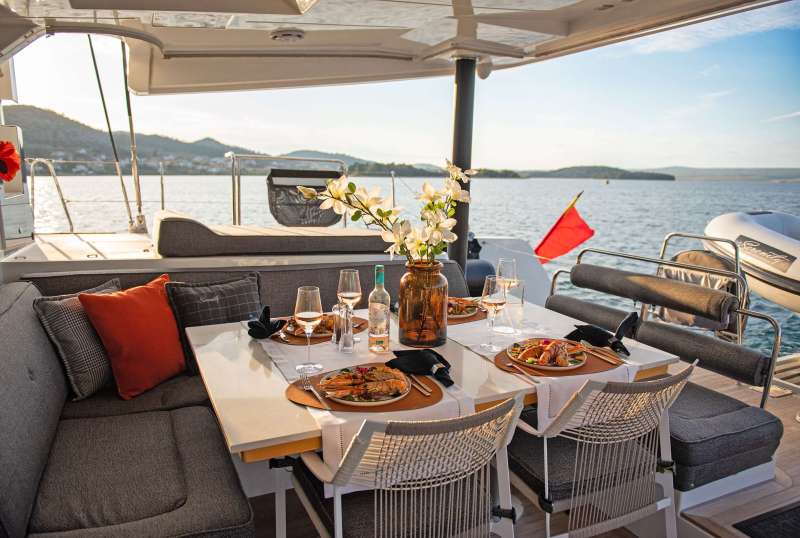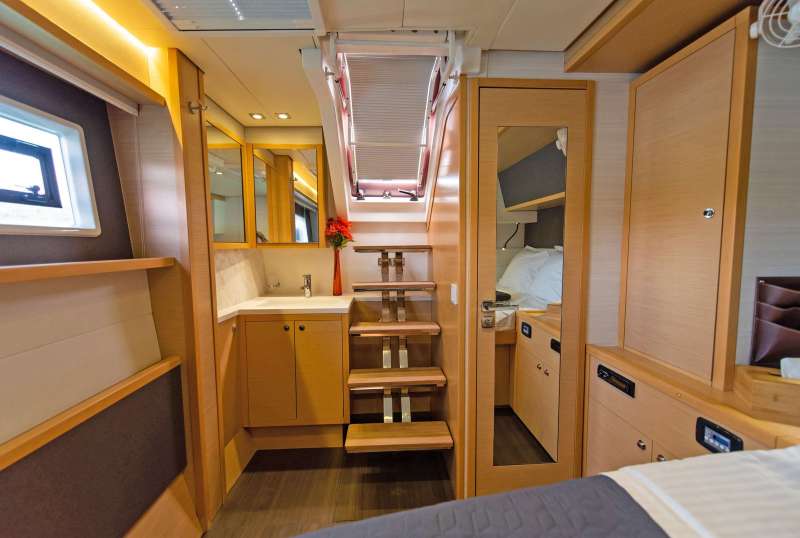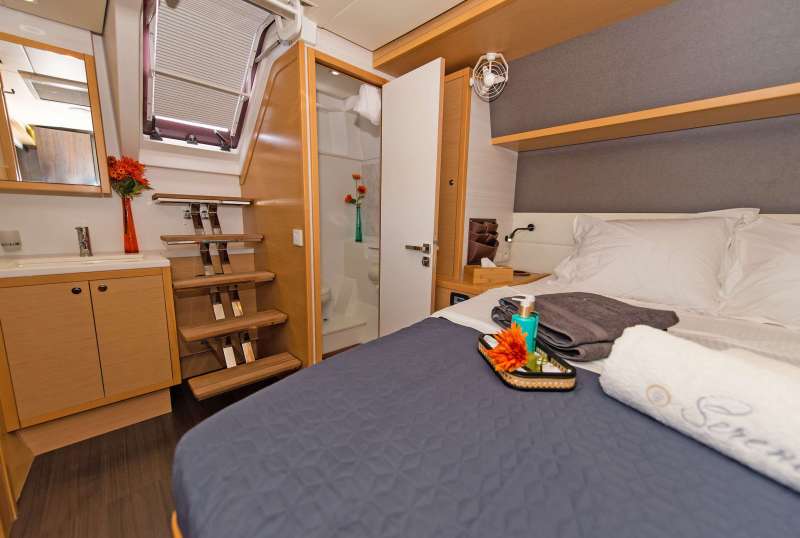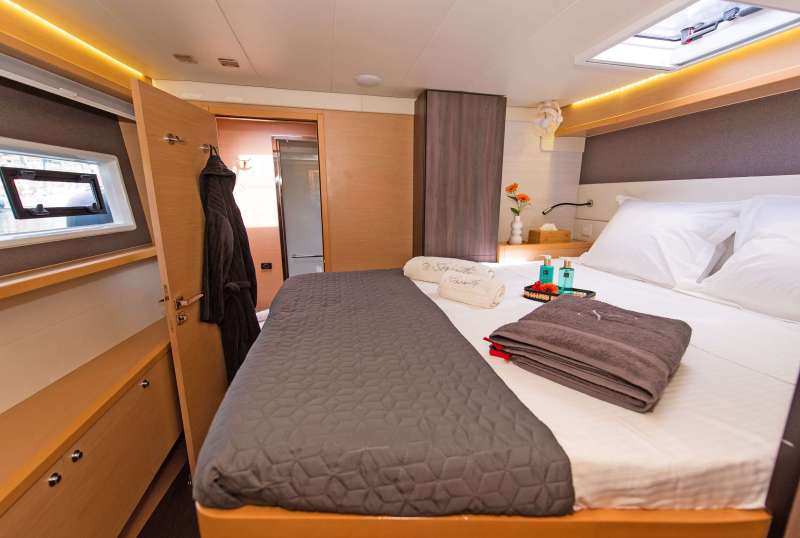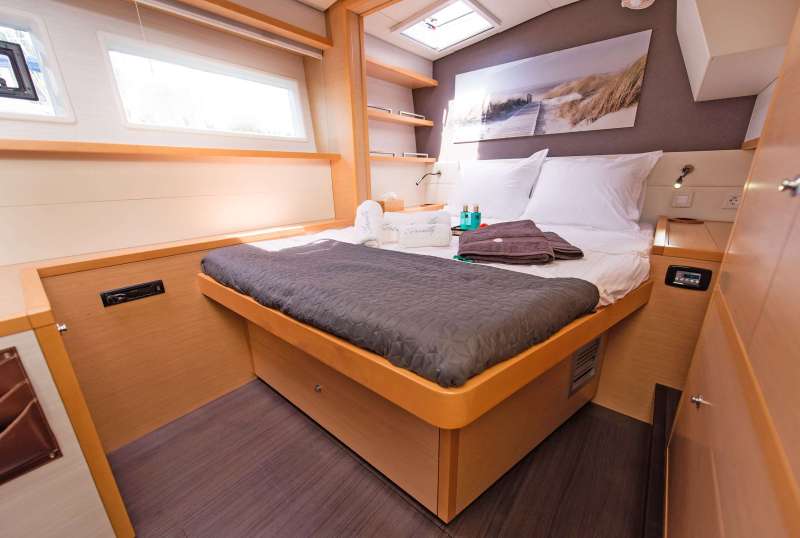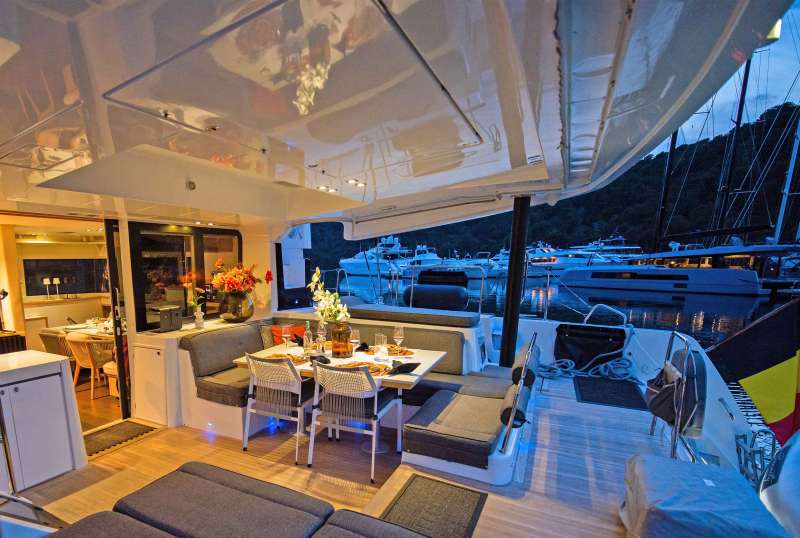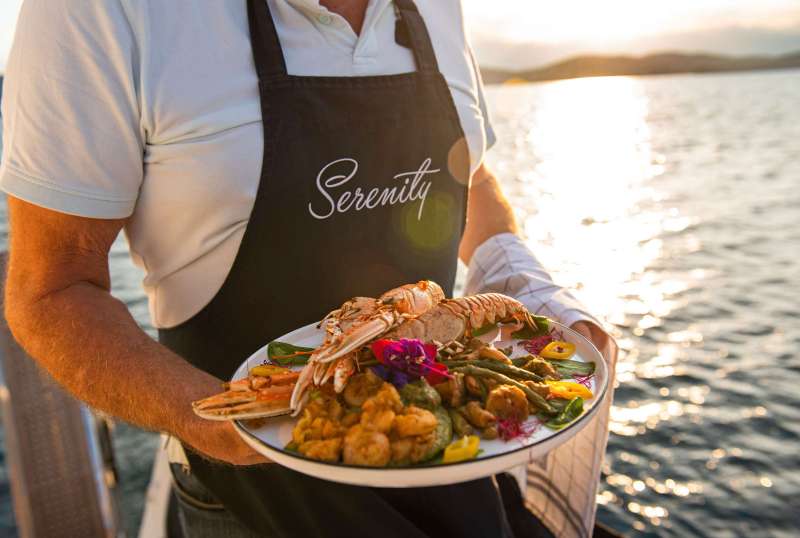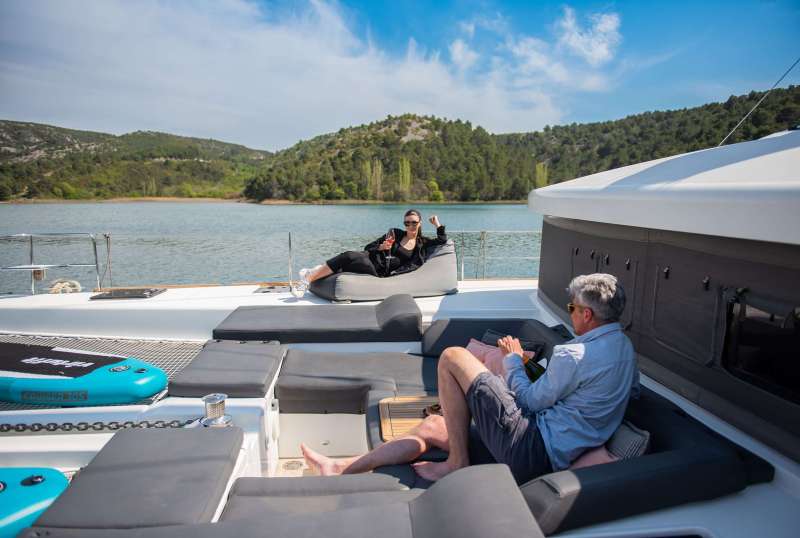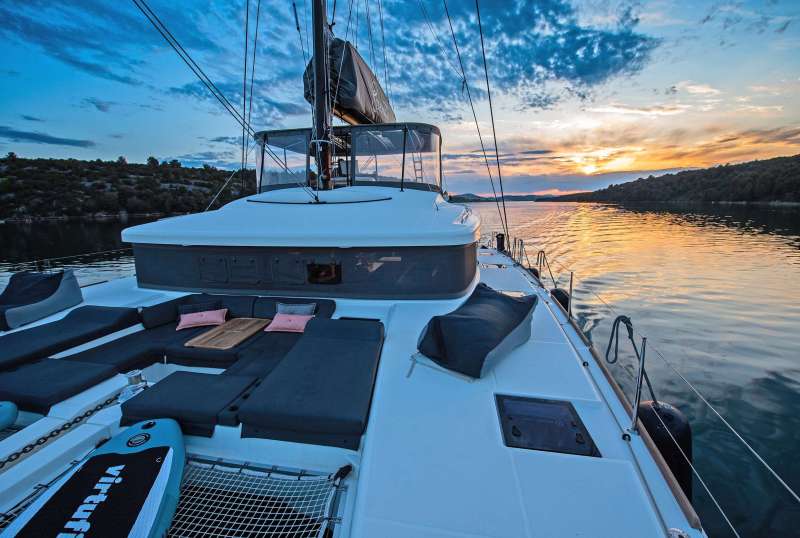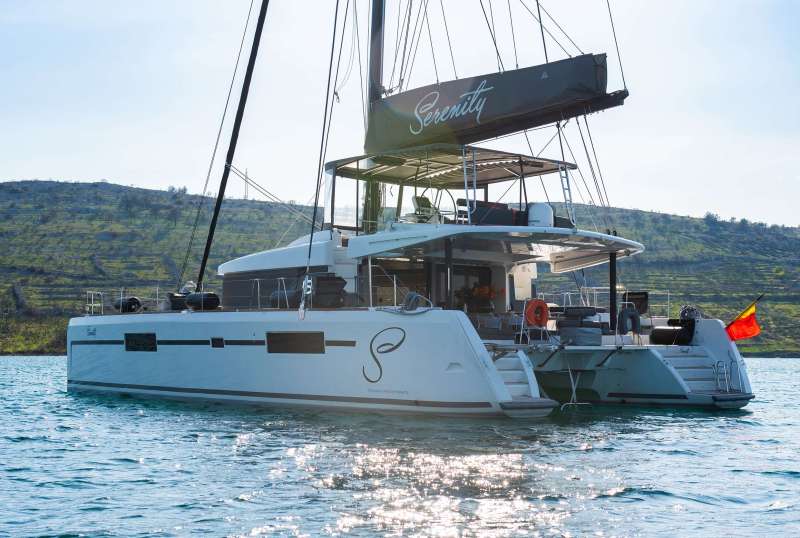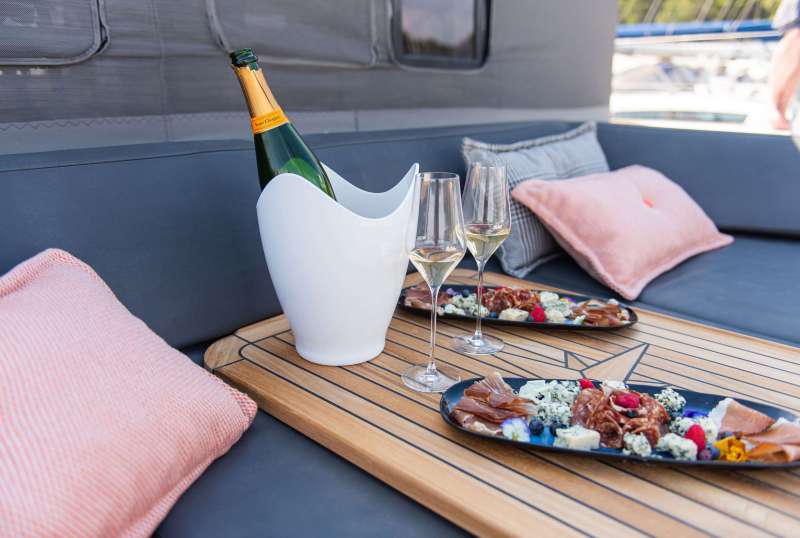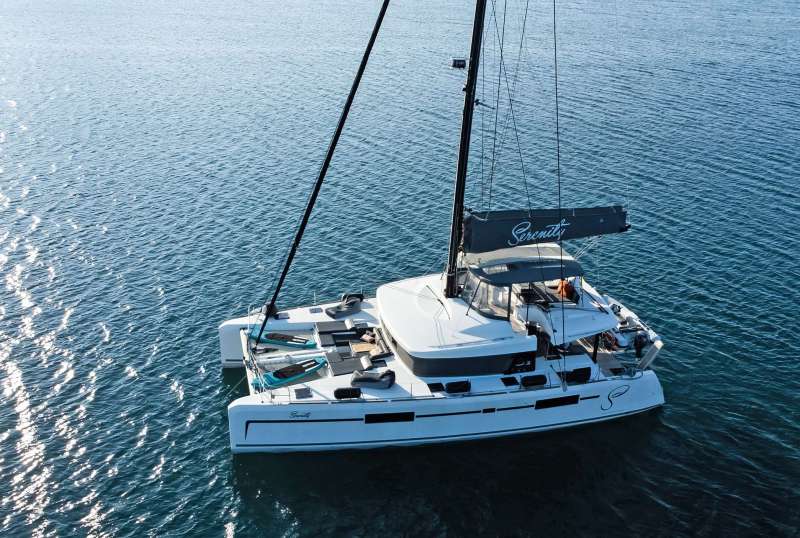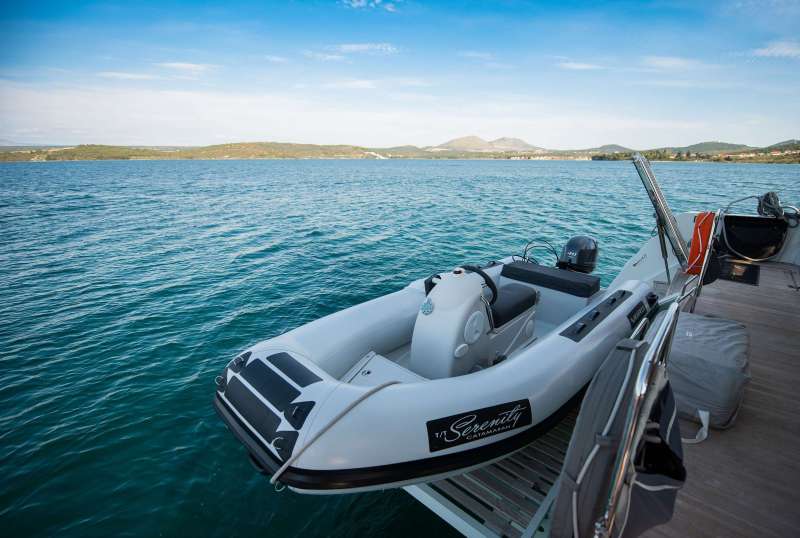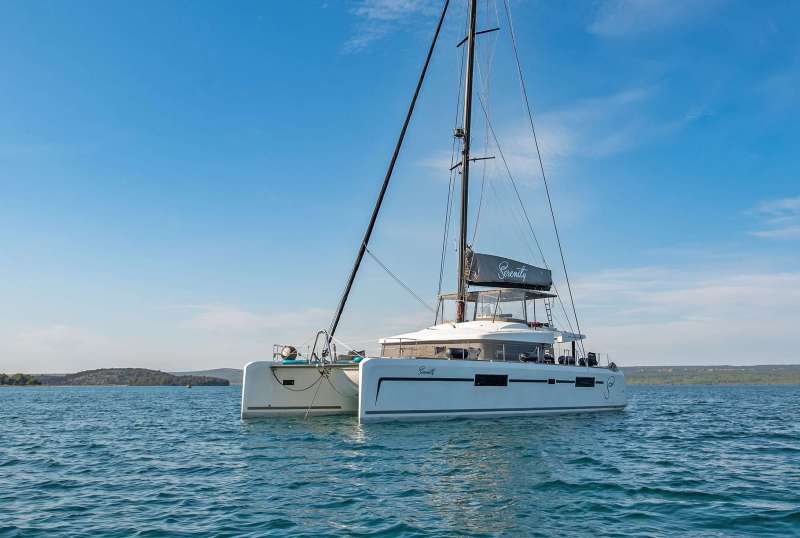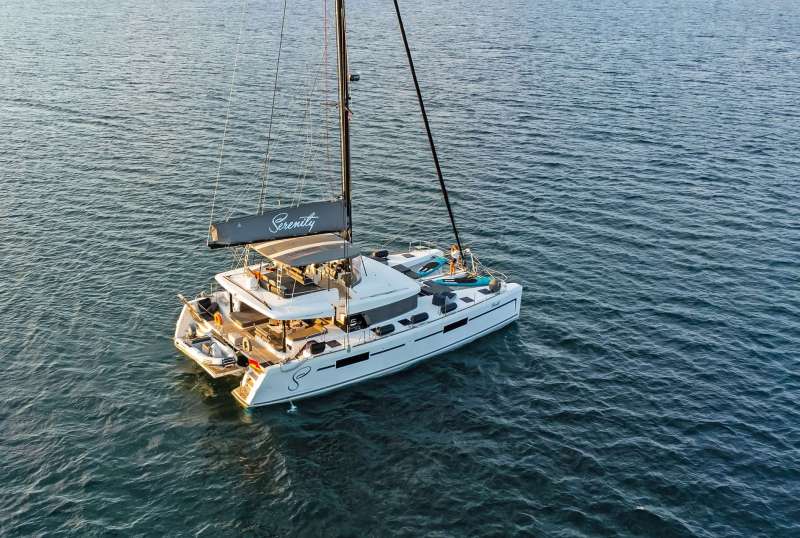 SERENITY
From €13,500/week
4 cabins
52 ft
Lagoon
8 guests
Refit: 2023
25 Litres/Hr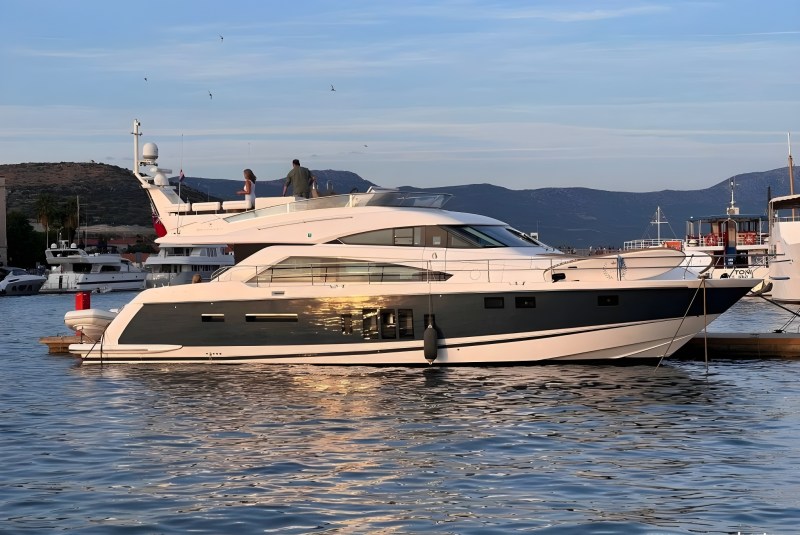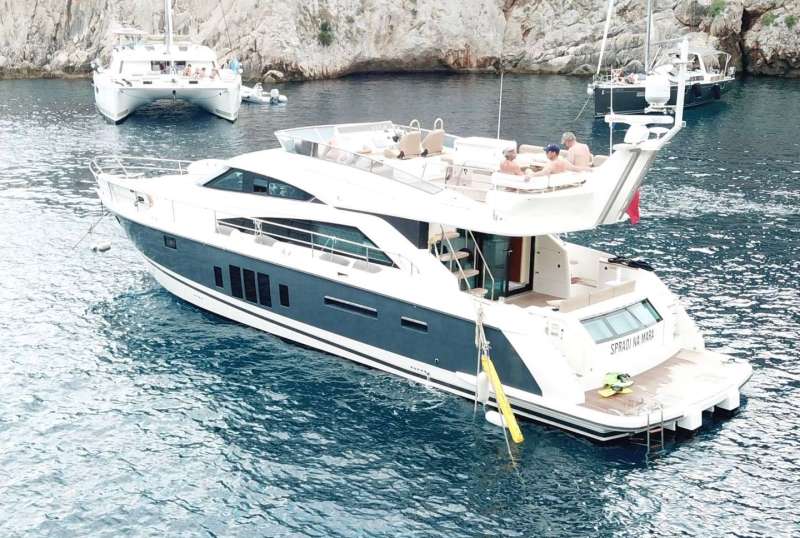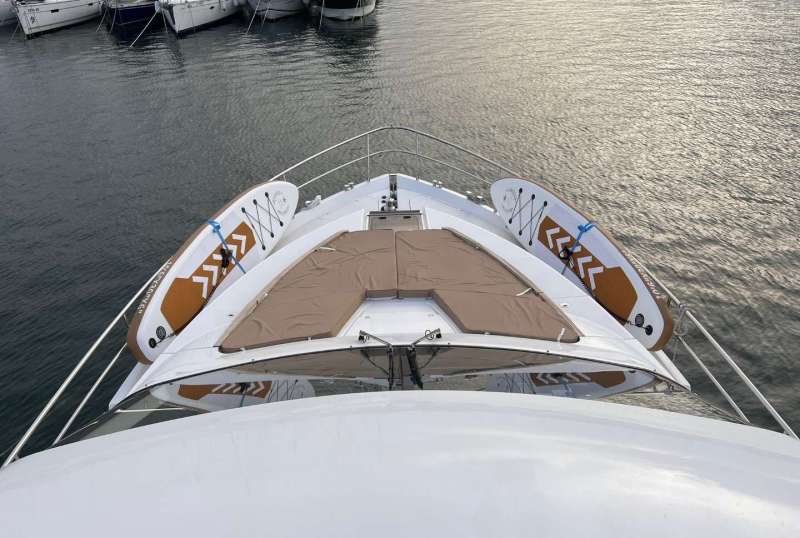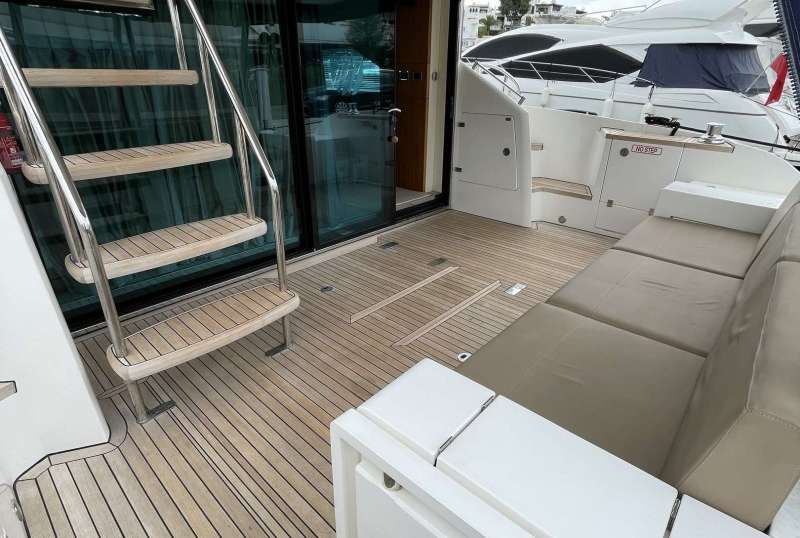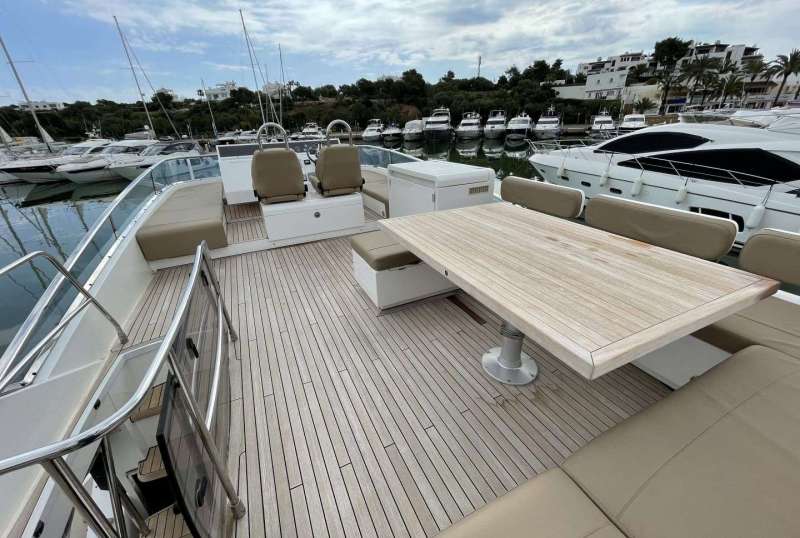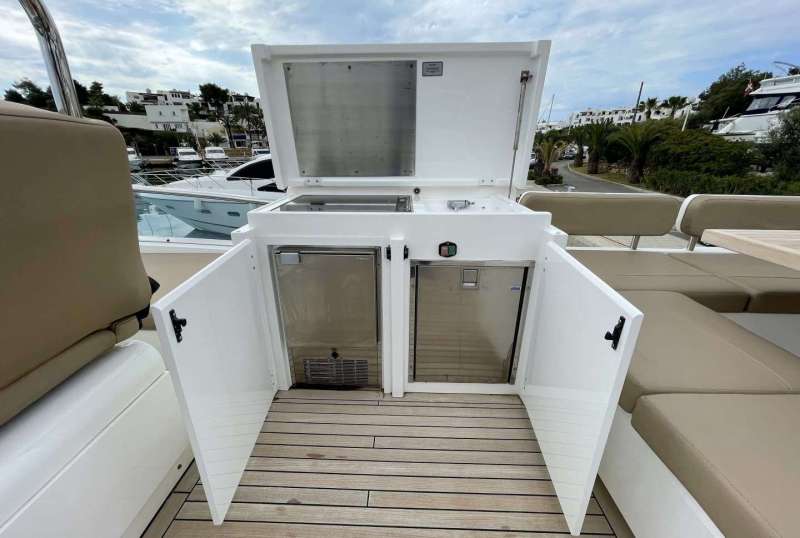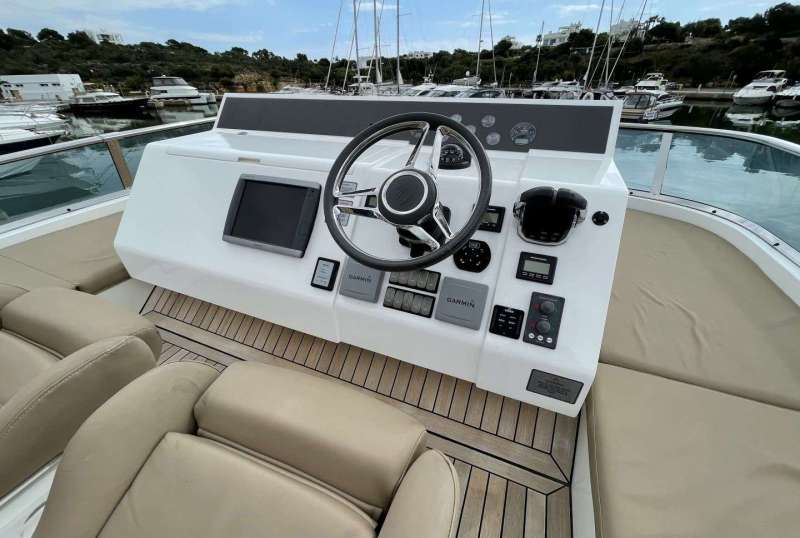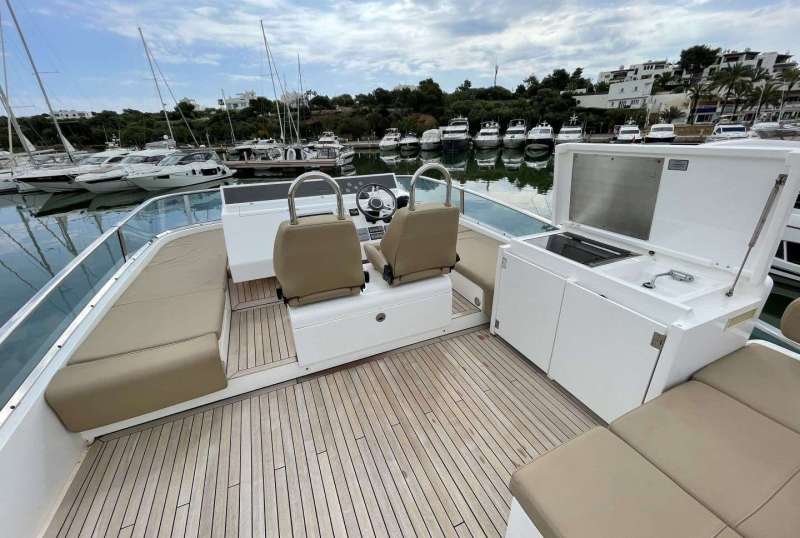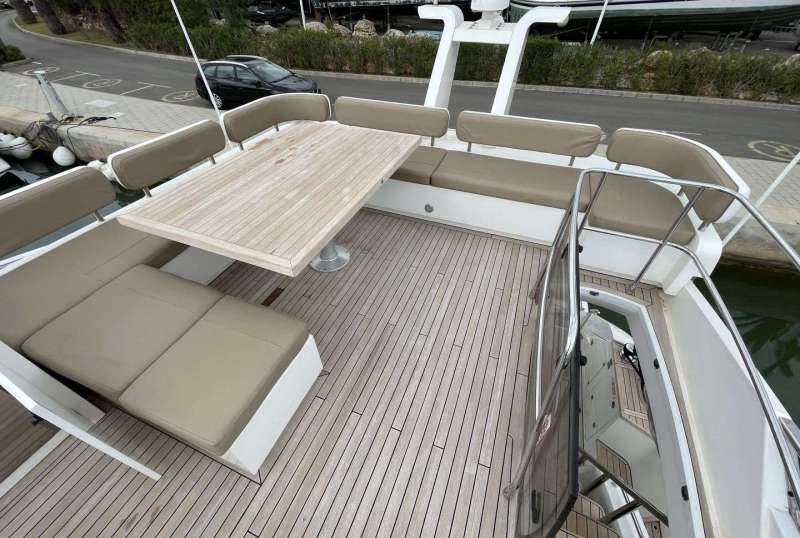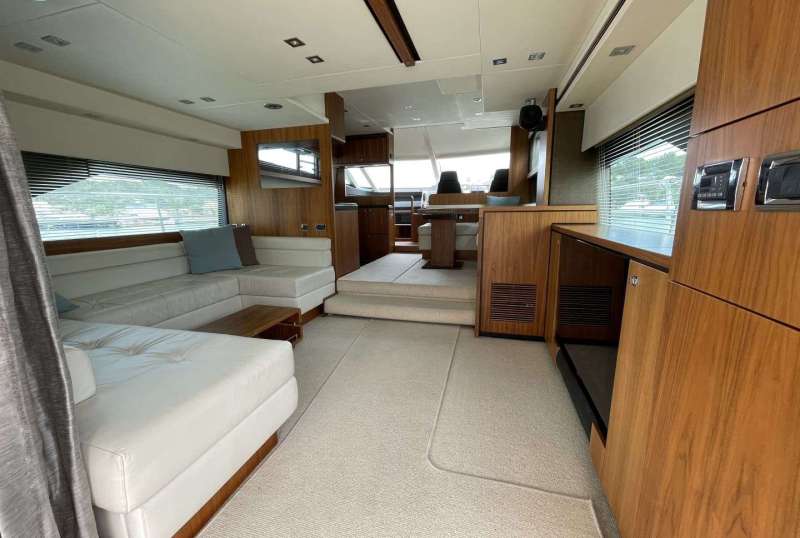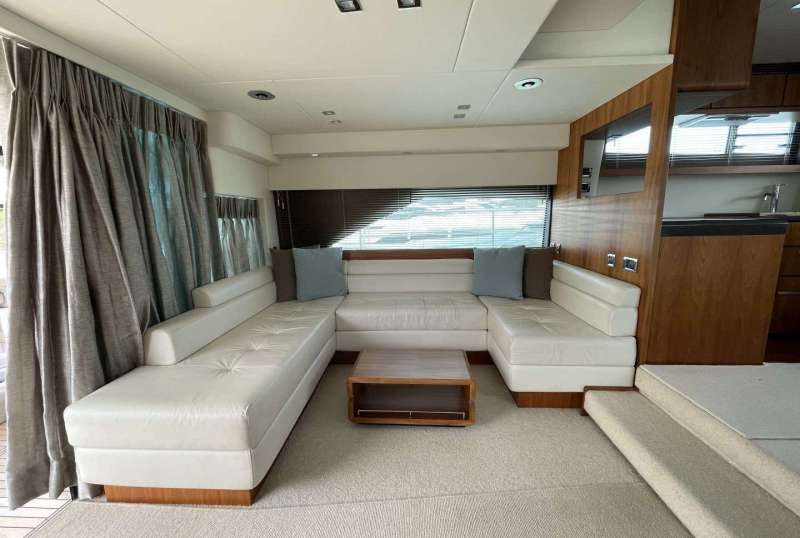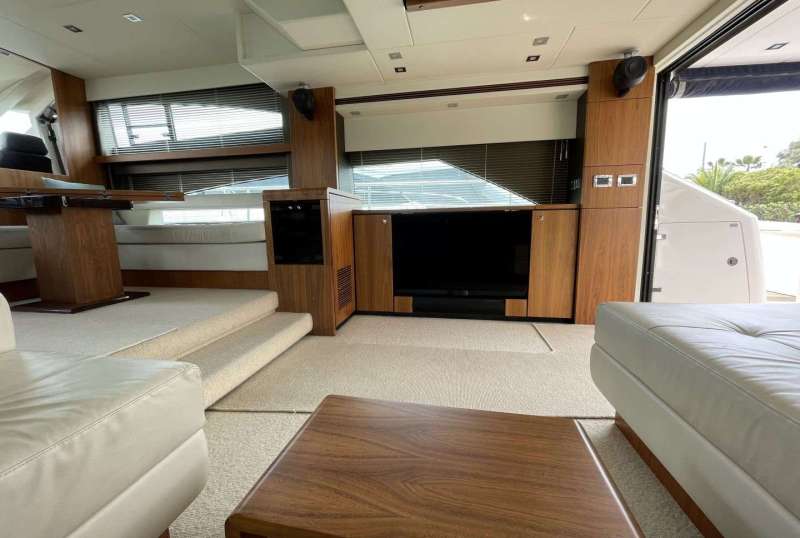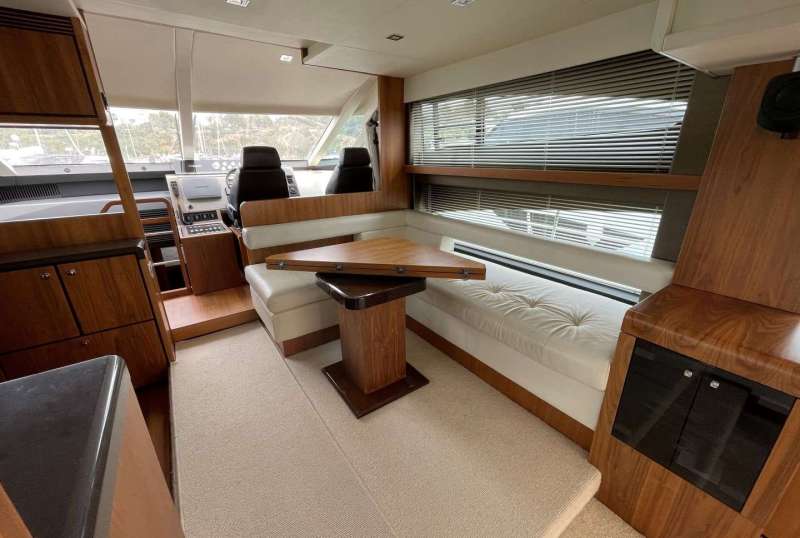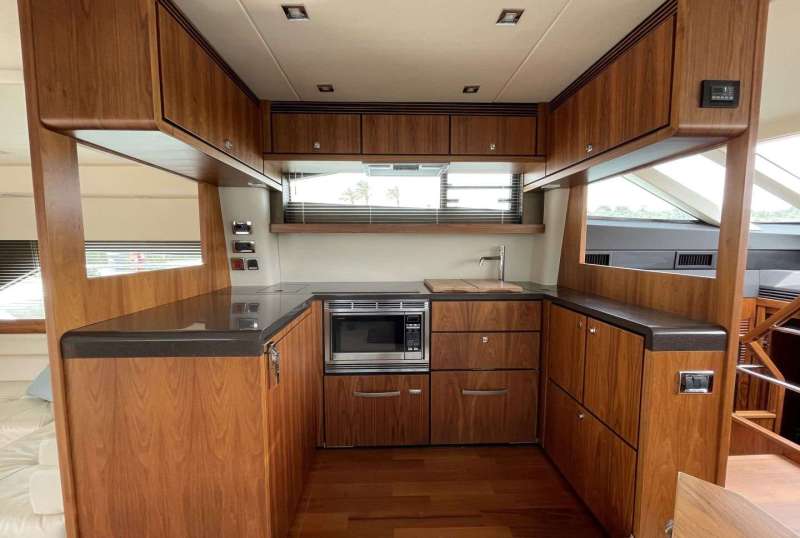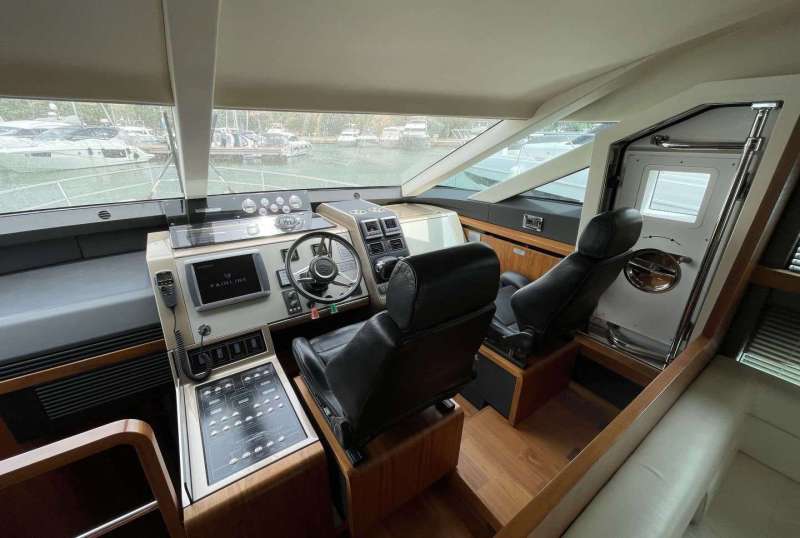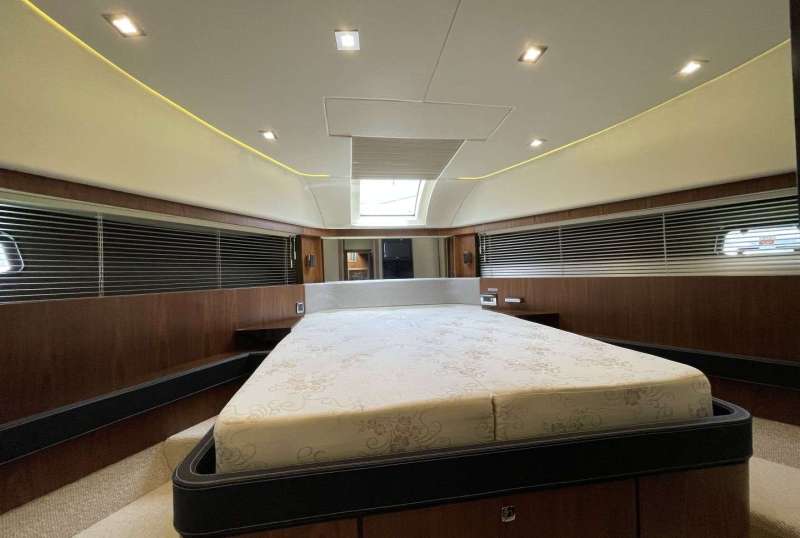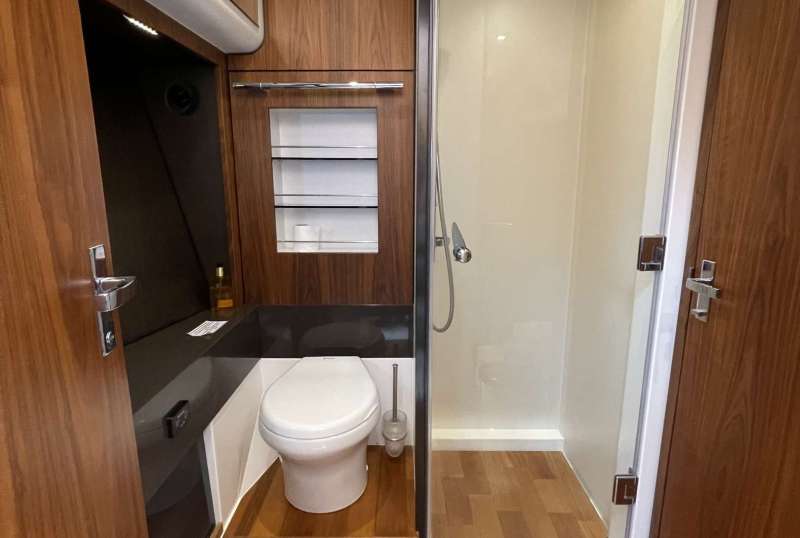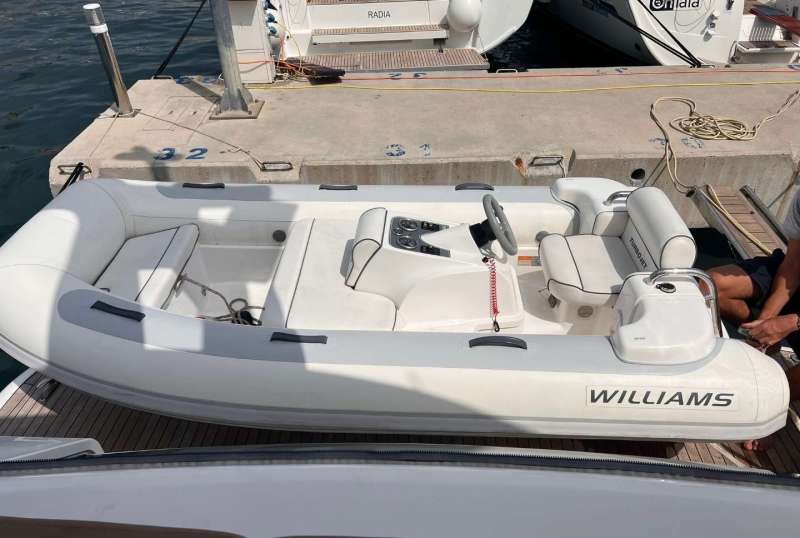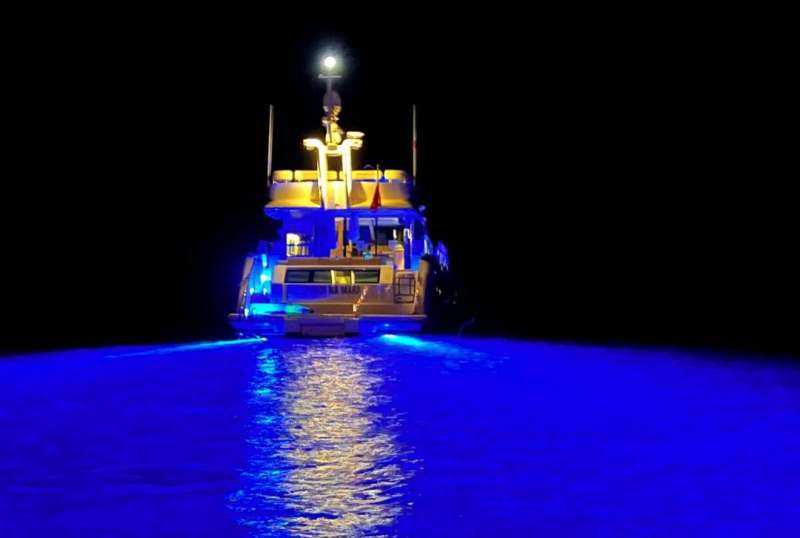 SPRAOI NA MARA
From €9,900/week
3 cabins
58 ft
Fairline Squadron
6 guests
Refit: 2023
200 Litres/Hr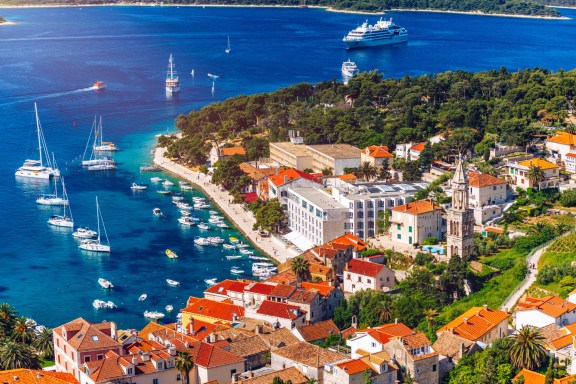 Where to go with a motor yacht charter in Croatia?
Croatia is known as "The Land of 1000 Islands", as the sea off the country has, indeed, over one thousand islands, only about 50 of which are inhabited. Few of our guests quote it as "a paradise of unspoiled landscapes" due to its pristine beaches and anchorages, picturesque coves, and crystal-clear waters. As well as the islands, the Dalmatian coast on the Croatian mainland offers some of the locations featured in the popular "Game of Thrones" TV show and the James Bond movies, as well as UNESCO World Heritage sites and world-famous scuba diving and snorkeling spots. A few of these spots include Blue Cave (in Biševo Island), Kornati Islands ( variety of marine life, including dolphins, sea turtles, and colorful fish), and Velebit Channel– popular among experienced divers due to its strong currents and abundance of marine life.
WHERE TO START A MOTOR YACHT CHARTER IN CROATIA?
A typical Croatia yacht charter will start at Split International Airport from the southern Dalmatian coast. Most of the marinas lay on the West of the city of Split, a very short distance from the airport. Marina Baotić, Marina Agana, and ACI Marina Trogir are charter specialized marinas. There are as many itinerary suggestions as there are motor yacht charters available at these marinas.
The Kornati Archipelago (home of the Kornati National Park), off the coast of Croatia in the Adriatic Sea, is one of the densest island clusters in the Mediterranean, consisting of over 150 islands, most of them very small and very close to one another. All distances are short and there is always a protected cove or bay nearby to provide shelter in case of a sudden summer storm. It has to be noted that to visit the Kornati National Park, every visitor needs to obtain a ticket in advance for the particular time and duration of the visit. Tickets can be purchased online and at mobile reception desks at key points of the park, and their price can range from 20 euros to several thousand, depending on boat size. Almost all the straits and routes are protected from most winds, making this a pleasurable, relaxed sail within a Marine Park with a lot of fish, marine mammals, and bird life. Well worth visiting is Kornat itself, the largest island in the cluster with no permanent settlements and no more than 20 inhabitants at high season!
Mainland Croatia also has a lot to offer, among which the medieval city of Dubrovnik, Trogir, a UNESCO World Heritage site, which, for reasons that will become obvious at first sight, is also called the Little Venice of Dalmatia. Cosmopolitan, colorful Split has a rich history and culture, boasting of over 20 museums and galleries popular among our yacht charter guests.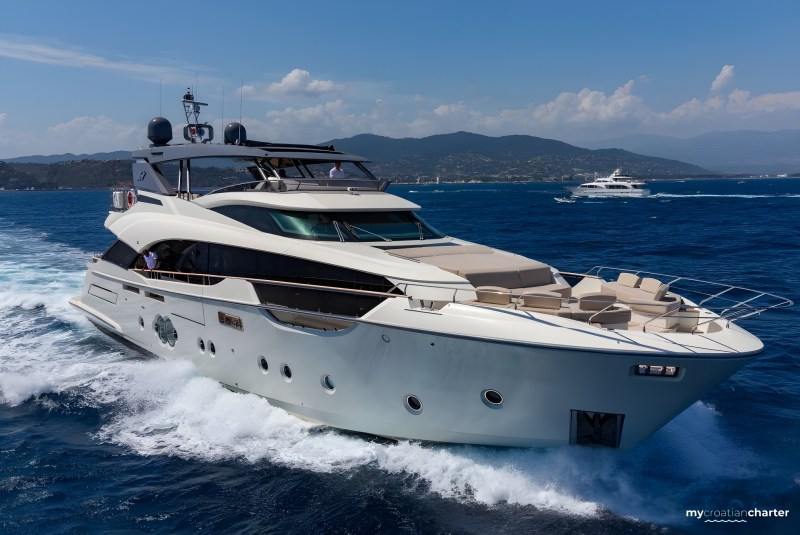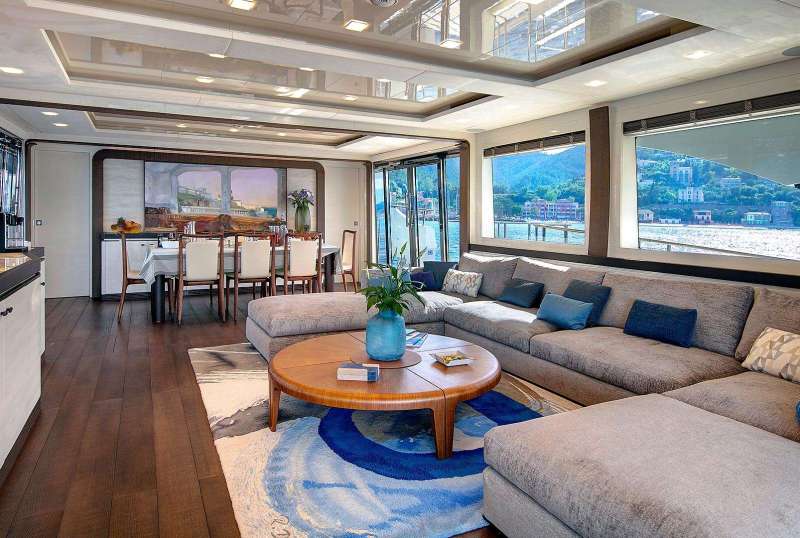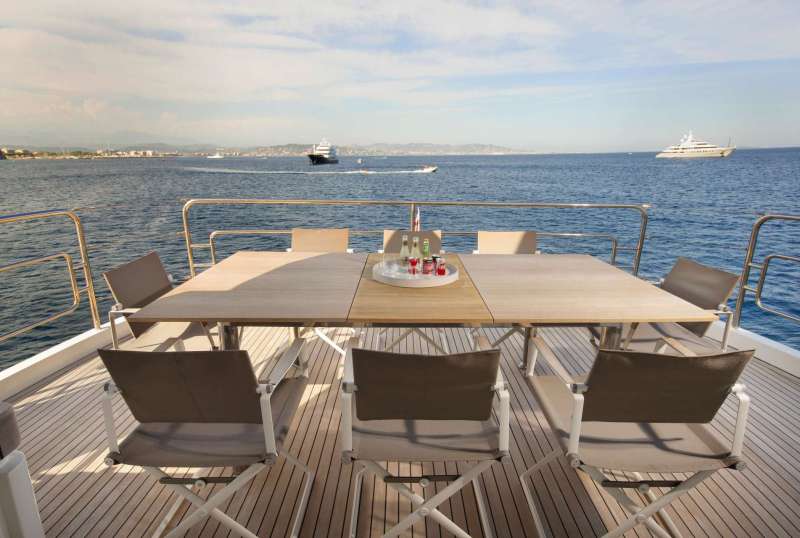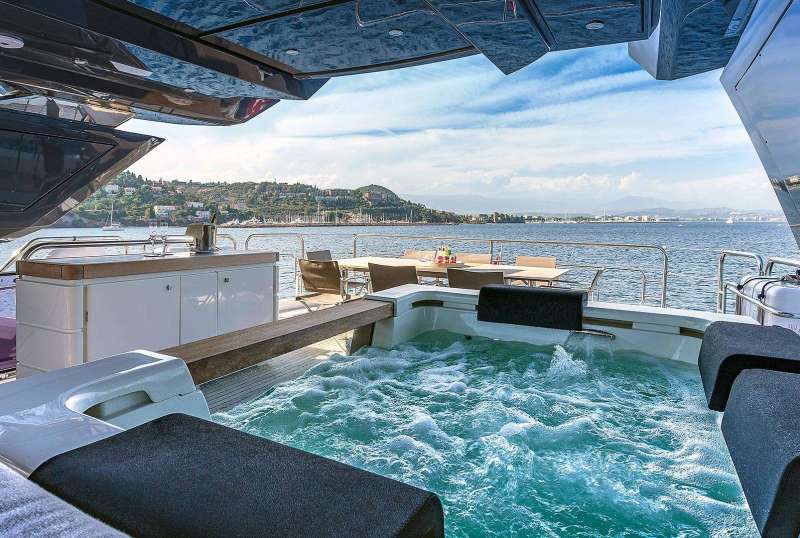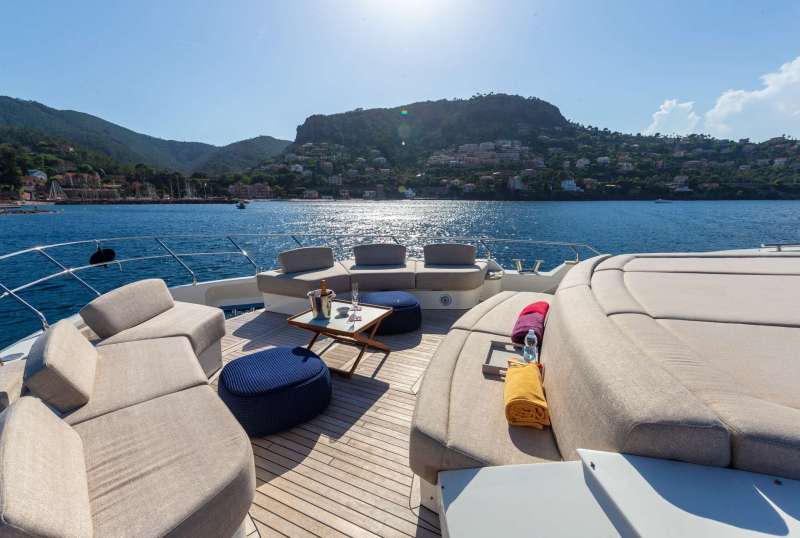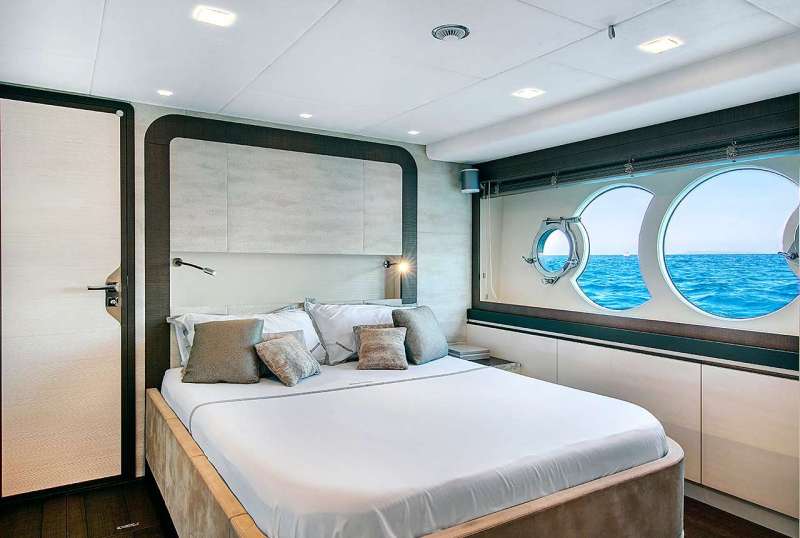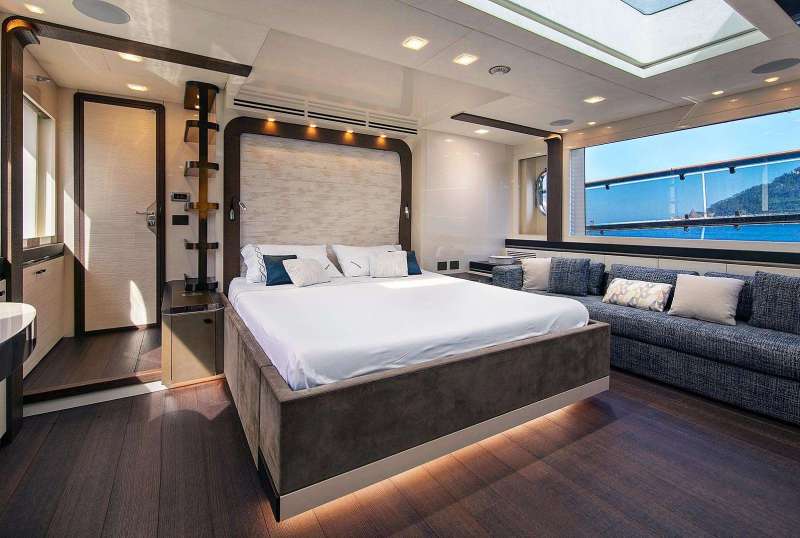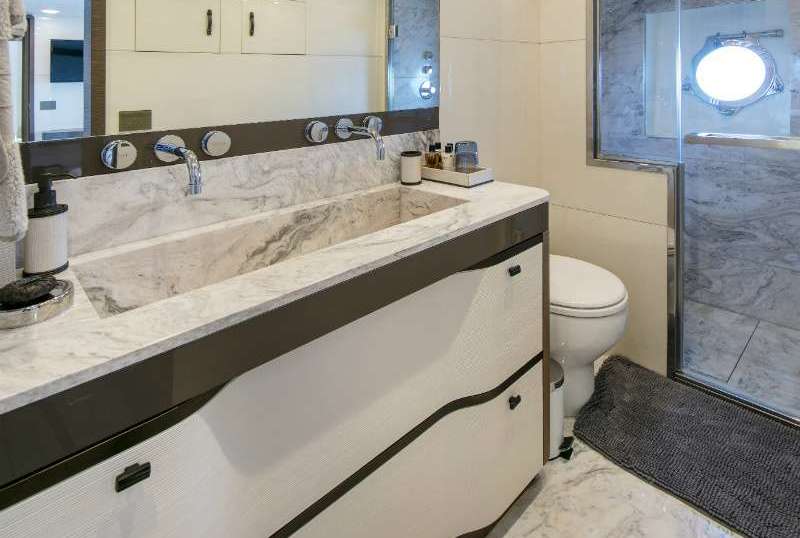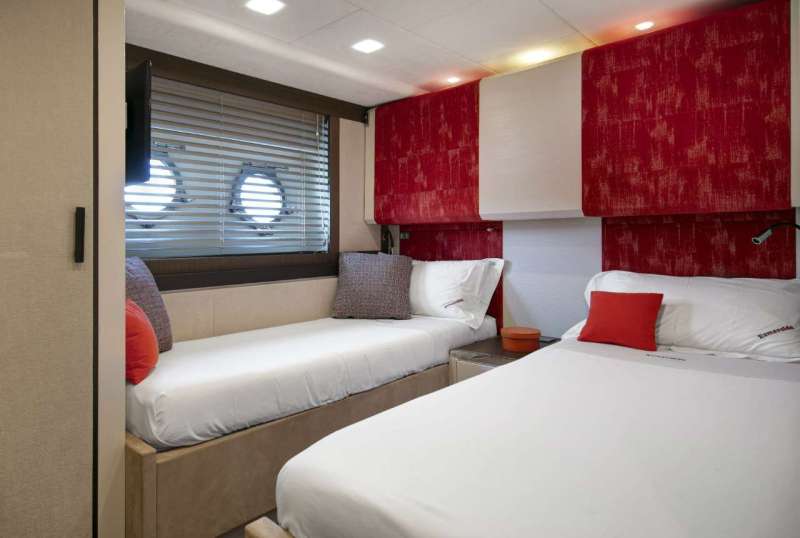 Esmeralda of the Seas
From €80,000/week
5 cabins
96 ft
MonteCarloYachts
10 guests
Built: 2018
320 L Litres/Hr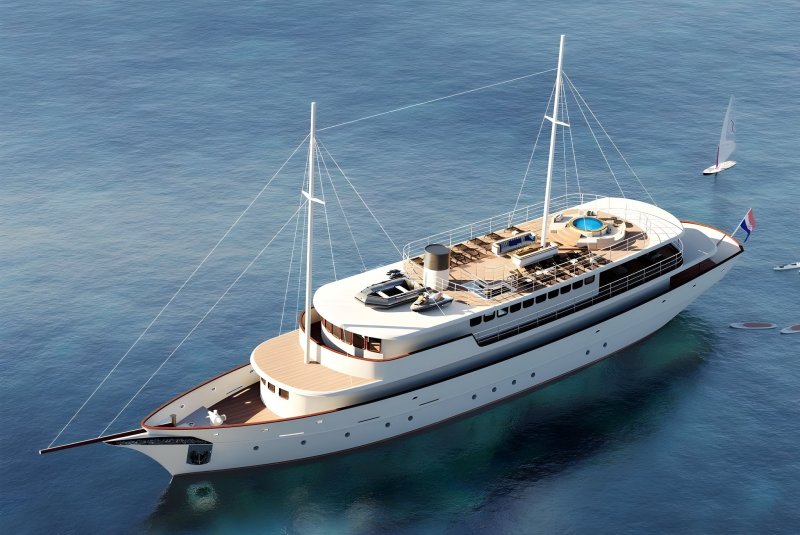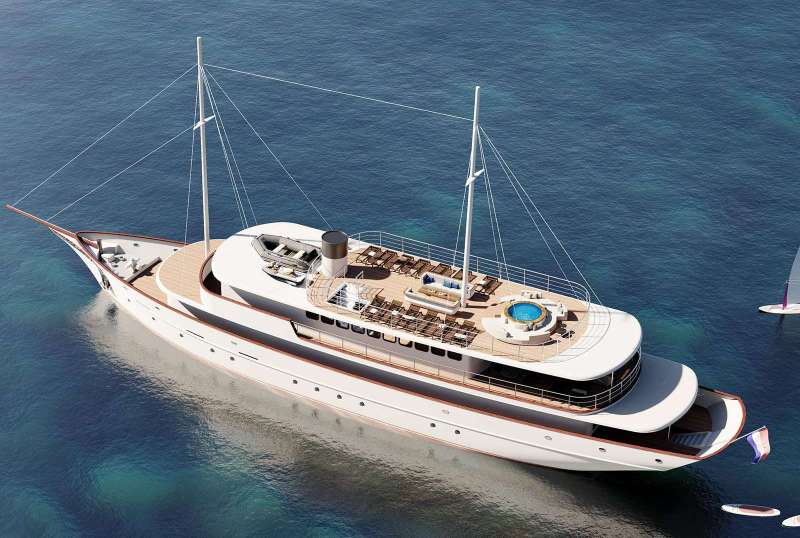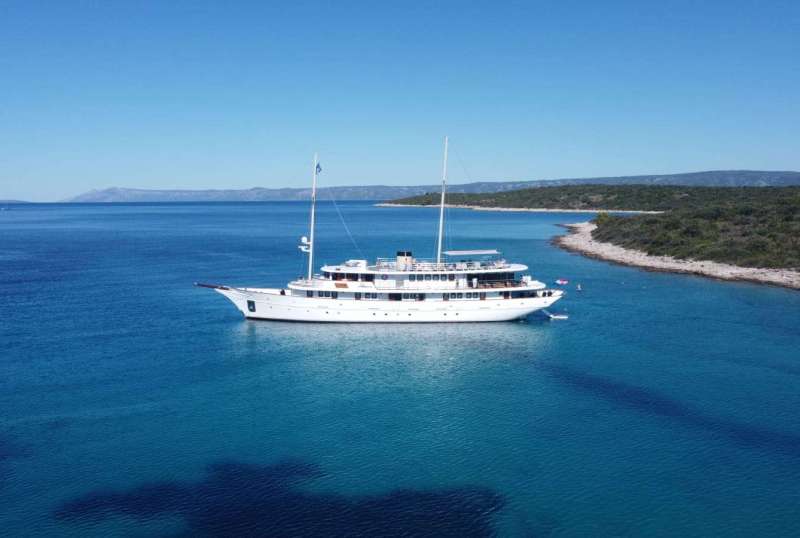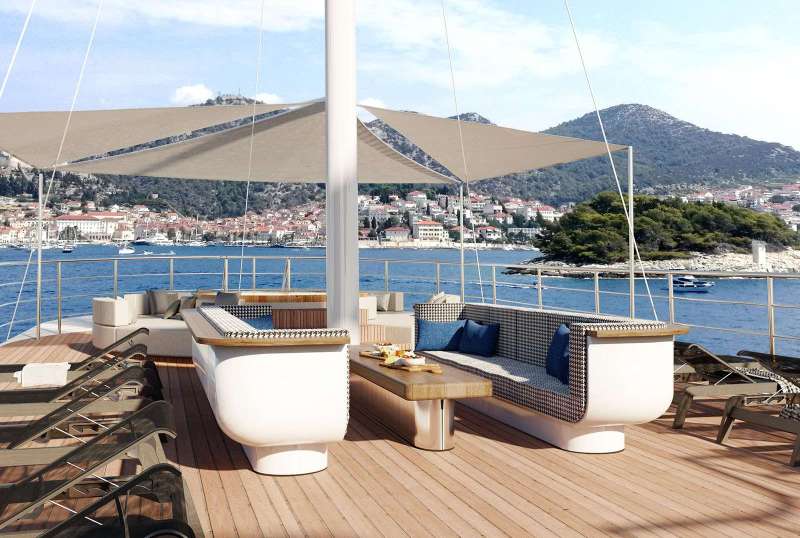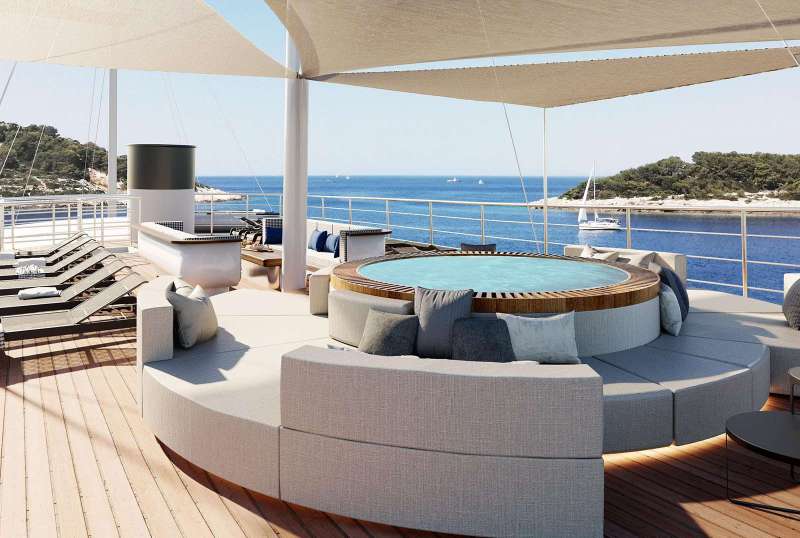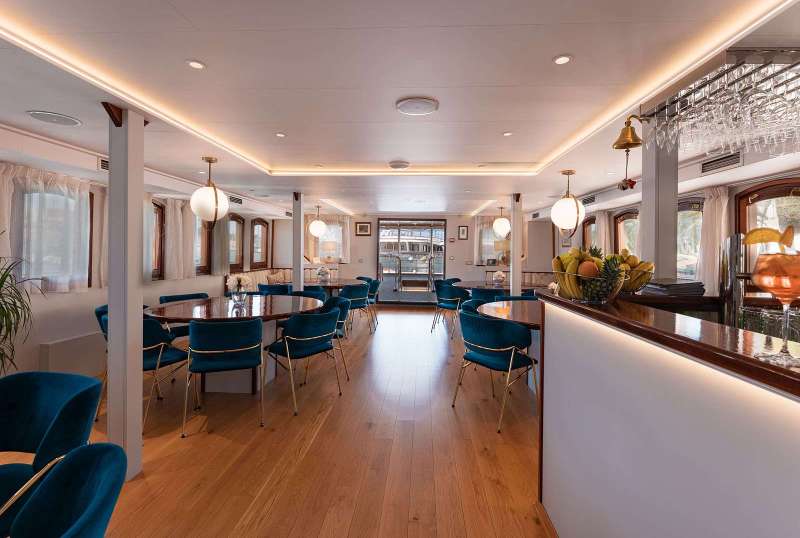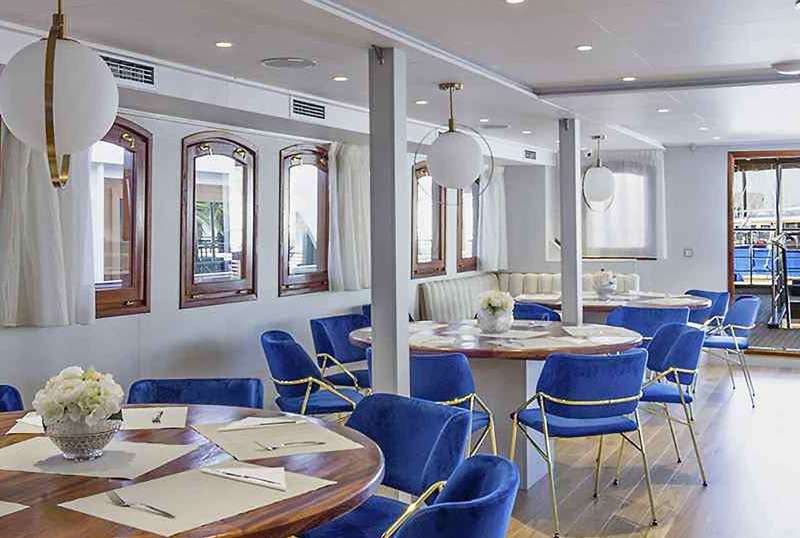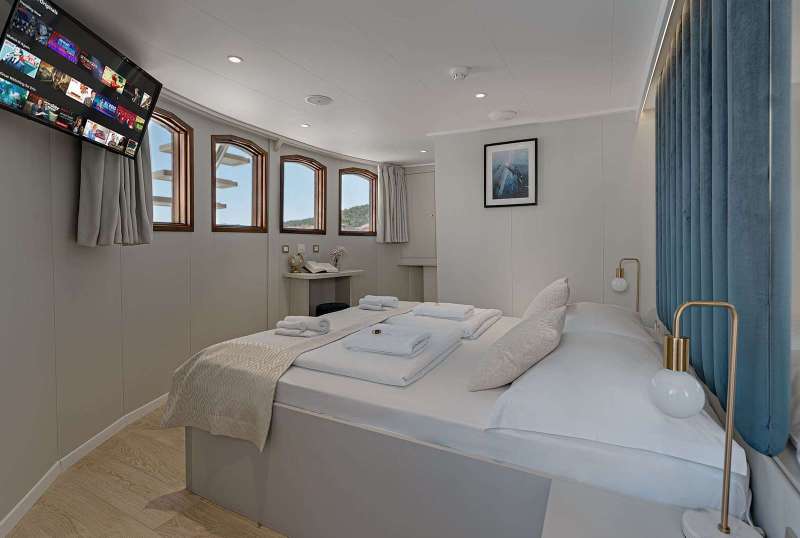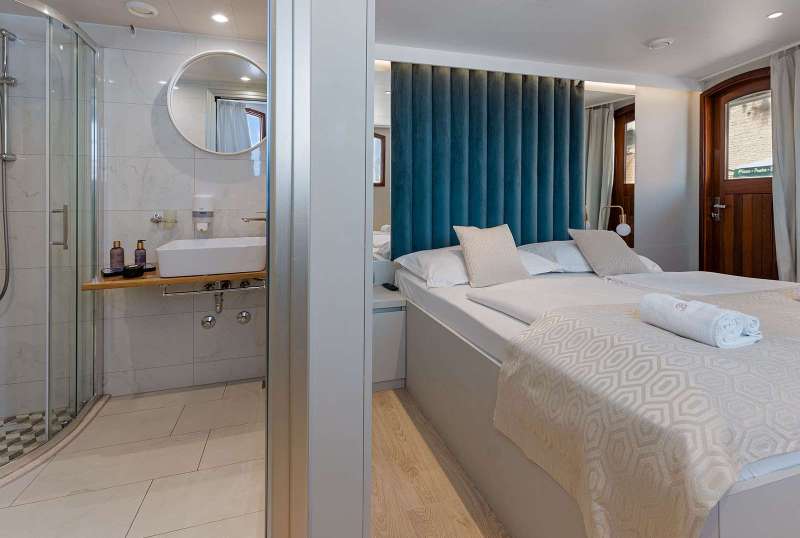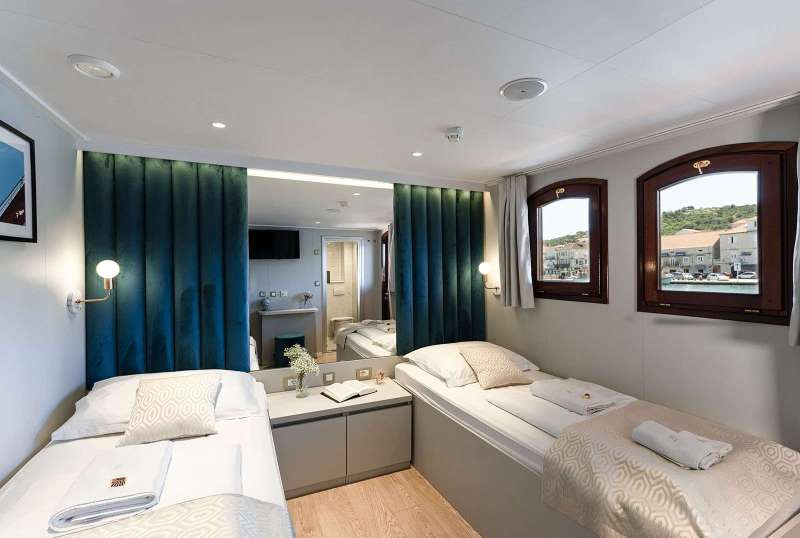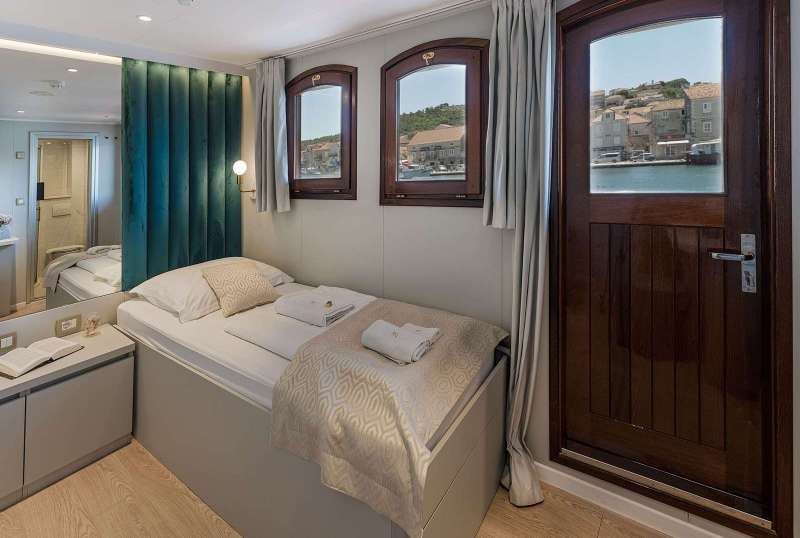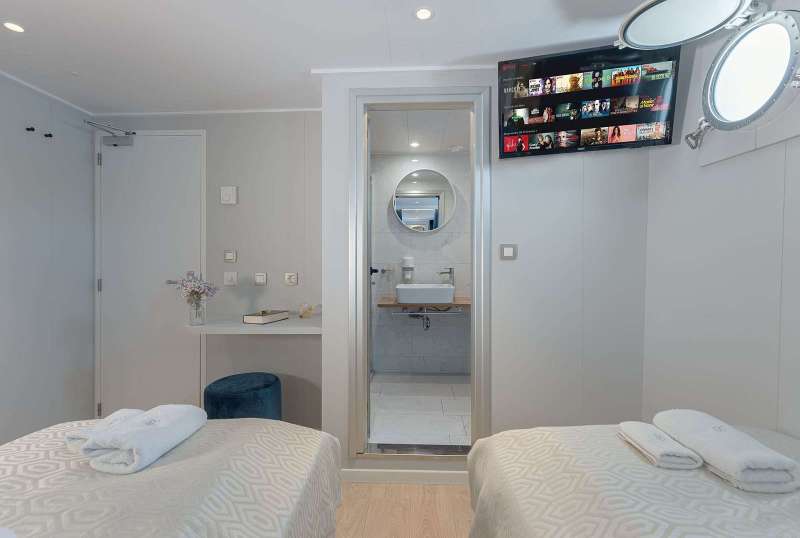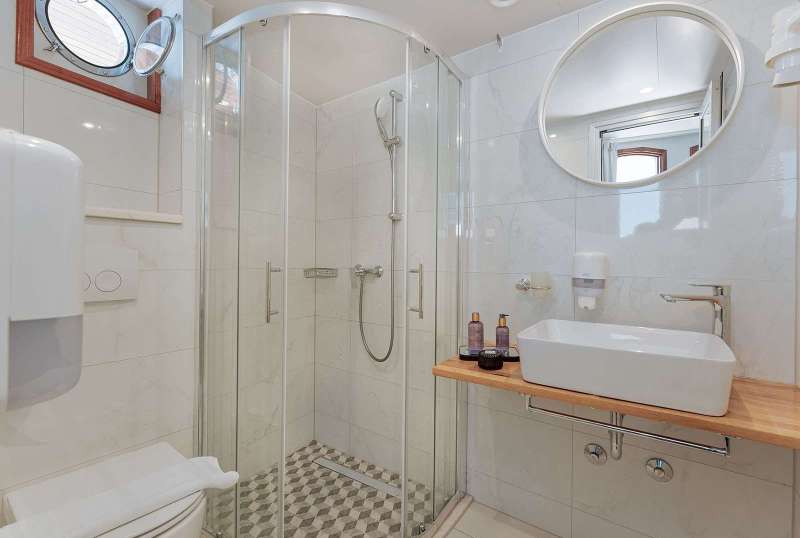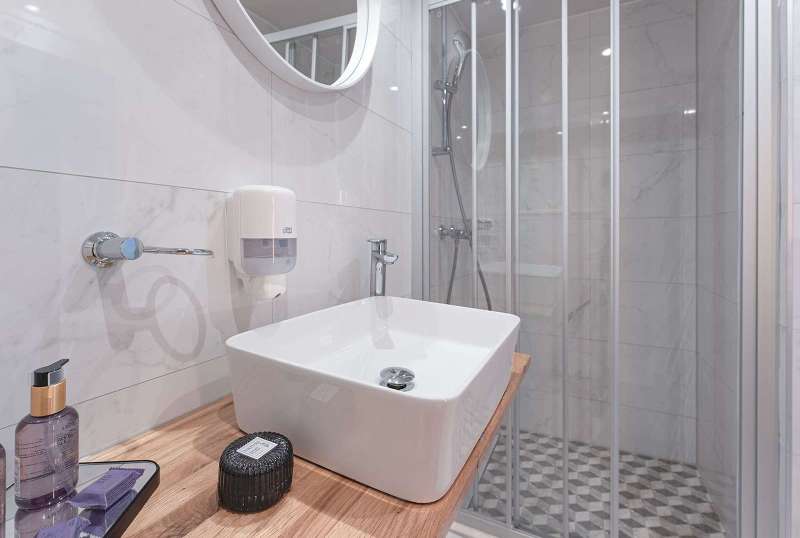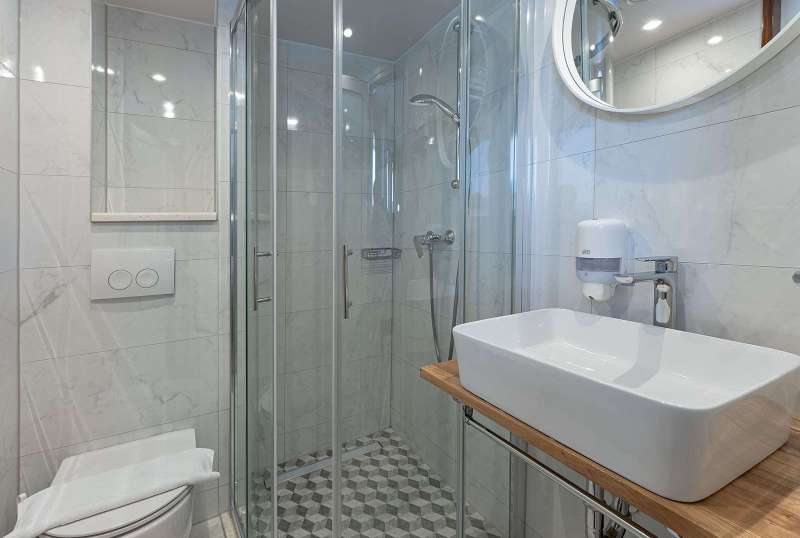 Bellezza
From €80,000/week
10+ cabins
170 ft
Custom
37 guests
Refit: 2024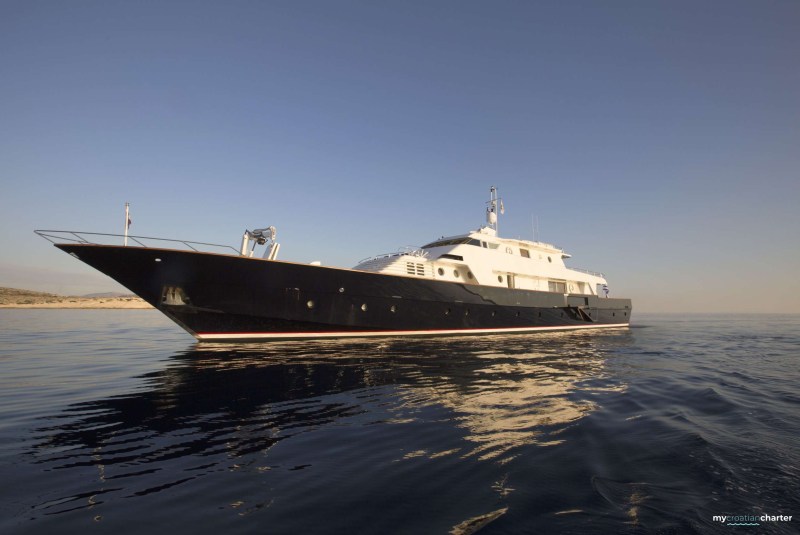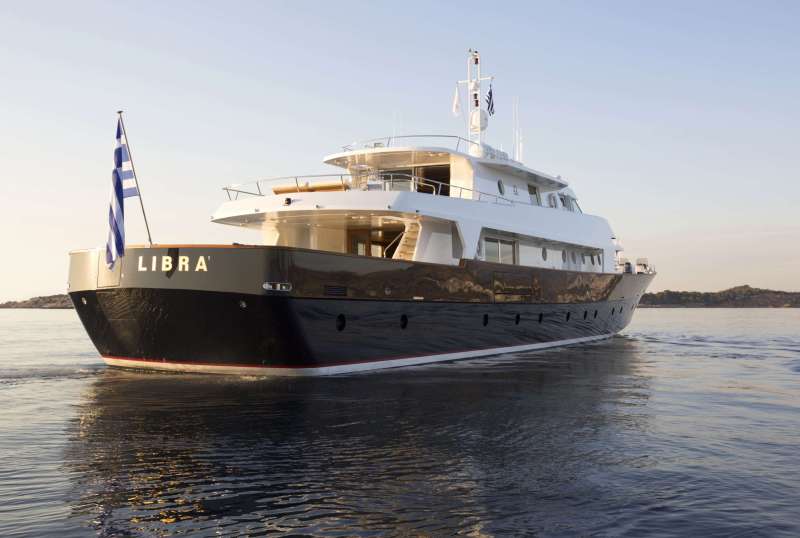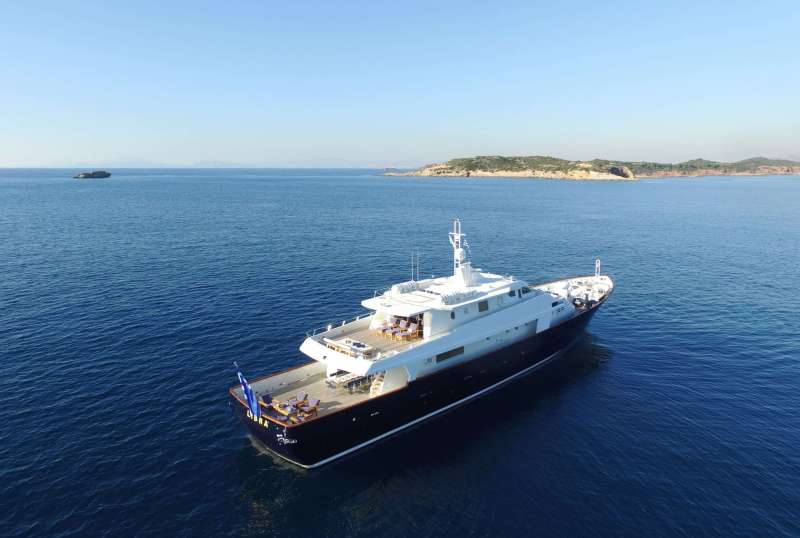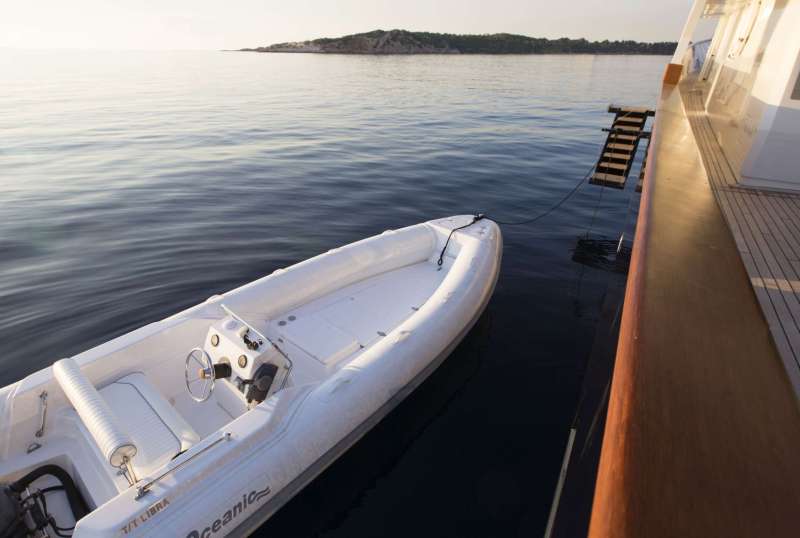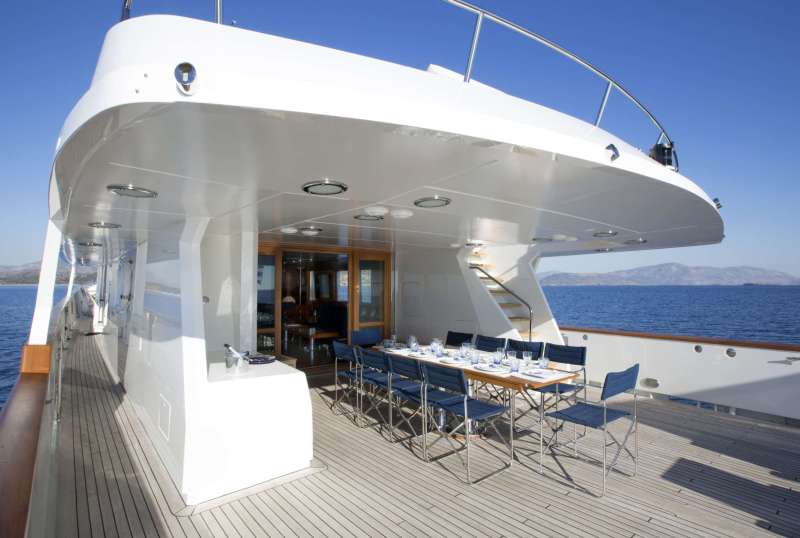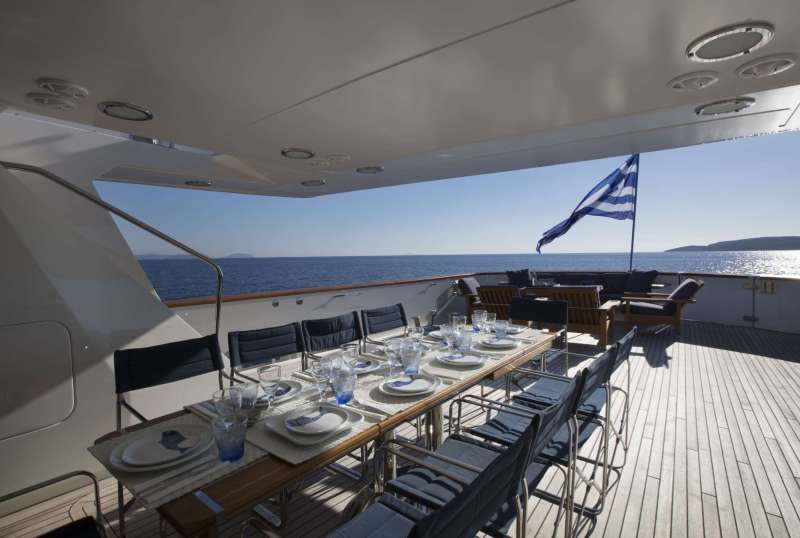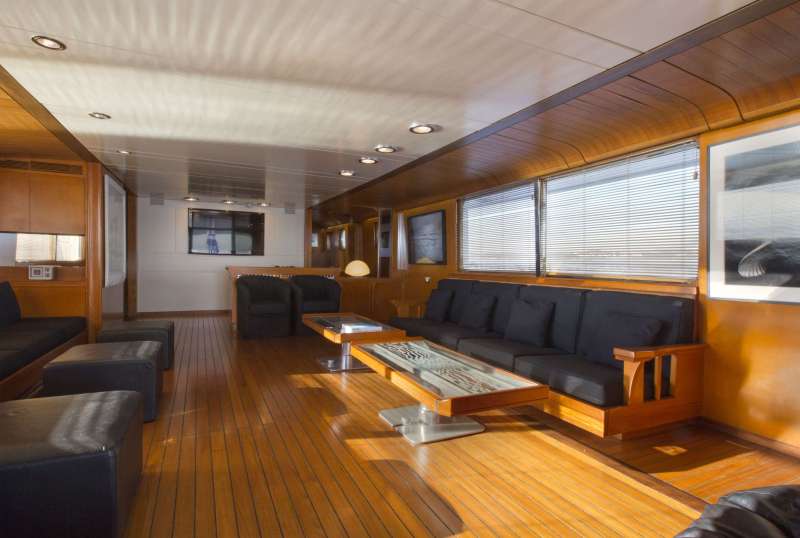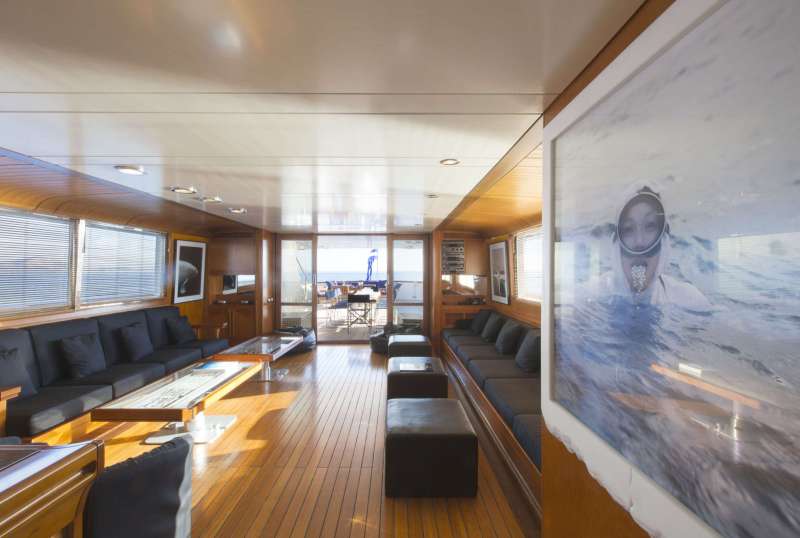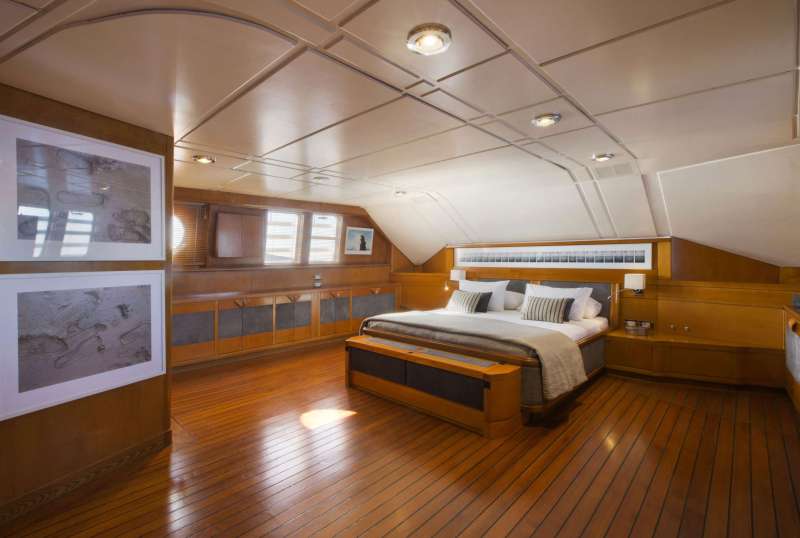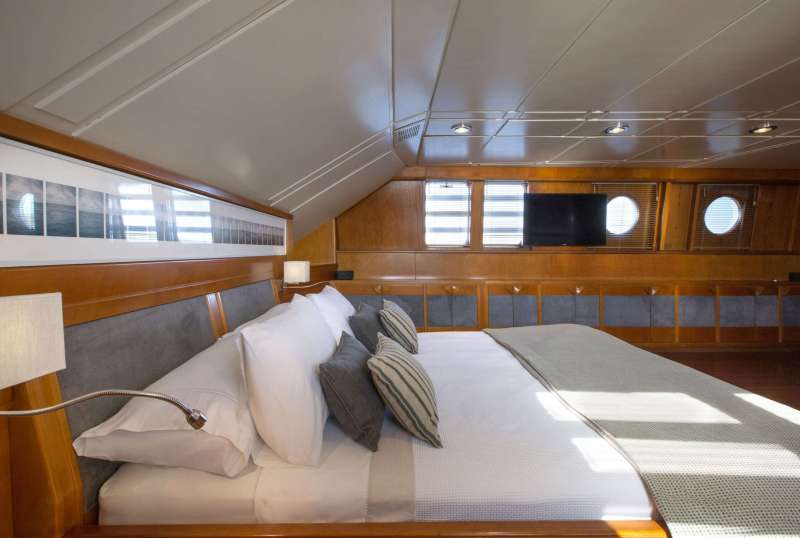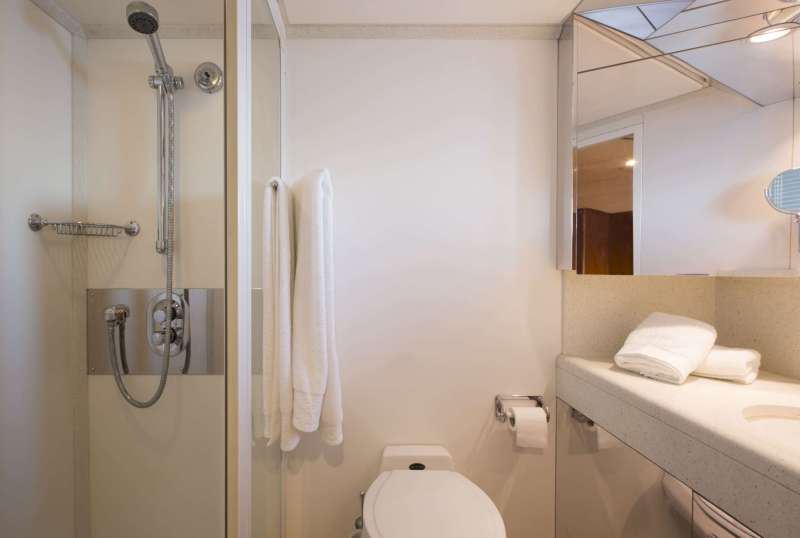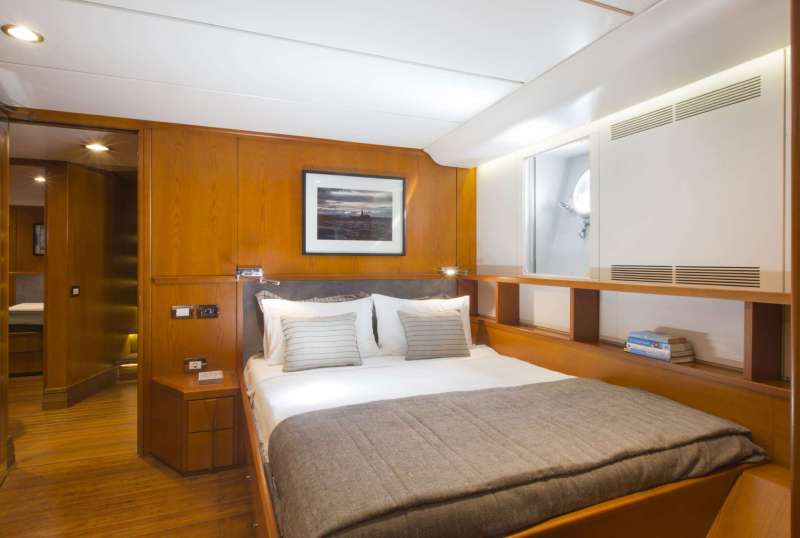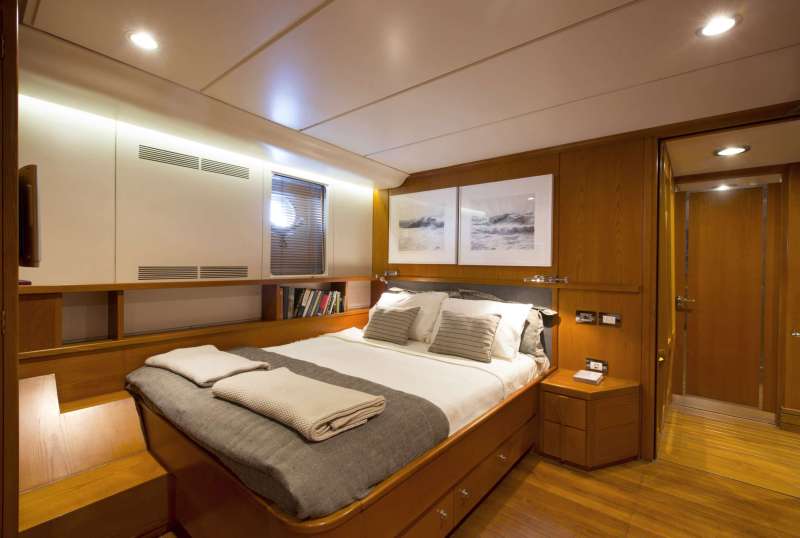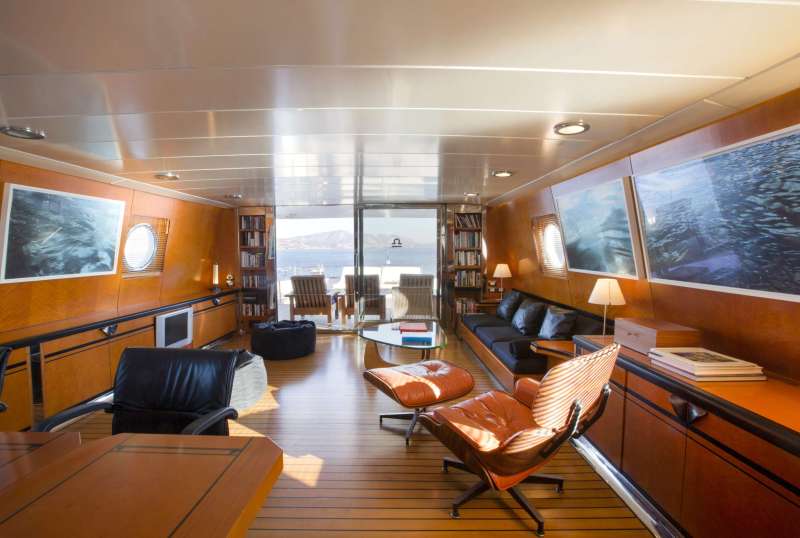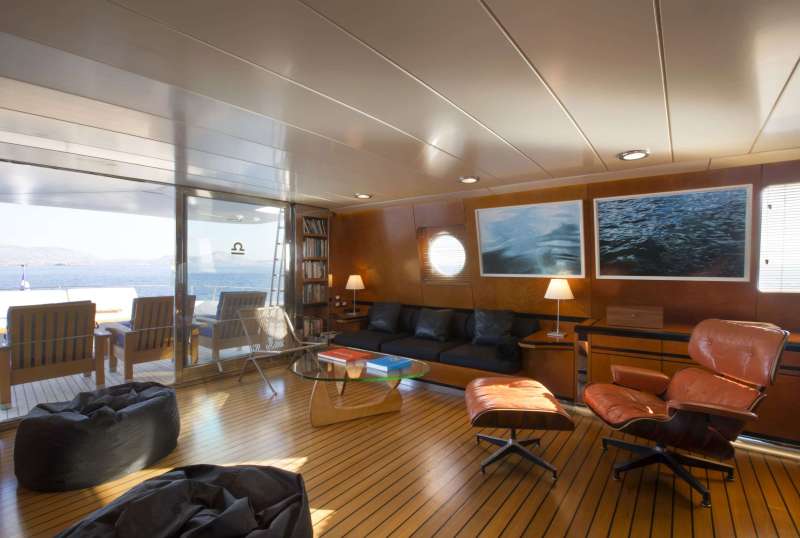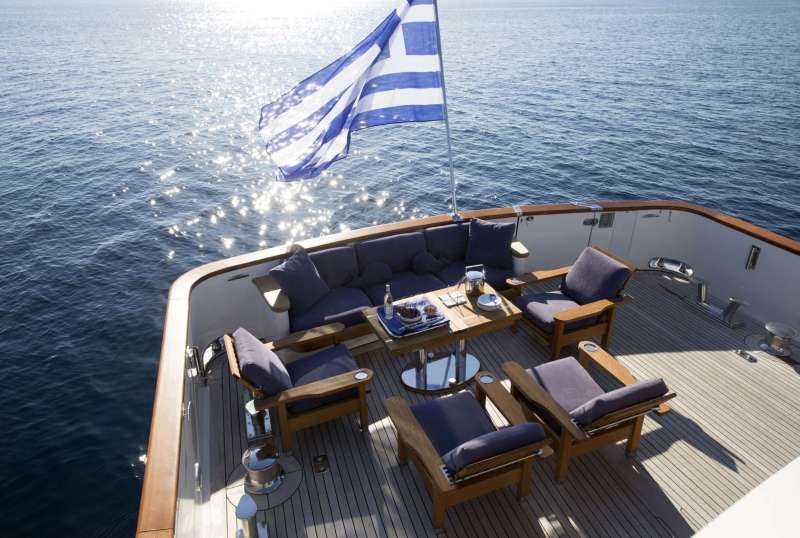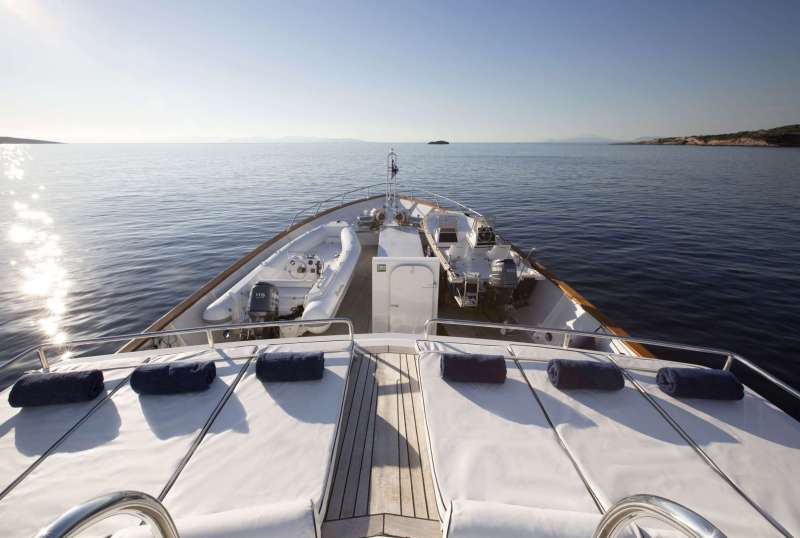 LIBRA Y
From €79,000/week
5 cabins
139 ft
Picchiotti
10 guests
Refit: 2018
485 Litres/Hr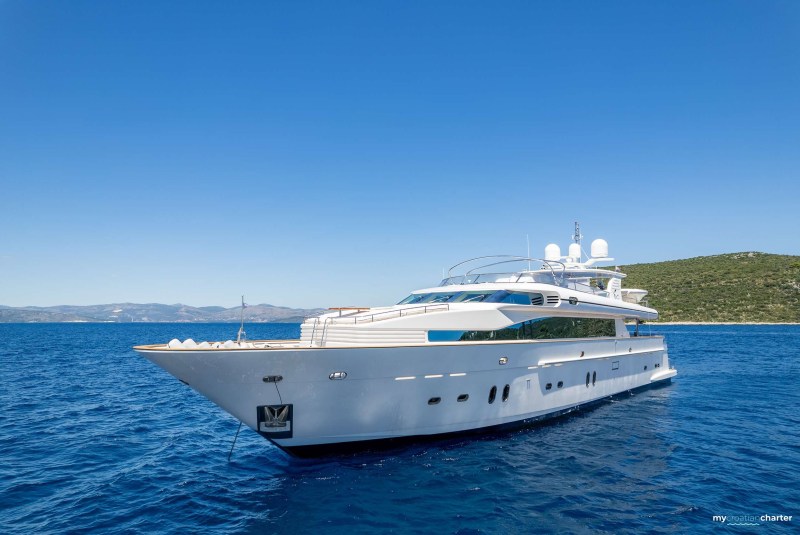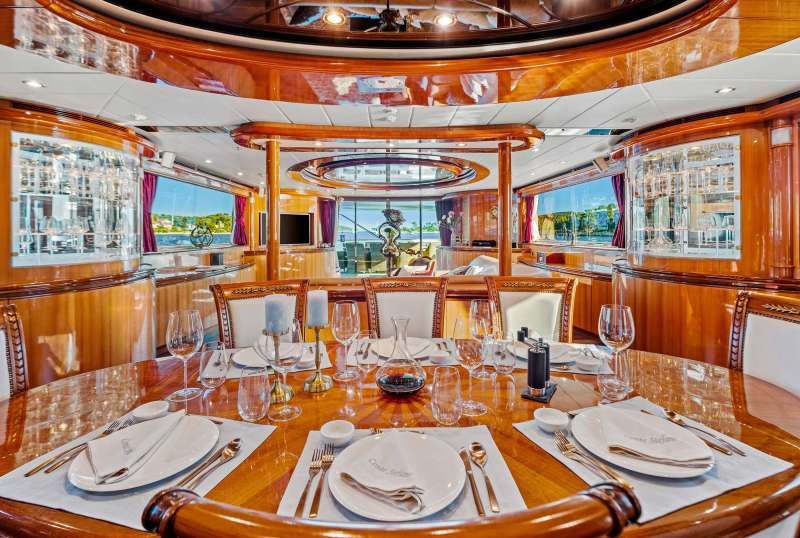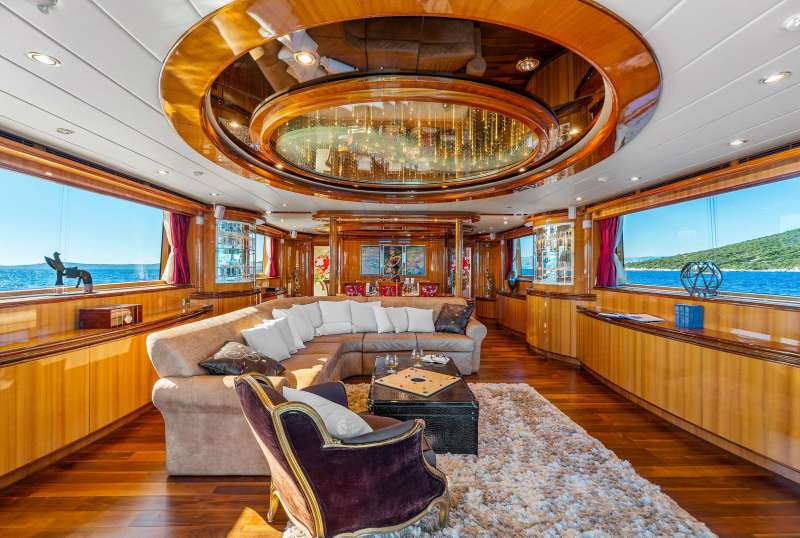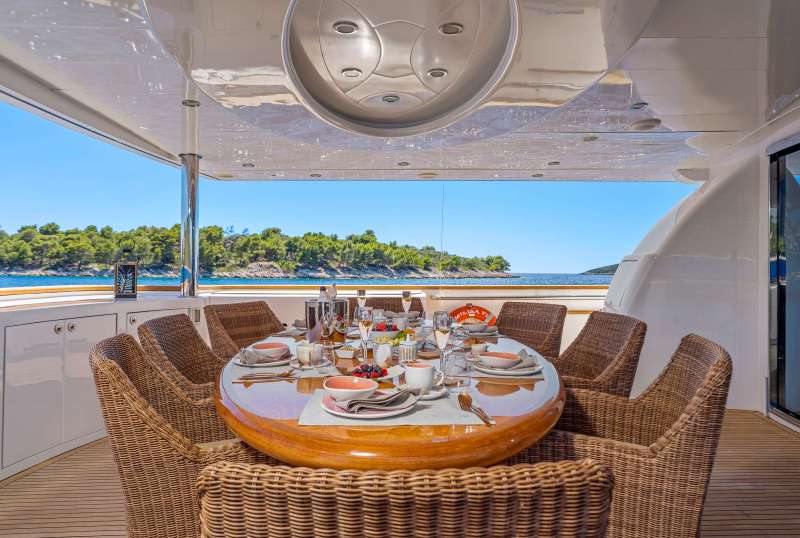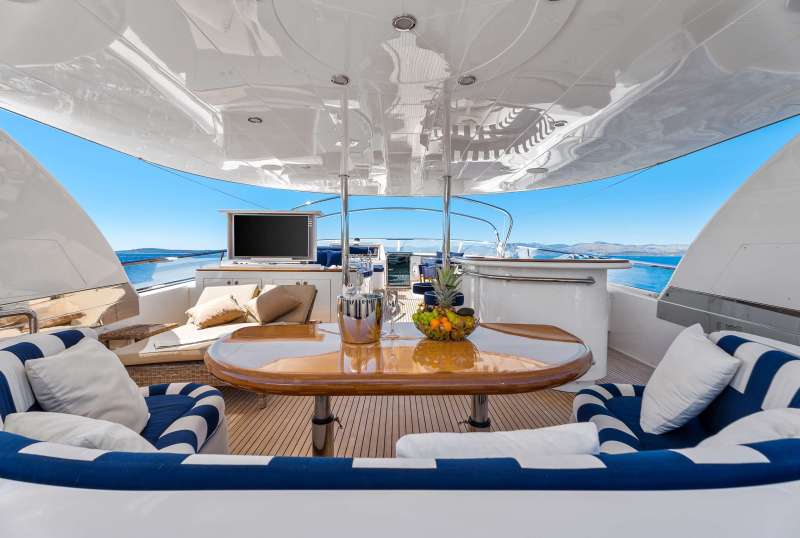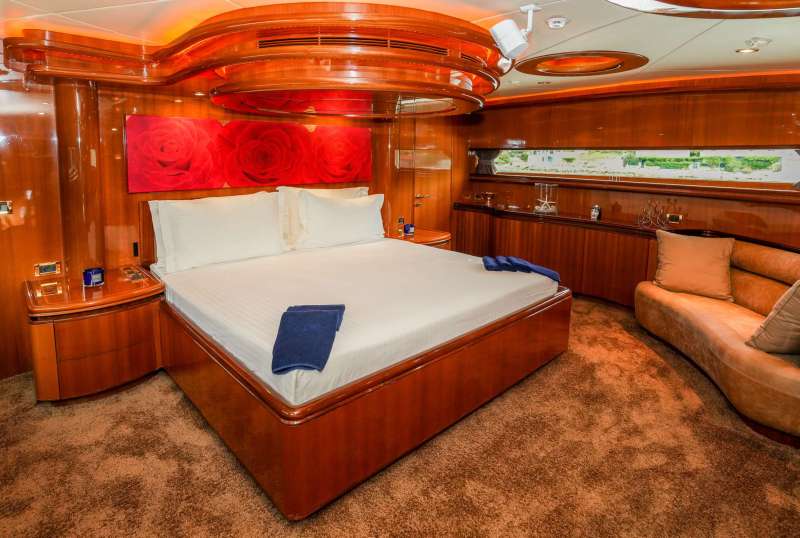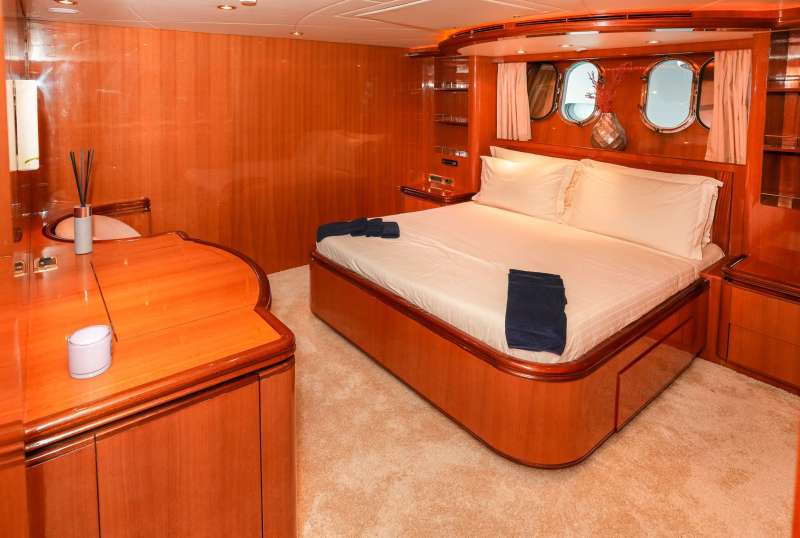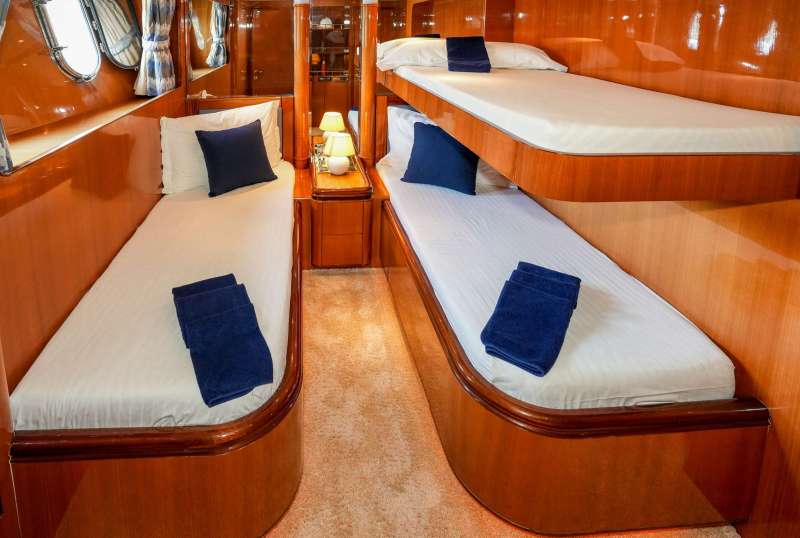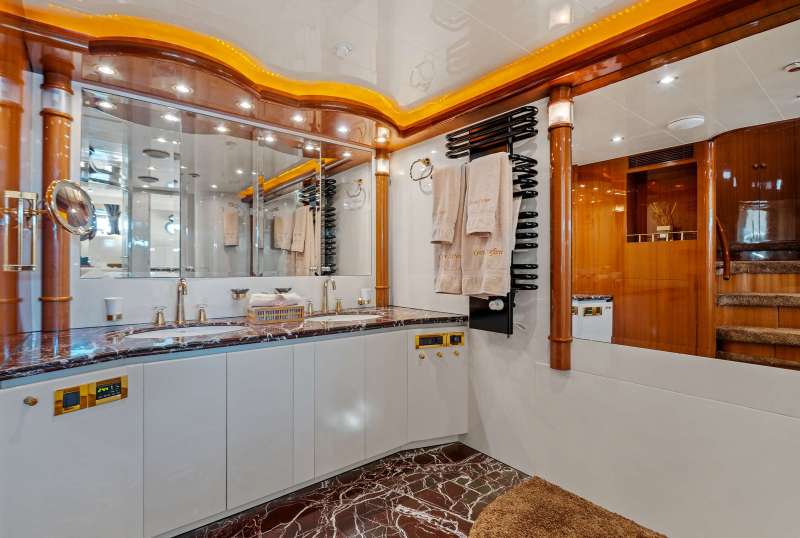 CONTE STEFANI
From €75,000/week
5 cabins
114 ft
Horizon
12 guests
Refit: 2023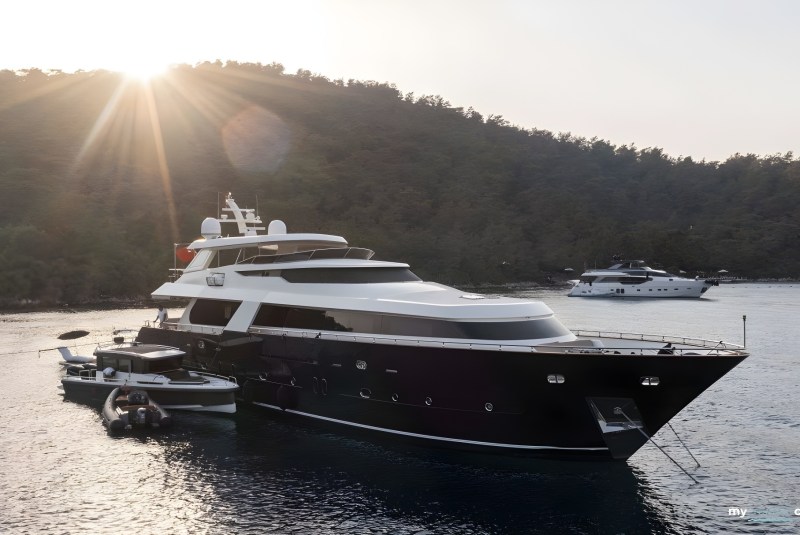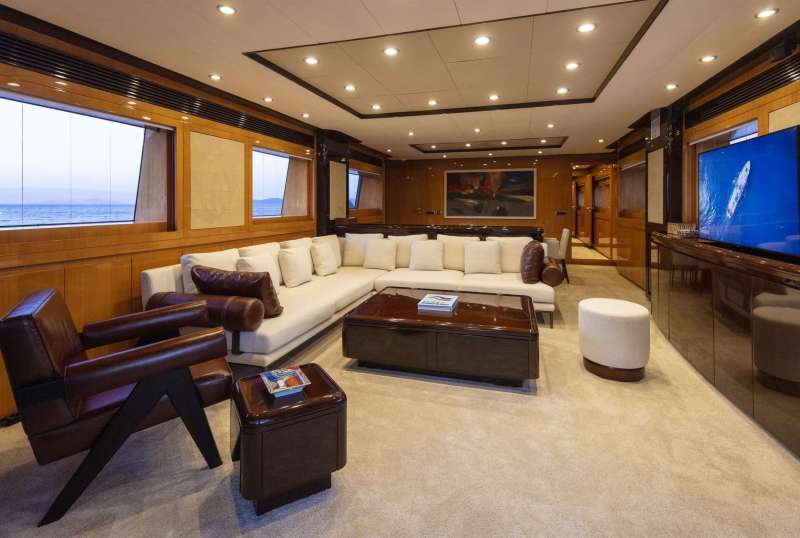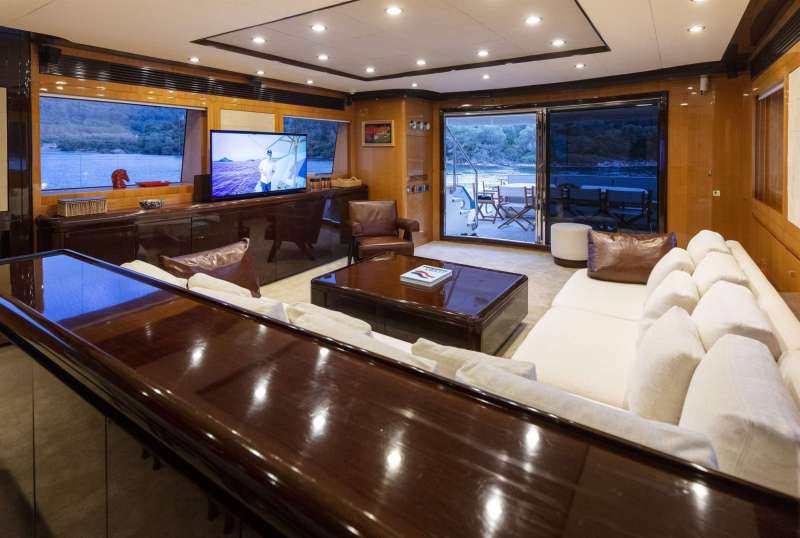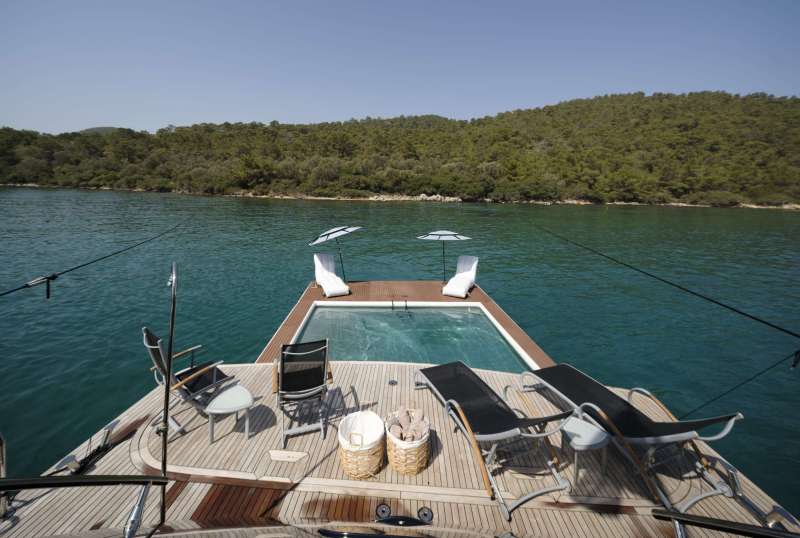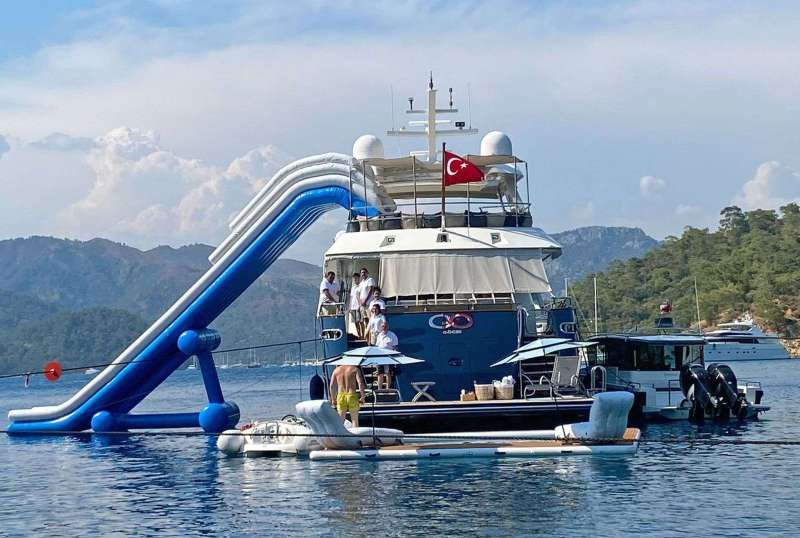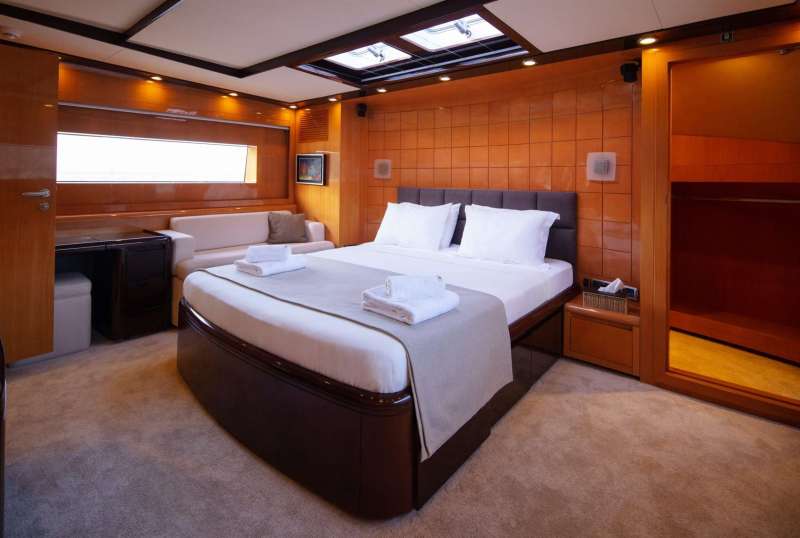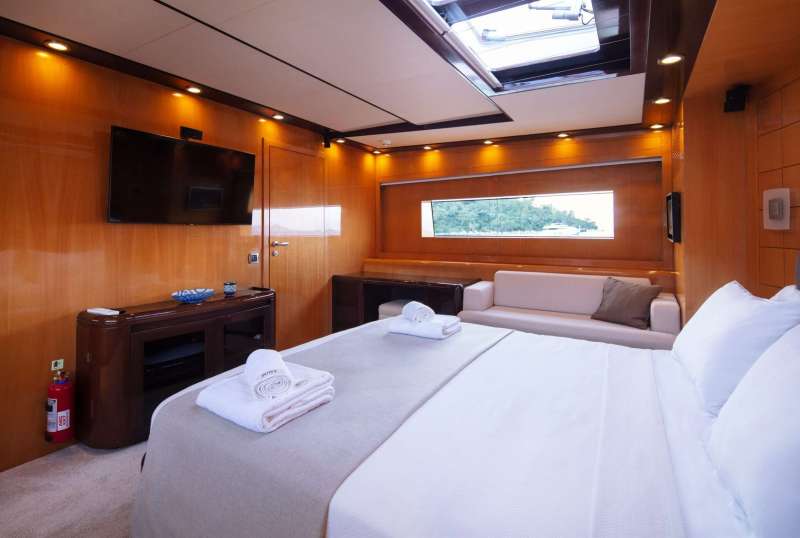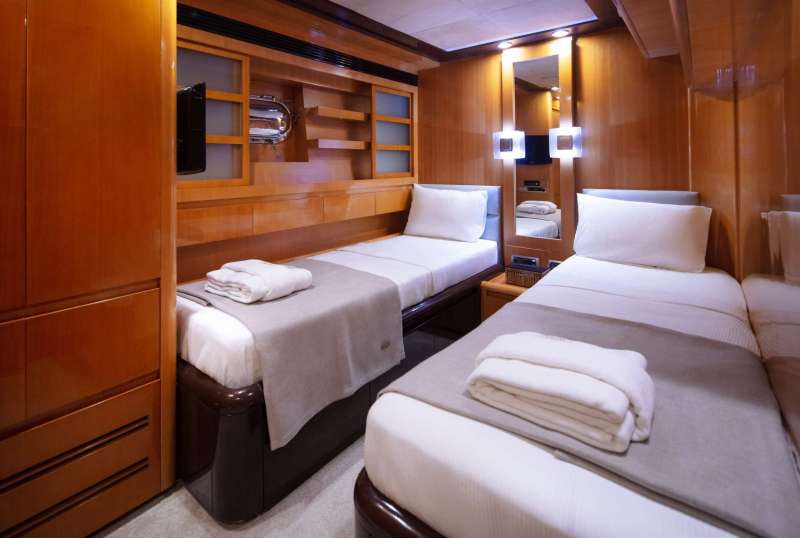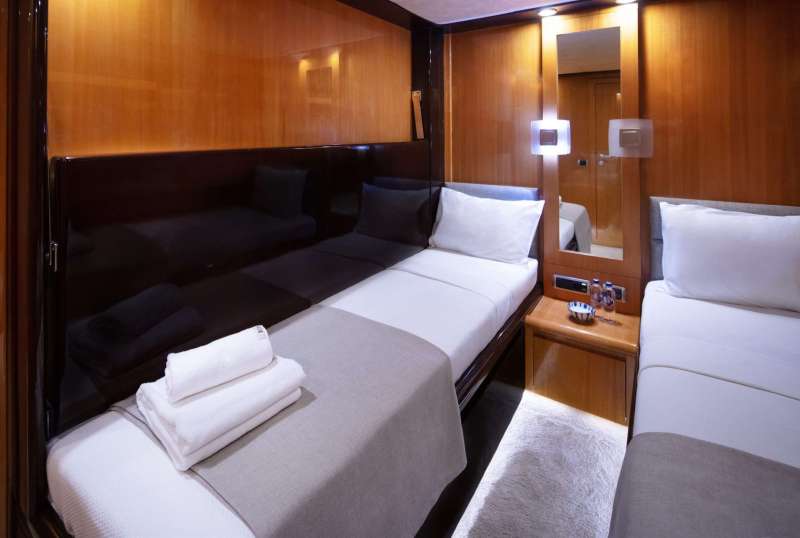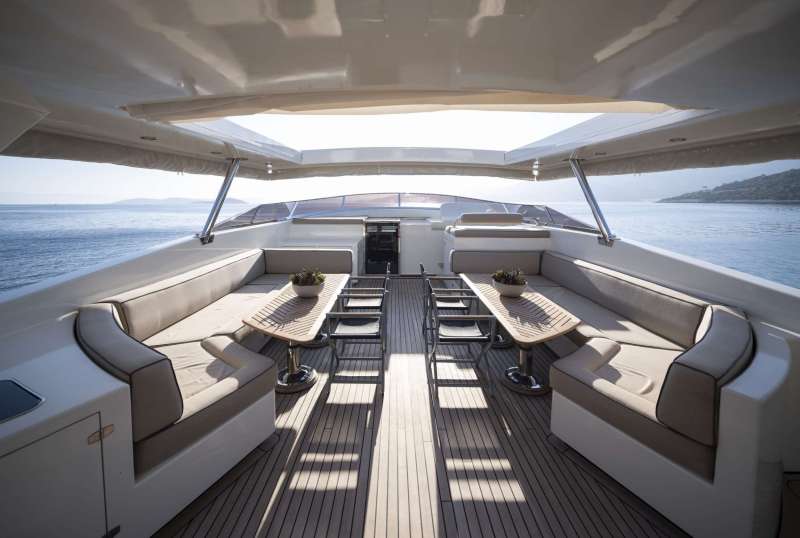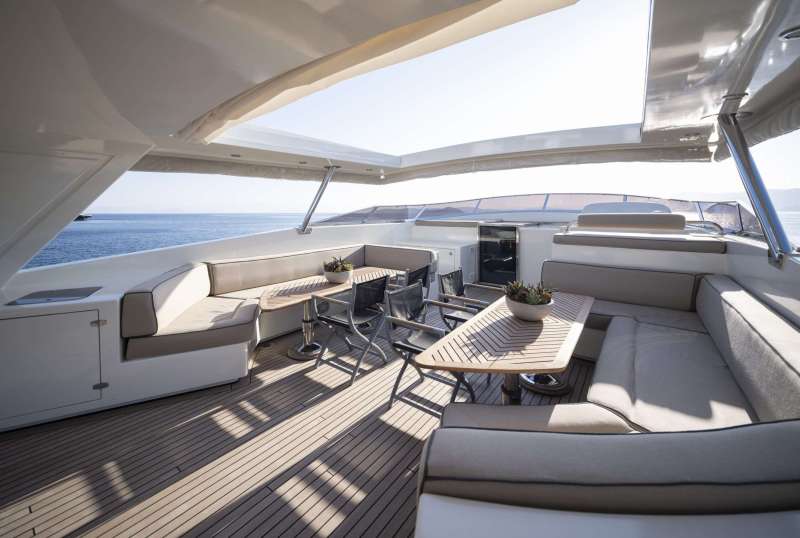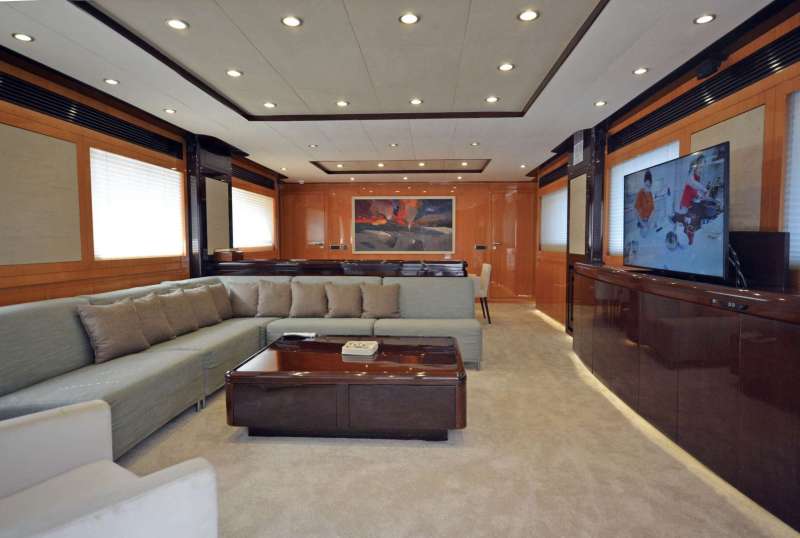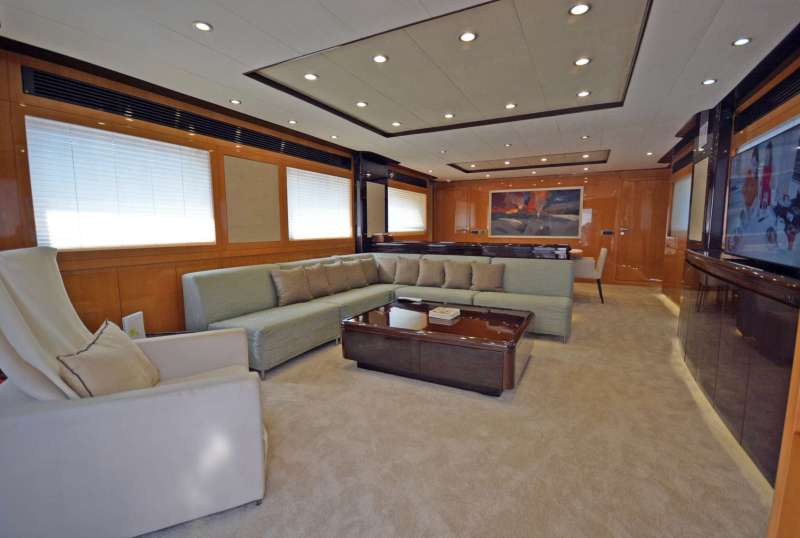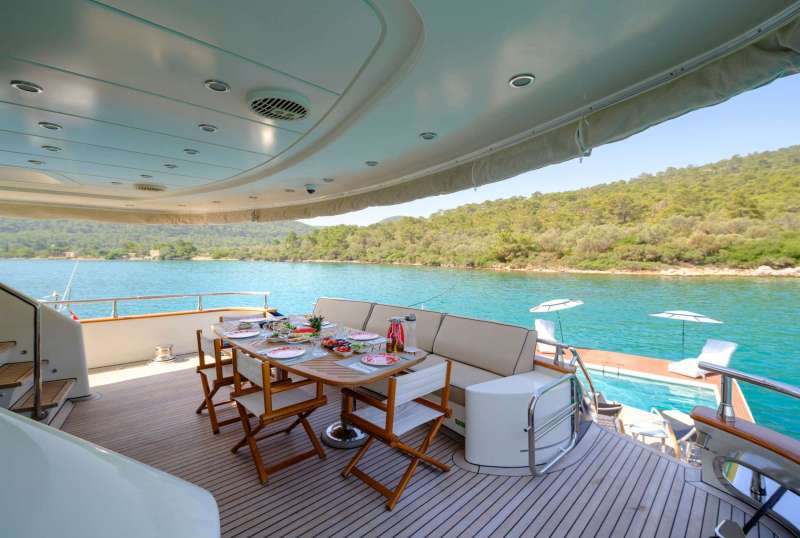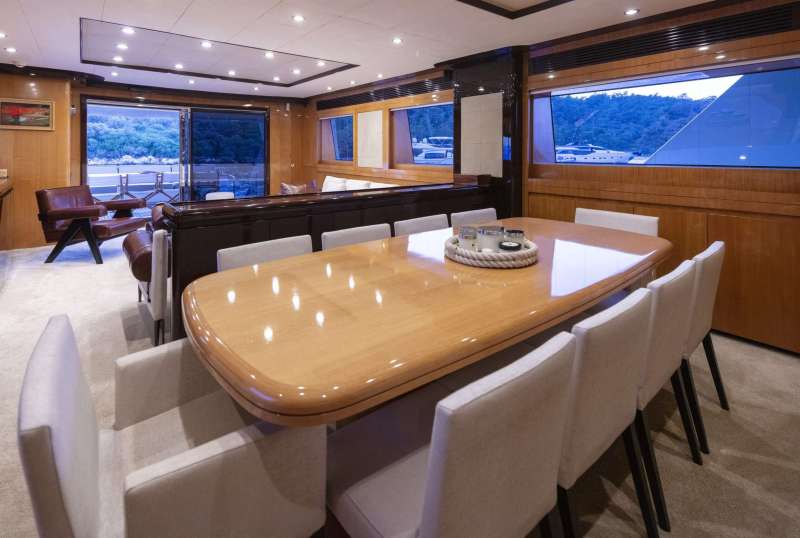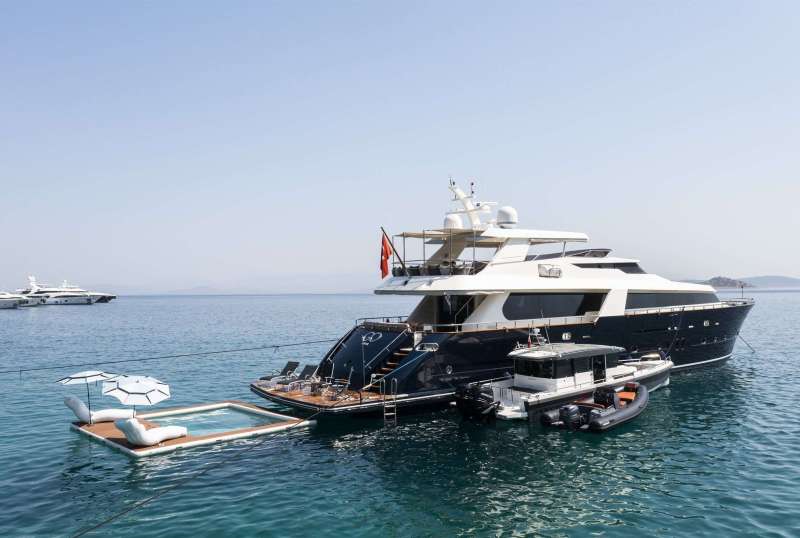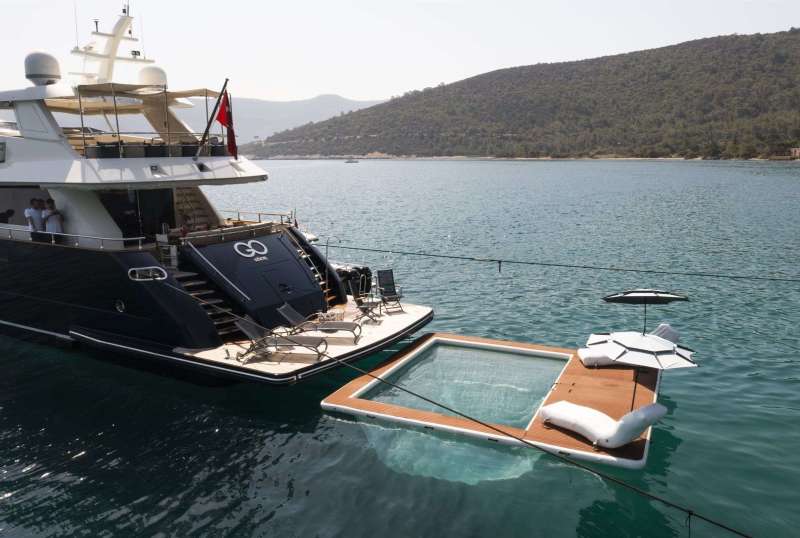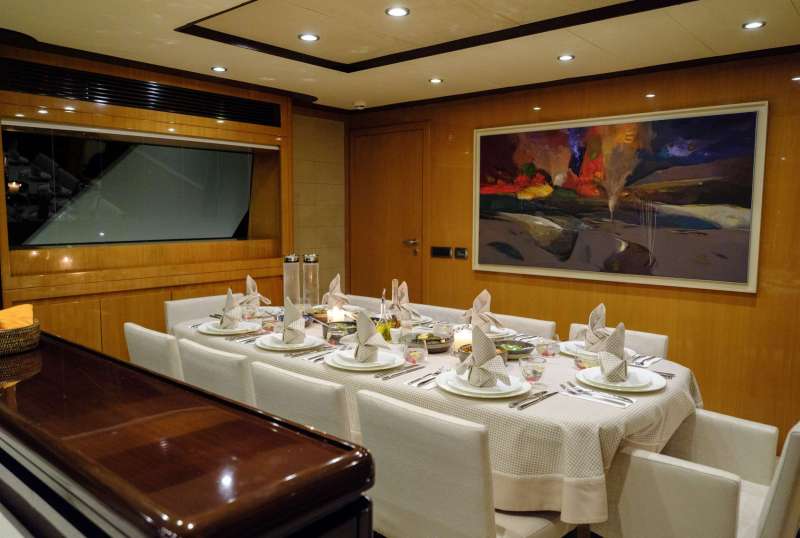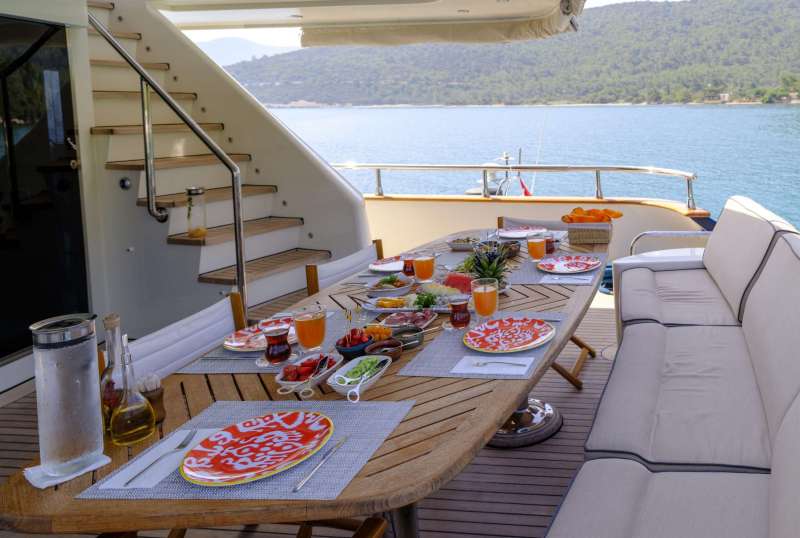 GO
From €65,000/week
5 cabins
114 ft
Custom
10 guests
Built: 2009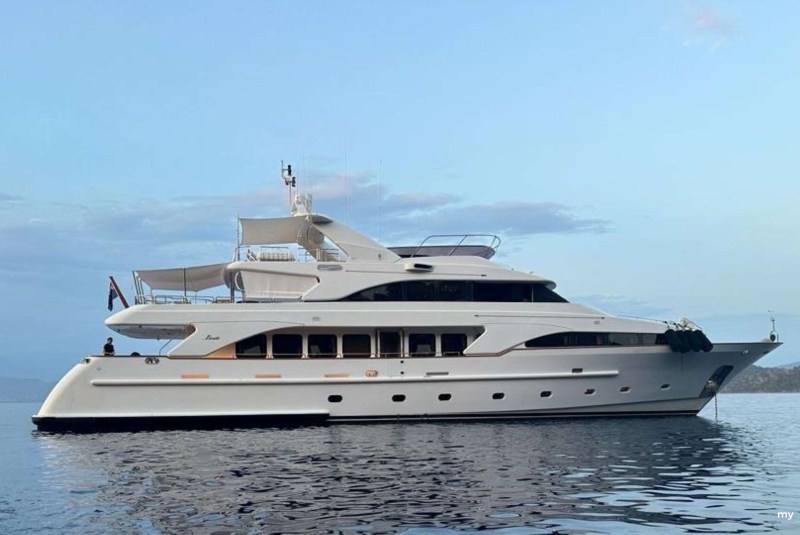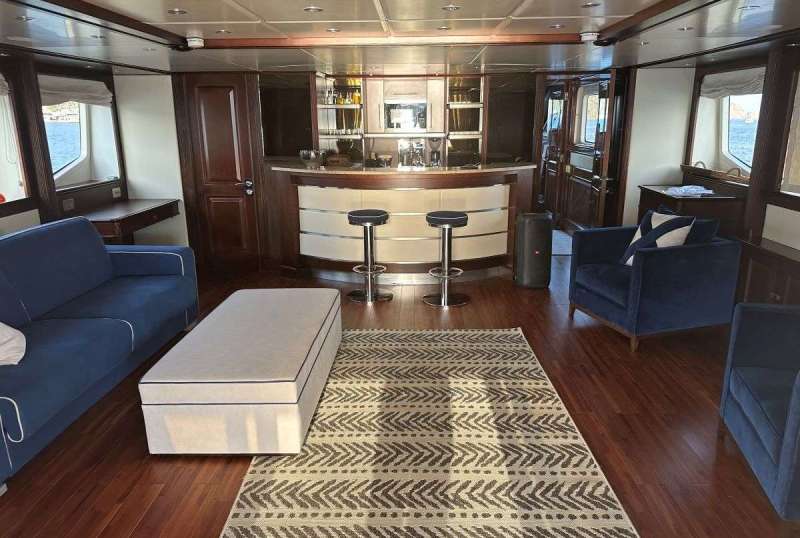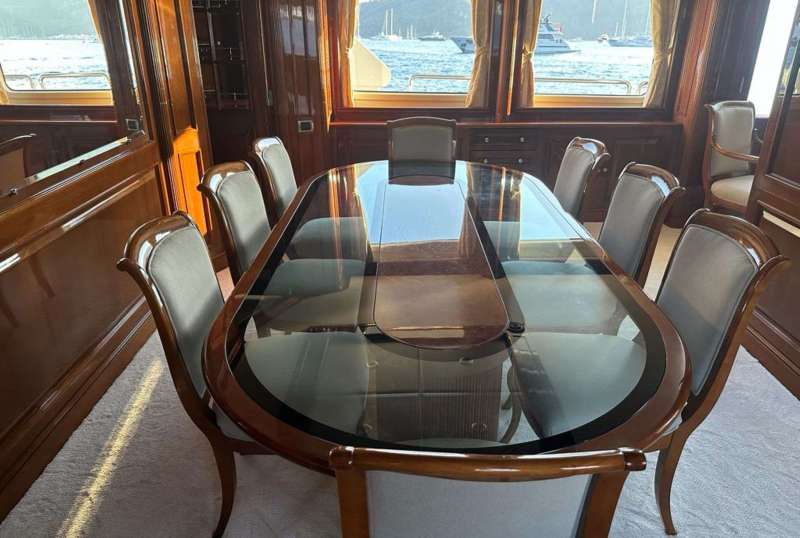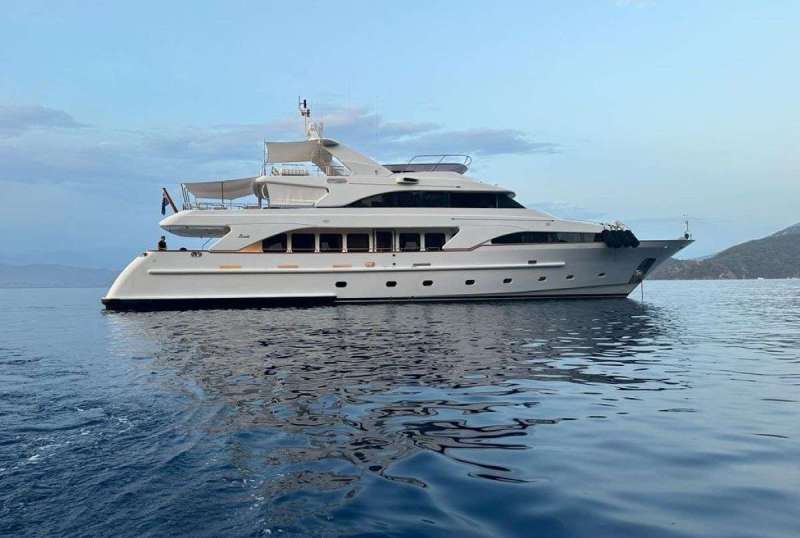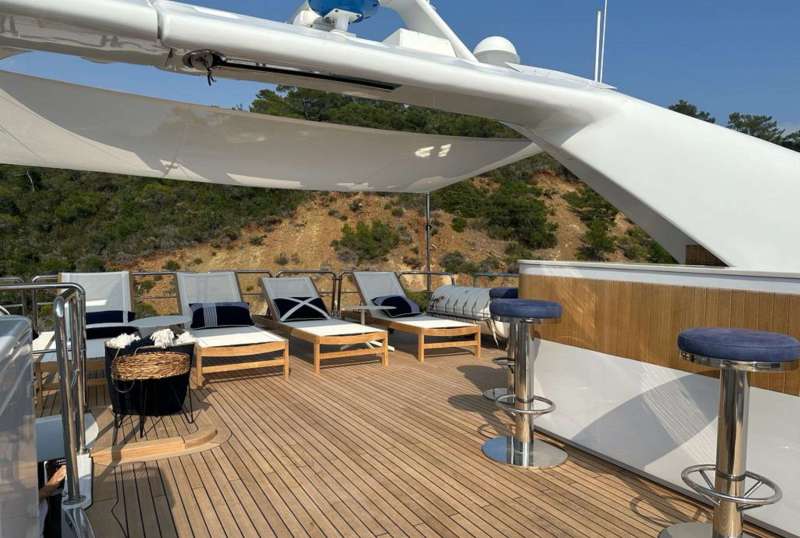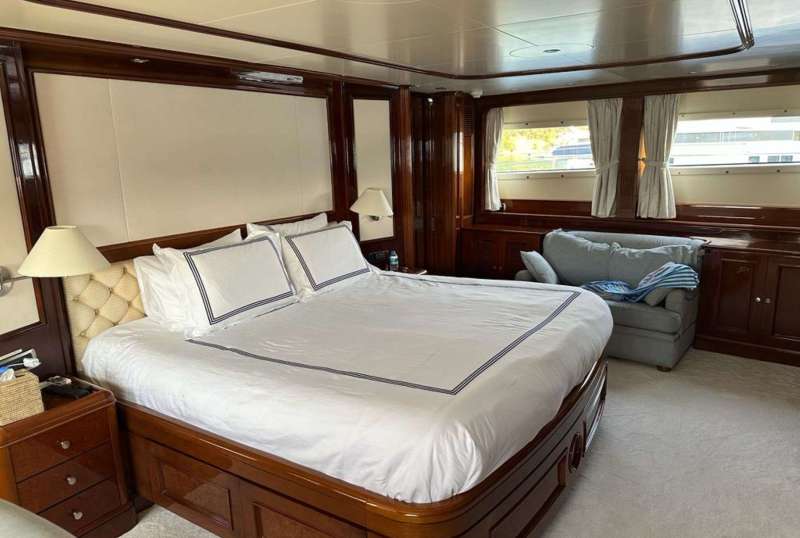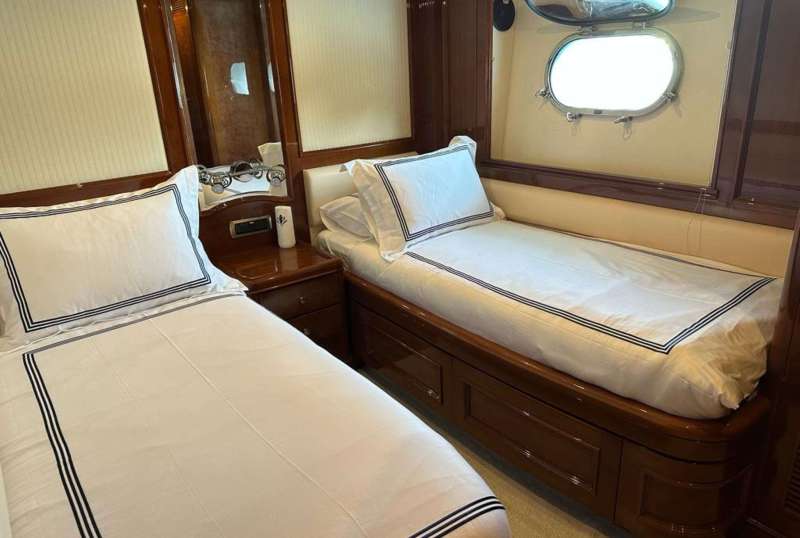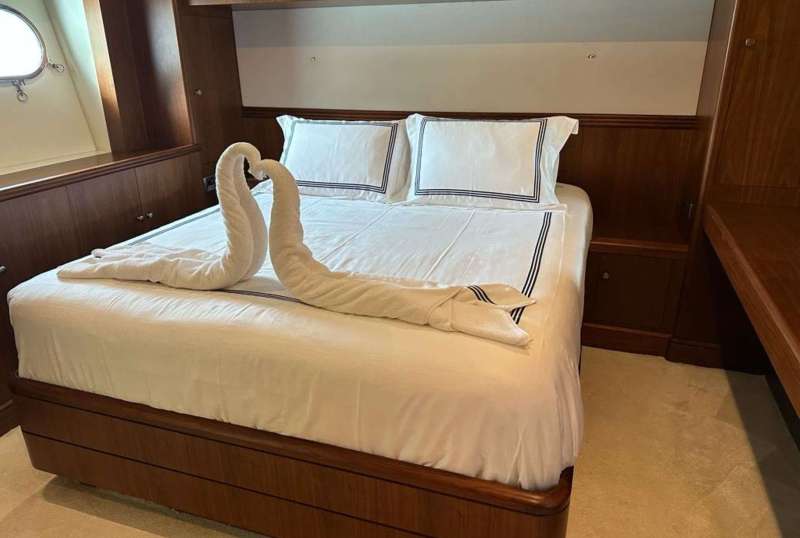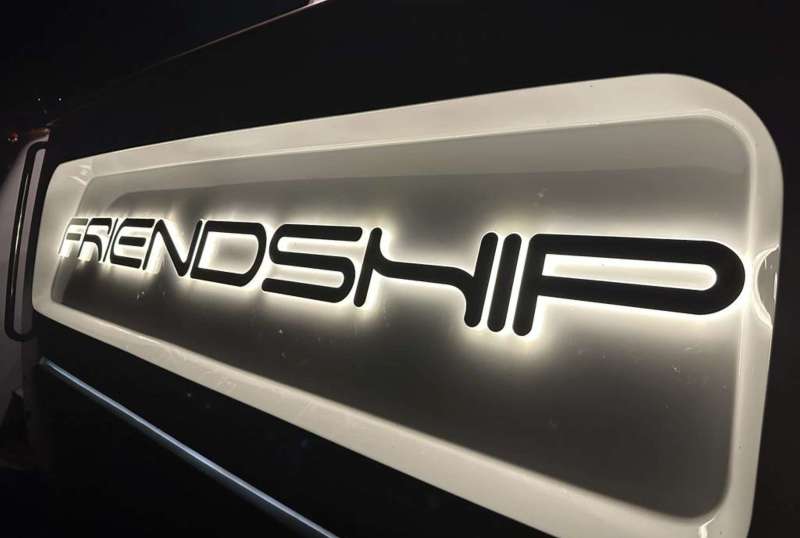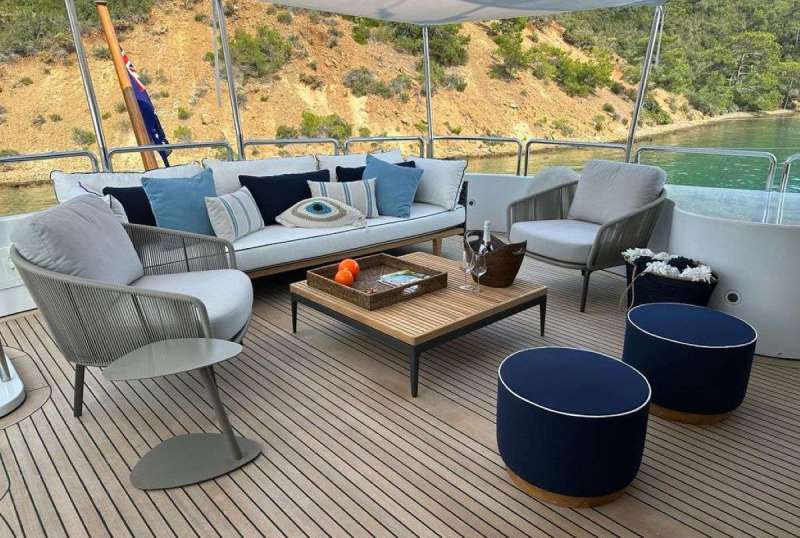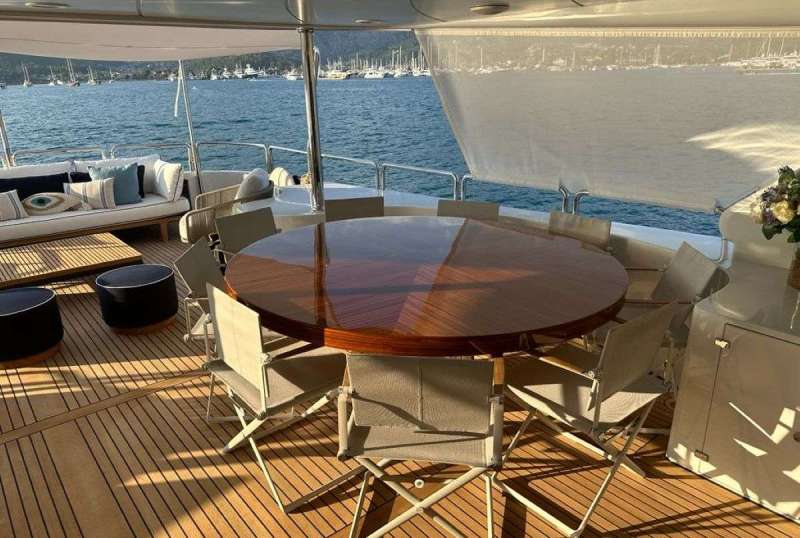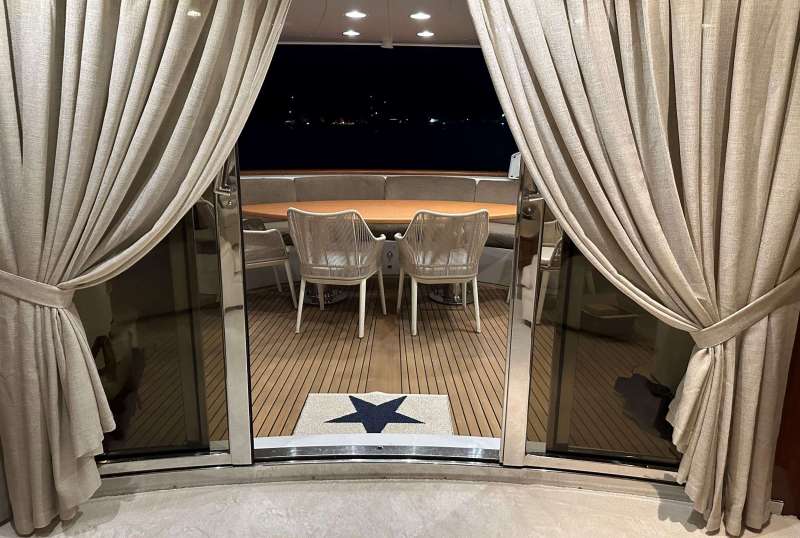 FRIENDSHIP
From €65,000/week
5 cabins
114 ft
Benetti
11 guests
Refit: 2014 and 2023
300 Litres/Hr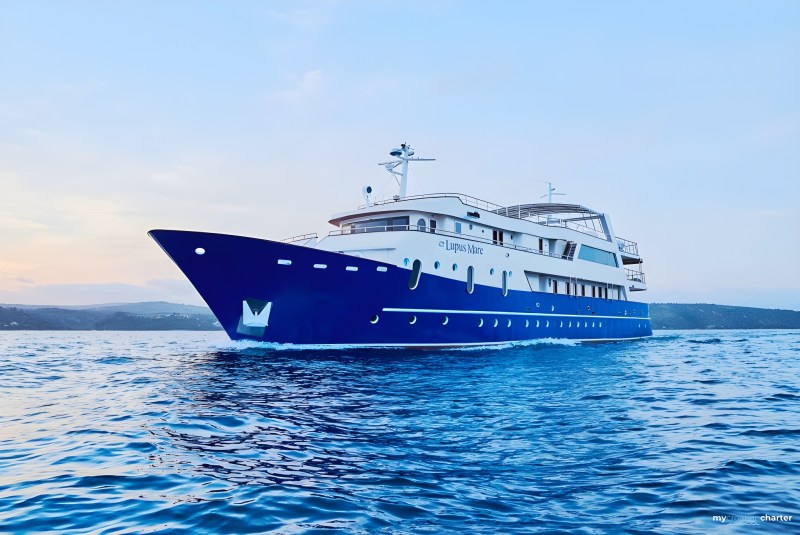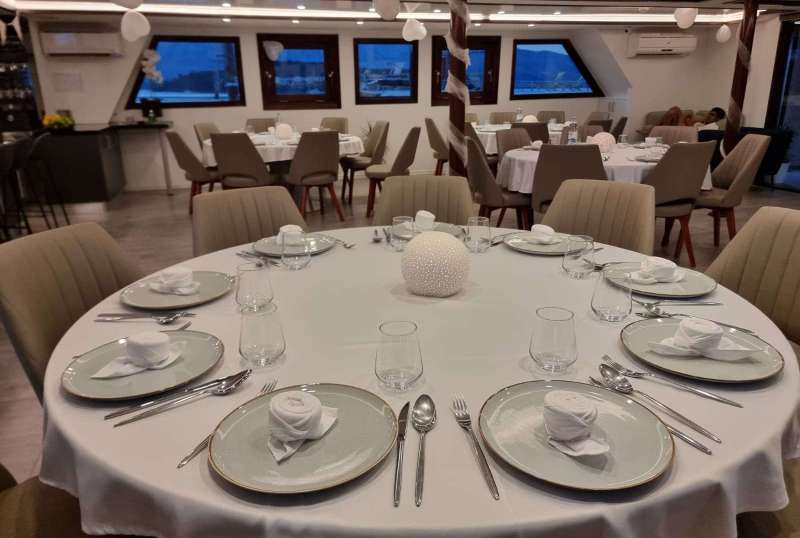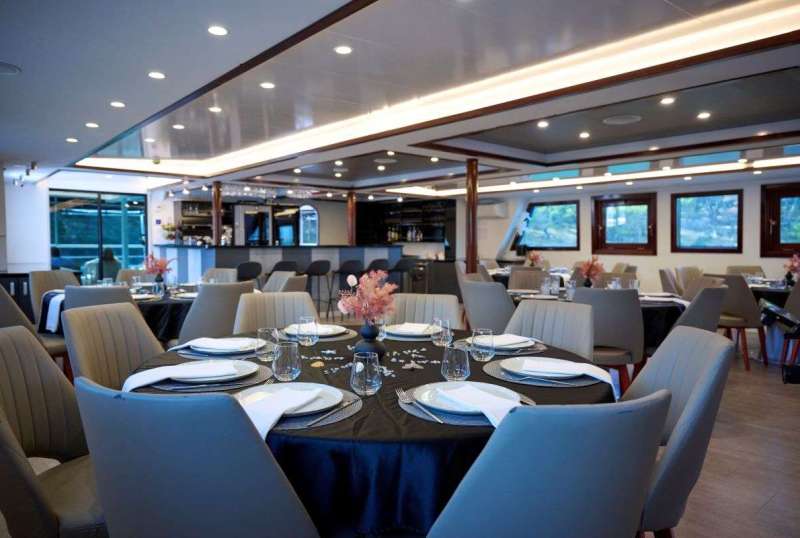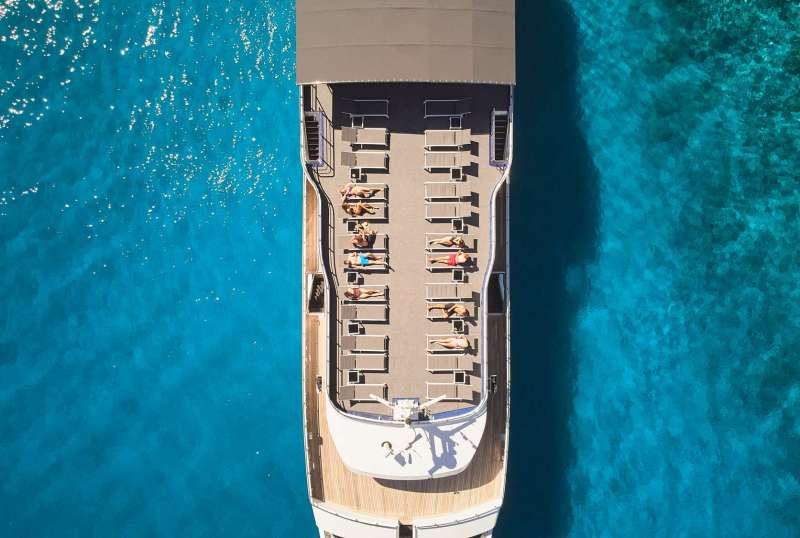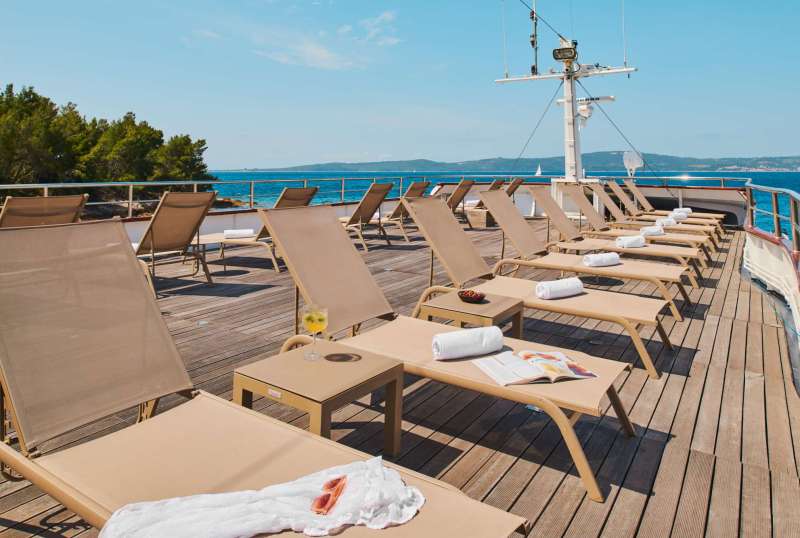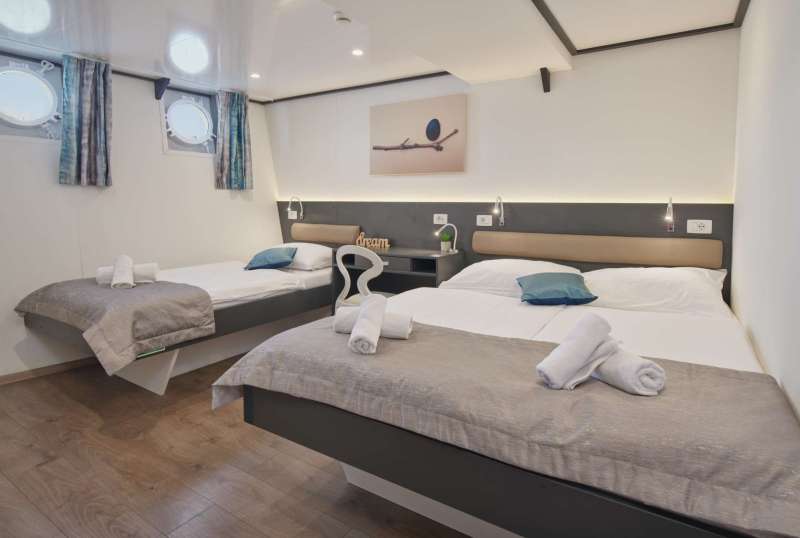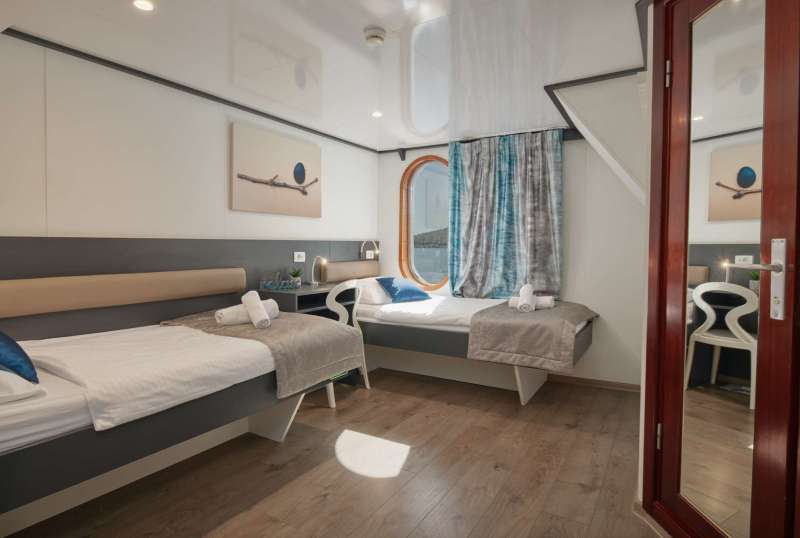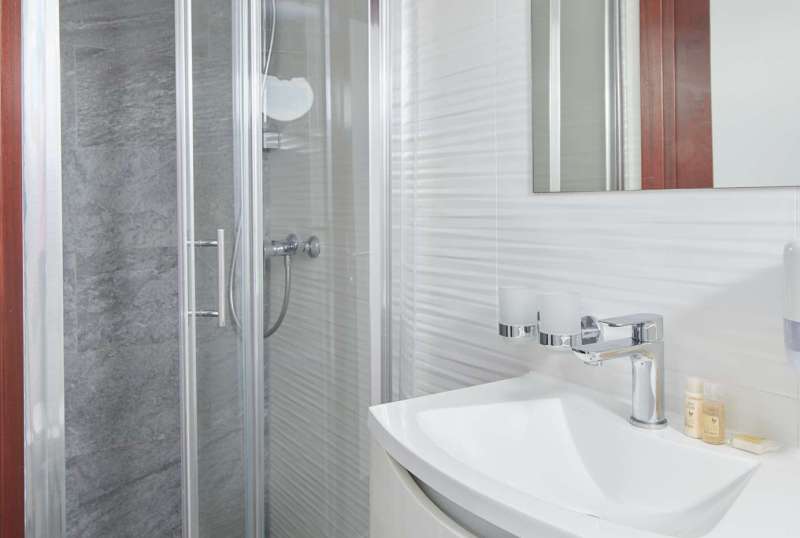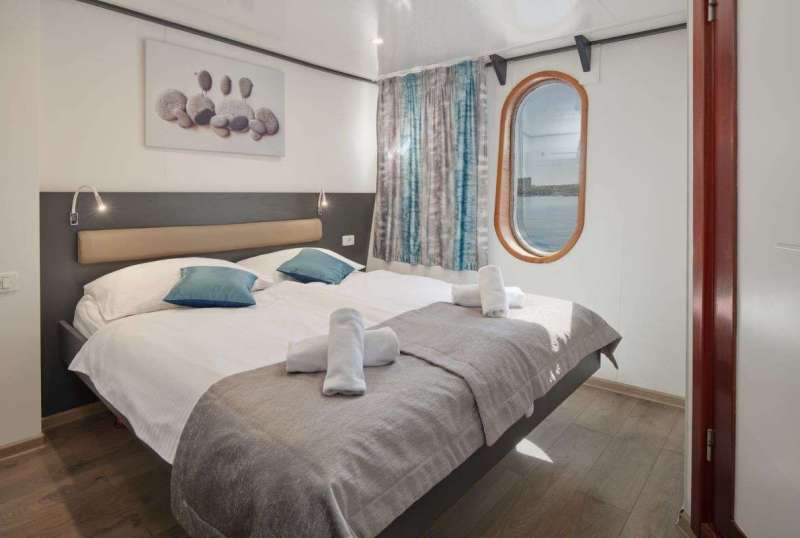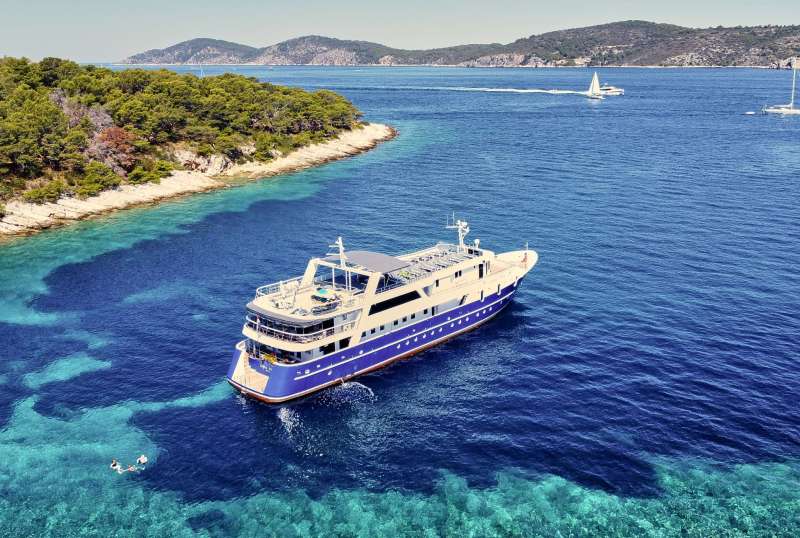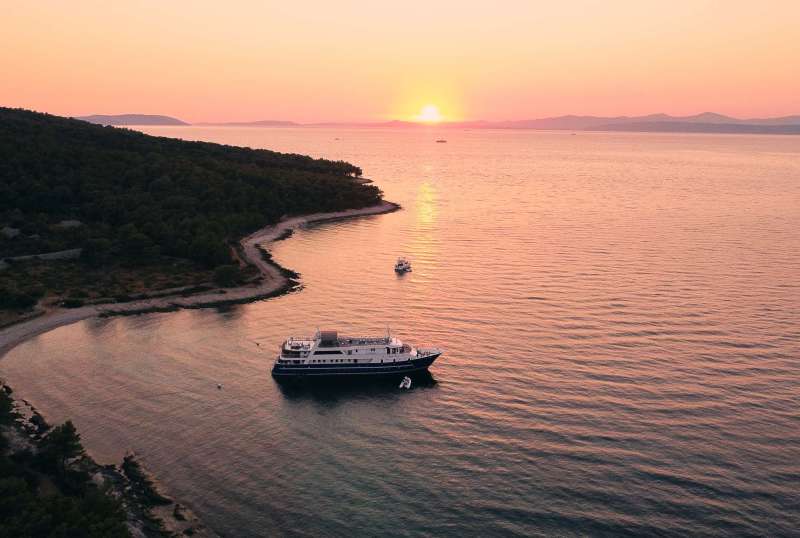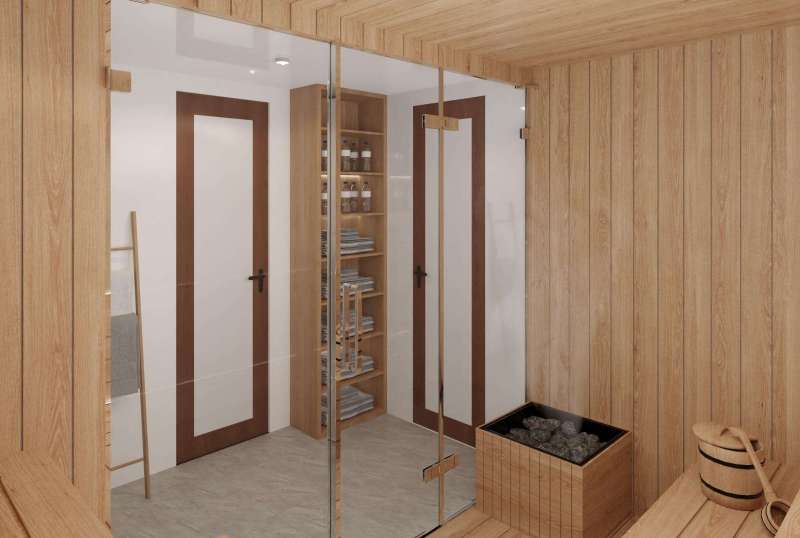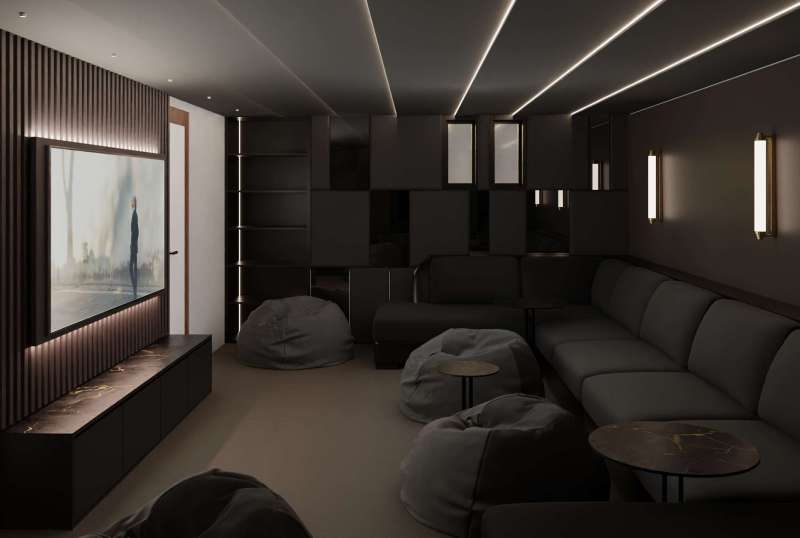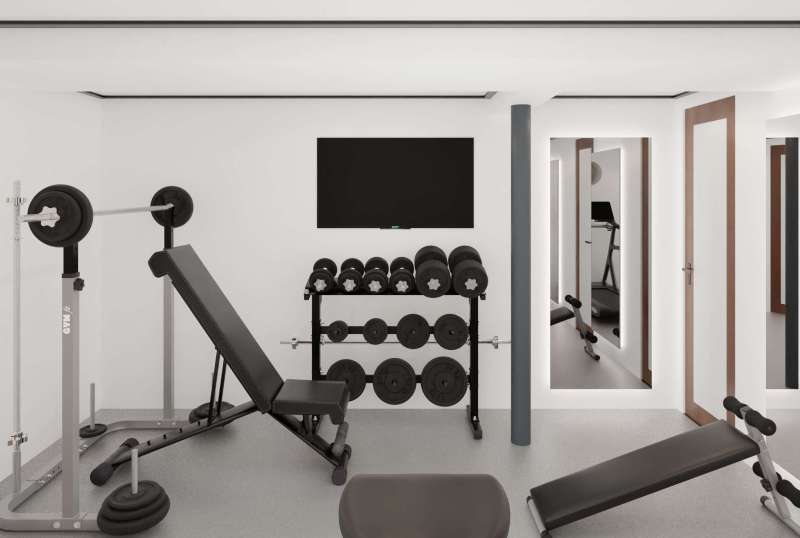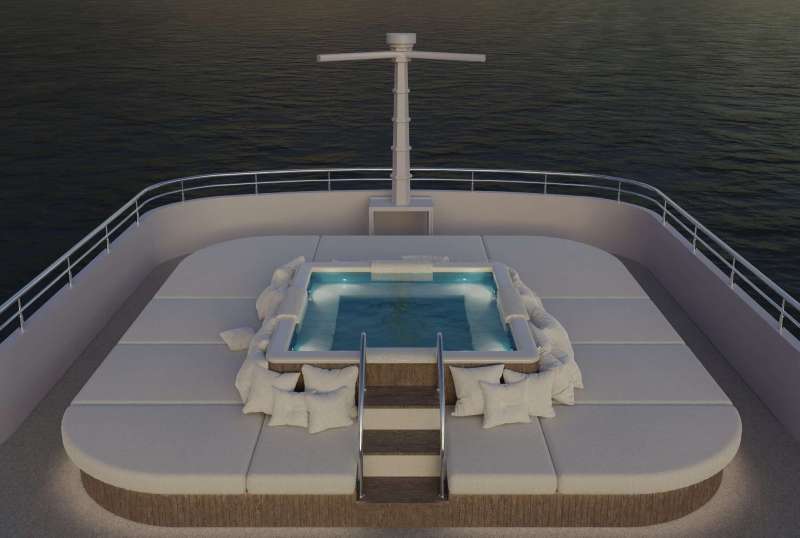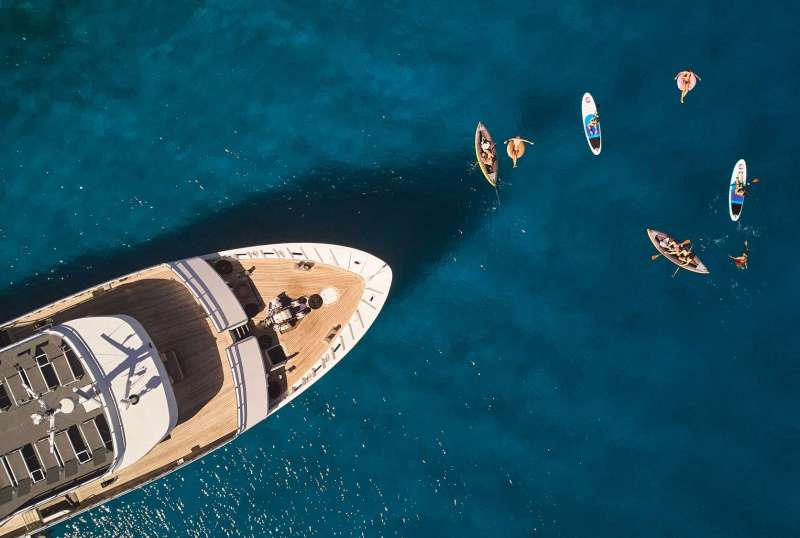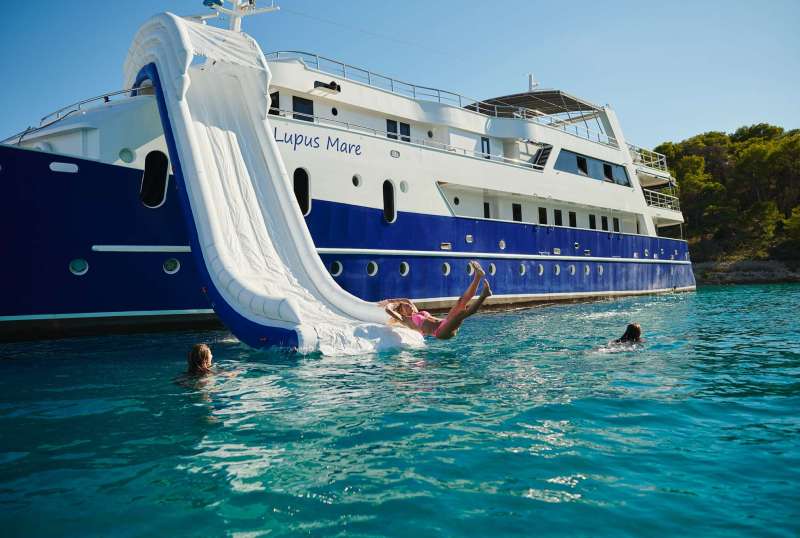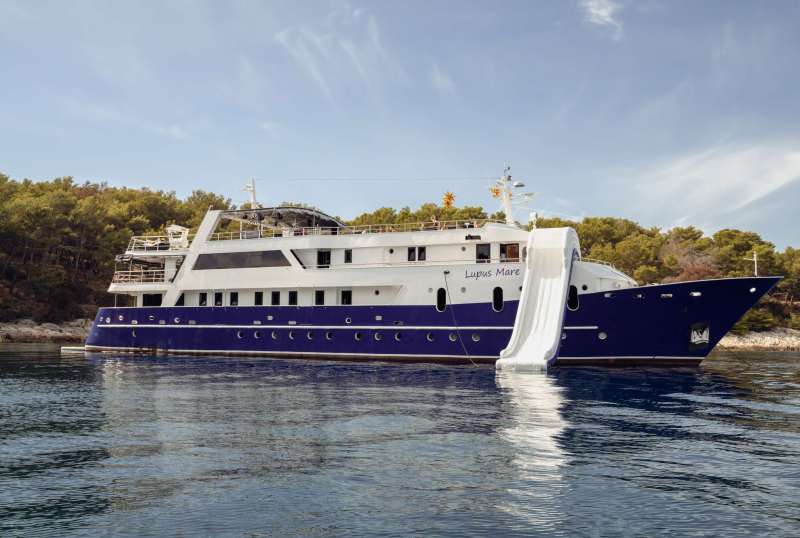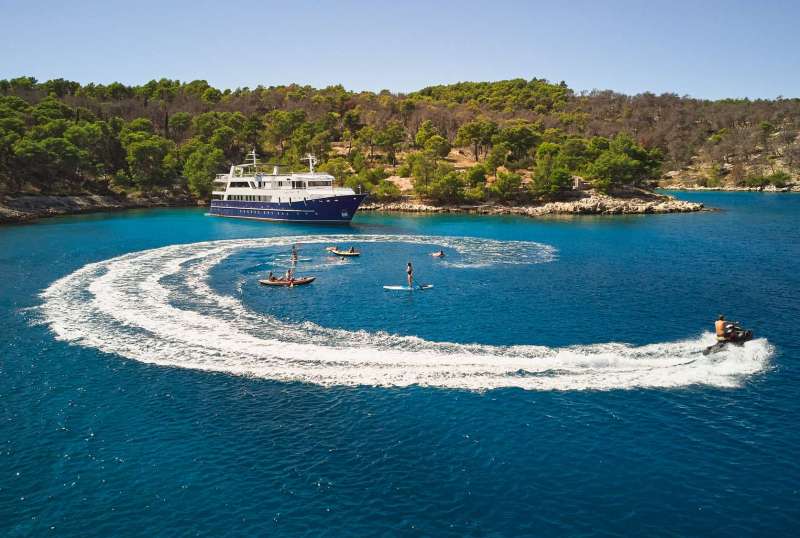 LUPUS MARE
From €65,000/week
10+ cabins
141 ft
Custom
32 guests
Refit: 2018 and 2022
200 Litres/Hr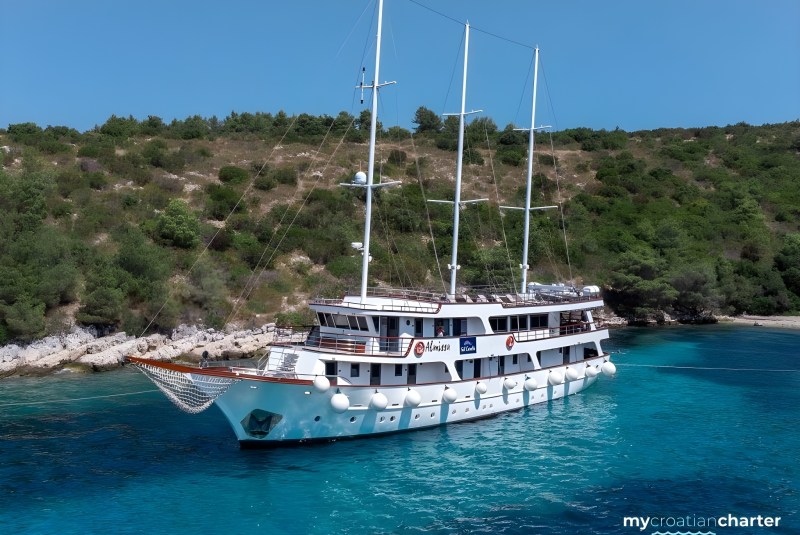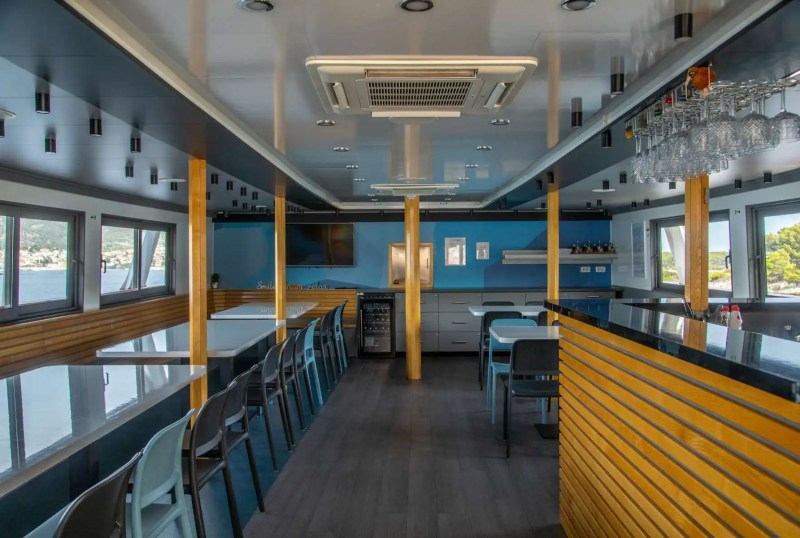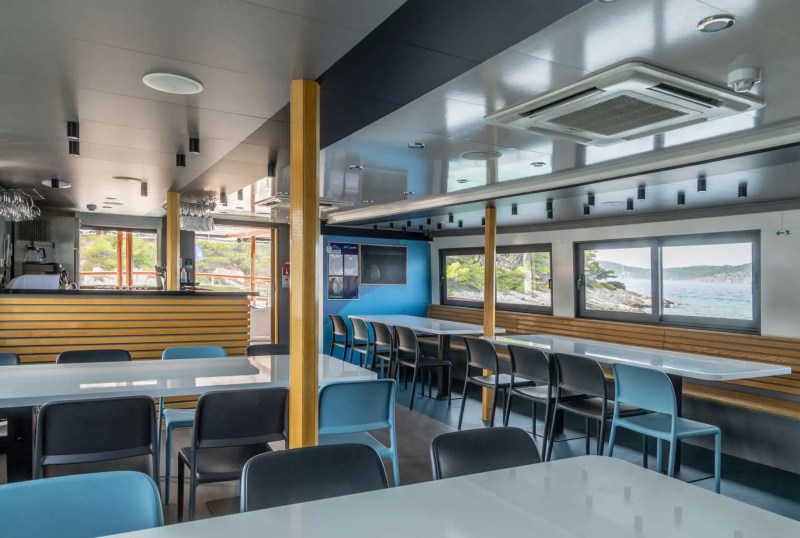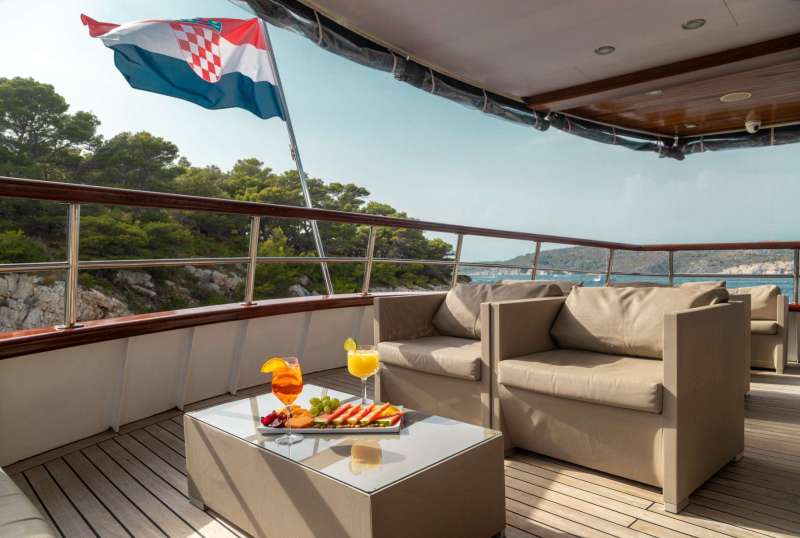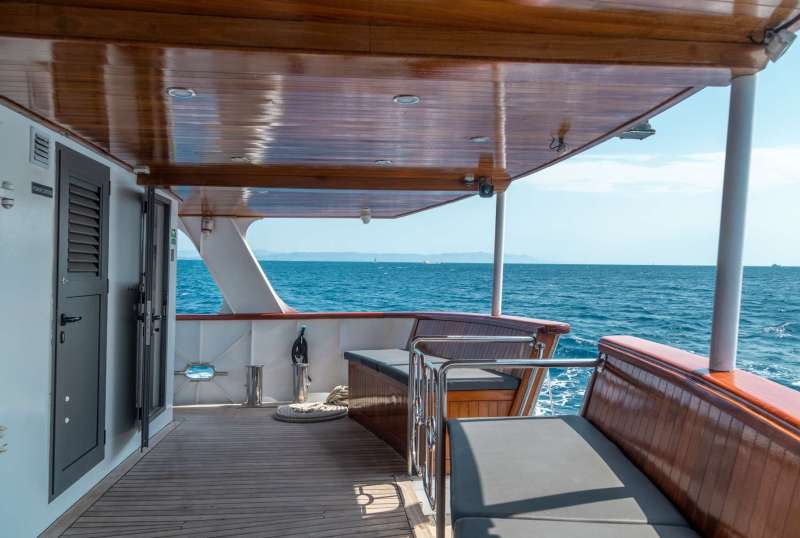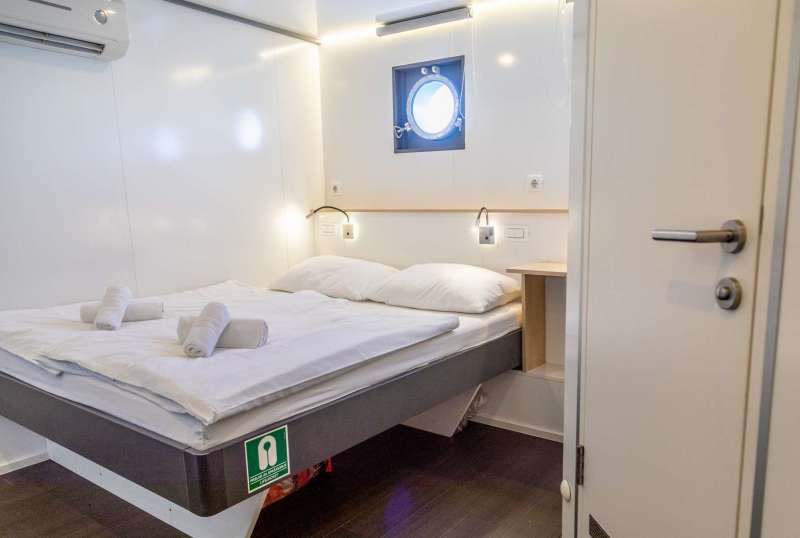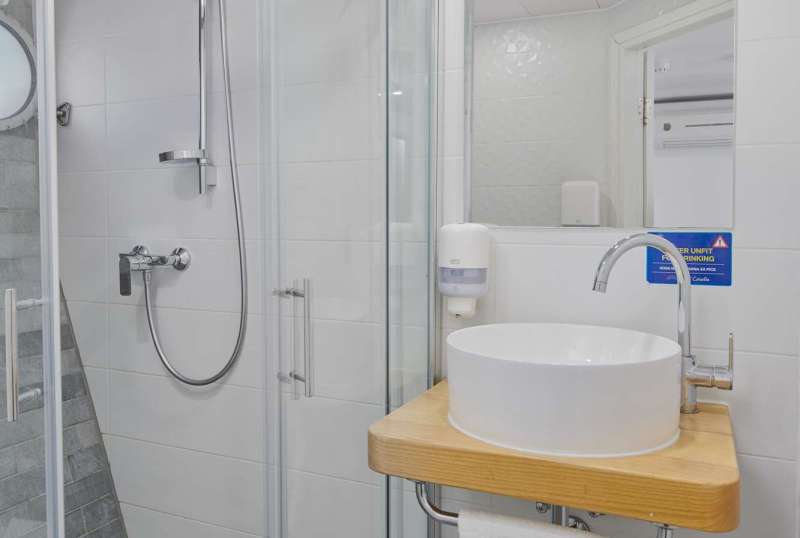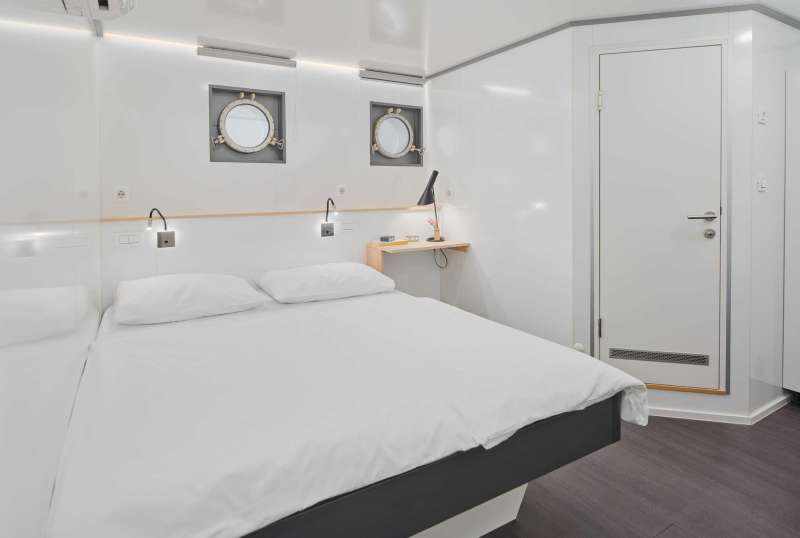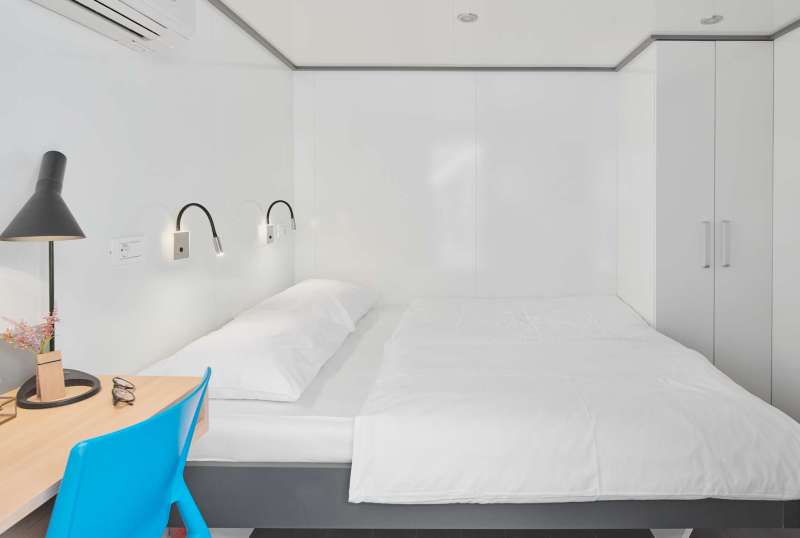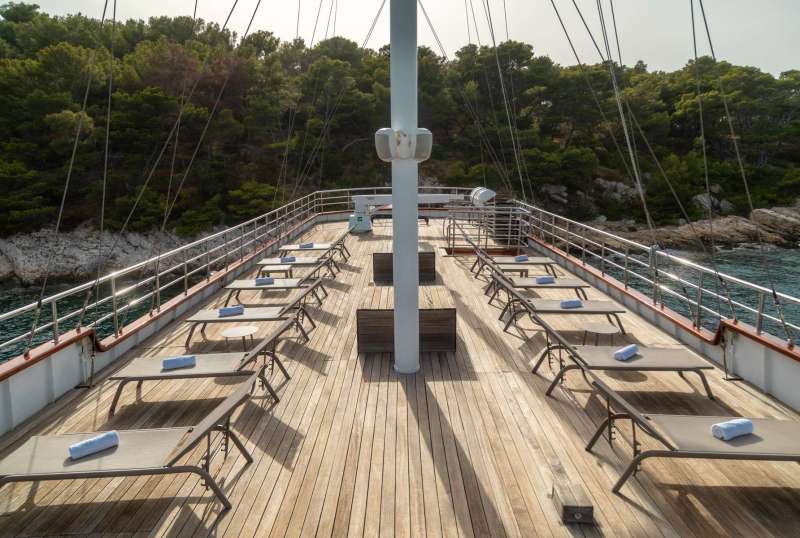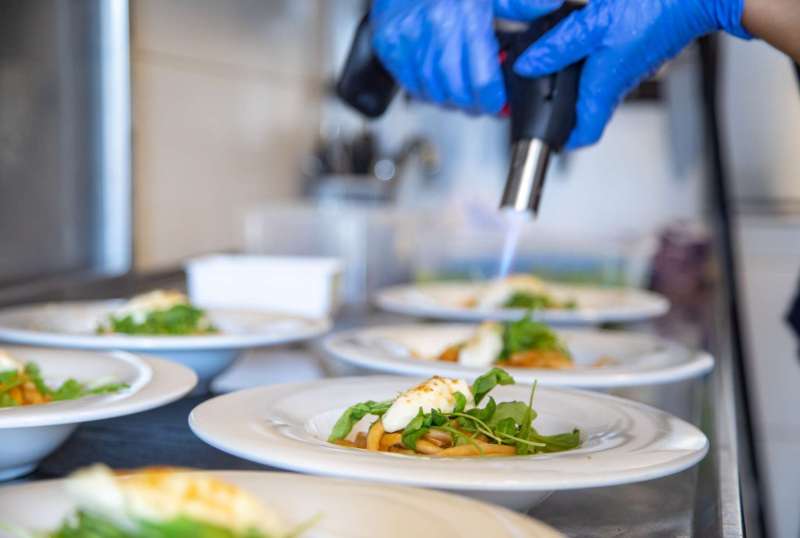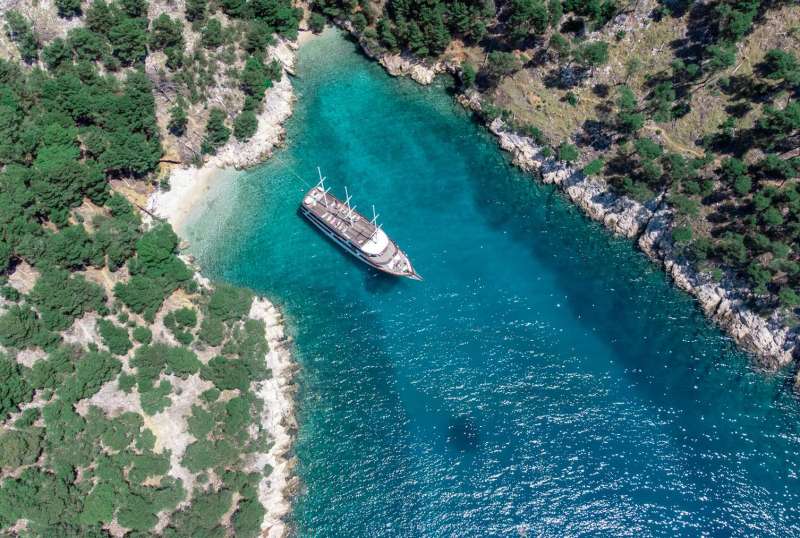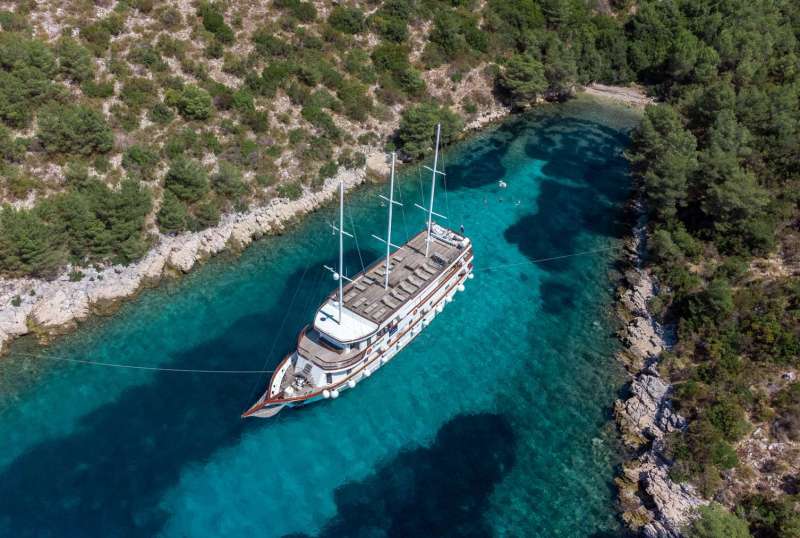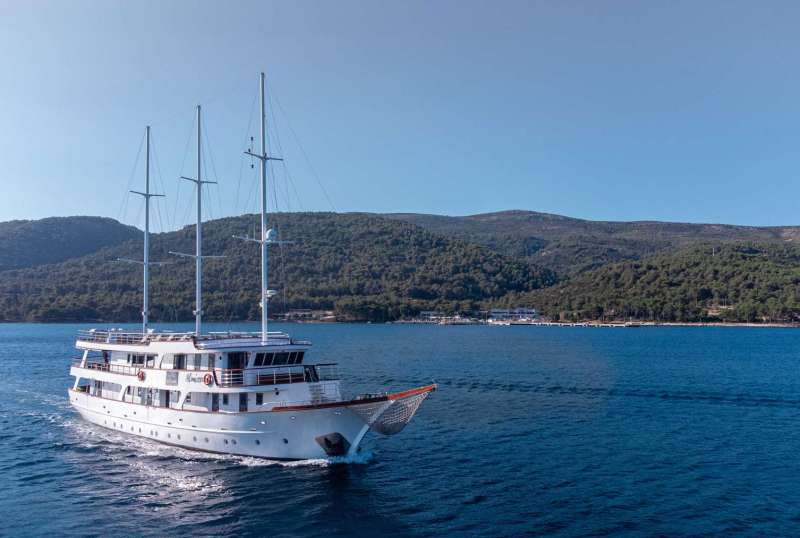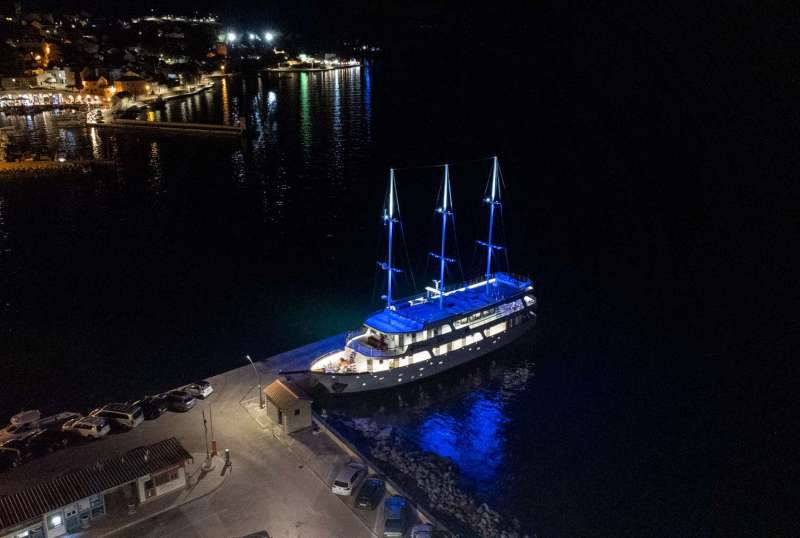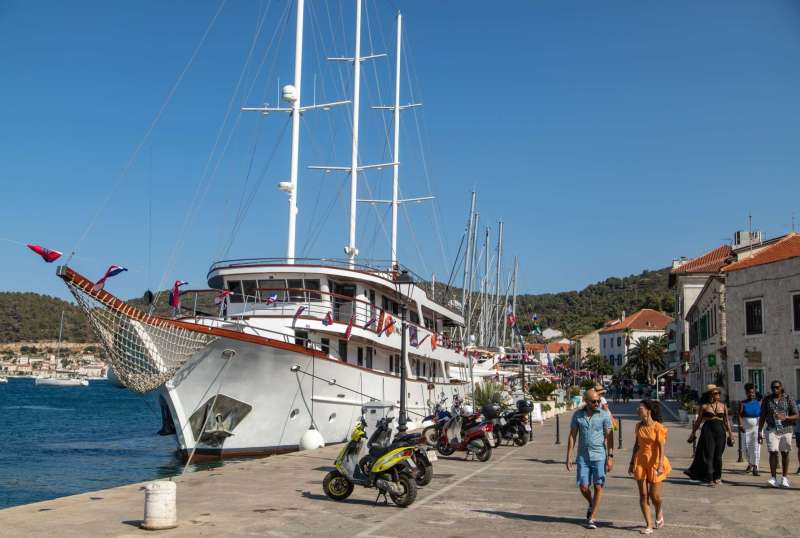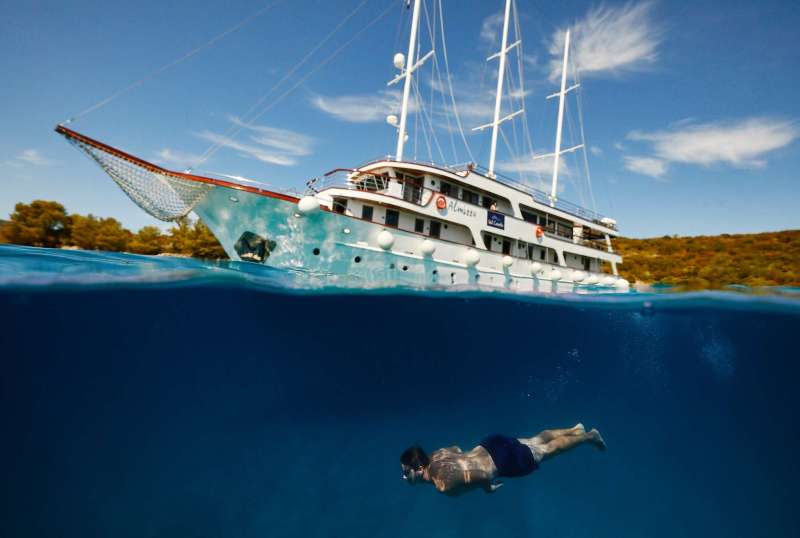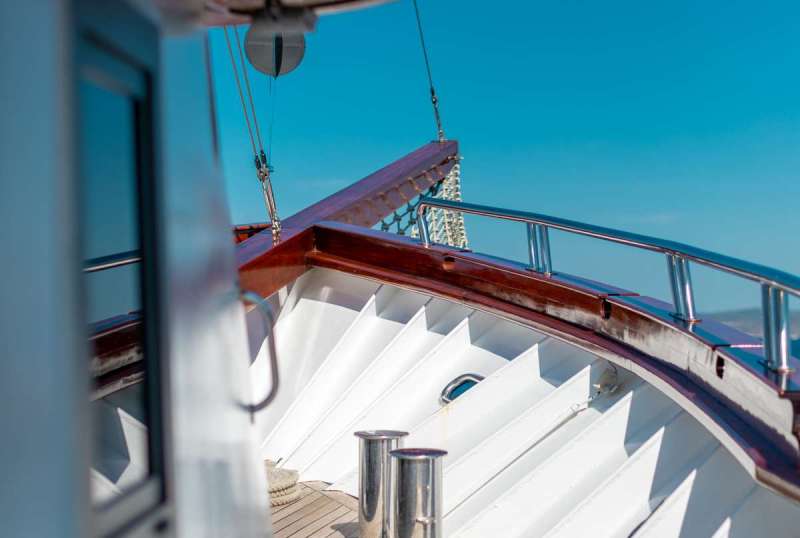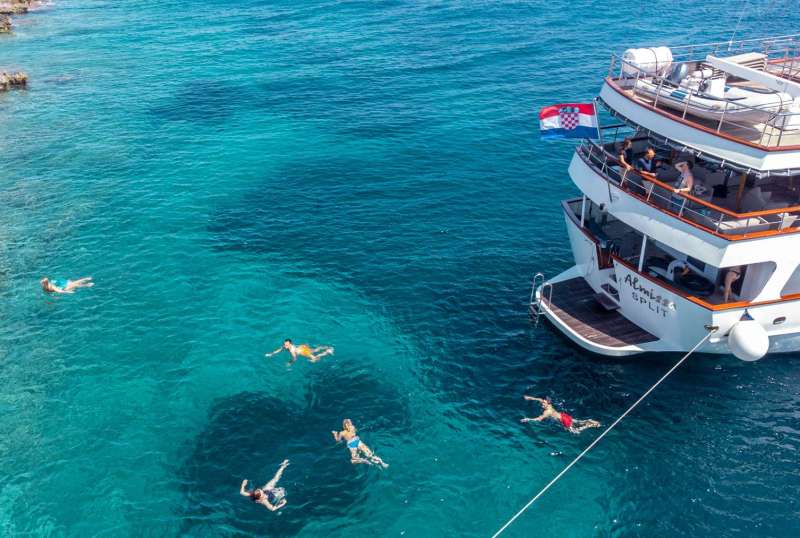 Almissa
From €64,000/week
10+ cabins
132 ft
Custom
34 guests
Built: 2017
120 Litres/Hr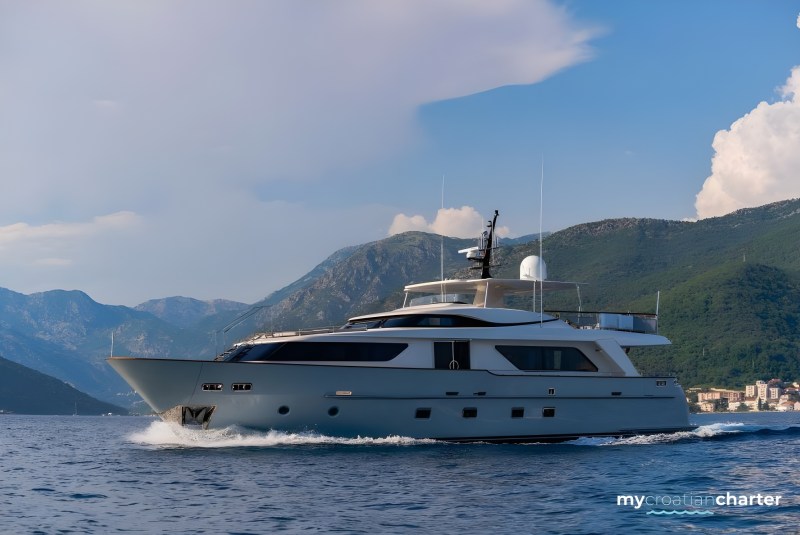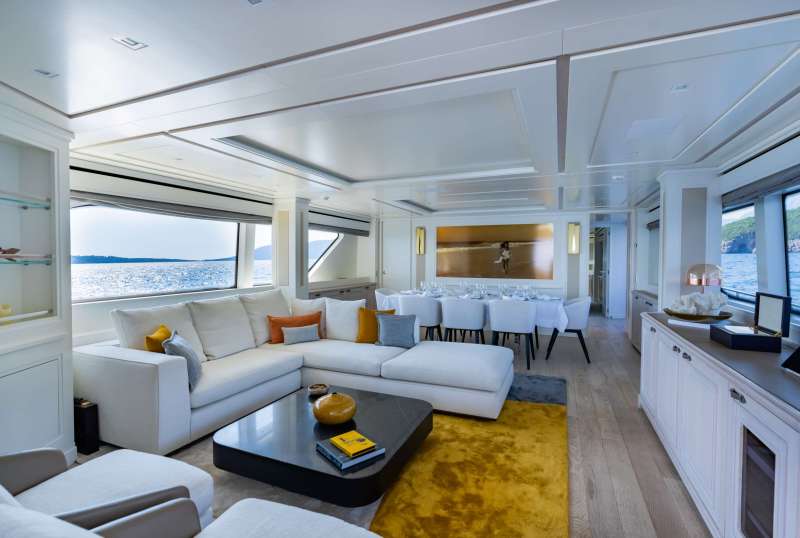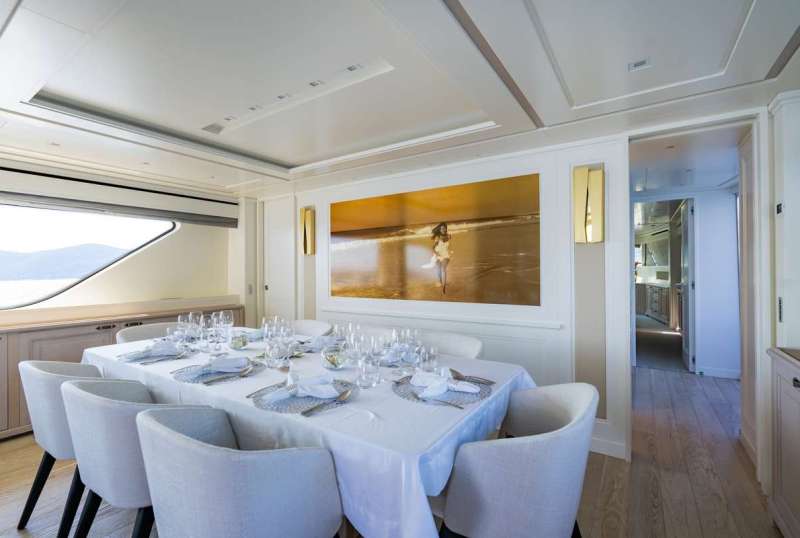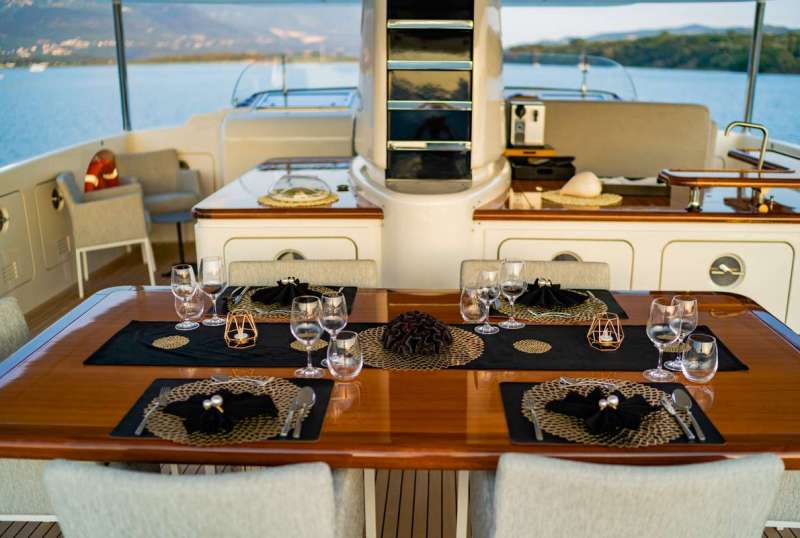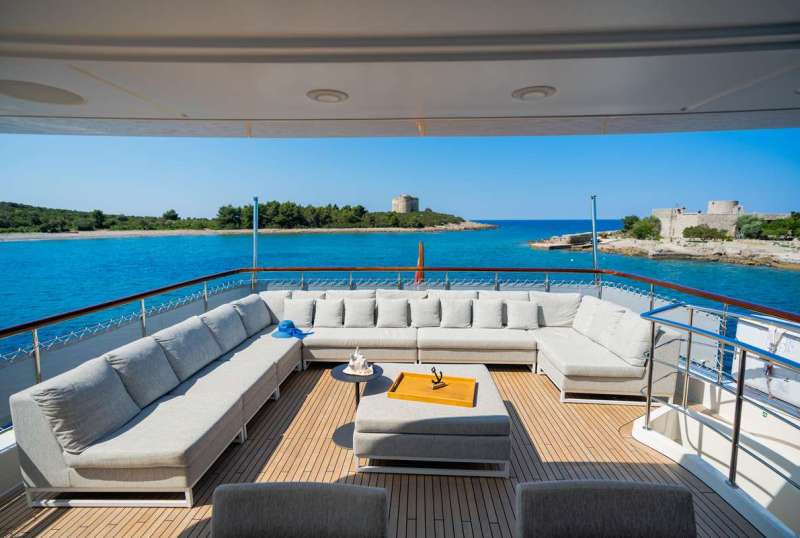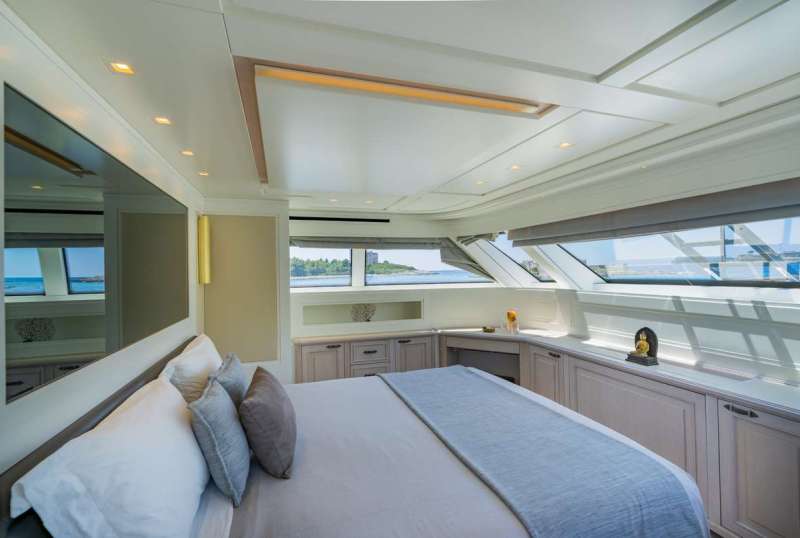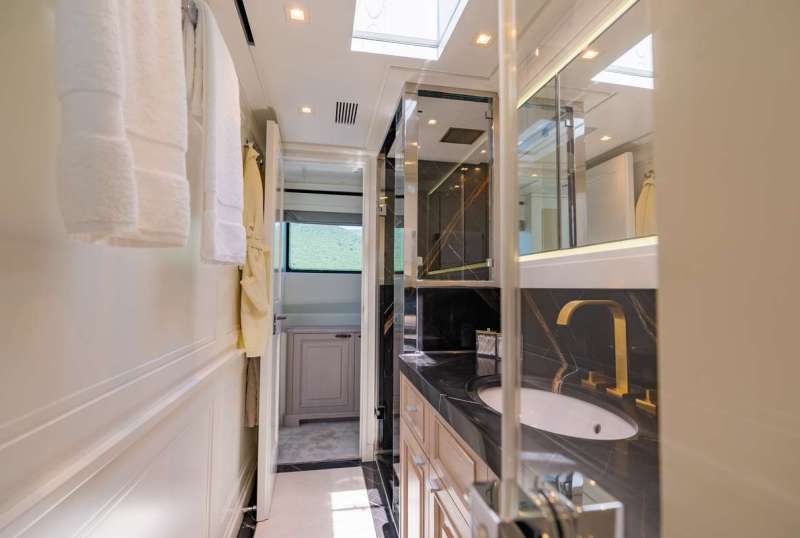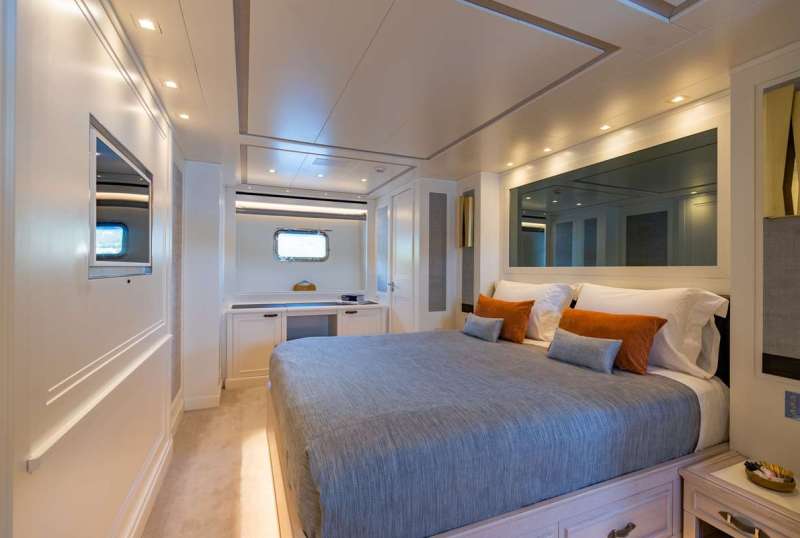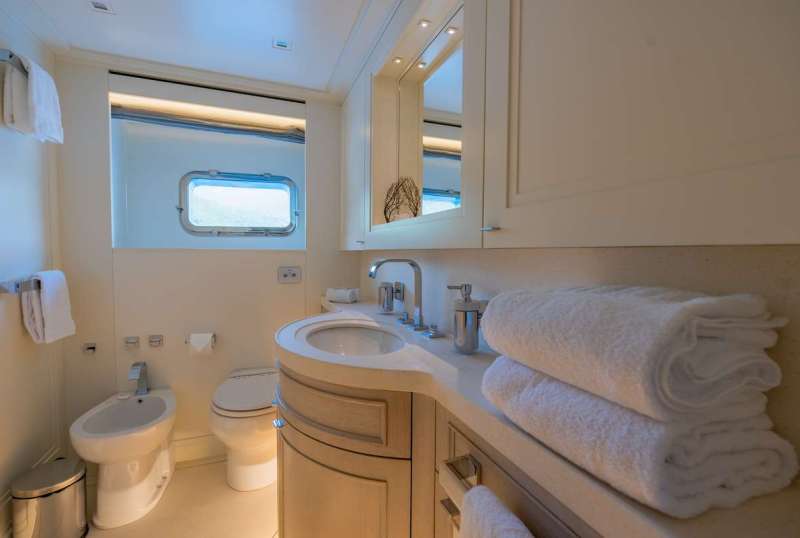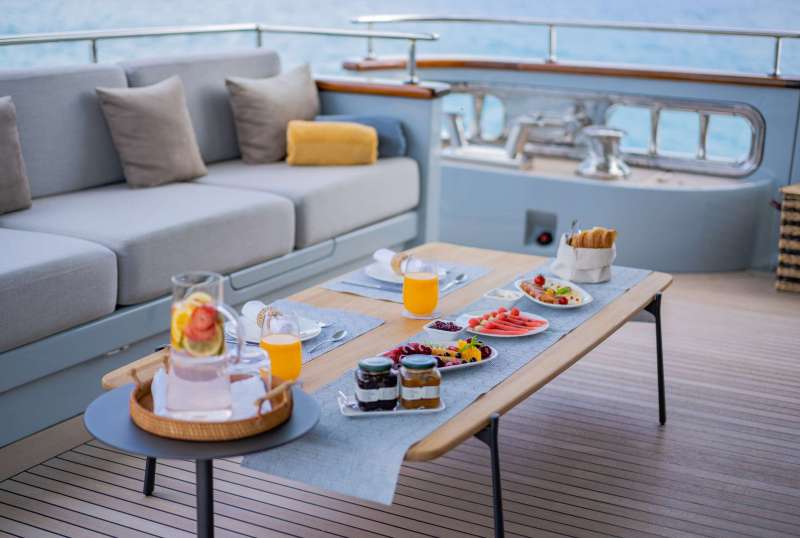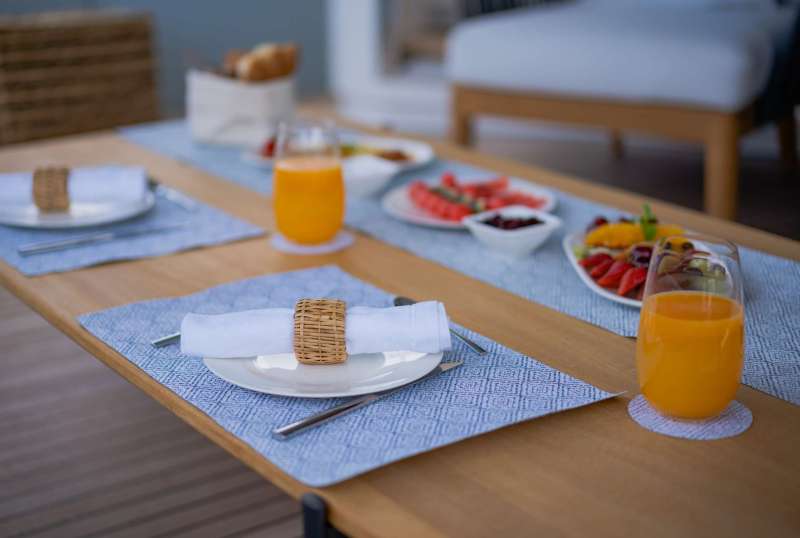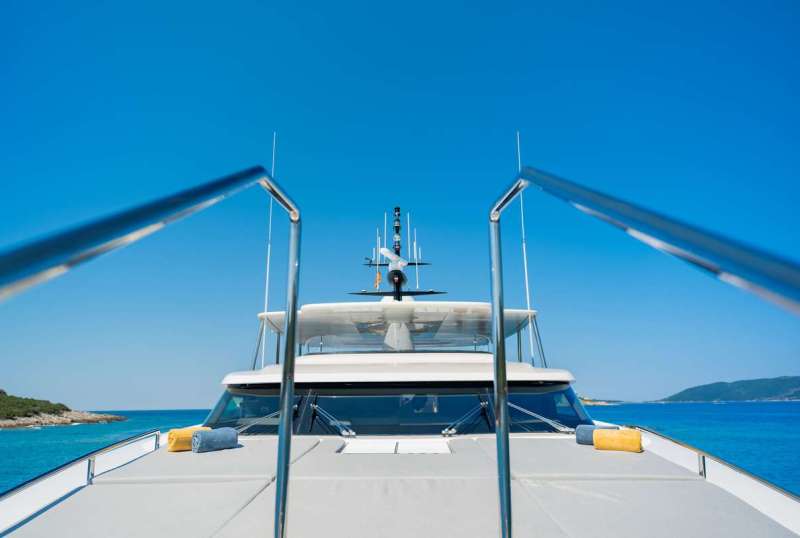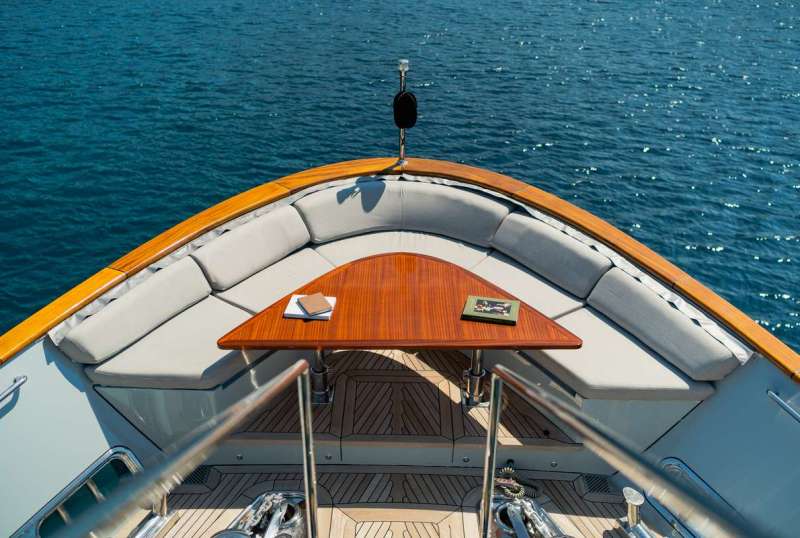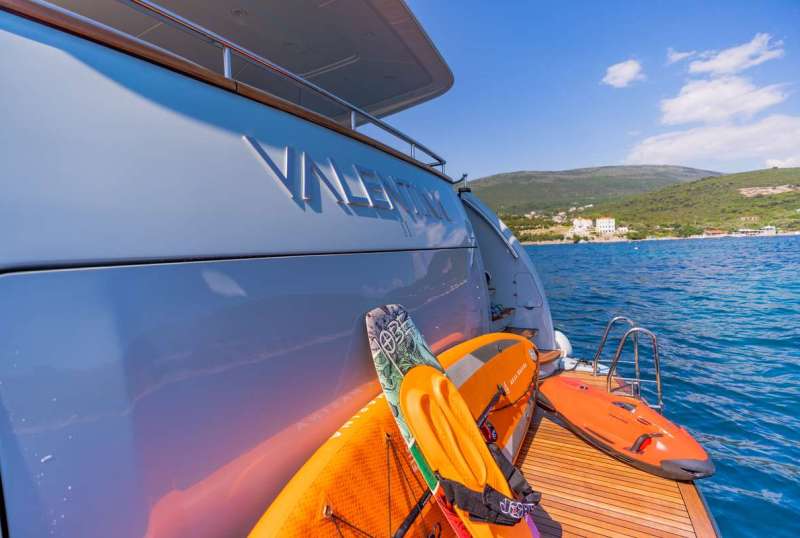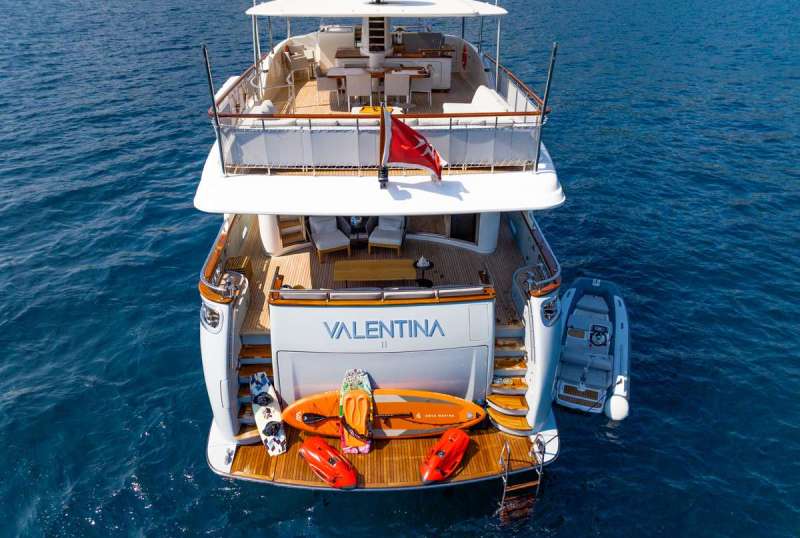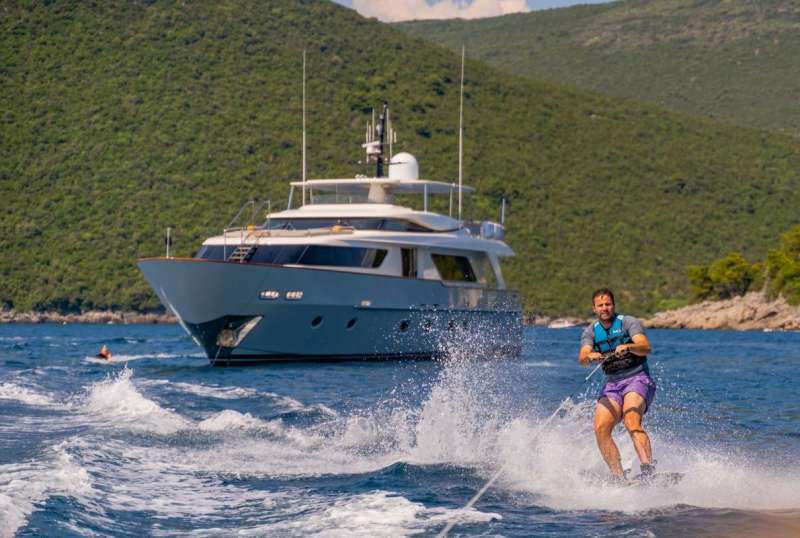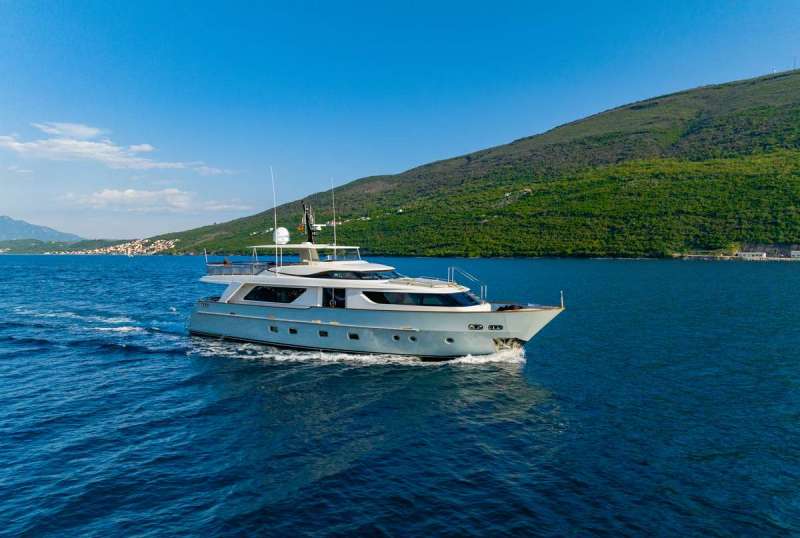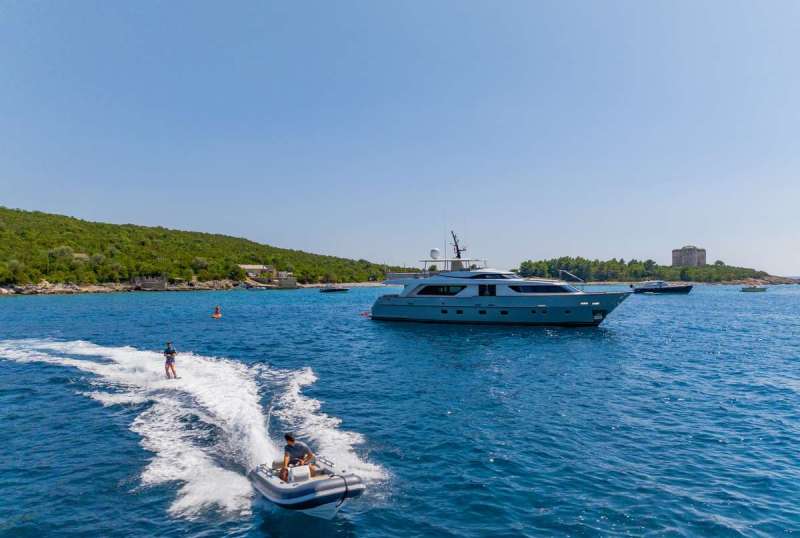 VALENTINA II
From €62,000/week
4 cabins
90 ft
San Lorenzo
8 guests
Refit: 2021
120 Litres/Hr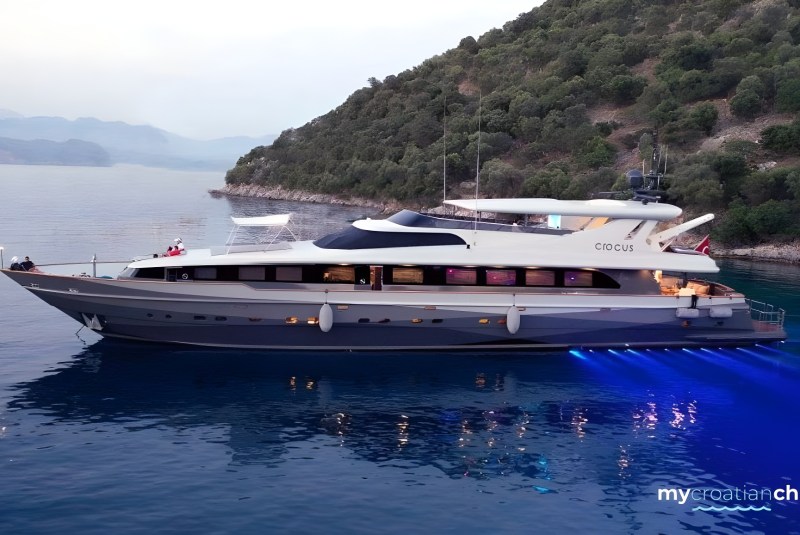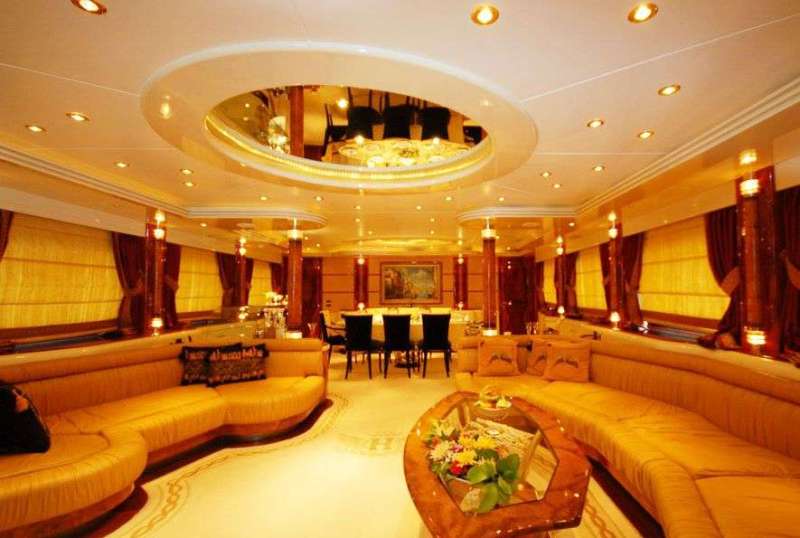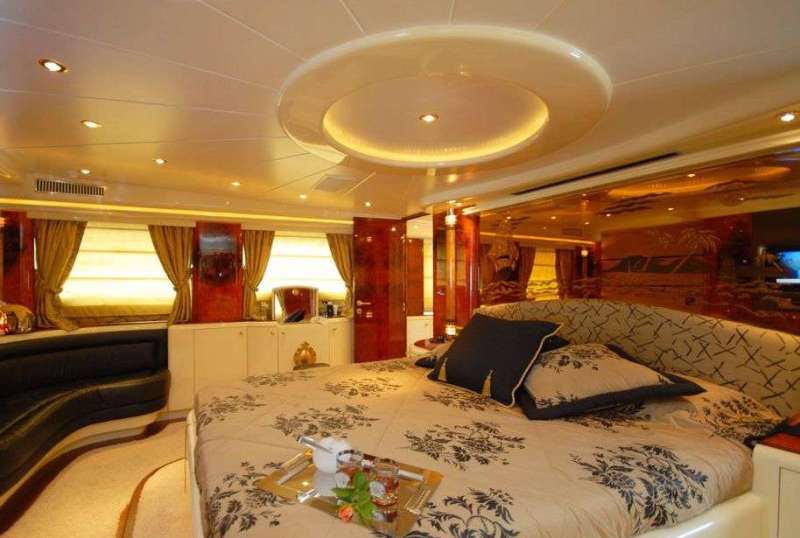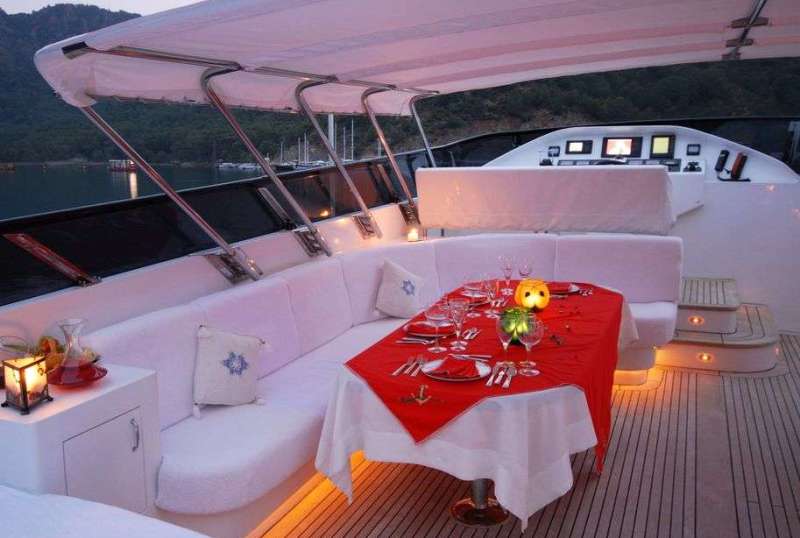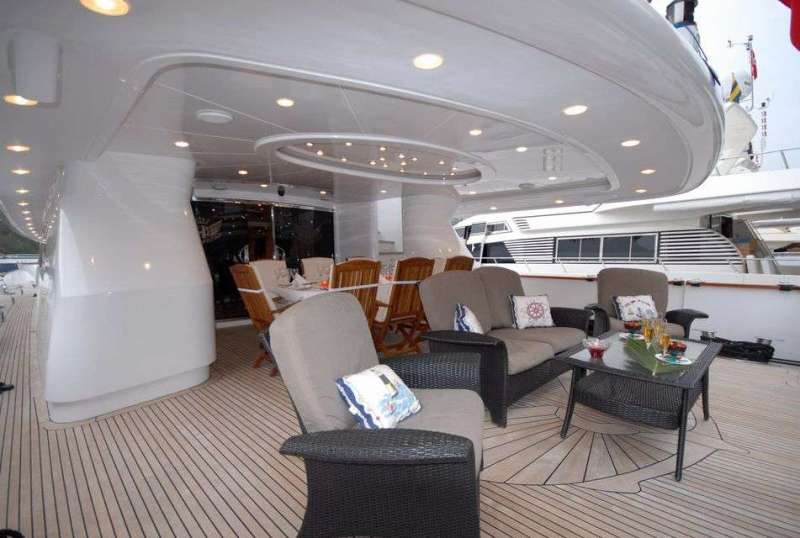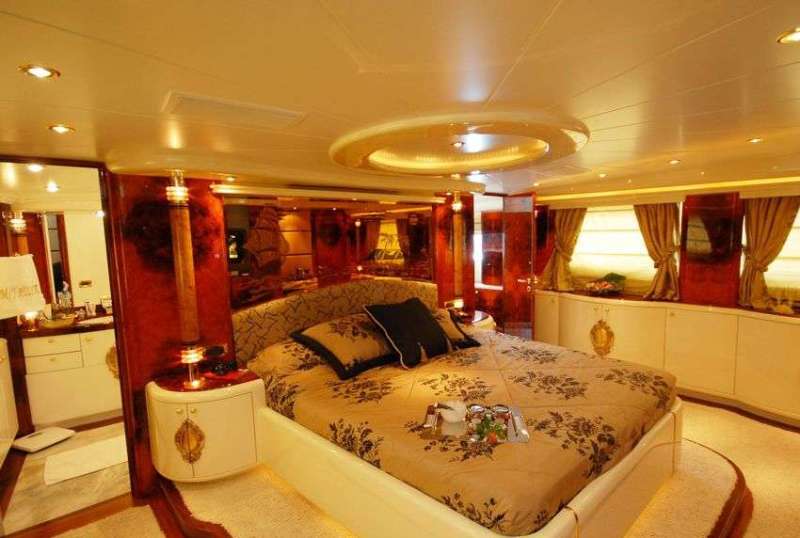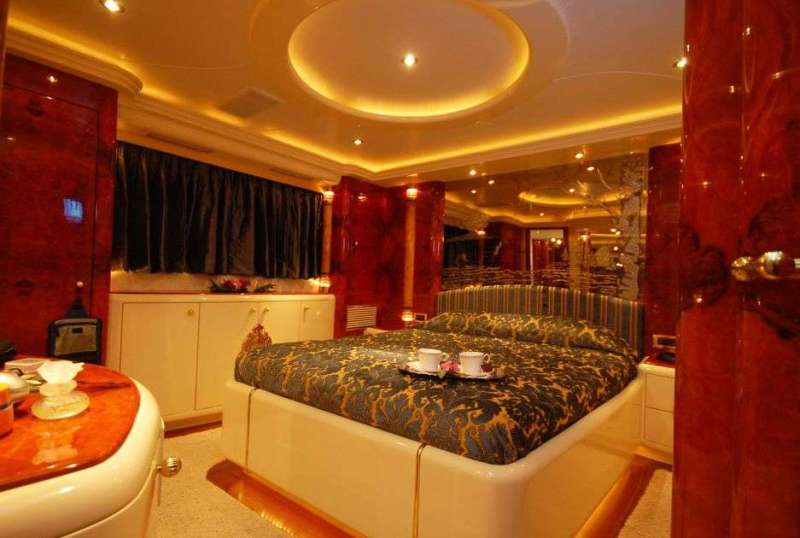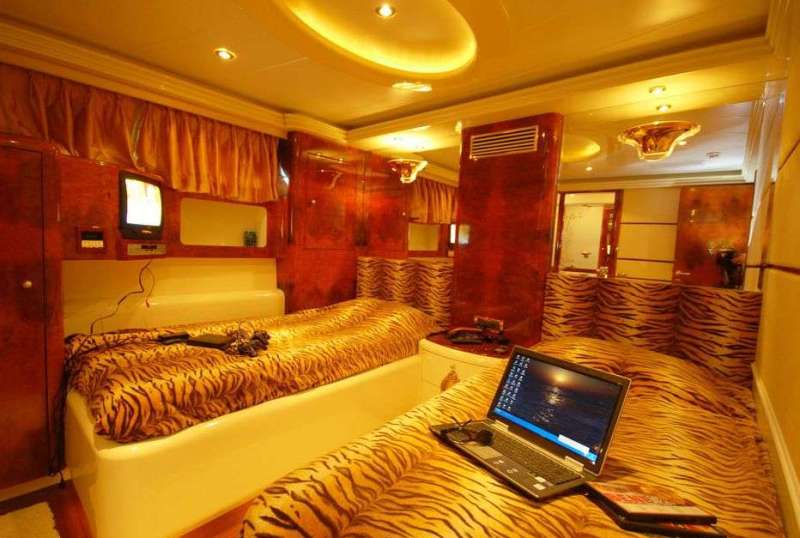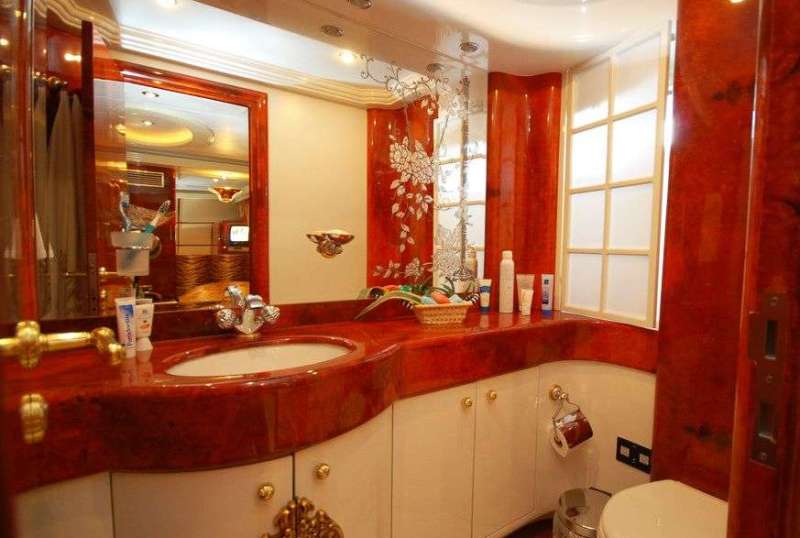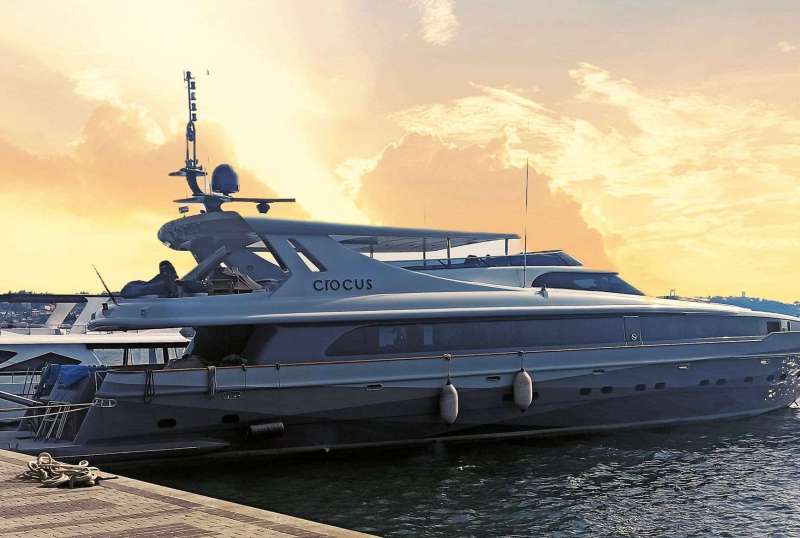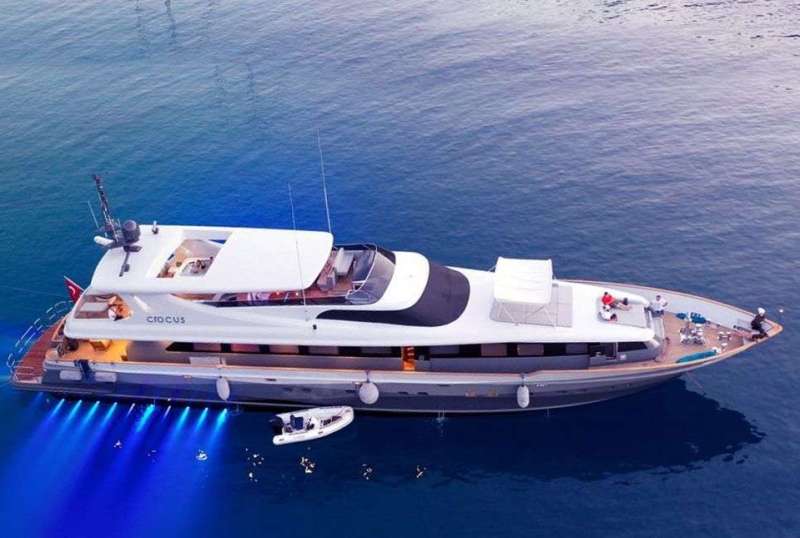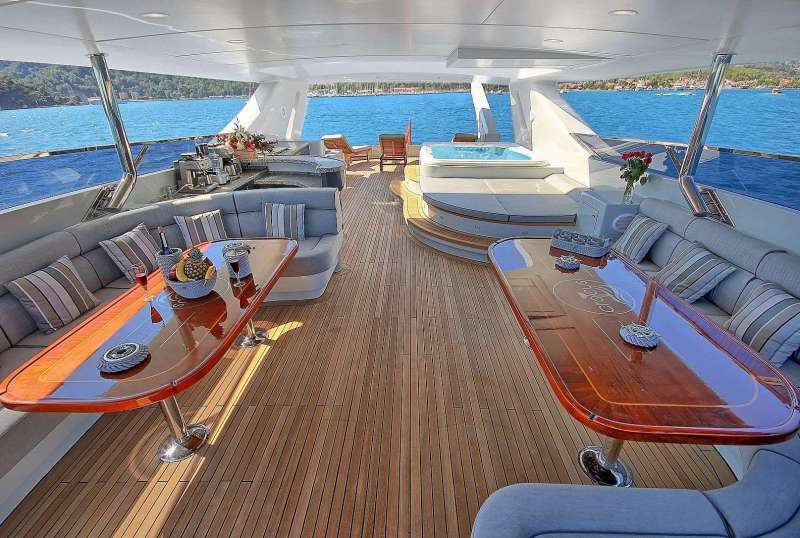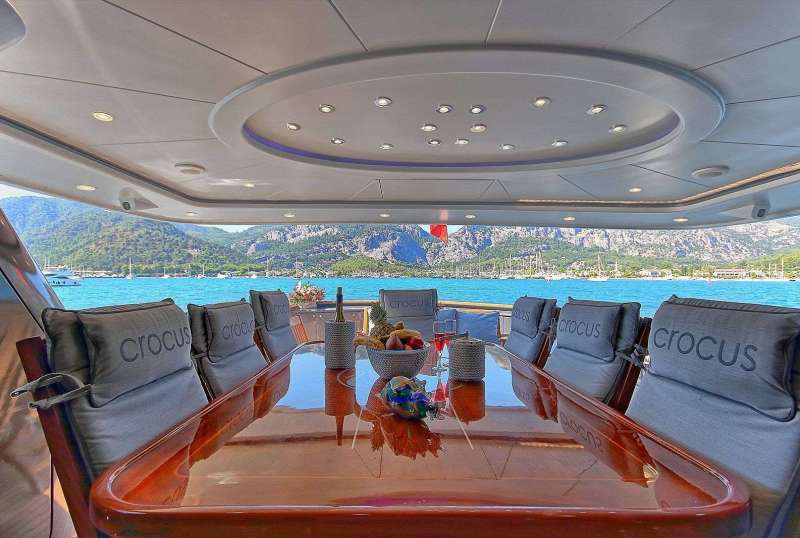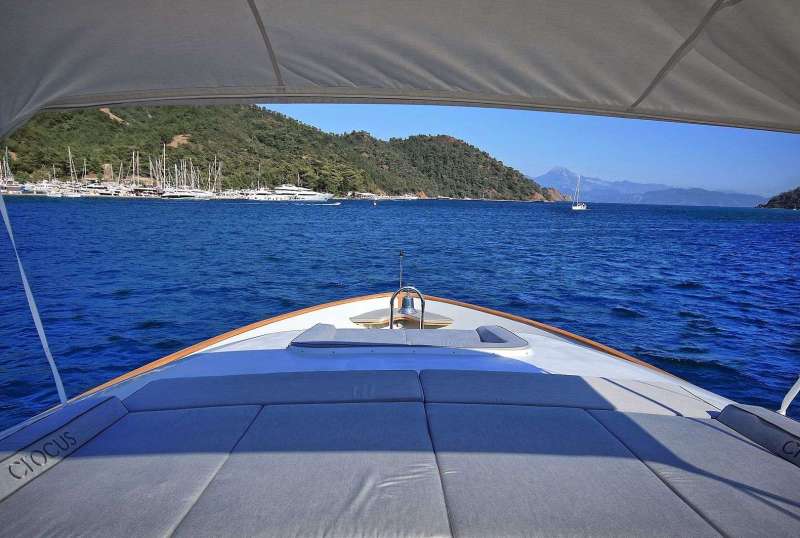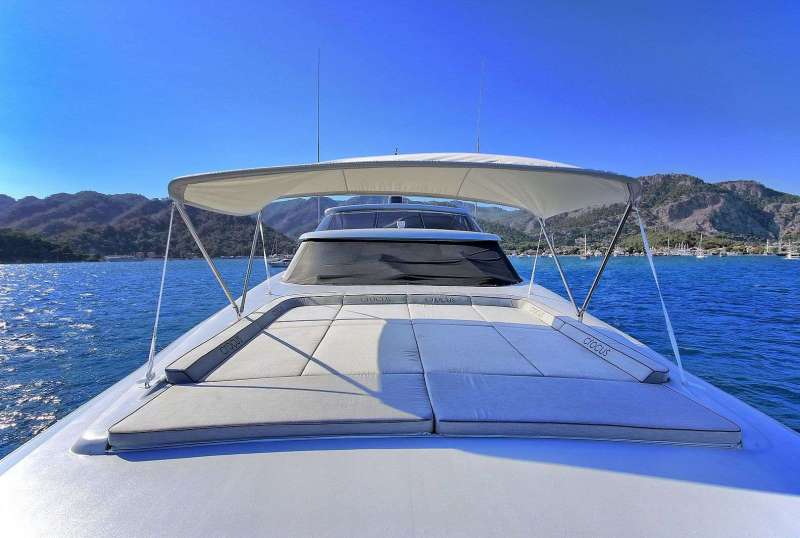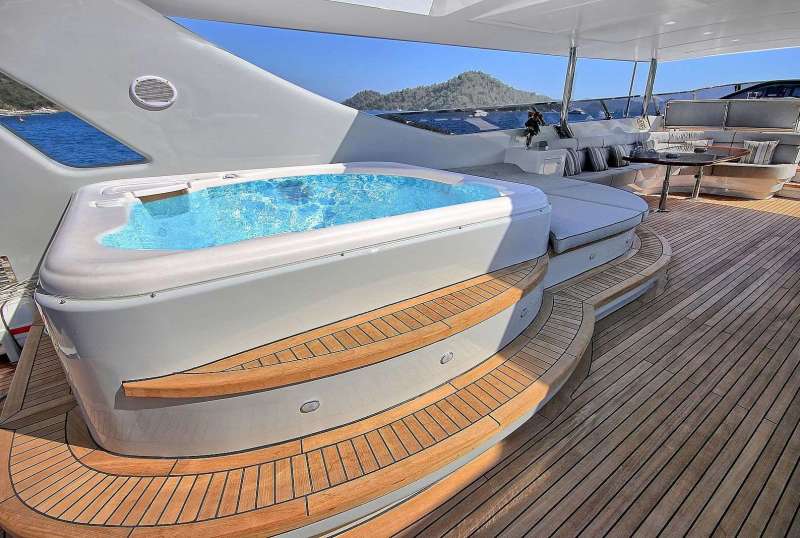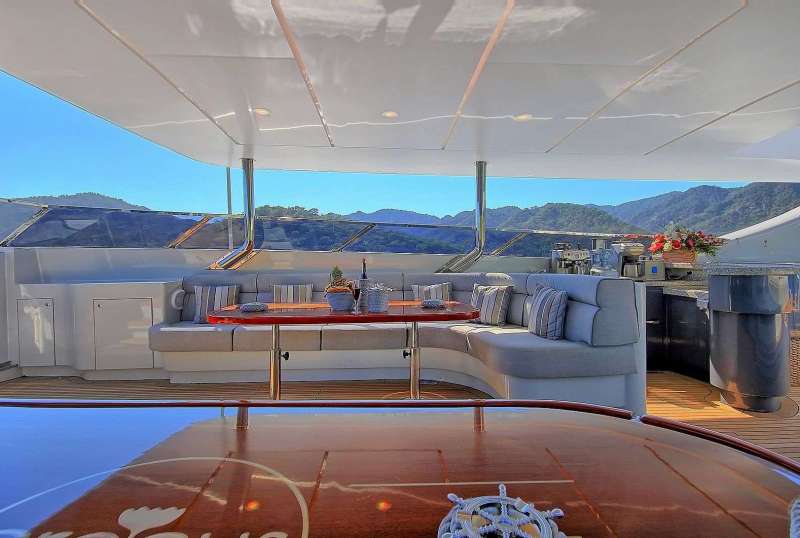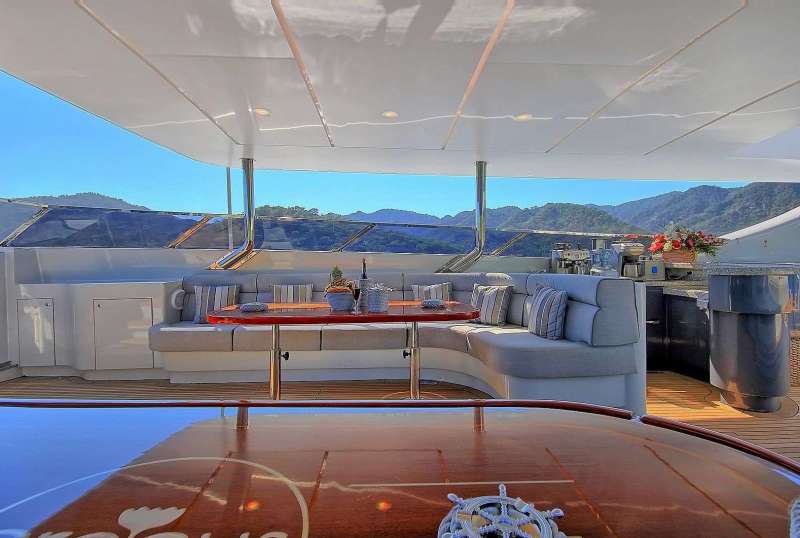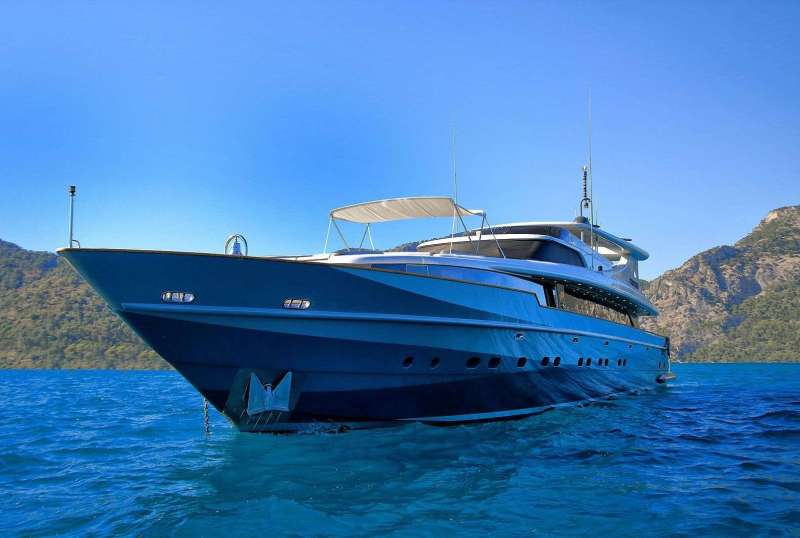 CROCUS
From €60,000/week
6 cabins
131 ft
Custom
12 guests
Refit: 2019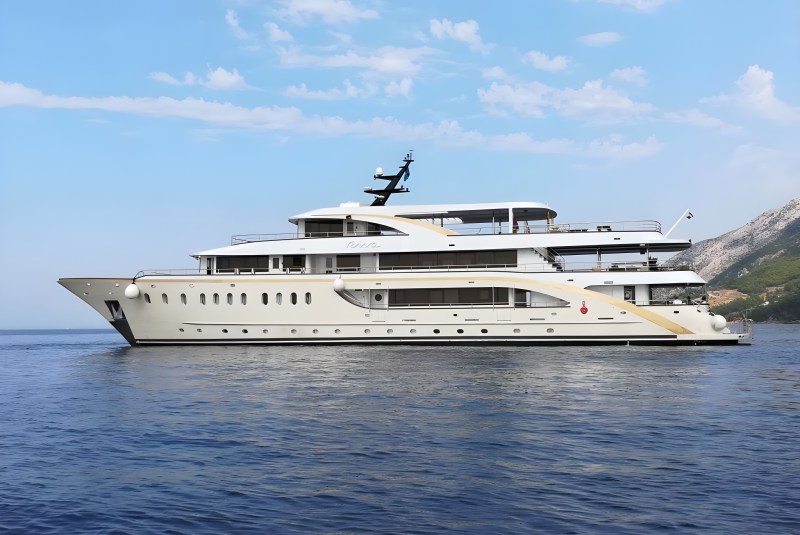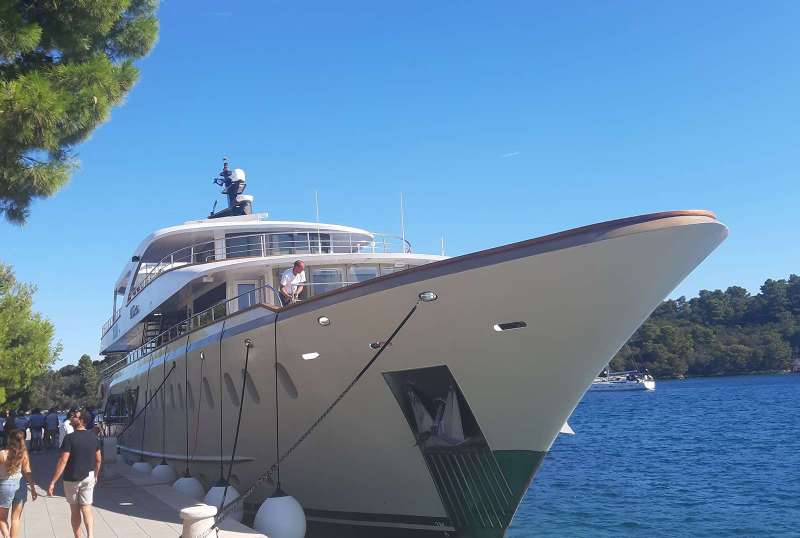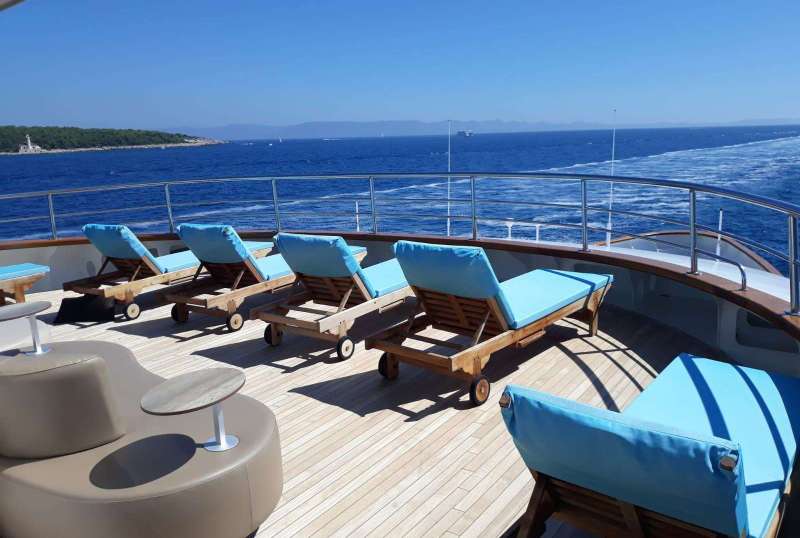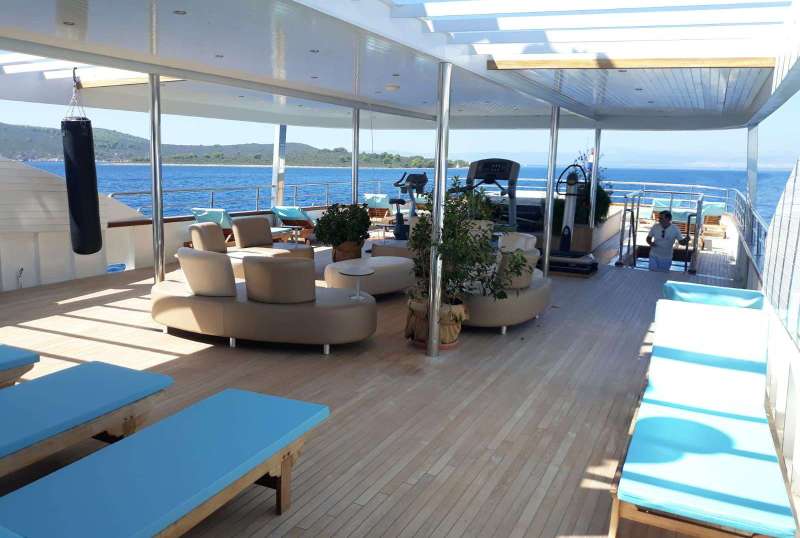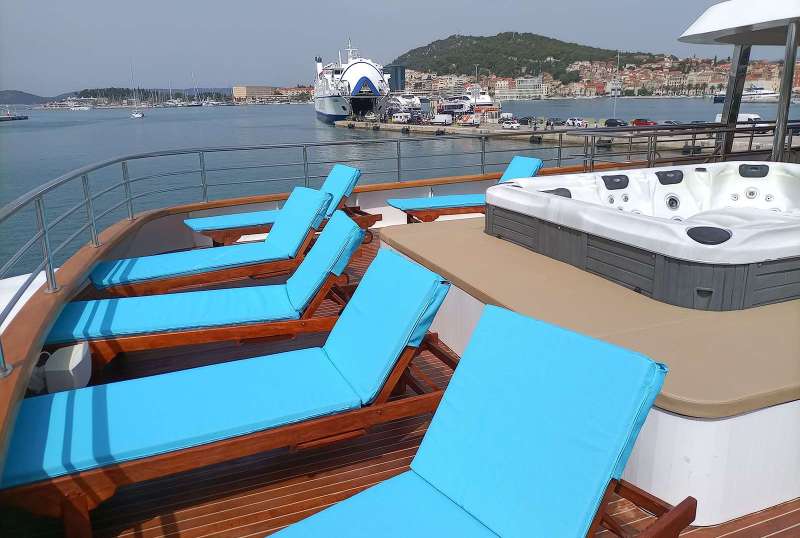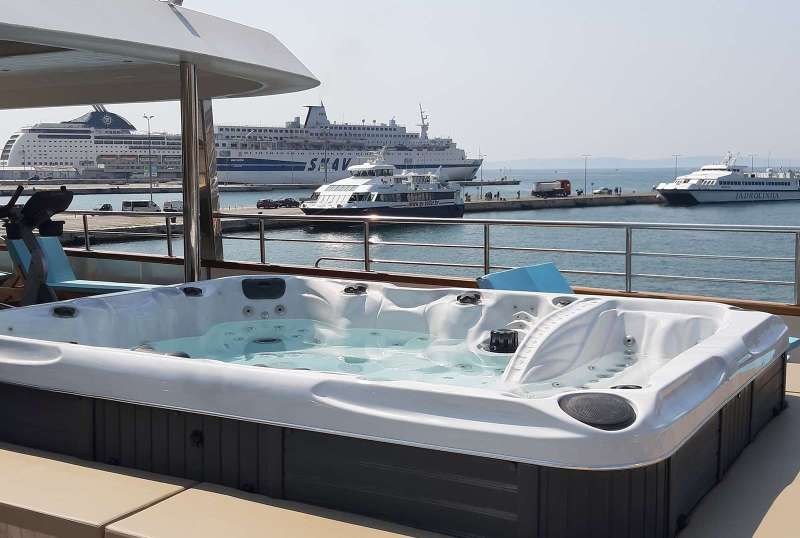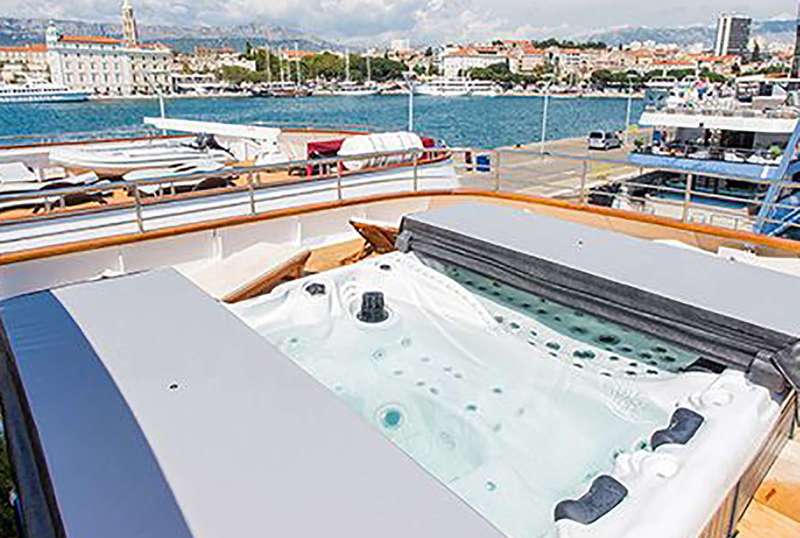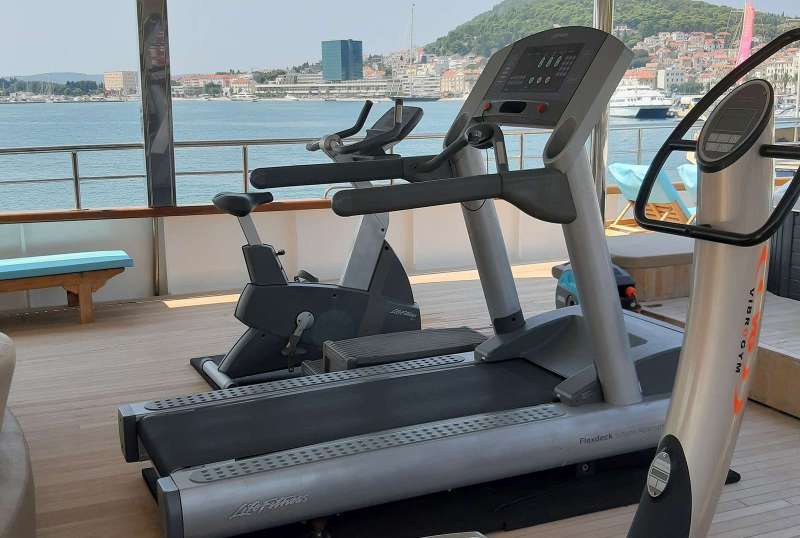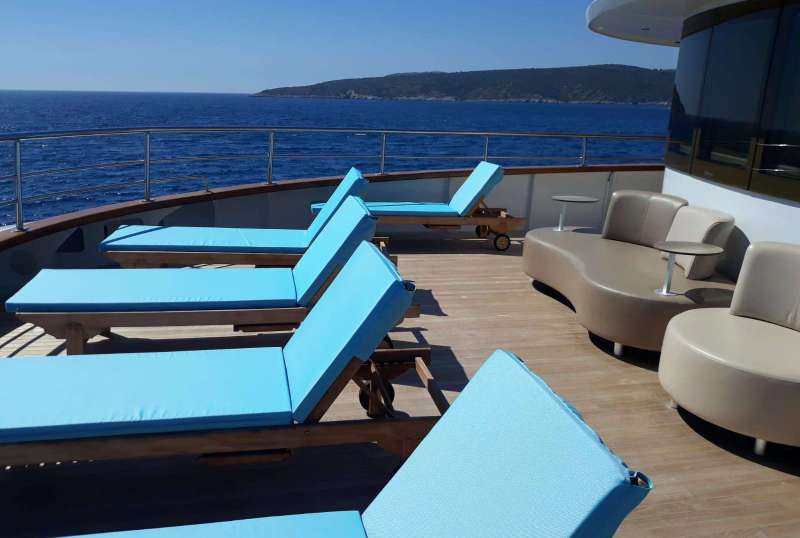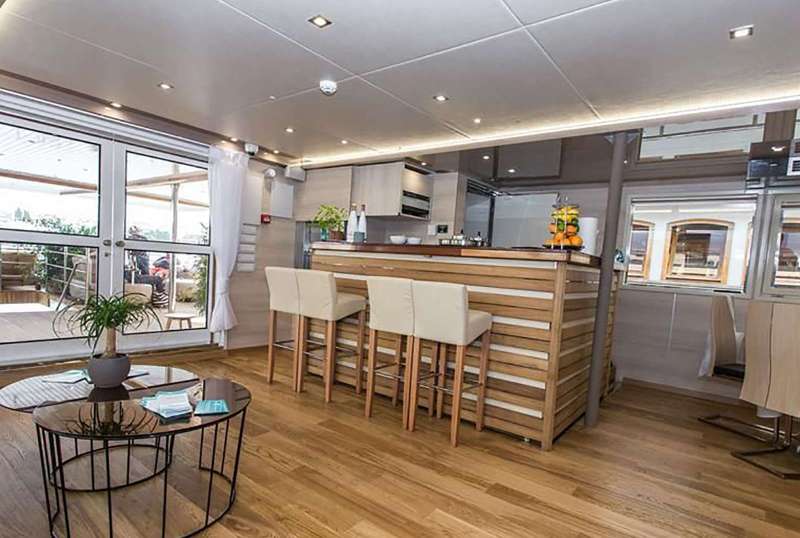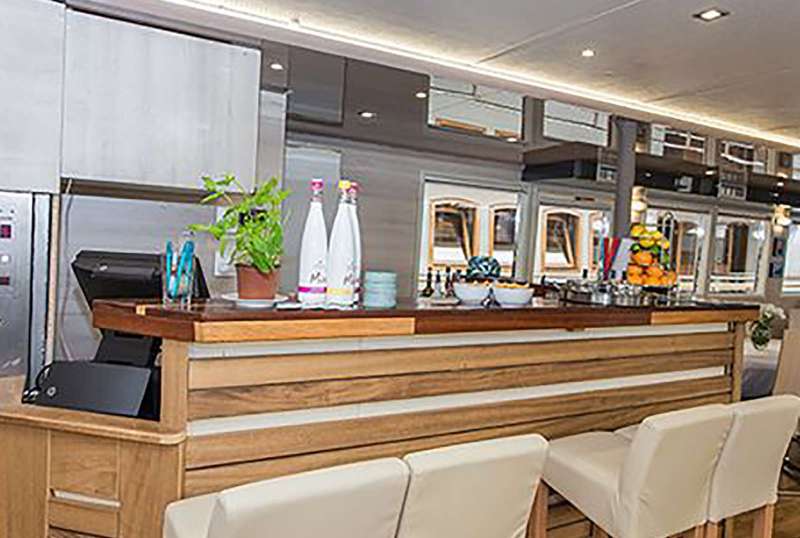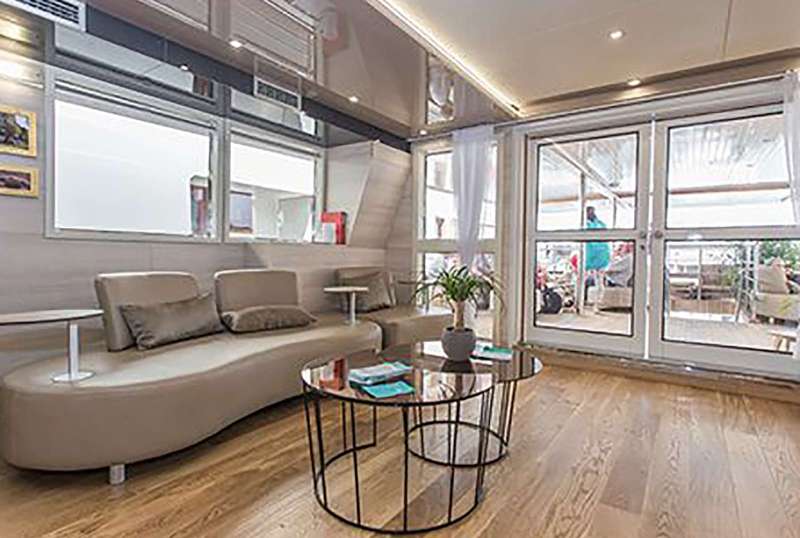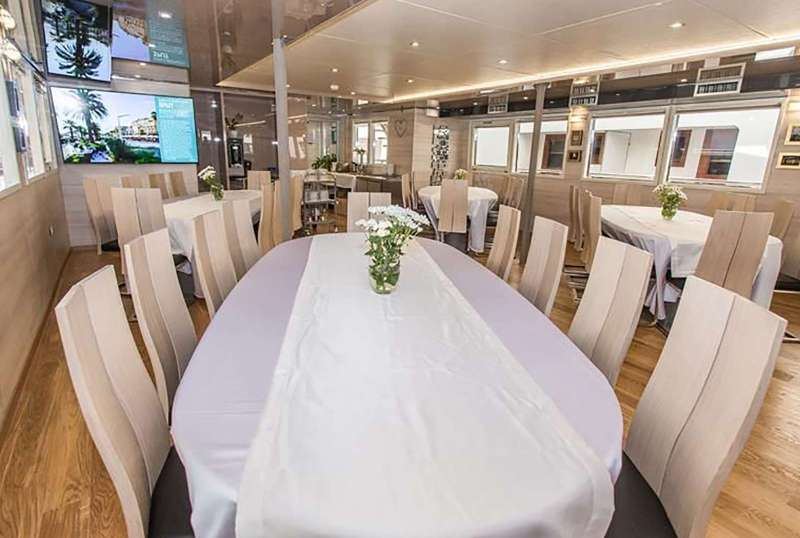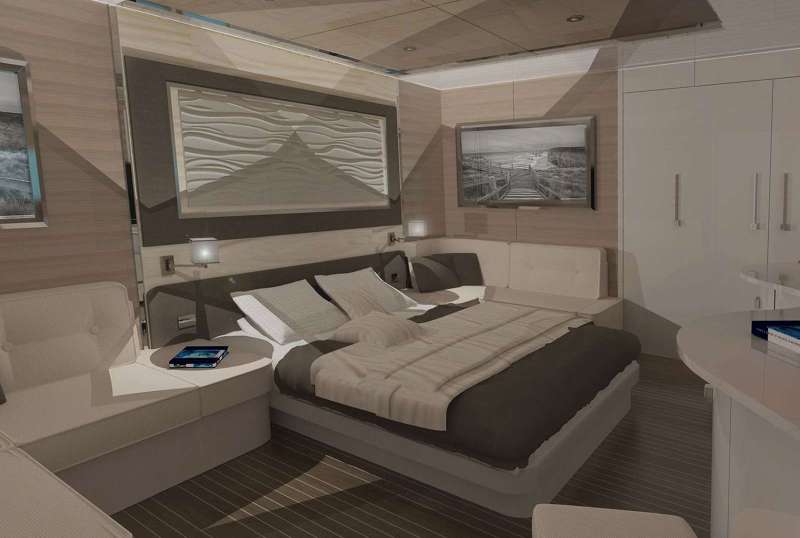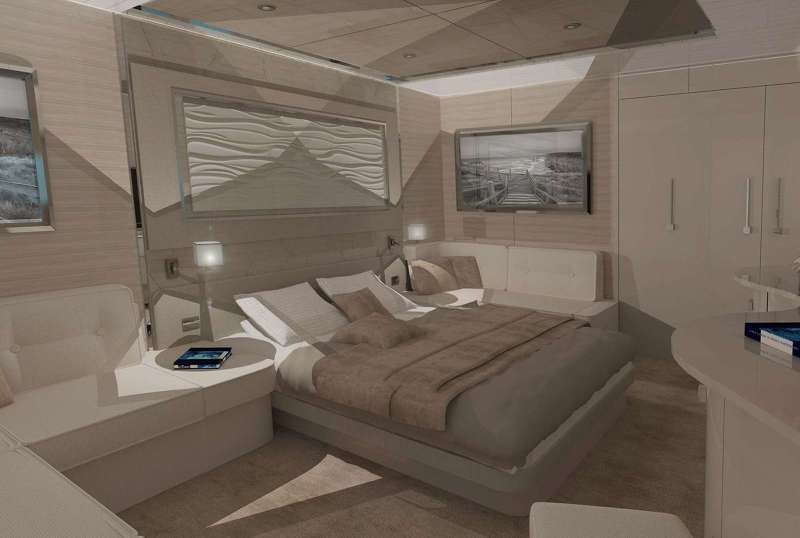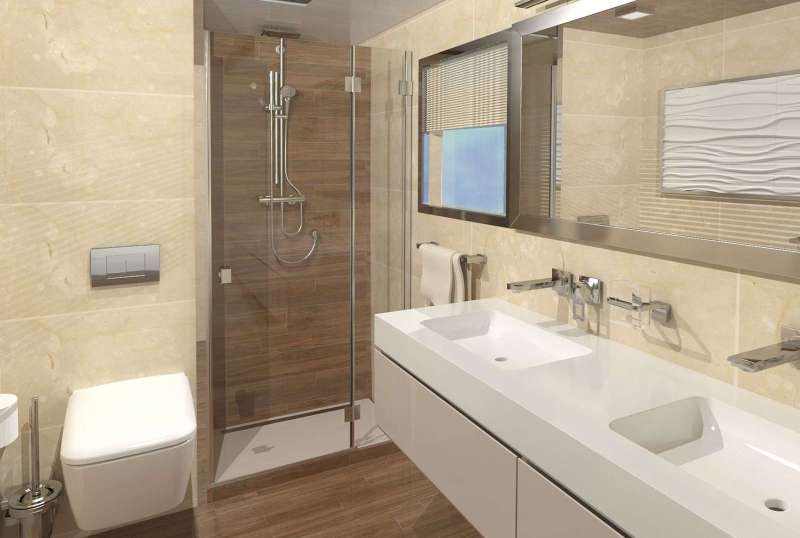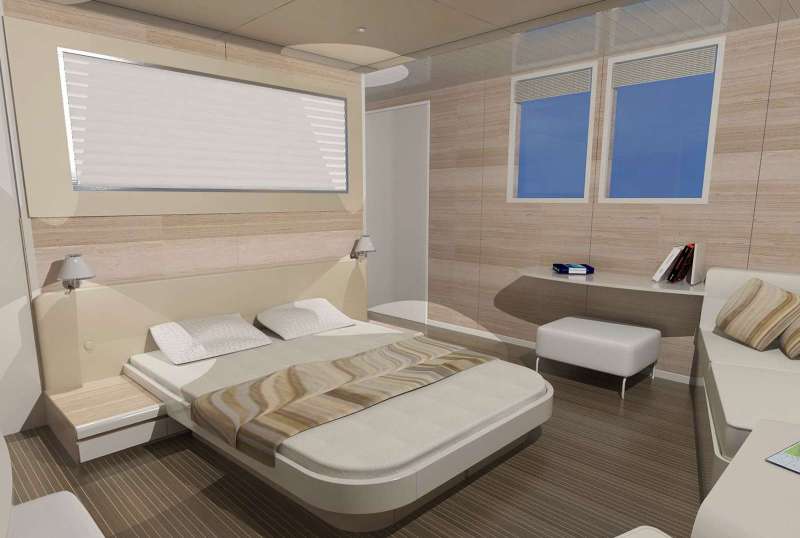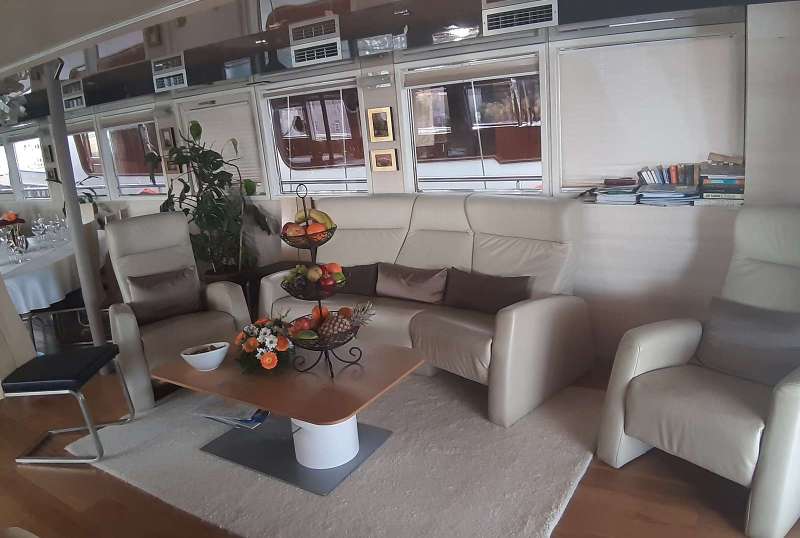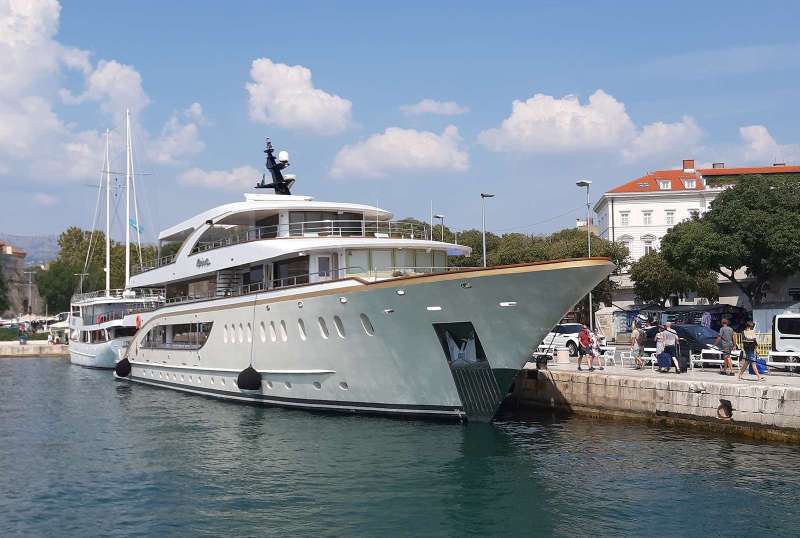 Riva
From €60,000/week
10+ cabins
158 ft
Custom
36 guests
Built: 2018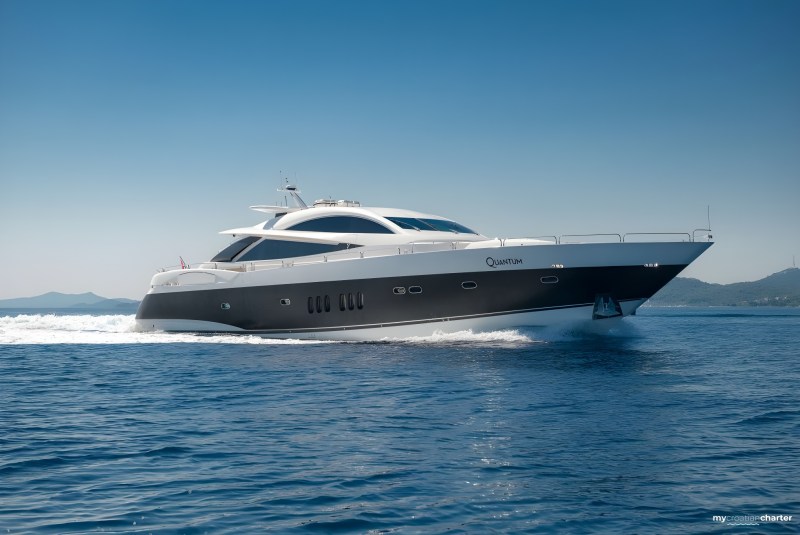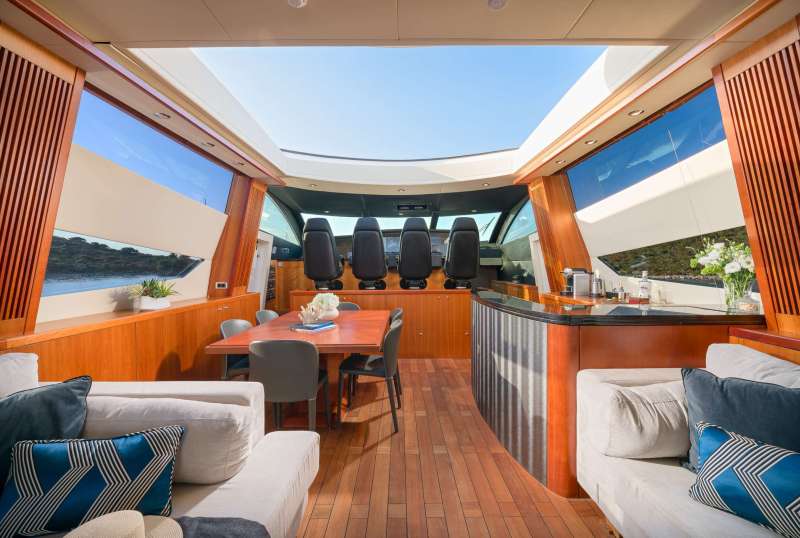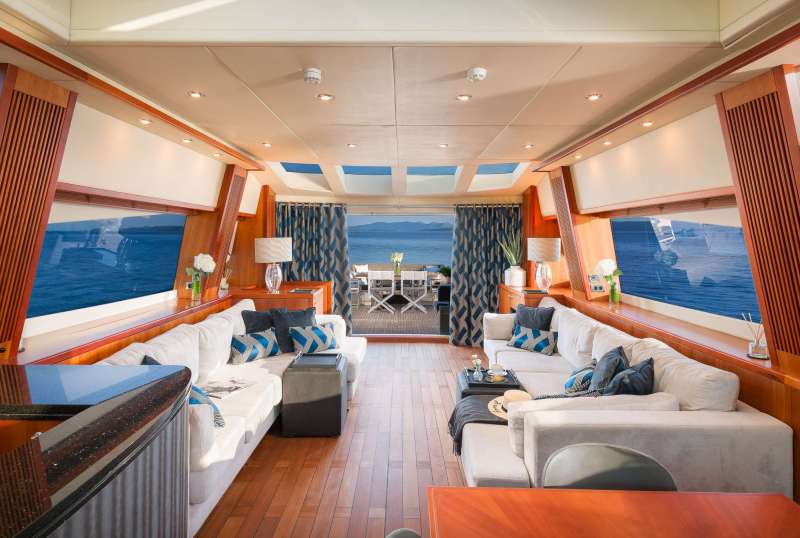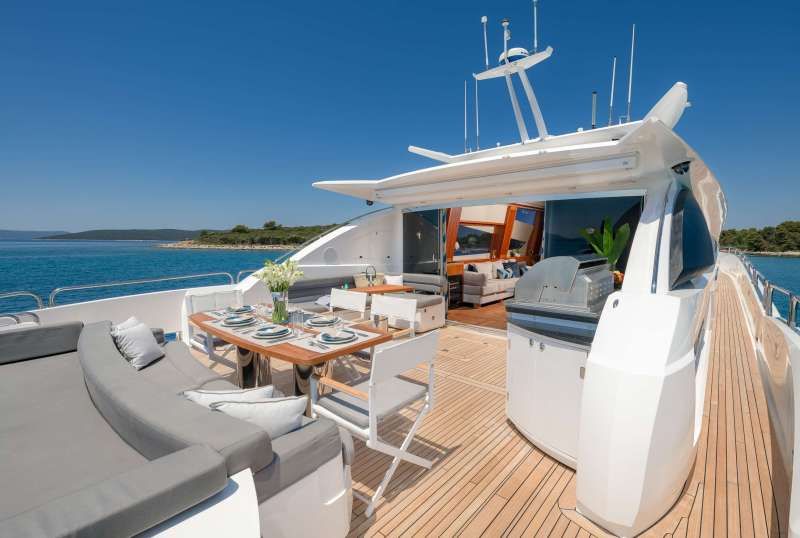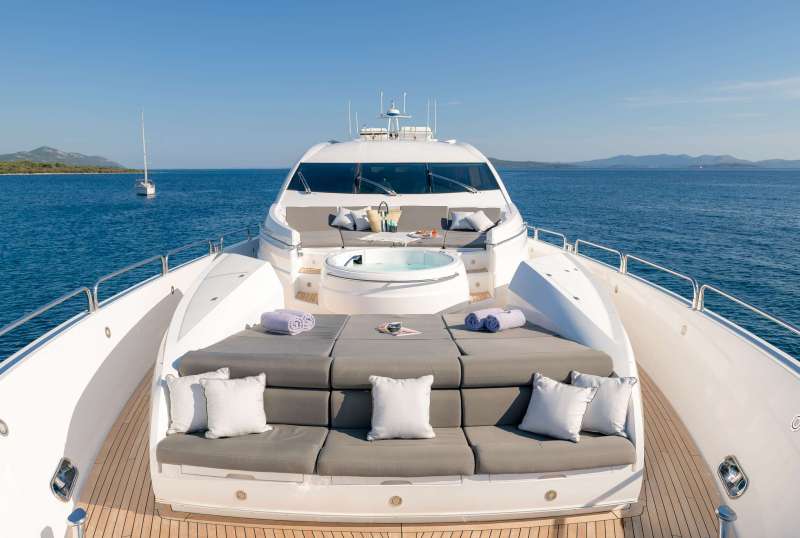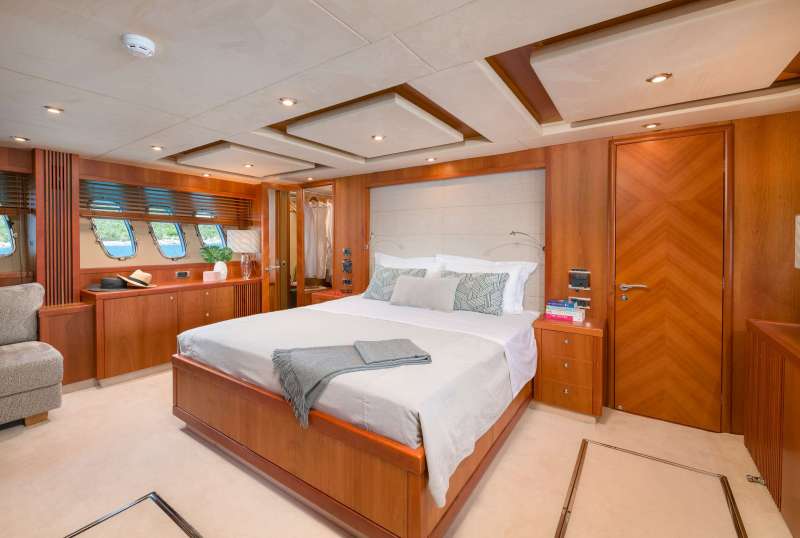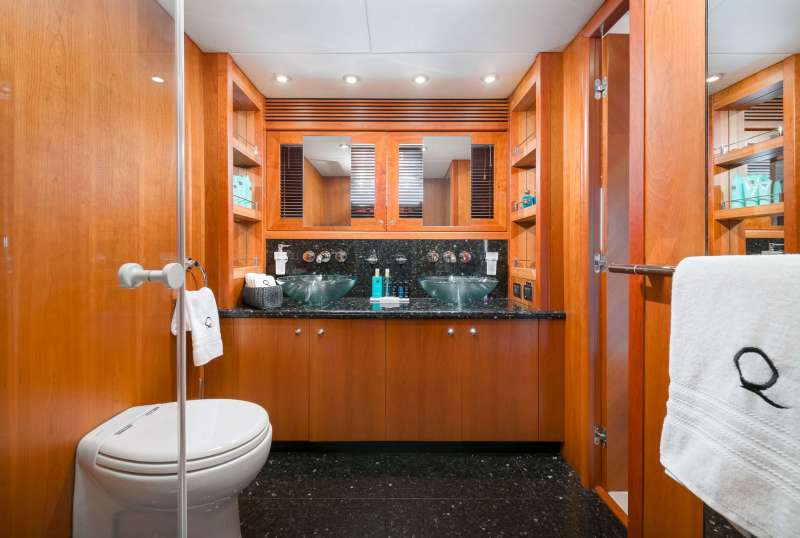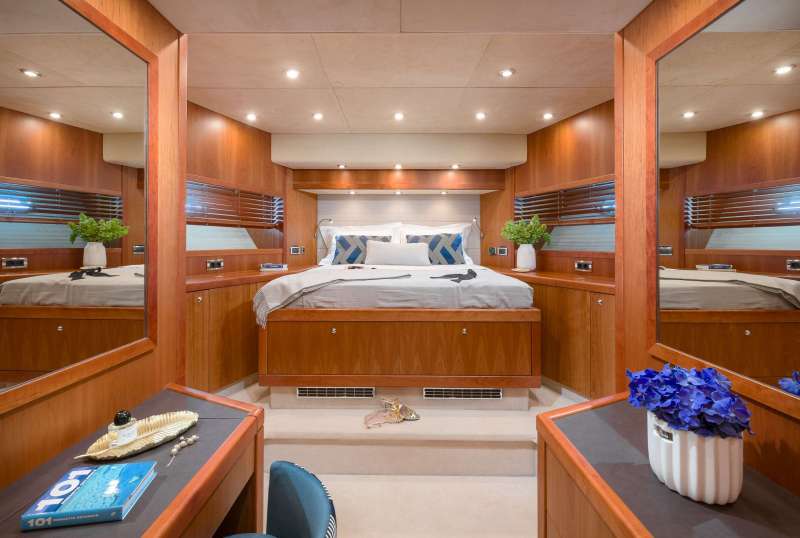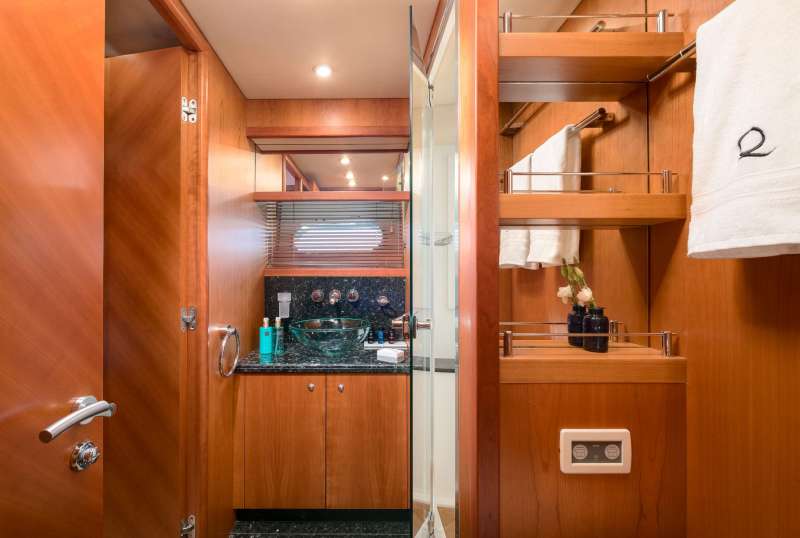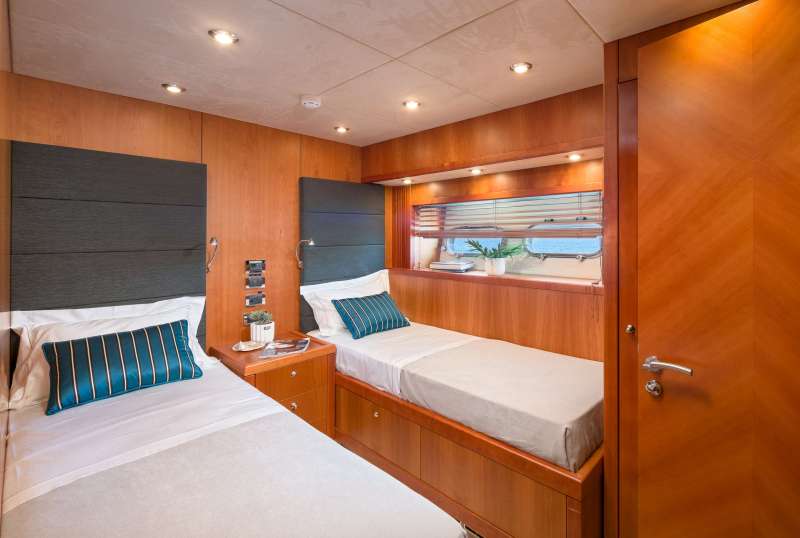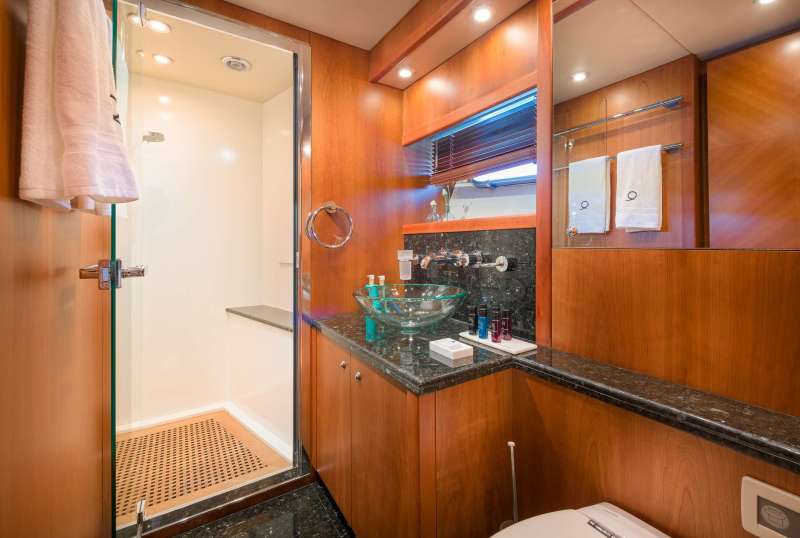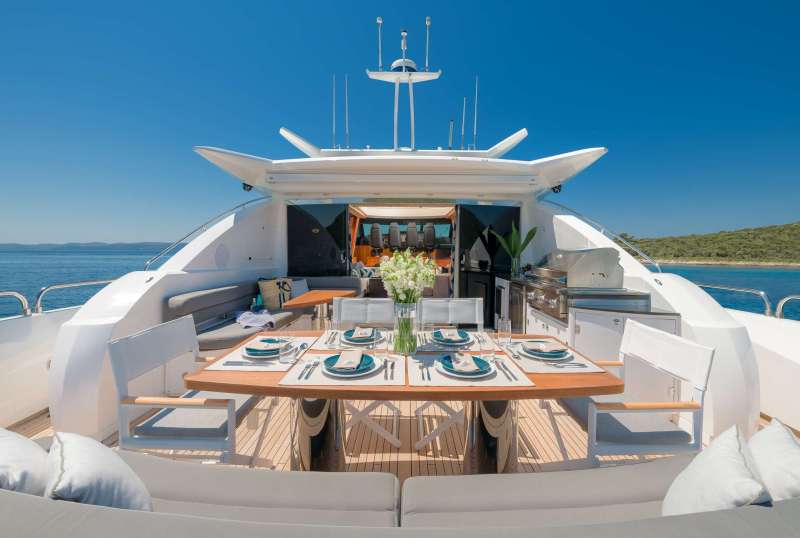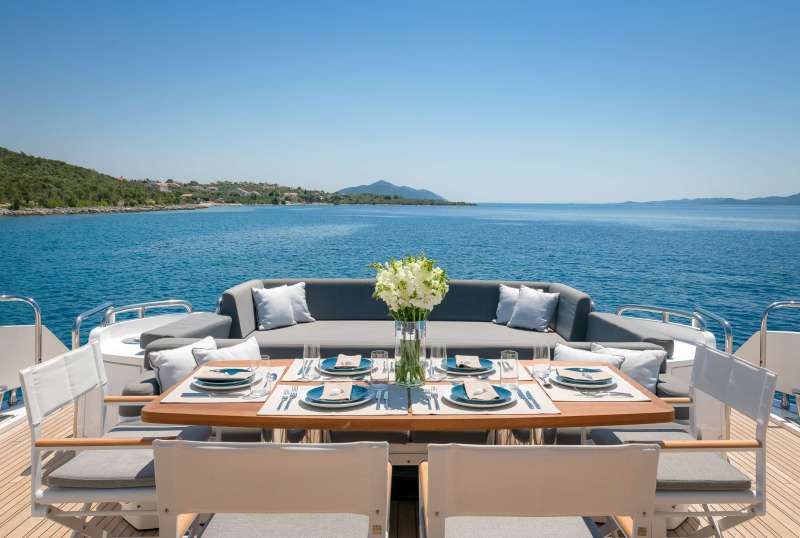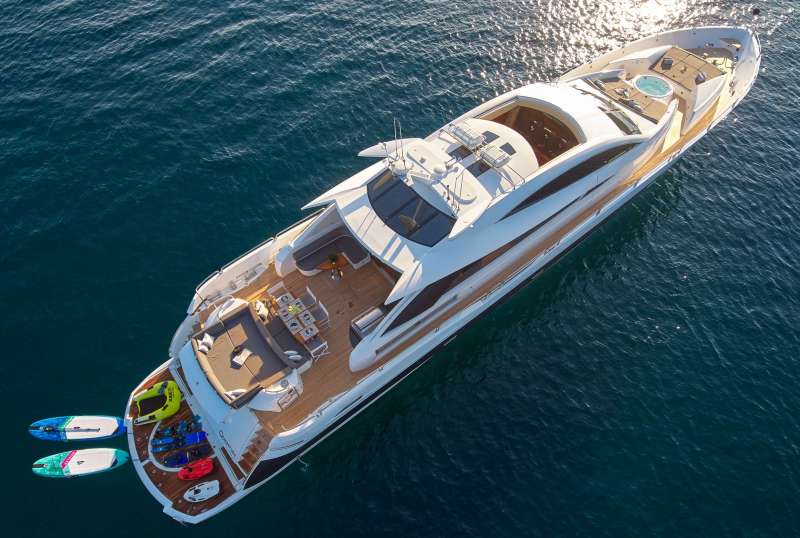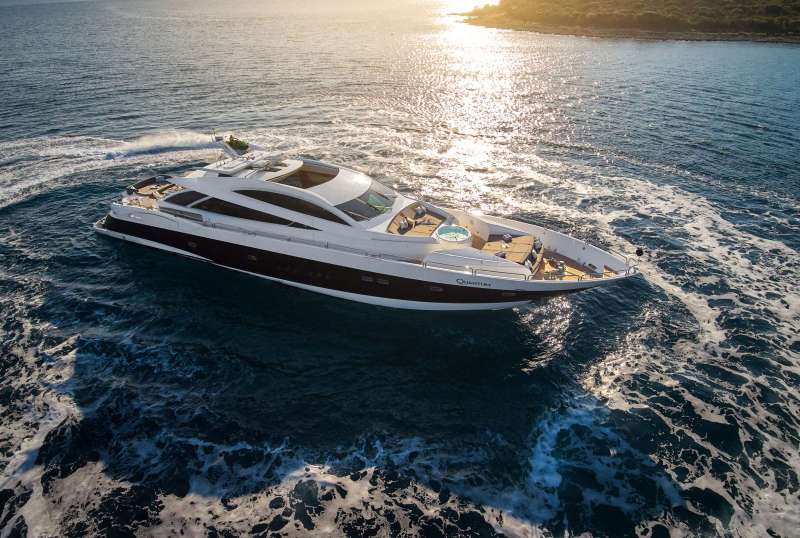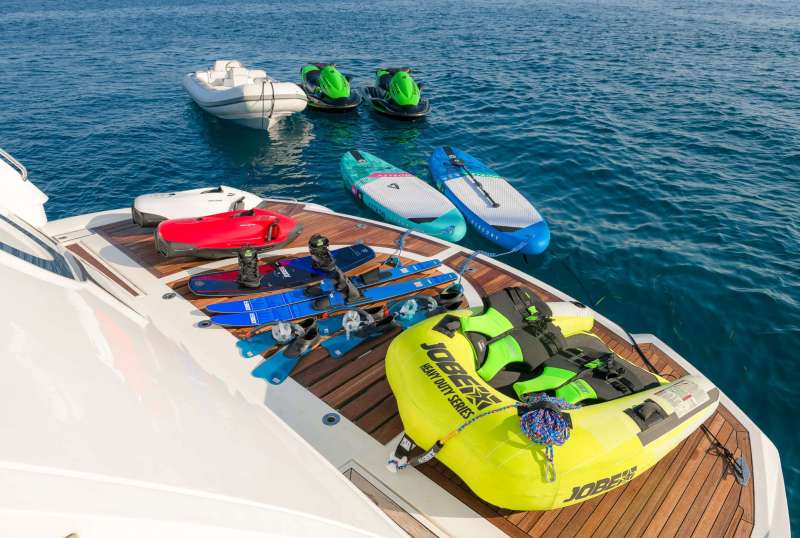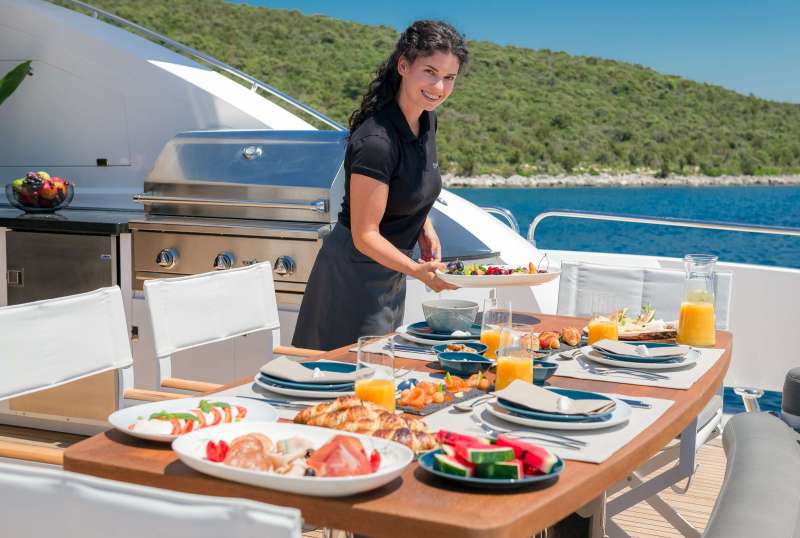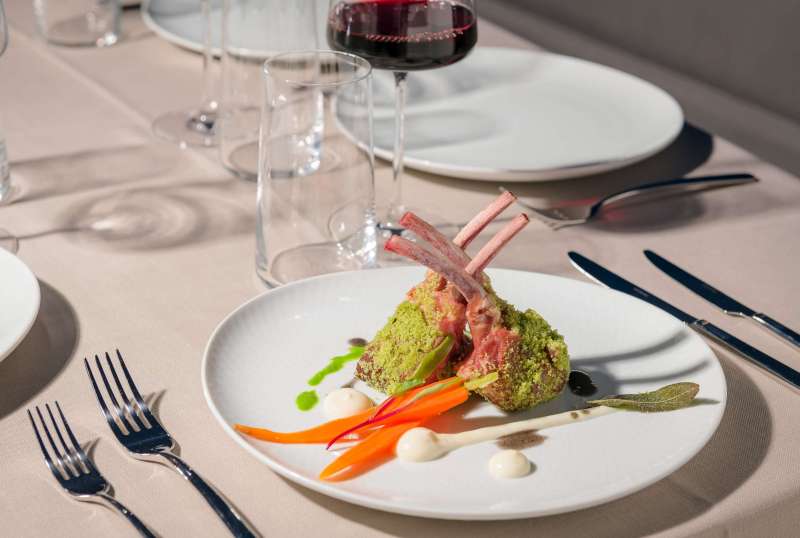 QUANTUM
From €58,500/week
4 cabins
108 ft
Sunseeker
9 guests
Refit: 2020
440 Litres/Hr