TOP 10 CROATIA CATAMARANS FOR SUMMER 2023/2024!
Crewed catamarans are great vessels to ensure stability, besides the best sailing experience (minimal noise and seasickness) for family charters, or a summer yacht vacation with friends on the Dalmatian coast. Croatian coast offers national parks, water activities, fishing, and historic cities (Dubrovnik, Split, Sibenik, Zadar) and a crewed catamaran is the best way to go since modern shipbuilding techniques give the luxury of a superyacht to comparatively smaller catamarans(less than 100 feet) for a reasonably priced boat with modern amenities. The calm waters of the Adriatic Sea are also suitable for monohulls, sailing yachts, and superyachts- which are more suitable for speed cruising.
Sailing Yacht Charters vs. Catamaran Charters: Key Takeaways
Catamarans are sometimes twice as fast as sailing boats and cut through shallow waters more efficiently. Considering the living quarters, amenities, onboard capacity, and the chance of being seasick, sailing yachts are nightmares for children, older adults, and first-time charterers. Since the boat runs on the wind, the speed can go wild during a sea gust. In contrast, catamarans have two hulls, which ensures stability in all weather conditions. A catamaran has a generous deck and storage space- perfect for a group of guests looking for a relaxing sailing vacation.
Catamaran Charter Croatia: Popular Destinations
The Croatian sailing catamaran rental offers a seven to eight days itinerary covering Skradin, Šibenik, Piskera, Telascica, Žut, Murter, Vodice, and Zlarin. Yacht Rentals in Croatia revolves around the guest's requirements.

Nature lovers can explore the breathtaking Kornati National Park and the stunning Krka National Park, while water sports enthusiasts can indulge in secluded coves and magnificent beaches. For those seeking to immerse themselves in the Croatian islands' rich history, the ancient main cities of Pula and Dubrovnik await.

For a Croat lifestyle, the lively Hvar town is the perfect destination to enjoy the vibrant nightlife, local cuisines, and festivals. Since catamarans are the perfect vessels for the Adriatic sea, you can take exclusive getaways on a secluded island and discover Croatia's coastline.
Top 10 Catamaran Charter in Croatia
1. 7X – SUNREEF 80| 80 FT
With her spacious accommodation, sophisticated interior (black, brown, and white), and luxurious amenities, 7X – SUNREEF 80 provides a memorable trip along the Croatian coast. The yacht sleeps eight guests in comfortable cabins, including one King-sized bed and three Queen-sized beds.

Choosing a catamaran like 7X allows guests to enjoy amenities similar to luxury yachts (deck dining setup, sun awning, water toys) at a more affordable price (72,500.00-79,500.00 EUR per week) than a monohull boat with moderate amenities. Guests can start the charter from Split or Dubrovnik.

Captain Tonci and the crew are familiar with everything Yacht Charter Croatia has to offer. Their experience and professionalism make guests book 7X – SUNREEF 80 on repeat. You can enjoy the Hidden spots on the Croatia coastline by the guidance of an experienced crew- like the Istria region, known for its welcoming locals.
TOYS AND AMENITIES
Embark on a luxurious yacht adventure on 7X – SUNREEF 80 offering exclusive rendezvous diving, equipped with the 520 Williams Tender, inflatable SUP paddle boards, electric bicycles, standard bicycles, inflatable tubes, water skis, and wakeboards, and 2 underwater scooters. She also has standard snorkeling and fishing gear.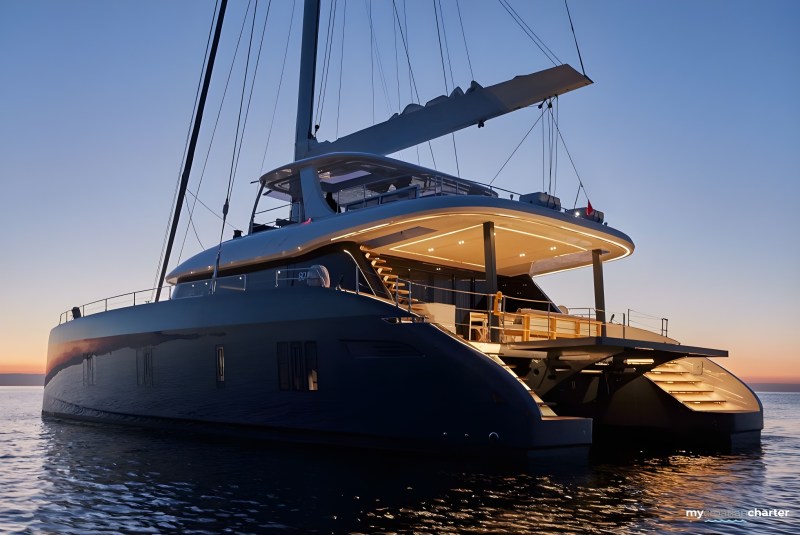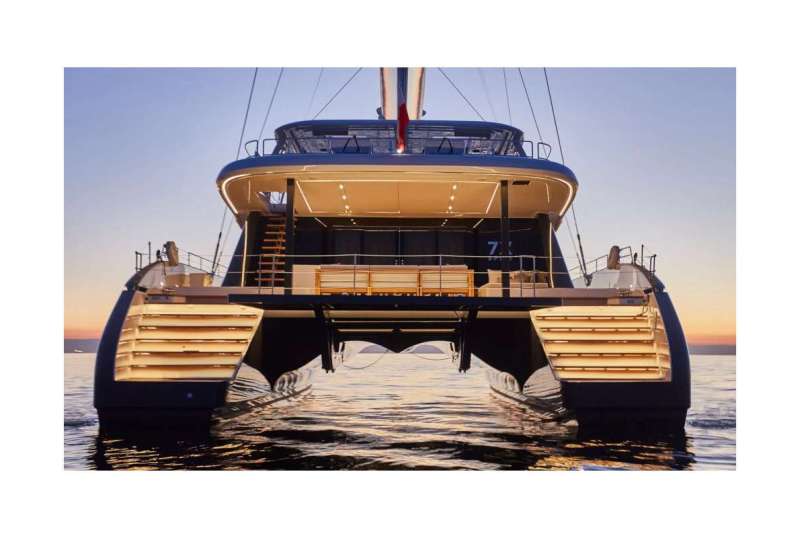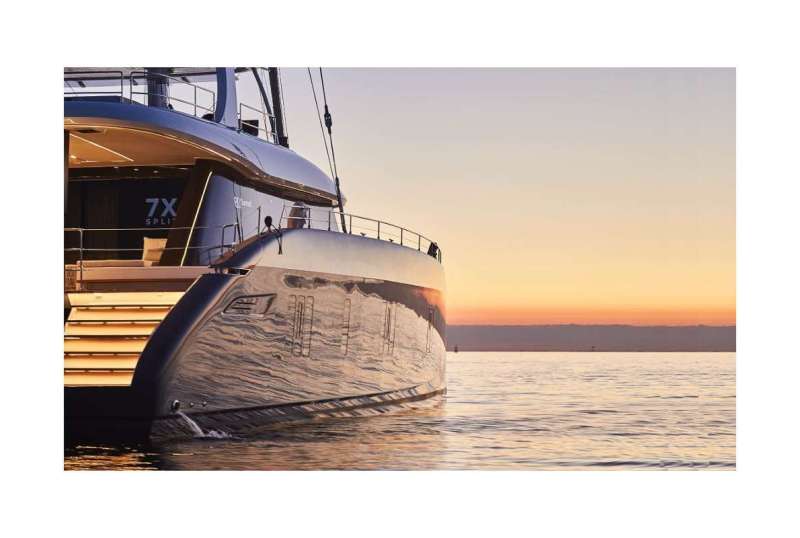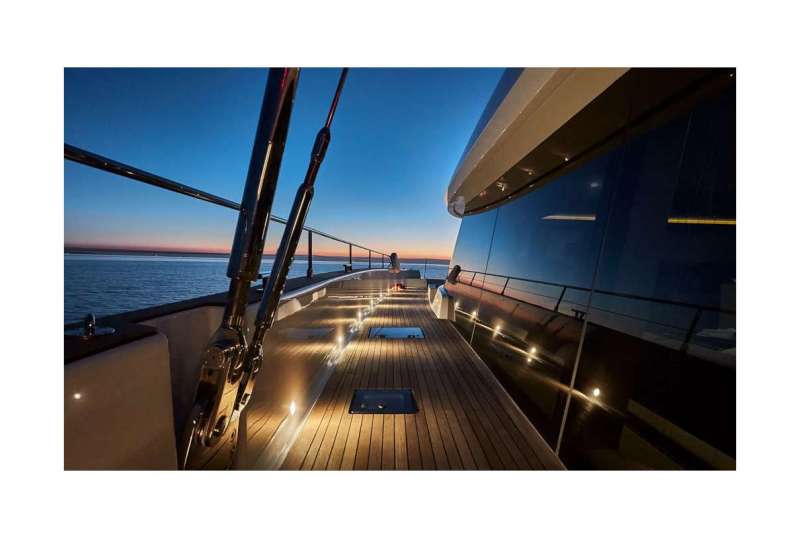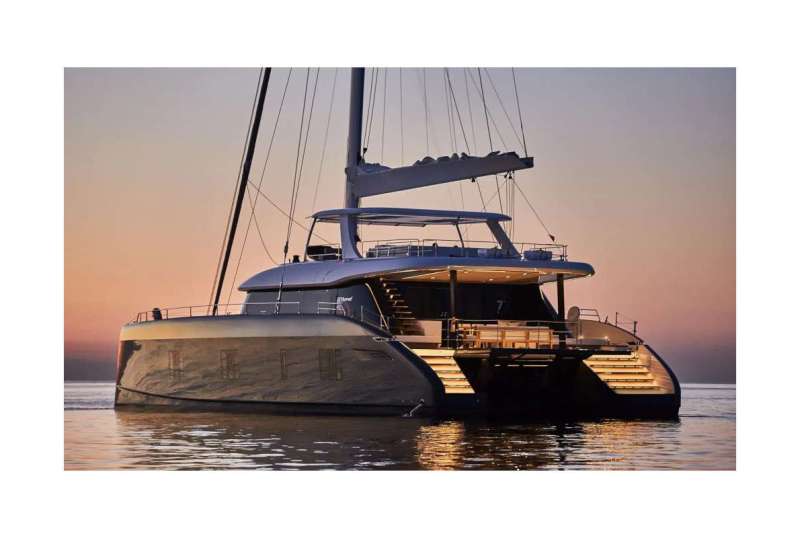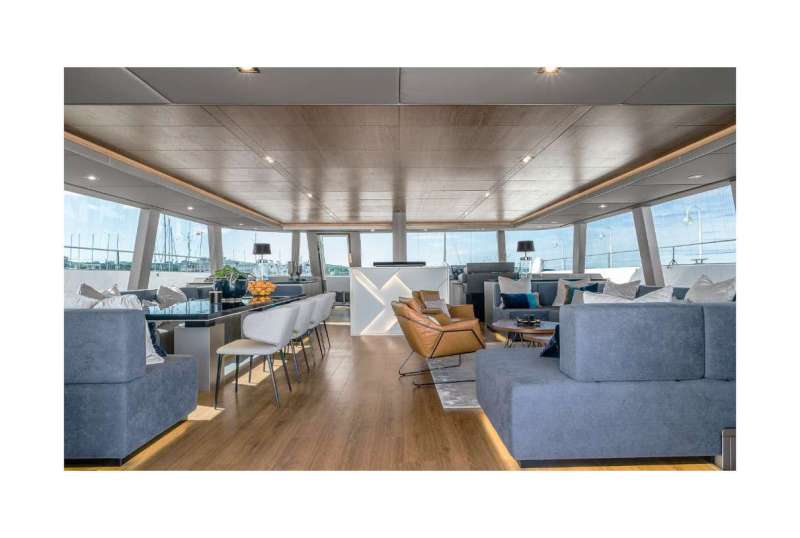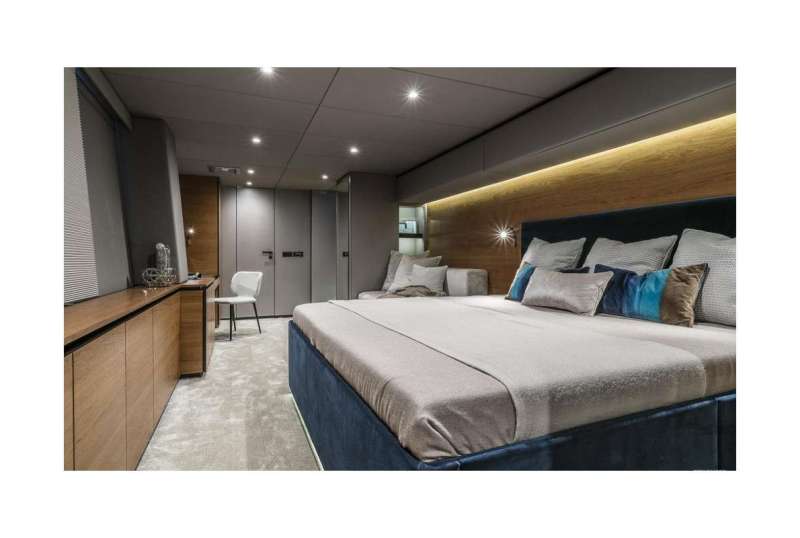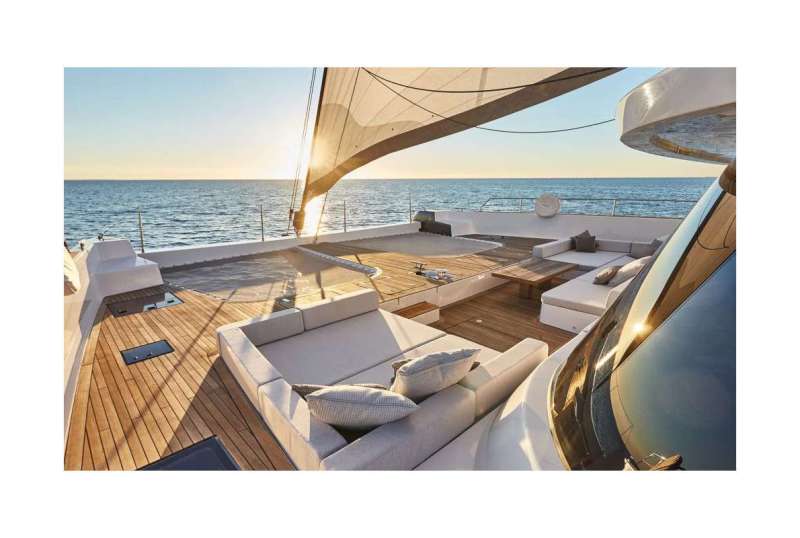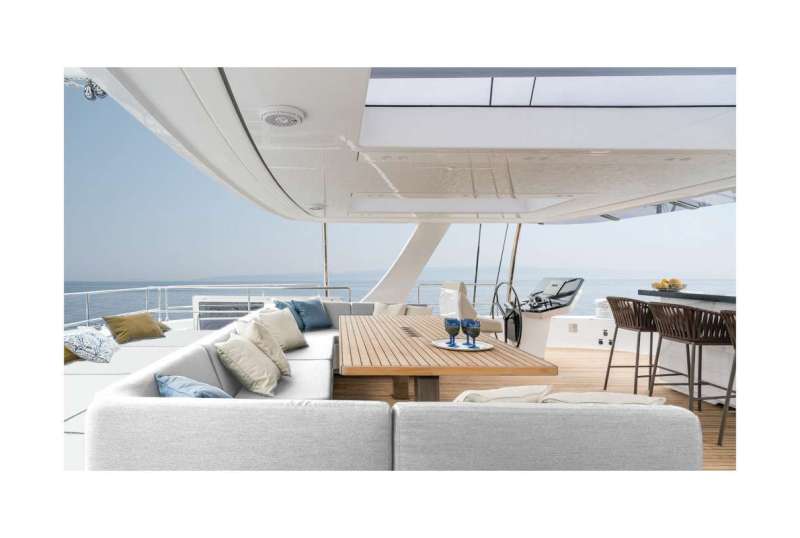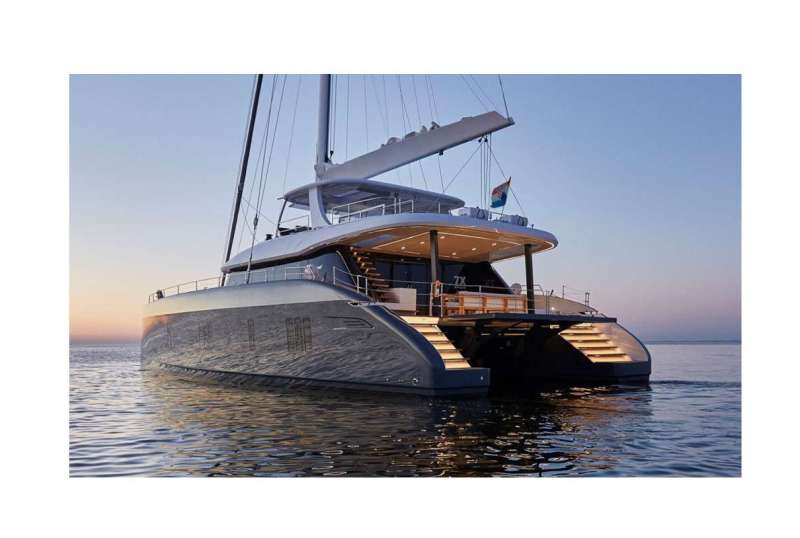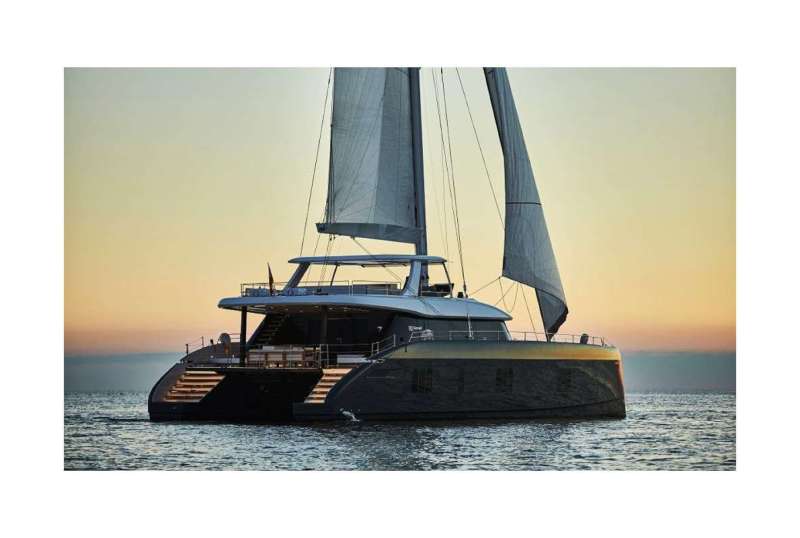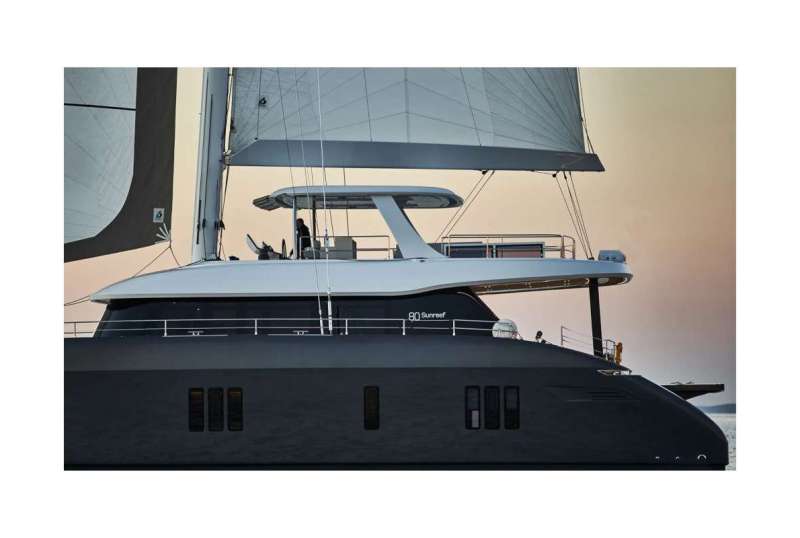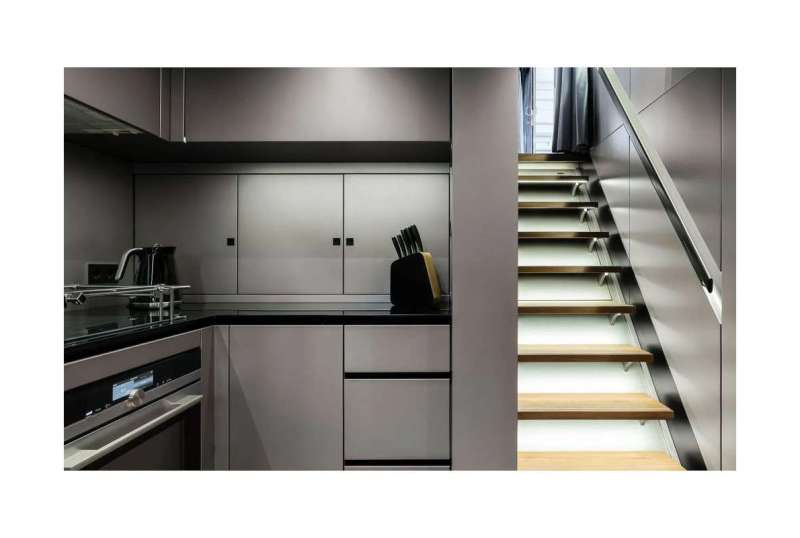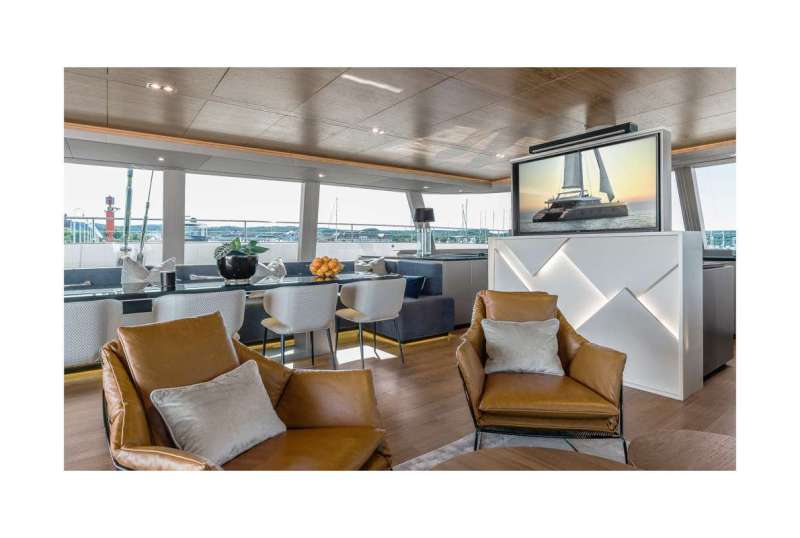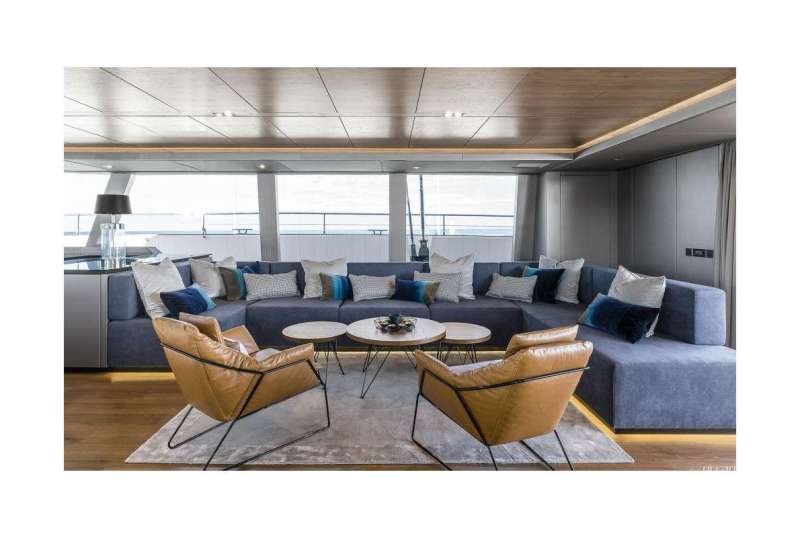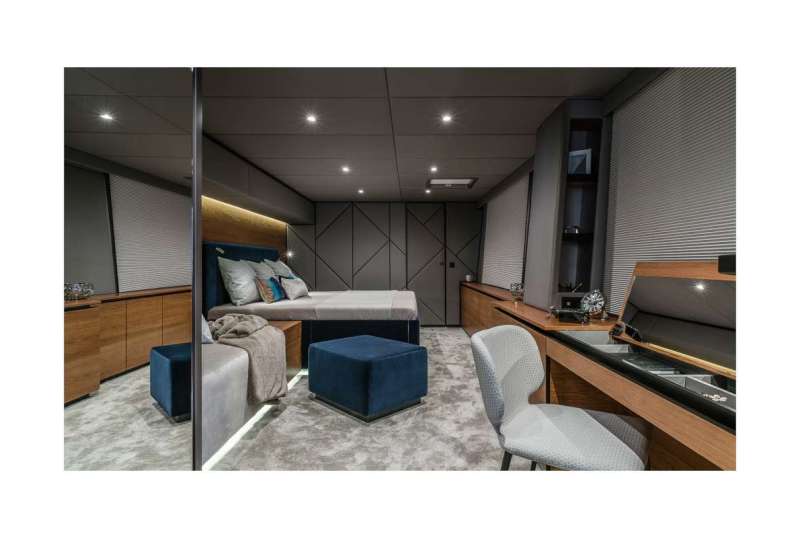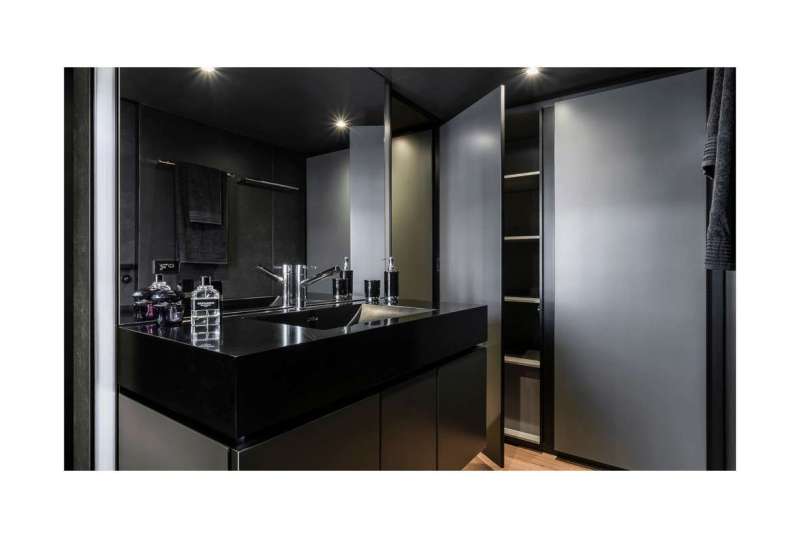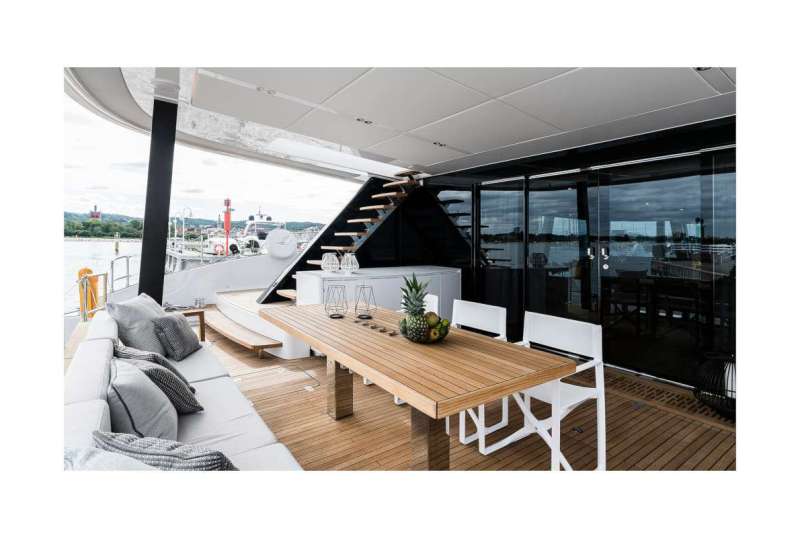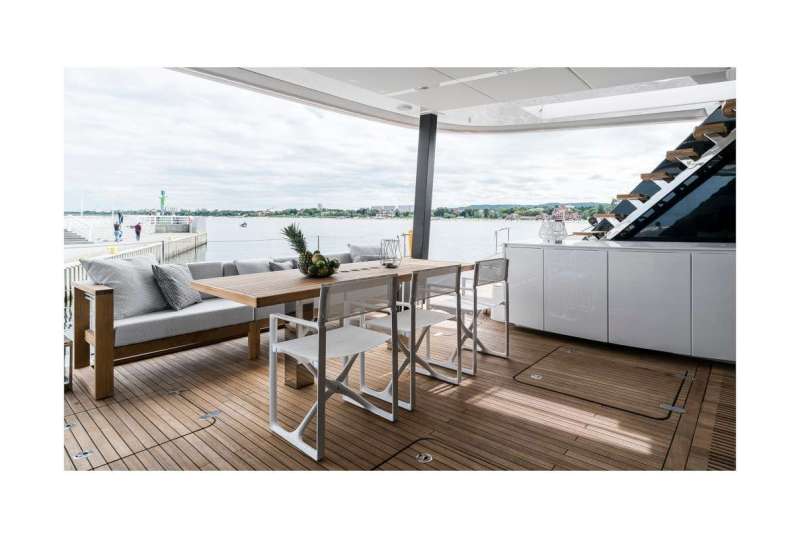 7X – SUNREEF 80
From €72,500/week

4 cabins

80 ft

Sunreef Yachts

8 guests

Built: 2018

60 Litres/Hr
2. BUNDALONG| 80FT
BUNDALONG is a stunning catamaran from the Sunreef Yachts that can give any superyacht a run for its money. Designed in a "Hamptons" style beach house interior, she boasts a charming ambience with blue and white colours for eight guests- featuring four Queen-sized beds and one Twin bed.

Previous guests gave excellent reviews for her multiple outdoor areas for relaxation and entertainment. The aft deck provides a dining area and lounging space, while the sunbathing zone at the bow is perfect for soaking up the sun and enjoying the refreshing sea breeze. The large in-hull windows offer panoramic views and bring in ample natural light, creating an open, airy atmosphere.

BUNDALONG's flybridge with weather protection is a highlight of the yacht, featuring a wet bar, barbecue, and dining table- providing the perfect setting for outdoor gatherings and al fresco dining.
TOYS AND AMENITIES
BUNDALONG has a versatile collection of fishing gear, water toys, and party equipment similar to a superyacht. Her water toy collection includes a tender/chase boat (Williams 505 diesel jet tender for 10 passengers), a Mini Cat Evoke 14-foot sailboat, paddle boards, a floating water platform, Seabobs, efoil, snorkel gear, a "Big Bertha" tube for thrilling rides, water skis, a wakeboard, noodles, floats, an inflatable jet floaty by Funboy, yoga mats, and blocks.

A dream for fishing enthusiasts, BUNDALONG has extensive fishing capabilities with 3 Tiagra big game saltwater fishing rod and reel setups, 2 small spinner reels, 2 deep-sea Hawaiian hand lines, a gaff, a dedicated fish cooler, and a complete set of tackle and deep-sea lures for Mahi, Wahoo, Tuna, and Marlin. Her expansive design and entertainment options are perfect for onboard parties. Captain can arrange a "Club Bundalong" night, or you can hire a professional DJ as the vessel has a complete professional DJ setup.

Yacht Details Only For Private Inquiries
3. ADRIATIC DRAGON (Lagoon 77)| 76 FT
ADRIATIC DRAGON (Lagoon 77) offers luxurious features and amenities similar to those found on a superyacht for 8 guests in 3 queen-sized beds and 1 twin bed. Her modern and sleek interior design is full of curves, while the colour palette resembles the sun and the sea.

Former guests of ADRIATIC LAGOON have praised the chef's cooking skills and the crew's willingness to take them on short trips to discover hidden gems in Croatia. Unlike other Croatian catamaran charters, ADRIATIC LAGOON provides inland vehicle support within a 30-kilometre of the boat's home port, using a luxury van that can accommodate 7 passengers.
TOYS AND AMENITIES
Enjoy a comprehensive range of water toys and equipment, including fishing gear, floating mats, a towing ring, a Highfield OM Deluxe 500 tender, wakeboard, snorkeling gear, water skis, water tube, paddle boards, Seabob F5 Lumex, GoPro 6 black action camera, a diving compressor, and even a printer.

ADRIATIC DRAGON (Lagoon 77) is the perfect vessel for luxury fishing charters. Since a powerful chase boat is available, the guests can rent professional fishing gear and try their luck fishing.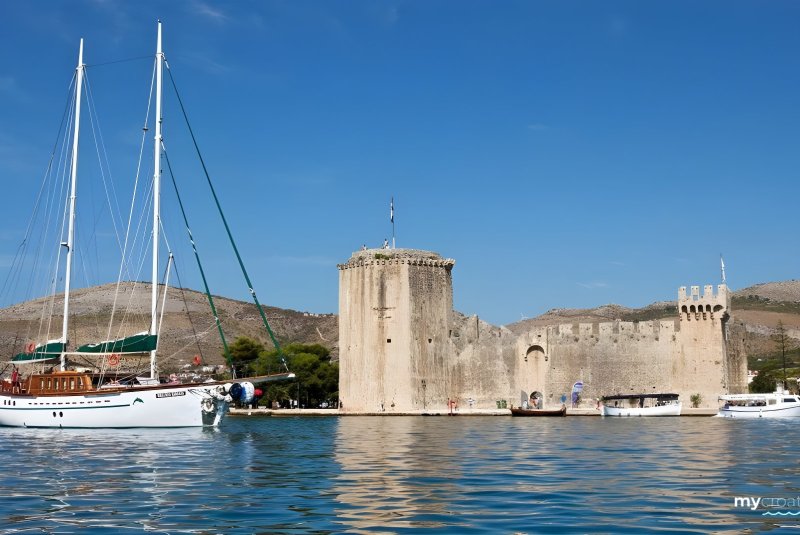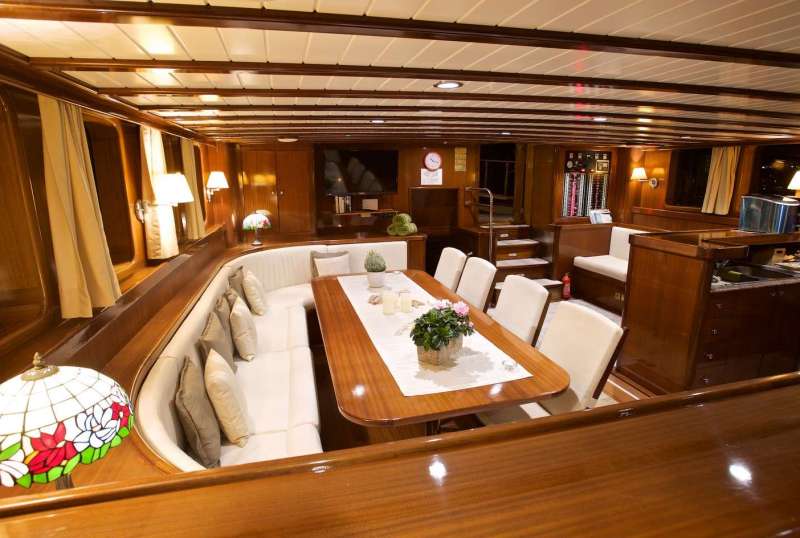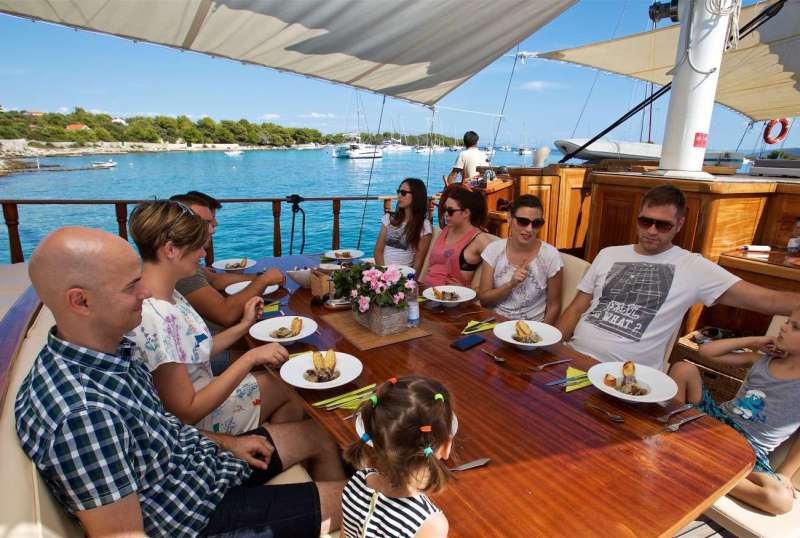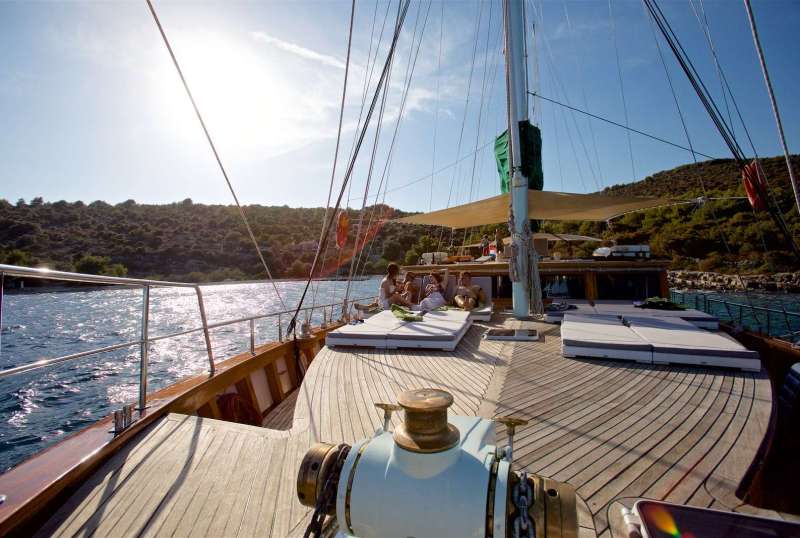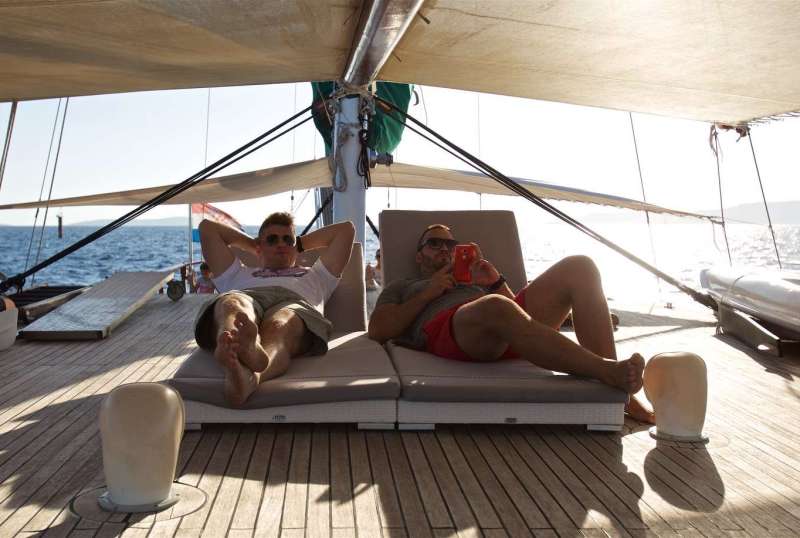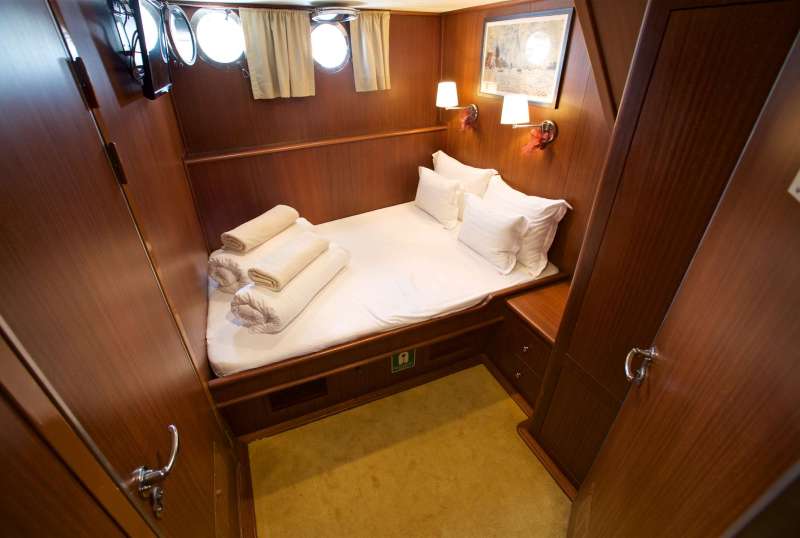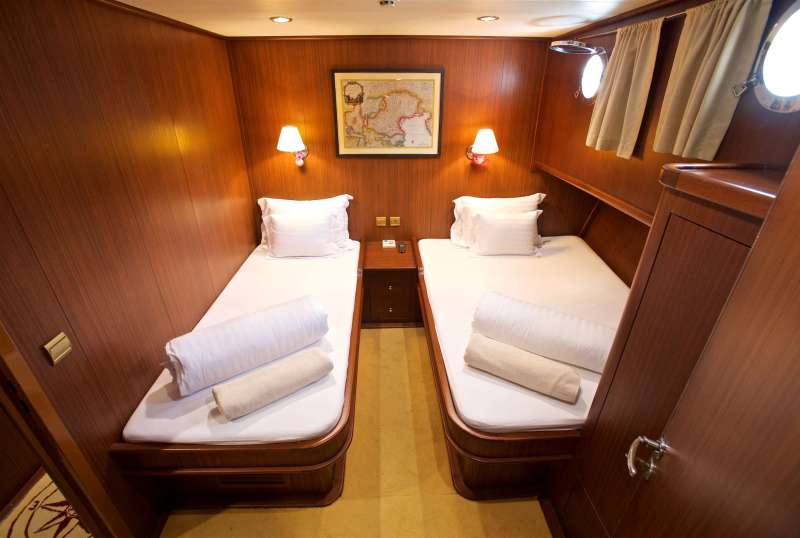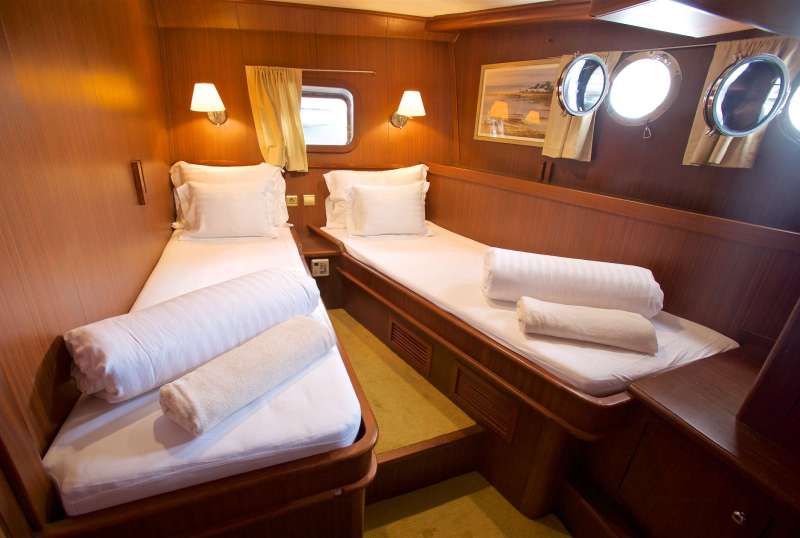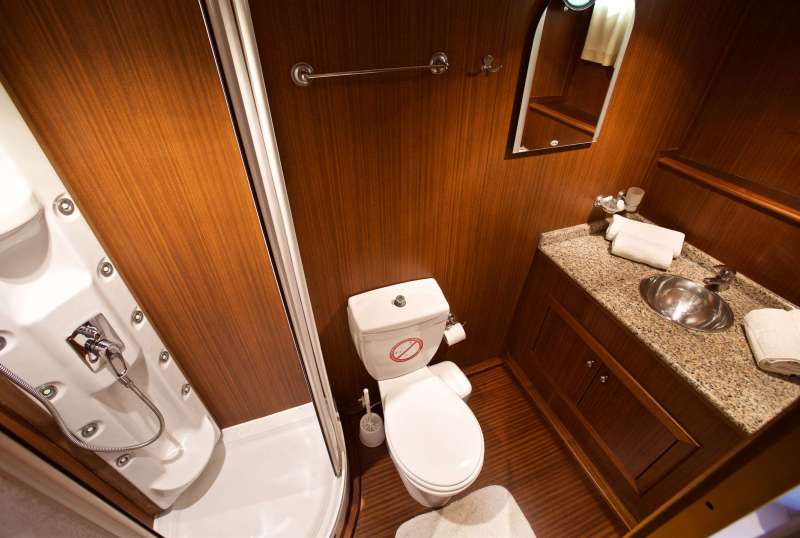 Queen of Adriatic
From €17,900/week

6 cabins

88 ft

Custom

14 guests

Refit: 2023
4. DUOLIFE| 61 FT
DUOLIFE is a fantastic catamaran that comfortably accommodates 8 guests in 4 queen-sized beds. The unique design sets her apart, featuring a black window frame, mast, boom, and an additional roof on the second deck, along with stylish grey sideboards.

DUOLIFE has ample space to relax and soak up the sun- with sun beds and a sun lounge on the upper deck, and you can bask in the sunshine or seek shade. The super-wide stern boasts two accompanying ladders and a hydraulic platform, making it easy to enter and exit the water quickly and take refreshing dips. If you're travelling with kids, this catamaran is kid-friendly, offering amenities such as hired nannies, a safety net upon request, an ice maker and toys, and Ps4 (with game stay and VR goggles) for entertainment.

Discover Croatia in a new light as the charter crew will guide you through hiking excursions, water sports, and secluded party locations. Also, their assorted little treats on every port and the sumptuous meals onboard with local produce will make you feel like you are in a five stars hotel.
TOYS AND AMENITIES
DUOLIFE's impressive toy and gear collection includes Fishing Gear, Jobe Inflatables for adults and kids, Kitesurfing gear, SU Paddle Boards, Floating Mats, Dinghy (Rib with 70 hp motor), Wake Board, Water Skis (Adult and Kids), Snorkel gear, kayak, and beach game.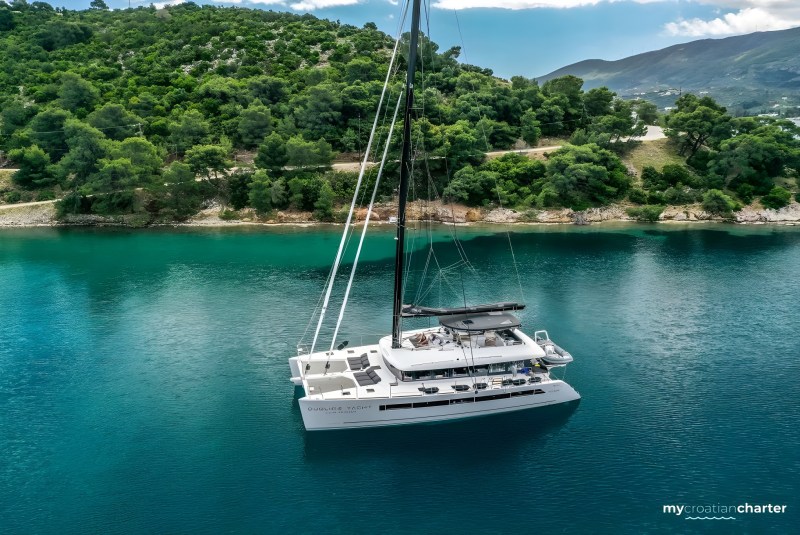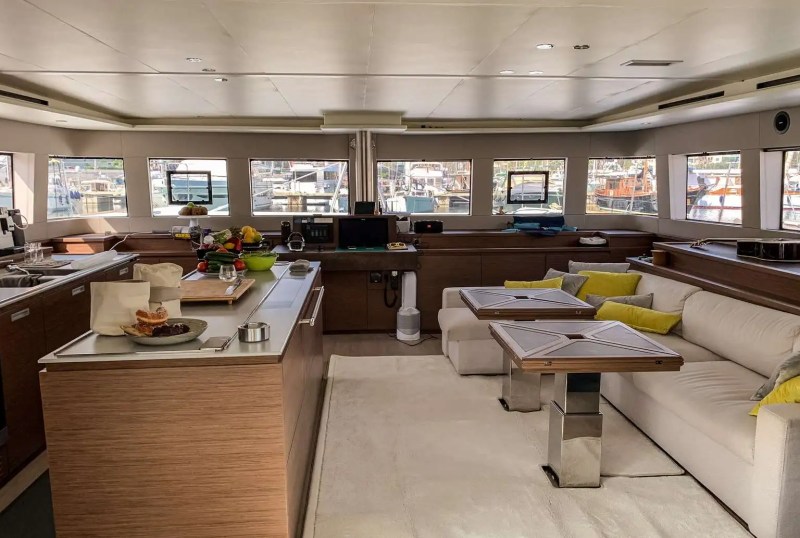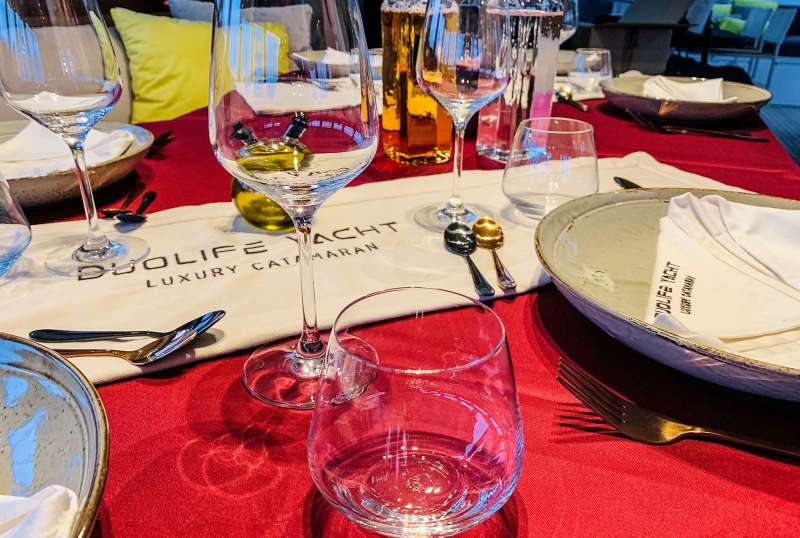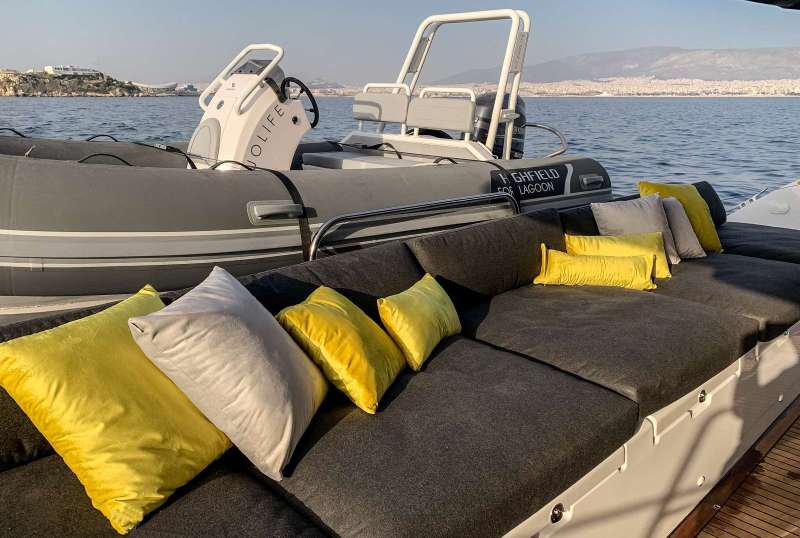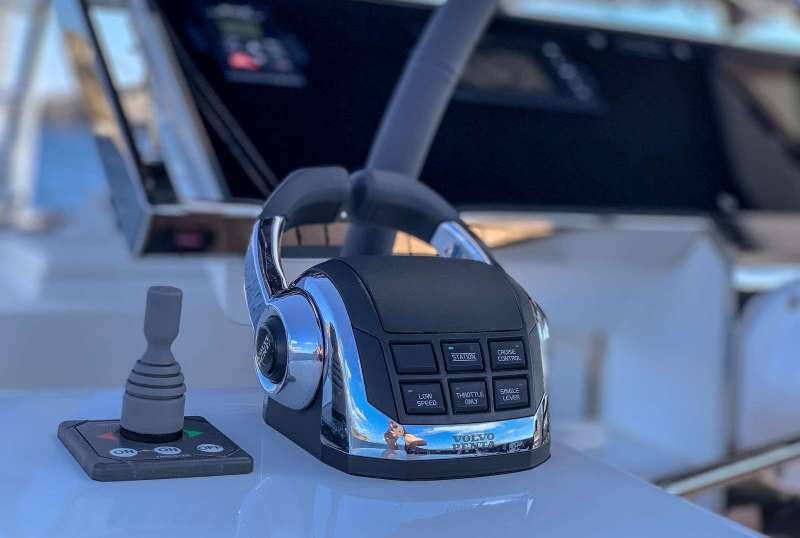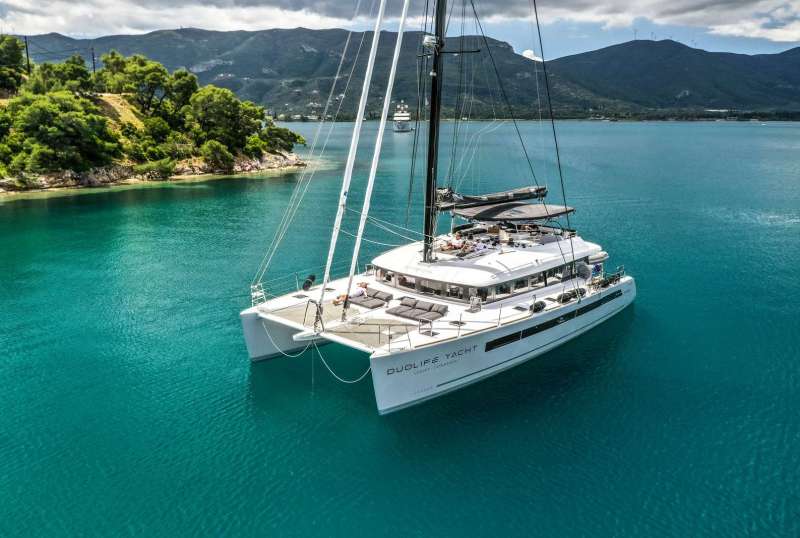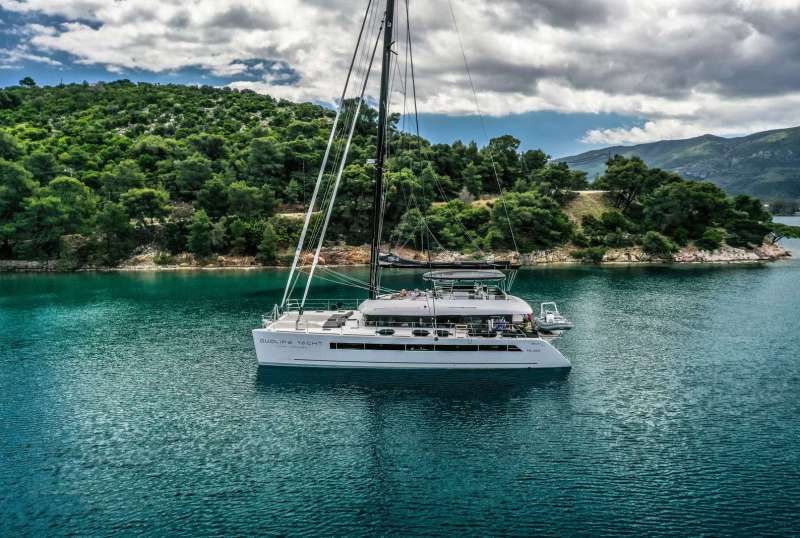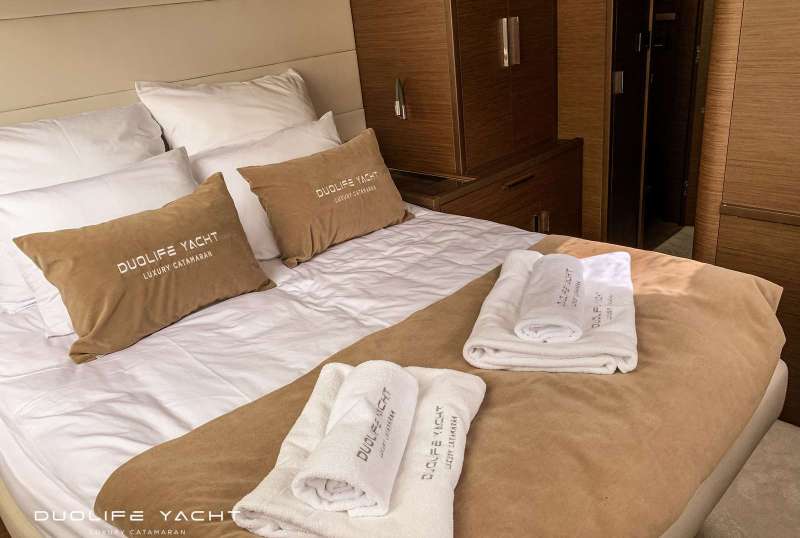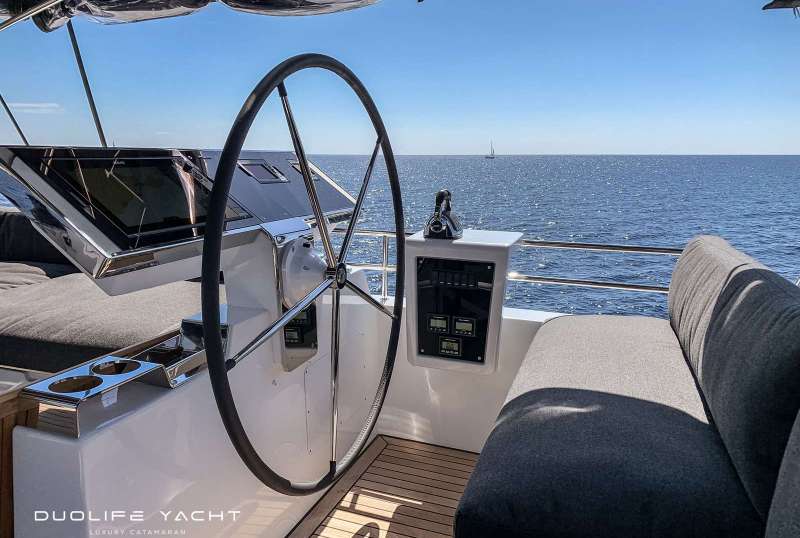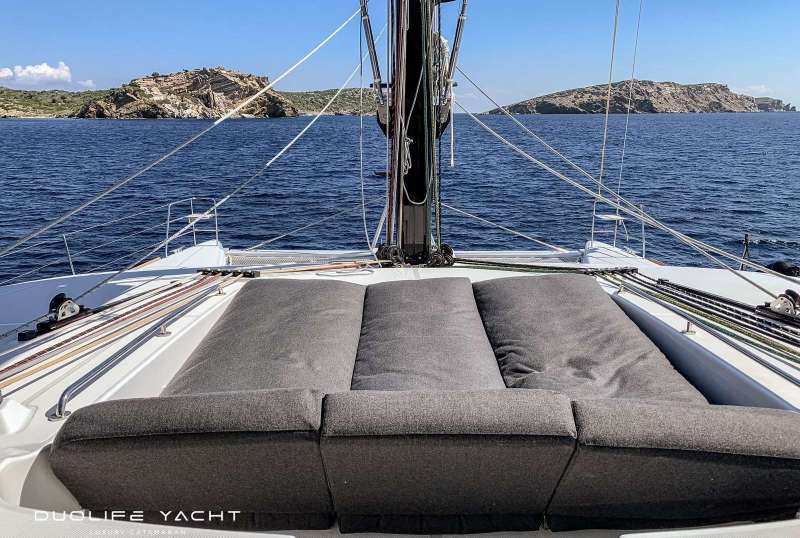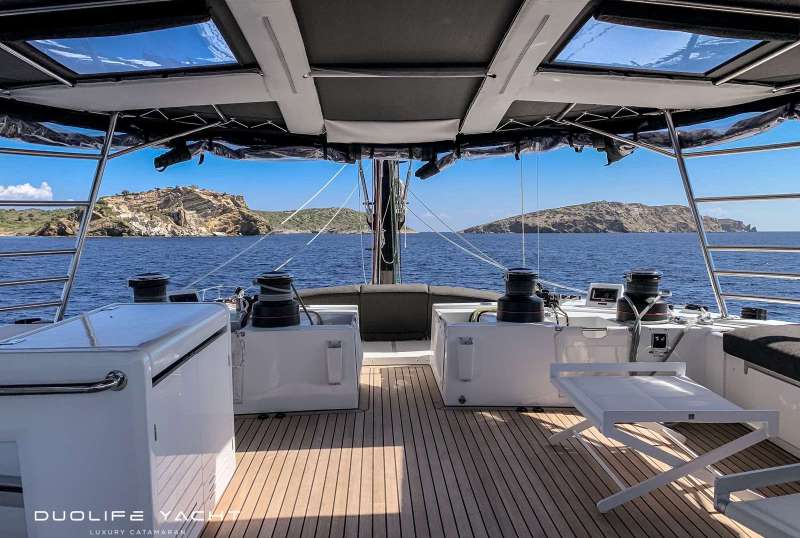 DUOLIFE
From €25,000/week

4 cabins

61 ft

Lagoon

8 guests

Built: 2019
5. ADRIATIC LION (Lagoon 620)|61 FT
The ADRIATIC LION (Lagoon 620) is an exquisite boat that offers a comfortable stay for up to 10 guests in 5 queen-sized beds. Even though she is a 61 feet vessel, her functional flybridge separates crew and reception areas with an option of accommodating additional guests. Her beautifully integrated saloon and cockpit feature a "wet bar" and generous space for relaxation- providing the opportunity to enjoy delicious meals indoors or outdoors.

Captain Zoki, with his extensive knowledge of the area, will exceed your expectations by catering the charter according to your preferences- something all previous guests loved. They meticulously plan sailing routes and meals with the wonderful Sanja to ensure a delightful experience. The exceptional chef, Mladn, prepares culinary masterpieces that make dining onboard irresistible, while the crew's daily search for fresh local produce makes the meals even better.
TOYS AND AMENITIES
ADRIATIC LION's water diverse water toy collection includes fishing gear, towing ring, floating mats, snorkeling gear, water skis, two tenders (HIGHFIELD 460 & Honda 60 HP), water tube, and 2 stand-up paddle boards. Guests can also rent exciting gears for water sports and fishing- fishing gear (basic and professional set), tender, wakeboard, water skis, banana, donut, Seabob, and many more.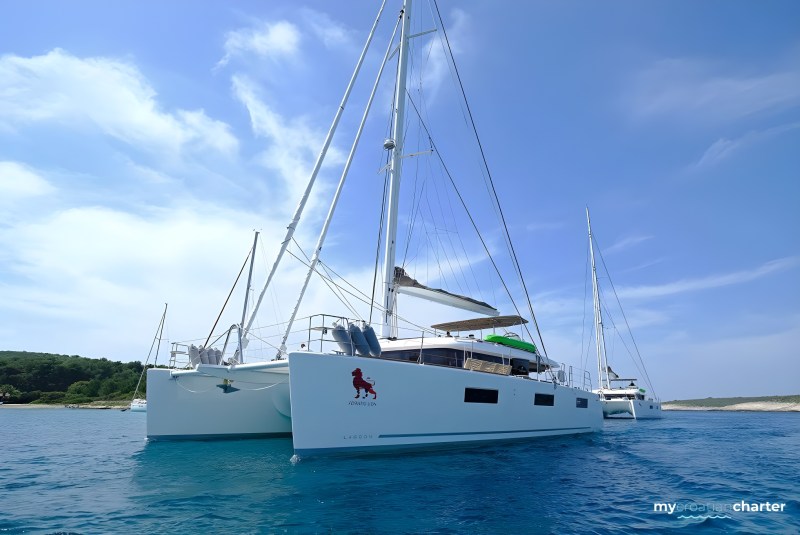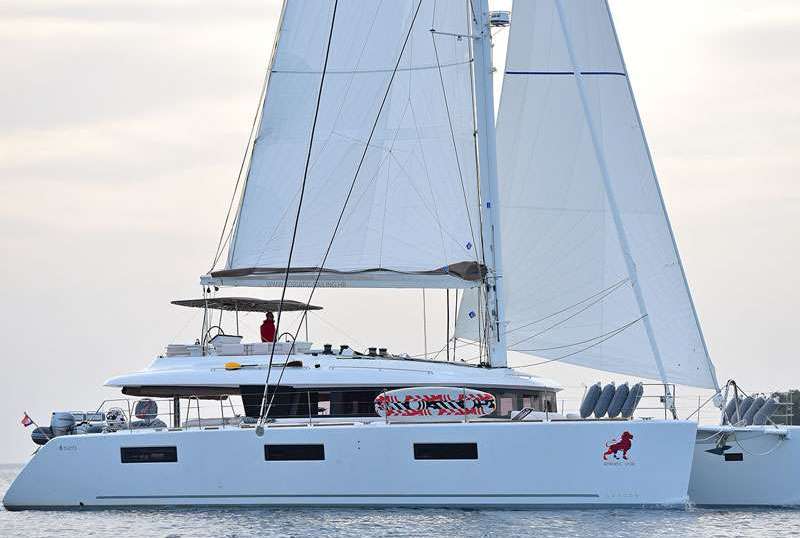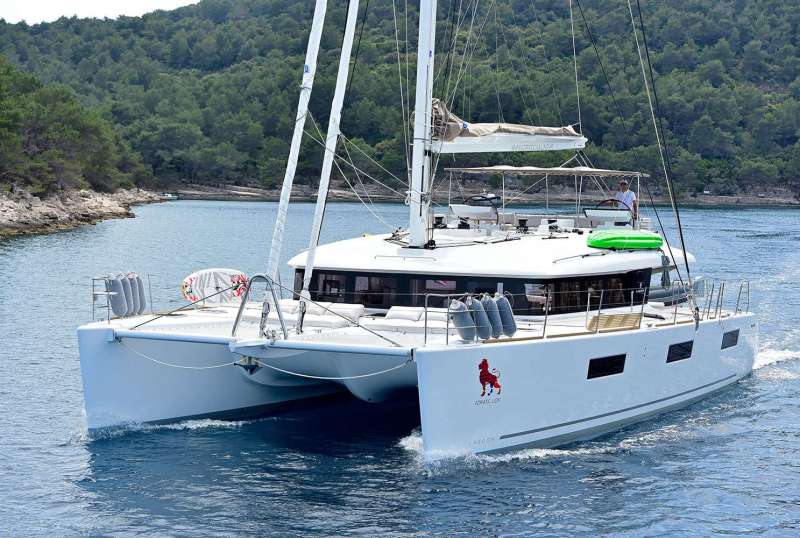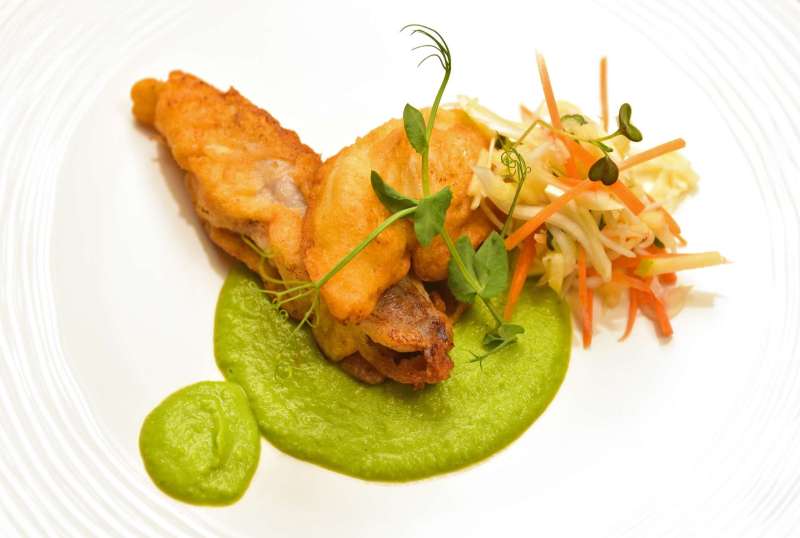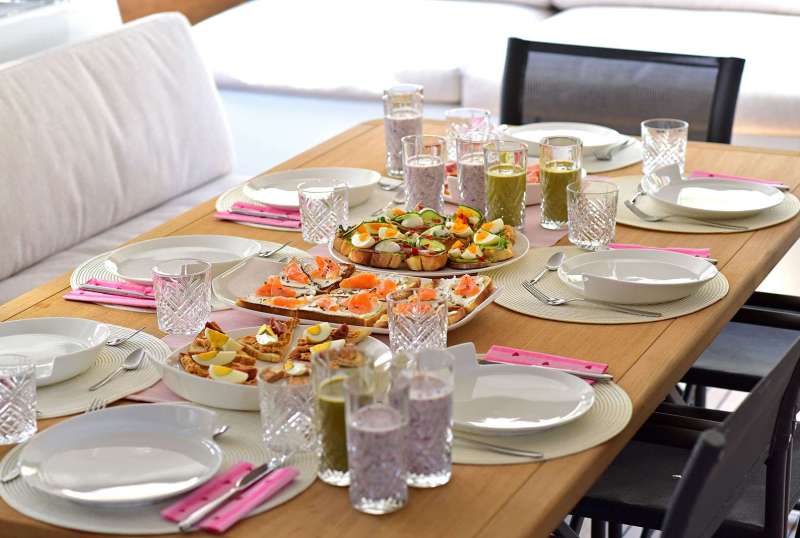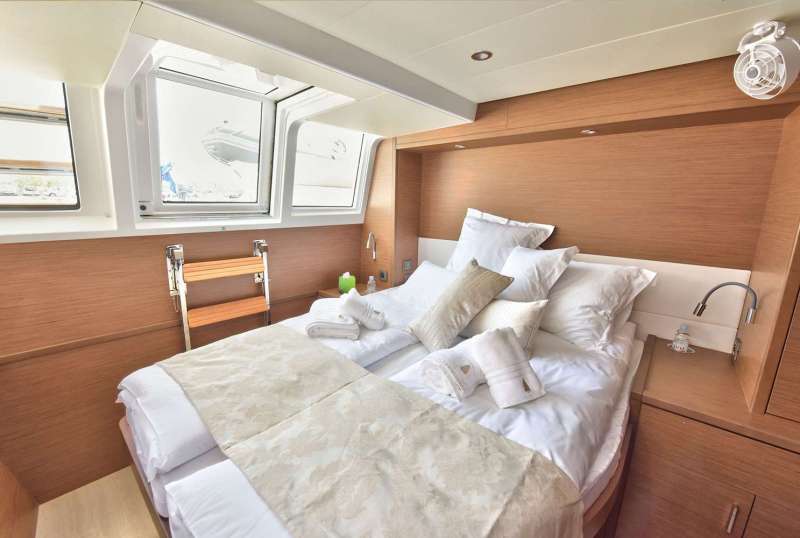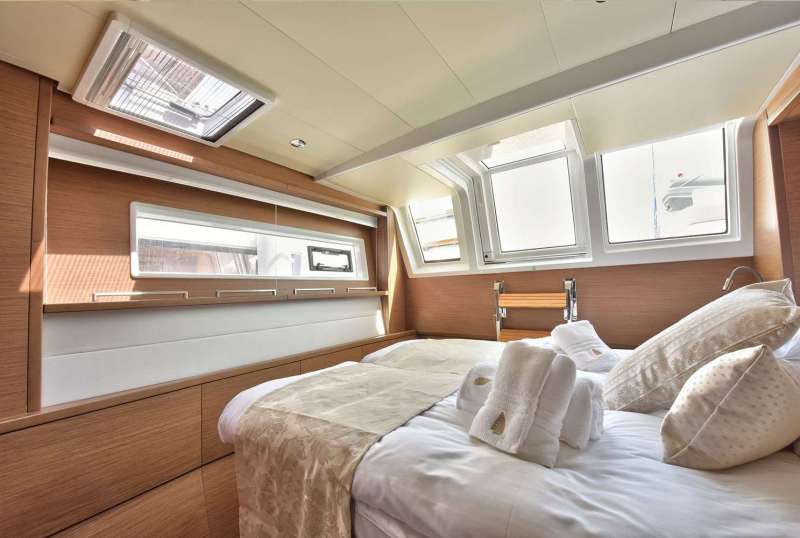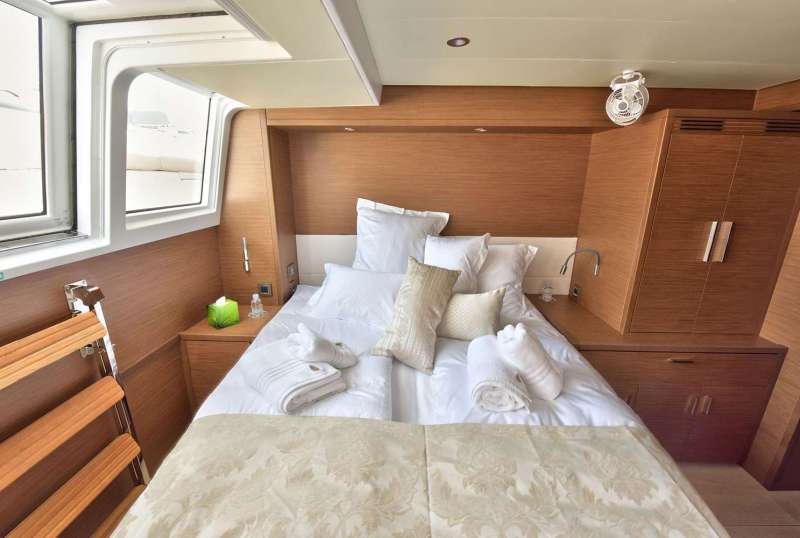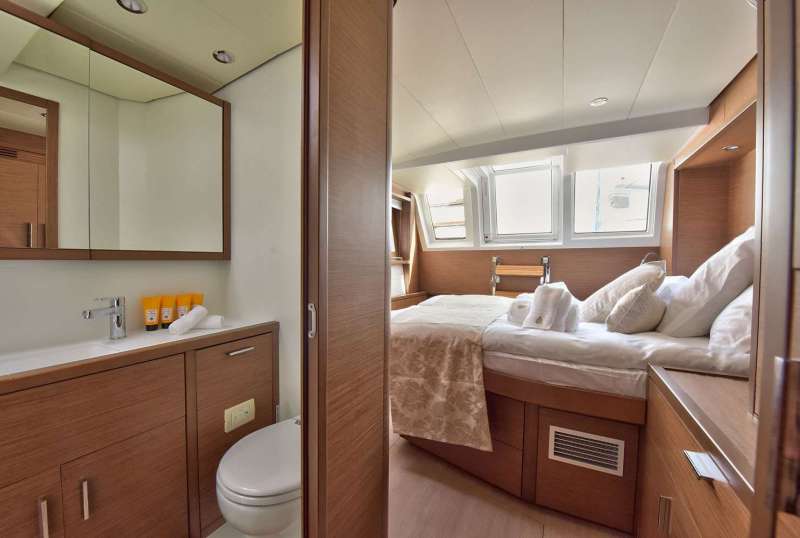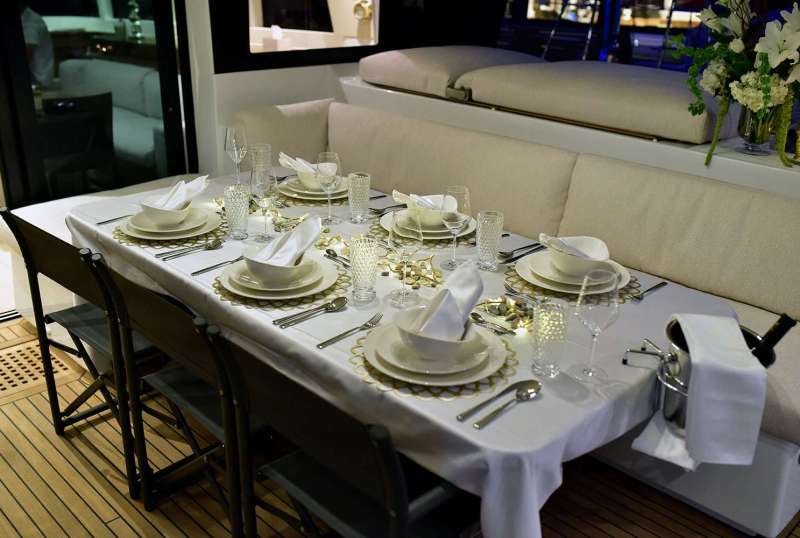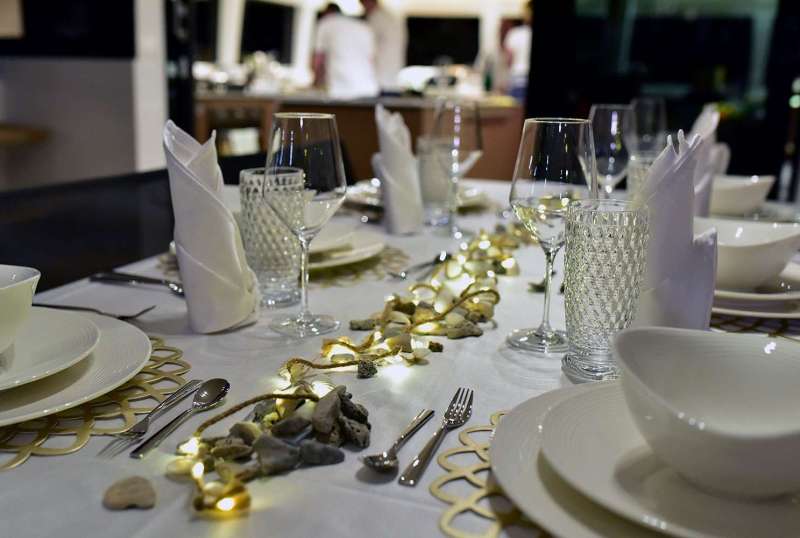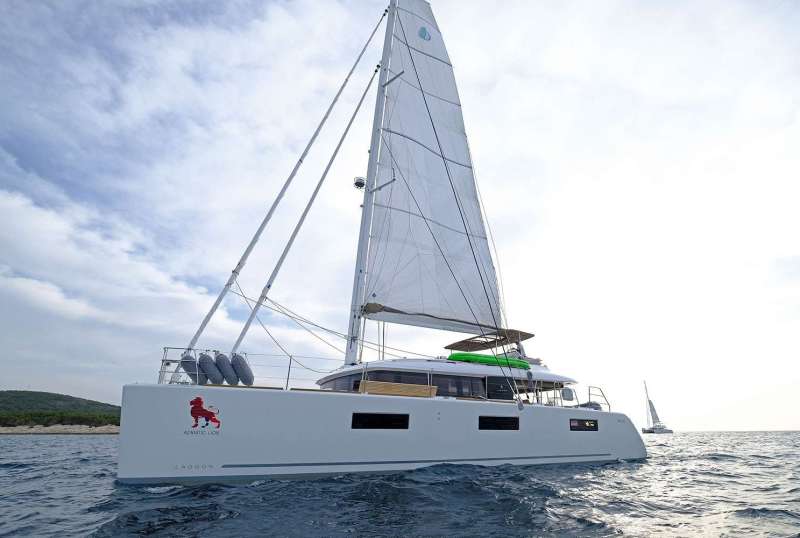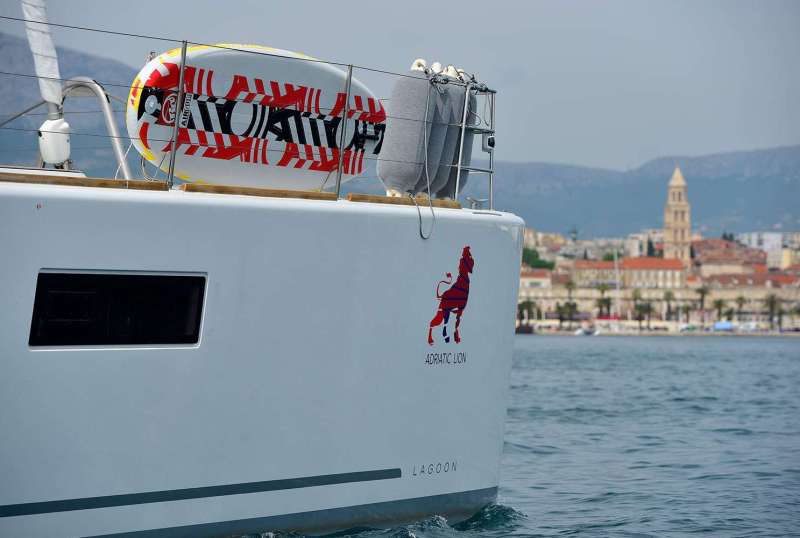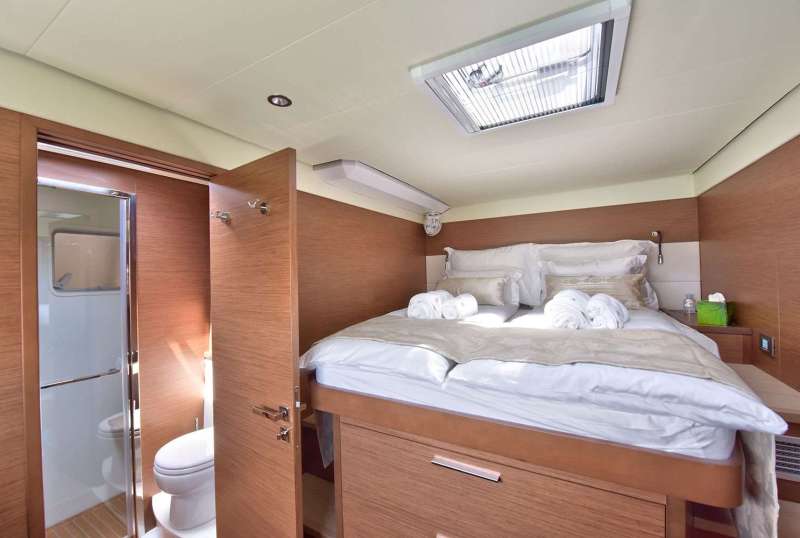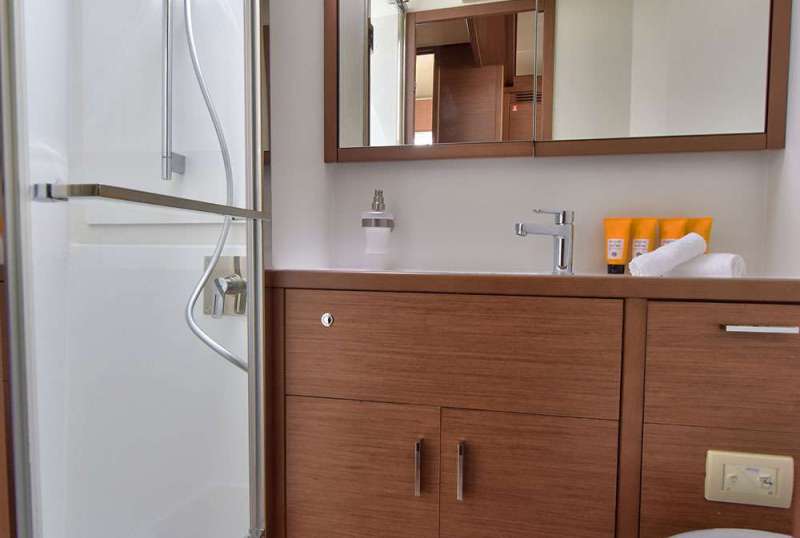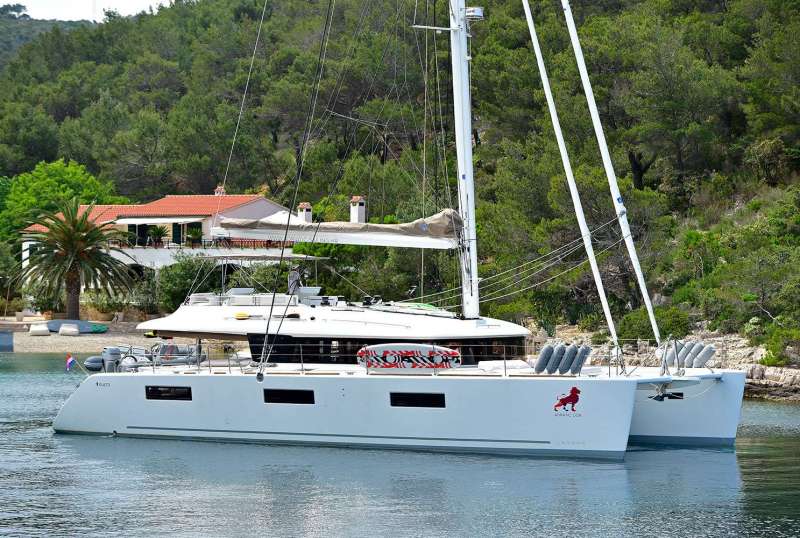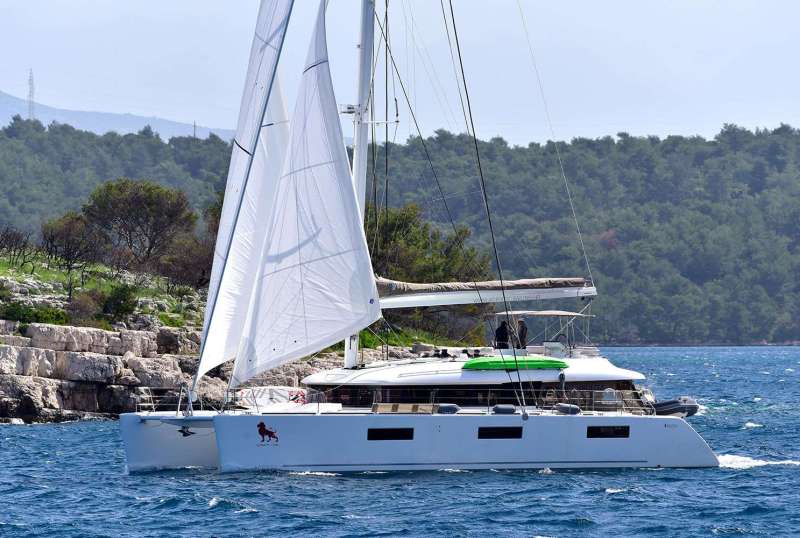 ADRIATIC LION (Lagoon 620)
From €15,900/week

5 cabins

61 ft

Lagoon

10 guests

Built: 2018
6. VULPINO| 60 FT
The compact yet luxurious sailing catamaran VULPINO is the latest Sunreef 60 to the Croatia charter fleet. This stunning yacht features an intelligent and charter-friendly layout-displaying impressive social areas at the bow, stern cockpit, and flybridge.

Similar to a luxury yacht charter, VULPINO has cockpit sliding doors blending naturally into their surroundings, creating the seamless continuity of suave indoors and the vibrant sea from the outdoors. Her spacious interior can house 8 guests in 1 main suite and 3 guest cabins.

From past experience, previous guests have immensely praised the spacious interior and the impeccable service provided by the crew- a skilled captain, talented chef, and attentive stewardess. They will ensure privacy while catering to your every need- giving you the feeling of owning the yacht. The chef catches fresh fish and seafood to whip up local dishes and special diets. professional sailors.
TOYS AND AMENITIES
VULPINO's wide selection of water toys: dingy, Tube, Floating Mats, SU Paddle Boards, Swim Platform, fishing gear, wake board, water skis for adults and children, snorkel gear, kayaks, beach games, sea scooter.

Even though the boat is a 60 feet catamaran, she has a gym– an amenity commonly found in luxury catamarans.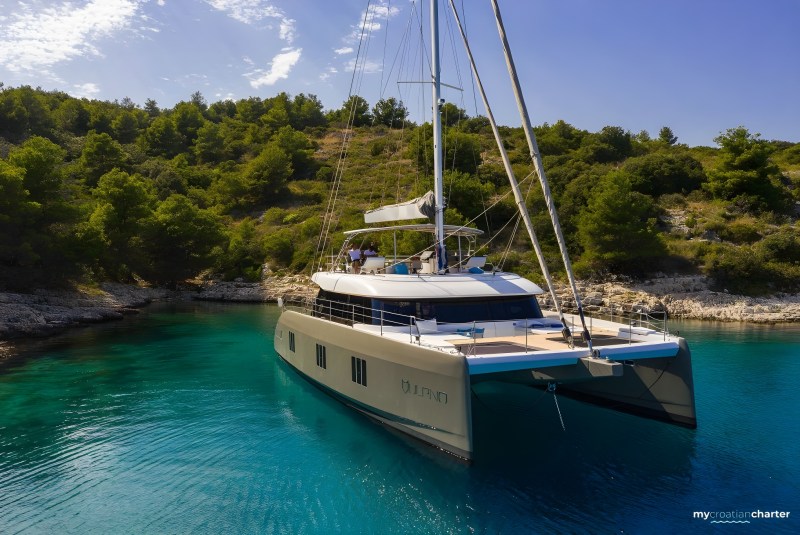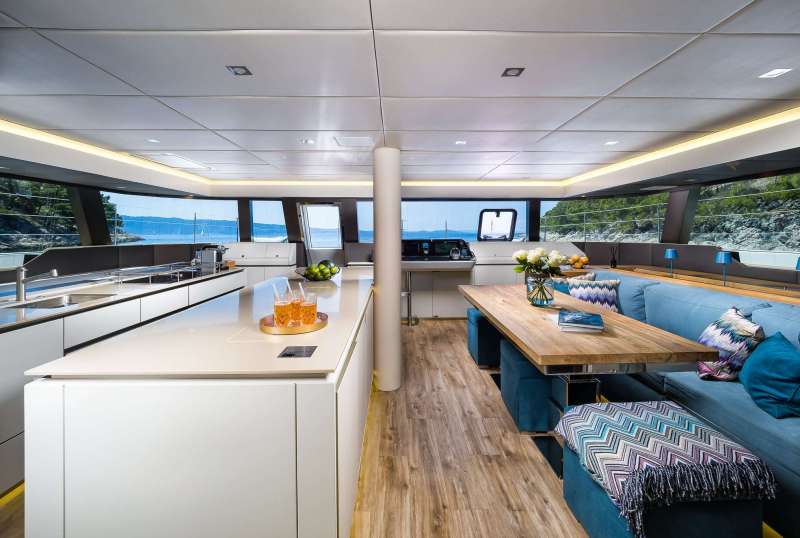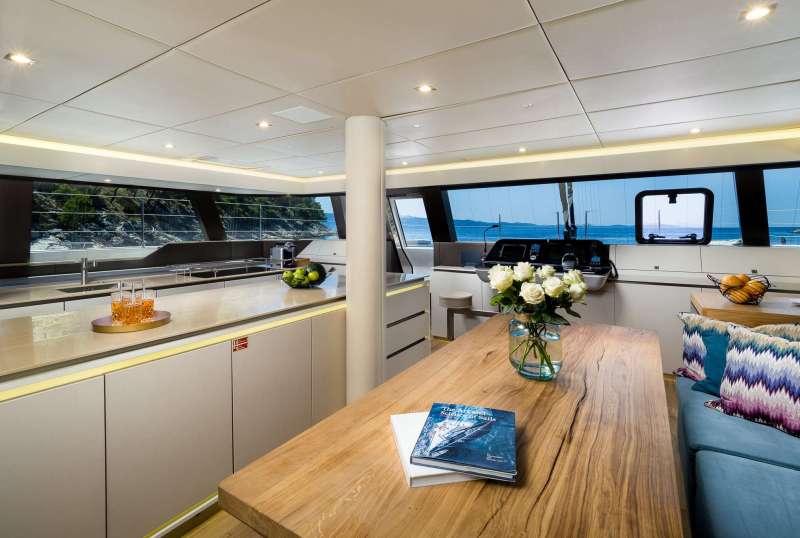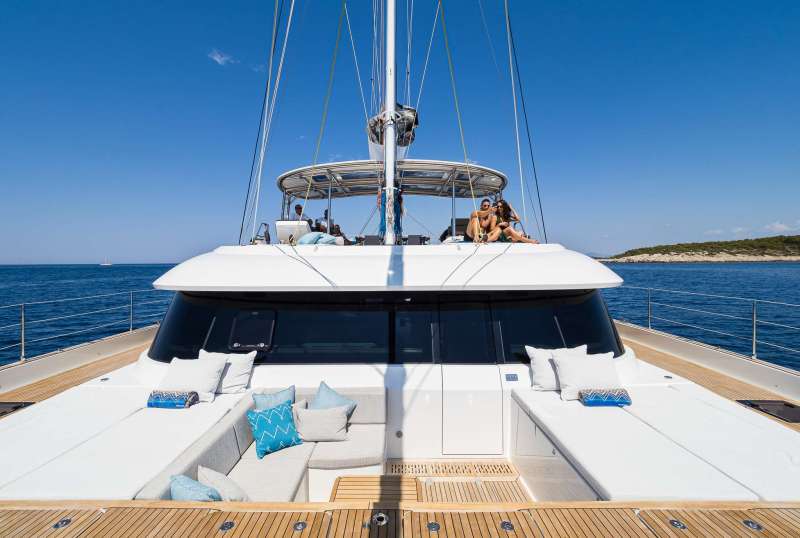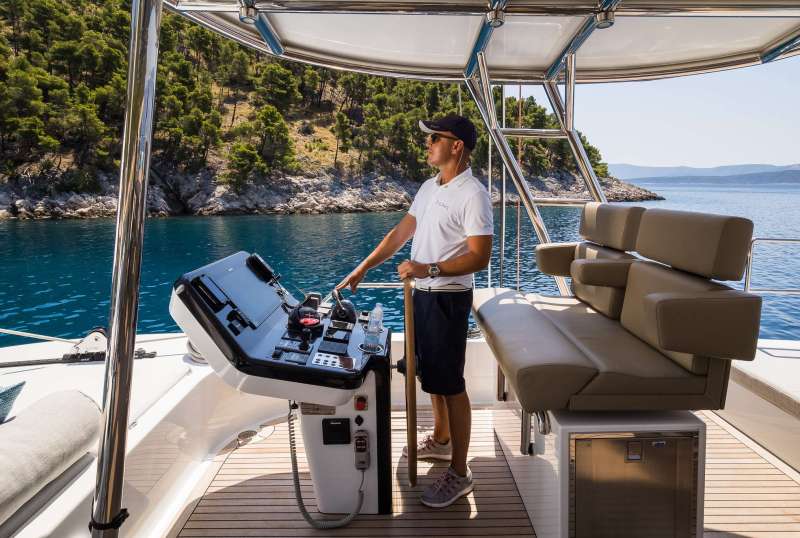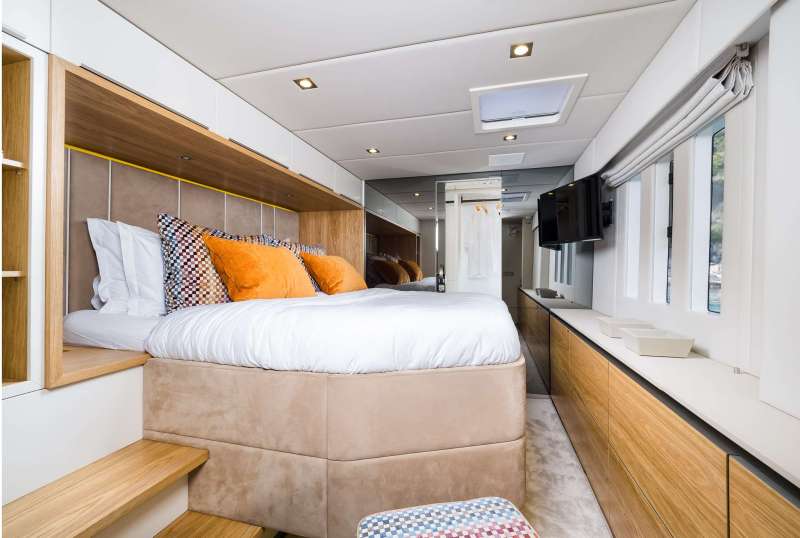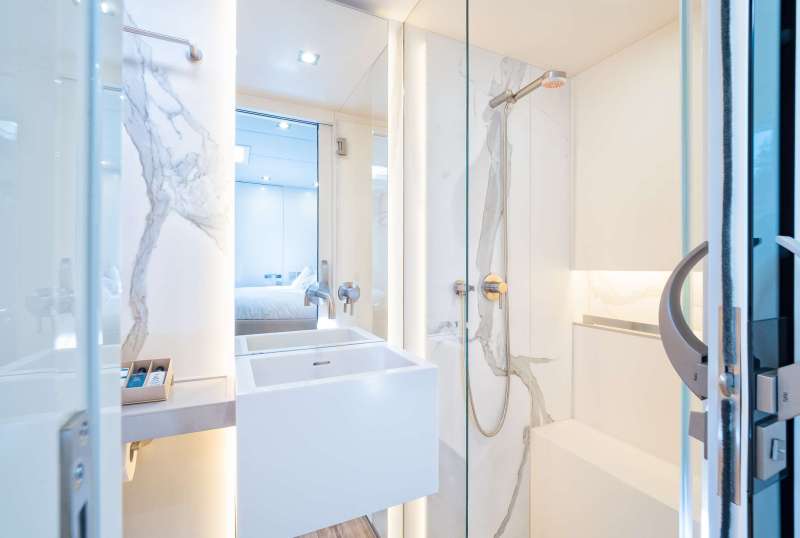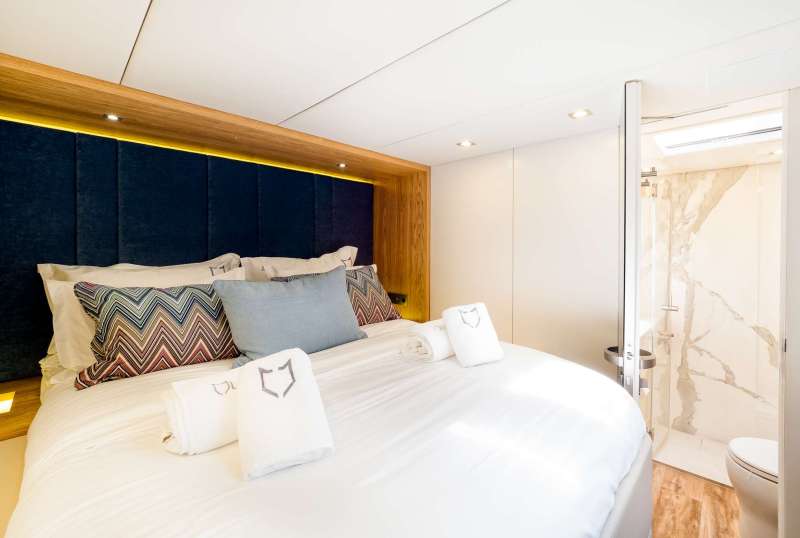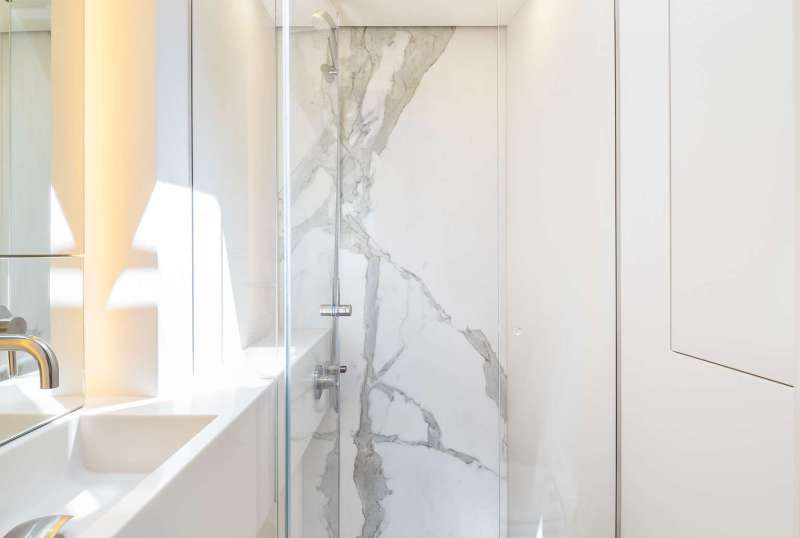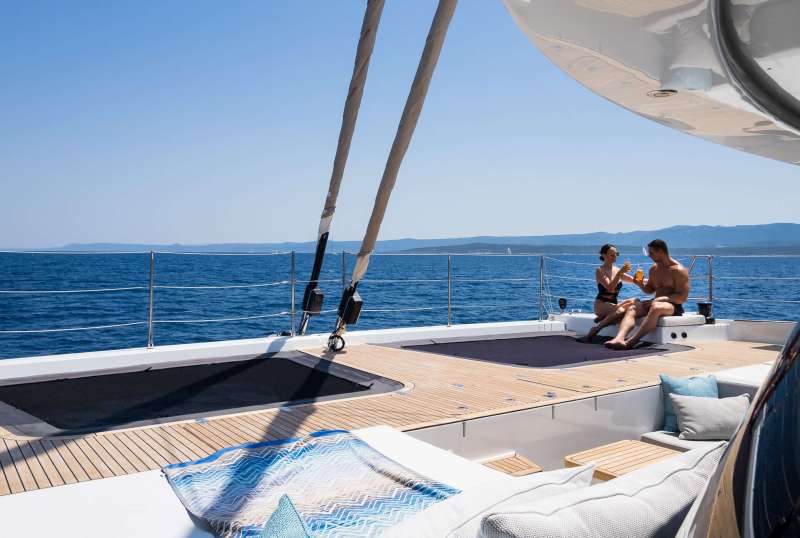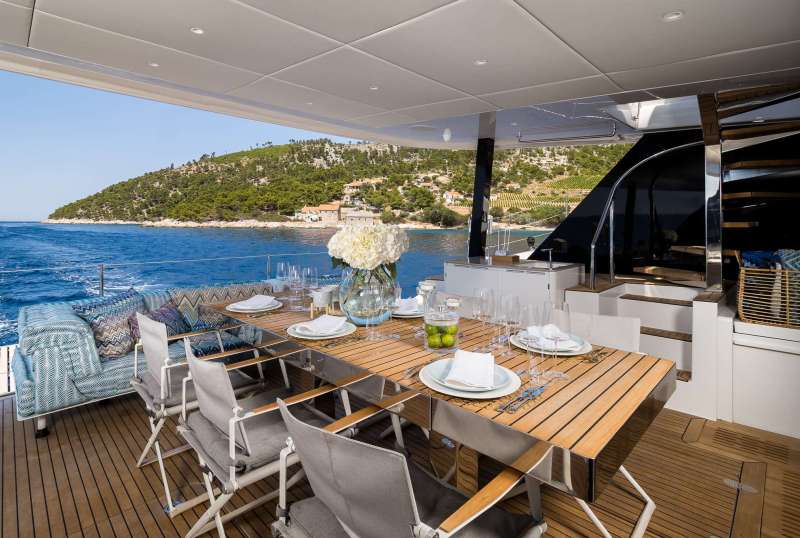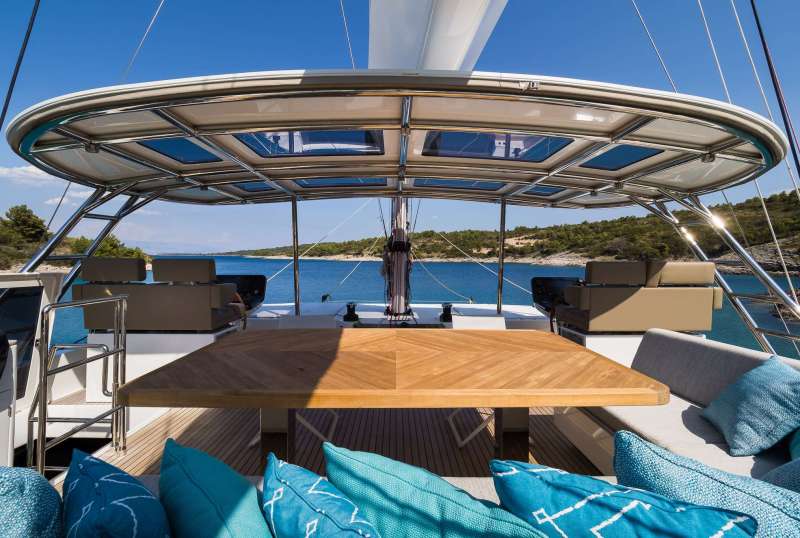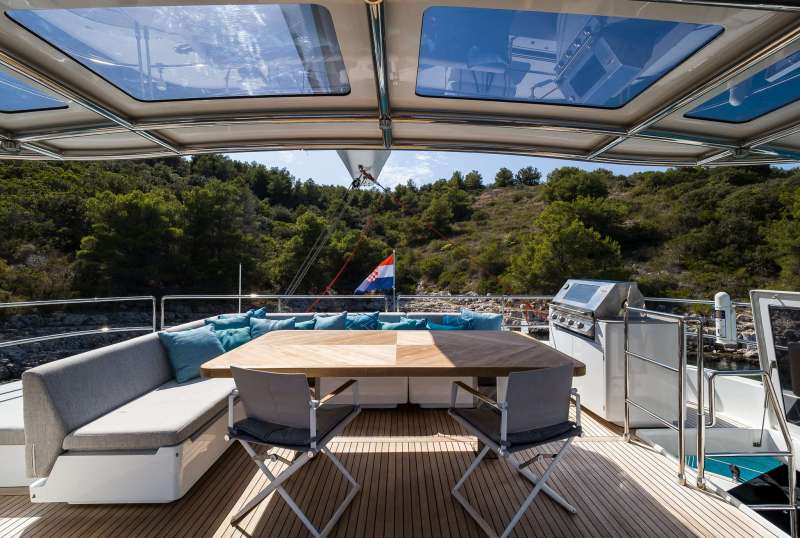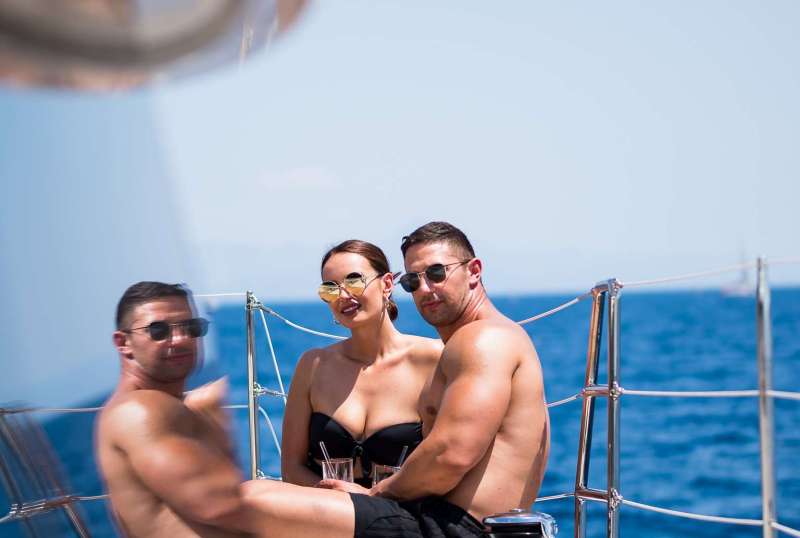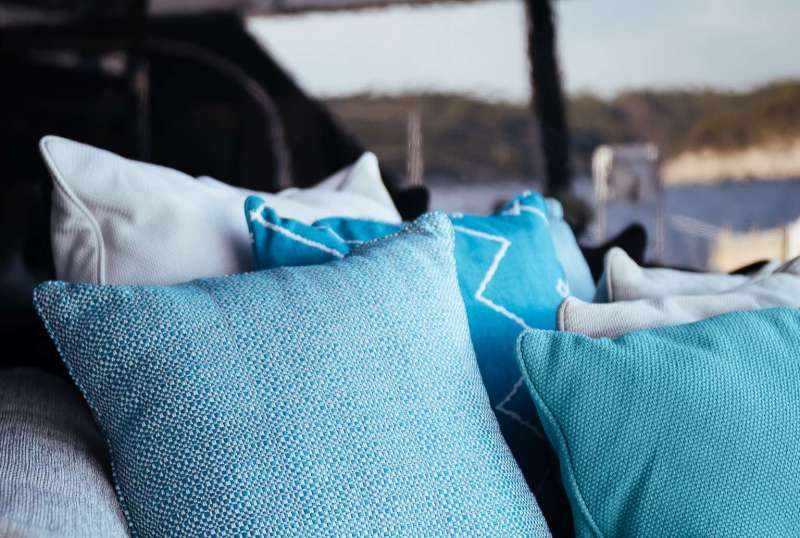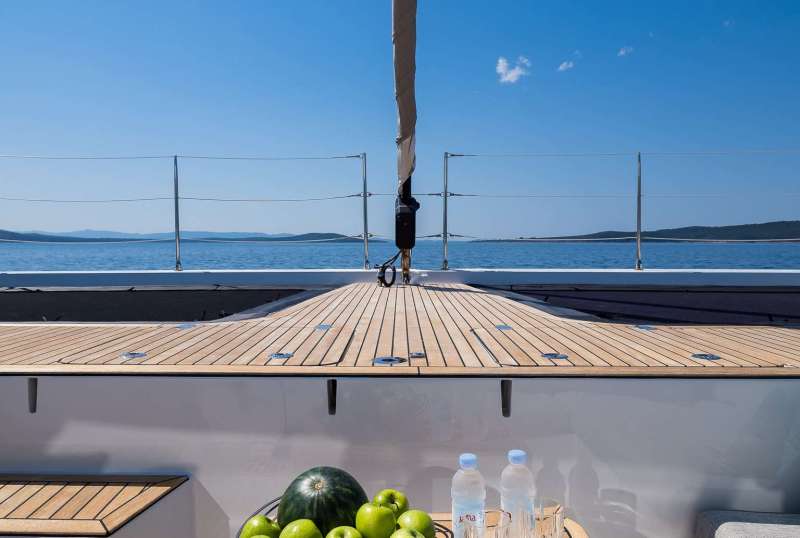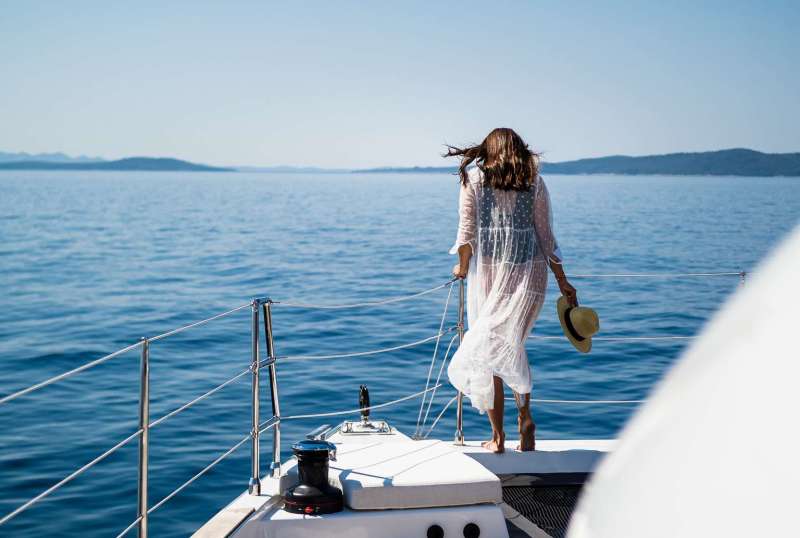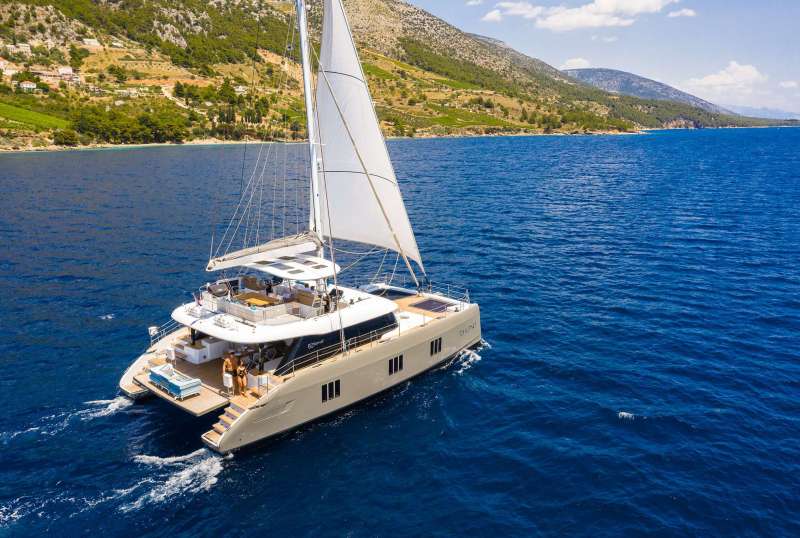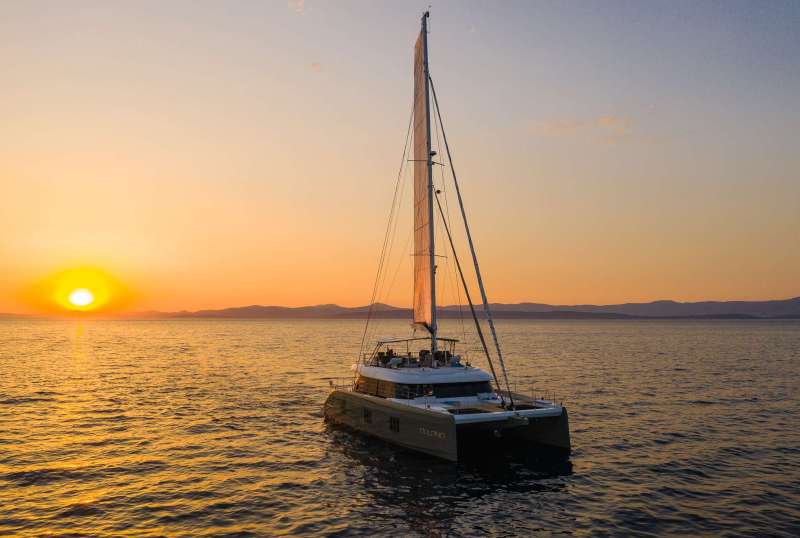 VULPINO
From €34,000/week

4 cabins

60 ft

Sunreef Yachts

8 guests

Built: 2020
7. NAMASTE OF BALI (Bali 5.4.) |55 FT
Experience the ultimate fusion of luxury and comfort aboard NAMASTE OF BALI (Bali 5.4.). This magnificent catamaran charter promises an unforgettable vacation for up to 12 guests, featuring 5 exquisite double cabins and an additional Pullman berth. Despite the compact size, her ingenious design provides all the amenities and pleasures of a larger yacht.

NAMASTE OF BALI's enormous aft salon, al fresco dining options, and sunbathing areas will entertain guests. Our VIP clients mentioned the super helpful and dedicated crew– assisting with restaurant bookings, offering local recommendations, and tailoring activities to cater to your children's needs. The yacht is exceptionally kid-friendly with a nanny option, allowing parents to fully unwind and enjoy their vacation while ensuring their little ones are well cared for.
TOYS AND AMENITIES
NAMASTE OF BALI ensures endless water sports fun with tubes, paddle boards, swim platform, snorkel gear, and water skis (adults and kids).

Guests can rent thrilling water toys: fishing gear, FUN PACK C with Highfield 640 and 150HP Honda, Jet Ski, kayak, kneeboard, Seabob F5 and F5S, SUP, and wakeboard. Additional amenities like a disco ball, portable Bluetooth speaker, safety net, and Seabob are available upon extra payment to enhance your experience.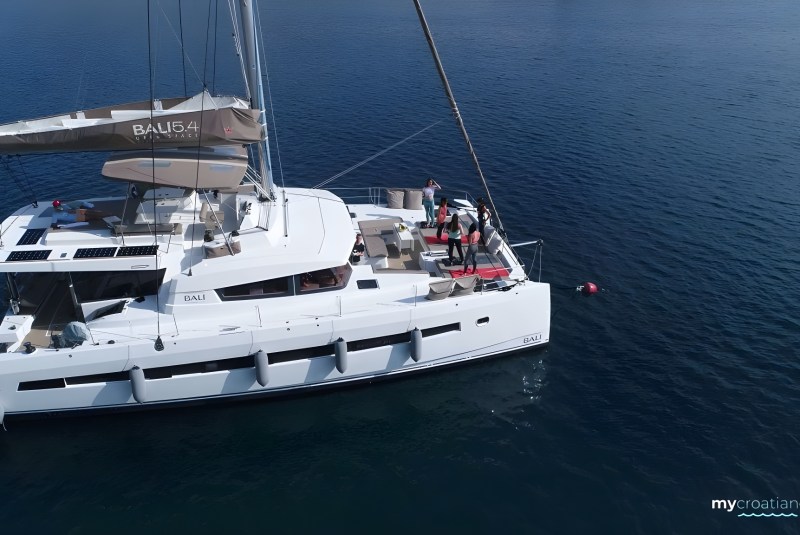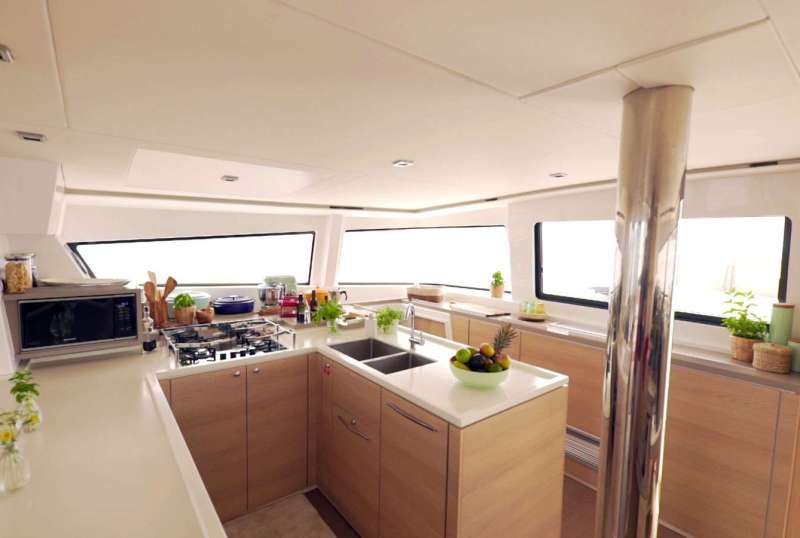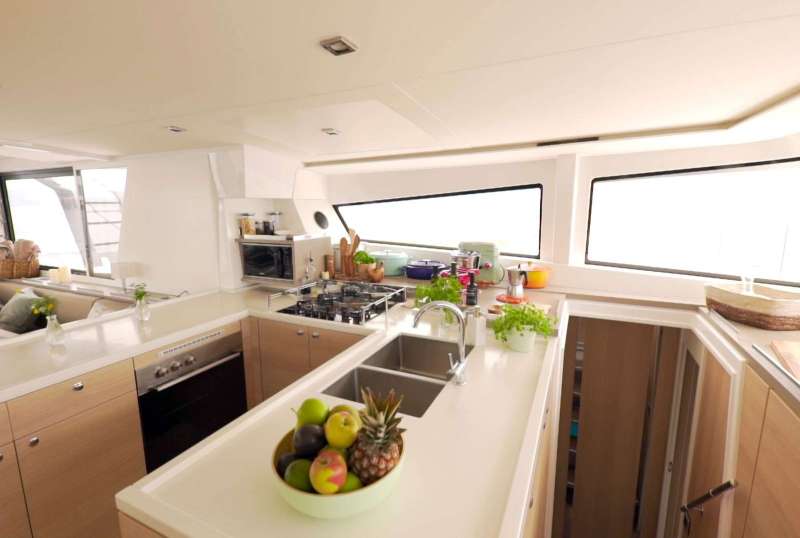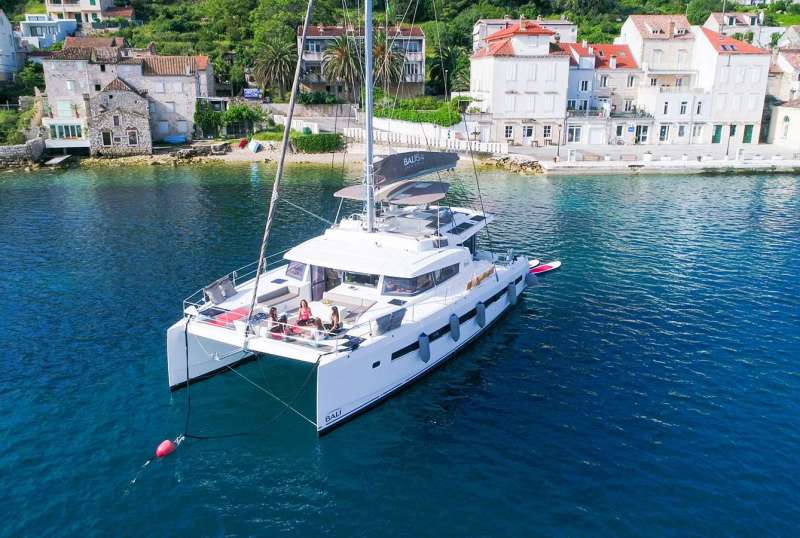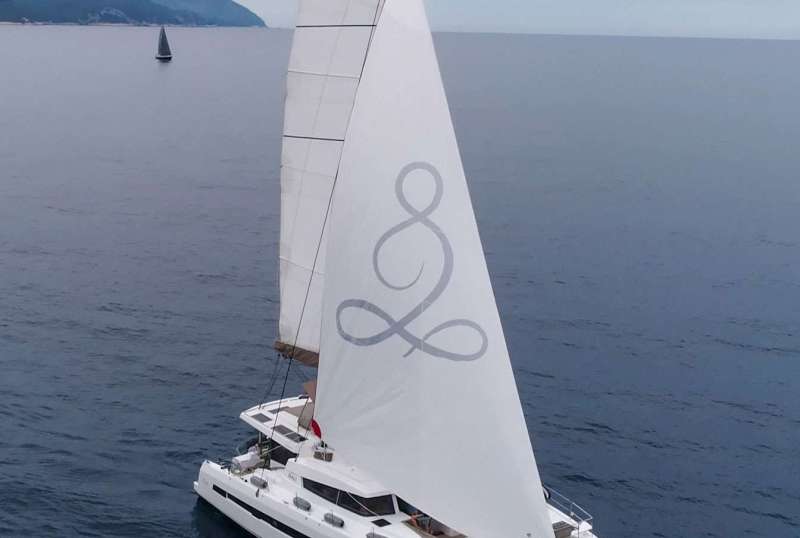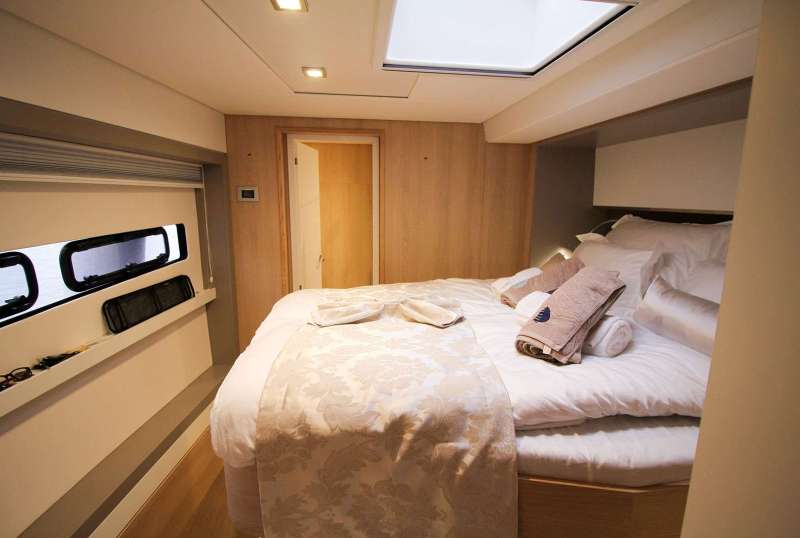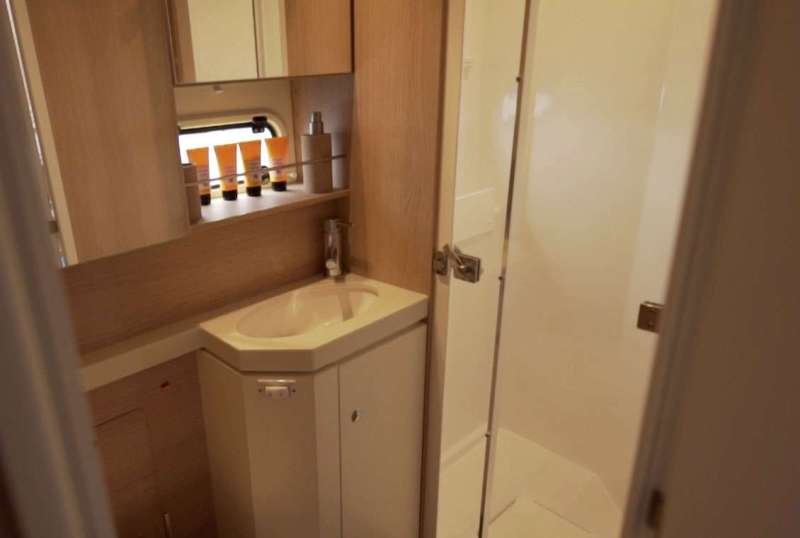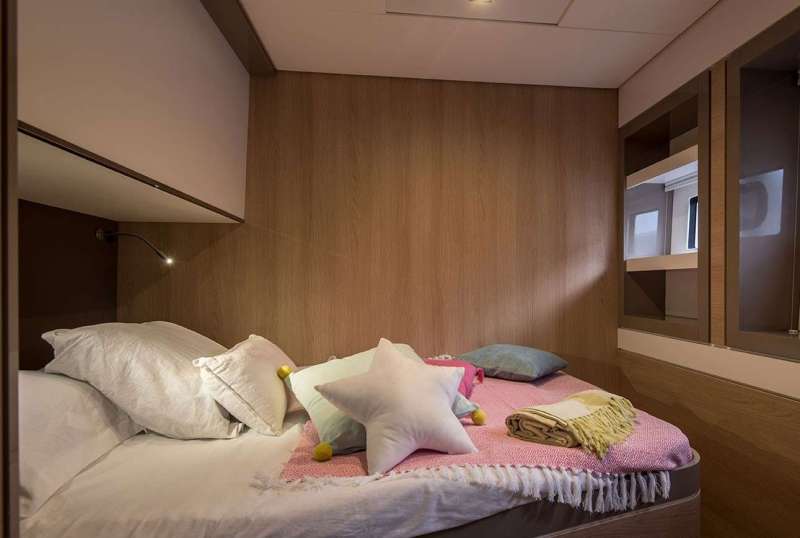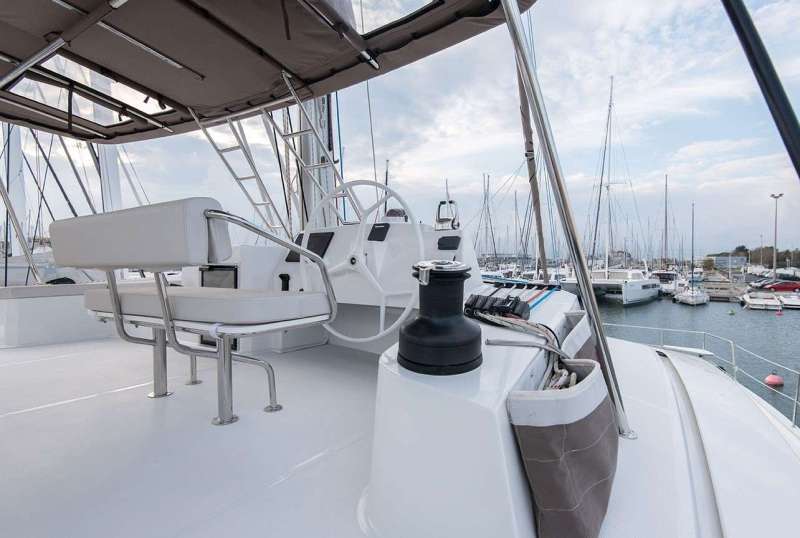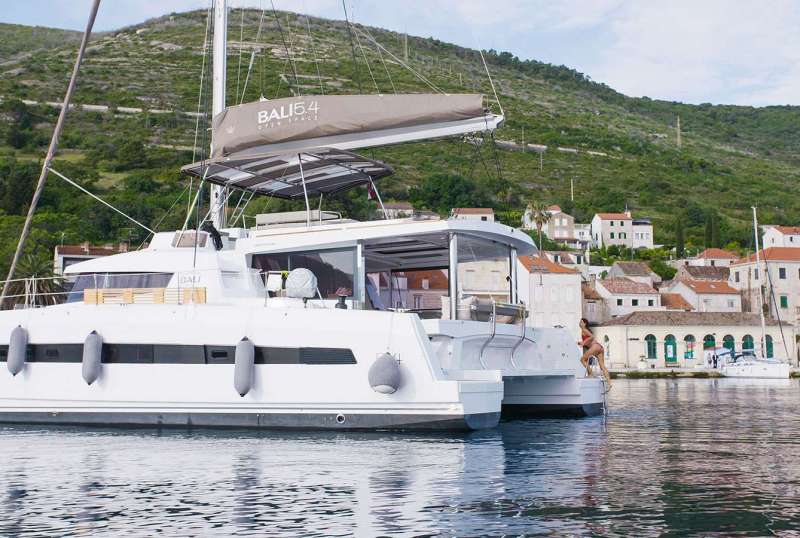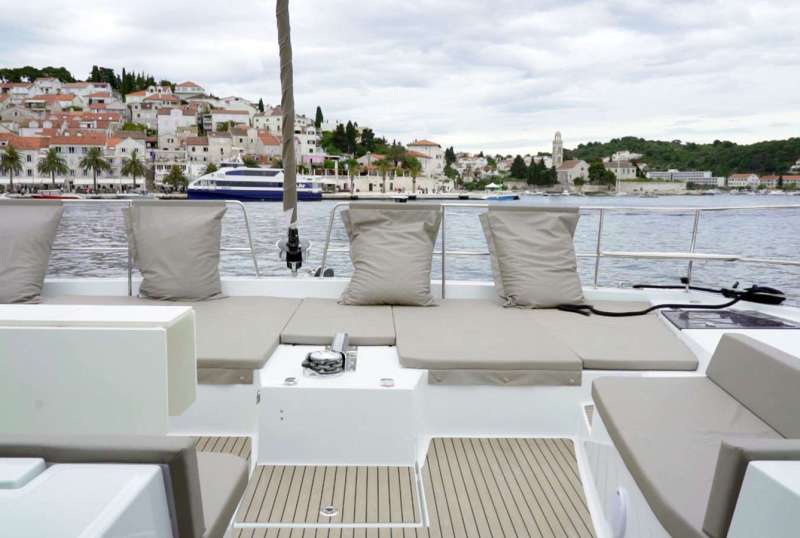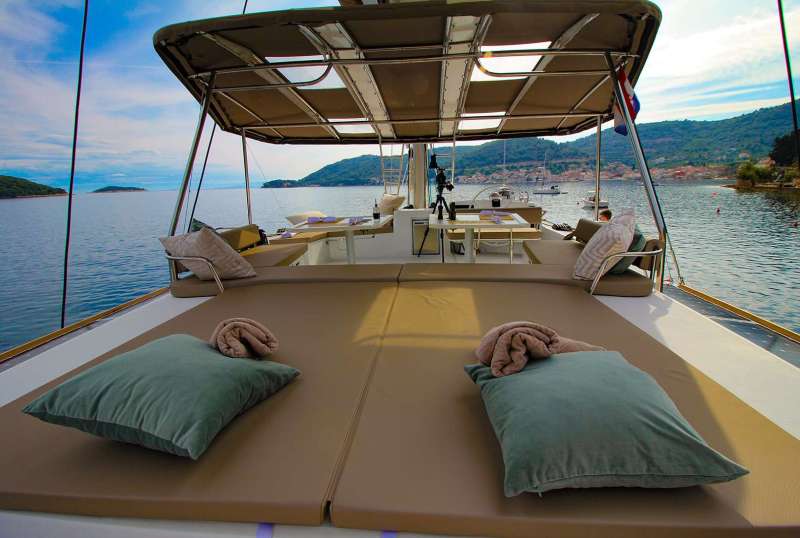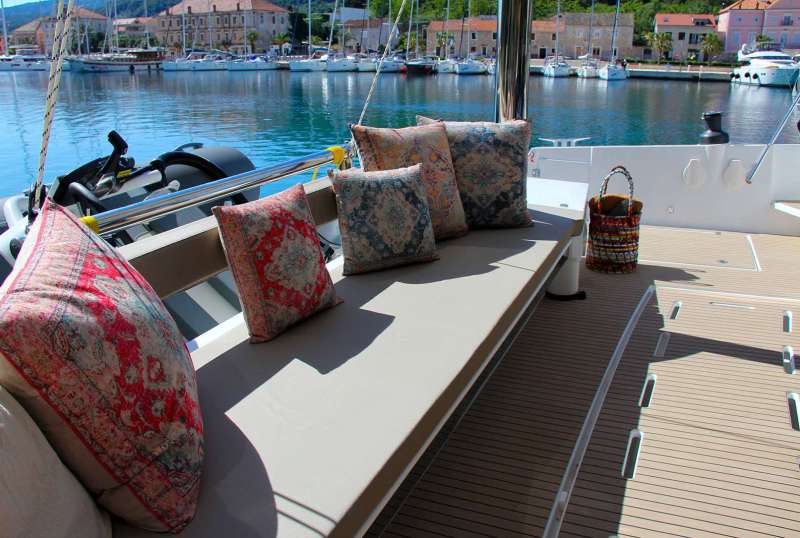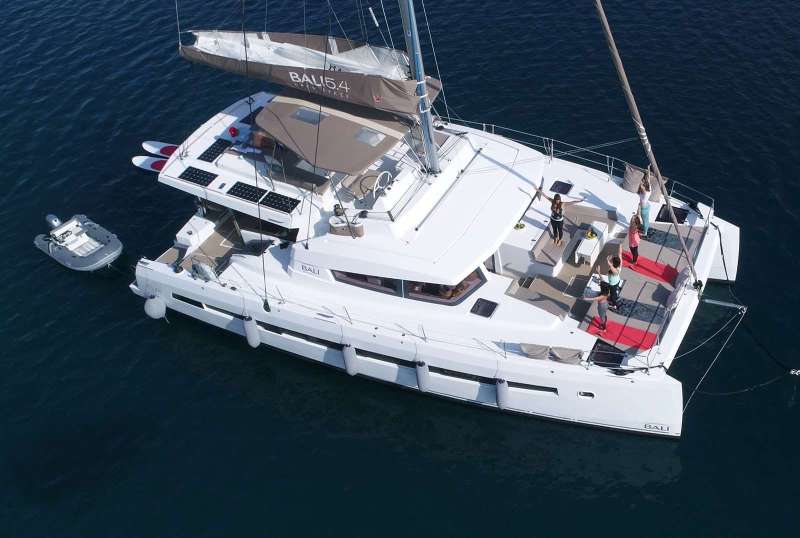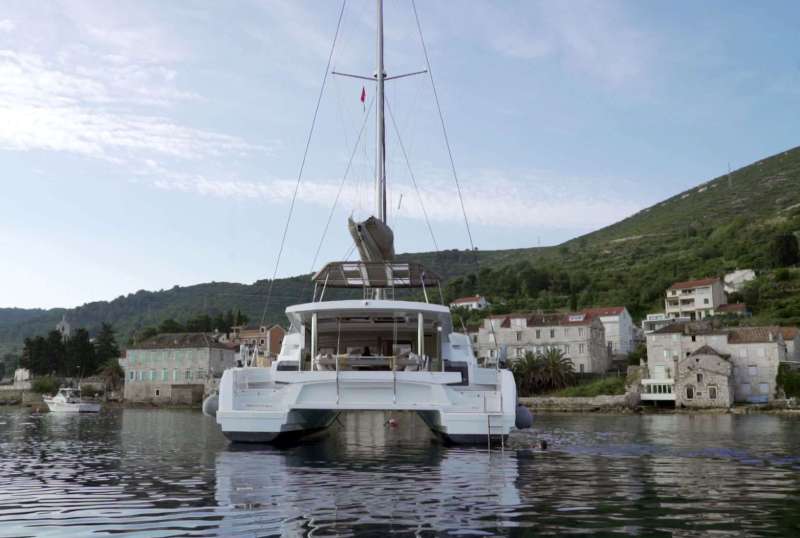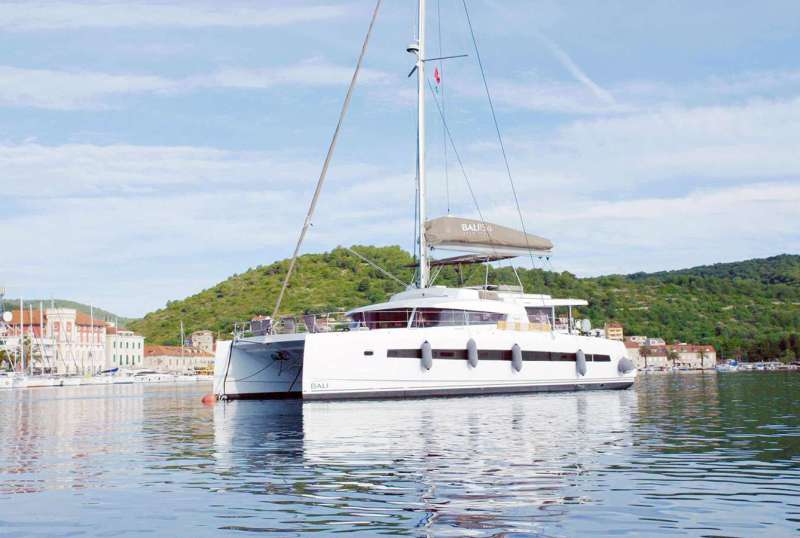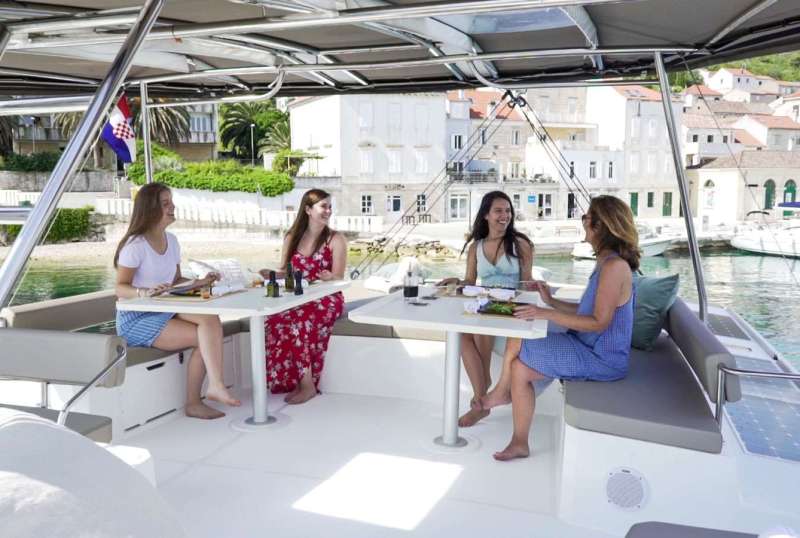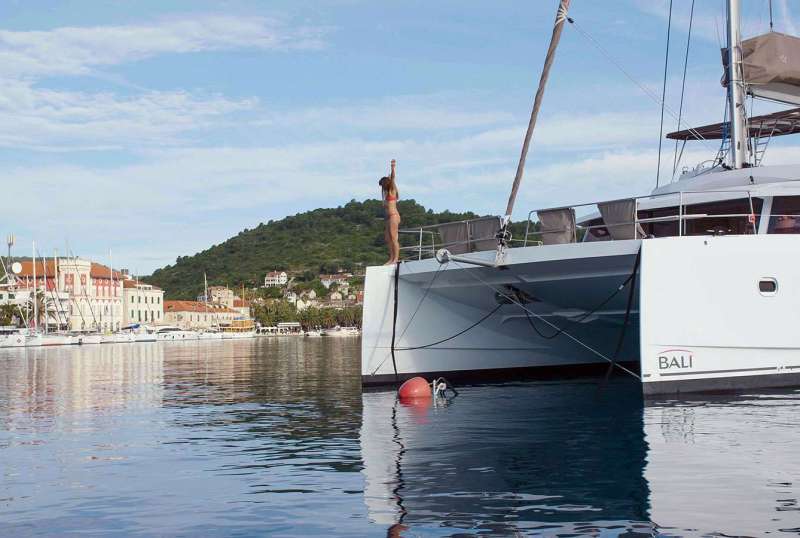 NAMASTE OF BALI (Bali 5.4.)
From €16,000/week

6 cabins

55 ft

Catana

12 guests

Built: 2019
8. AKANA (Lagoon 52F)| 51 FT
AKANA (Lagoon 52F) can host 12 Guests in 4 Queen(s), 1 Double(s), and 1 Pullman. She has a unique navy blue interior– featuring spacious master beds and social spaces. The extra table on the flybridge provides the open dining experience guests love.

AKANA's compact but efficient design is perfect for a family with children. Guests can hire a nanny and rent a safety net if they come with young kids. Her affordable pricing (10,100.-22100 EUR per week) gives the guests enough options to customize their charter in Croatia.
TOYS AND AMENITIES
AKANA has the latest dinghy (8 people), snorkel gear, paddle boards, and many other toys. Guests can also rent gear and water toys-Fishing gear, joker boat coaster, wakeboard, waterskis, bananas, donuts, and many more.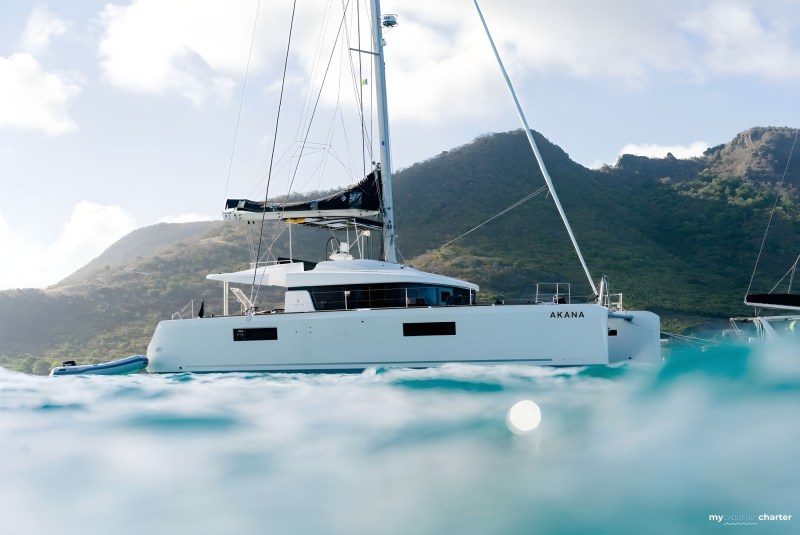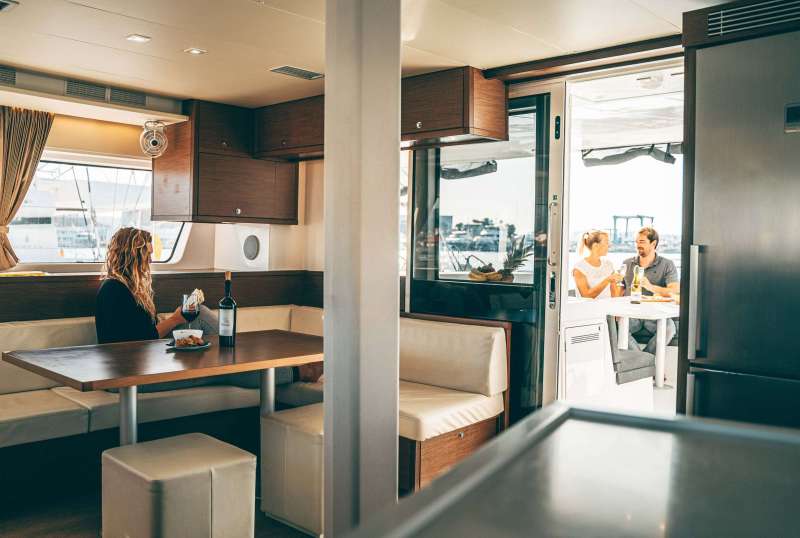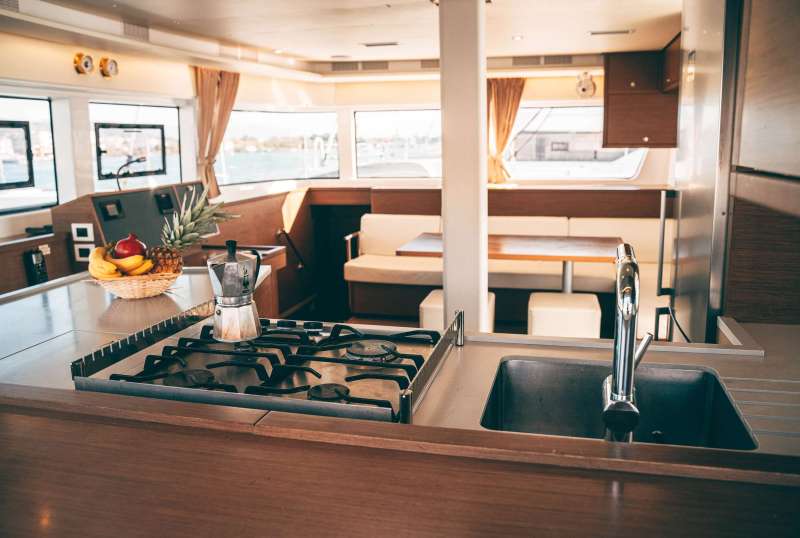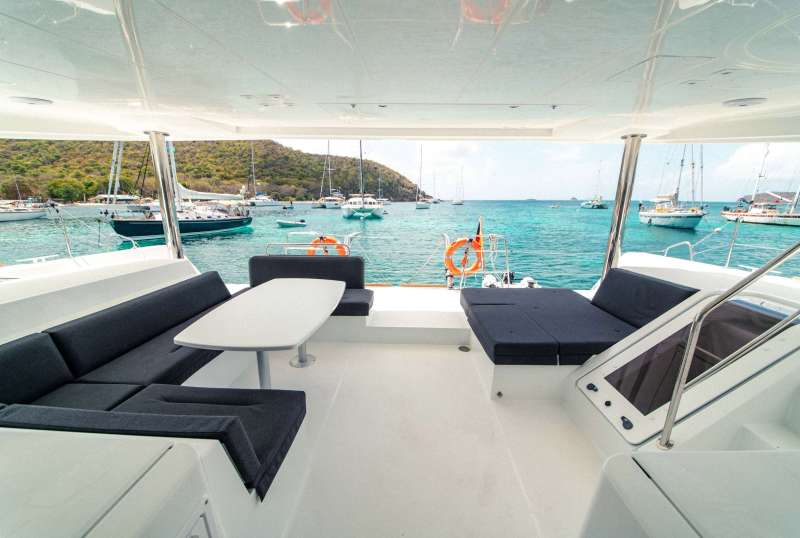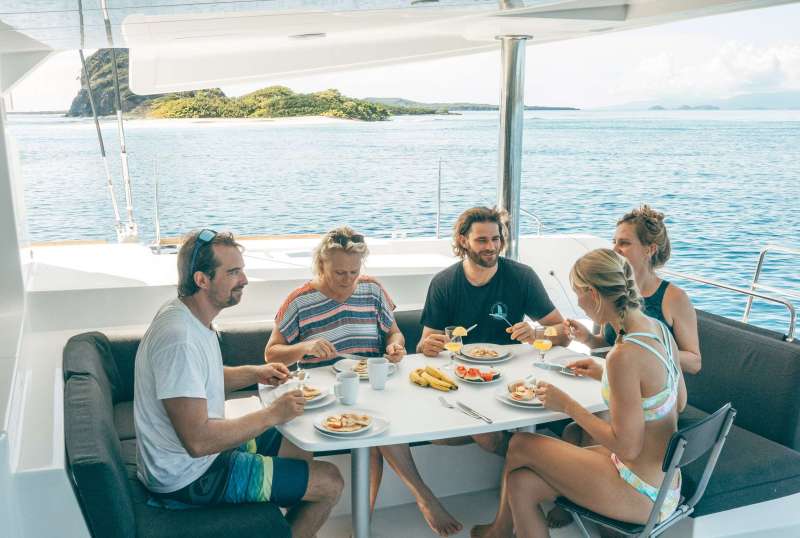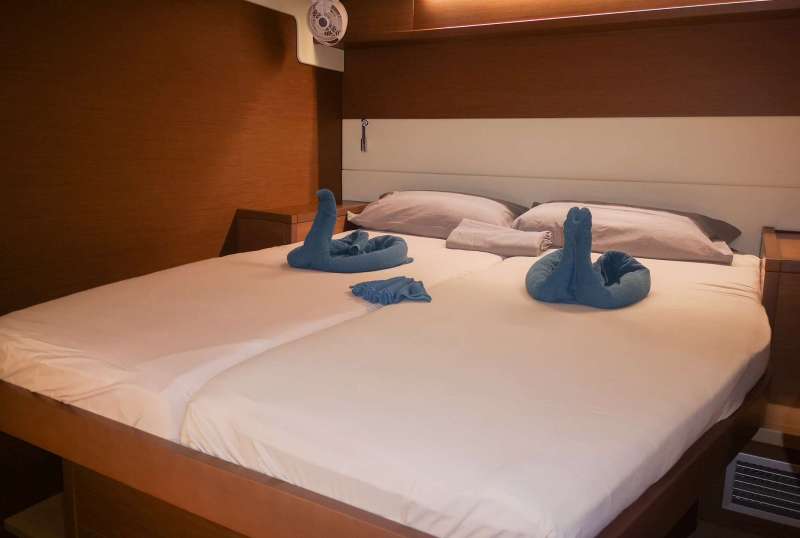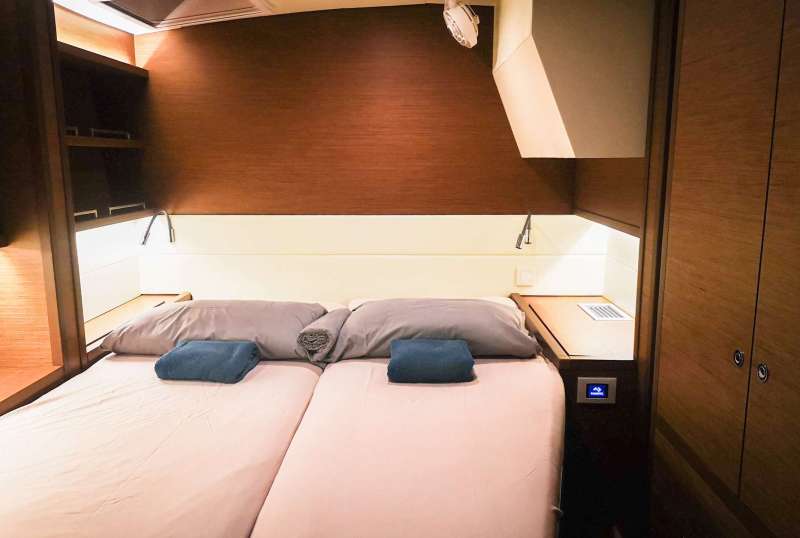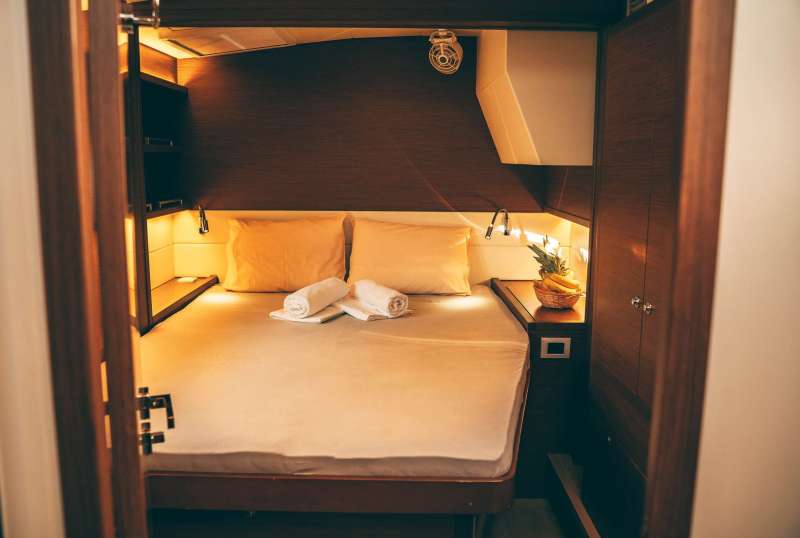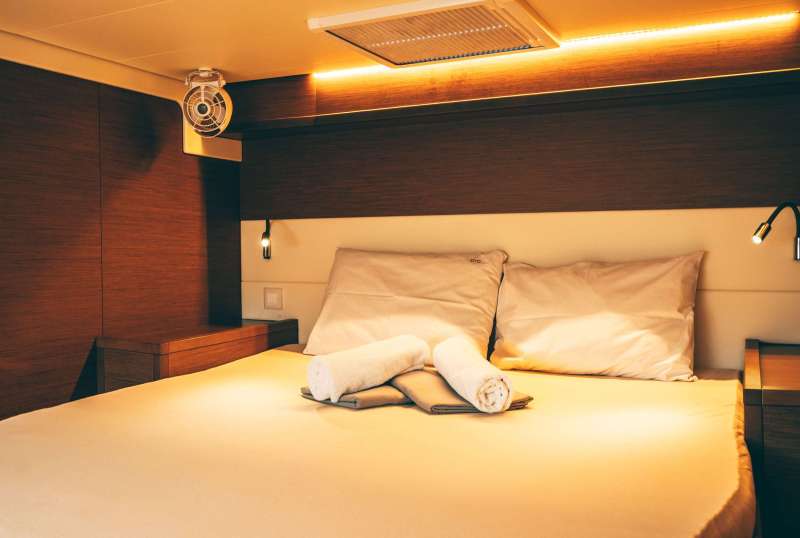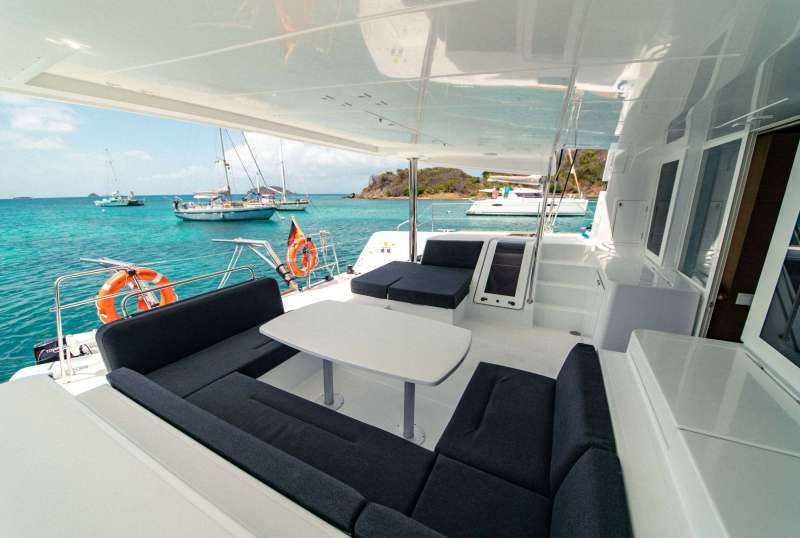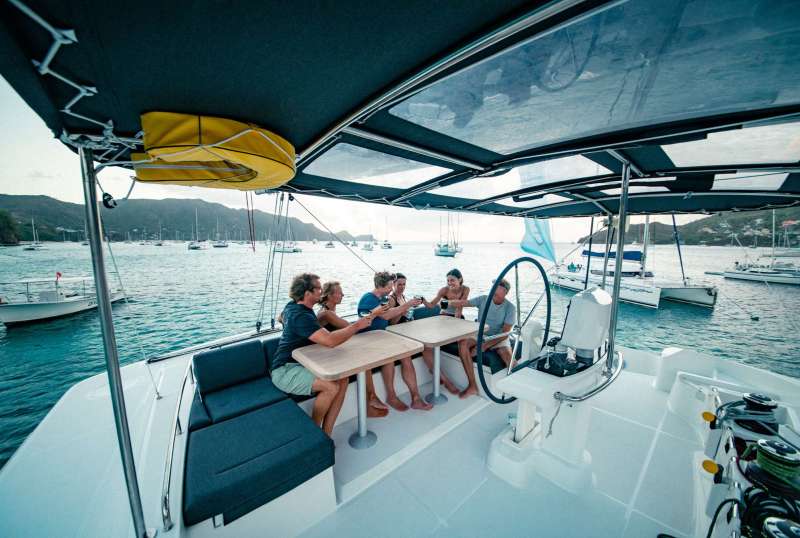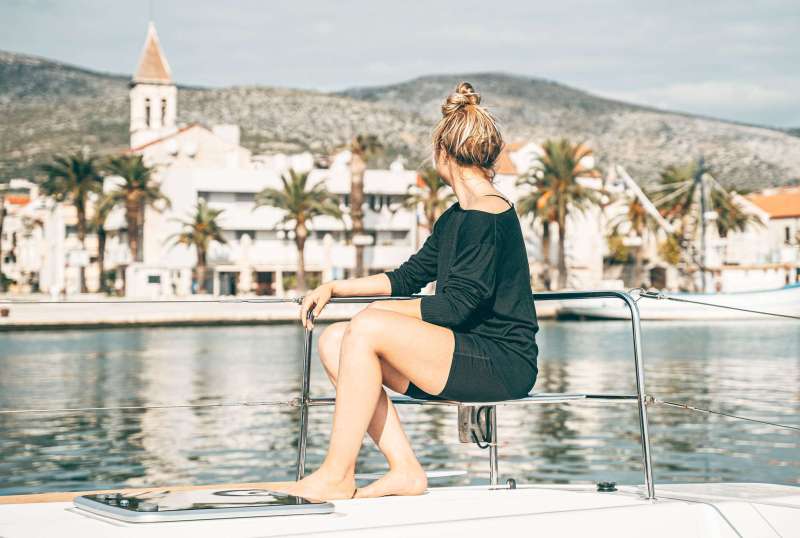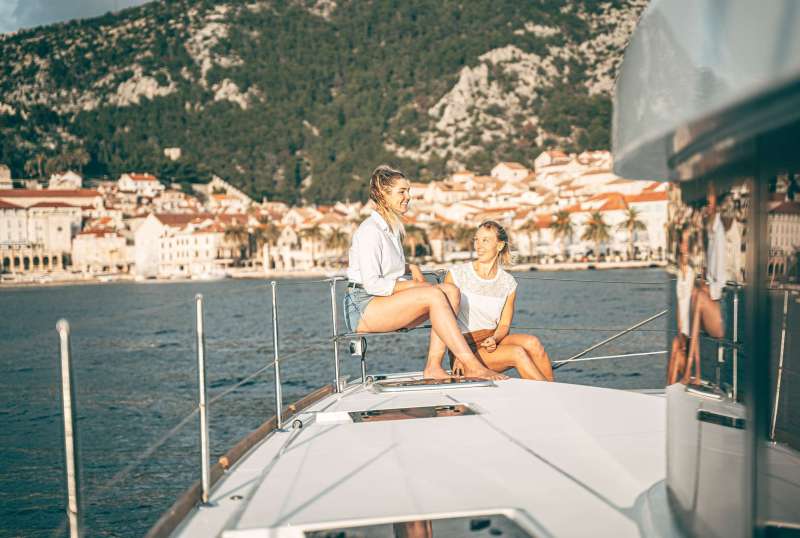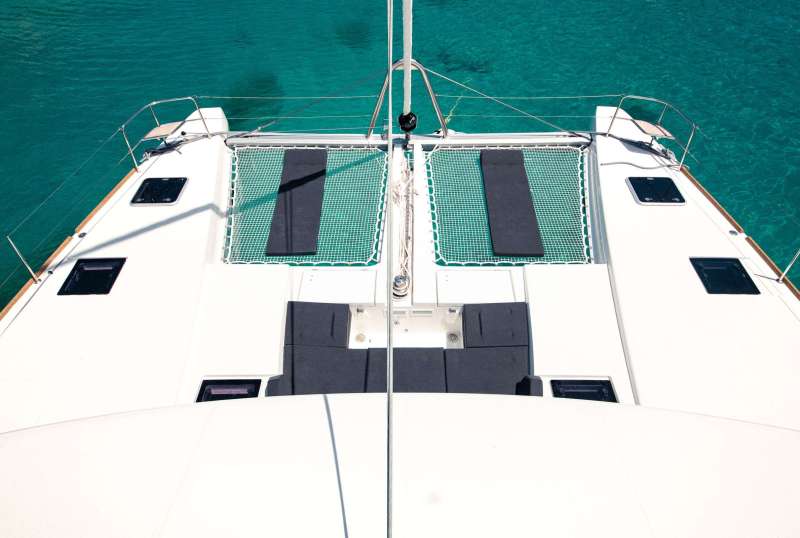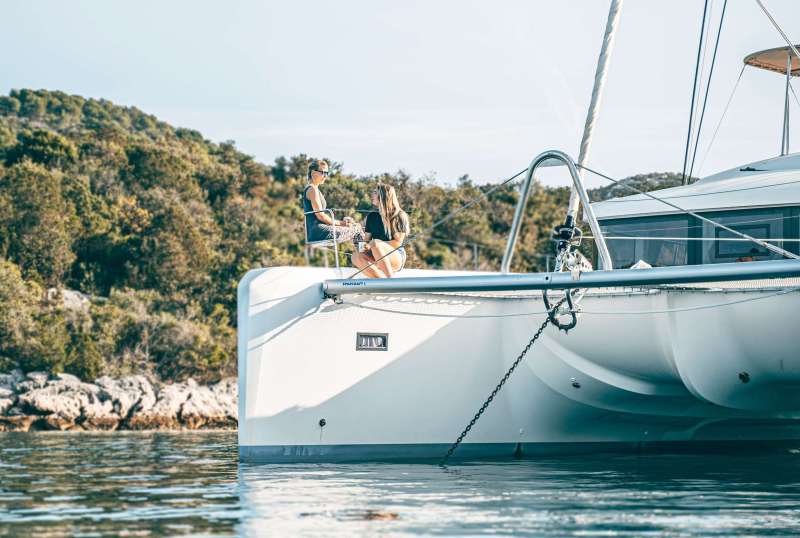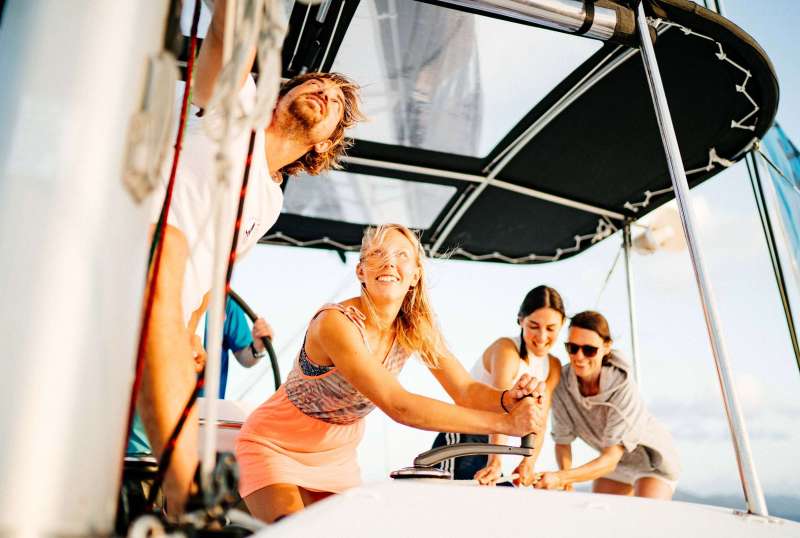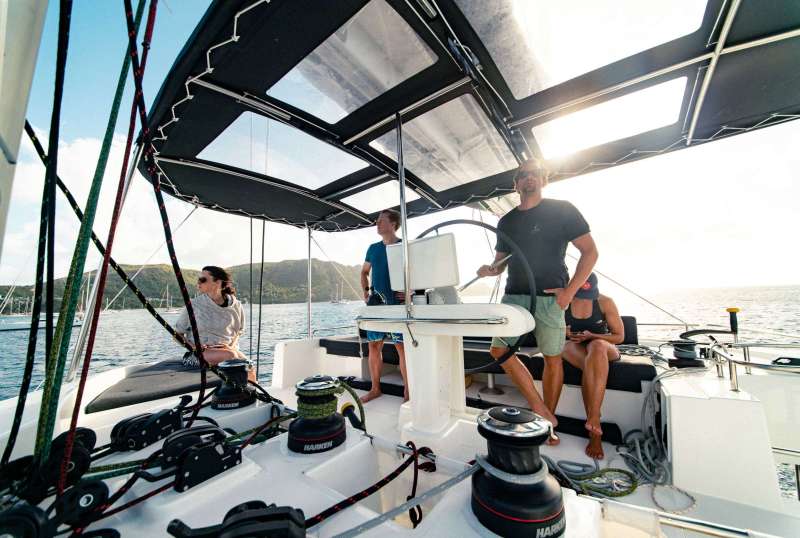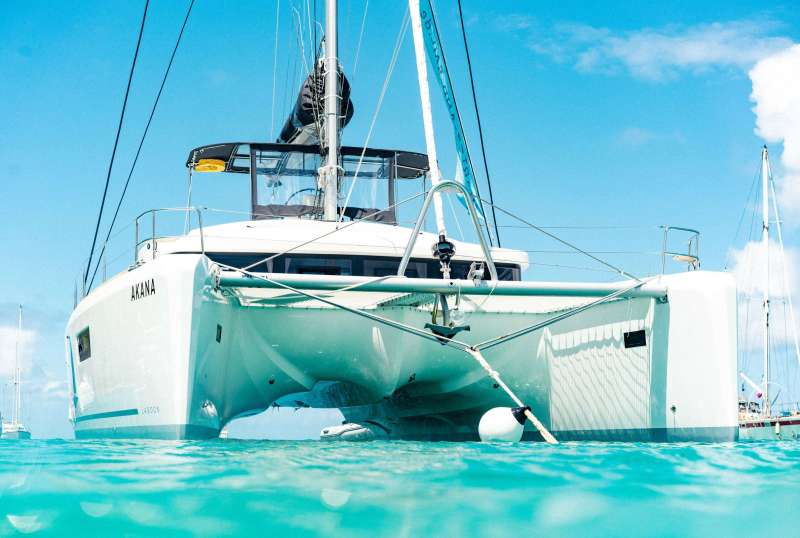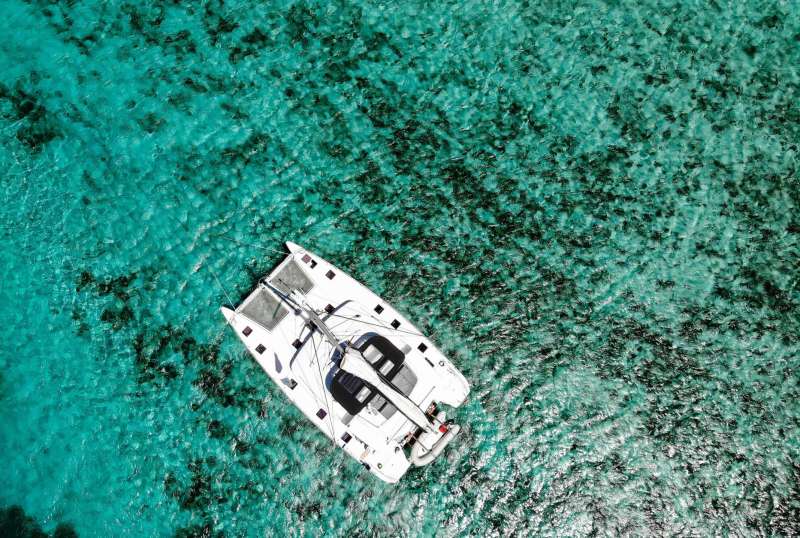 AKANA (Lagoon 52F)
From €10,100/week

6 cabins

51 ft

Lagoon

12 guests

Built: 2019
9. SOLITAIRE| 50 FT
Launched in 2020, the brand-new luxury sailing catamaran Sunreef 50 SOLITAIRE features an intelligent and charter-friendly layout- boasting impressive social areas at the bow, stern cockpit, and flybridge. She can comfortably accommodate 8 people in 1 King(s), 3 Queen(s) with separate cabins for crew.

One of the highlights of SOLITAIRE is its main dining area, located at the cockpit- allowing guests to enjoy their meals with a refreshing sea breeze and the pleasant smell of the ocean. It creates a luxurious motor yacht vibe while providing a unique dining experience. The catamaran also offers ample space for sunbathing, allowing guests to relax and soak up the sun during their trip.

Our previous clients confirm the crews are great hosts with the perfect knowledge of water activities, itinerary suggestions, and local knowledge. In addition, the crew will take yacht charter in Croatia up to a notch by securing great restaurants in the evenings so that you can enjoy the lively nightlife.
TOYS AND AMENITIES
SOLITAIRE's toy collection includes tubes, floating mats, paddle boards, underwater camera, Fishing Gear, water skis (adult and kids), windsurfers, snorkel gear, kayaks (2 Pax), and many other renting options.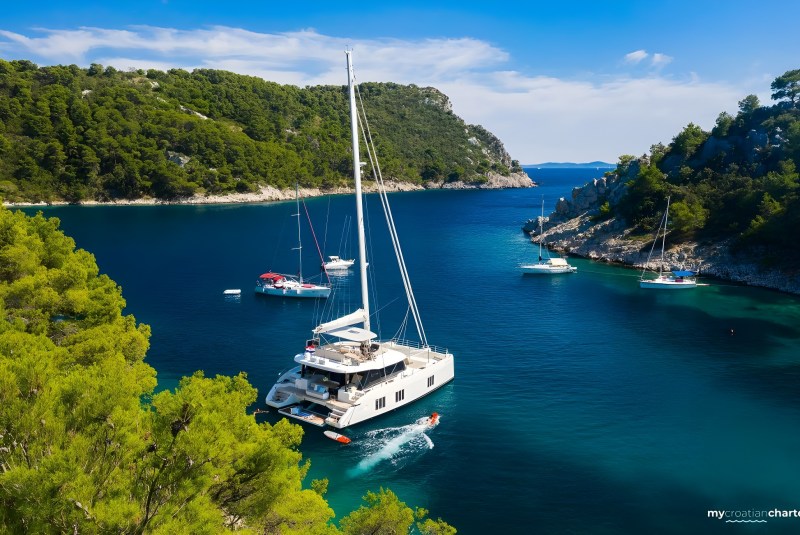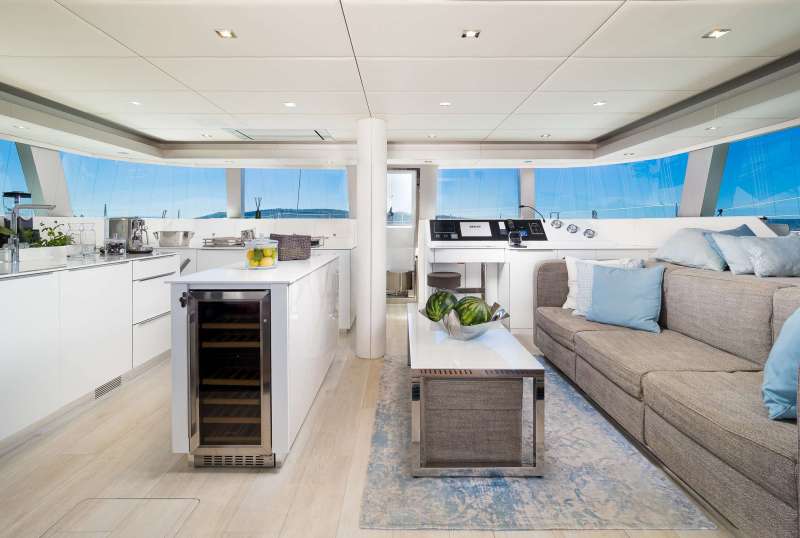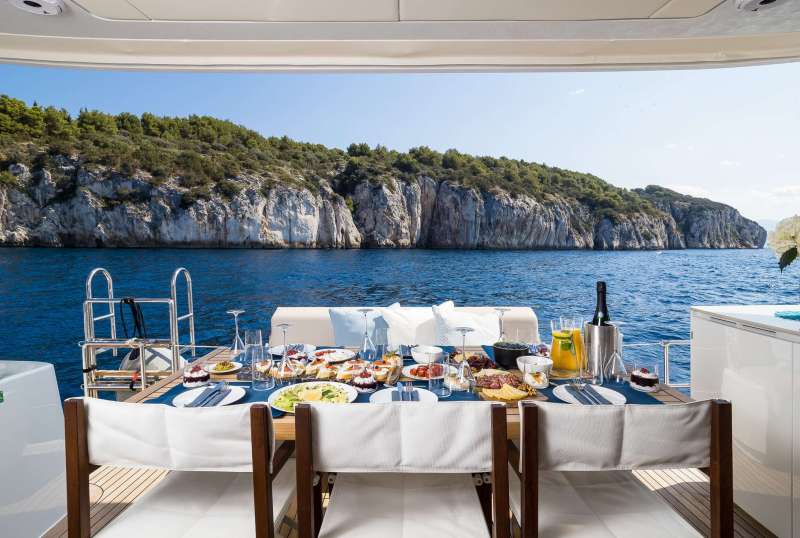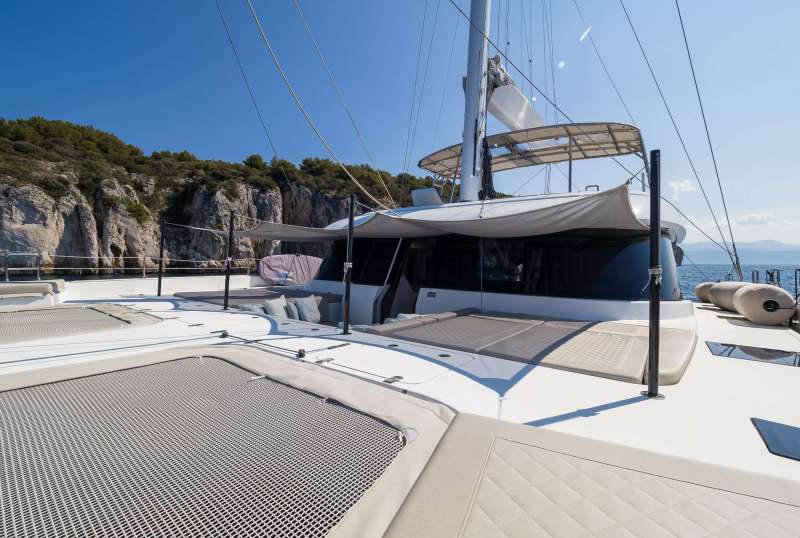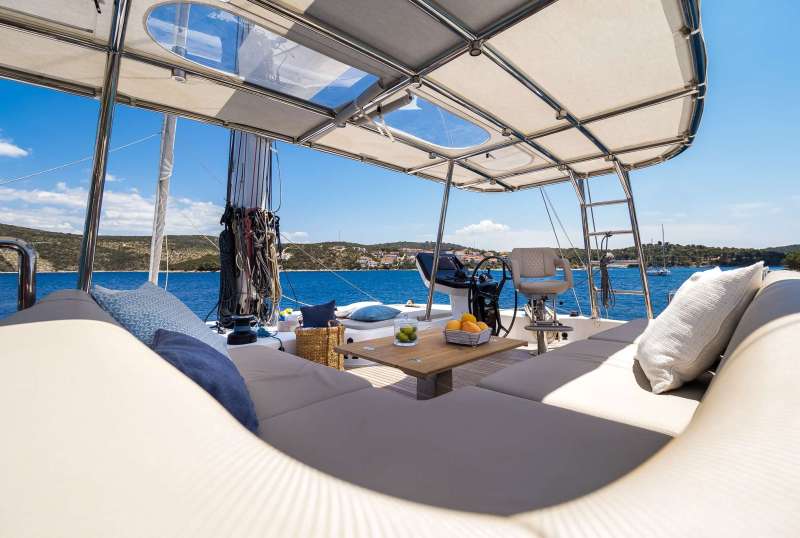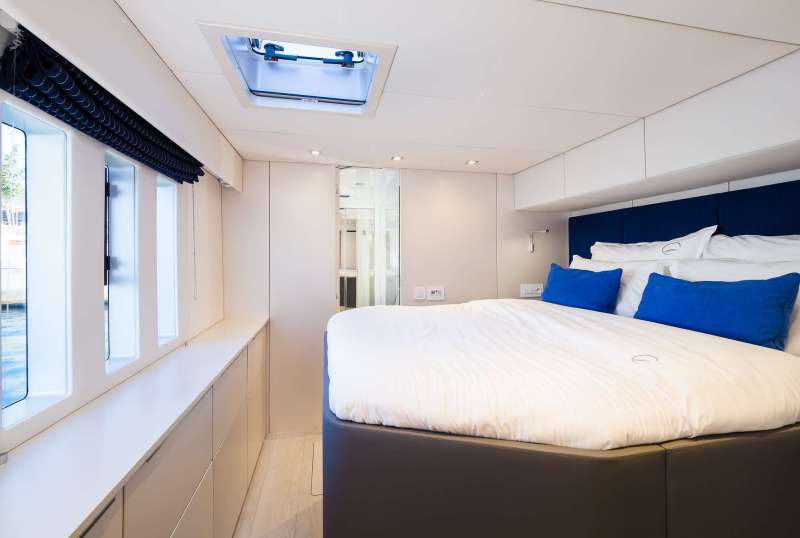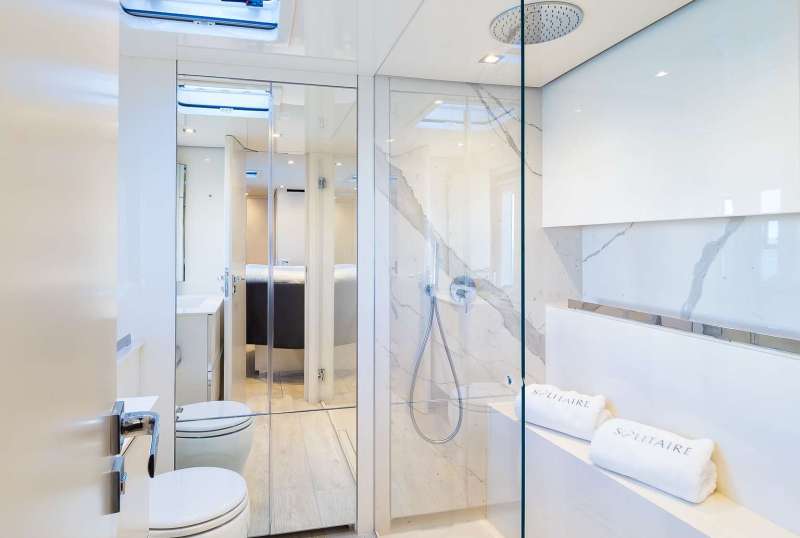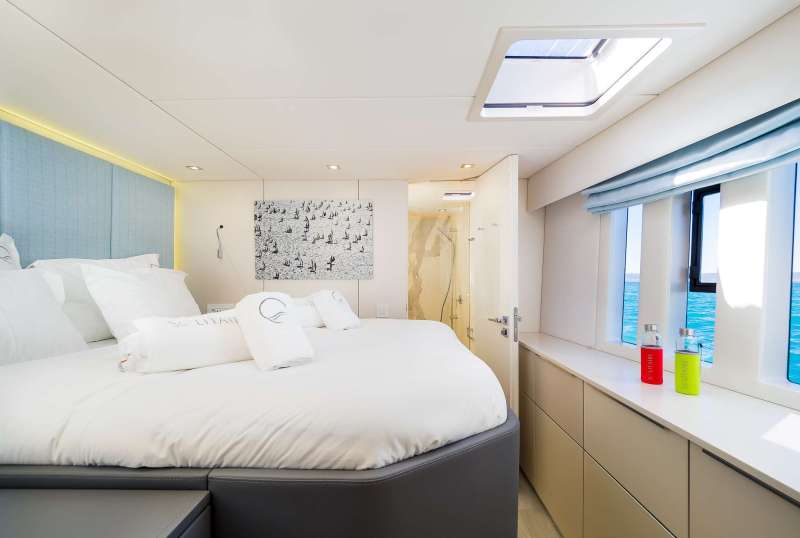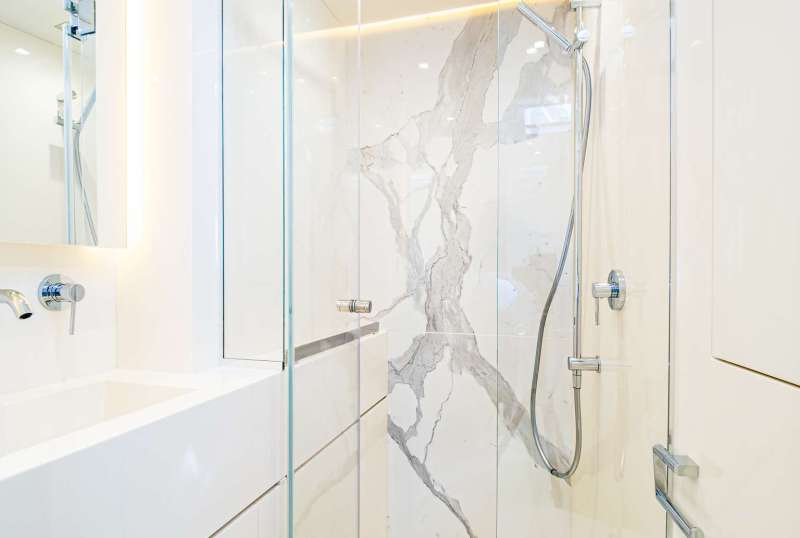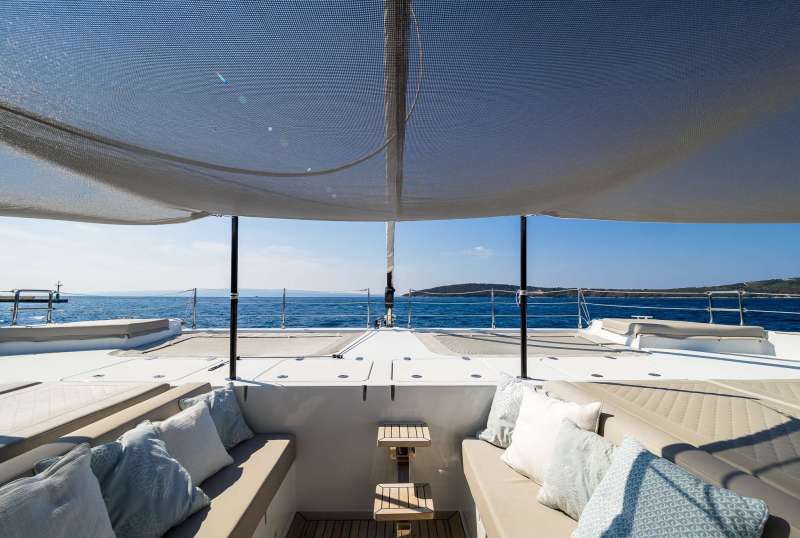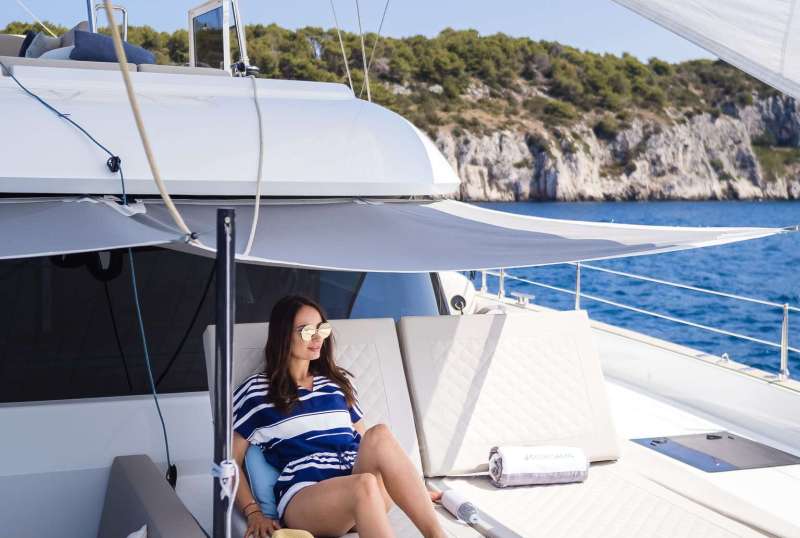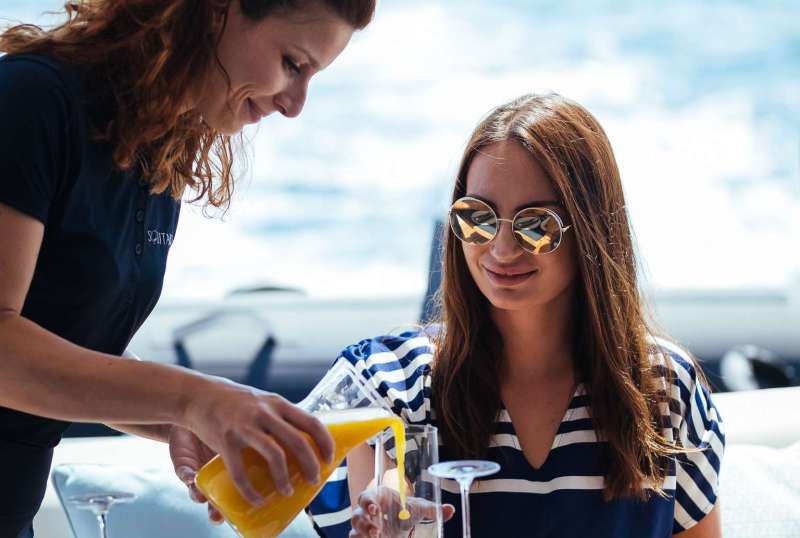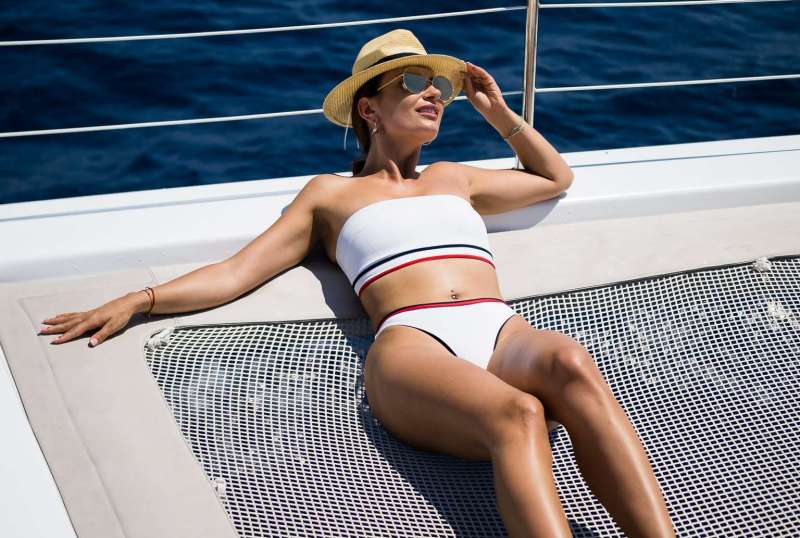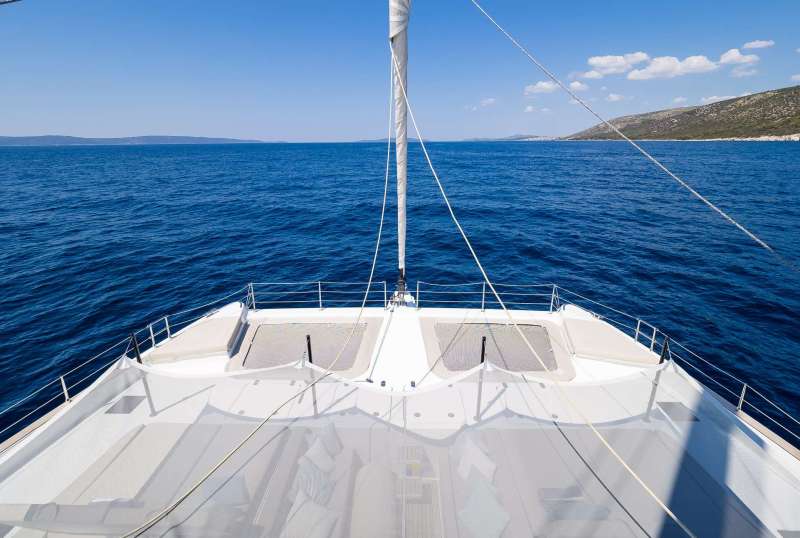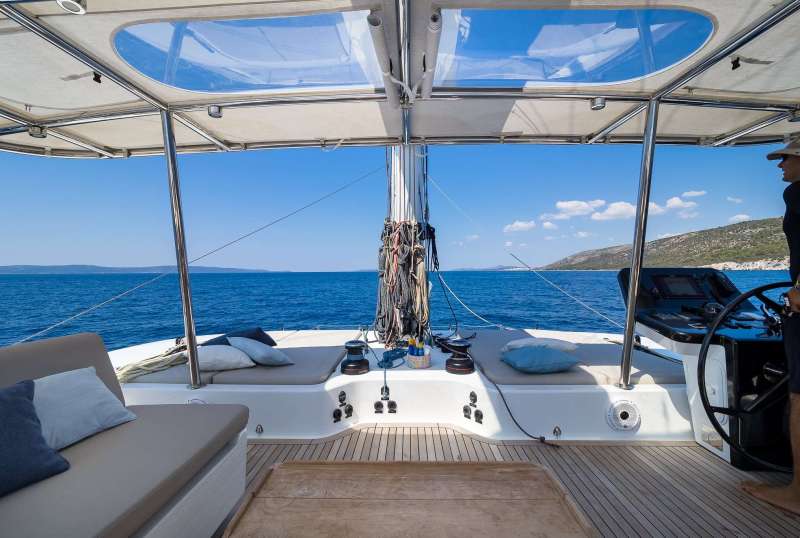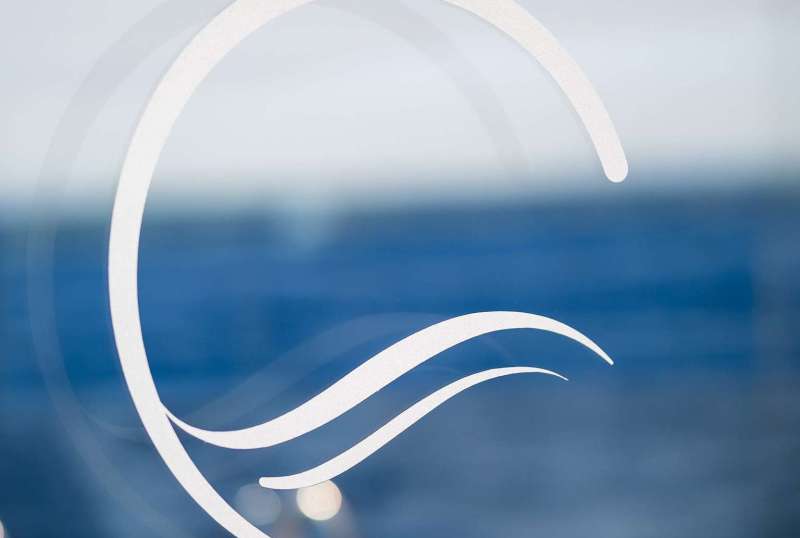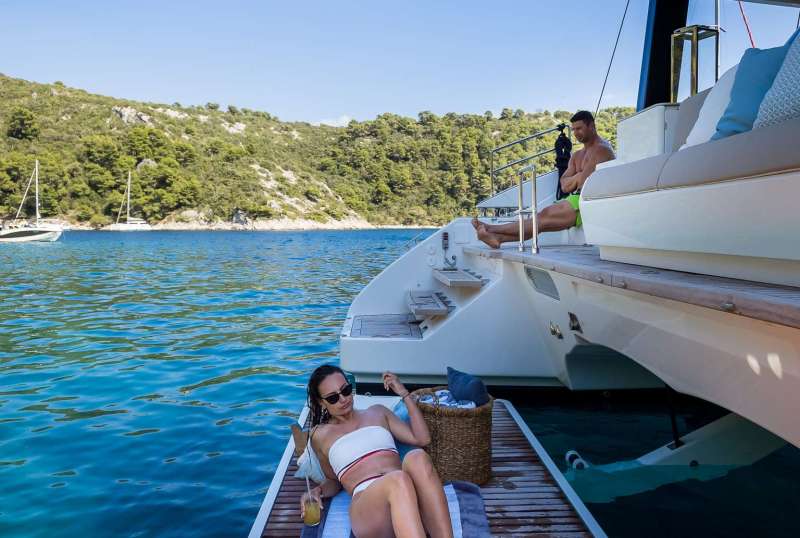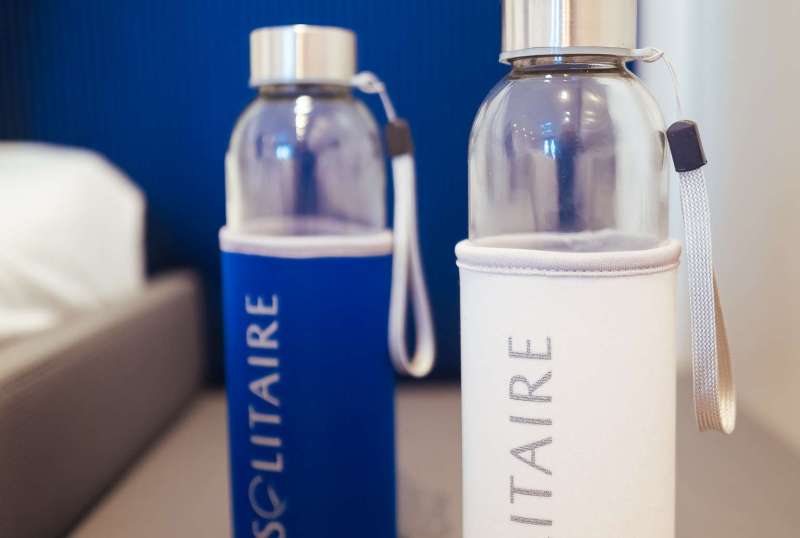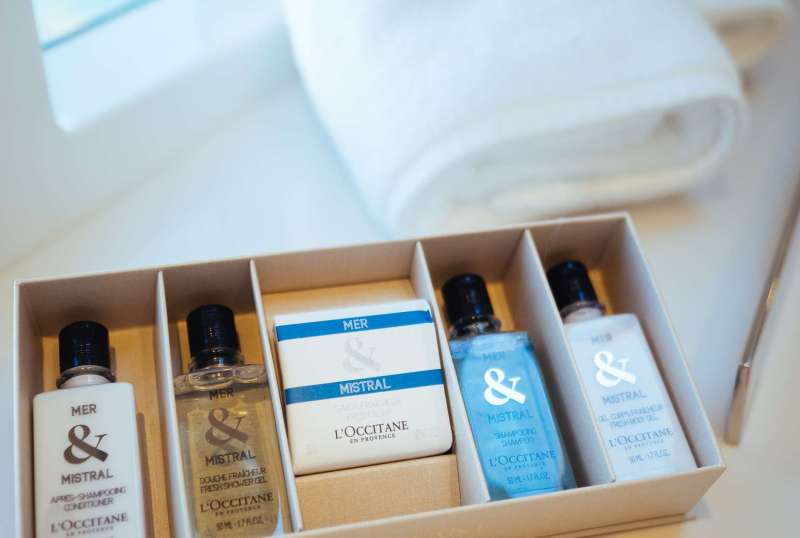 SOLITAIRE
From €21,000/week

4 cabins

50 ft

Sunreef Yachts

8 guests

Built: 2020
10. SWEET DREAMS |49 FT
SWEET DREAMS can host 8 Guests in 1 King(s), 3 Double(s). Her homely interior with suave colors is calm and relaxing. This modern catamaran has expansive deck space, where guests can relax on the foredeck, dine in the cockpit or take in sailing acting from the flybridge. In short, SWEET DREAMS is a package full of amenities for vessels smaller than 50 feet.

SWEET DREAMS is the perfect catamaran charter to fish and try water sports on your Croatian vacation. Since Captain Tomislav's hobbies include fishing and underwater fishing, you will get his counsel on every fun water activity Croatia offers.
TOYS AND AMENITIES
Compared to other boats below 50 feet, SWEET DREAMS have a Dinghy (size Highfield Sport 420 Rib with Honda BF60LRT outboard). Her twice collection of water toys and gear can keep guests entertained for days: water Skis (adult and kids), tubes, floating mats, swim platform, fishing gear, kneeboard, wakeboard, paddle boards, kayak, and snorkel gear.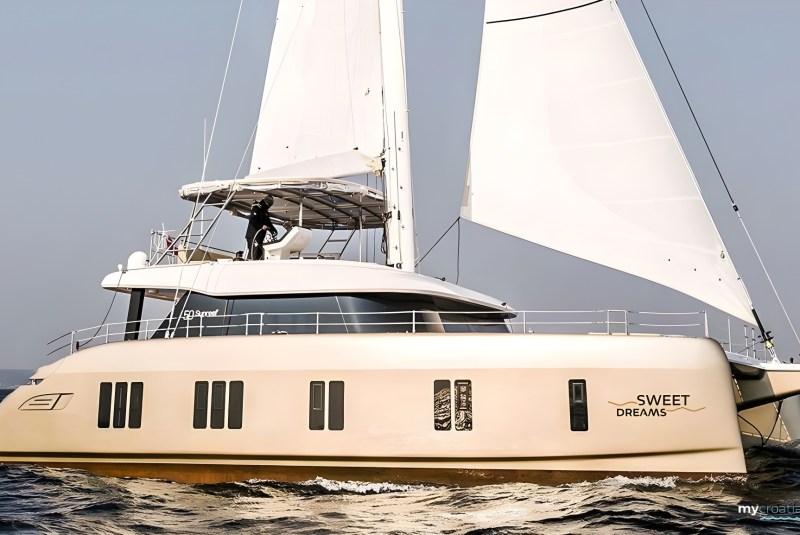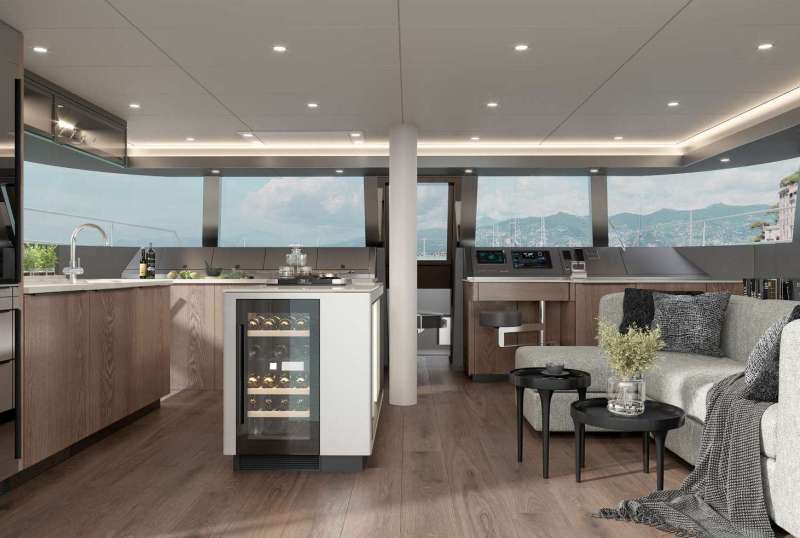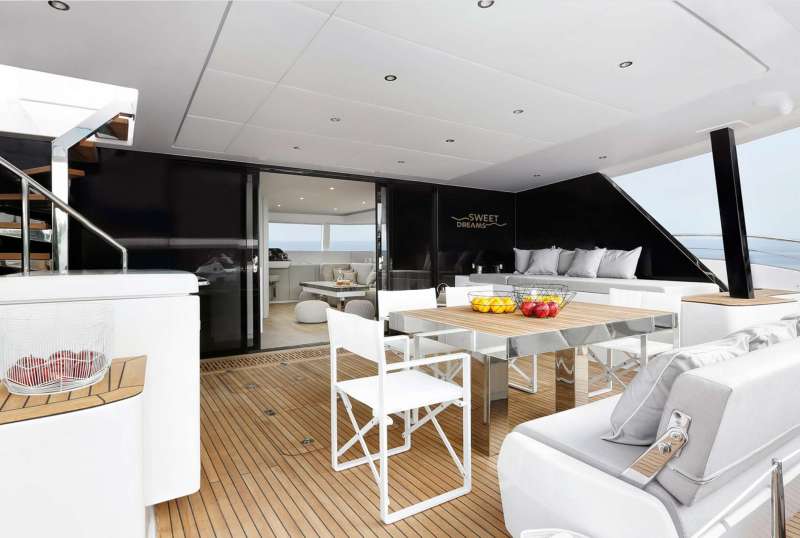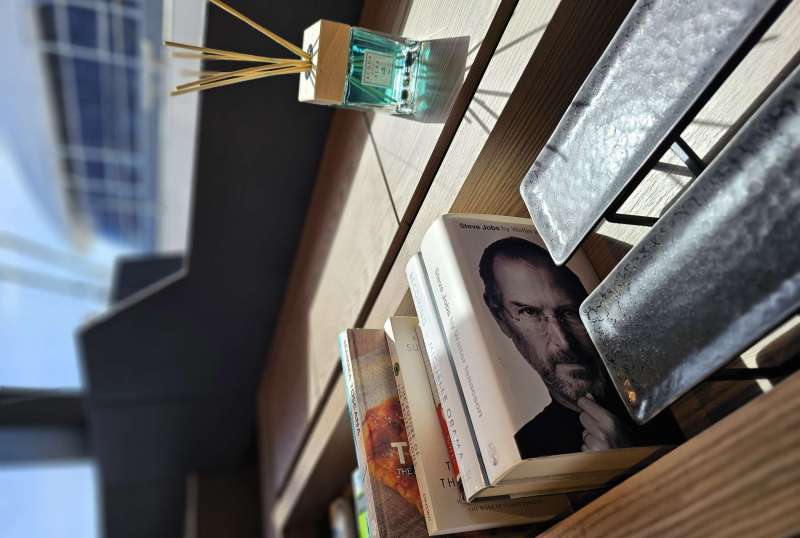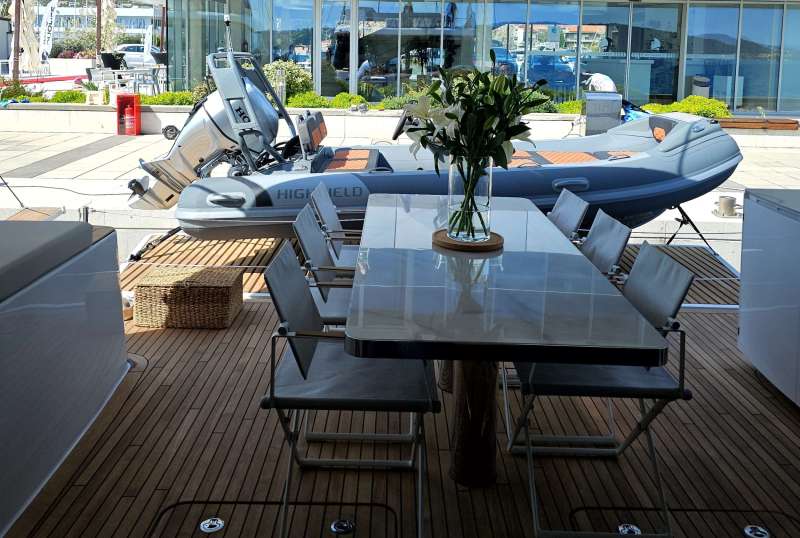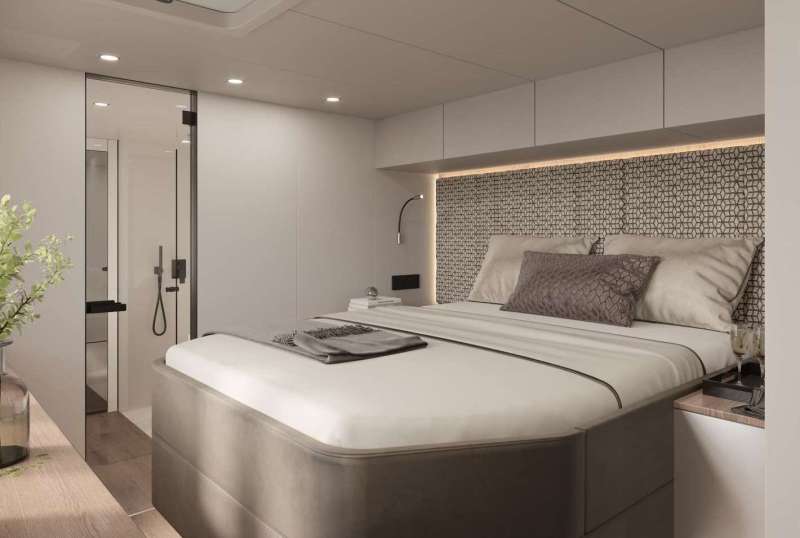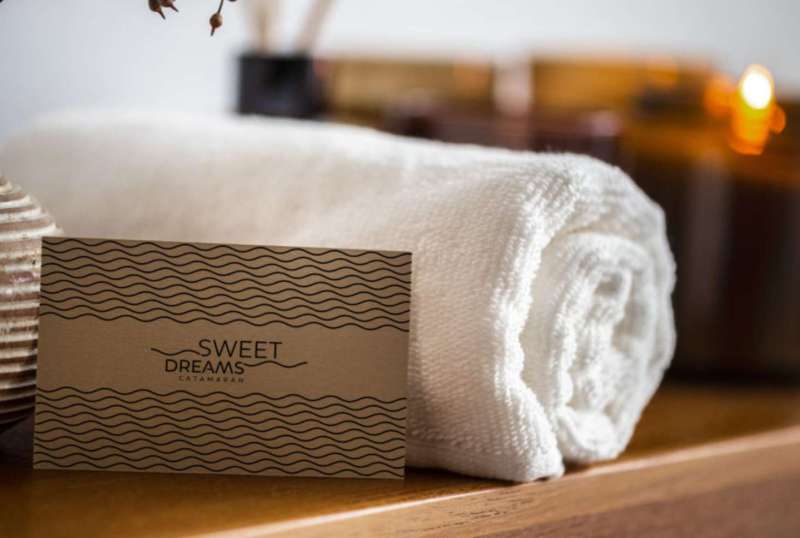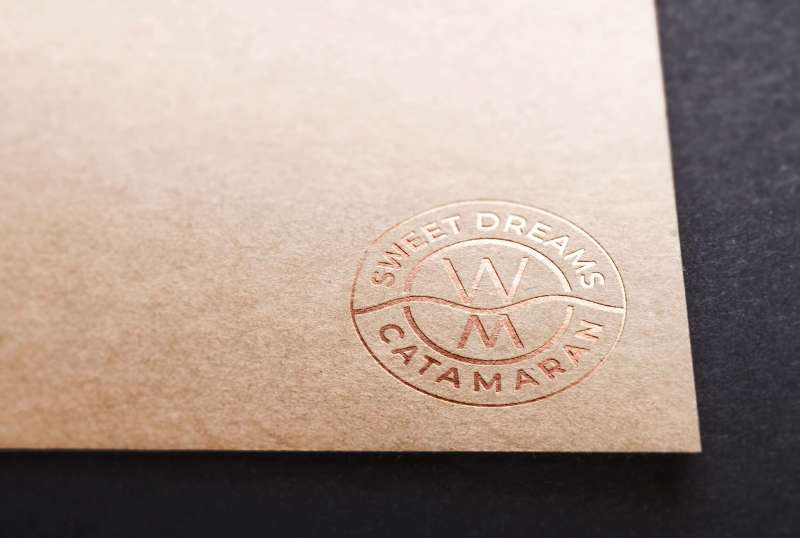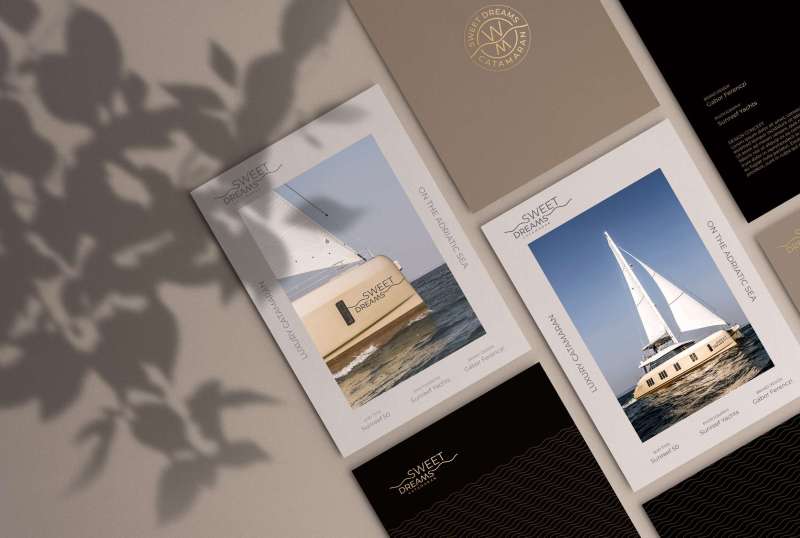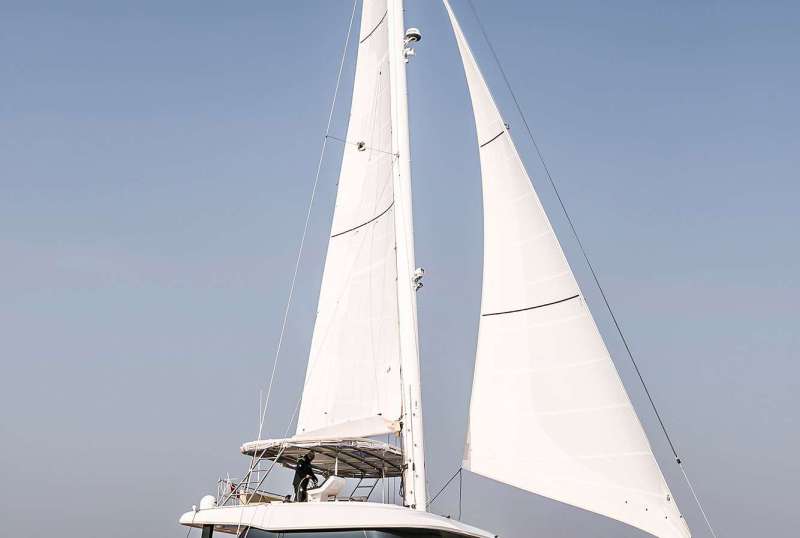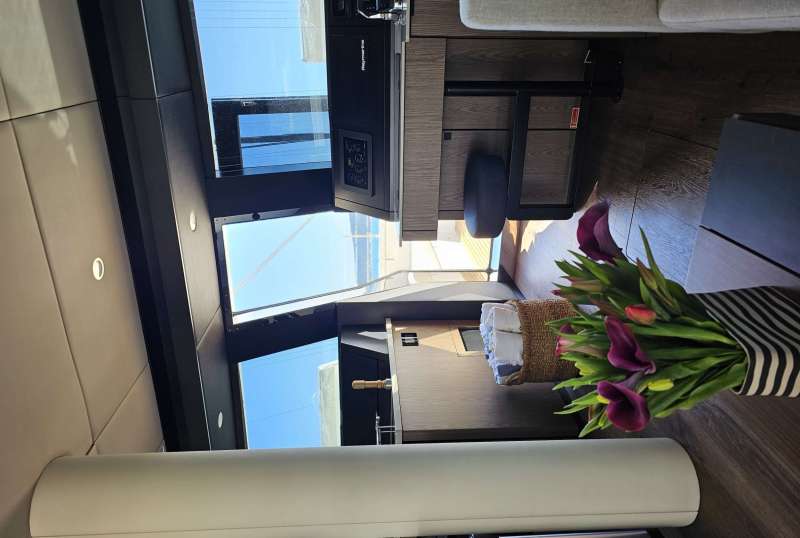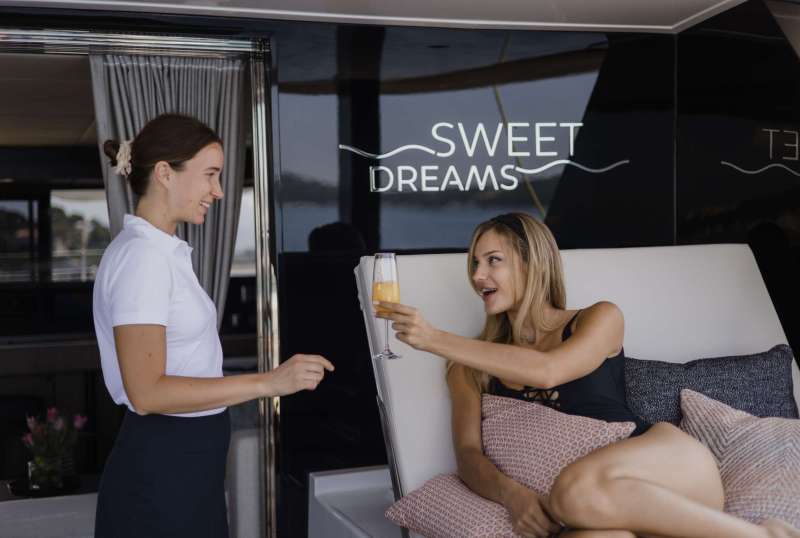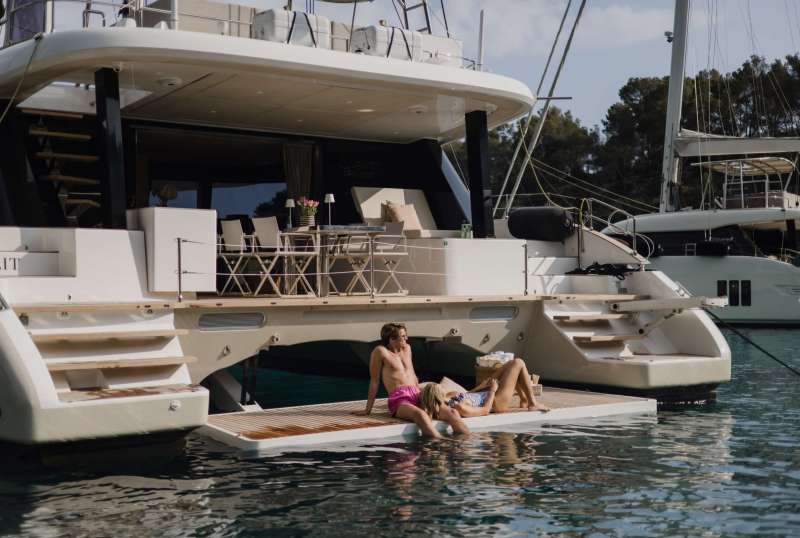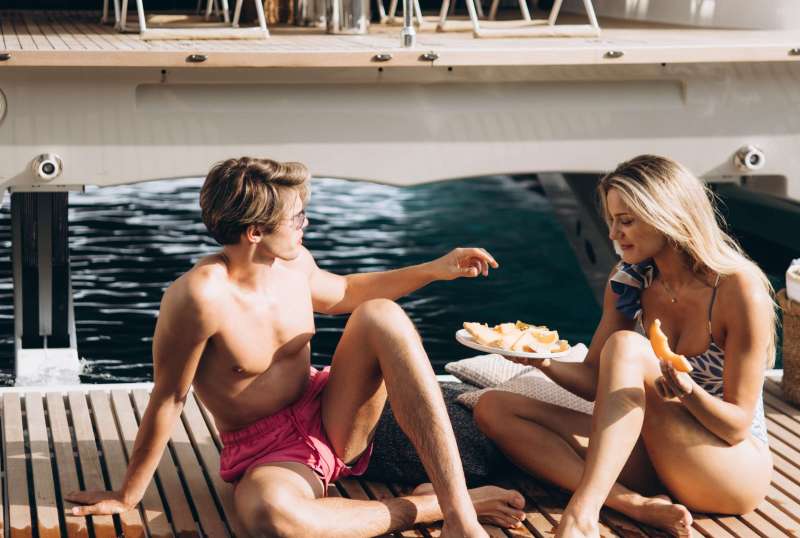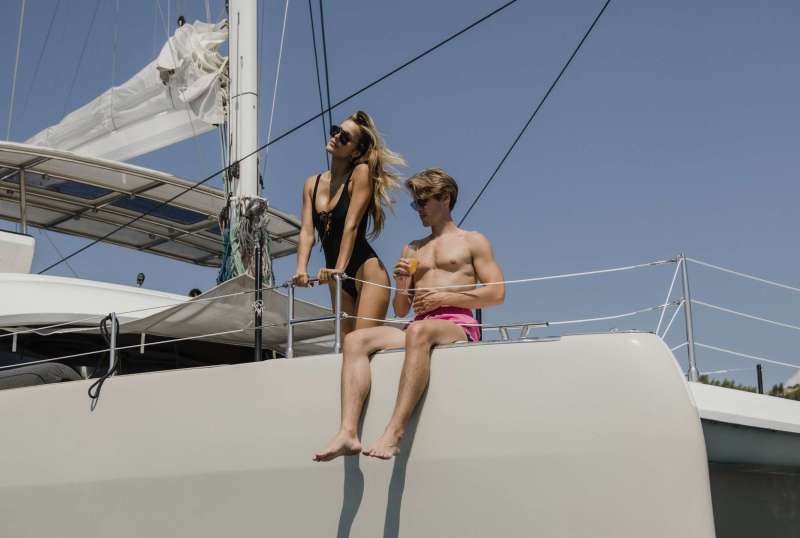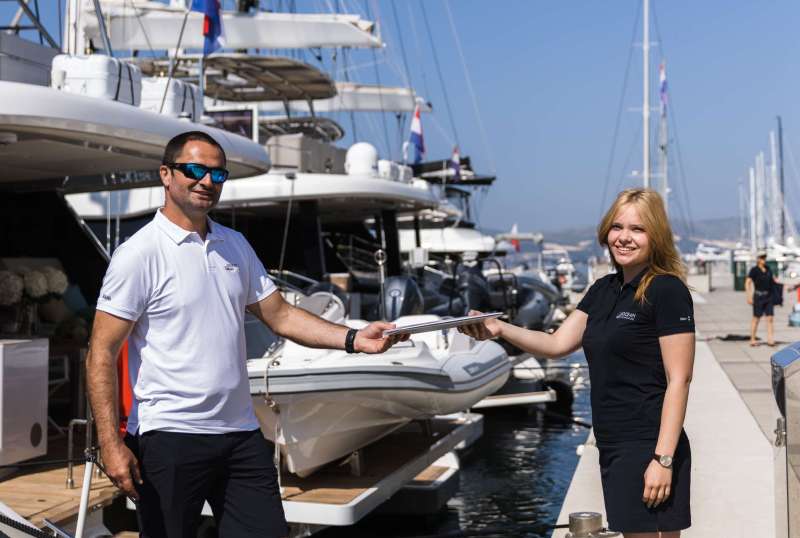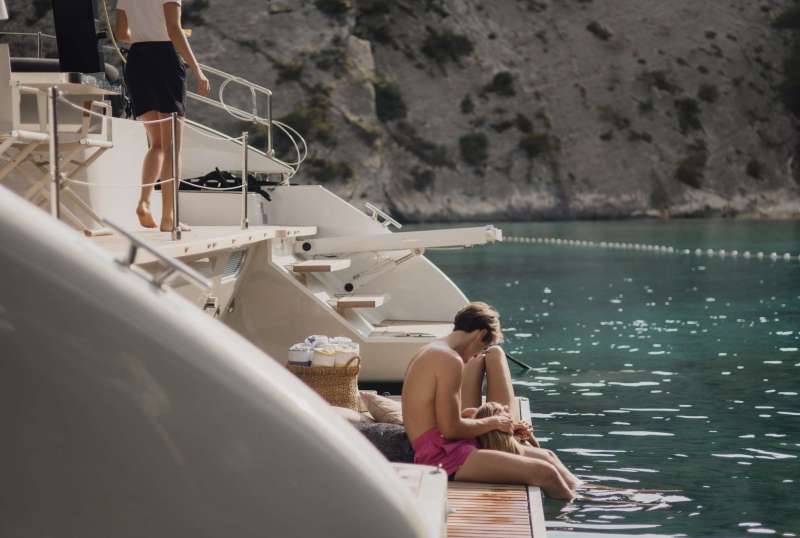 SWEET DREAMS
From €21,000/week

4 cabins

49 ft

Sunreef Yachts

8 guests

Built: 2023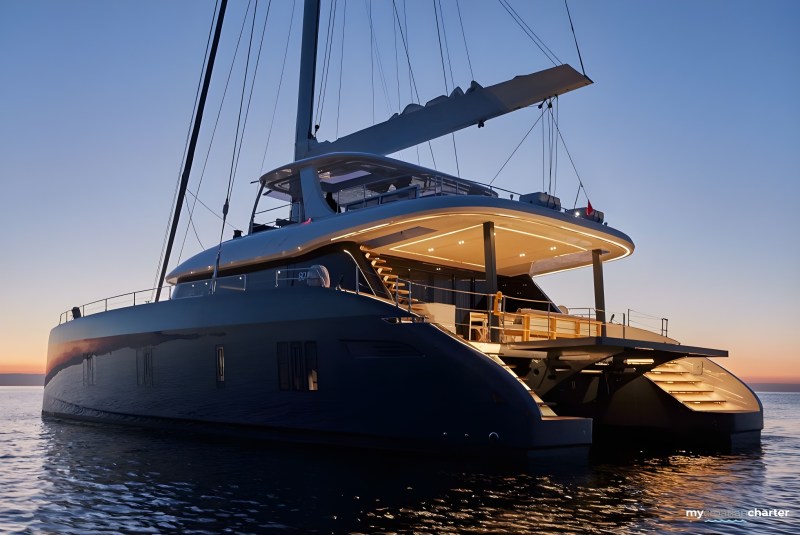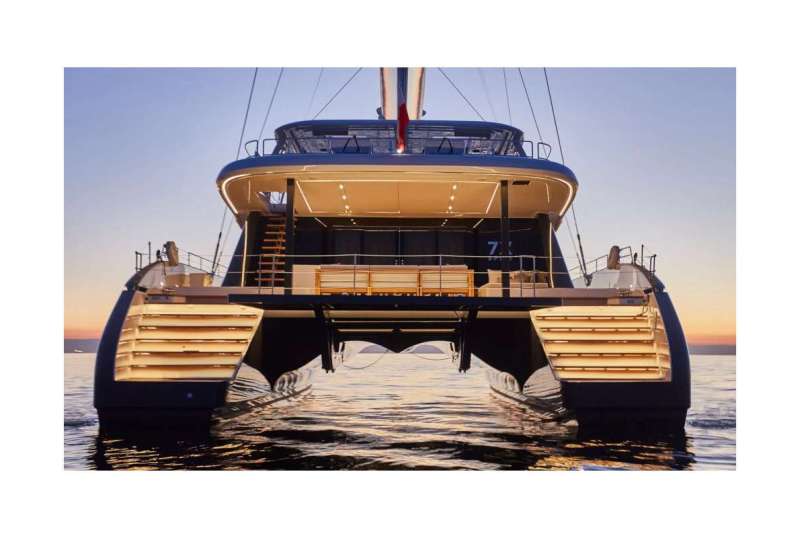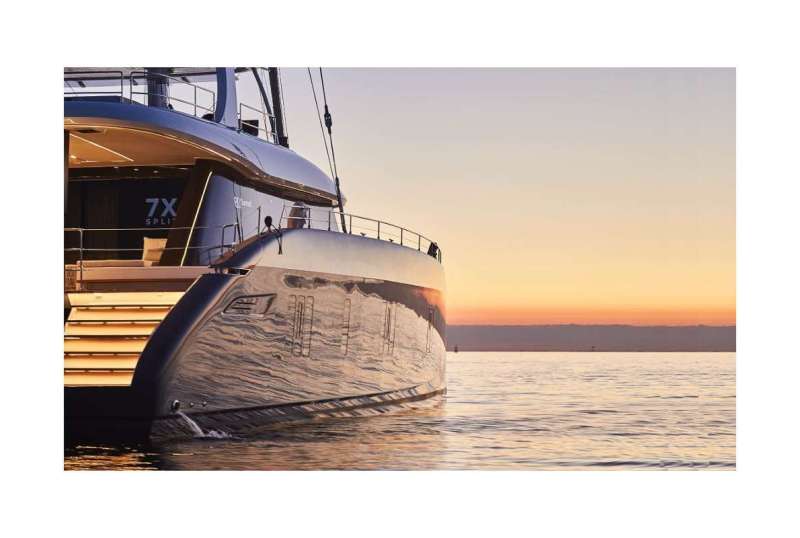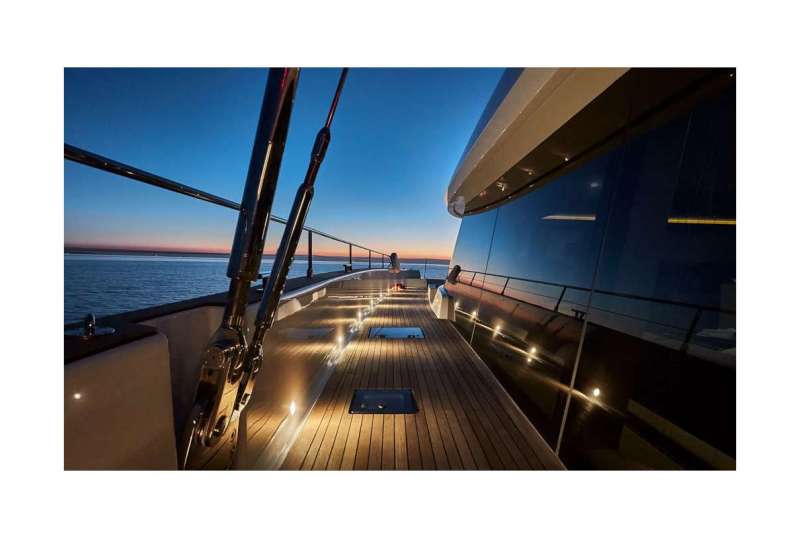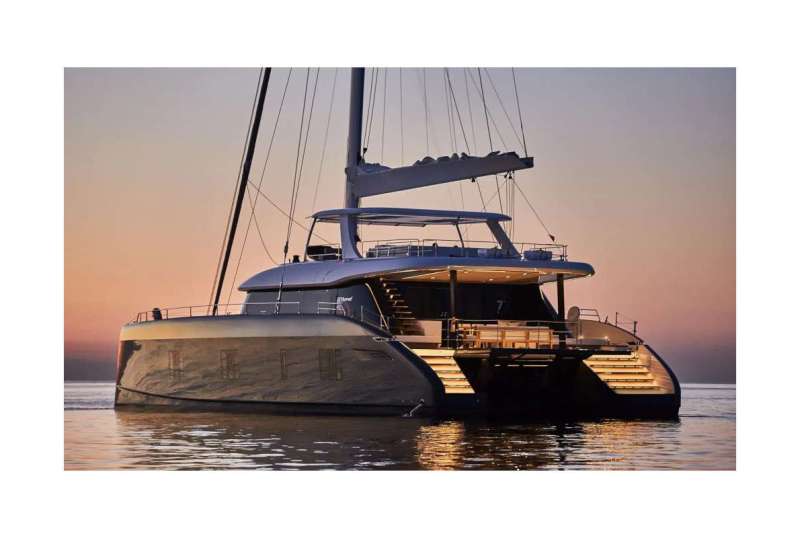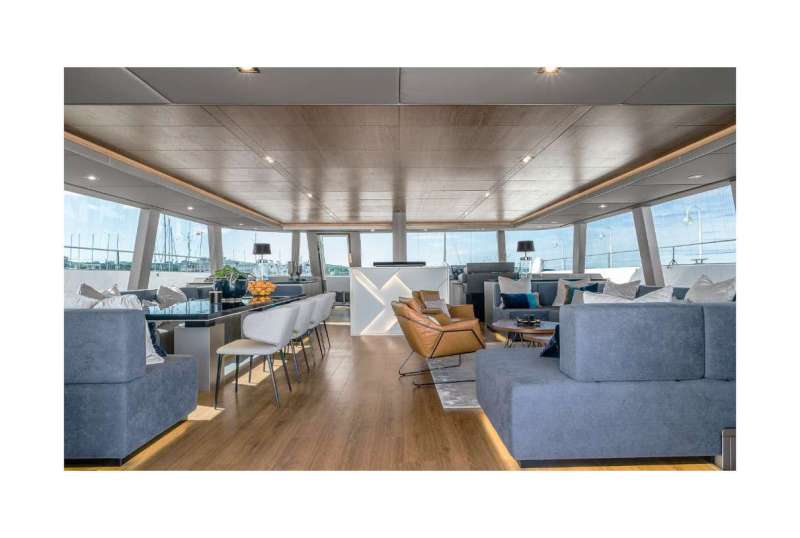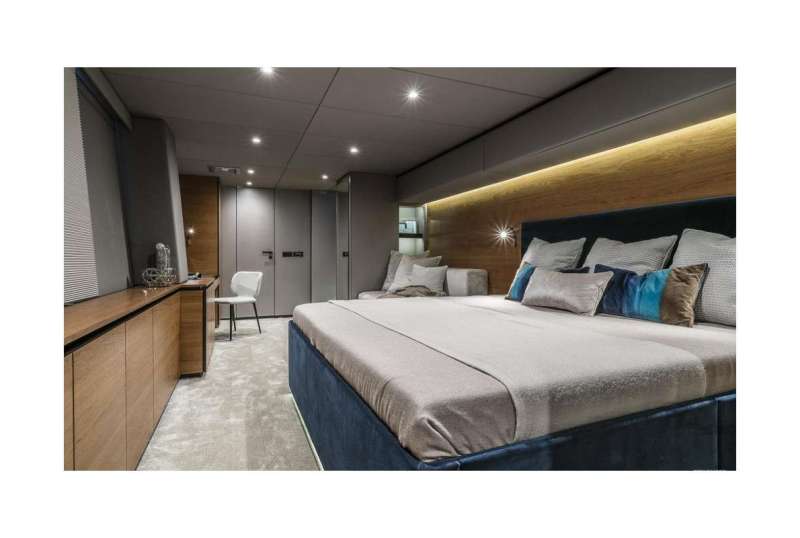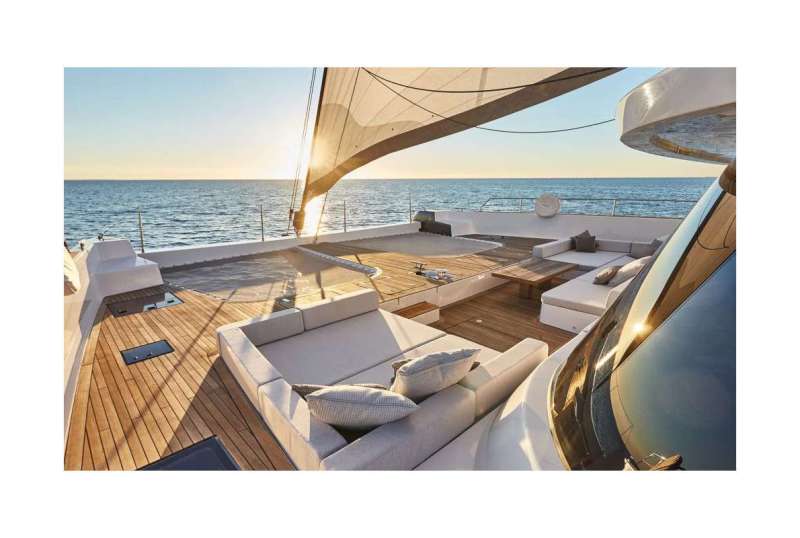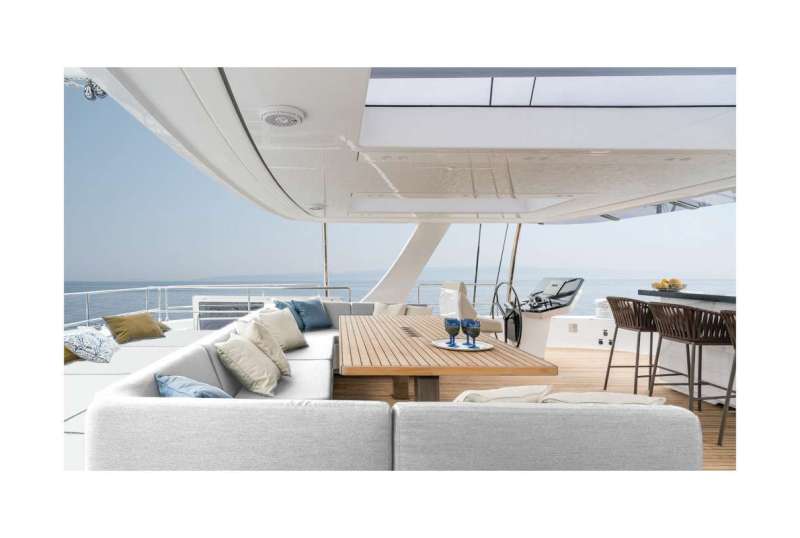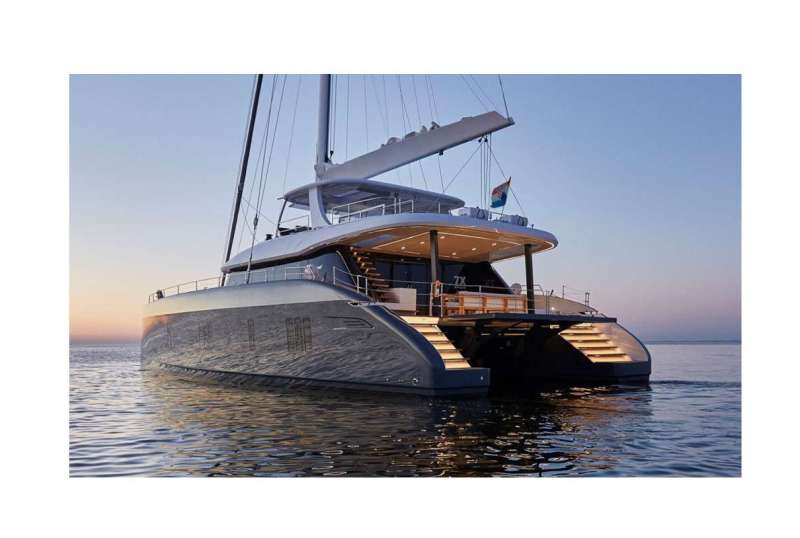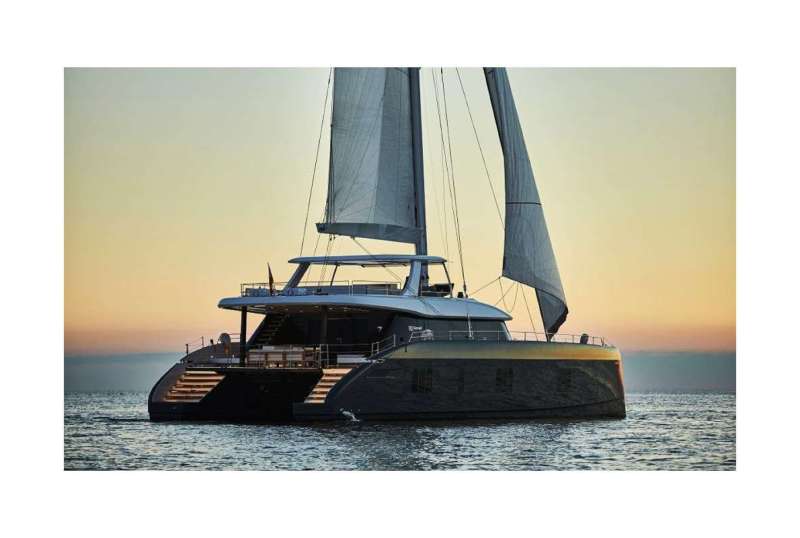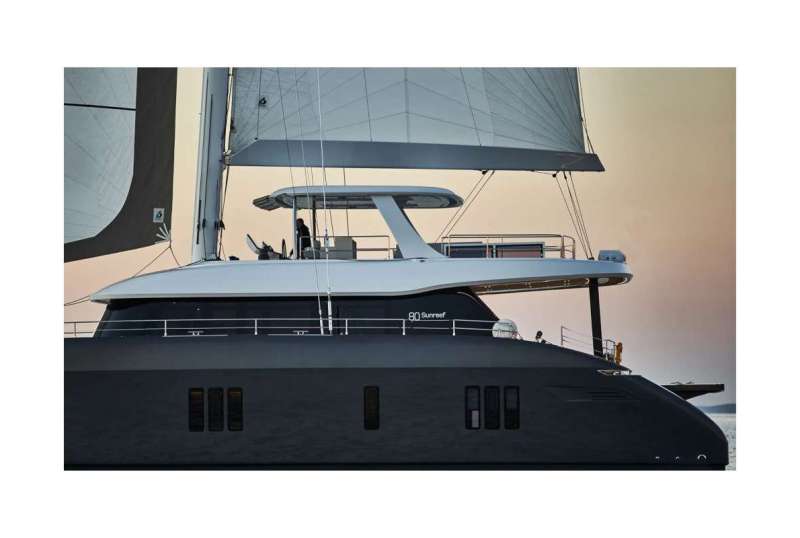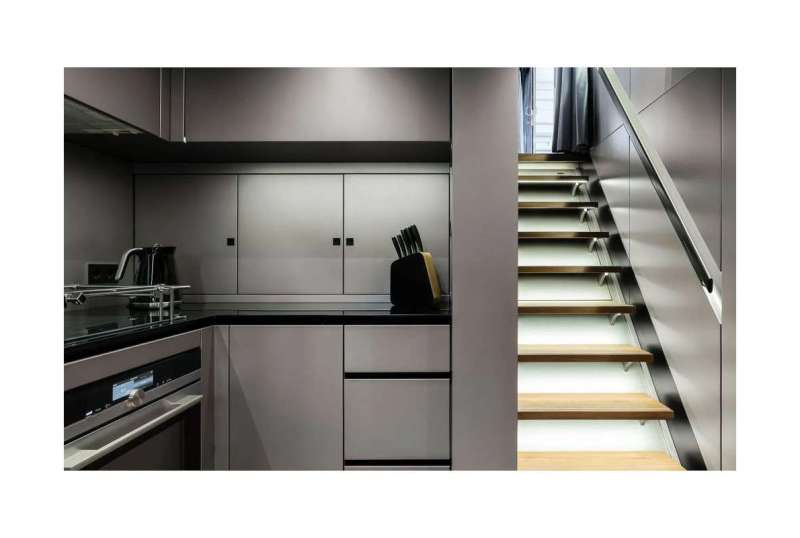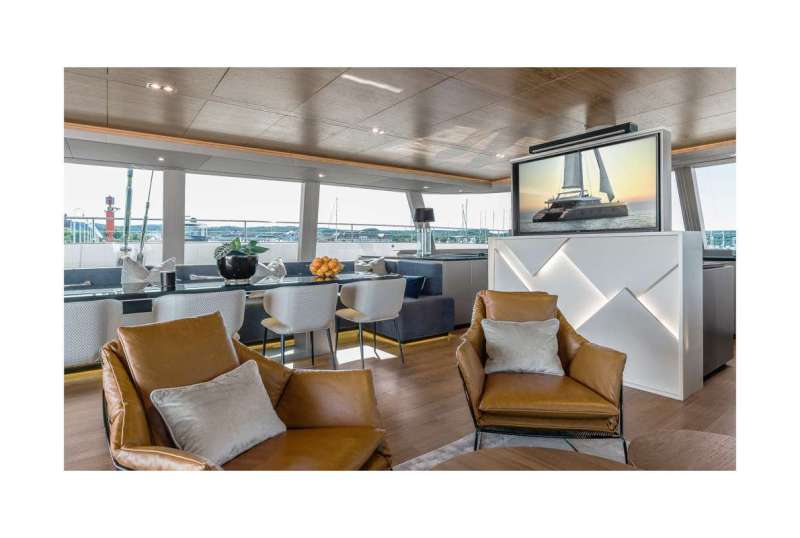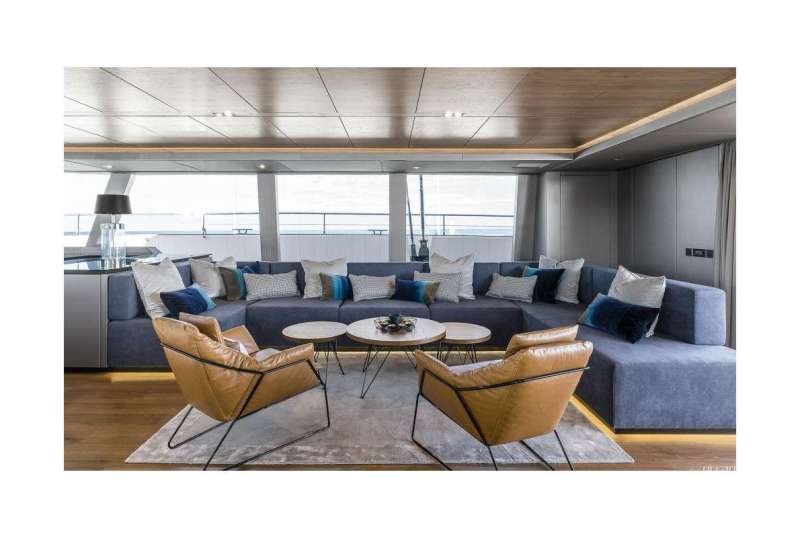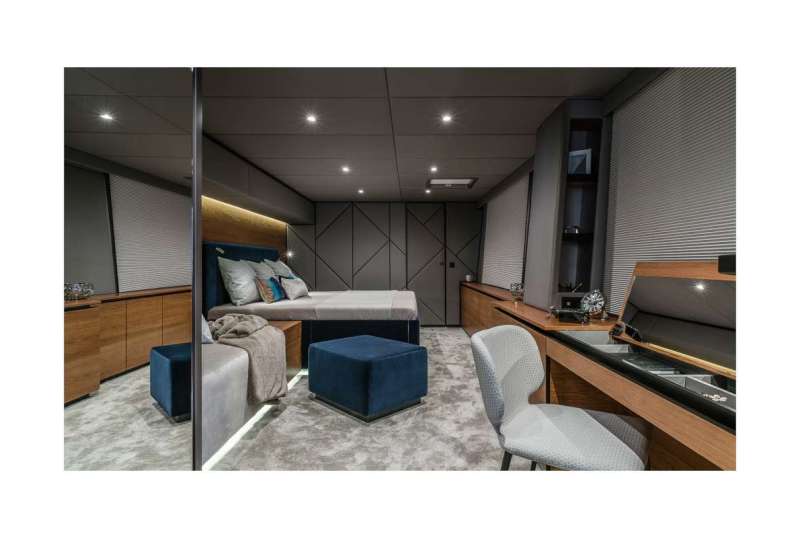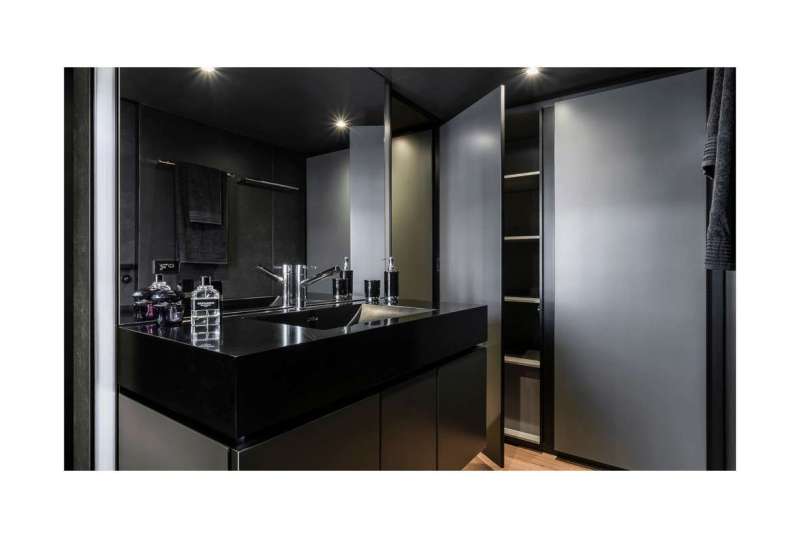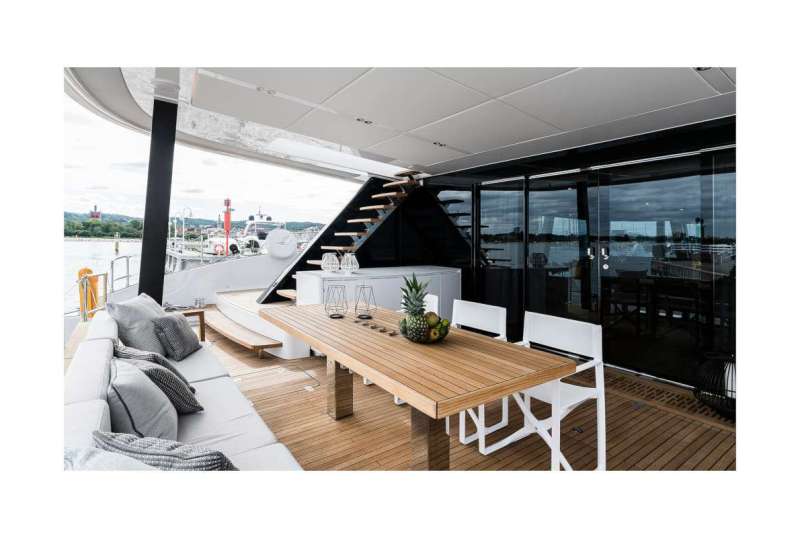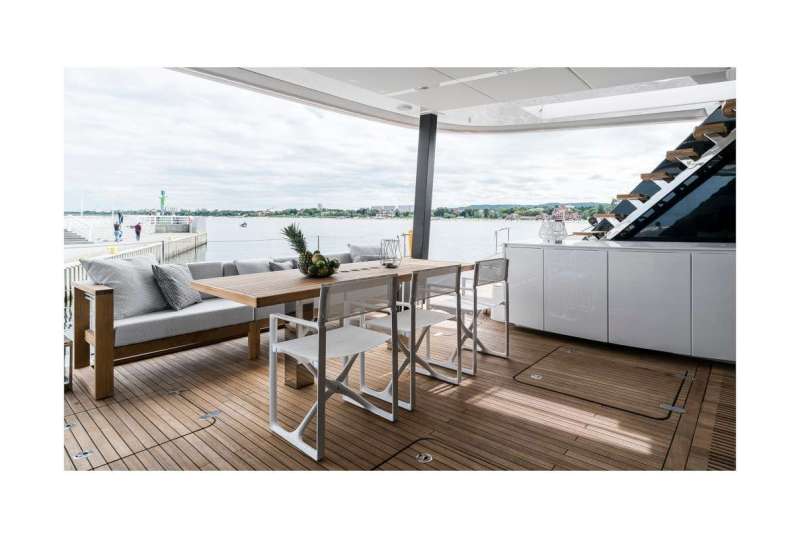 7X – SUNREEF 80
From €72,500/week
4 cabins
80 ft
Sunreef Yachts
8 guests
Built: 2018
60 Litres/Hr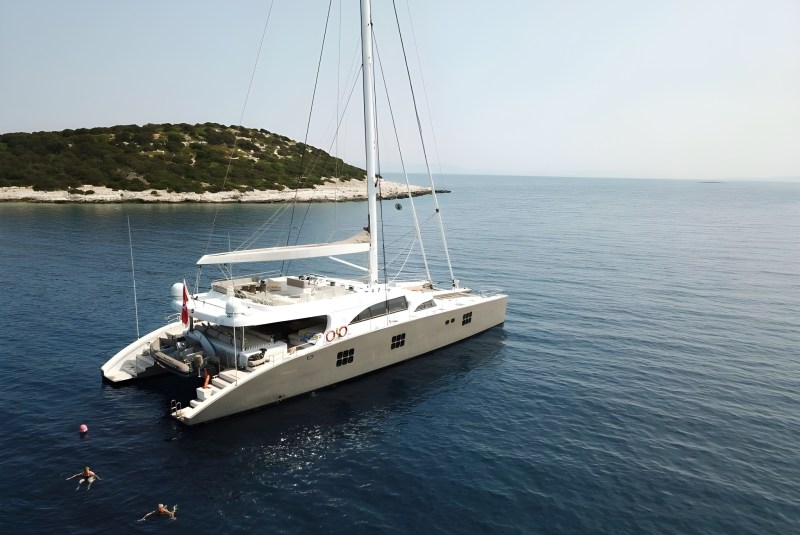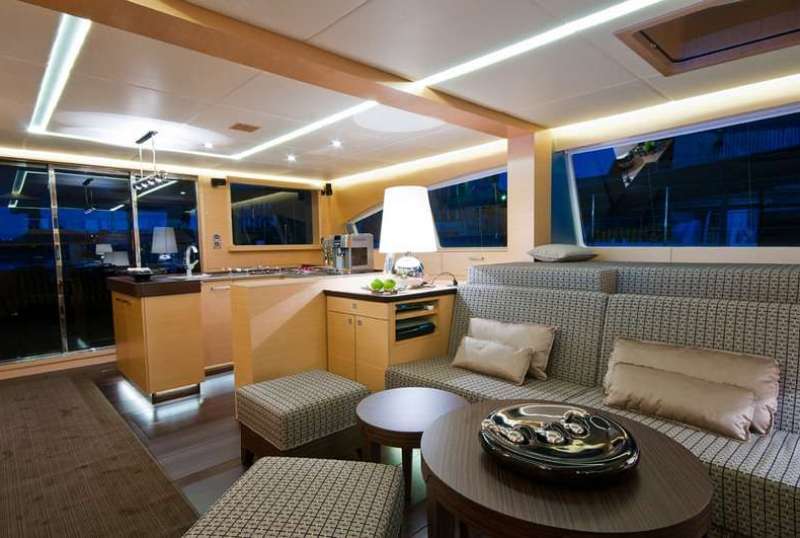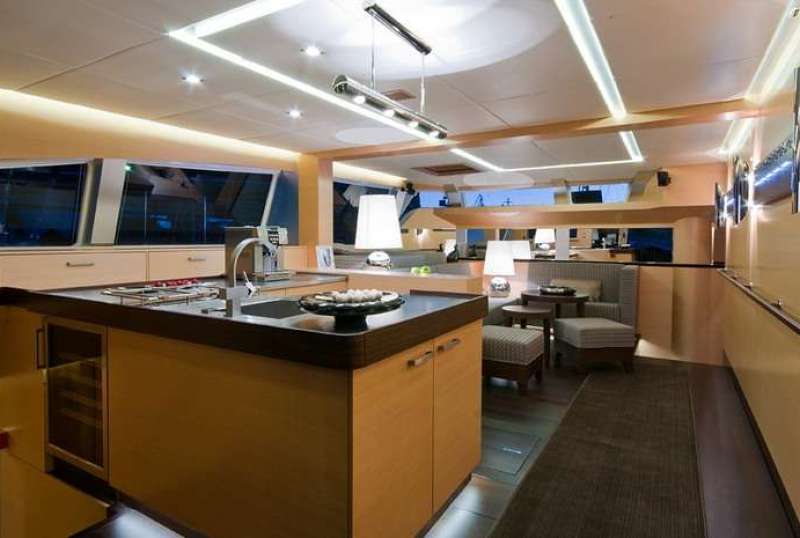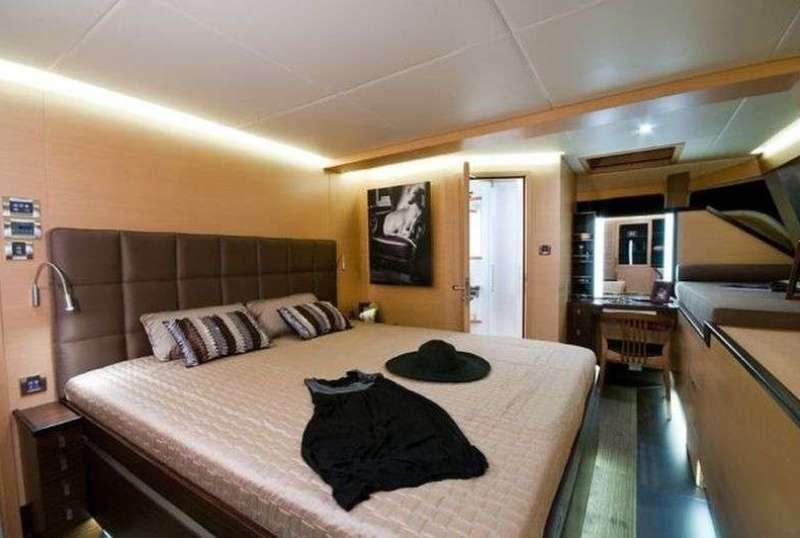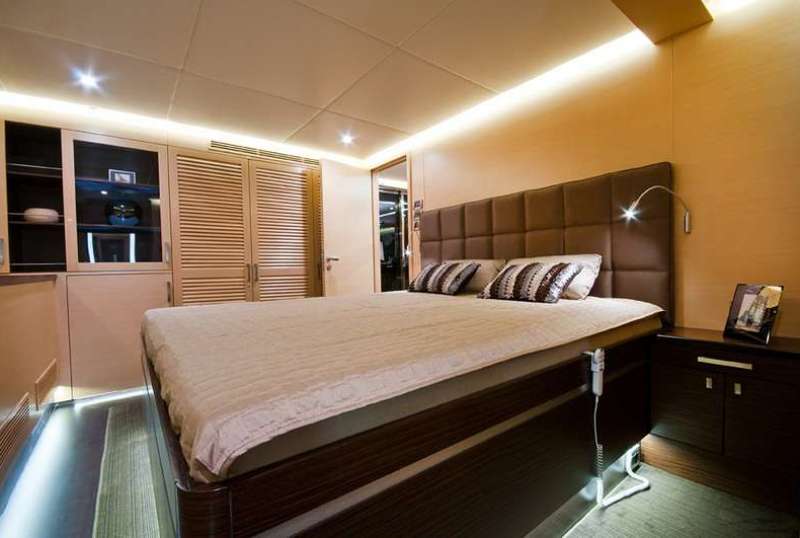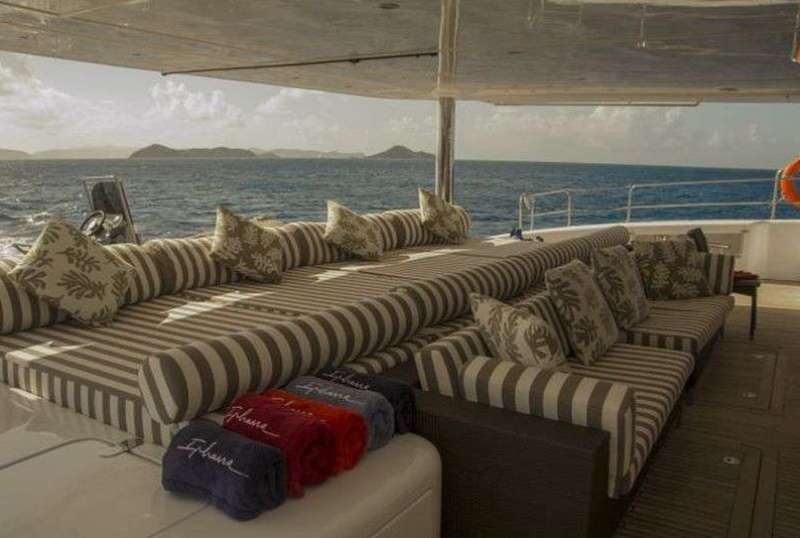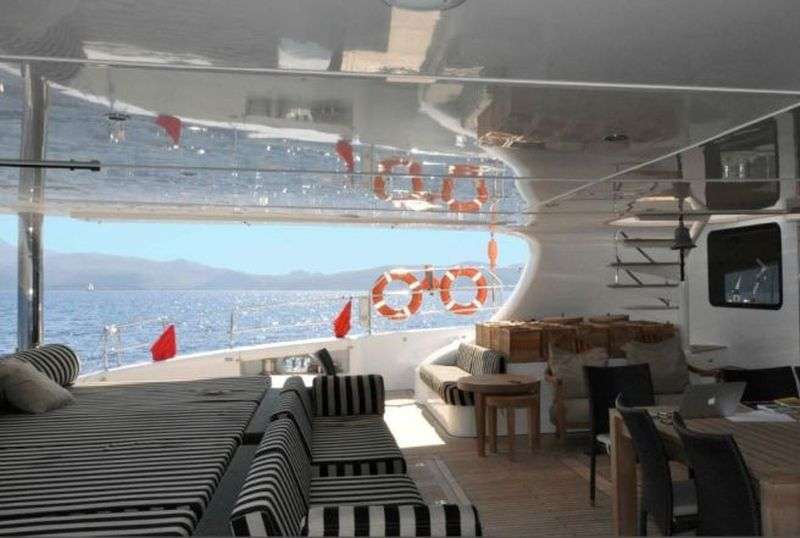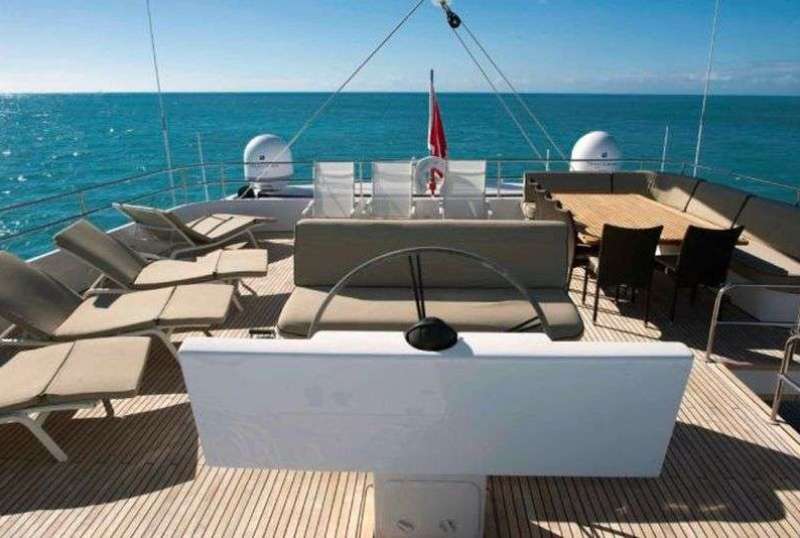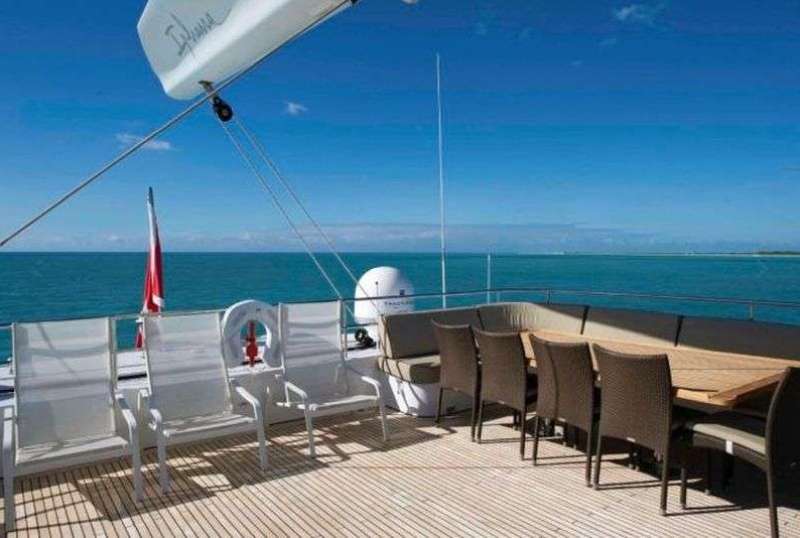 IPHARRA
From €68,000/week
5 cabins
102 ft
Sunreef Yachts
10 guests
Refit: 2017
50 Litres/Hr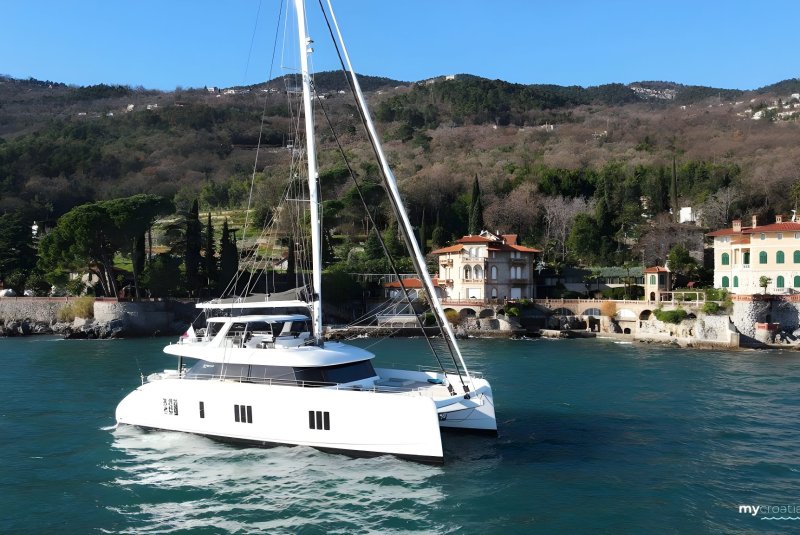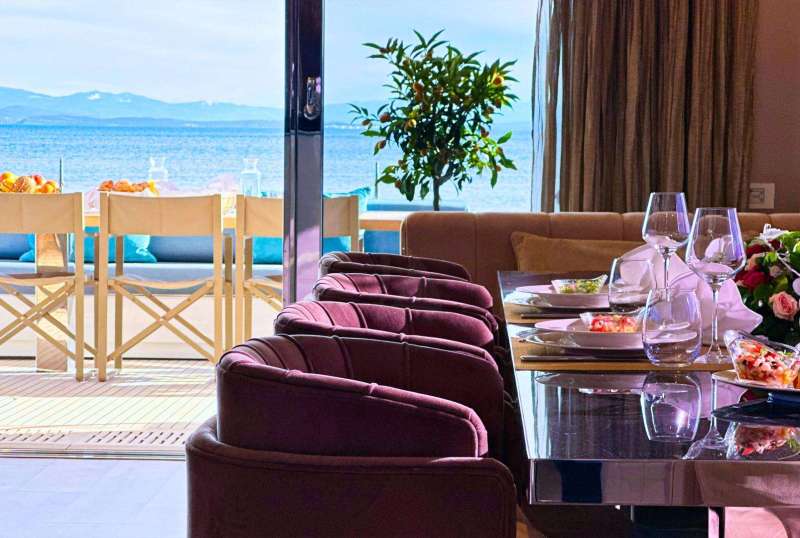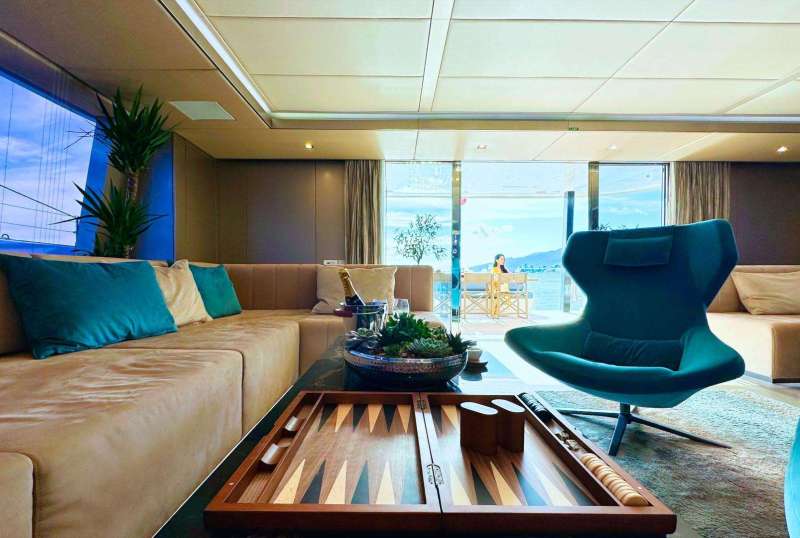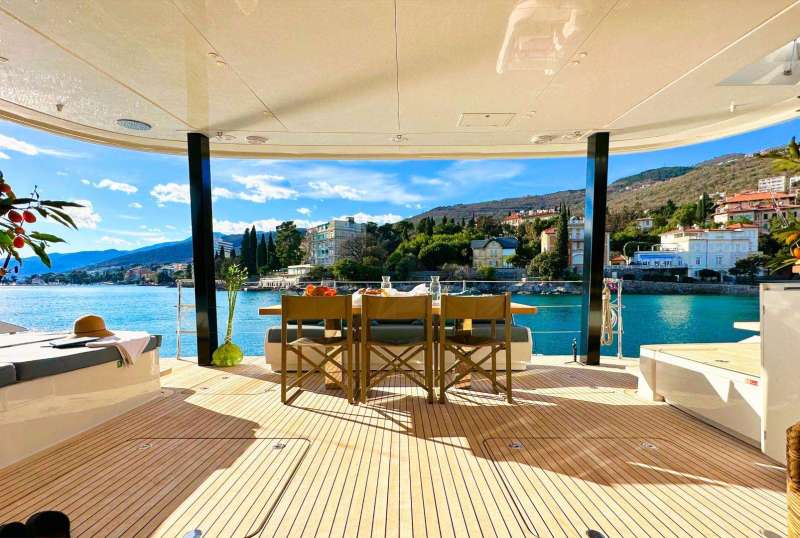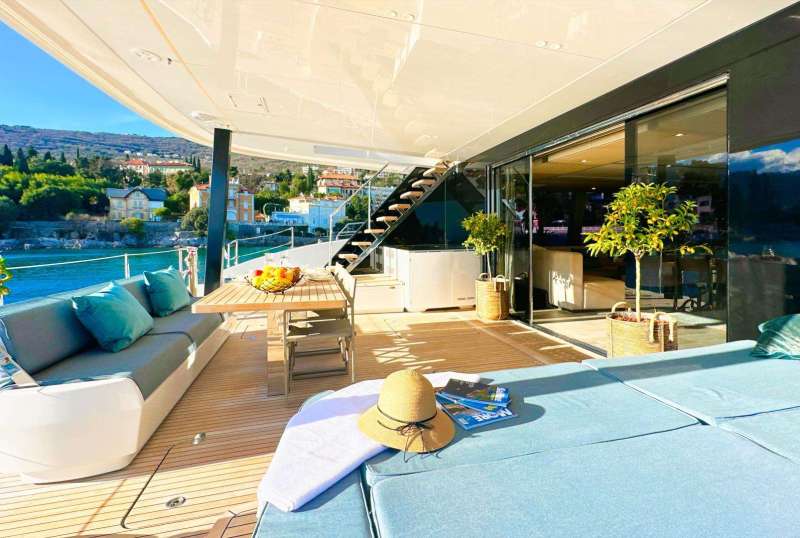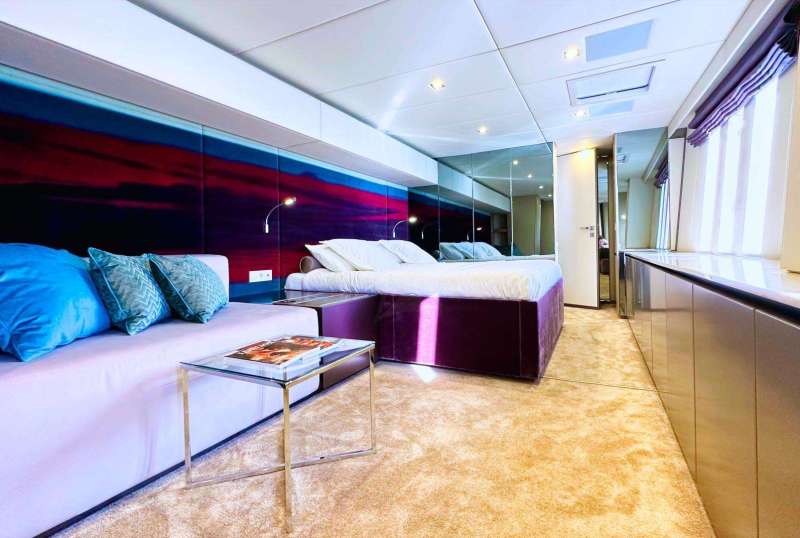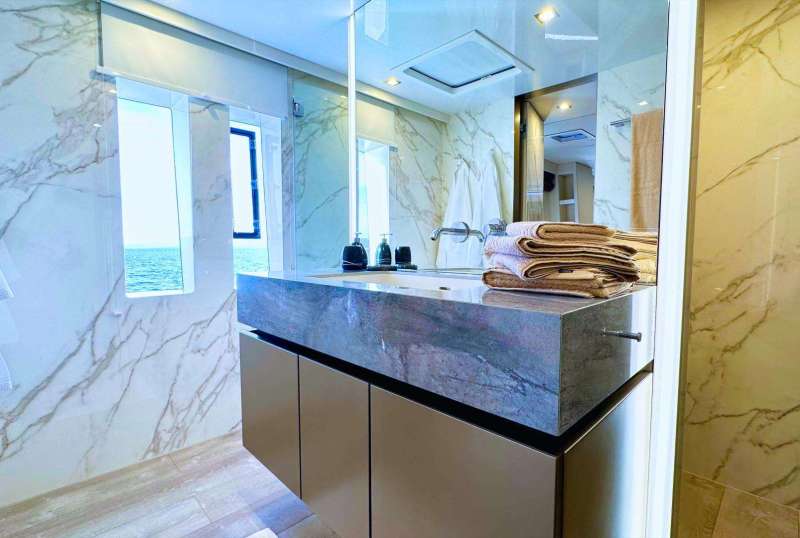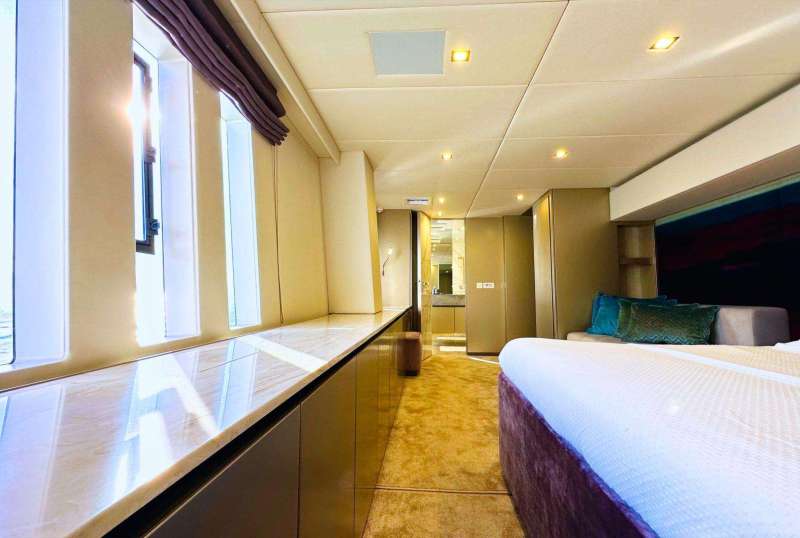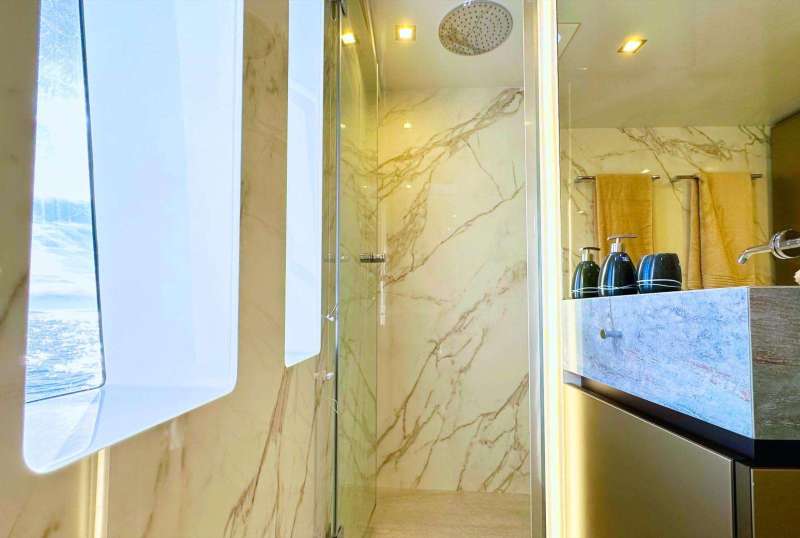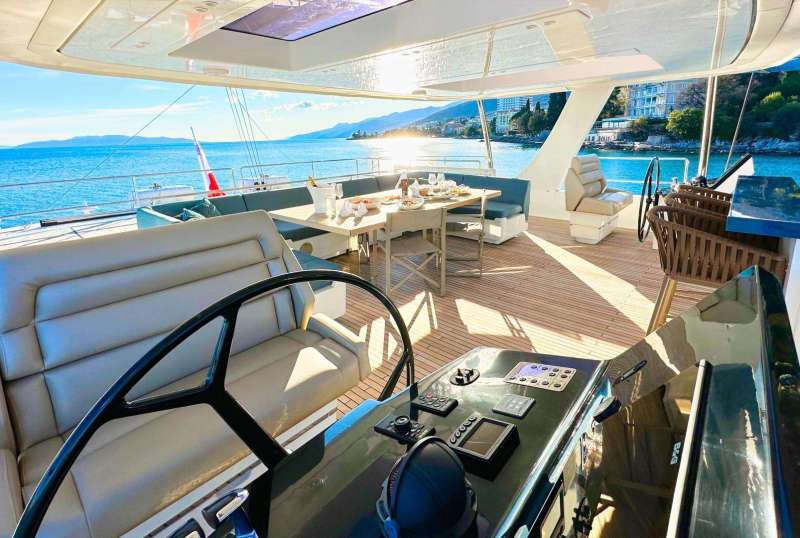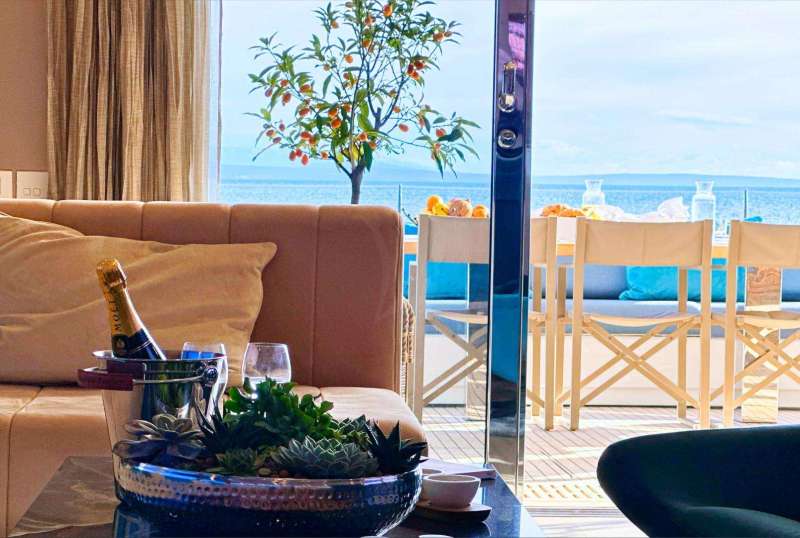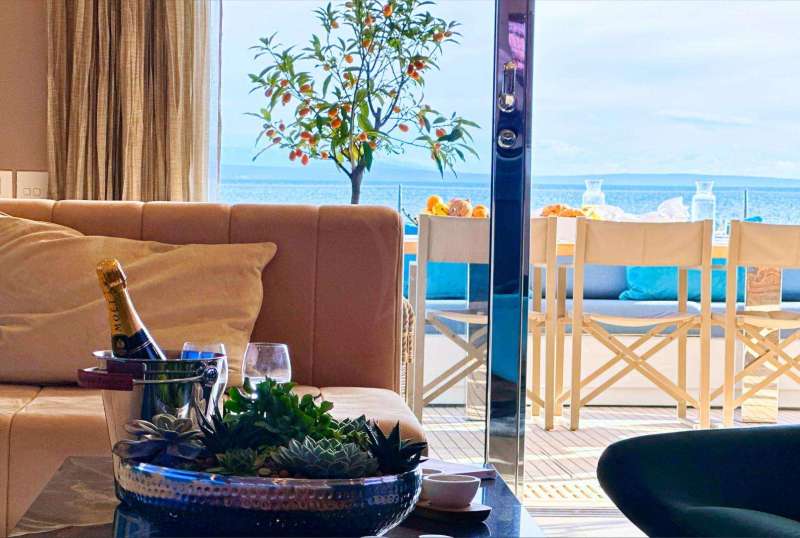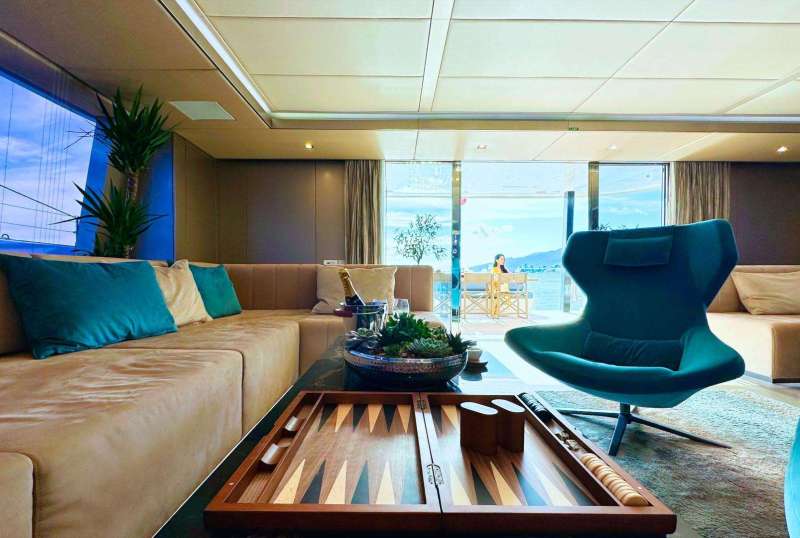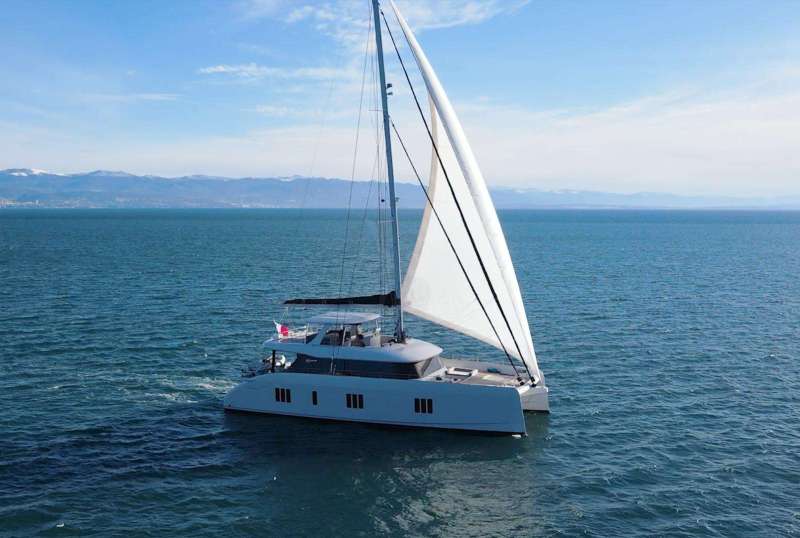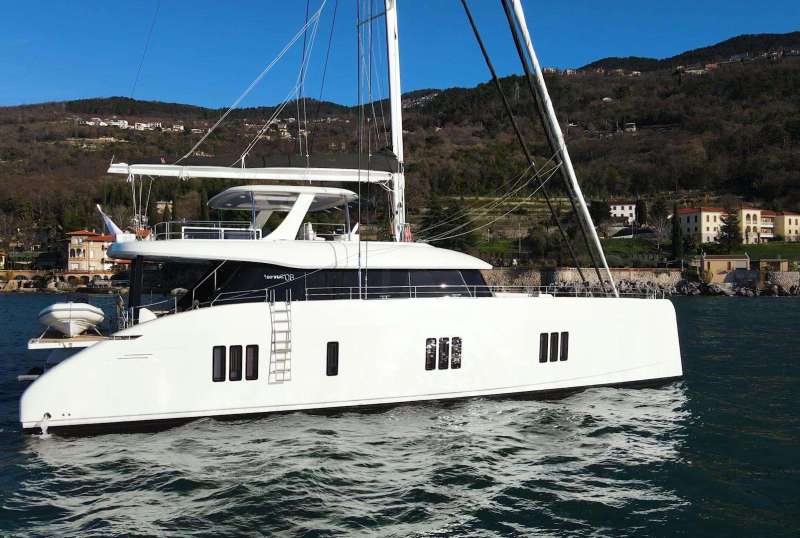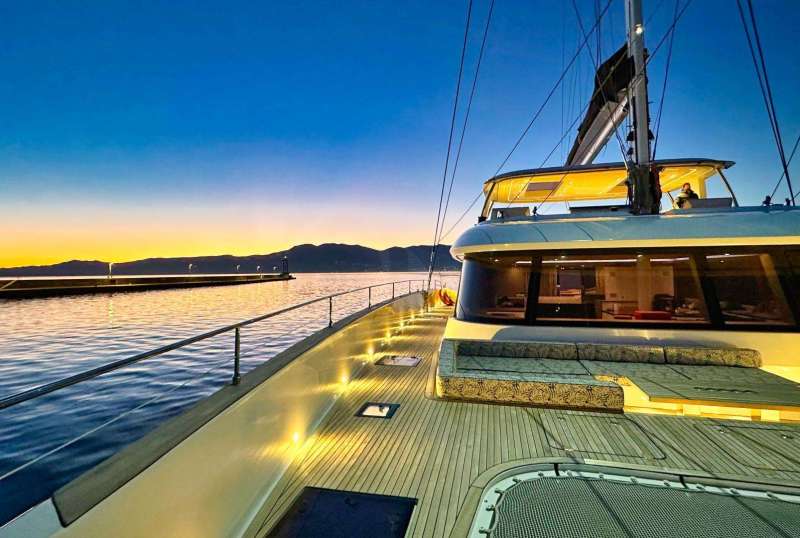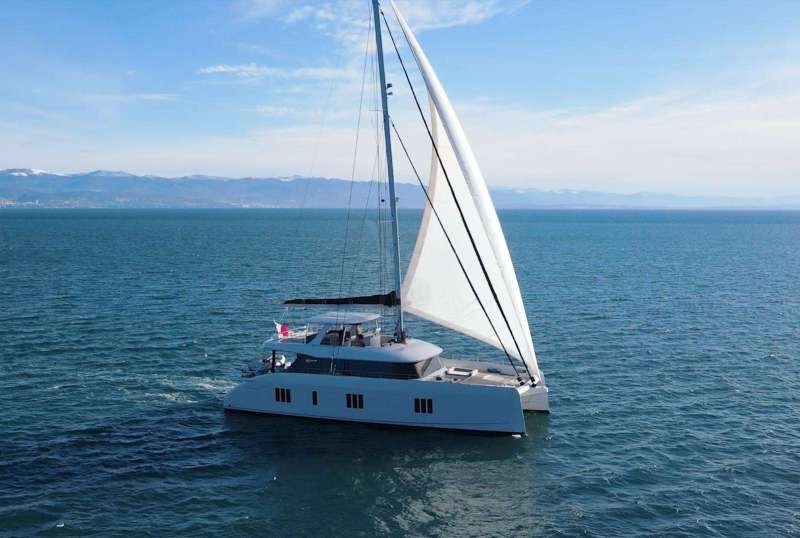 Nala One
From €59,000/week
3 cabins
80 ft
Sunreef Yachts
6 guests
Built: 2019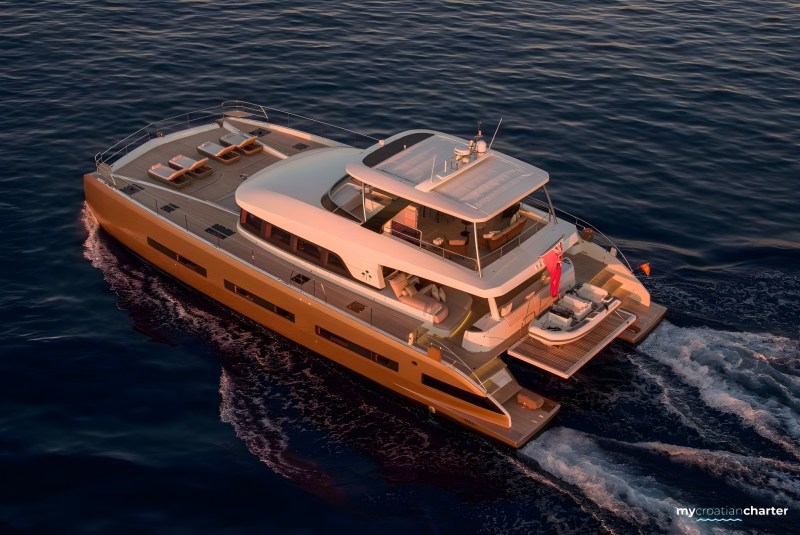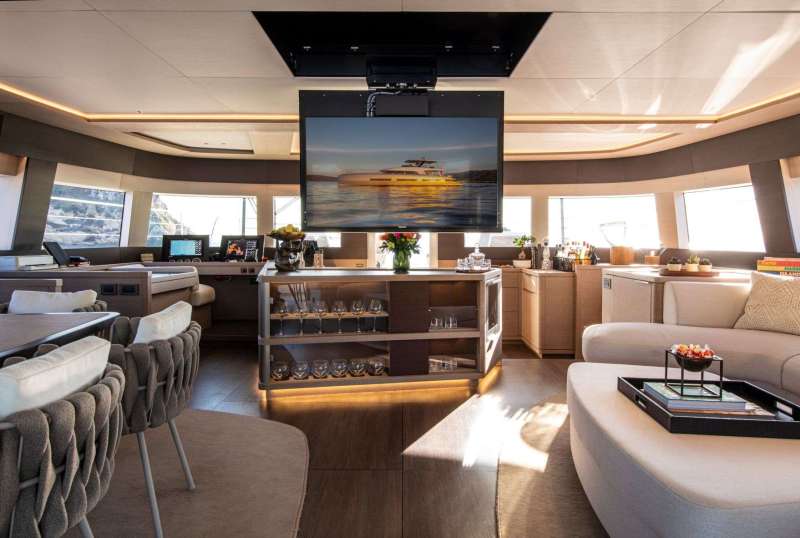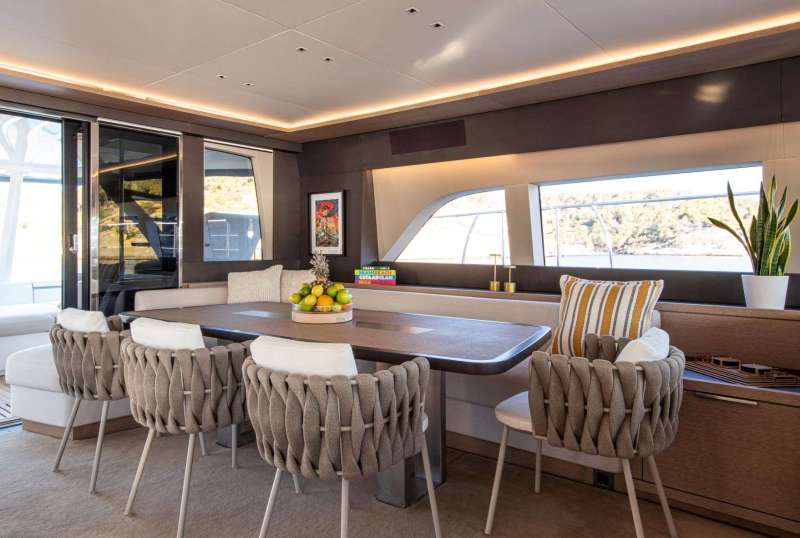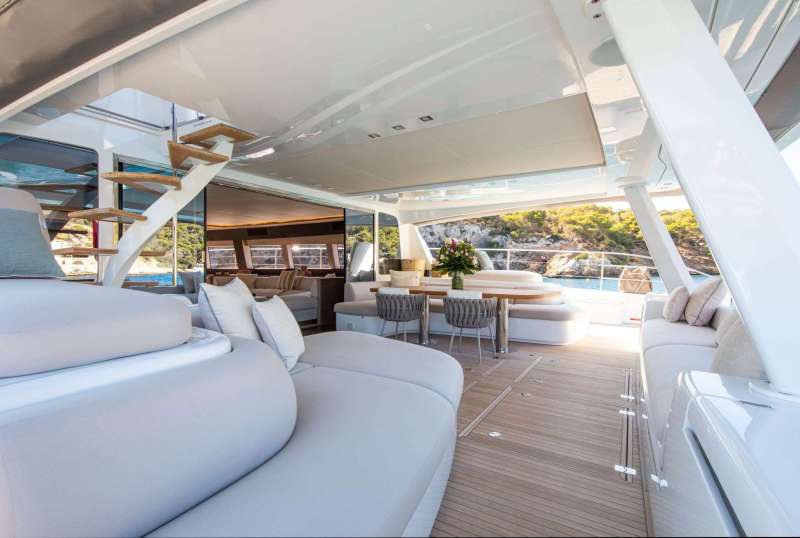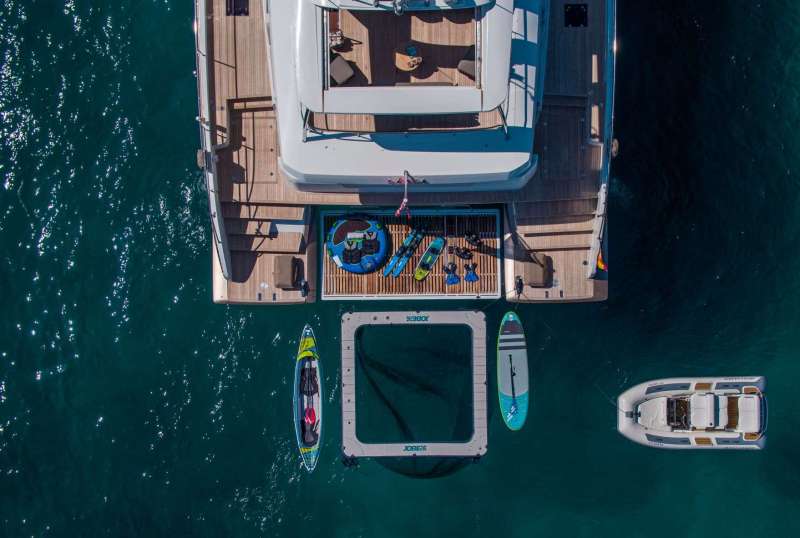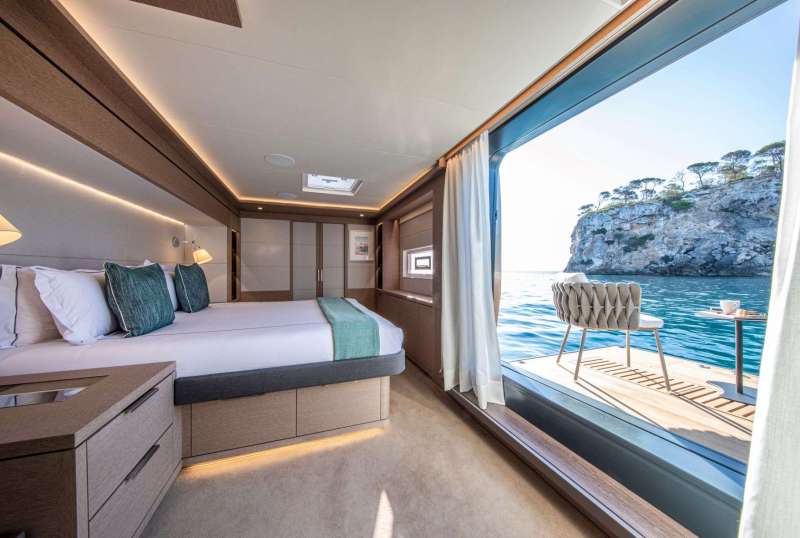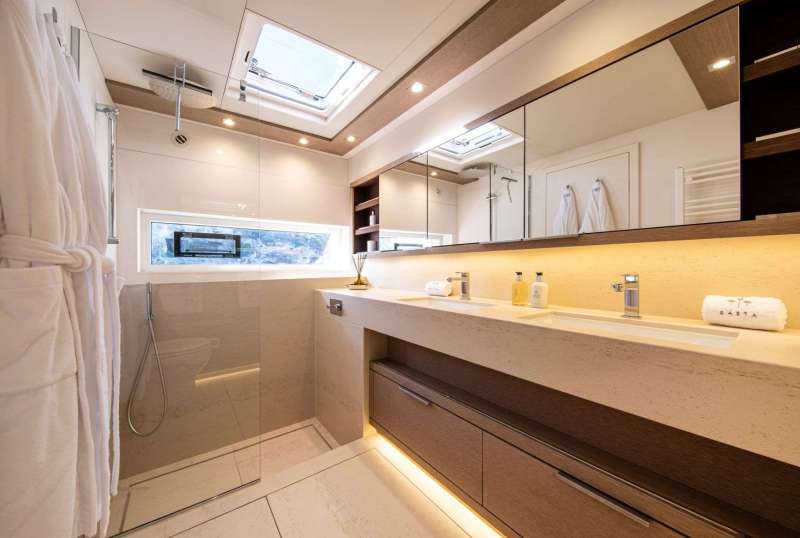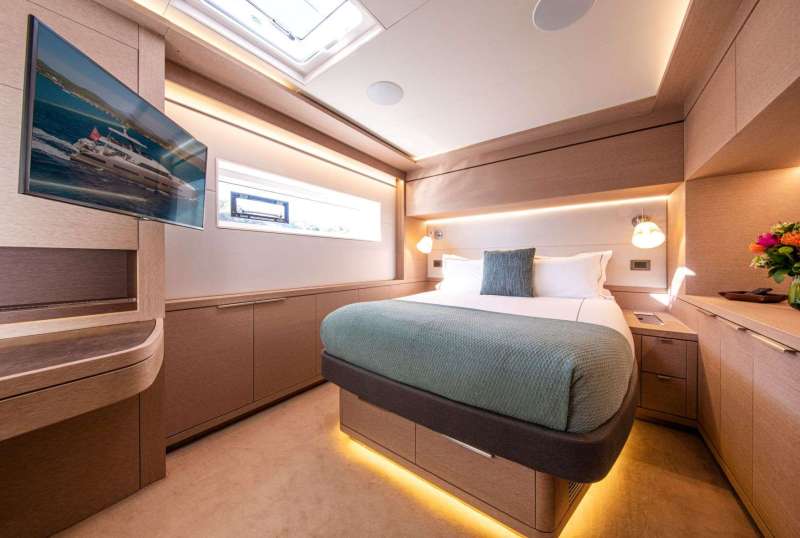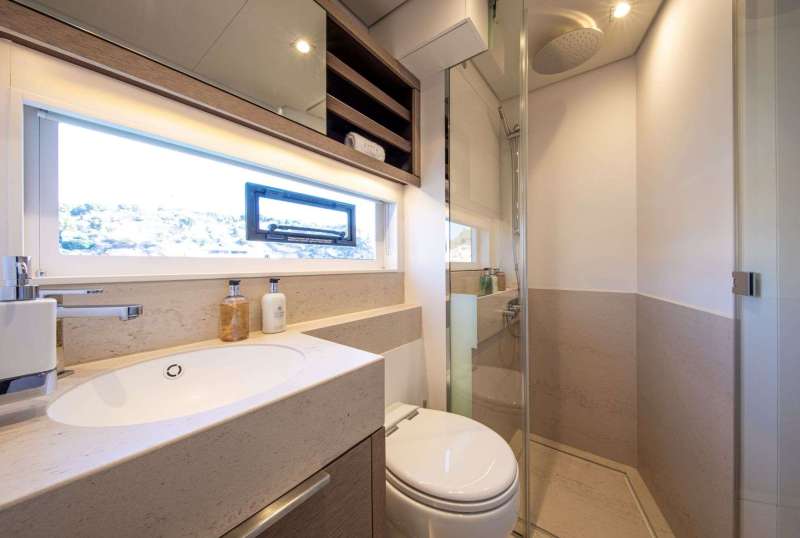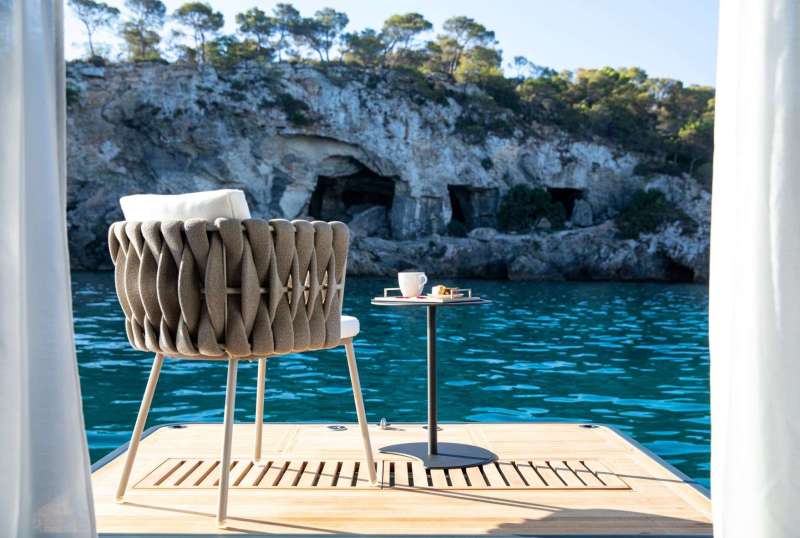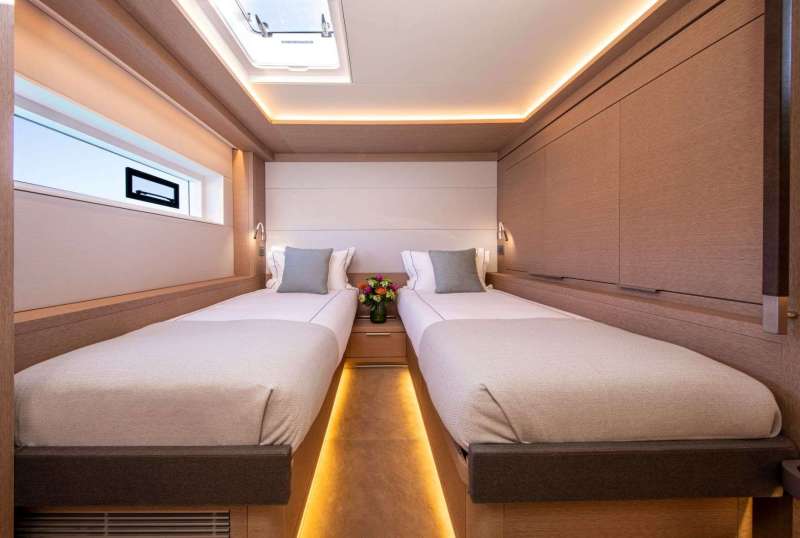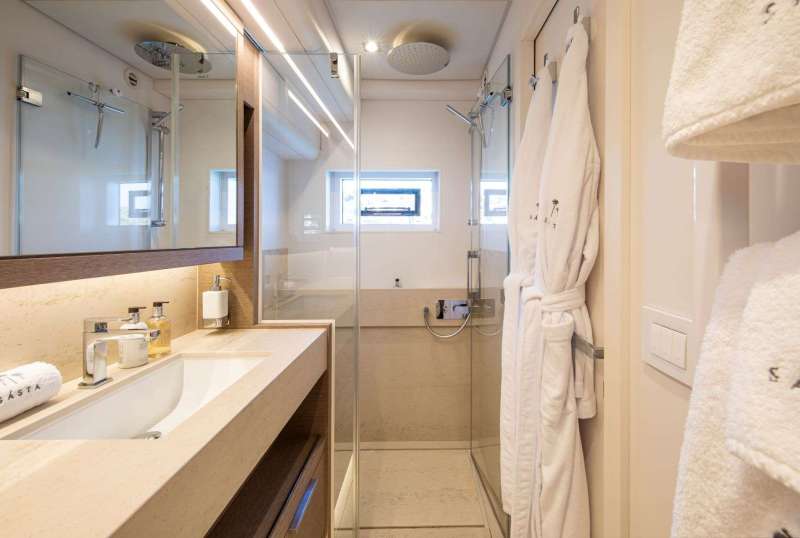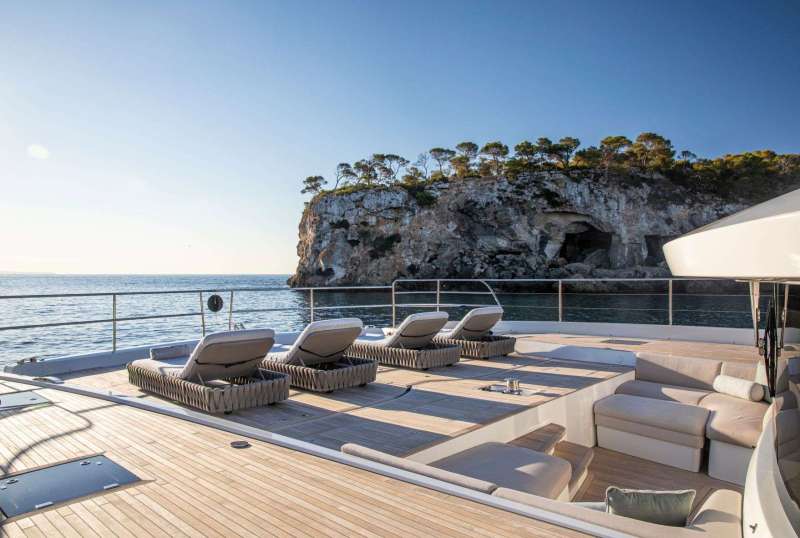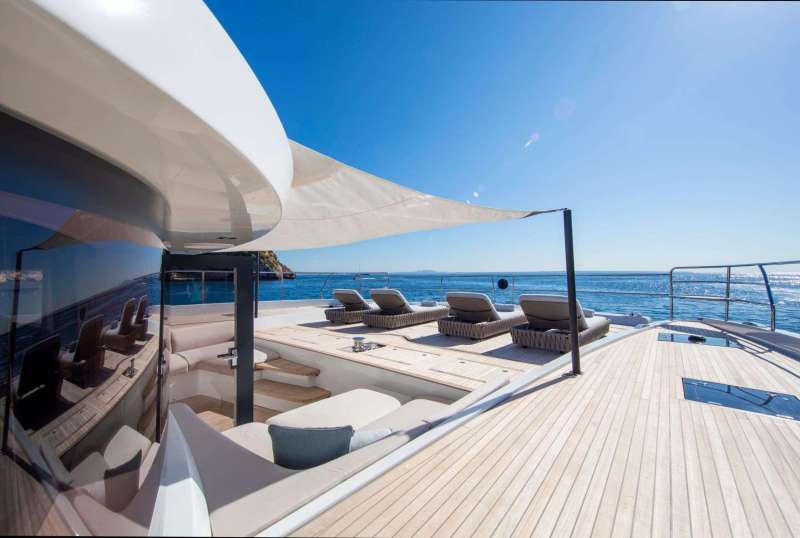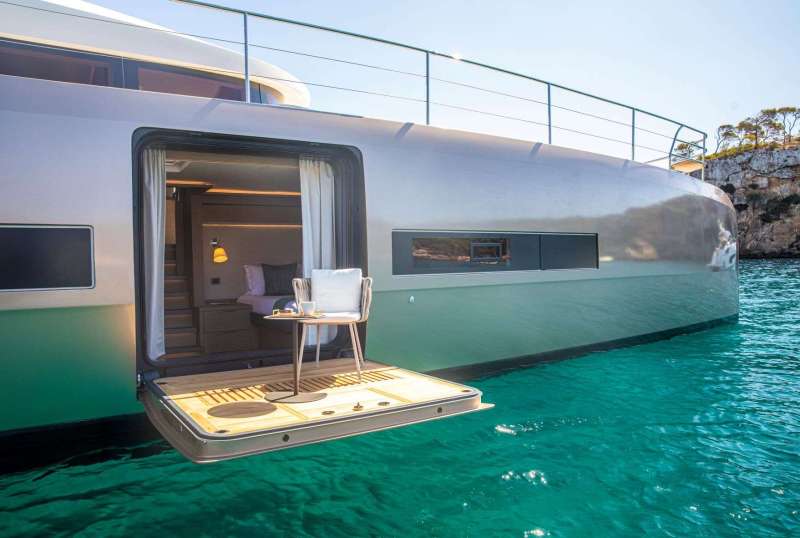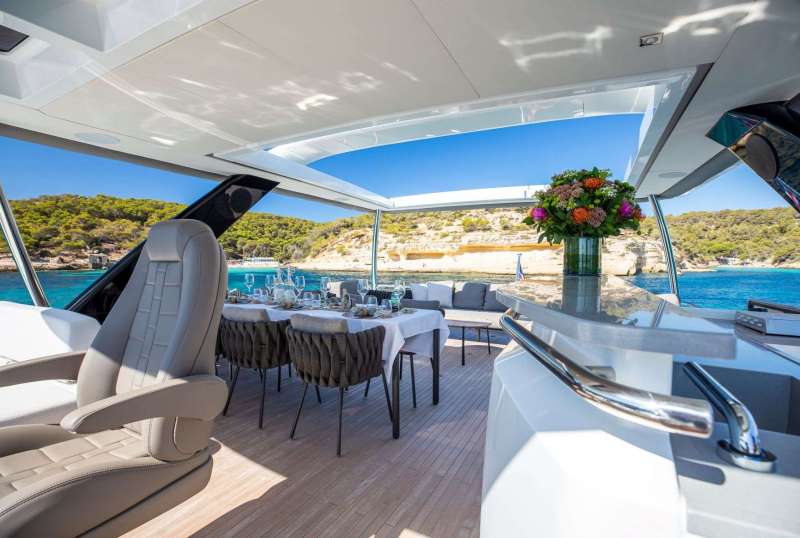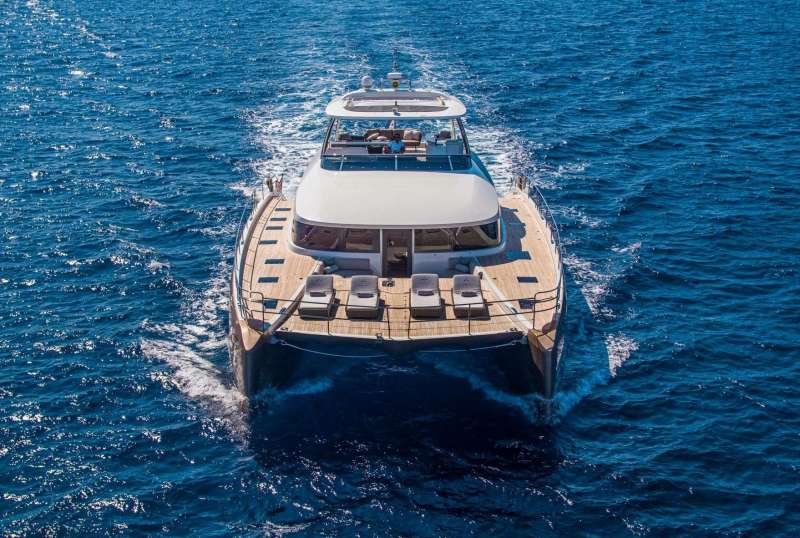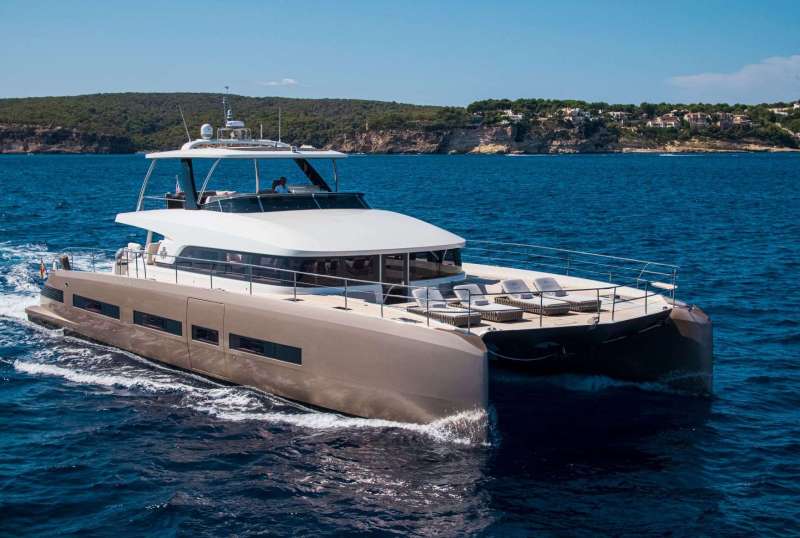 SASTA
From €59,000/week
4 cabins
78 ft
Lagoon
8 guests
Built: 2022
40 Litres/Hr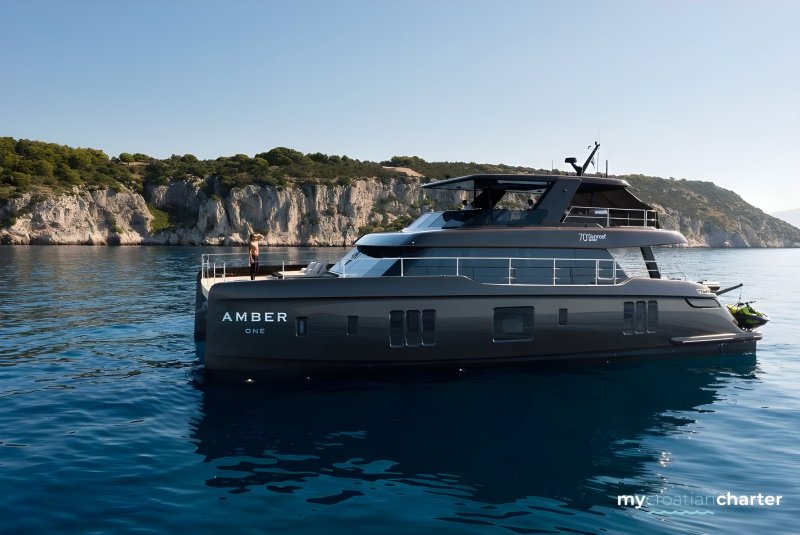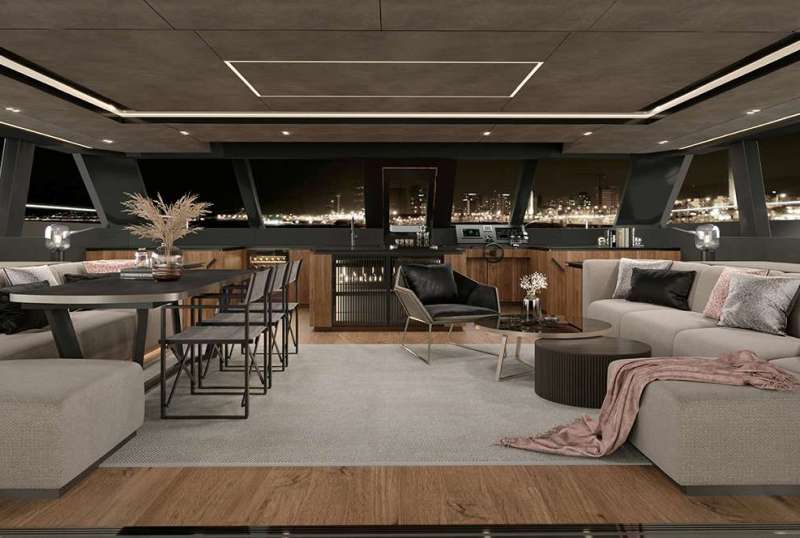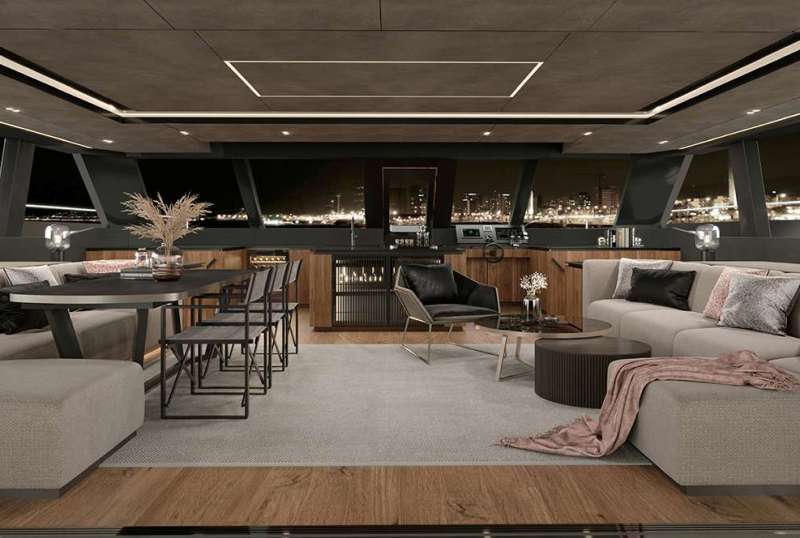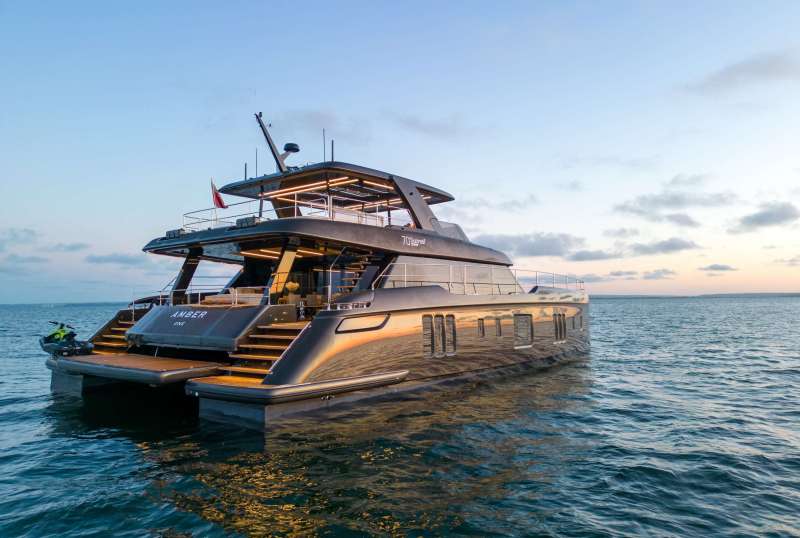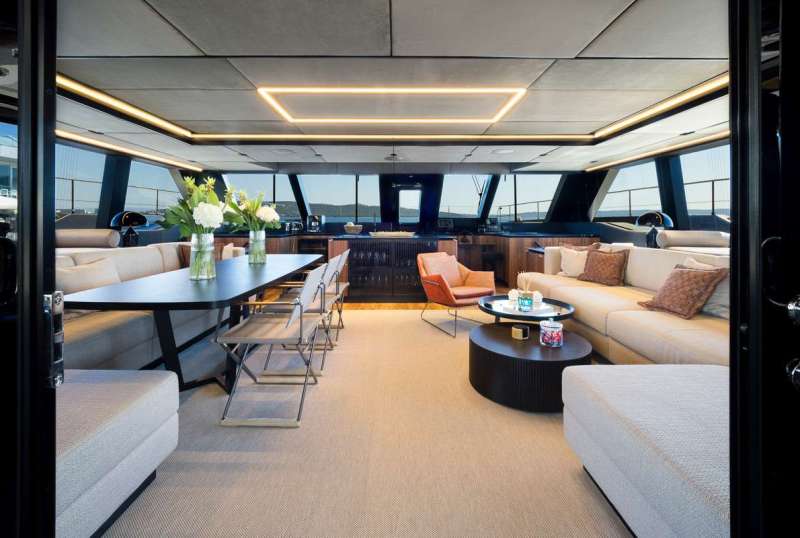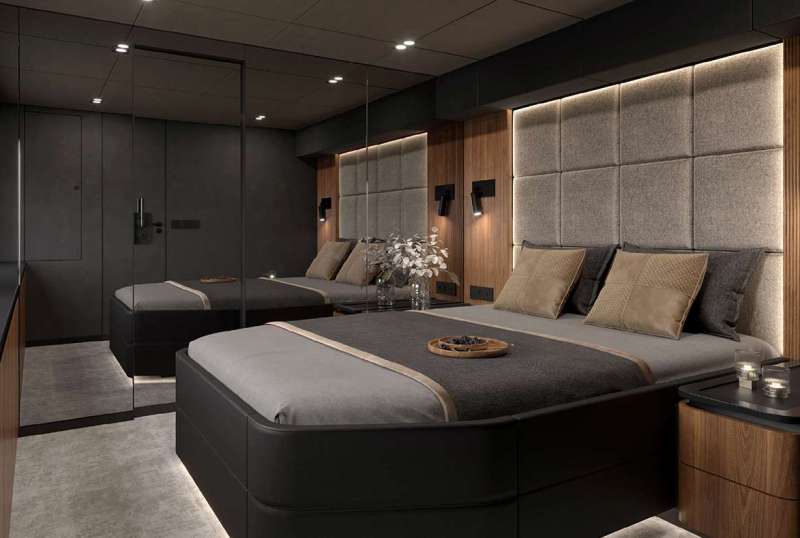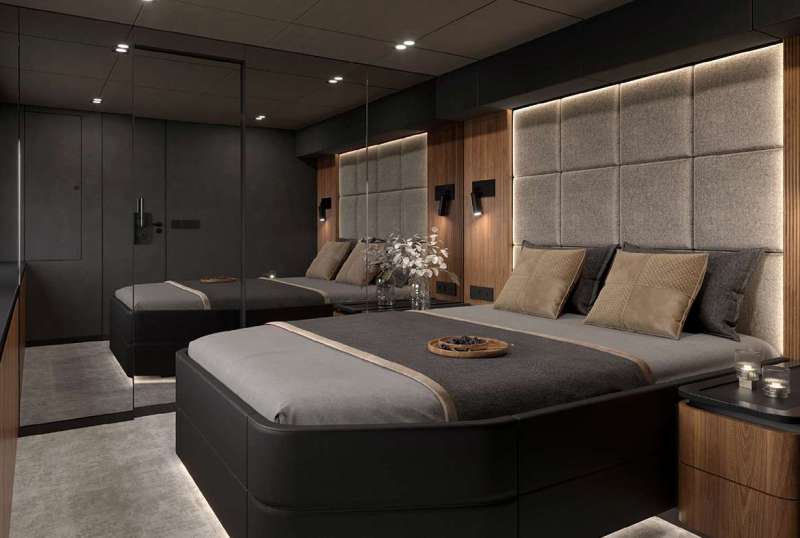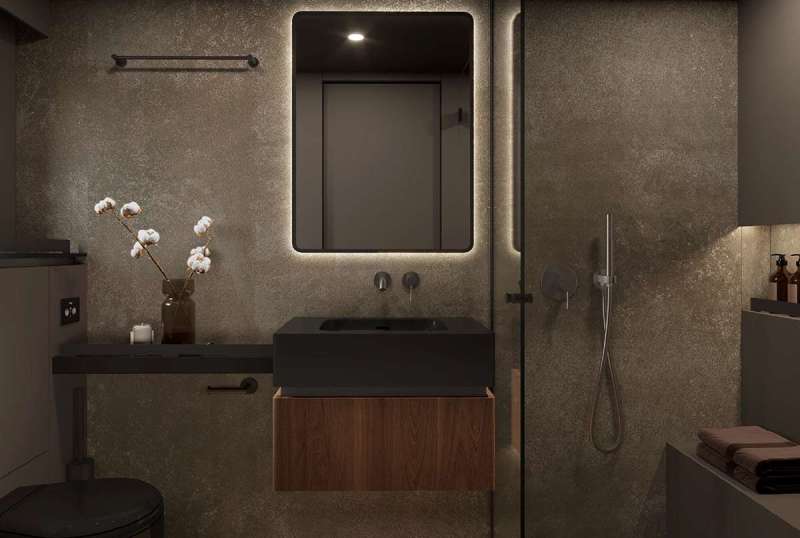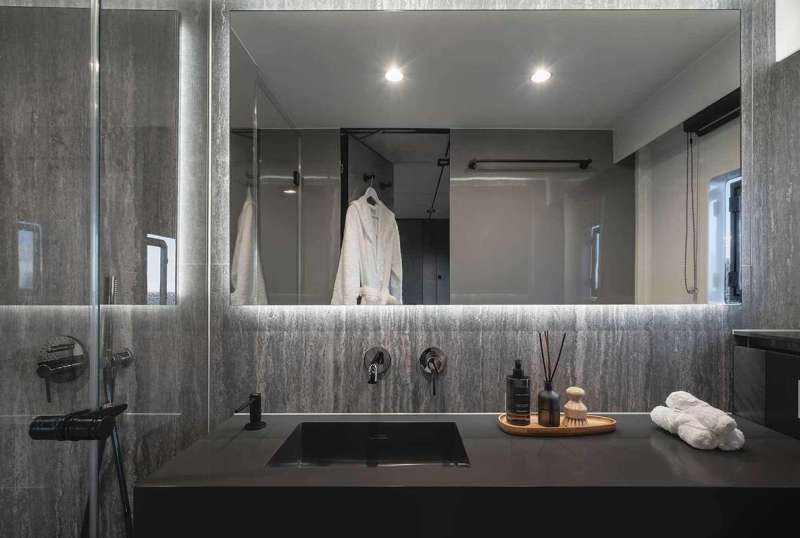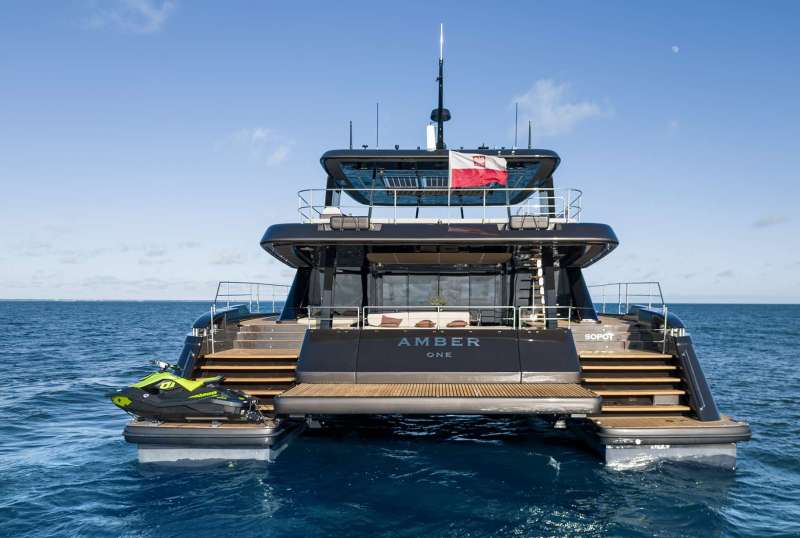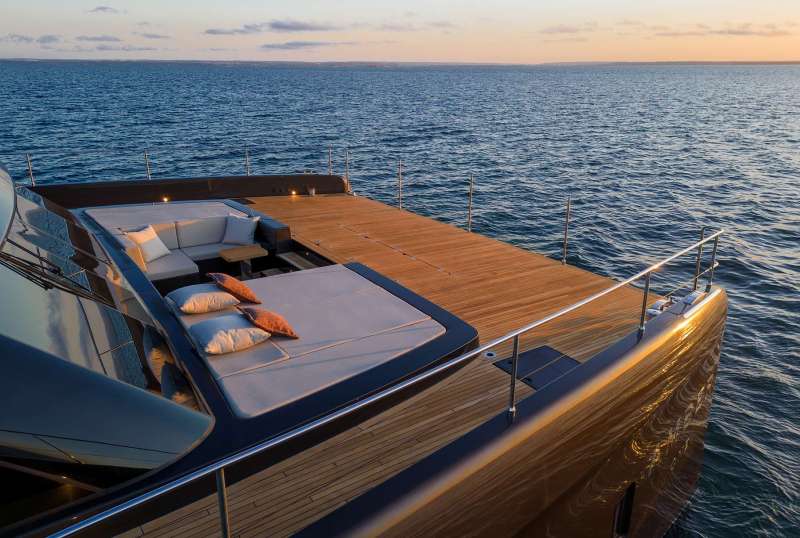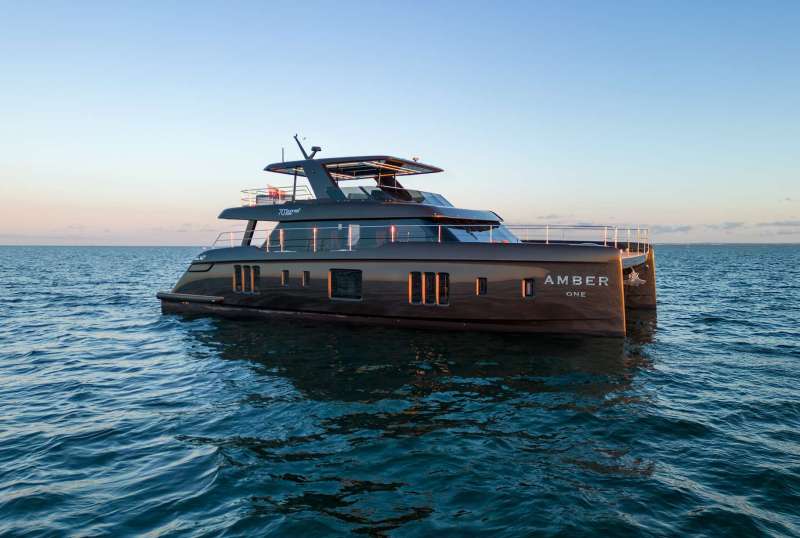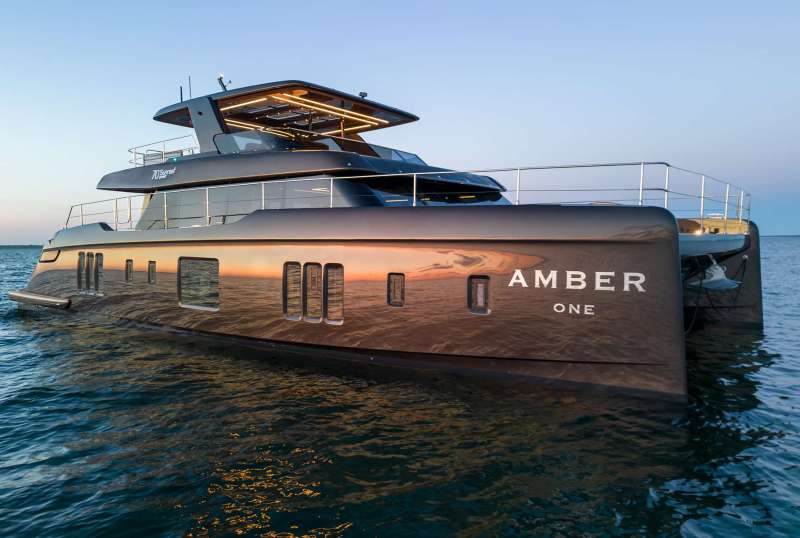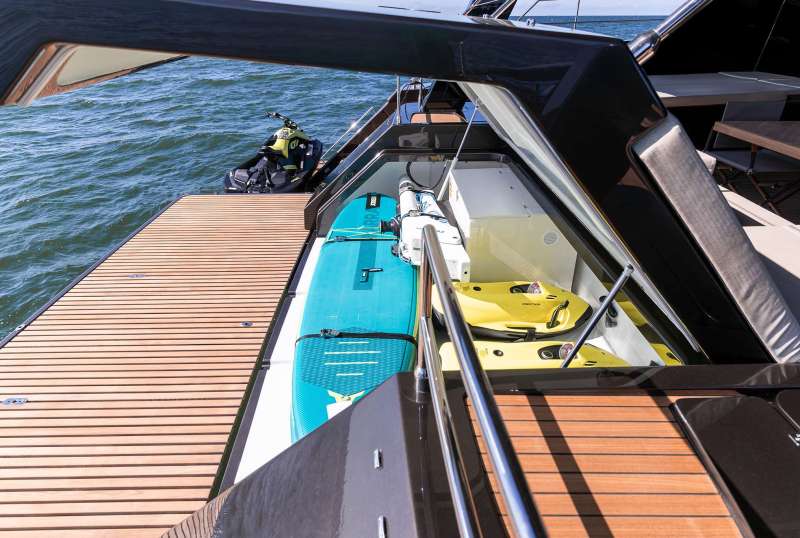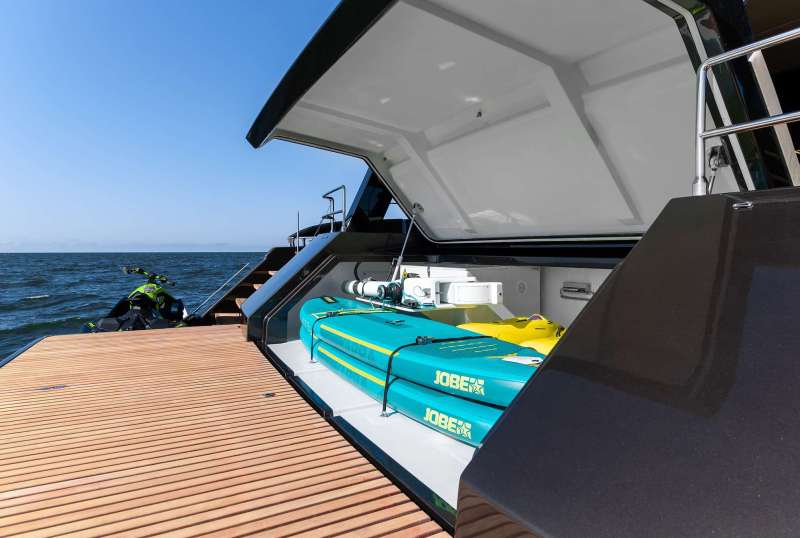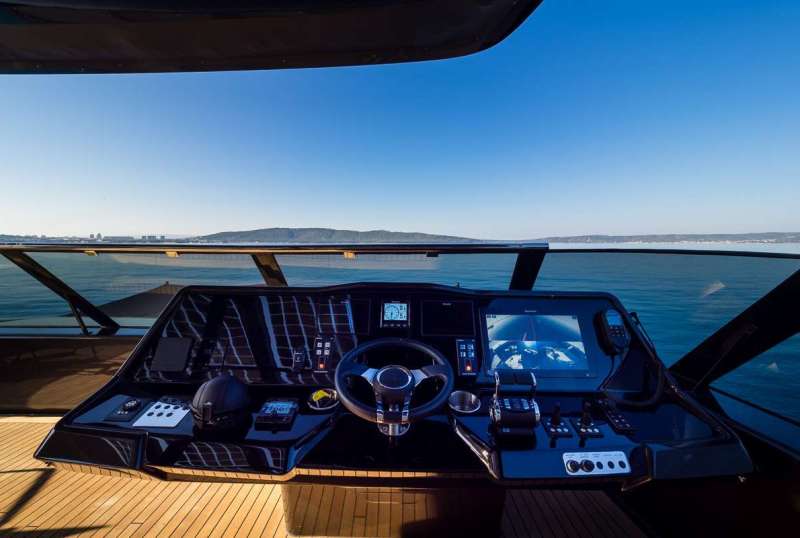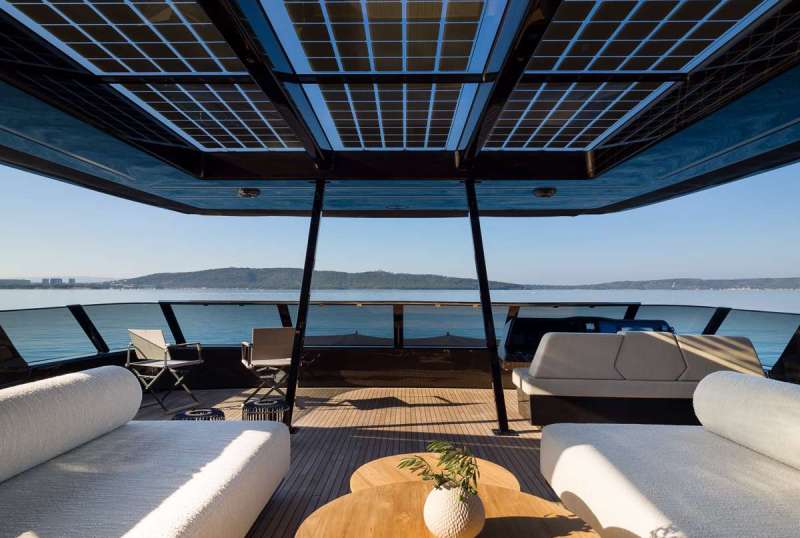 AMBER ONE
From €53,000/week
4 cabins
69 ft
Sunreef Yachts
8 guests
Built: 2023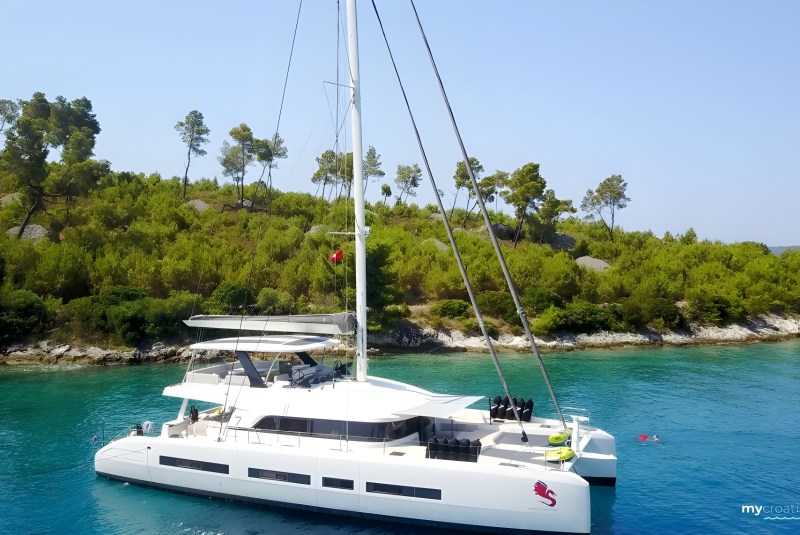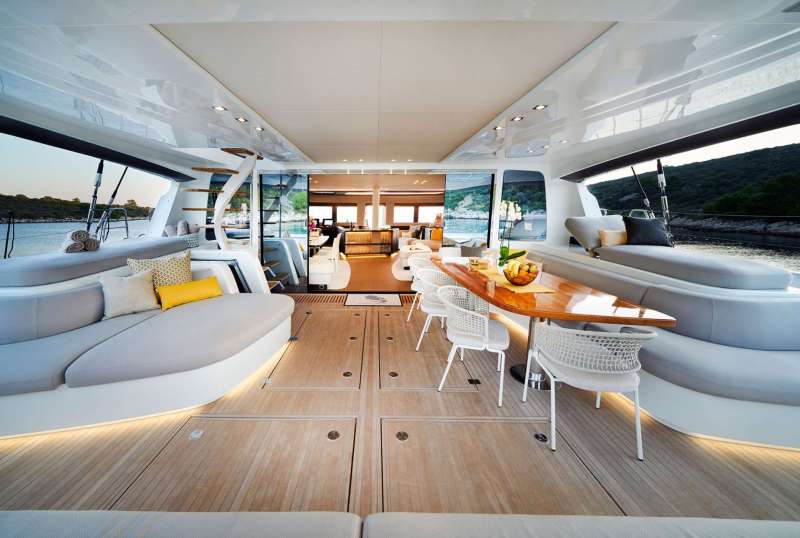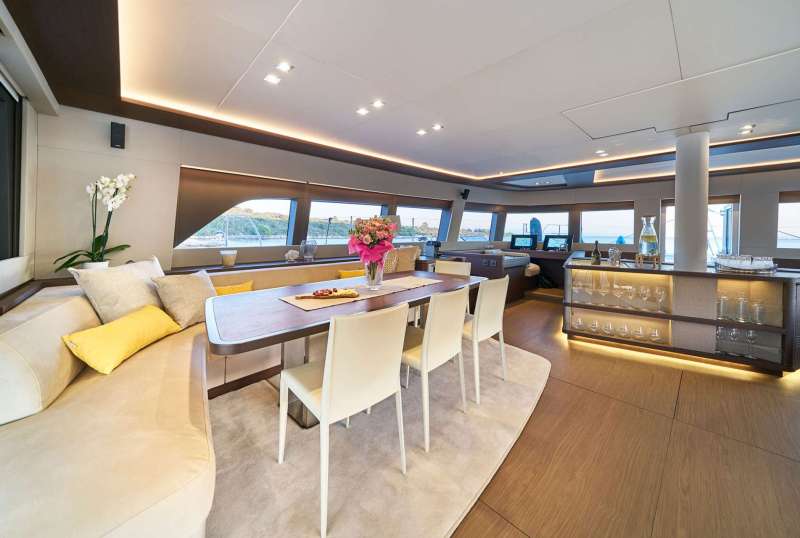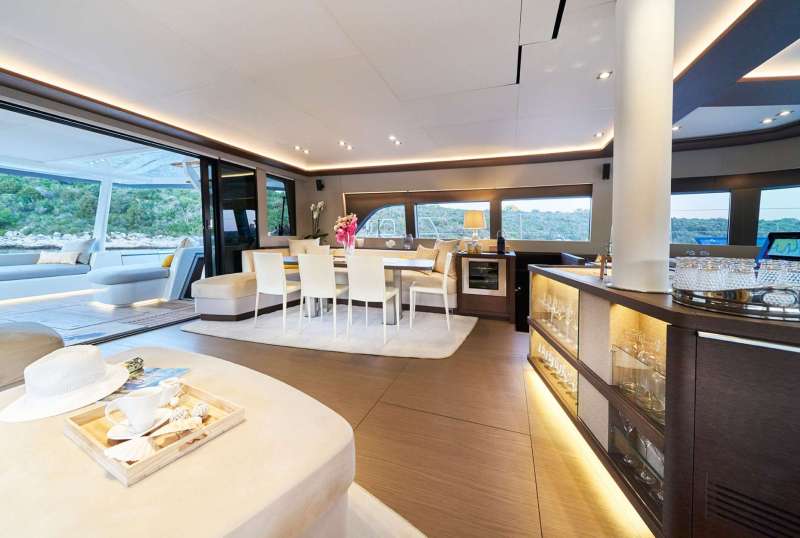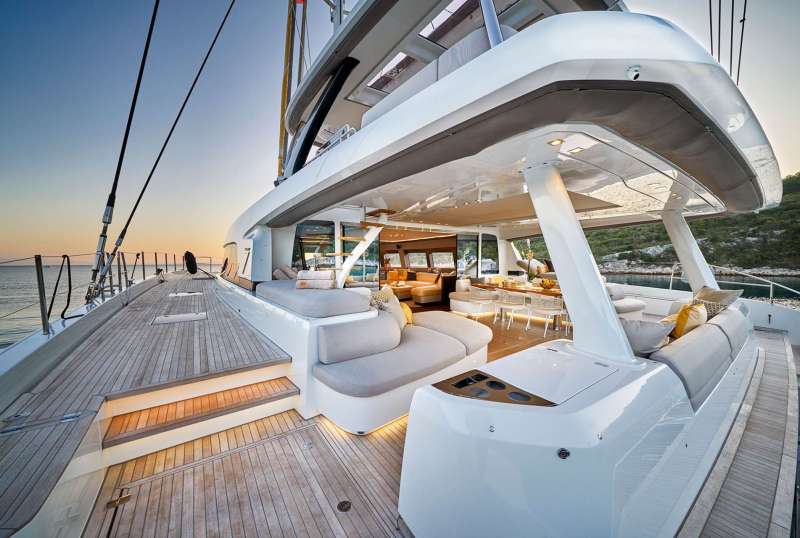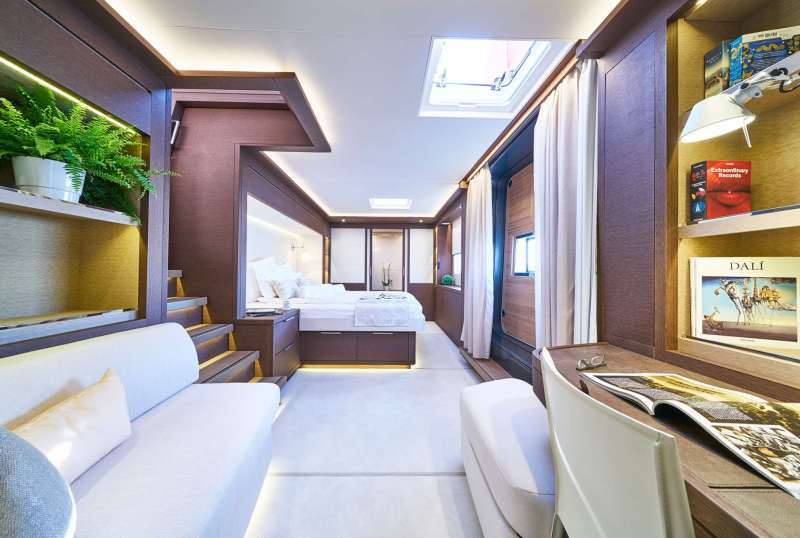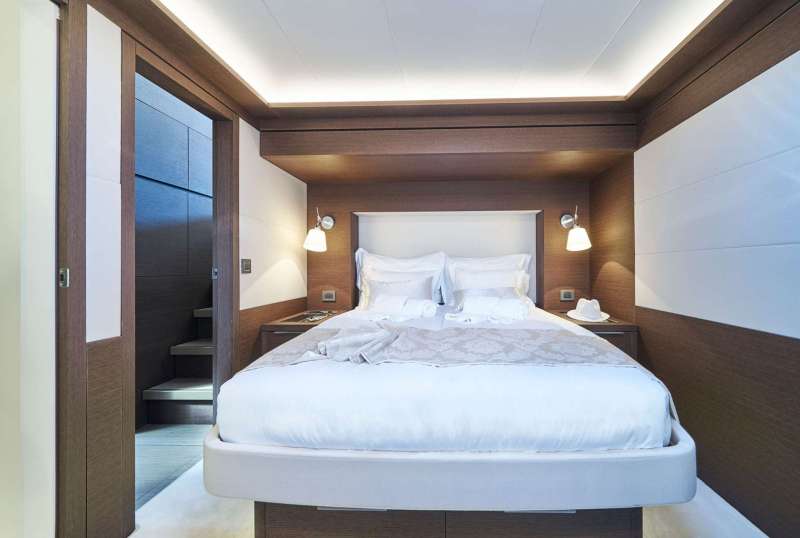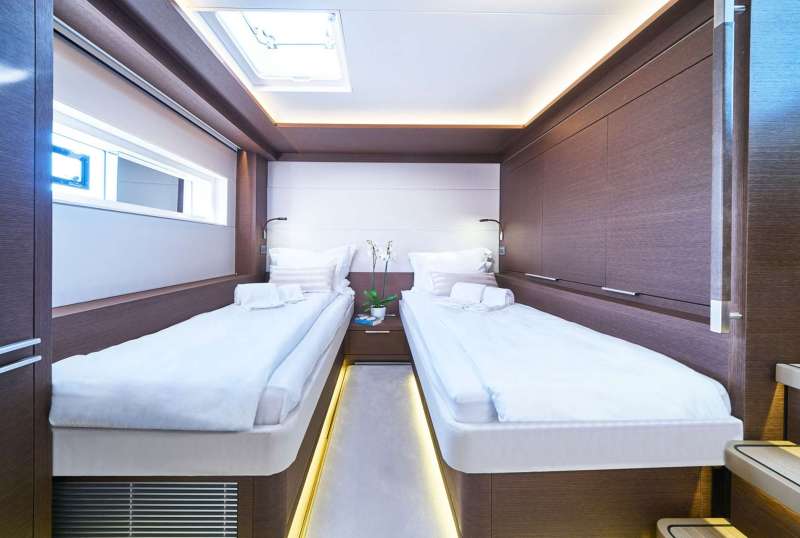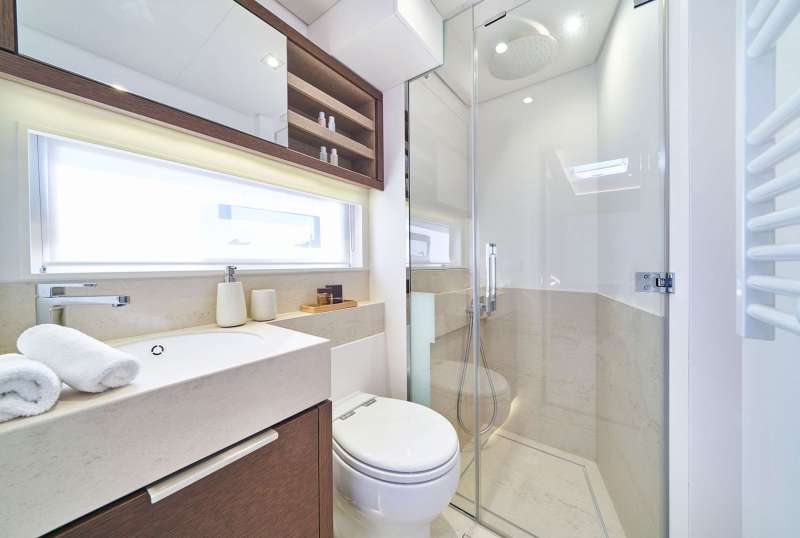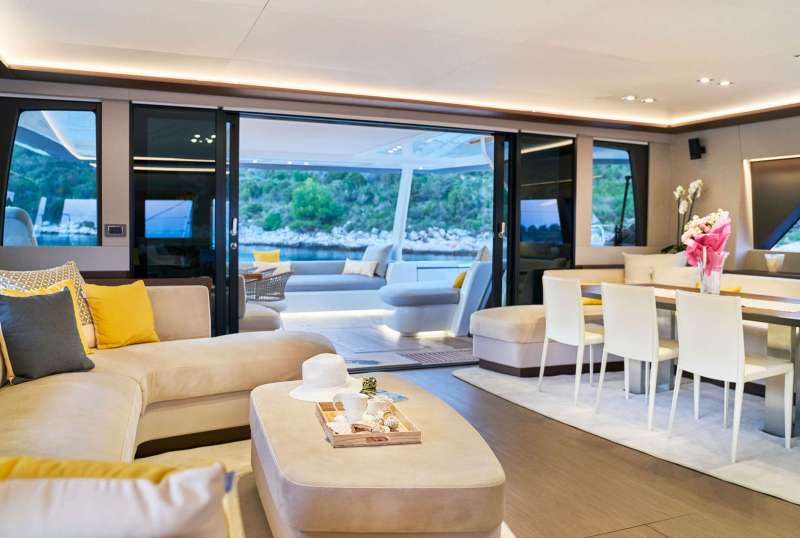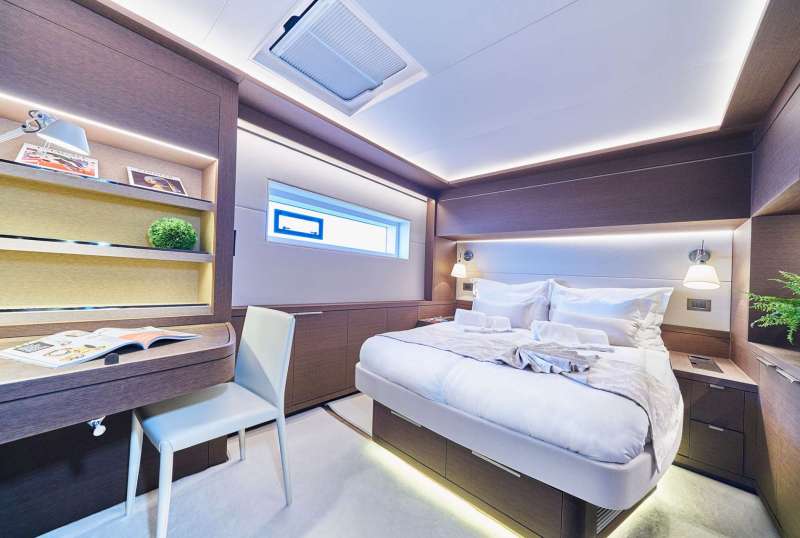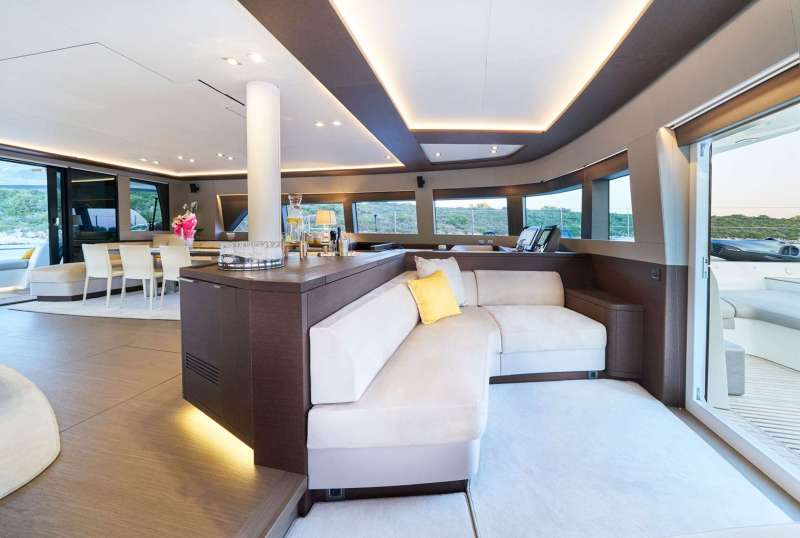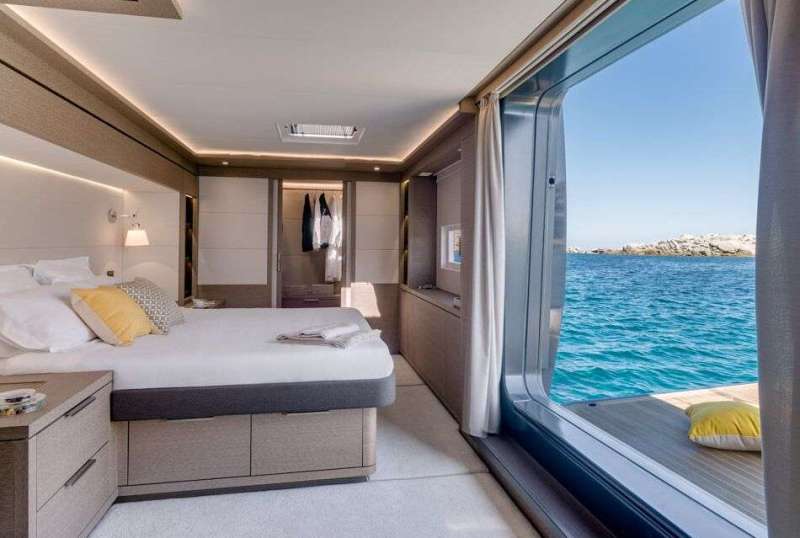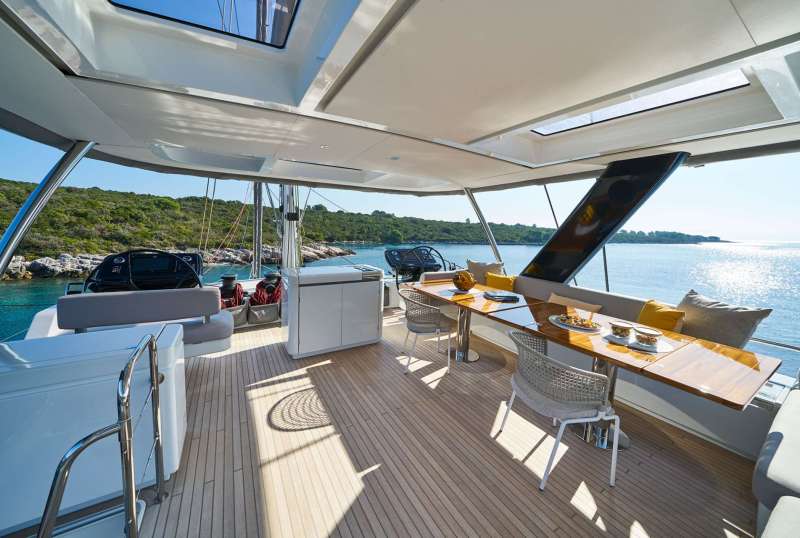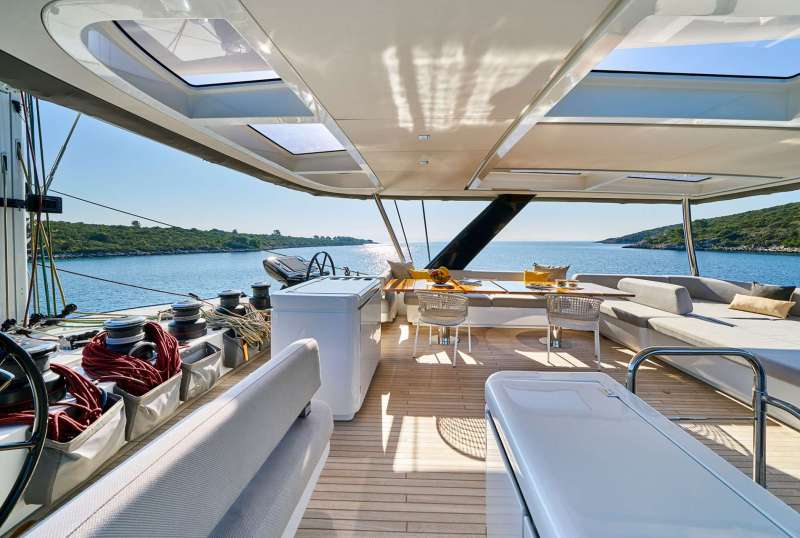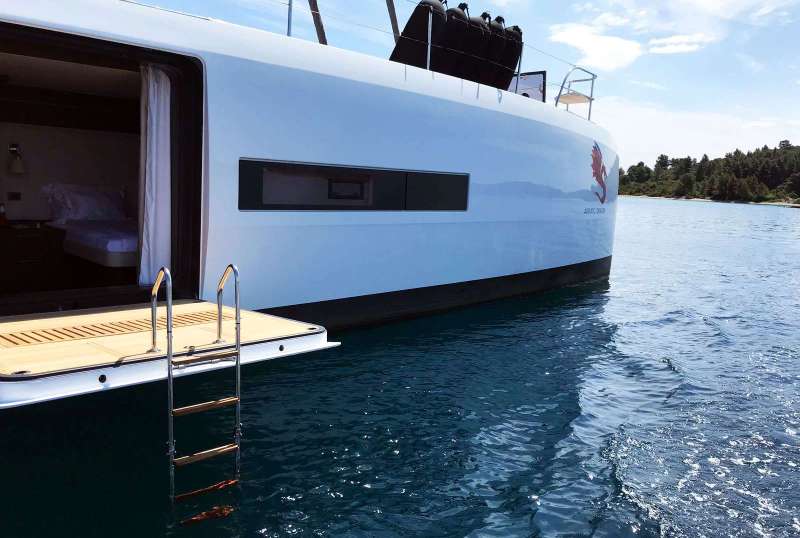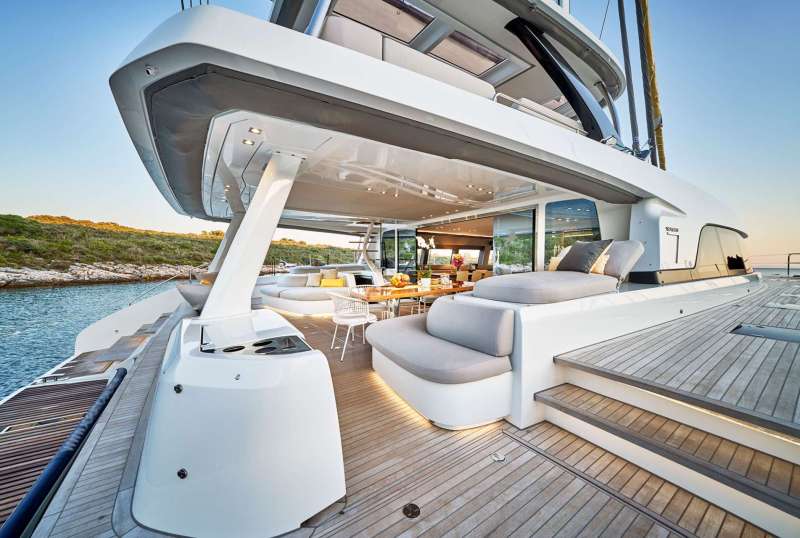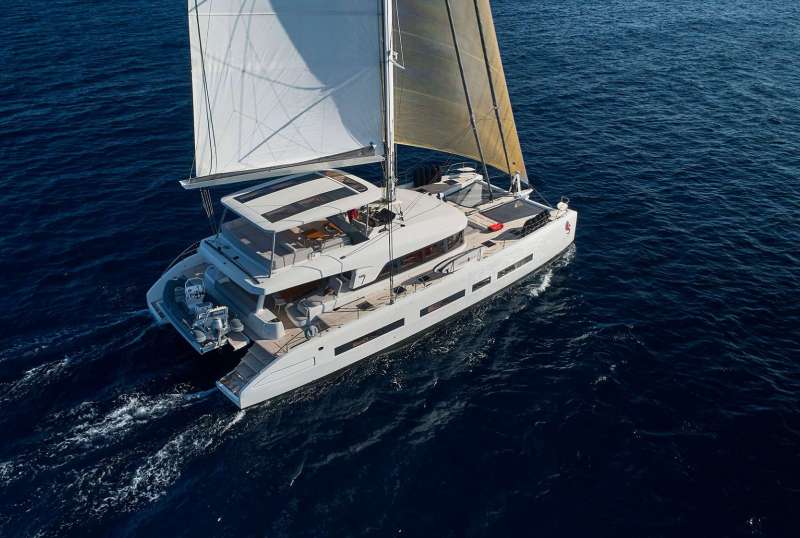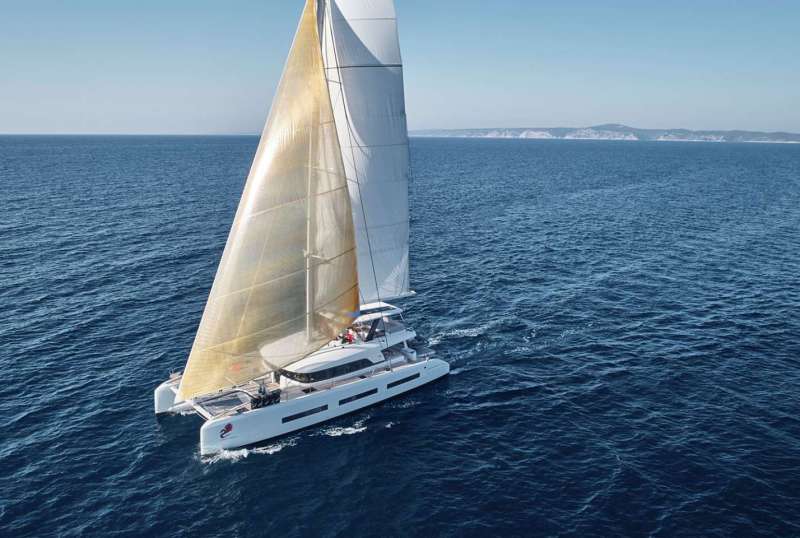 ADRIATIC DRAGON (Lagoon 77)
From €50,200/week
4 cabins
76 ft
Lagoon
8 guests
Built: 2019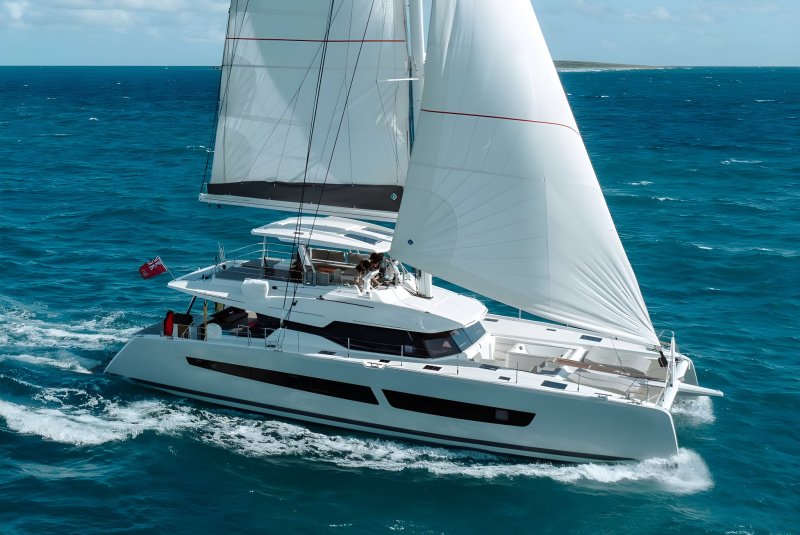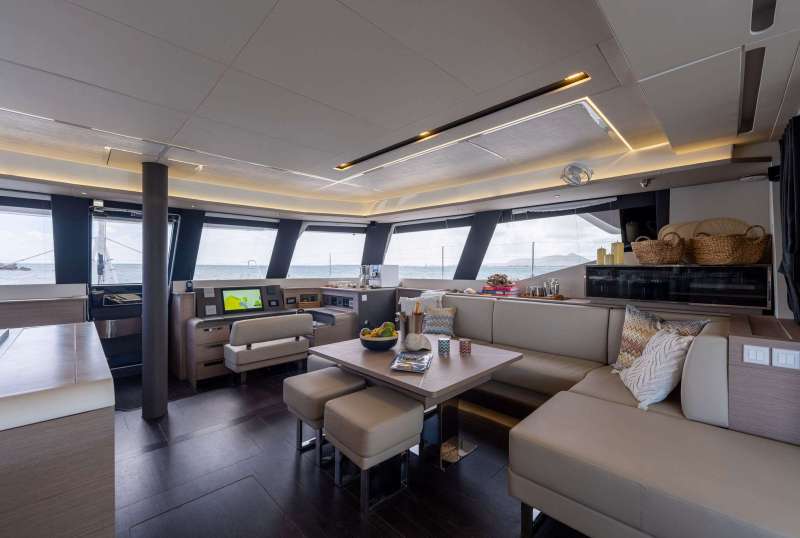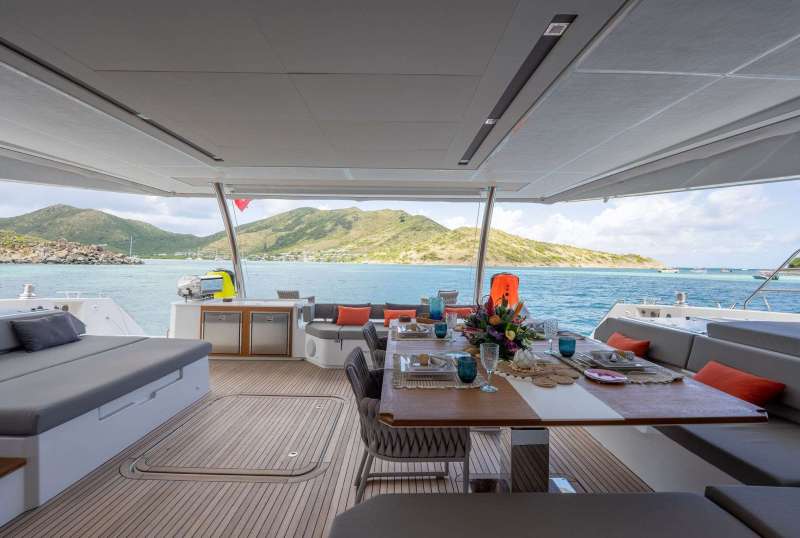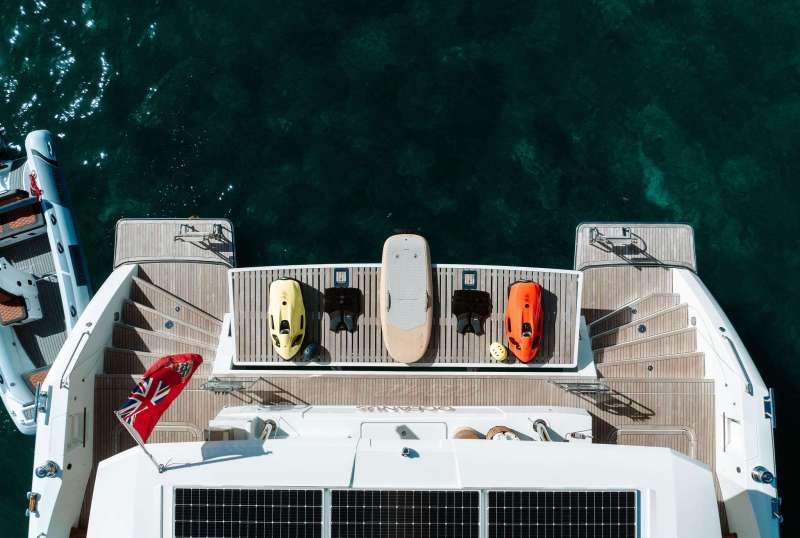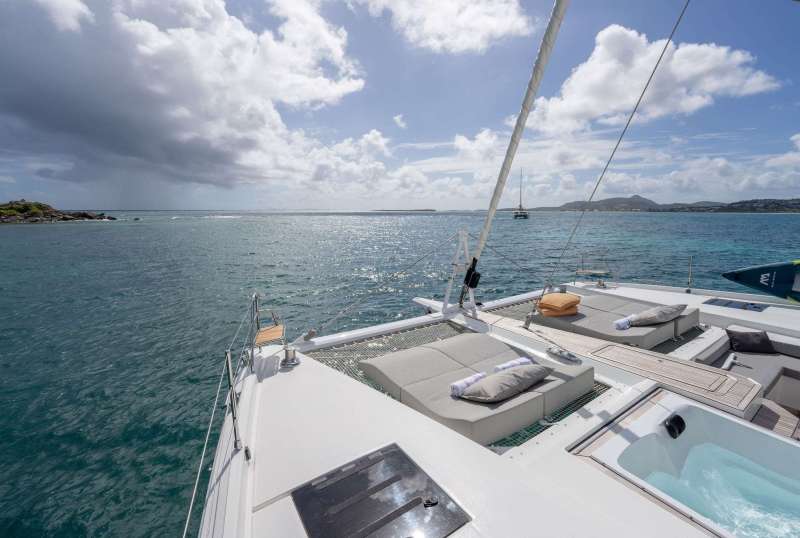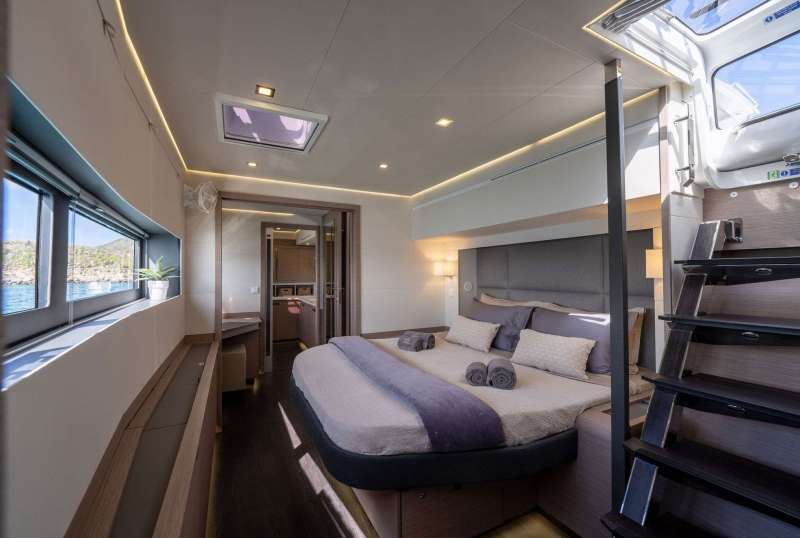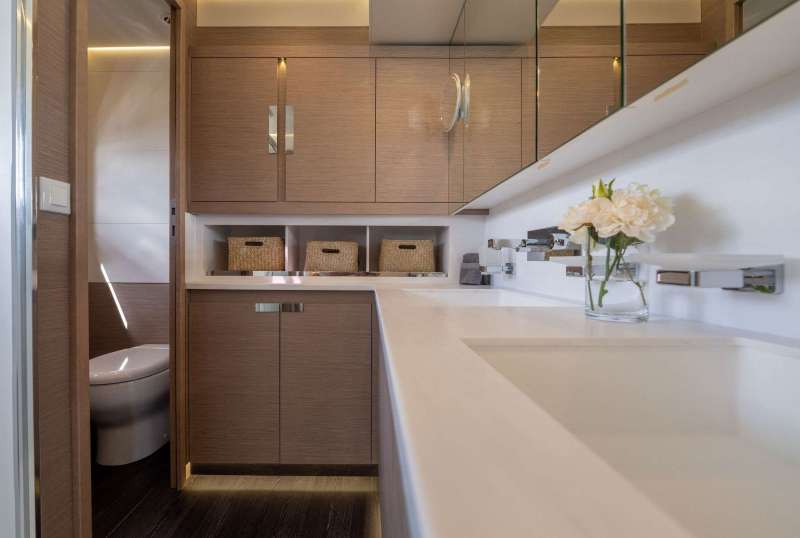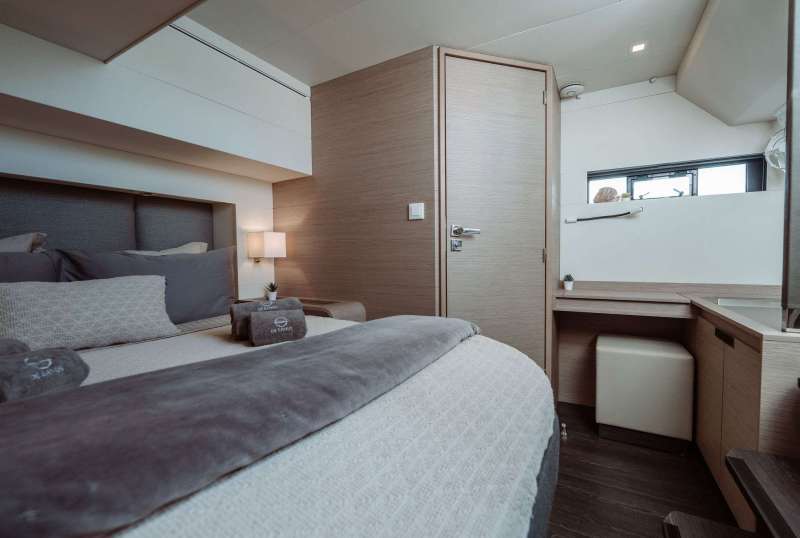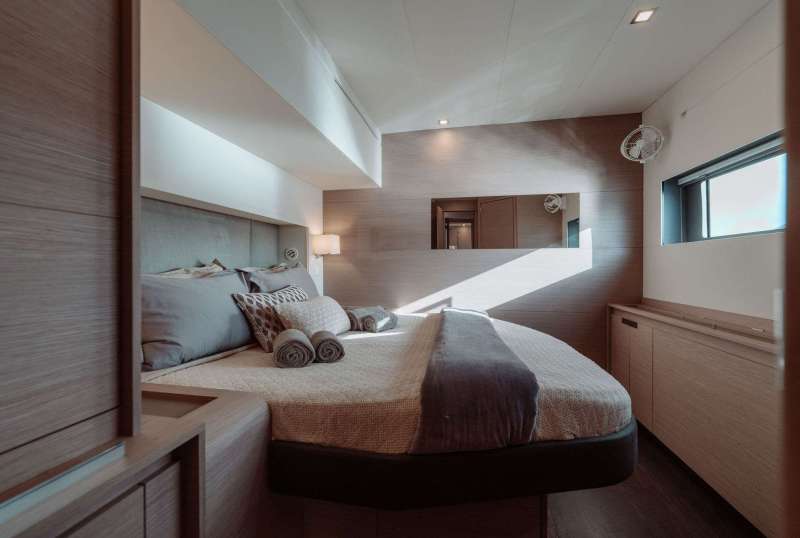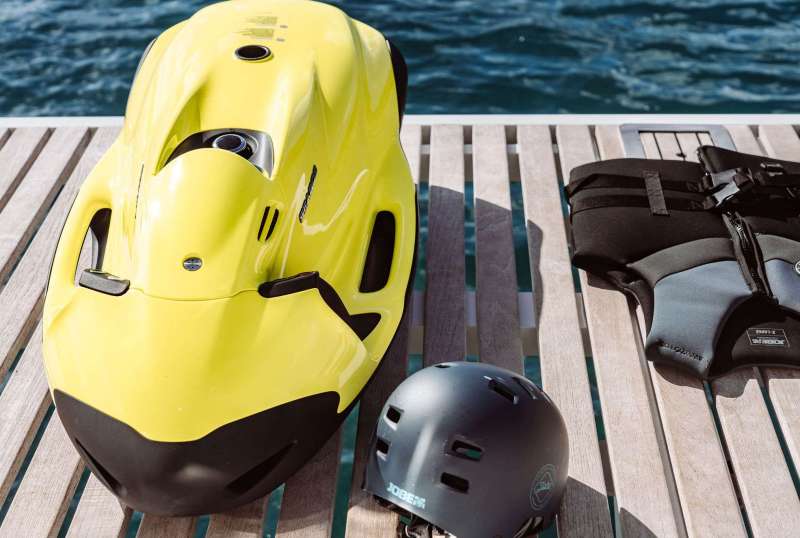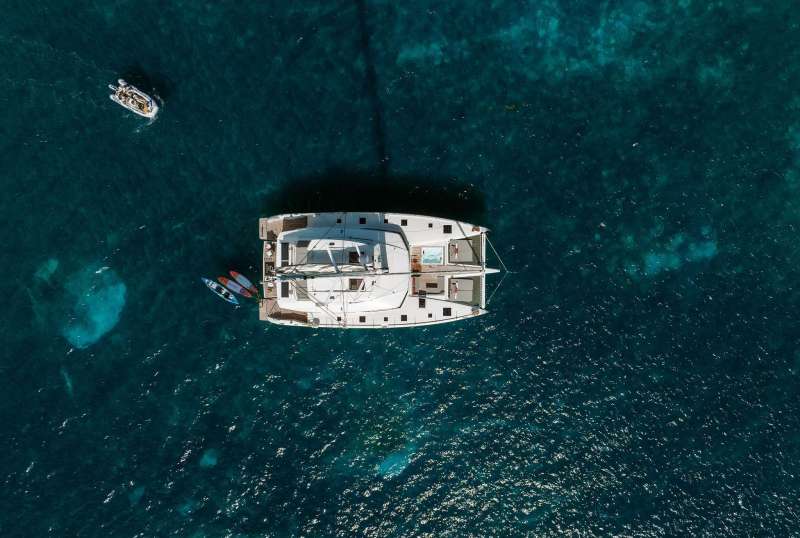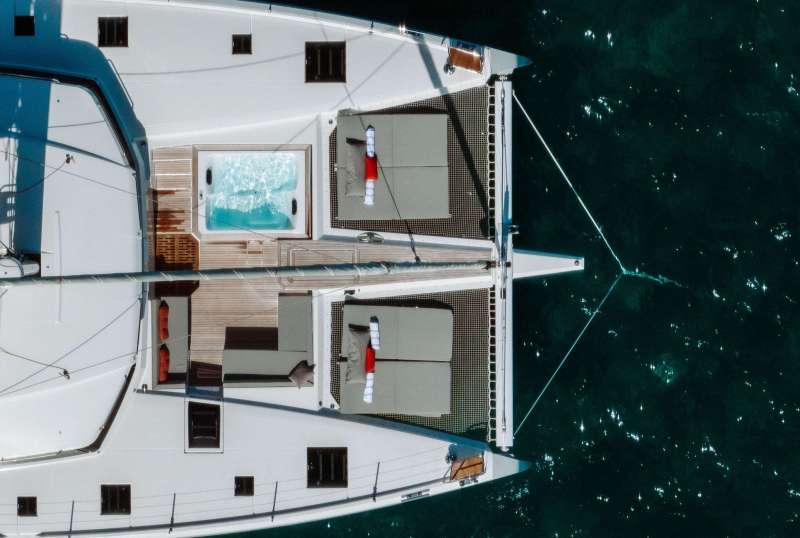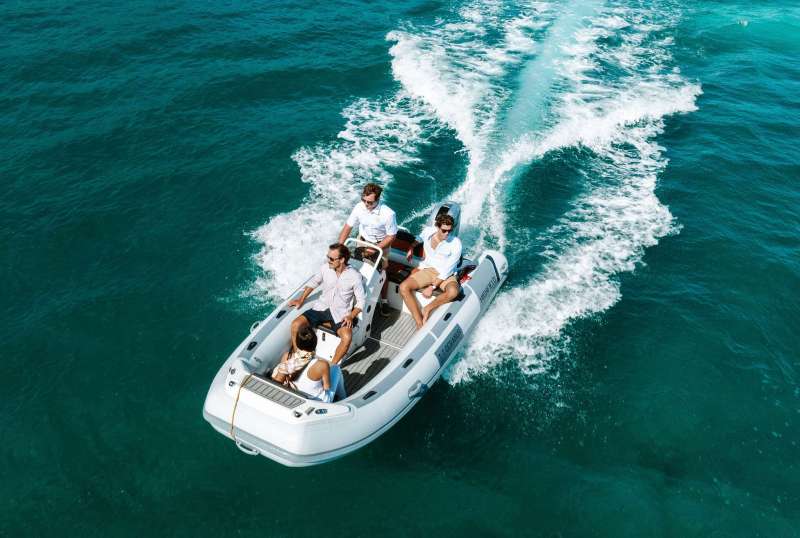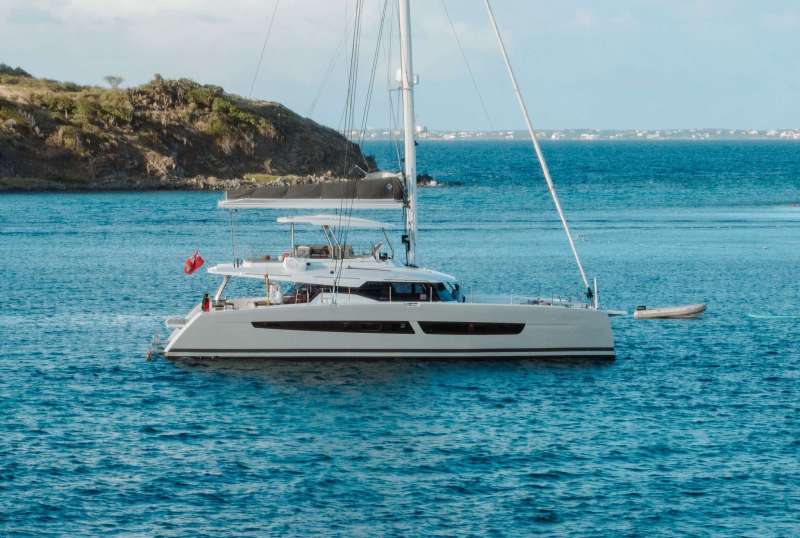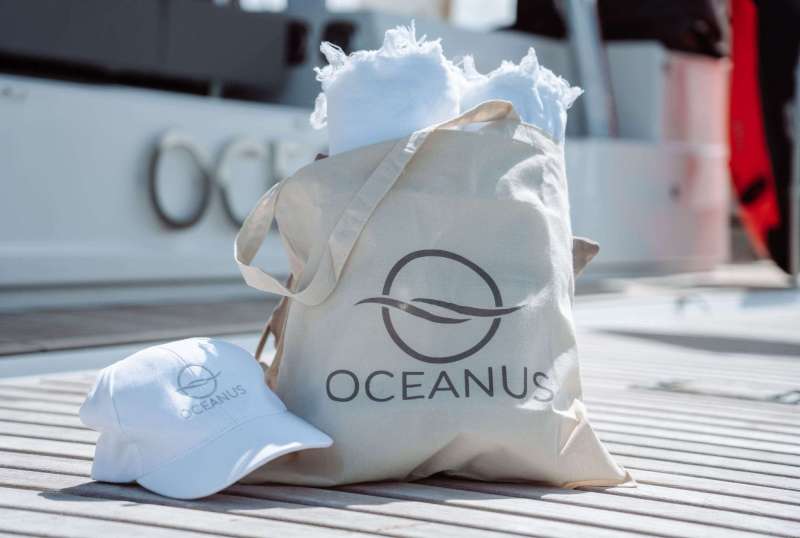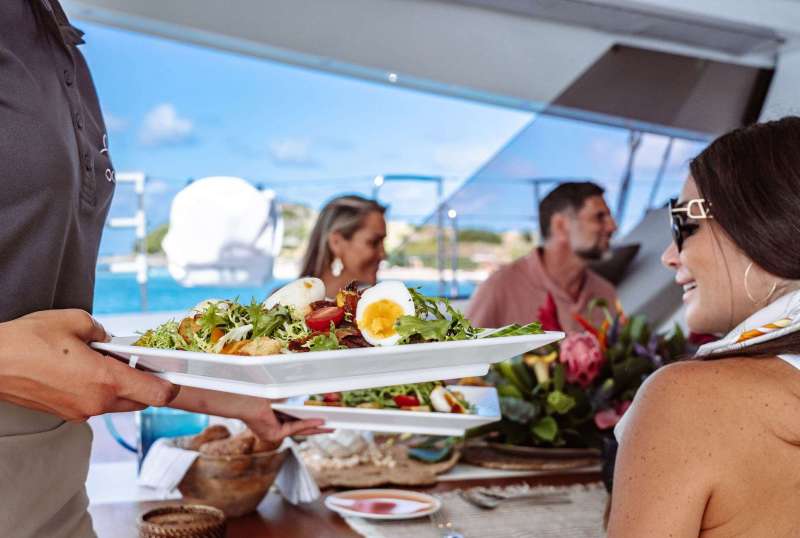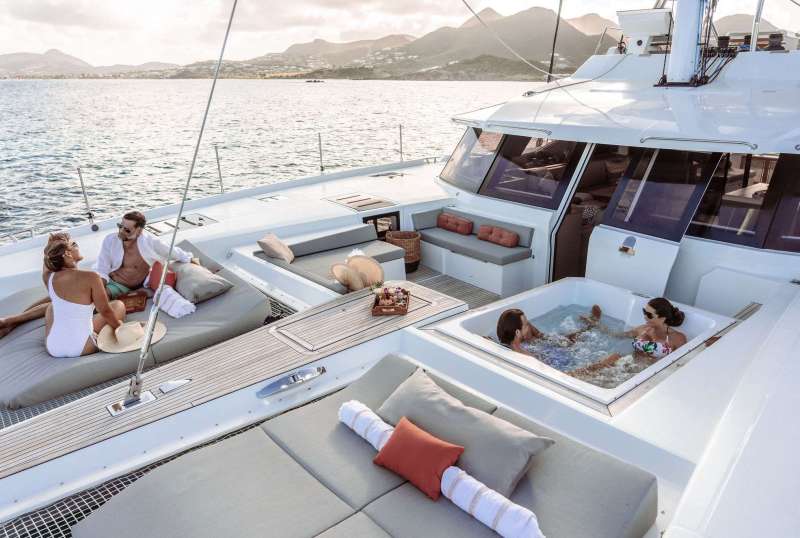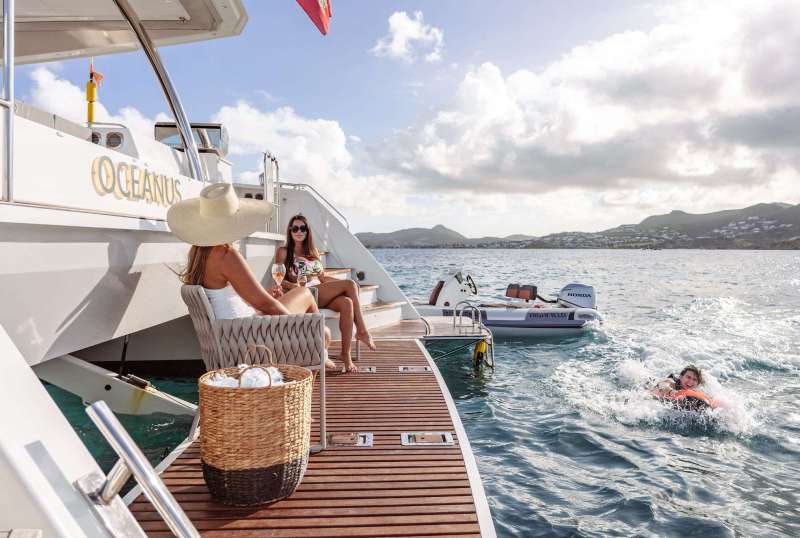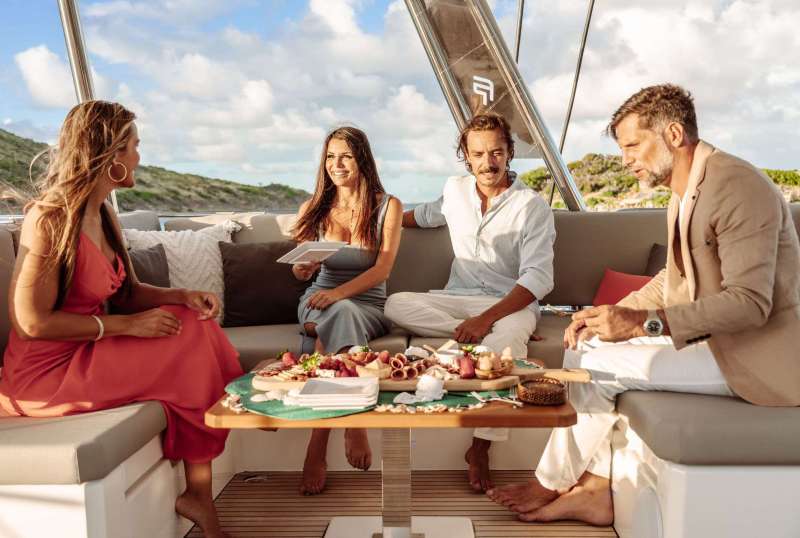 OCEANUS
From €47,000/week
4 cabins
70 ft
Fountaine Pajot
8 guests
Built: 2022
22 US Gall/Hr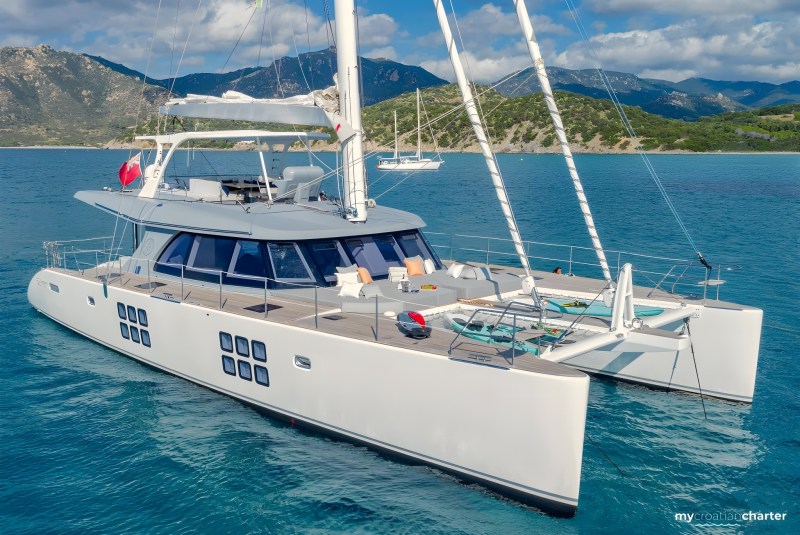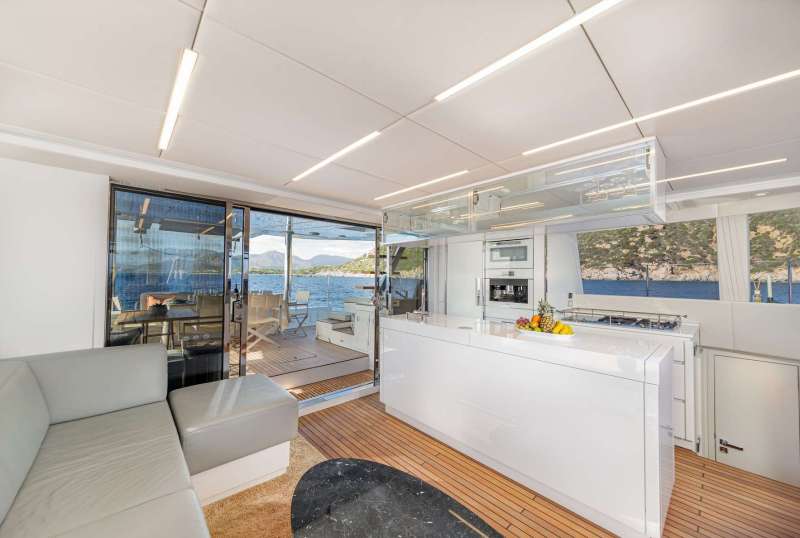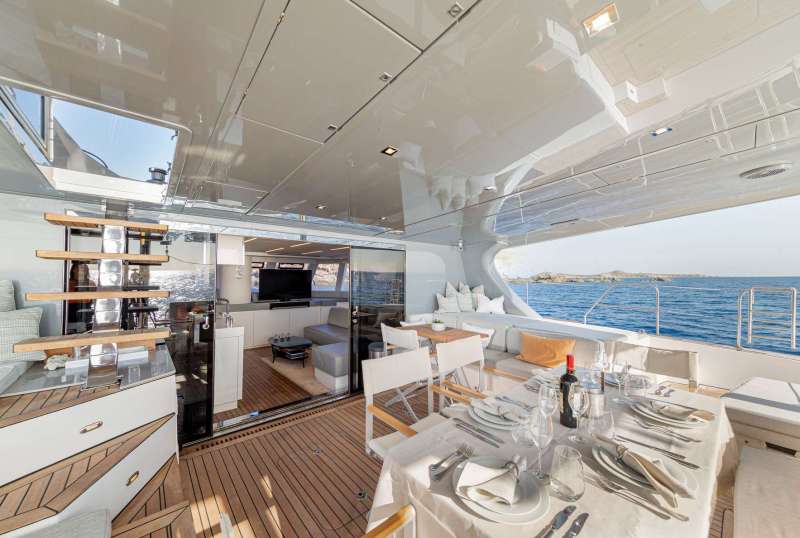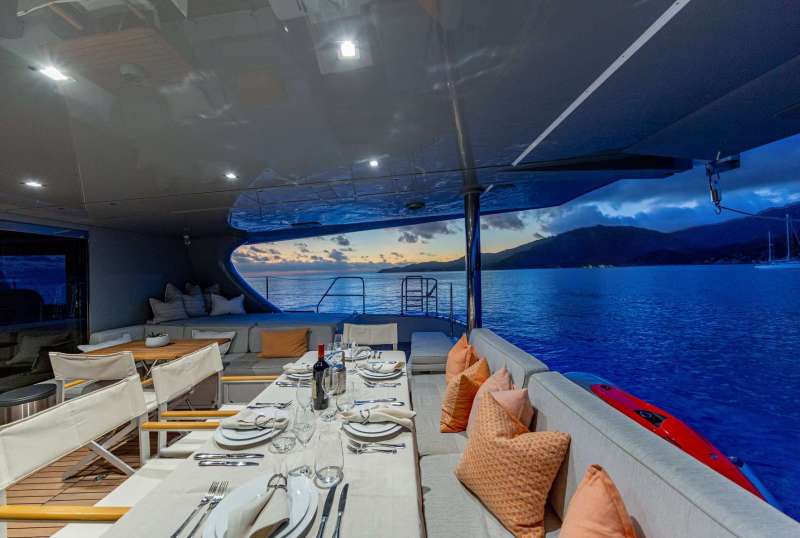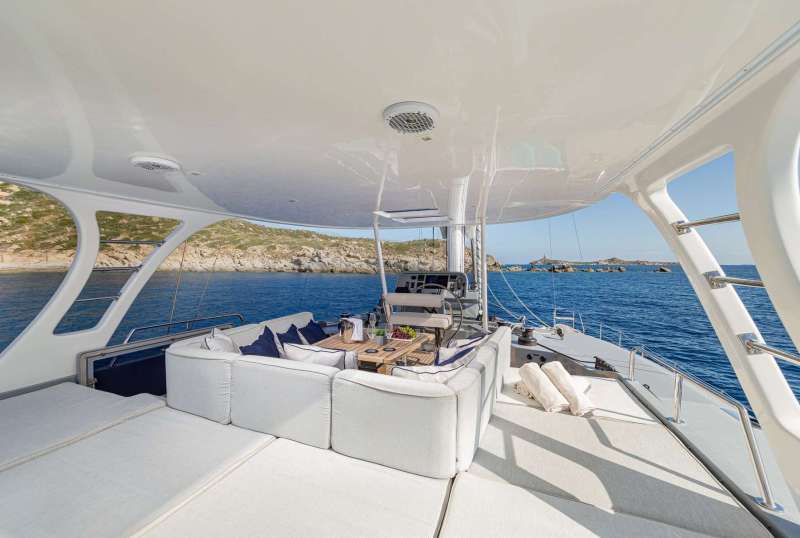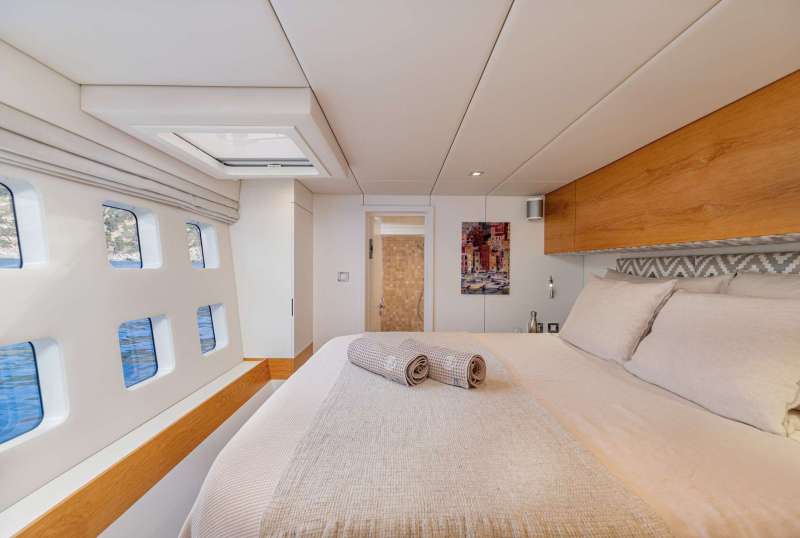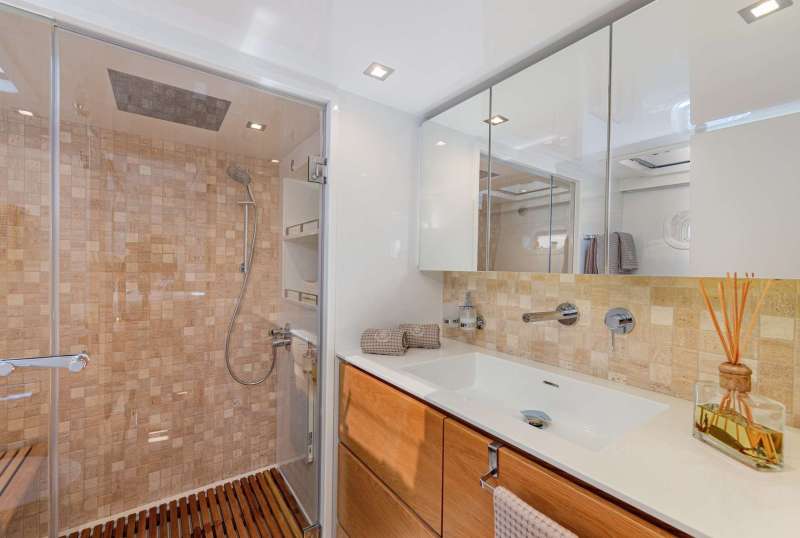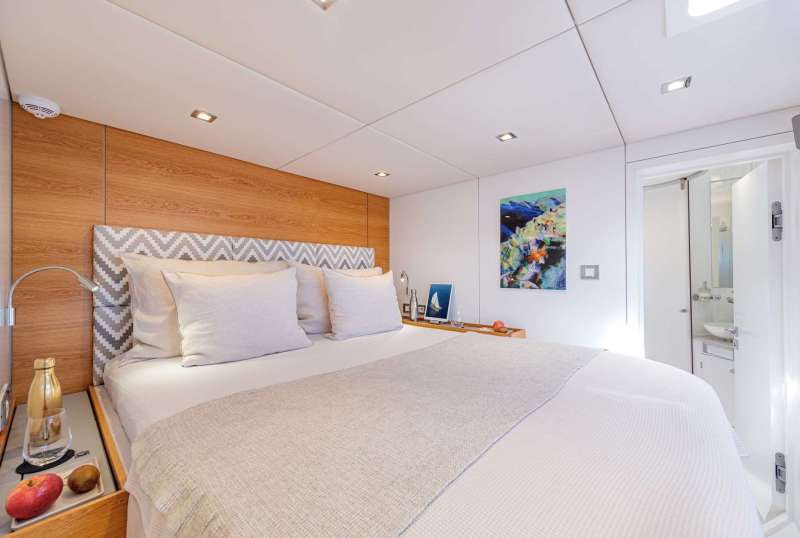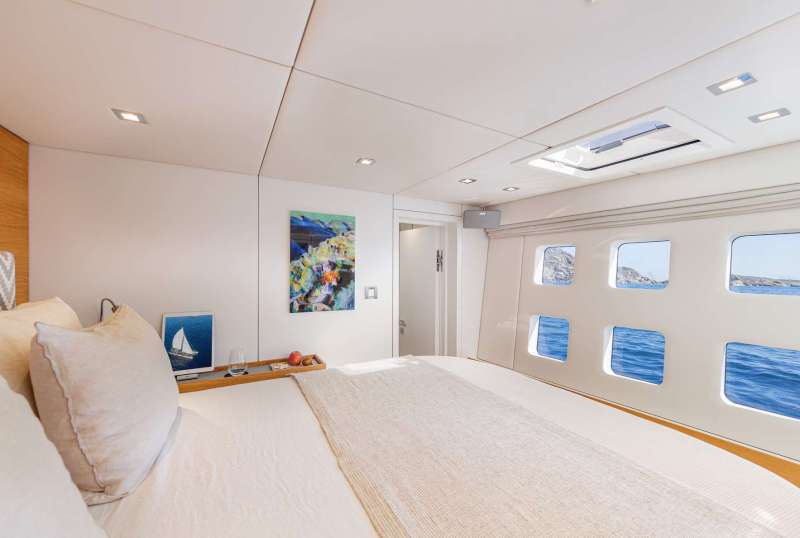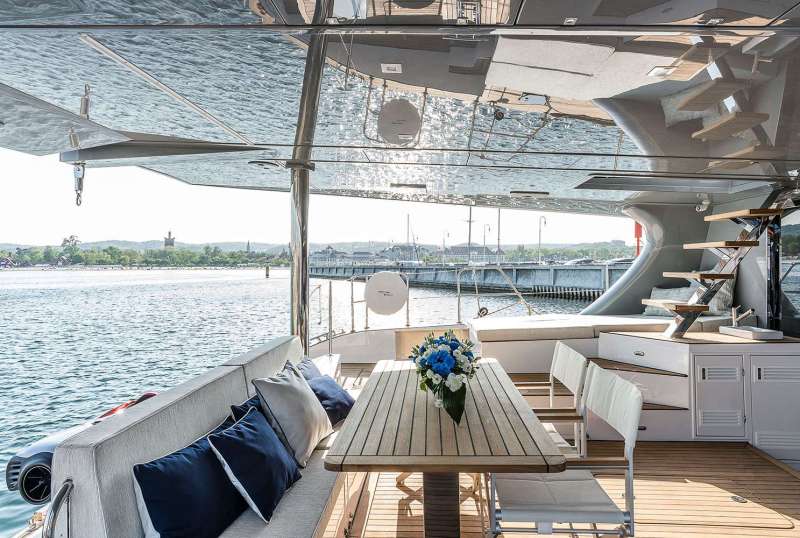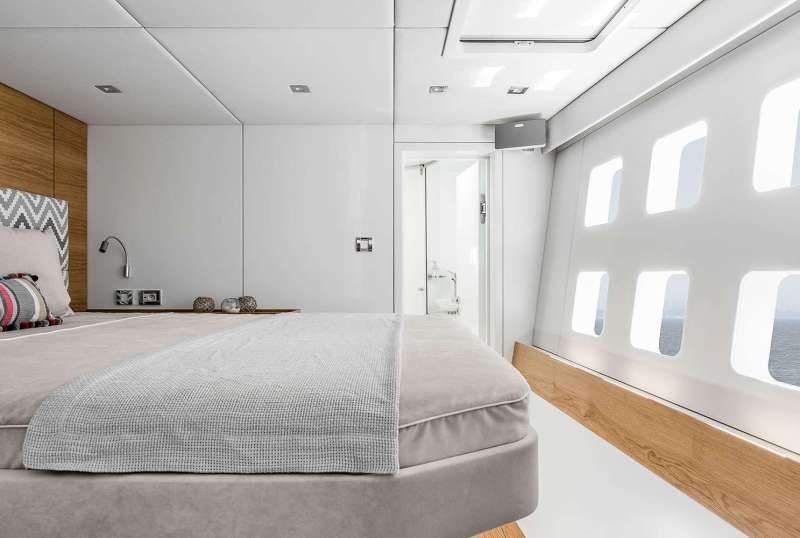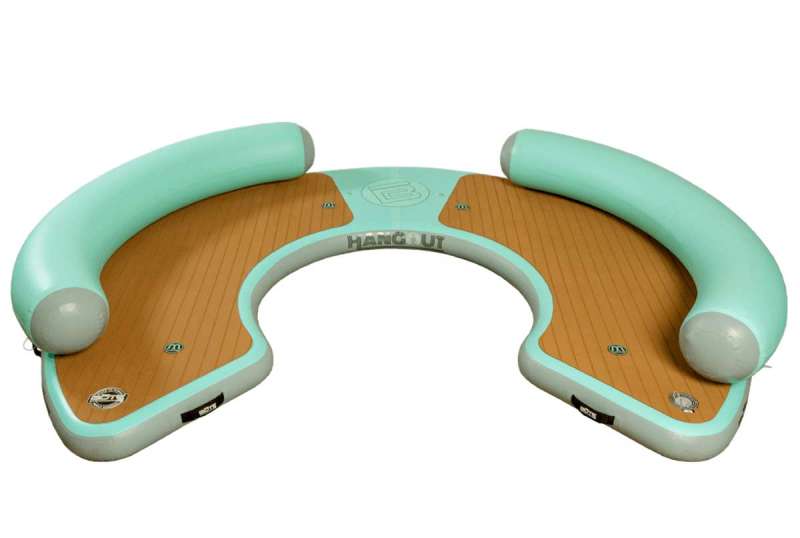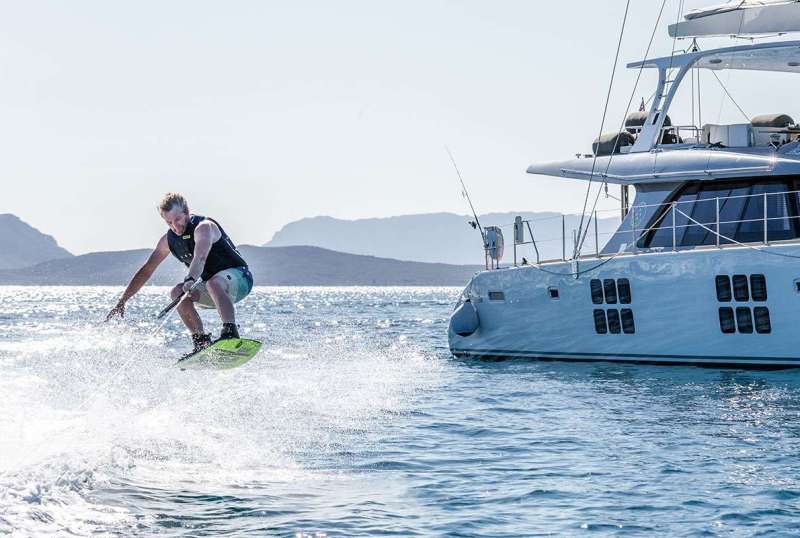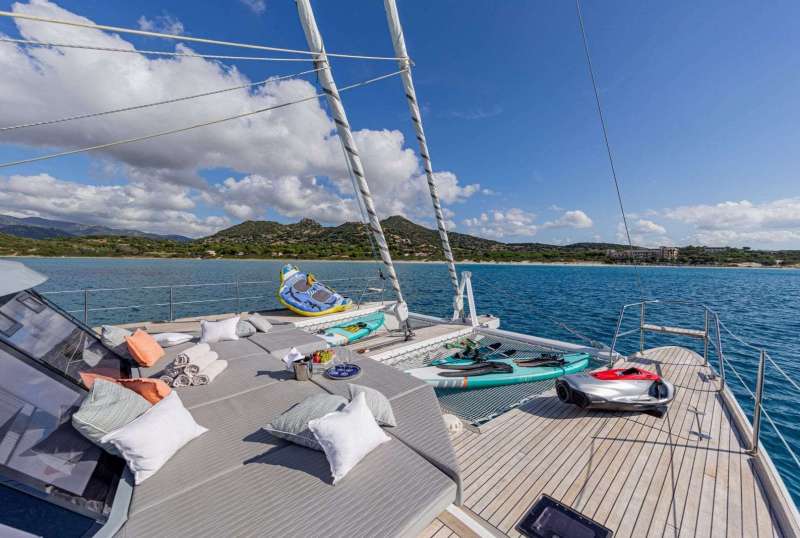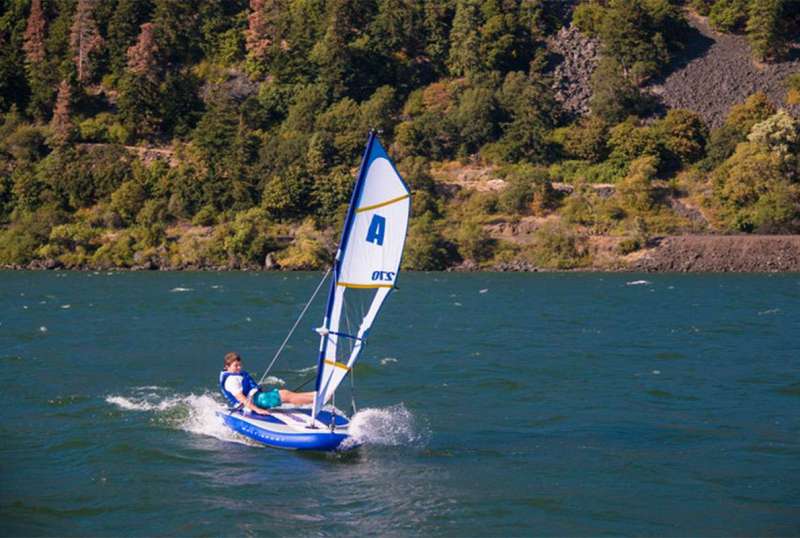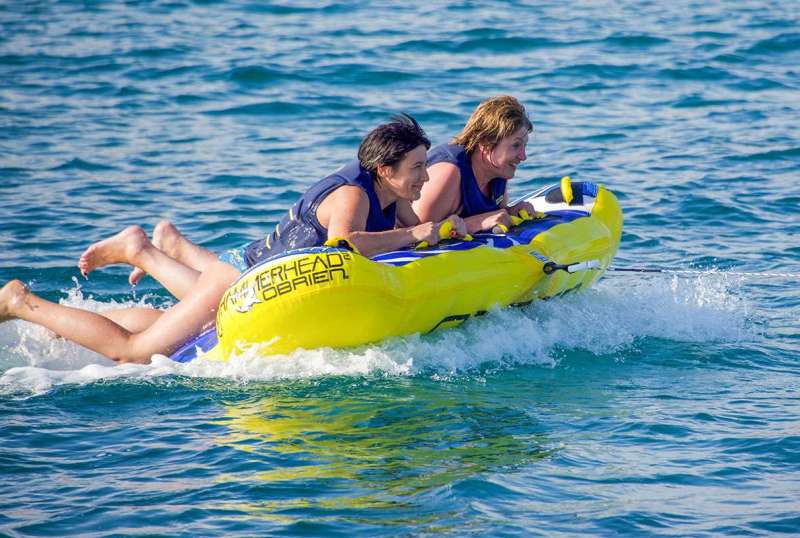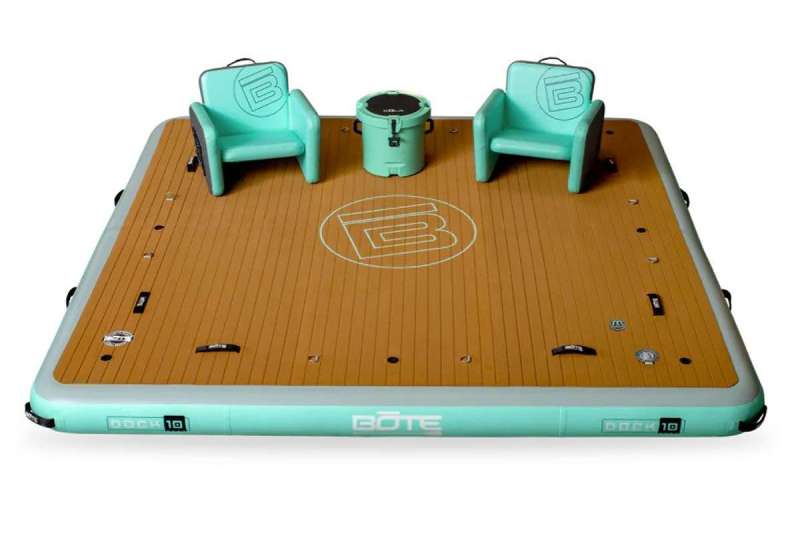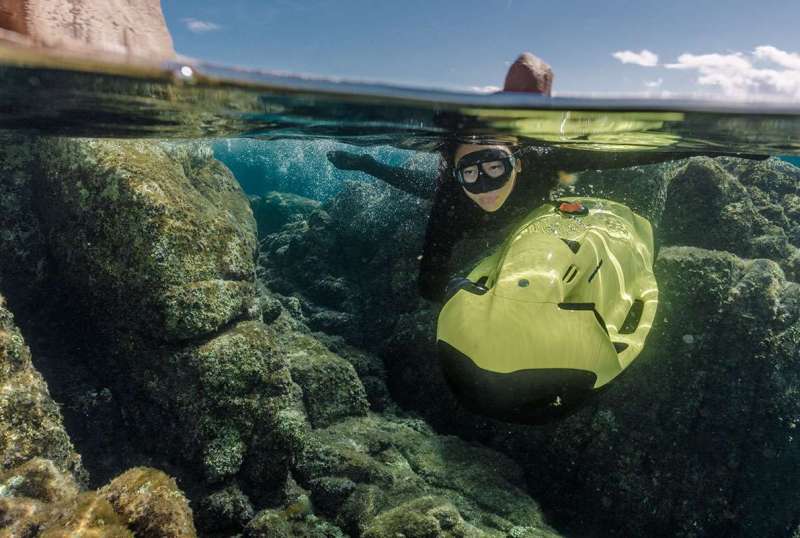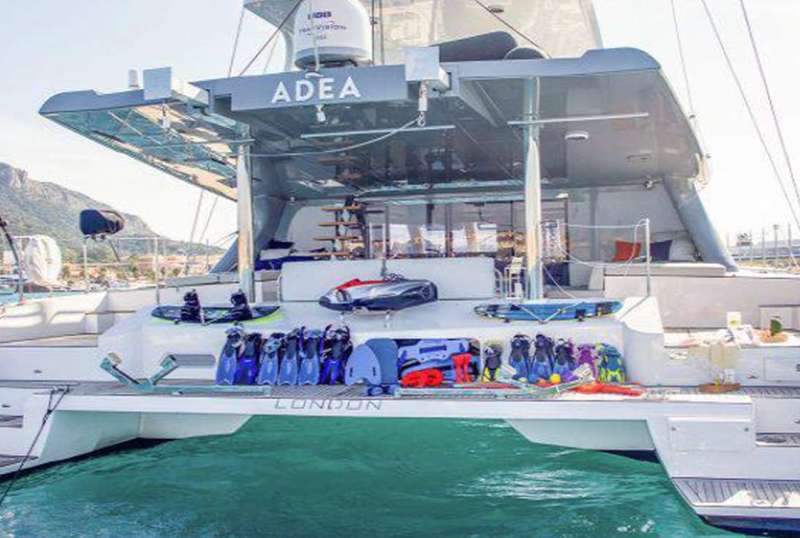 Adea
From €36,000/week
4 cabins
62 ft
Sunreef Yachts
8 guests
Built: 2017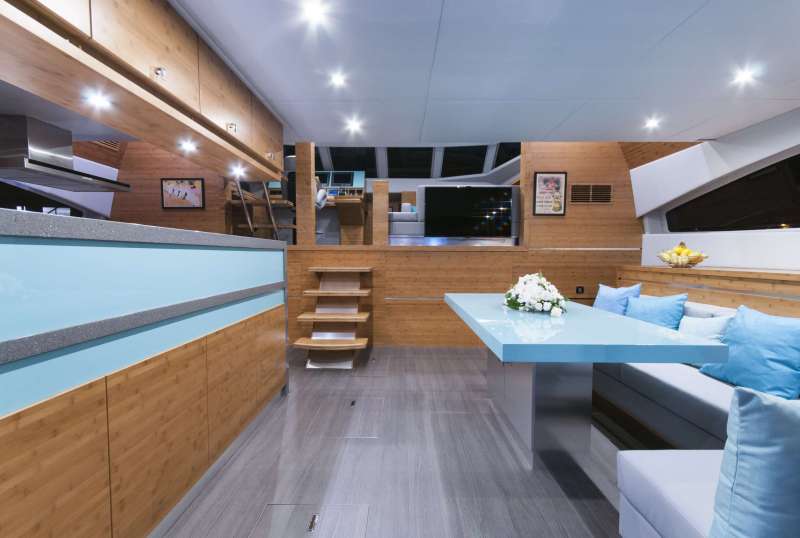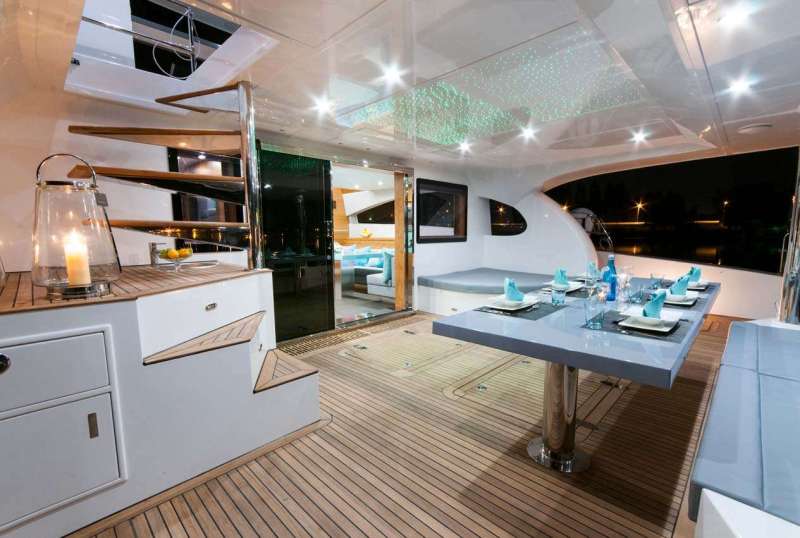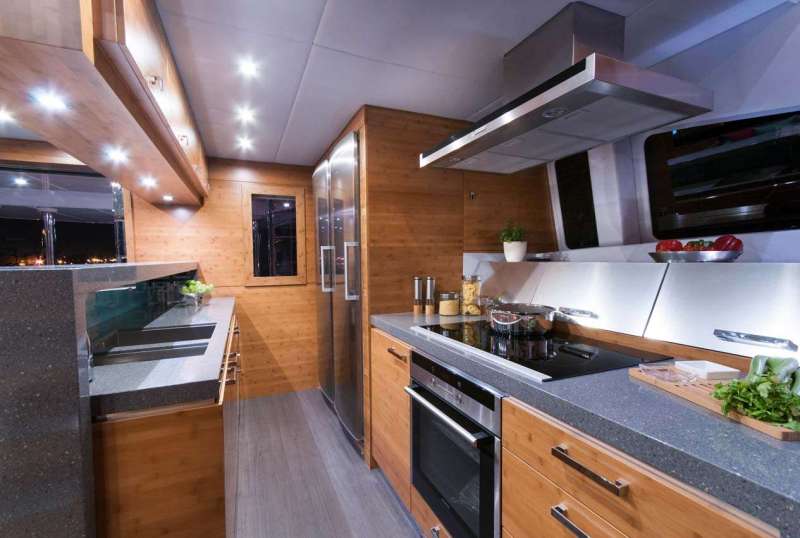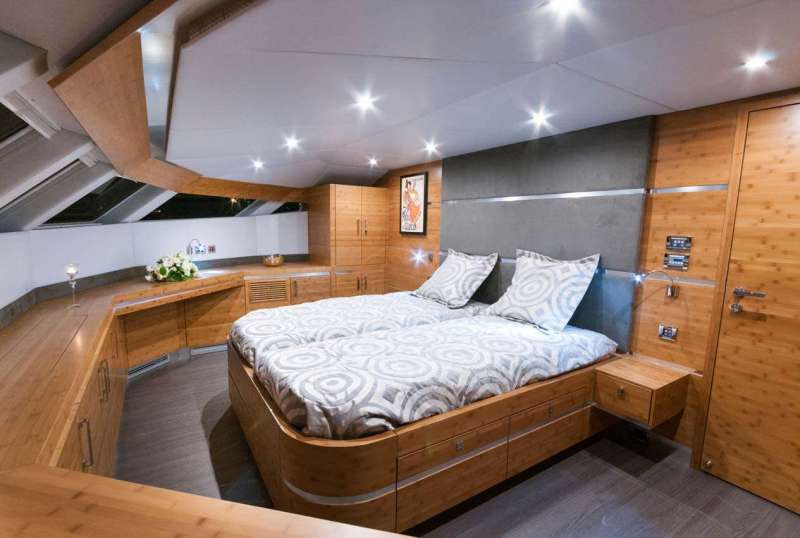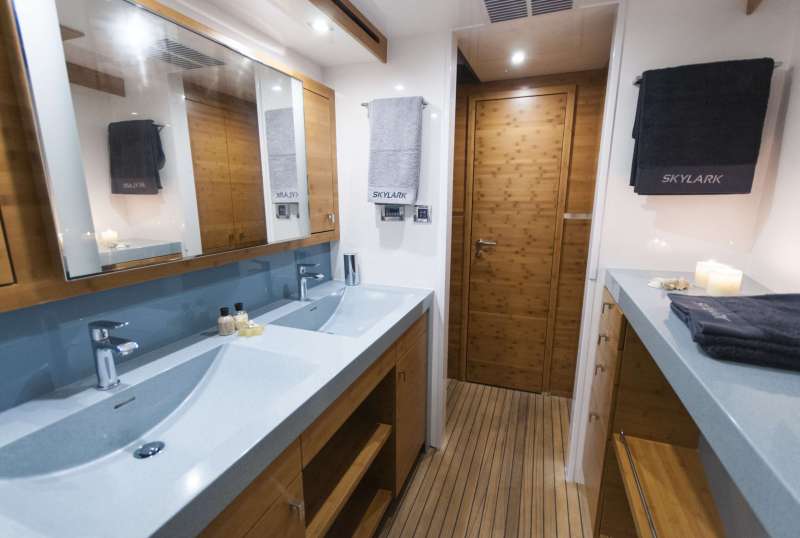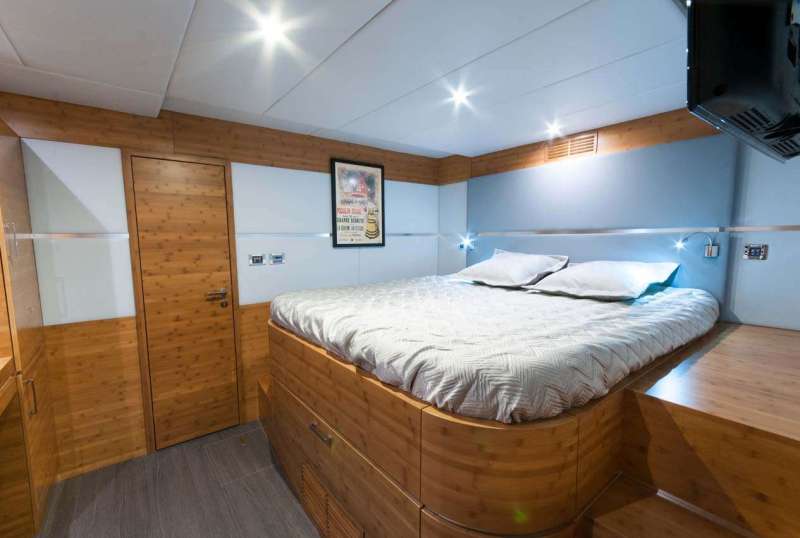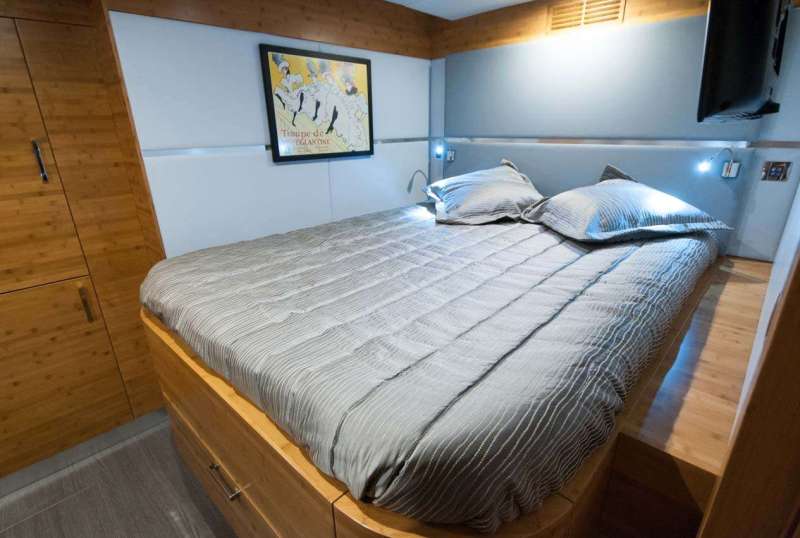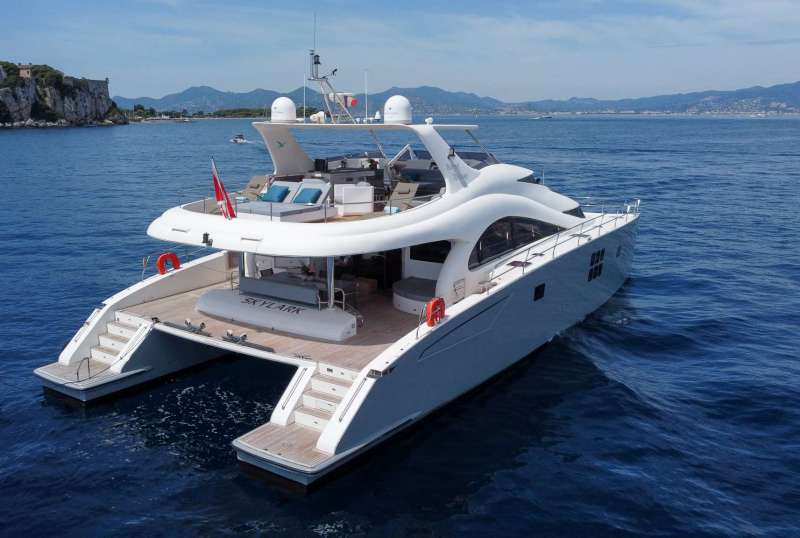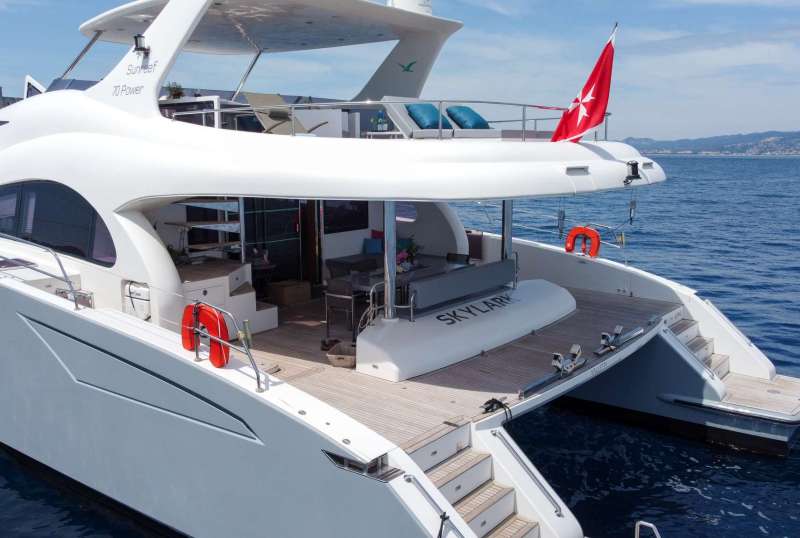 SKYLARK
From €35,000/week
4 cabins
70 ft
Sunreef Yachts
8 guests
Built: 2012
45 Litres/Hr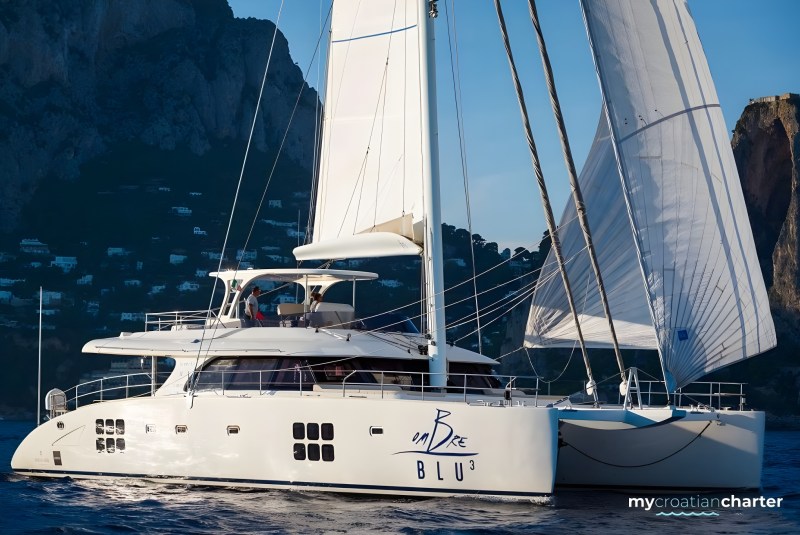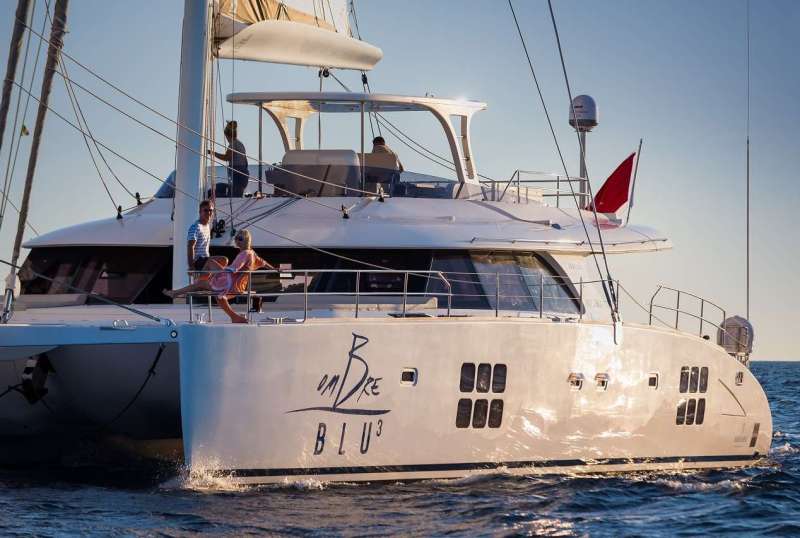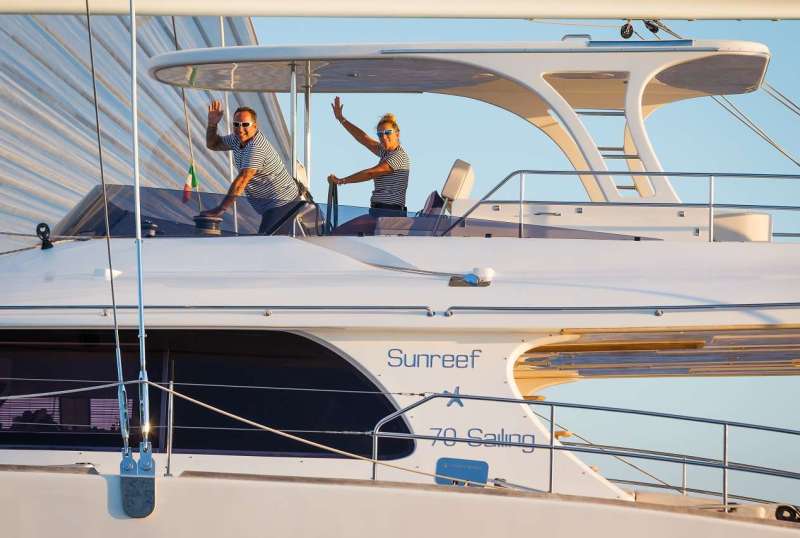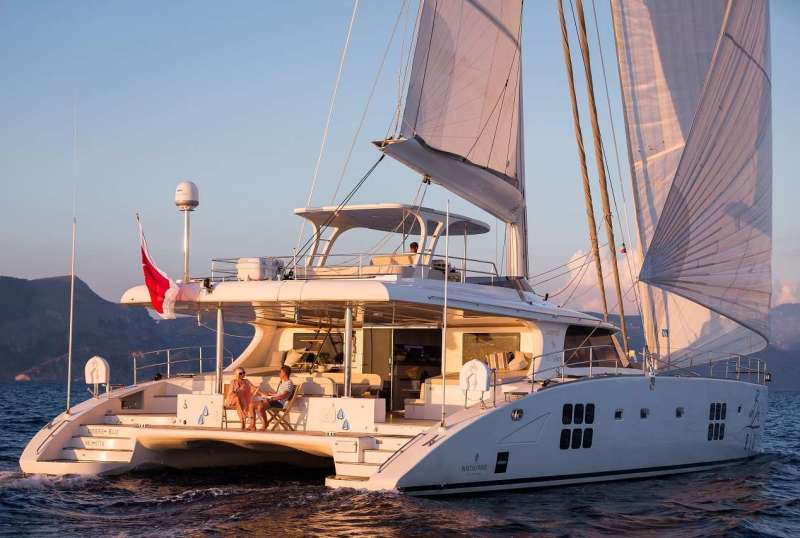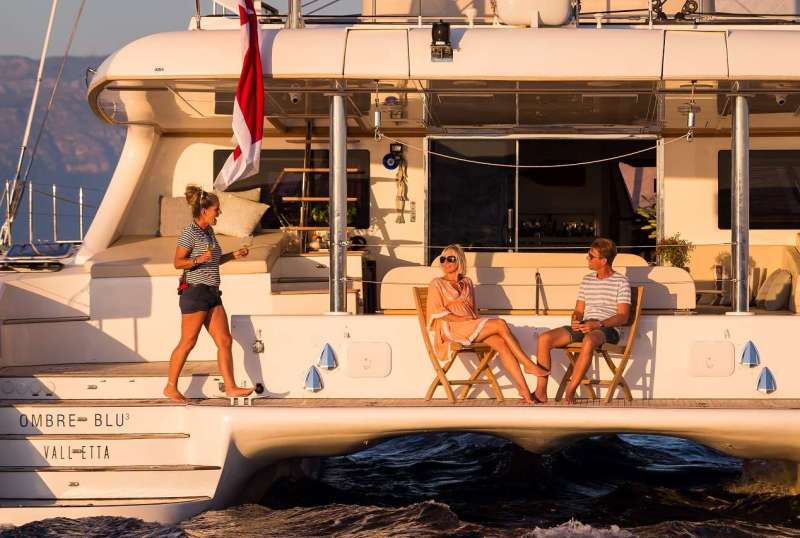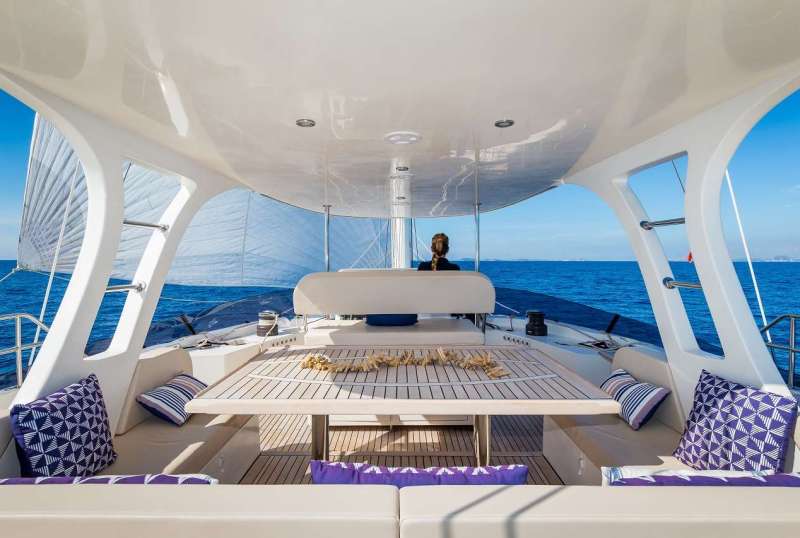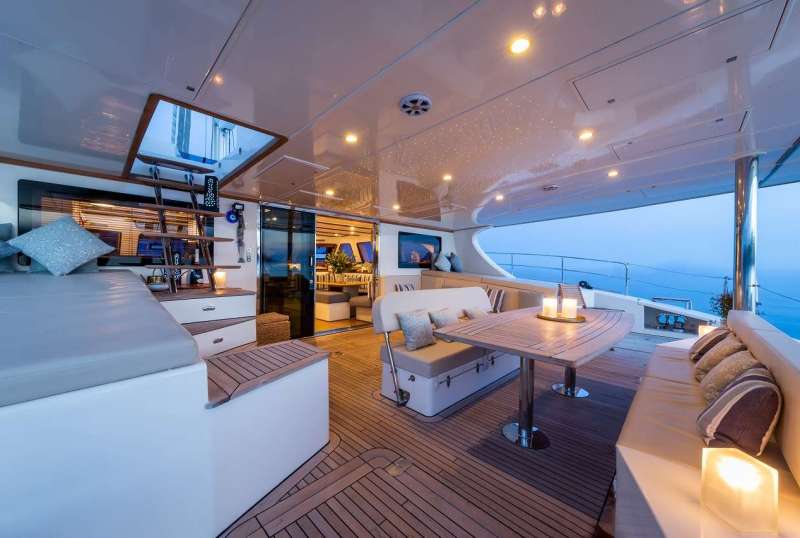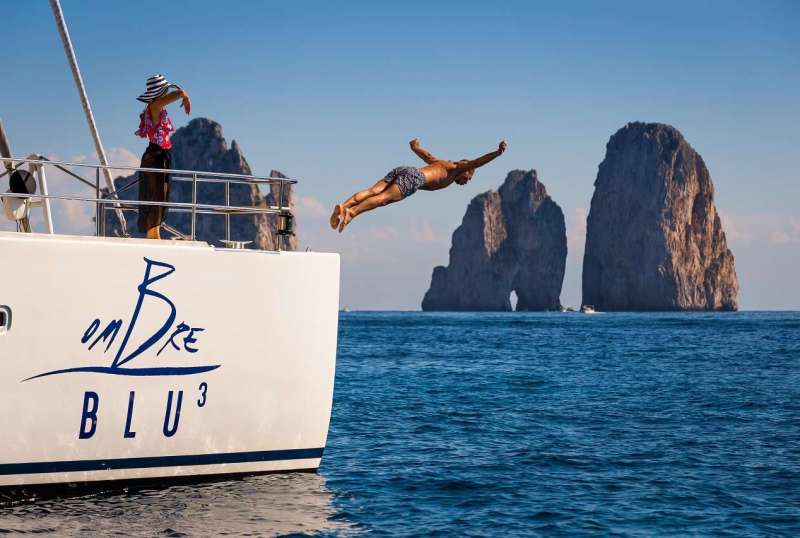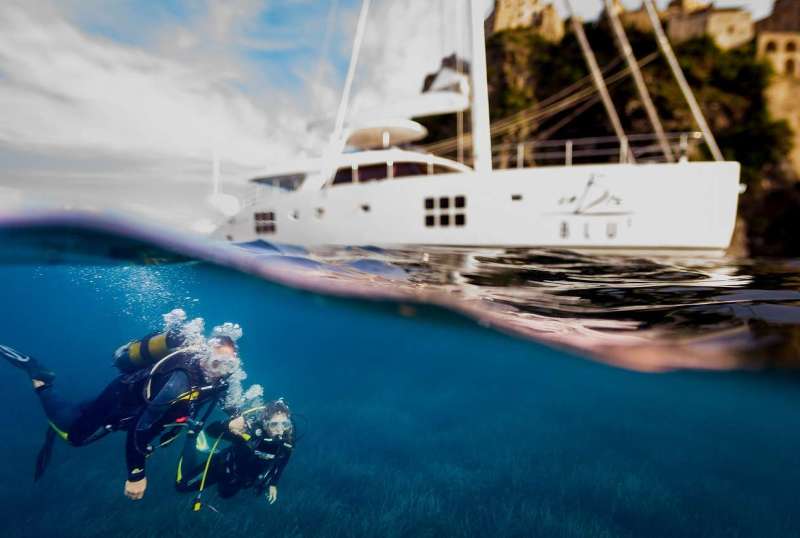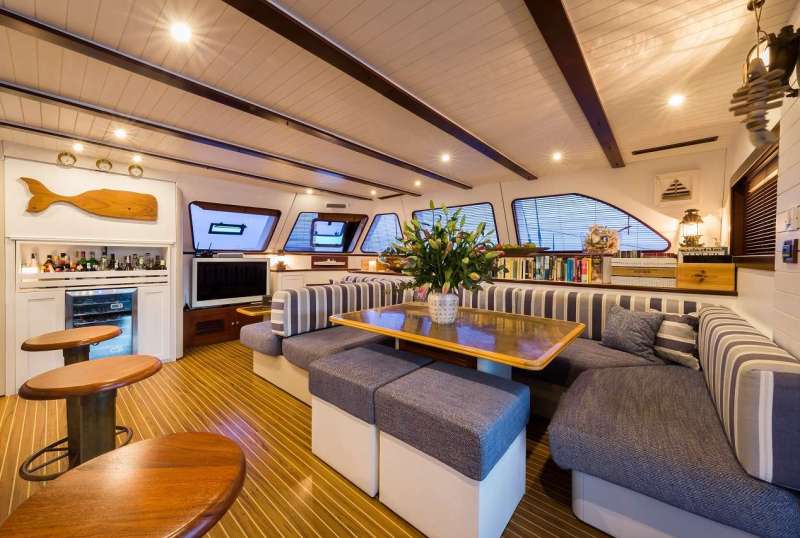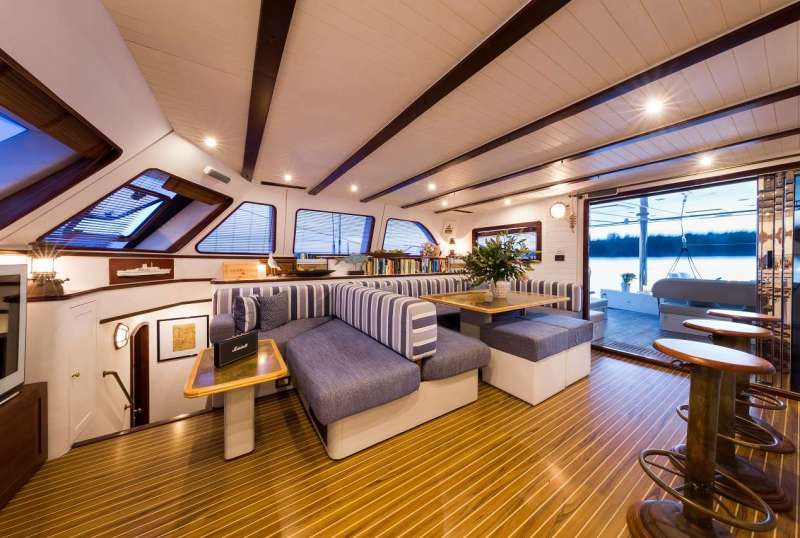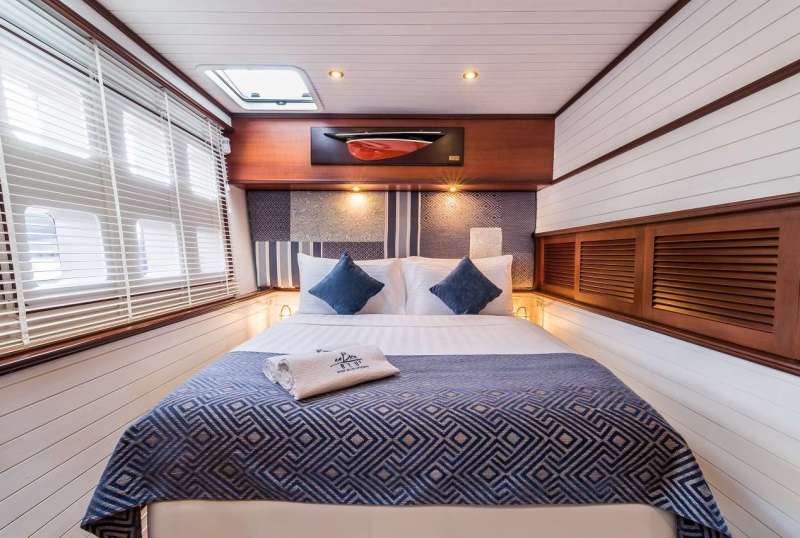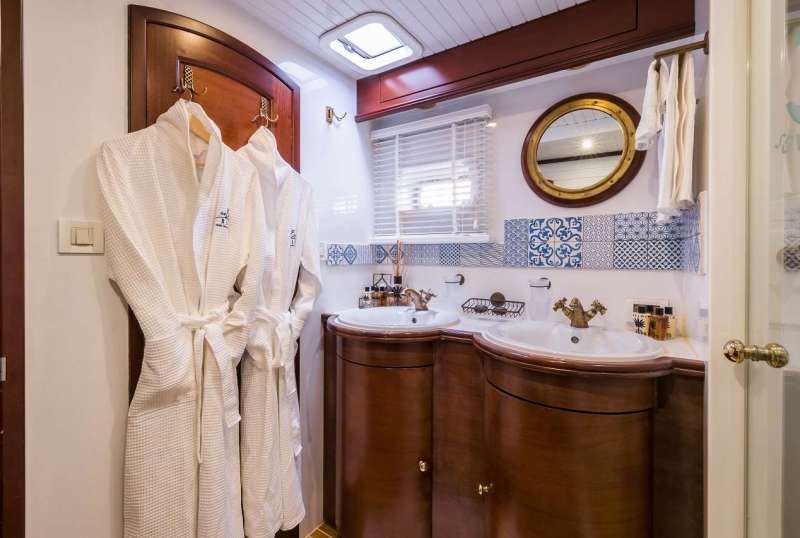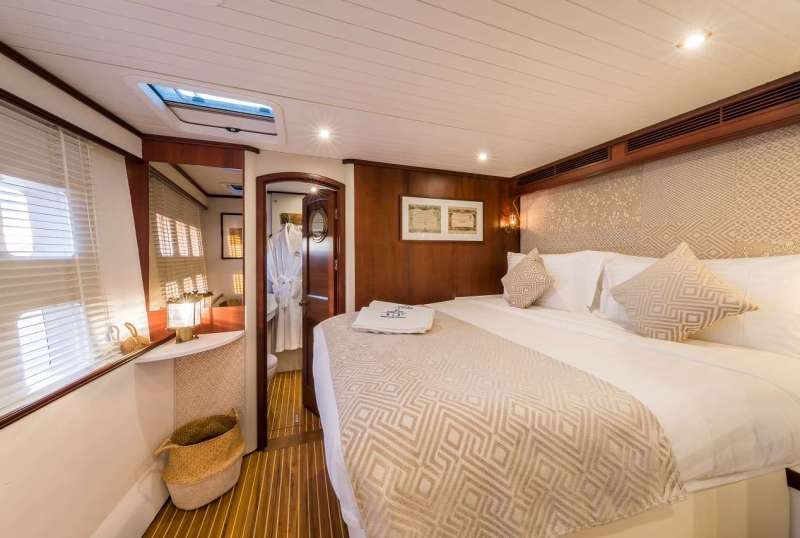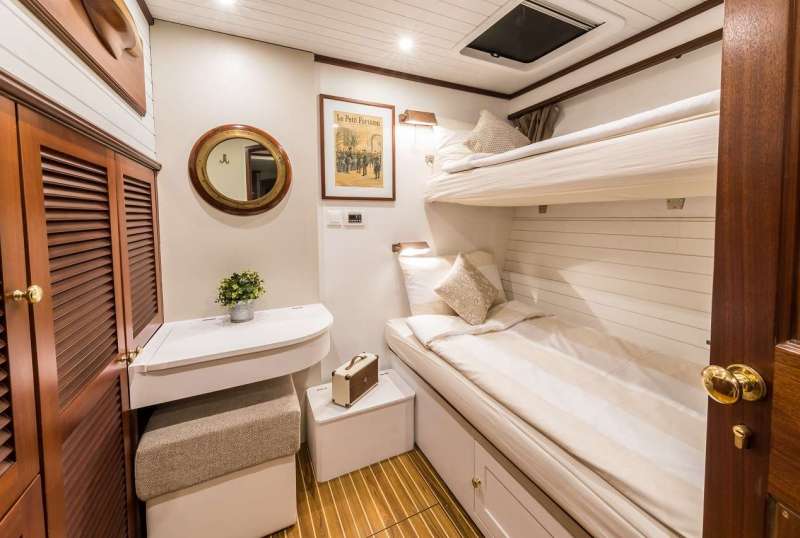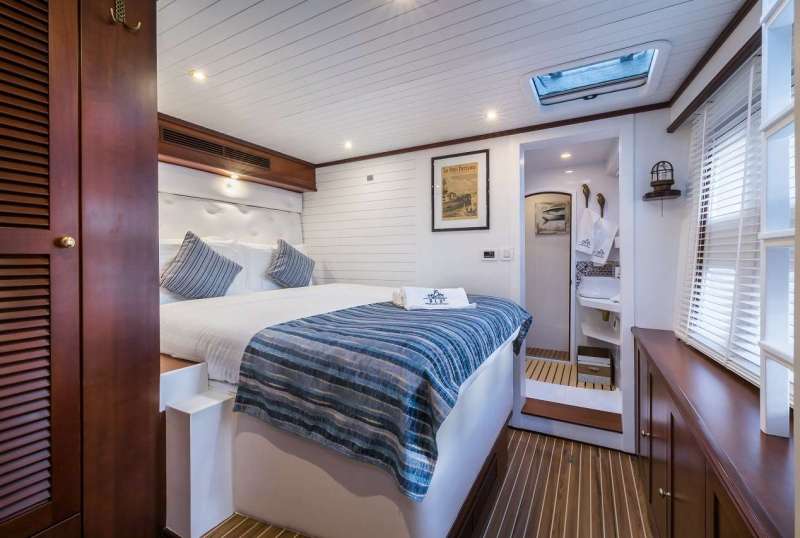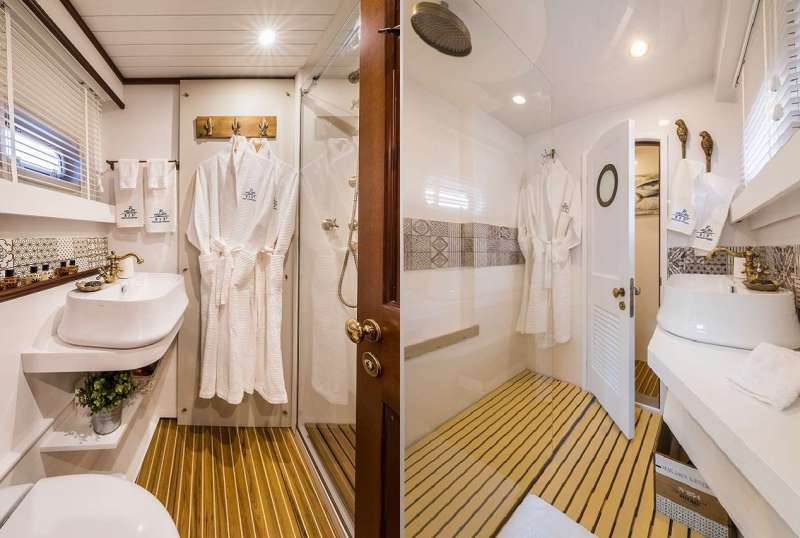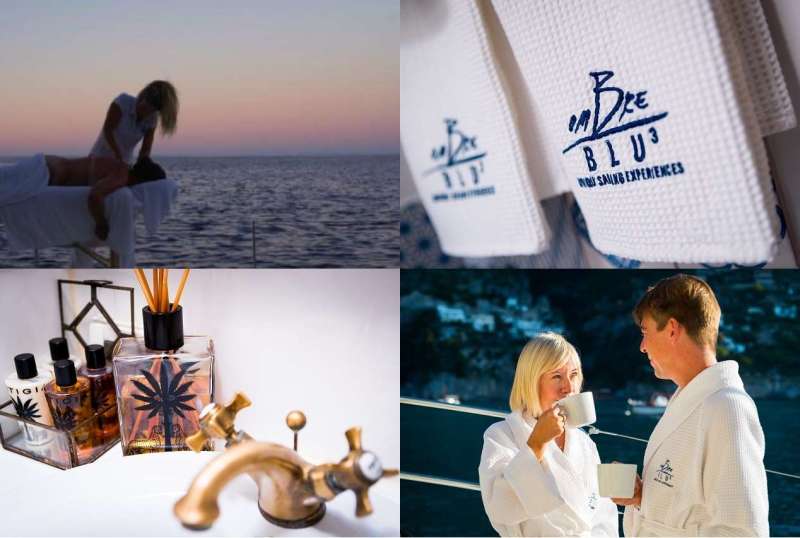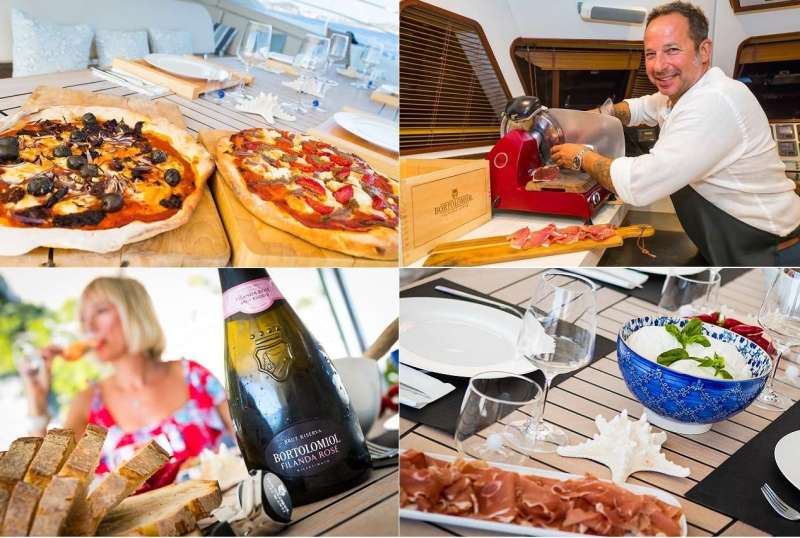 OMBRE BLU3
From €35,000/week
4 cabins
68 ft
Sunreef Yachts
8 guests
Built: 2010
40 Litres/Hr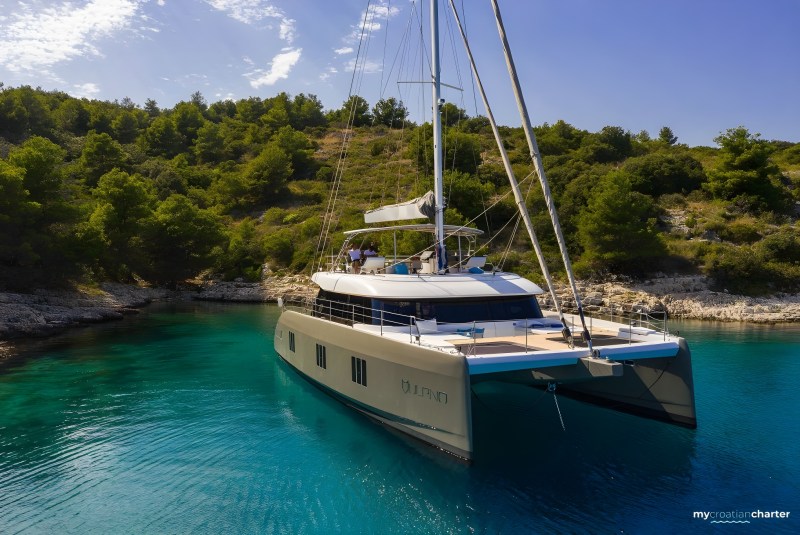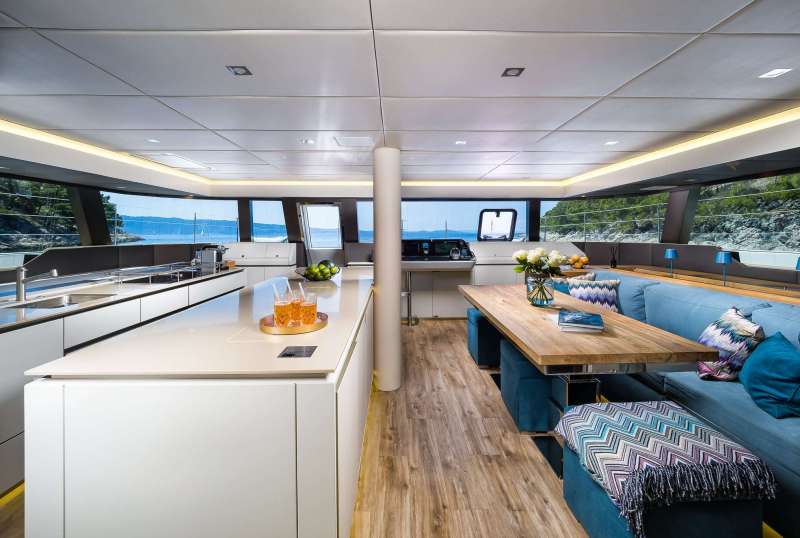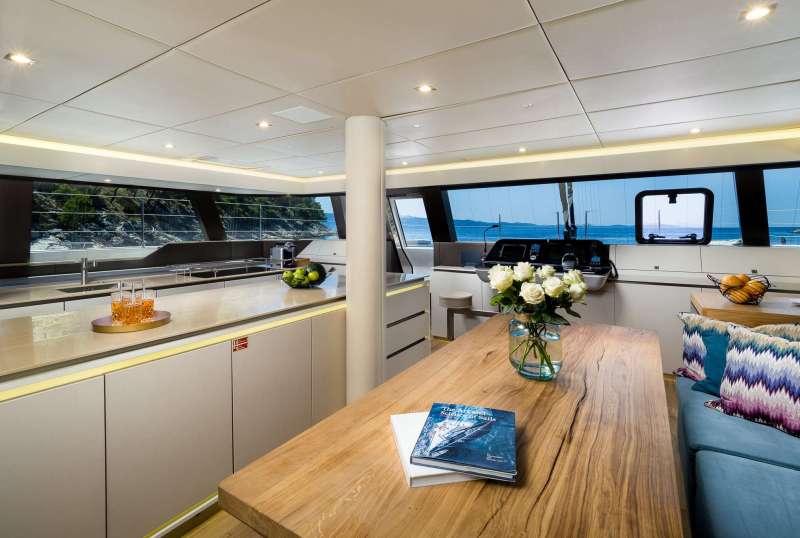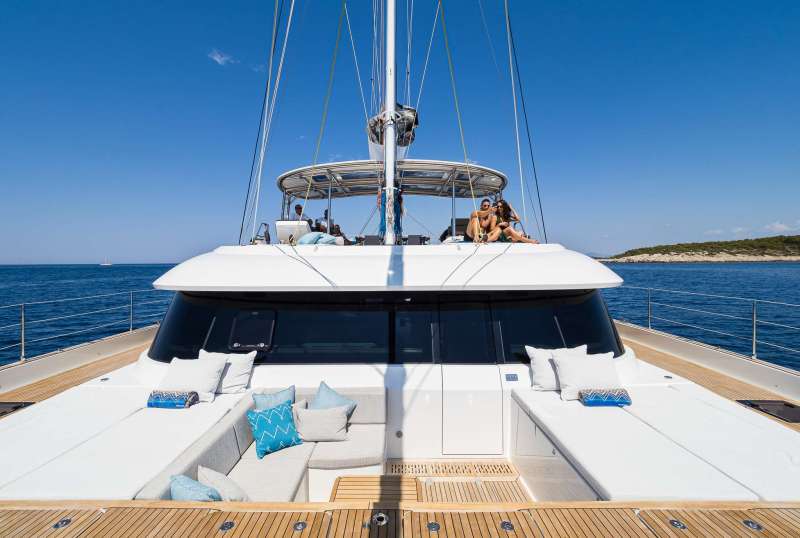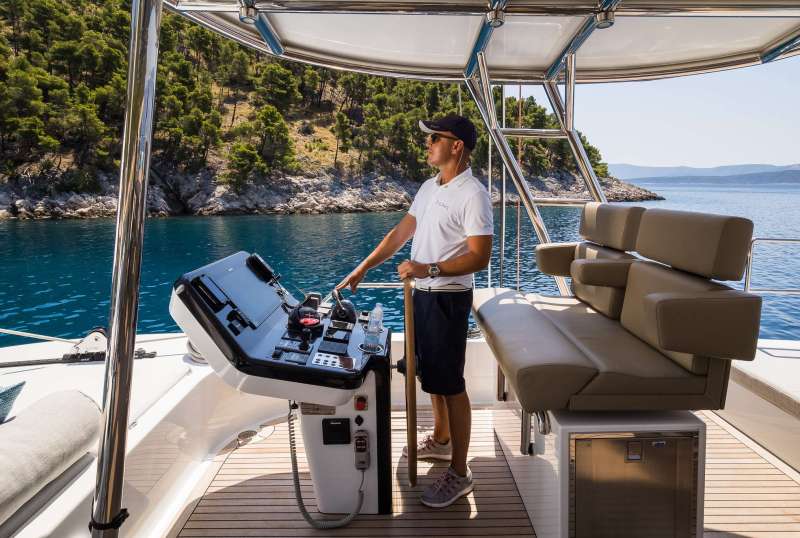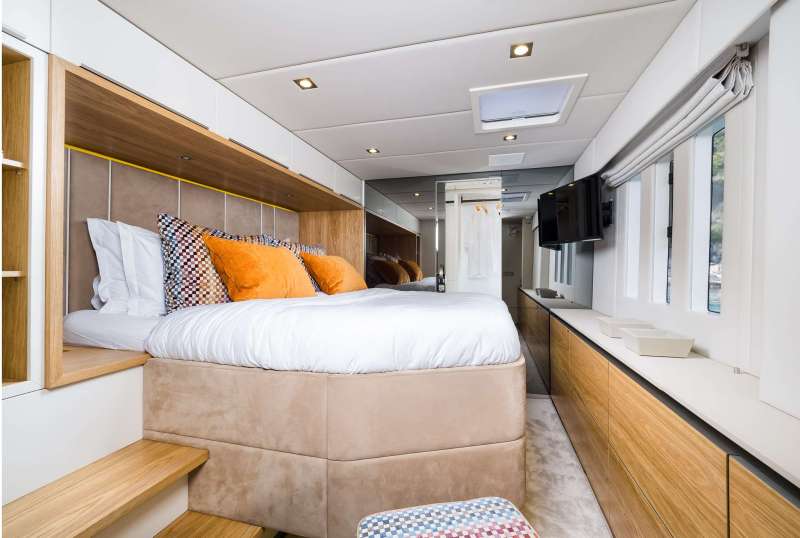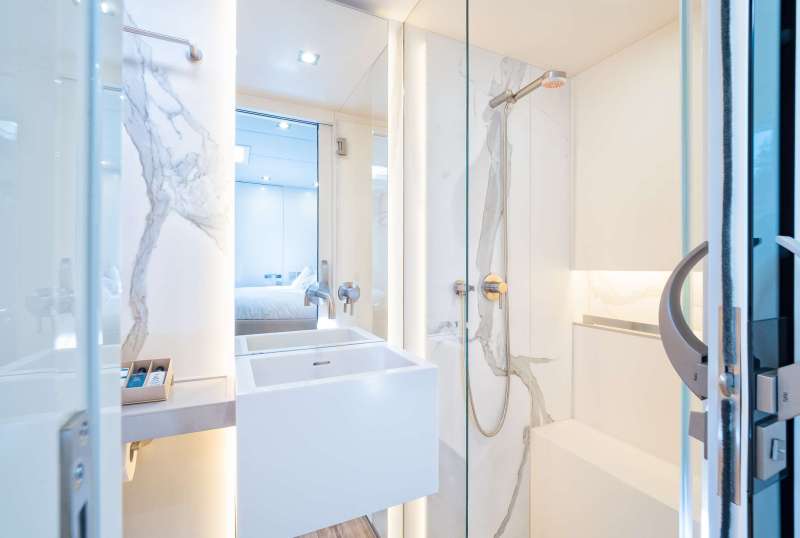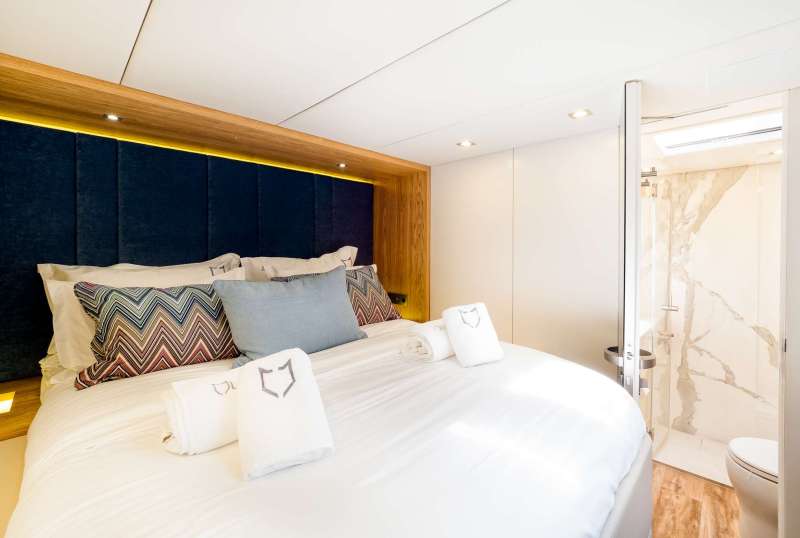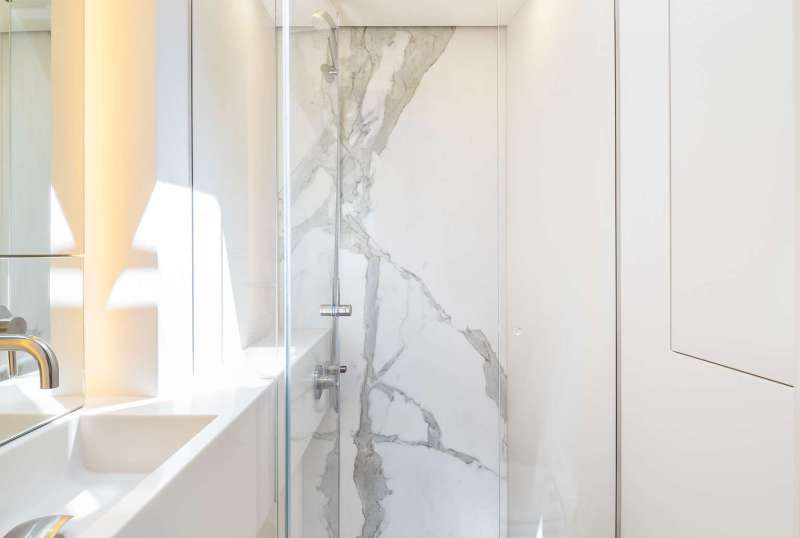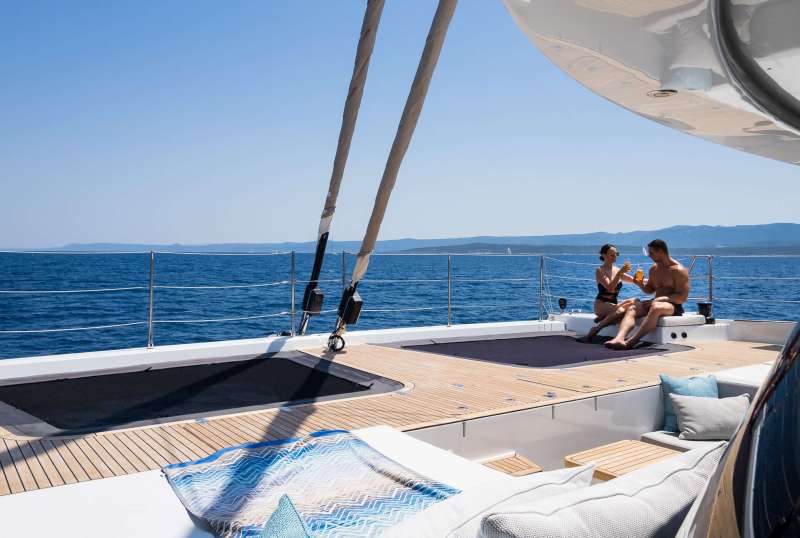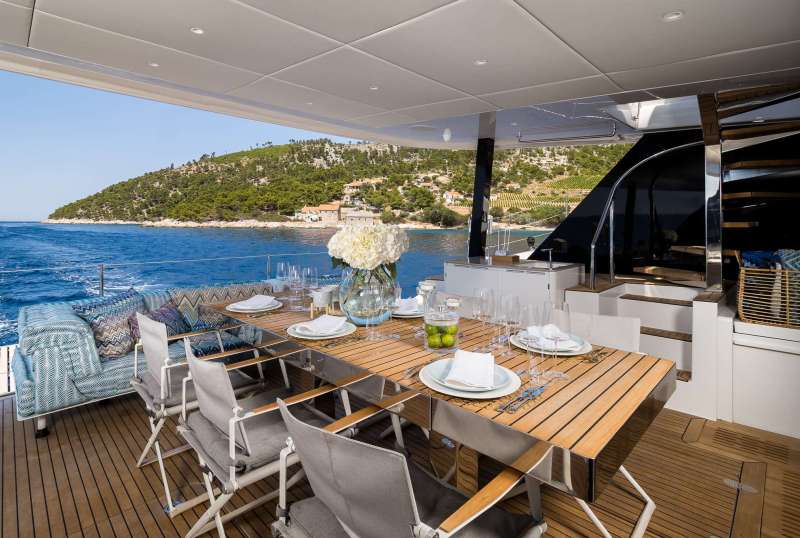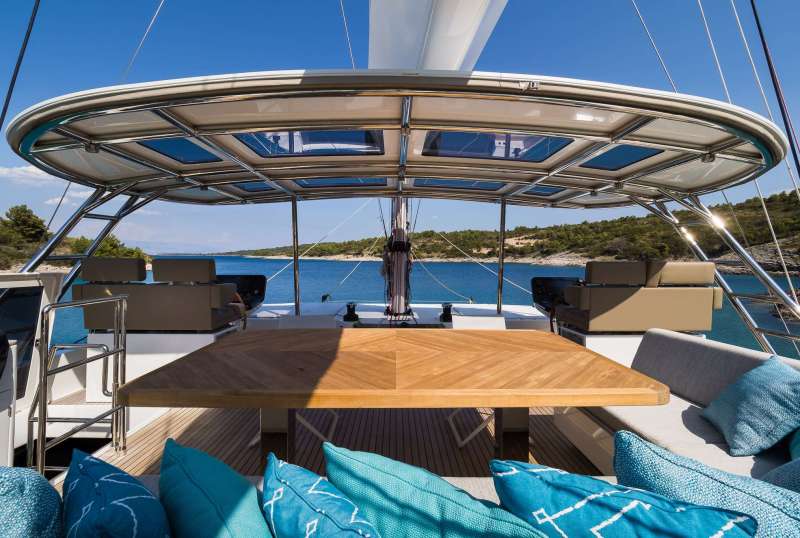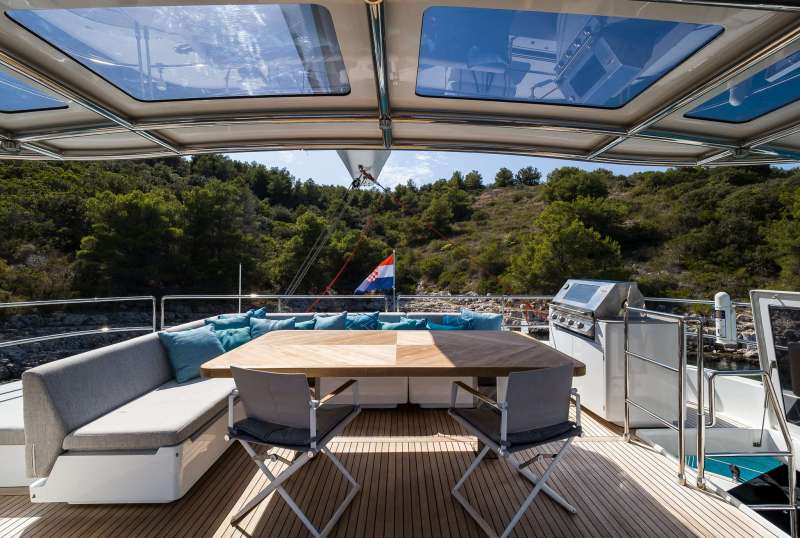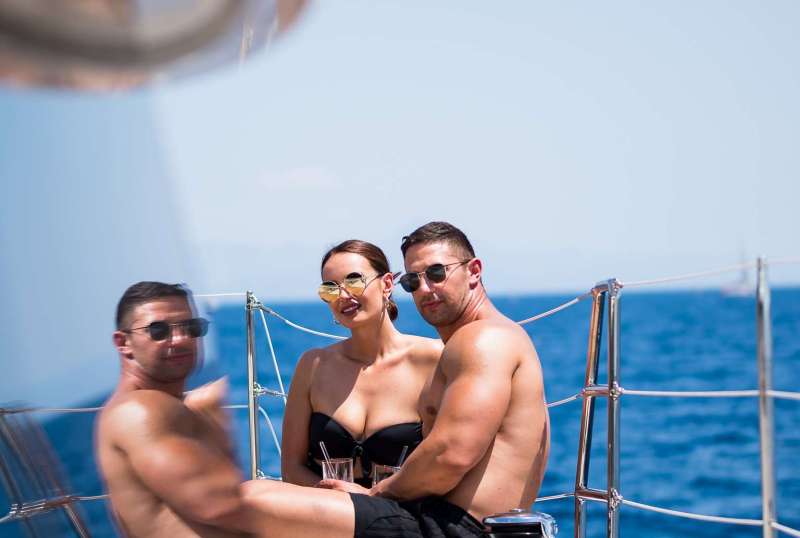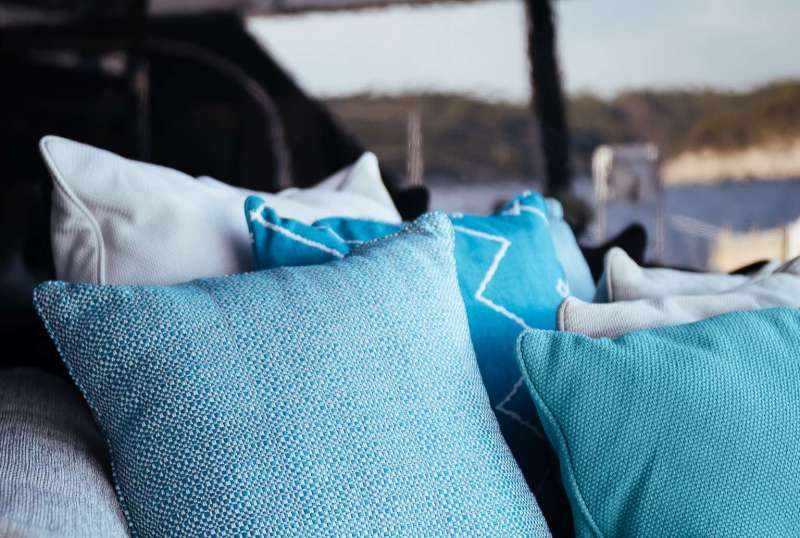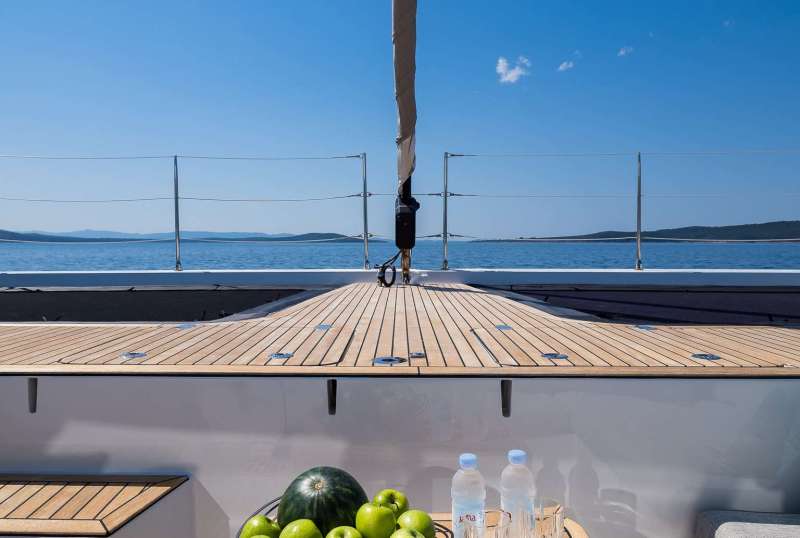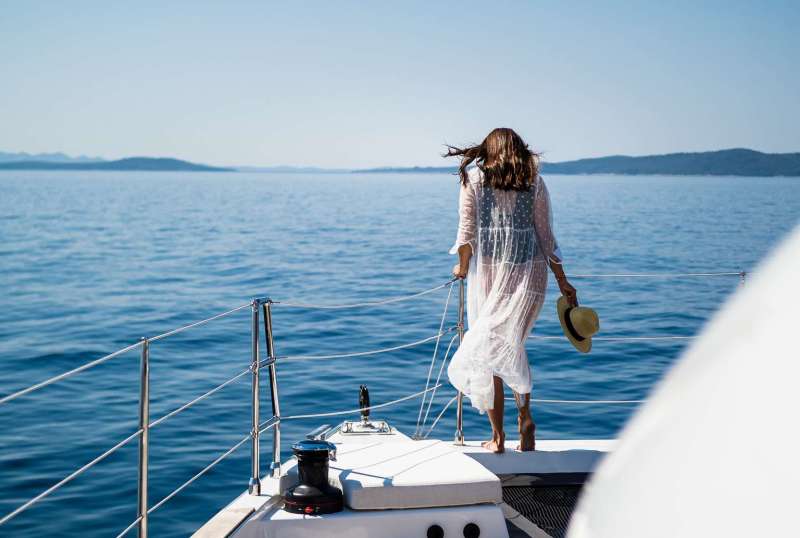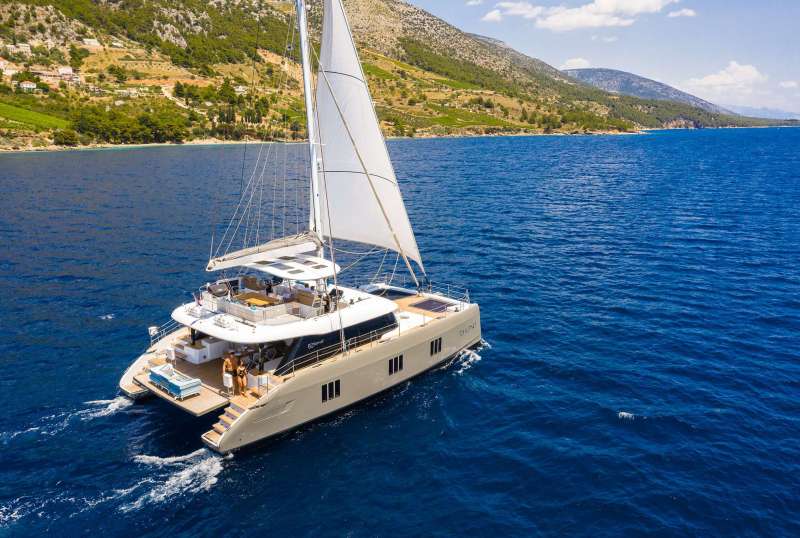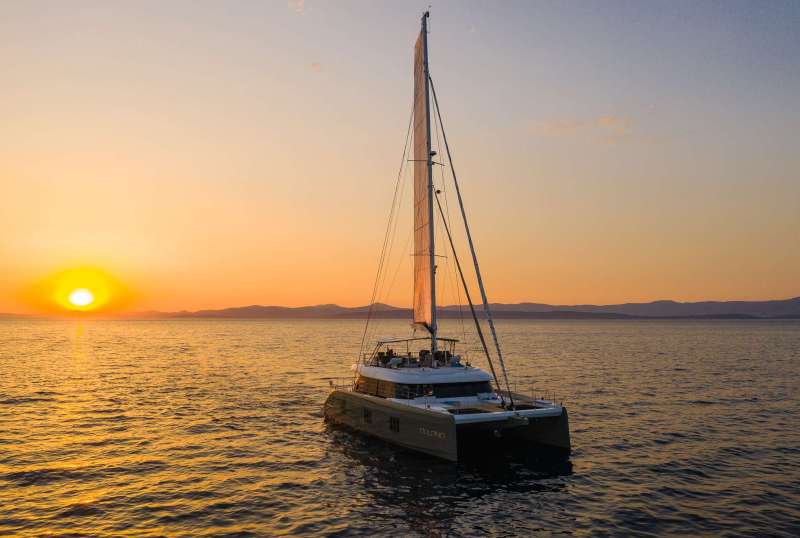 VULPINO
From €34,000/week
4 cabins
60 ft
Sunreef Yachts
8 guests
Built: 2020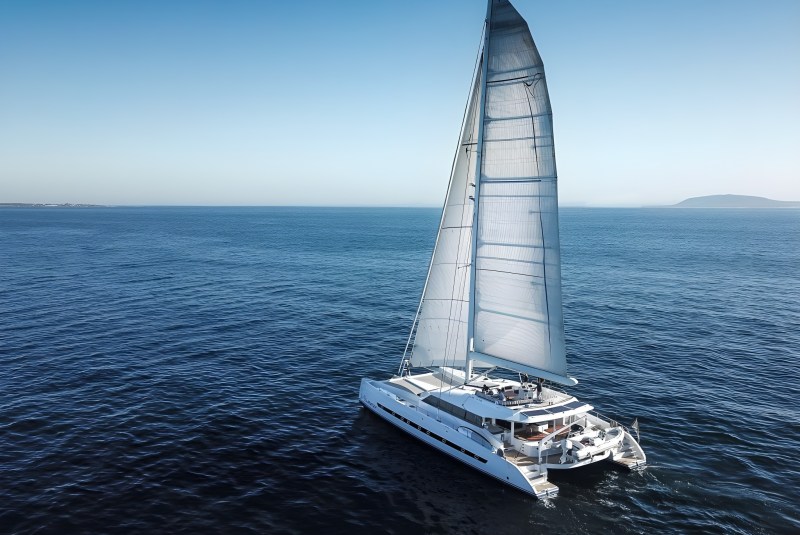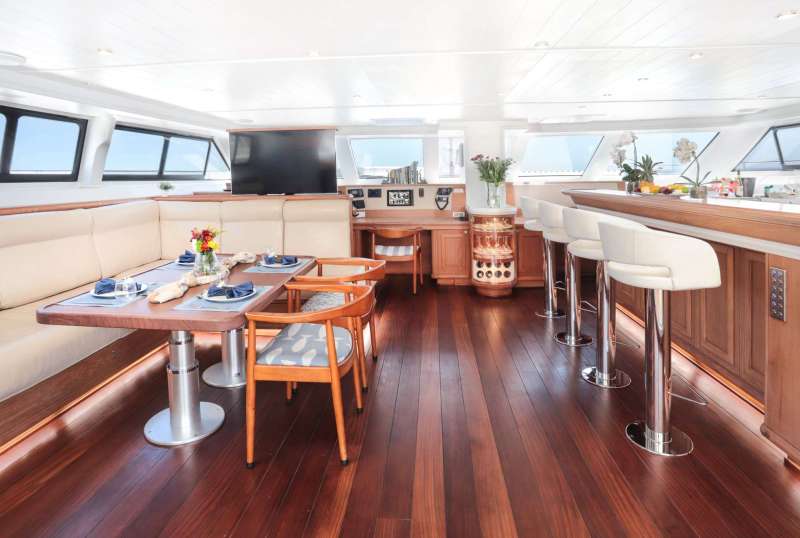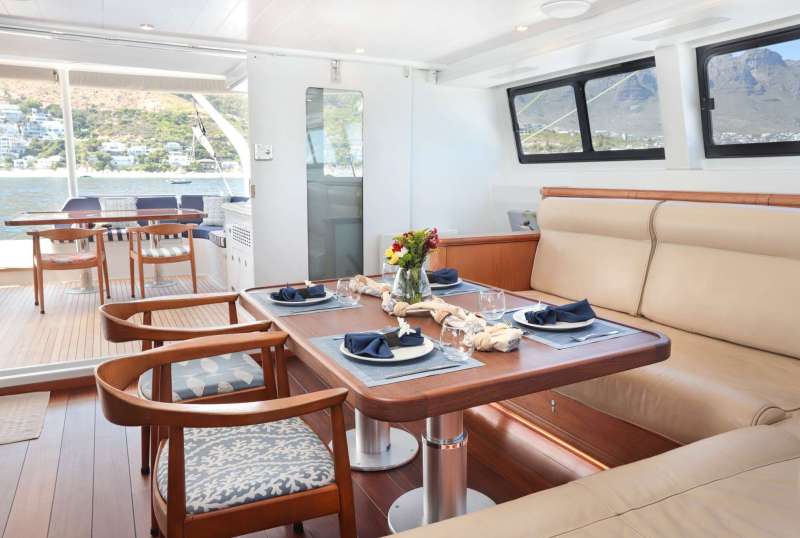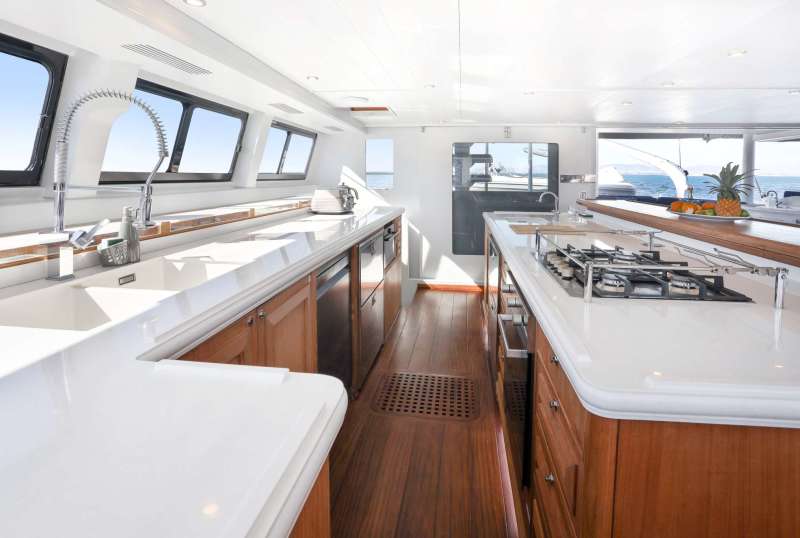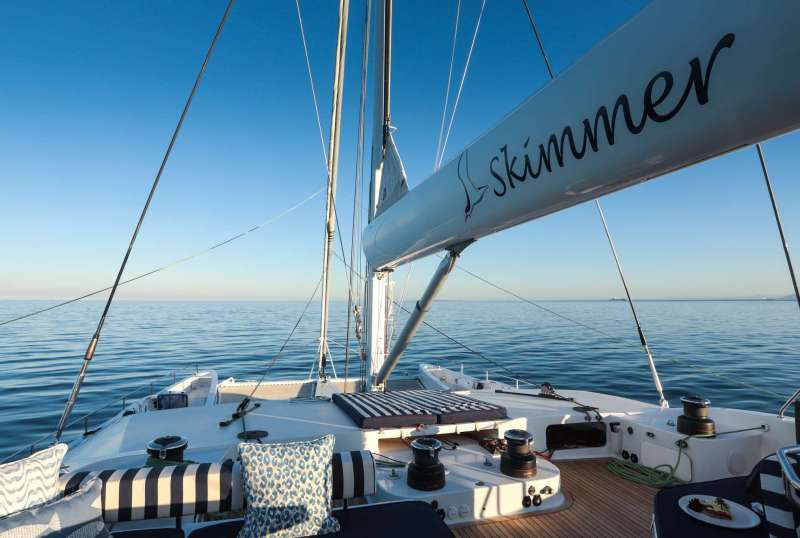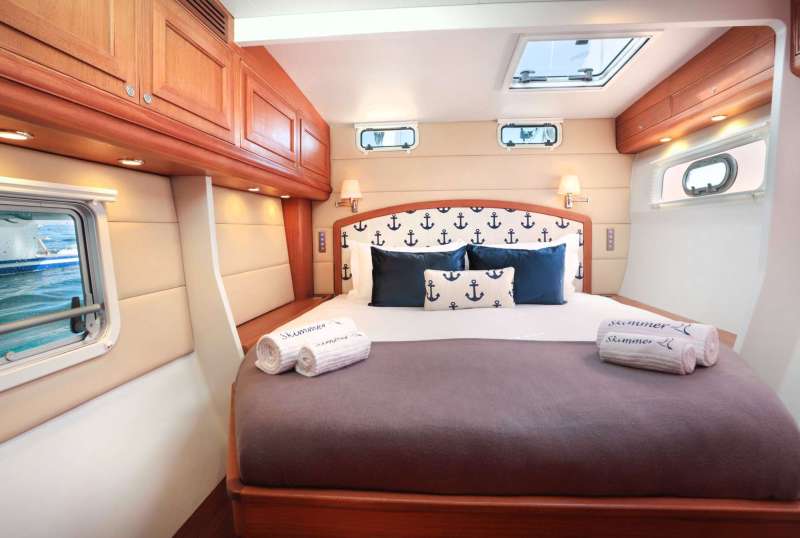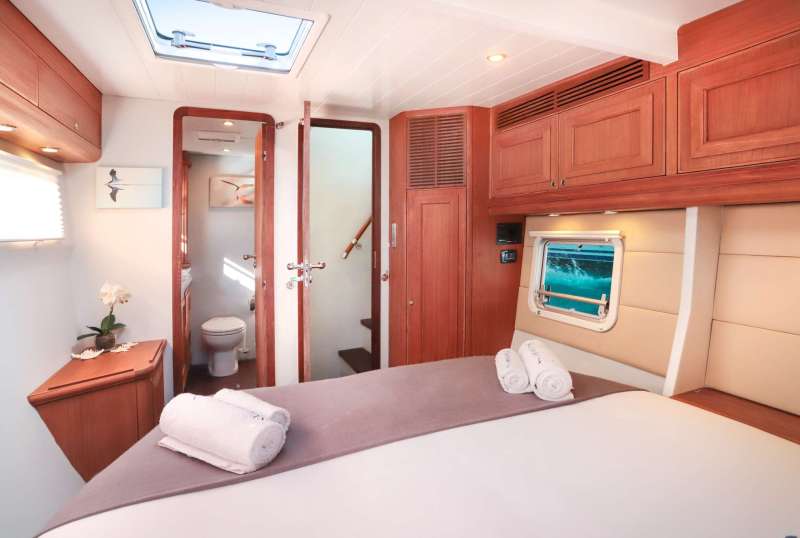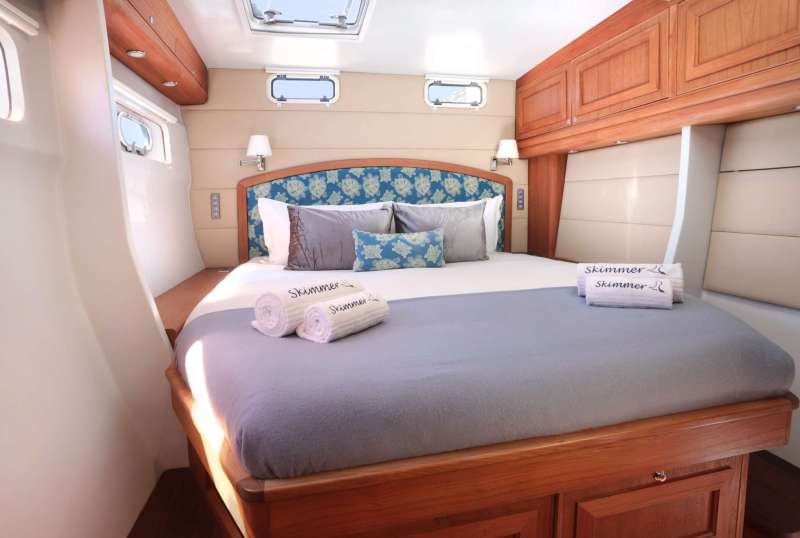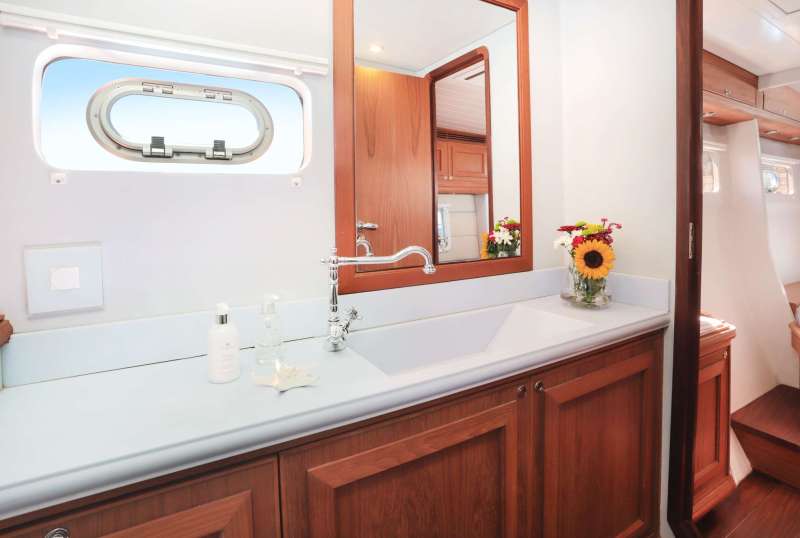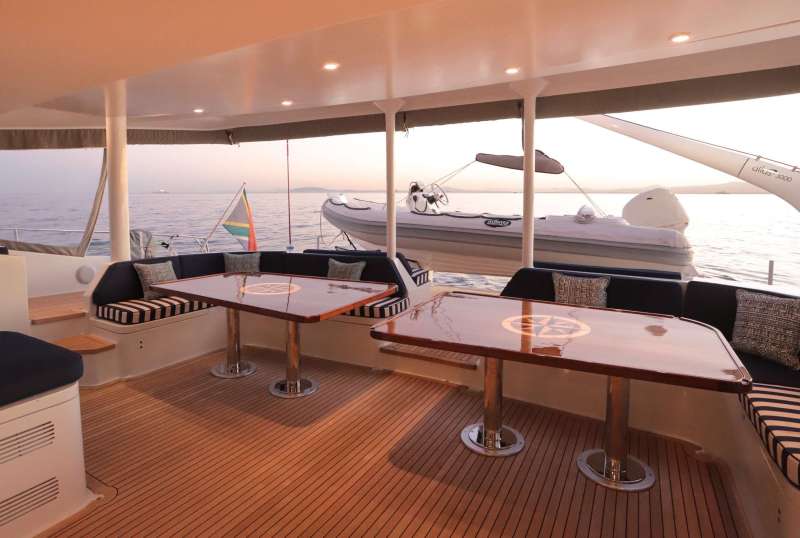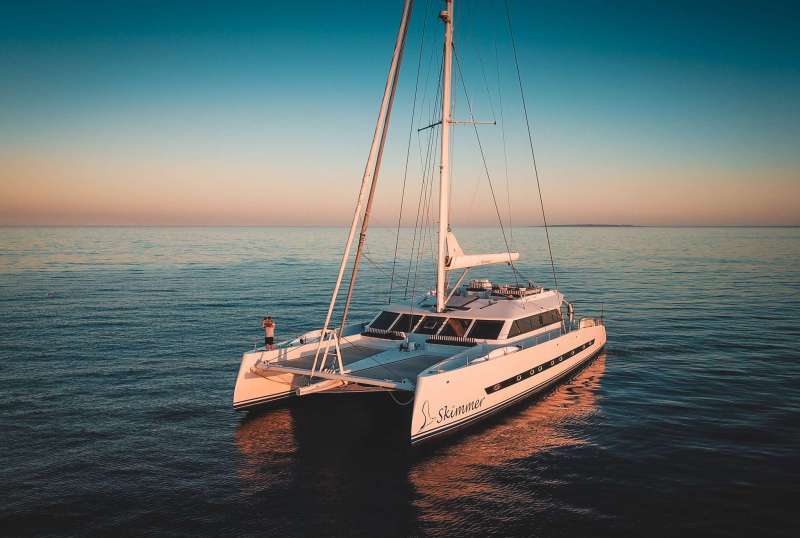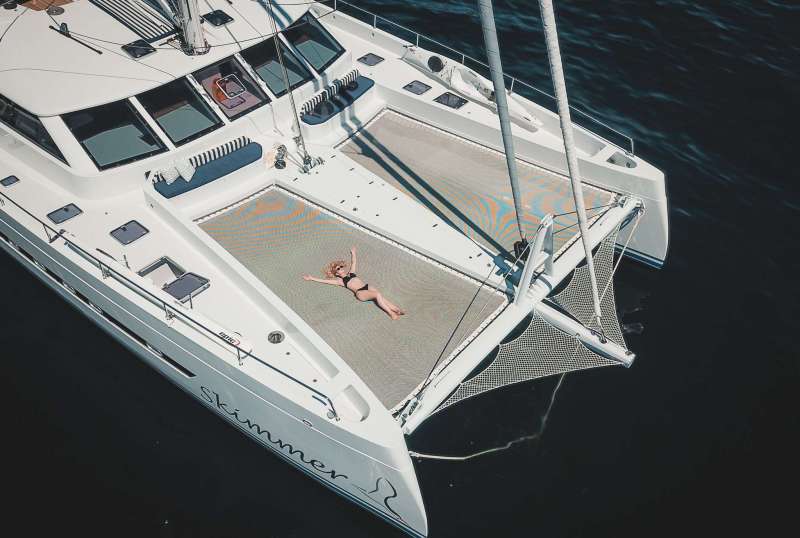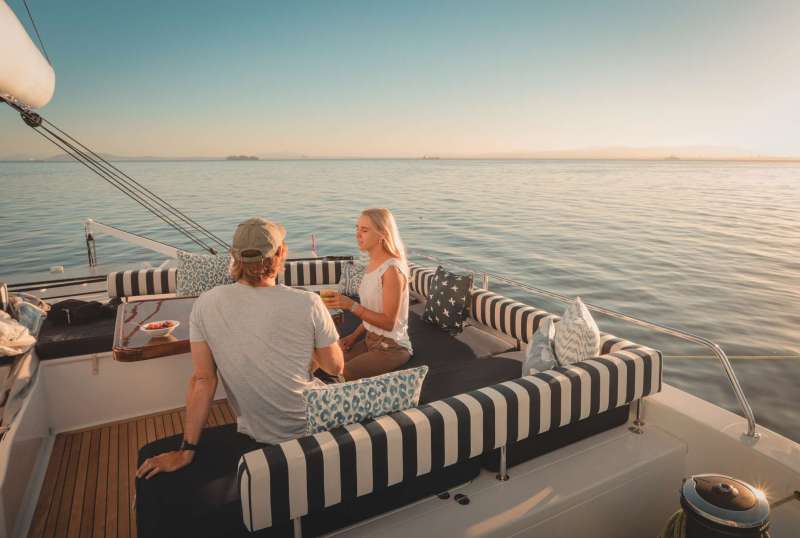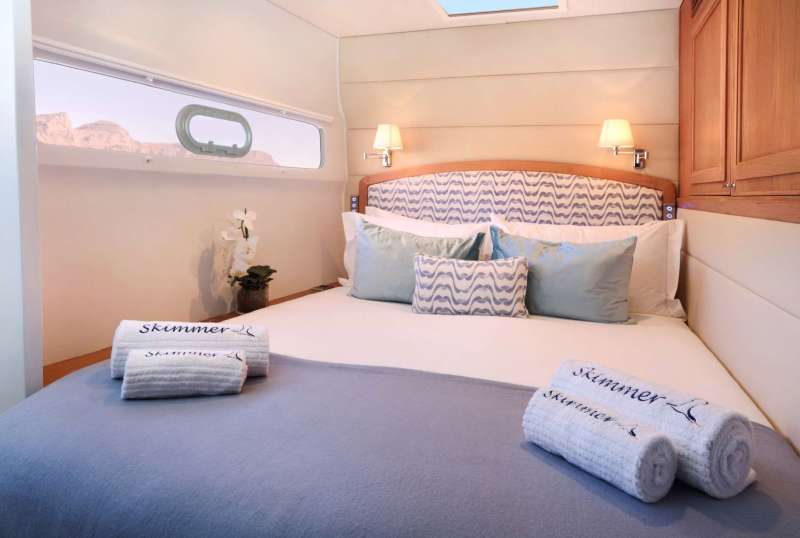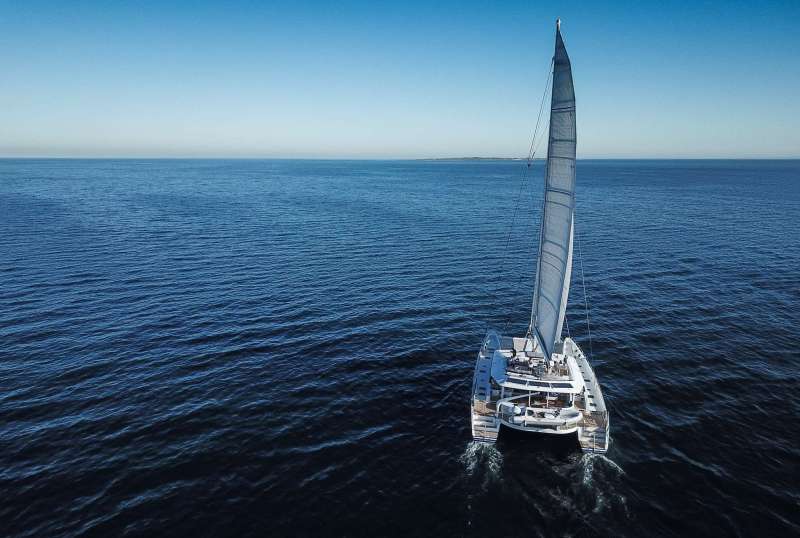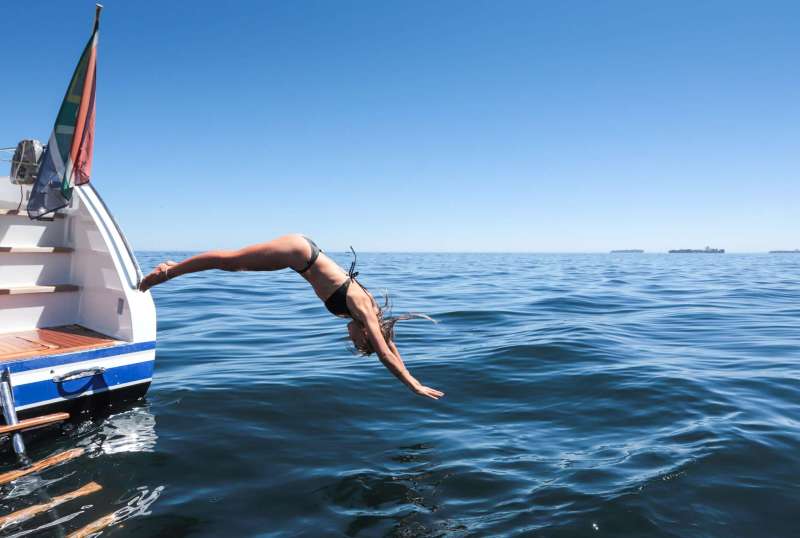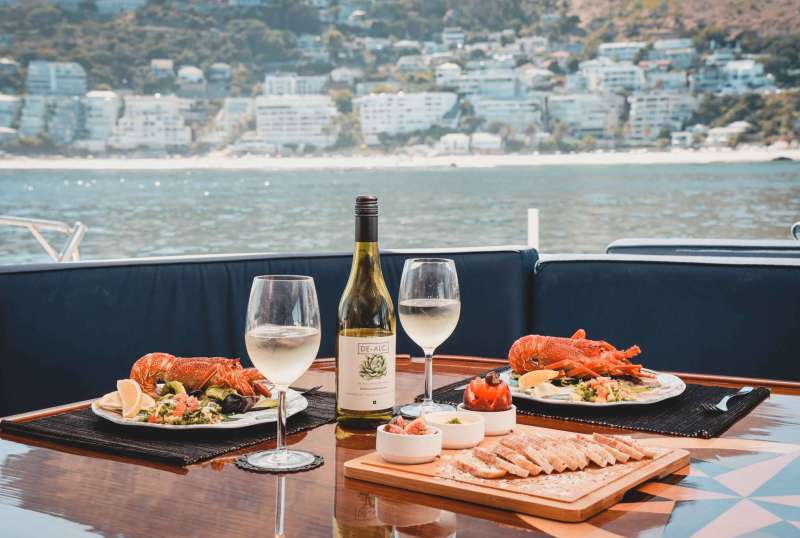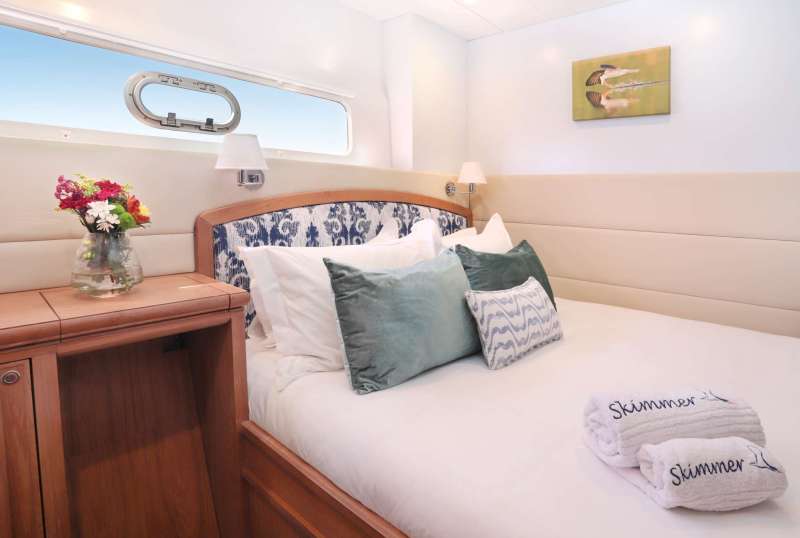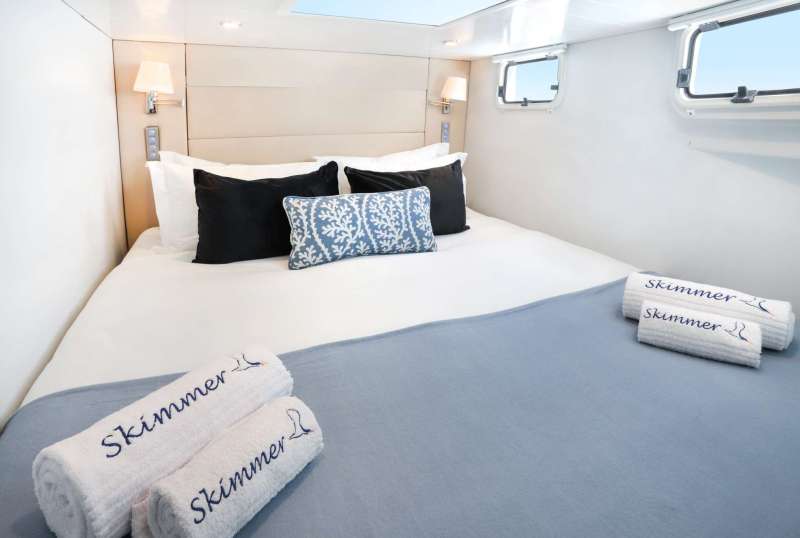 SKIMMER
From €31,000/week
5 cabins
75 ft
Two Oceans
10 guests
Built: 2016
35 US Gall/Hr