Top 10 Croatia Motor Yacht Charters for Summer 2024!
The Dalmatian Coast in Croatia is among Europe's most popular cruising destinations. Its numerous picturesque islands and rich cultural heritage sets the stage for an unforgettable Yacht Charter experience.
Croatia Yacht Charter offers an itinerary that combines visits to stunning natural attractions, such as the UNESCO world heritage listed Krka and Kornati National Park and explorations of the historic coastal cities, as well as trips to some of Croatia's finest vineyards.
With the convenience and speed of a motor yacht, you can effortlessly explore these treasures within a one-week charter.
Why choose a Motor Yacht for your Charter Vacation on the Croatian Coast?
For those opting for ultimate luxury and speed, the Motor Yacht is the ideal choice for a Yacht Charter in Croatia. The Dalmatian Coast is home to Croatia's largest marina, accommodating large motor yachts and super yachts with ease. Docking at Dalmacija Marina among many of Croatia's finest Yachts, is a remarkable experience in itself.
Additionally, unlike other popular cruising destinations where docking space is restricted, Croatia also allows charter guests the freedom to drop anchor anywhere they want. For example, right in front of the beaches, granting an exotic experience and allowing direct access to the most pristine swimming locations.
The Motor Yachts, typically locally owned, are often captained by the owner himself or the owner's son. This is a huge benefit guaranteeing a top charter experience based on extensive experience and local knowledge. When you book your Motor Yacht Charter, you can be sure that you are in the best hands.
Popular Destinations for Yacht Charters in Croatia
Our Croatian Yacht Charters usually starts from ACI Marina, Split, chosen for its excellent berthing facilities and proximity to Hvar. This is also a strategic starting point granting easy access to other renowned tourist hotspots such as Šibenik, Dubrovnik and Kornat.
Should you desire an alternative route covering Piskera, Telascica, Zut, and Murter, you can also consult with your charter broker for a customized voyage.
Whether you seek the vibrant nightlife of Hvar town, the medieval charm of Split, or a nature retreat in the Kornat region, a luxury yacht charter along the Adriatic Coast promises the vacation of a lifetime.
Explore the famed Kornati National Park, renowned for its waterfalls and biodiversity, offering opportunities for swimming, snorkeling, scuba diving, and sunbathing. And, of course, make sure to visit Dubrovnik, celebrated as one of the world's best-preserved ancient cities and made famous by "Game of Thrones."
Croatia Luxury Yacht Charter Highlights
The price range of Yacht Charters in Croatia is between €13,500 to €695,000, varying based on the season and the type of motor yacht charter.
The peak charter season in Croatia is during the summer months (July-August). For a more secluded and cost-effective experience, consider planning your yacht charter in the spring (May-June) or early winter (September-October).
Locally owned and operated yachts provide guests with top-notch itinerary suggestions, highlighting secluded anchorages and offering historical insights into popular destinations.
With captains and crews often having decades of sailing experience, your yacht charter is ensured to be safe, even in harsher weather conditions.
With multiple water sport licenses, even beginners have the opportunity to participate in awesome activities such as waterskiing, scuba diving, and snorkeling.
The Adriatic Sea is calm throughout the year. Despite motor yachts having less stability on the water than catamarans, all yacht charters in Croatia are safe and family friendly.
Top 10 Luxury Croatia Yacht Charters
1. AGRAM | 145FT
Generous space for sunbathing on board or a massive jacuzzi while island hopping- AGRAM has it all! The jacuzzi tub is big enough to fit 4-5 people comfortably. The expansive interior ensures private suites for 10 people/ 5 couples and 2 extra guests at the convertible stateroom, three decks, and a sky lounge to enjoy the panoramic views of the picturesque coves.
The primary stateroom with an ensuite bathroom has the interior of a 5-star hotel rather than a yacht. Also, the office room and web connectivity ensure the guests an occasional check to their work and social media. Enjoy the chef's delicious meals at the bridge deck or the indoor formal dining area.
TOYS AND AMENITIES
AGRAM's water toys are modern and versatile. She has Jet Tender Cirus, 2 Jet Skis, Seabob, a Stand Up Paddle board, 2 Kayaks, 2 Water Skis, a wakeboard, a banana boat, and a doughnut. The underwater gear includes Sea Doo RS3 Underwater Scooter, Snorkeling, and Freediving gear.
The crew has diving and snorkelling licensing, so the guest's safety is assured no matter if they are beginners or experts. Also, the number of gears ensures that the guests don't have to wait for the water toys.
2. VICTORIA| 83FT
VICTORIA is a sleek May 2023 addition to the Croatia yacht charters. She is a unique vessel with a private beach club, an extra inflatable platform, and a sea pool. VICTORIA can house 8 guests with separation as there are 4 cabins. The dark and moody Italian design will be great for resting onboard.
Captain Ivisic is a local Croat and has all the connections and knowledge of the unchartered hidden arenas to ensure you get the best of the lively nightlife. Also, the deckhand is an experienced skipper who can teach how to enjoy the waters with abundant water activities.
TOYS AND AMENITIES
If you are into deep-sea fishing, VICTORIA is the perfect yacht due to her professional fishing gear-Highfield HX 66 tender. Another unique feature of this yacht is the onboard bicycle. What can be a better way to enjoy the old town of Croatia leisurely?
Besides these thoughtful amenities, VICTORIA has regular equipment like Mini Seabobs, Paddleboards, and snorkeling gear.
3. HIDEAWAY| 78FT
Sailing with HIDEAWAY is an excellent choice for a group of 8 guests. The minimal number of crews (3) will provide guests with a lot of privacy throughout the voyage. The aesthetic dining and sitting areas are perfect for parties and pictures. You can enjoy the beauty of the Dalmatian island from the salons or sunbathe. If you get tired of sunbathing, the Flybridge will provide shade.
Hailing from Split, Captain Domazet is an expert on the charter routes and the best times to anchor near the beautiful sandy beaches. His knowledge of watersports is also a plus for guests looking for something new underwater.
TOYS AND AMENITIES
HIDEAWAY has turbo jet, Seabob F5S, SUP, Towables, and E-foil. The crew can arrange diving gear if the guests request it before the charter.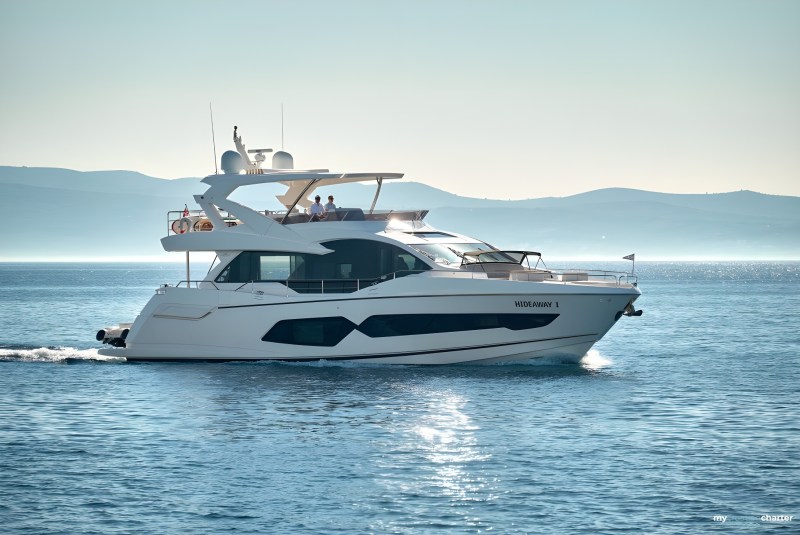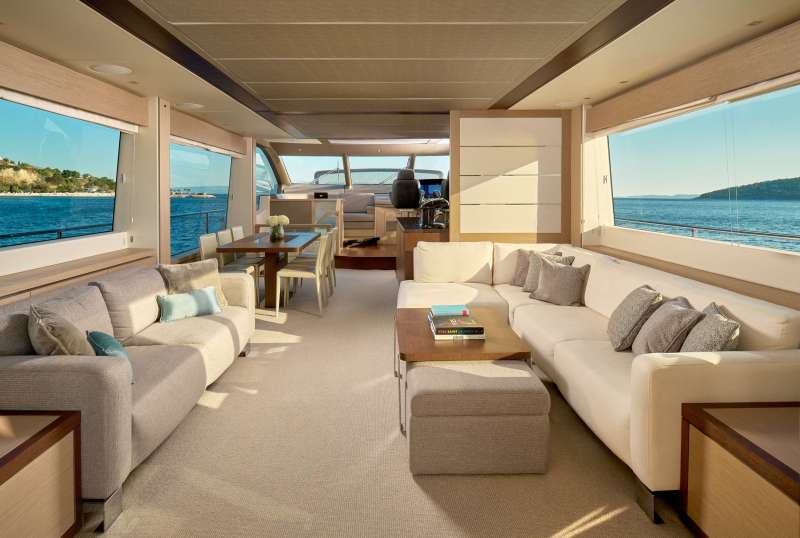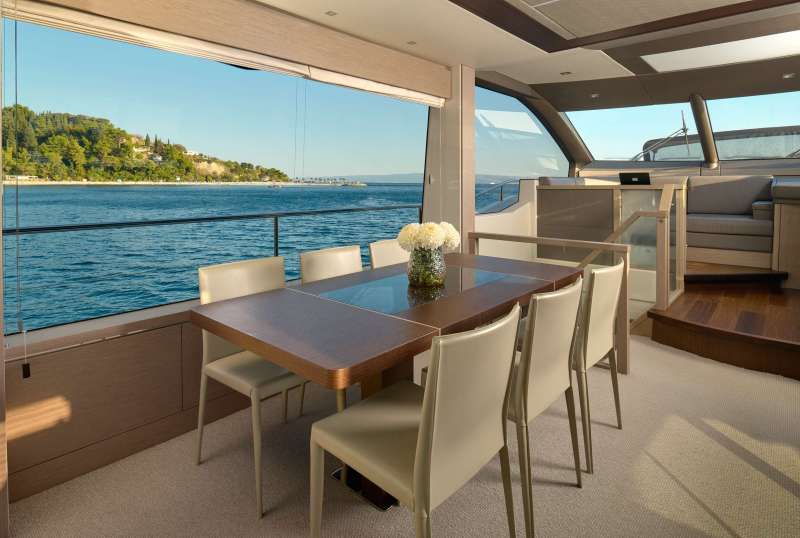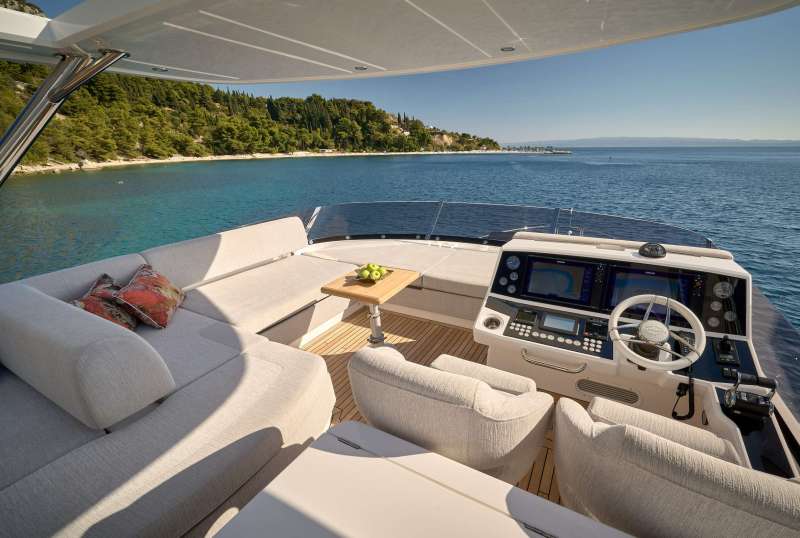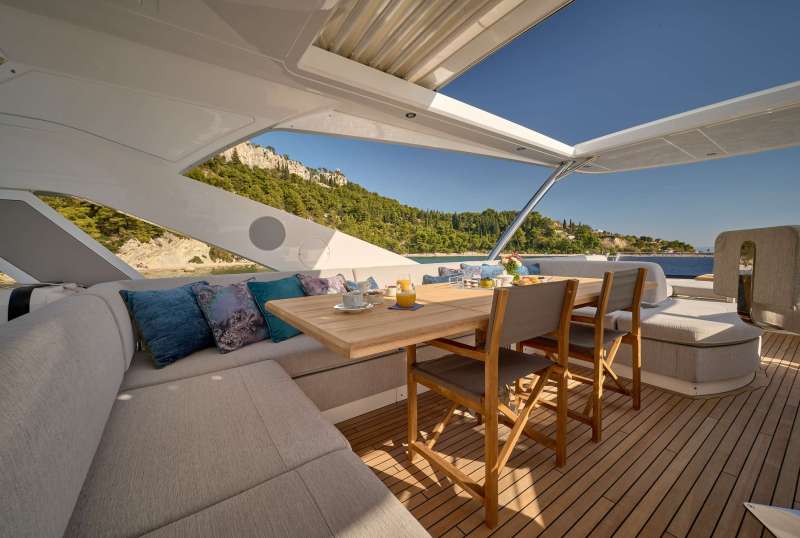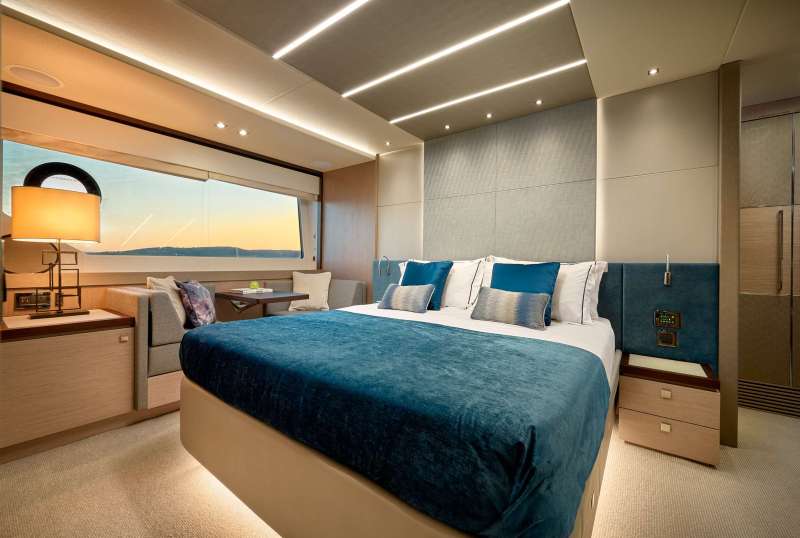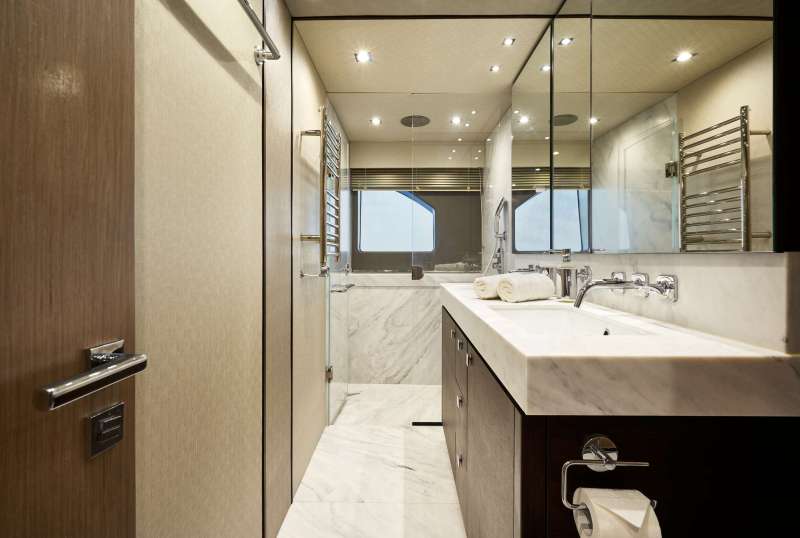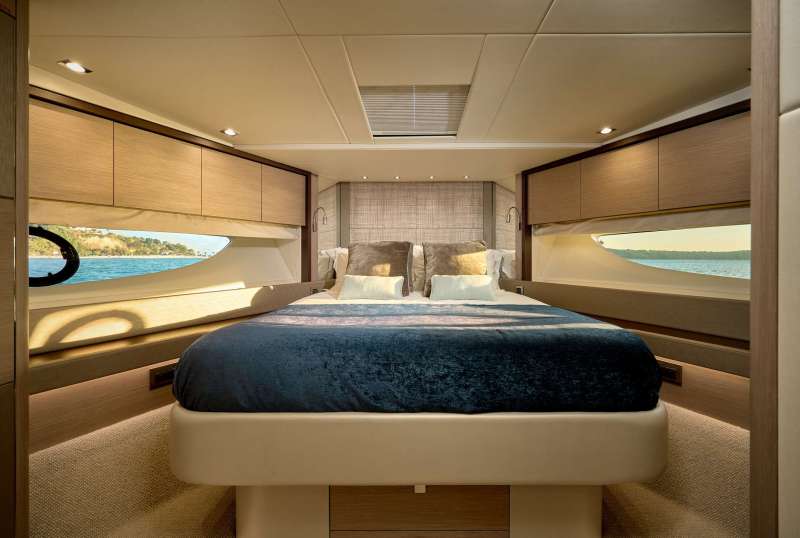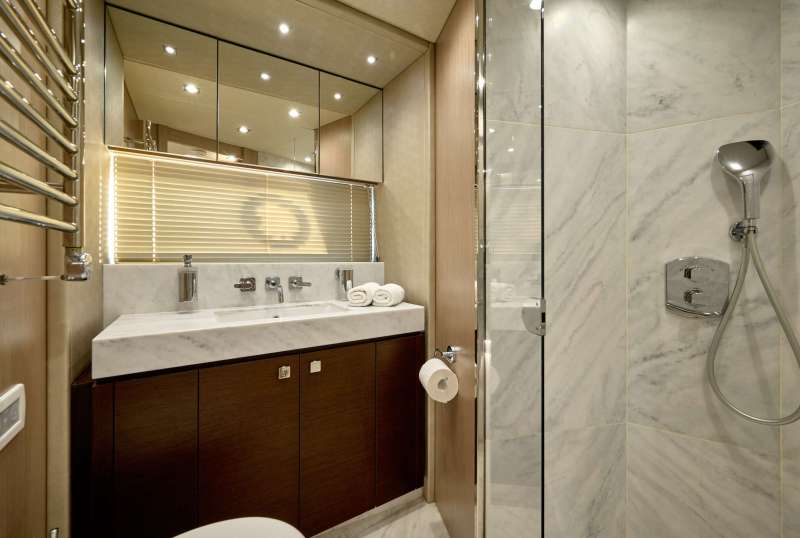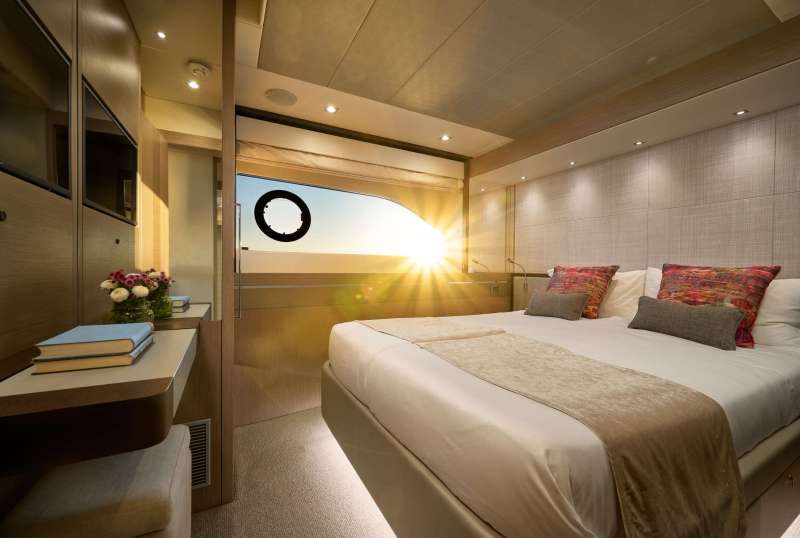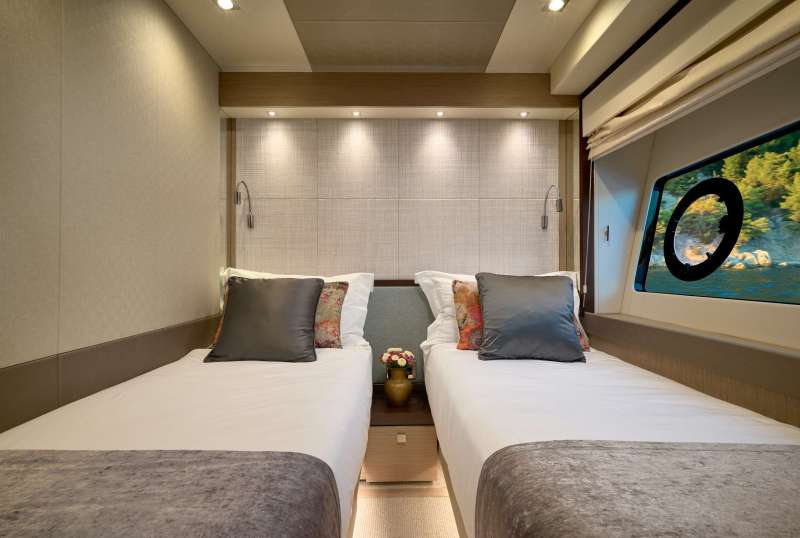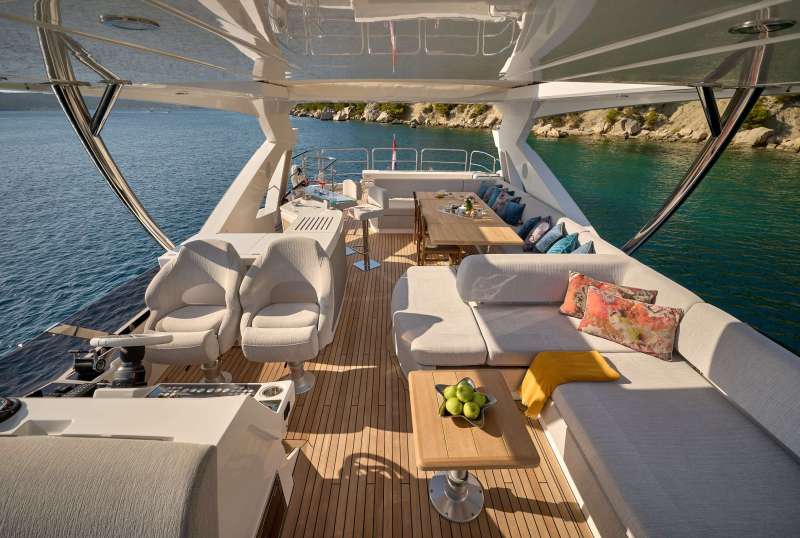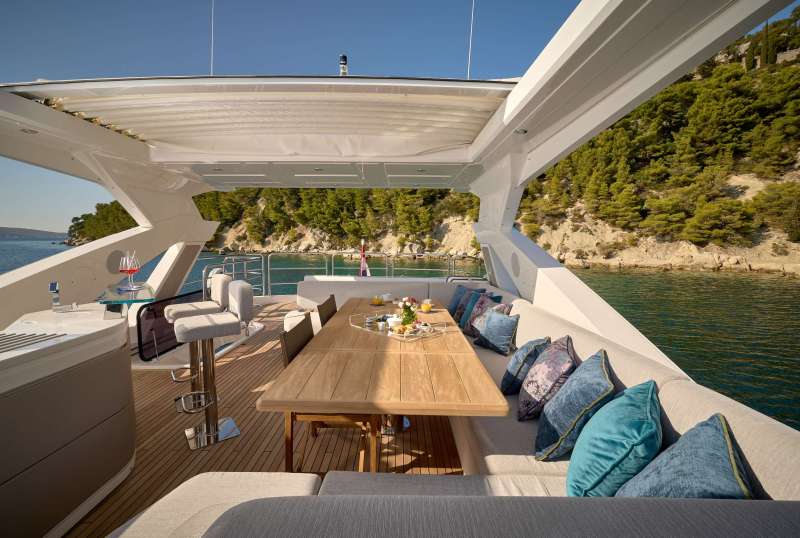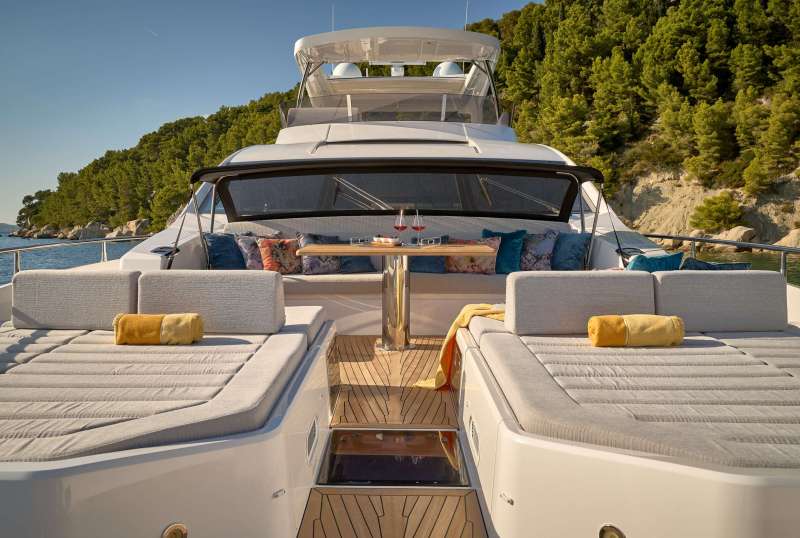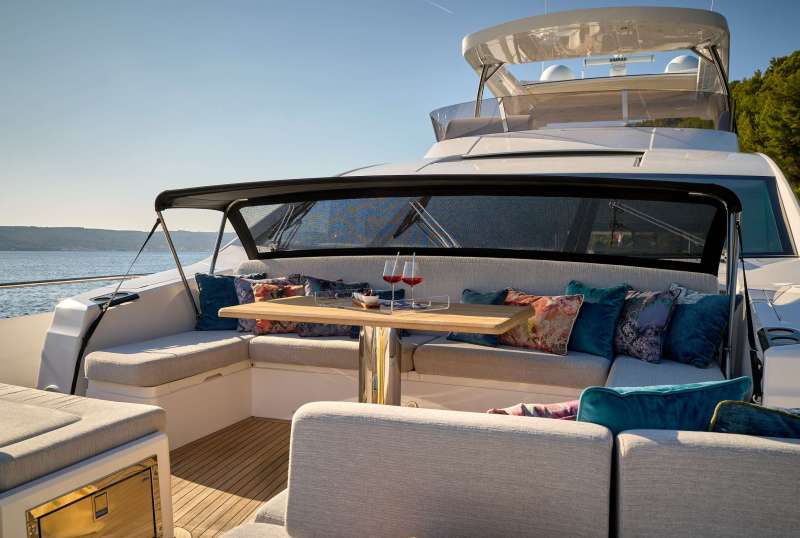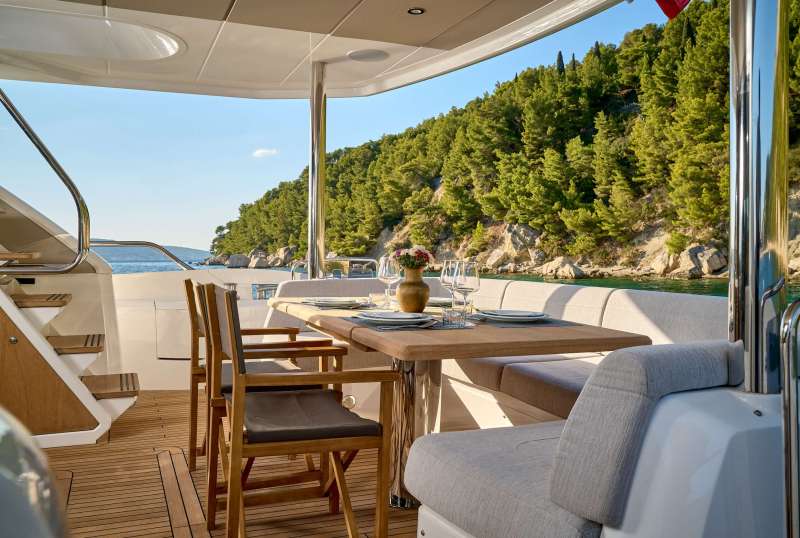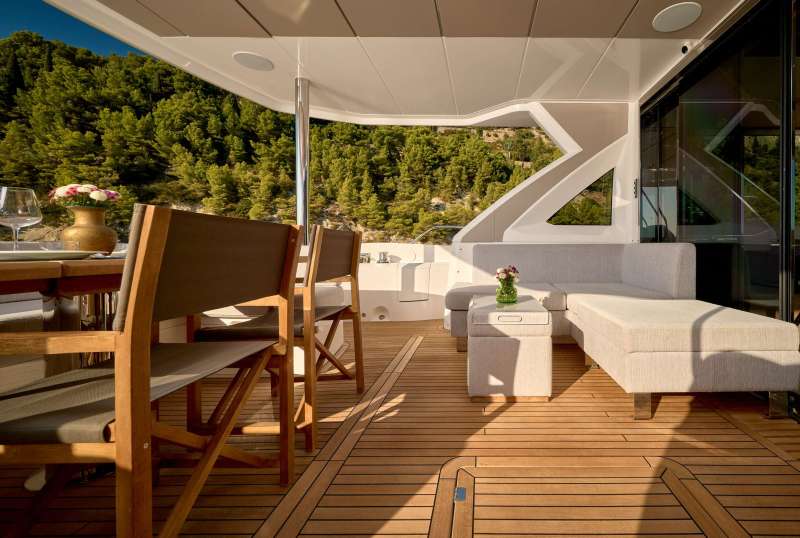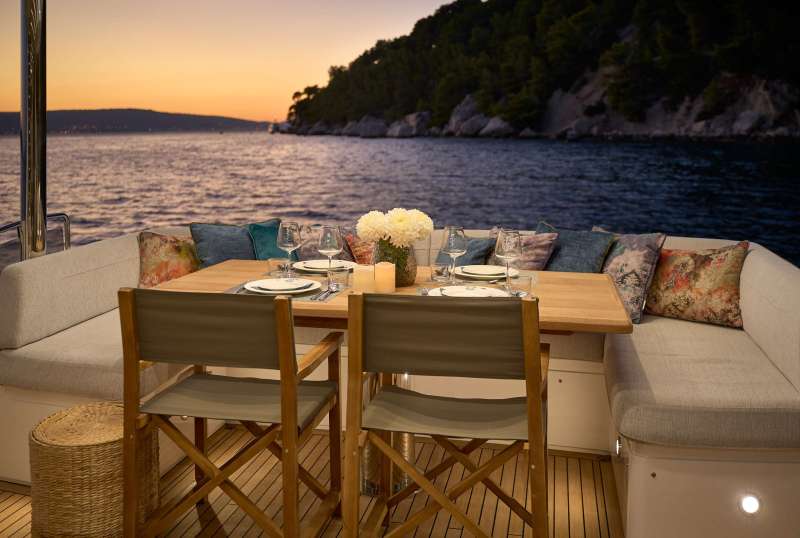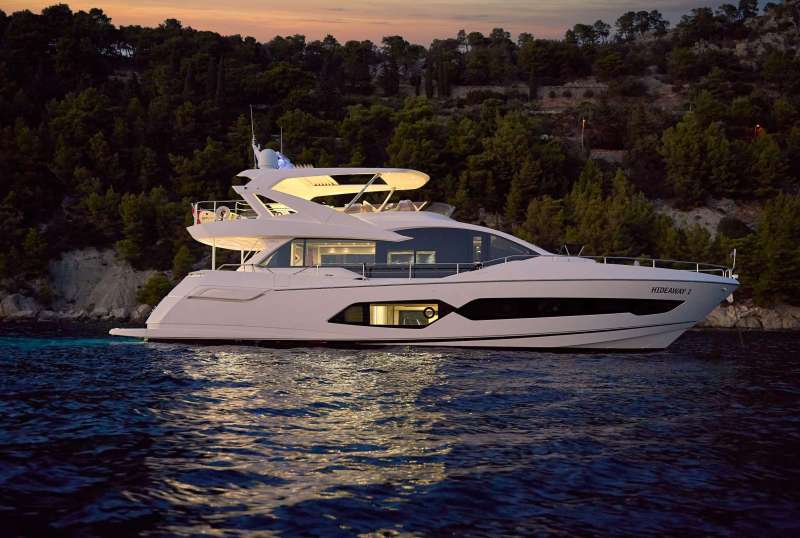 Hideaway
From €34,000/week
4 cabins
77 ft
Sunseeker
8 guests
Built: 2018
4. RELAX OF CROATIA| 74FT
RELAX OF CROATIA has the latest navigation and safety tools for any sailing conditions. Made for 8 guests, she has a generous salon with panoramic windows flybridge, and an aft deck perfect for outdoor dining. Also, the rooms come with 4 ensuite bathrooms, so the guests get maximum privacy.
The crew has decades of experience around the sailing routes and inland rich history. So, you get to enjoy places meant for local and hidden coves to try swimming and watersports.
TOYS AND AMENITIES
RELAX OF CROATIA yacht charter lack a jacuzzi, but you get the fun experience of Jet Ski (comes with additional cost), Seabob, SUP, and Snorkeling equipment.
5. ONE BLUE| 127FT
Refitted in 2020, the luxury yacht ONE BLUE has an excellent layout consisting of muted colours, clean lines, and a refreshing appearance. The stabilizers and cosy saloon areas make her the perfect yacht for a family with kids. The Jacuzzi on the flybridge with al fresco dining and a master cabin on the main deck ensures an extravagant yacht charter for the guests.
Apart from the amenities, ONE BLUE has a proud Croat Captain with 25 years of maritime experience. Therefore, sailing across the ocean will be safe and steady- proper for a family with children and the elderly.
TOYS AND AMENITIES
ONE BLUE's furniture items were designed to have multiple functions, such as the Main saloon dining table converting as a poker table when necessary. Gym and exercise equipment and Deck Jacuzzi are sought-after onboard facilities.
However, ONE BLUE provides a wide variety of water equipment- Tender: Brig 8m with 300HP engine, Waverunner Seadoo model, Seabob, Water skis of 2 pairs, Snorkelling equipment, and many more.
6. NOOR II| 102 FT
NOOR II's all-glass exterior gives the guests the visual treat-360 degree infinity view– all throughout the charter in Croatia. She is also the only asymmetrical SL102 yacht charter in the world– meaning the yacht feels like a home. The semi-full beam Master Cabin has a private foredeck, while there is a balcony in the Main Salon. Only a handful of luxury yachts have the chic glass stairway to the upper deck. NOOR II hosts 11 guests in 5 cabins, with 5 crew members.
TOYS AND AMENITIES
NOOR II yacht charter toys to keep the guests occupied for days -a 10m chase boat, Cayago F5SR Seabob, a wakeboard, kneeboard, a Seabob, snorkelling equipment, and fishing gear. Also, the onboard movie theatre can entertain children too young for watersports. The Gocycle electric bikes are a great addition for guests who like to take a leisurely trip around the ancient city.
If you want to do windsurfing, diving, and wakeboarding, NOOR II's Captain Ivan from Murtar can be the perfect guide. He has the experience, territorial knowledge, and first-hand experience to guide you through the activities.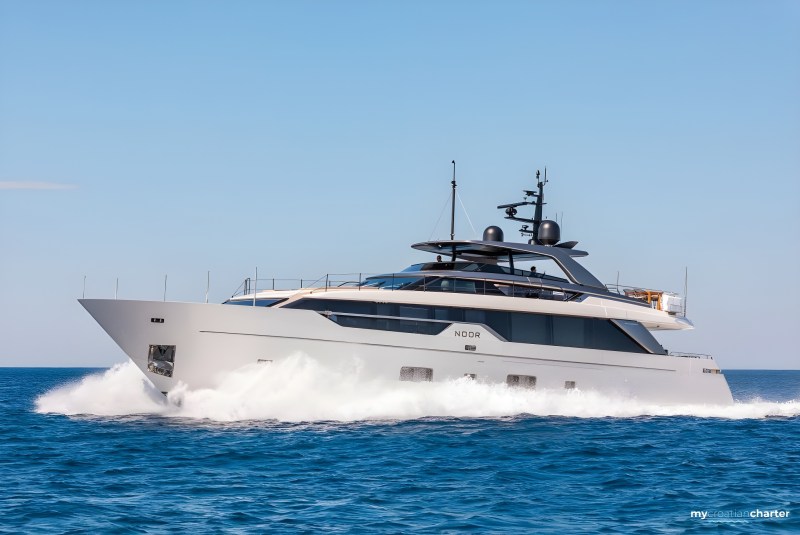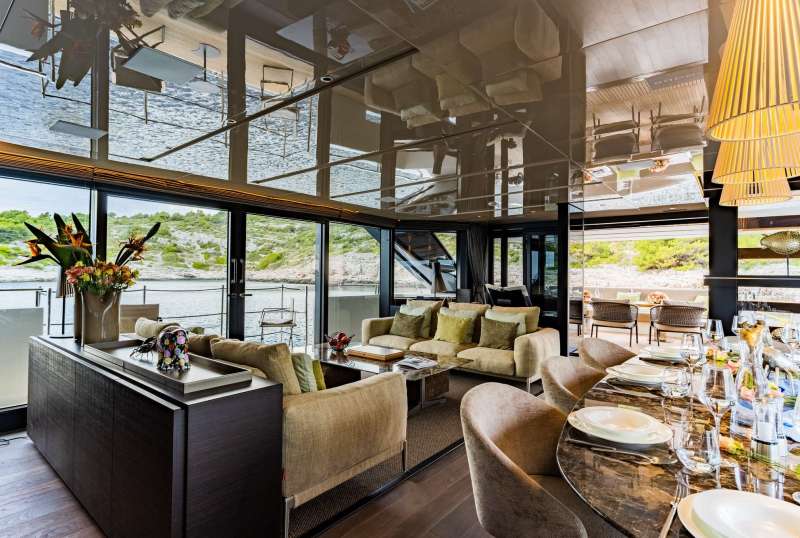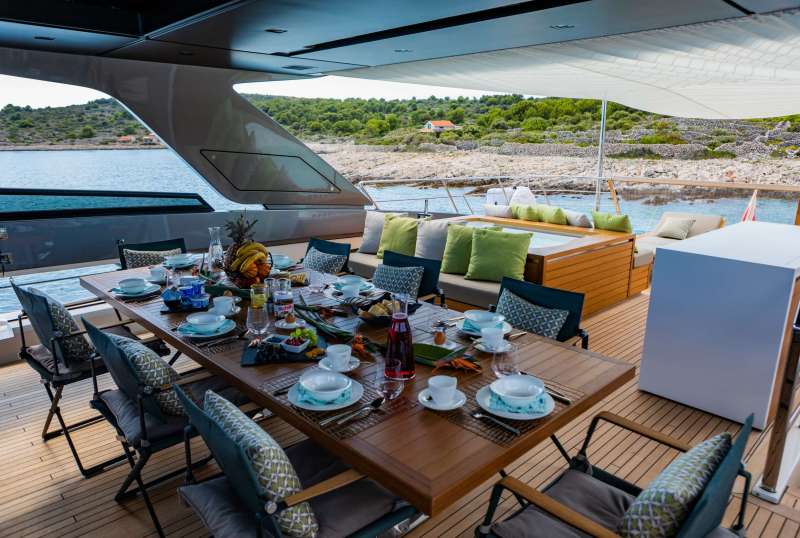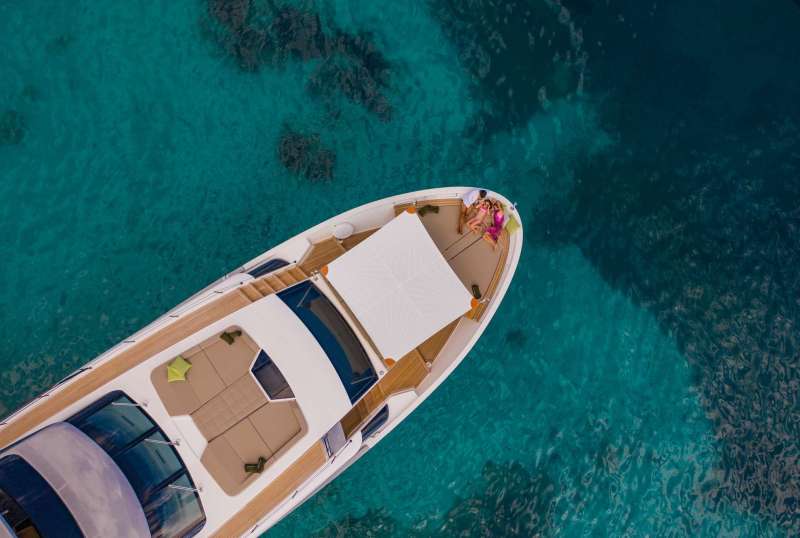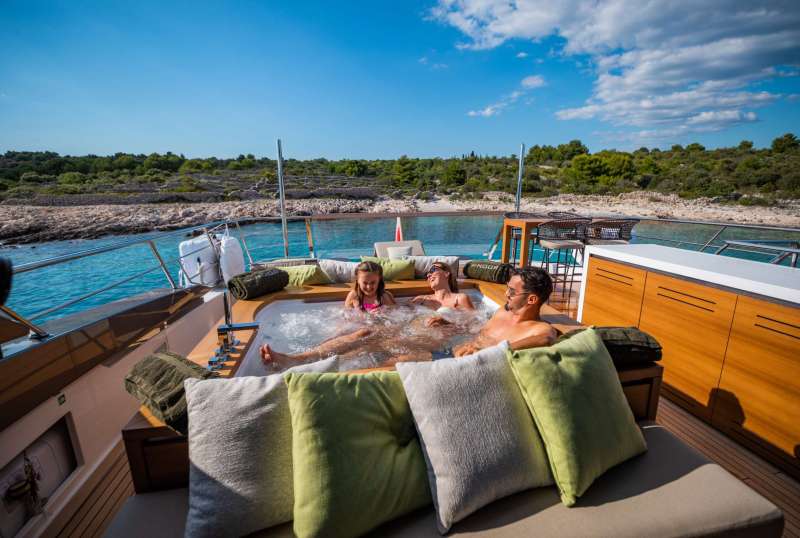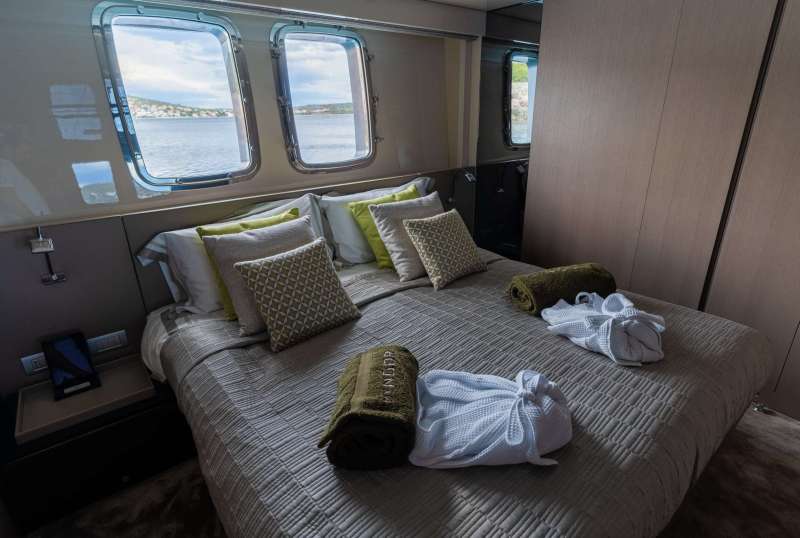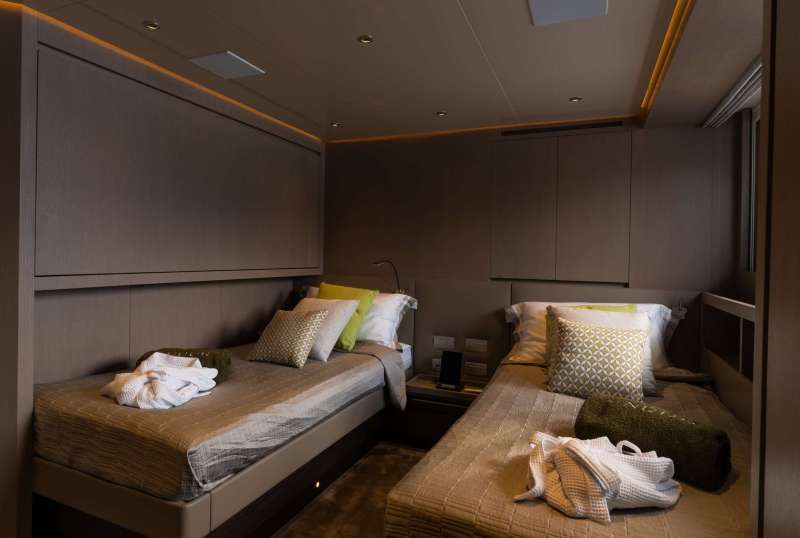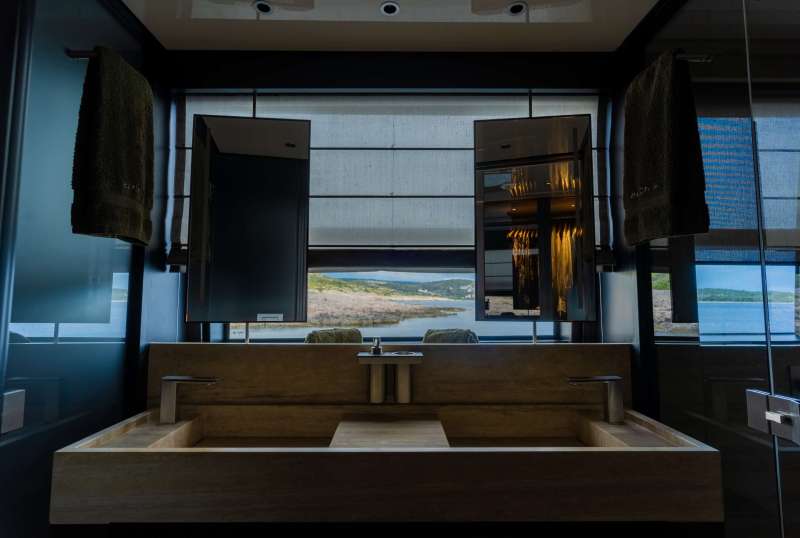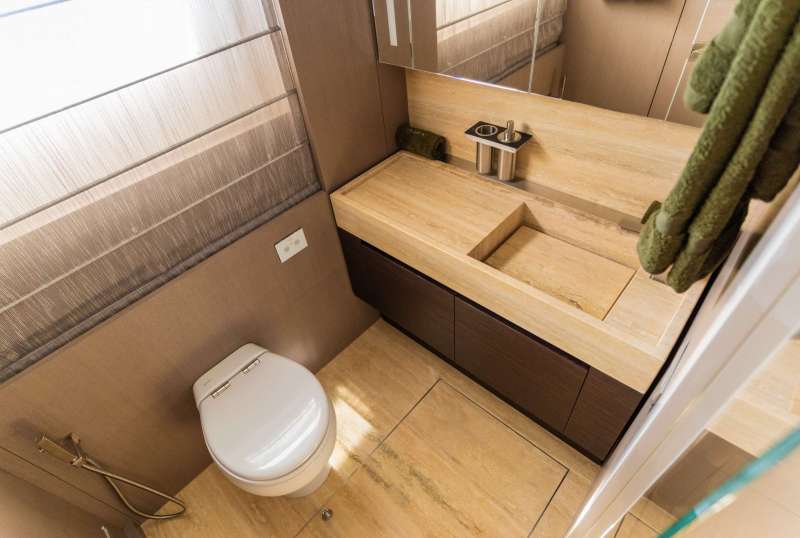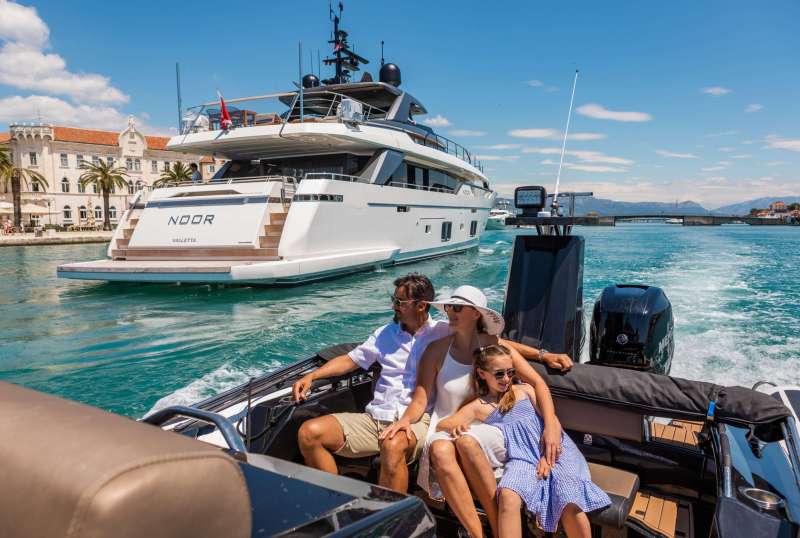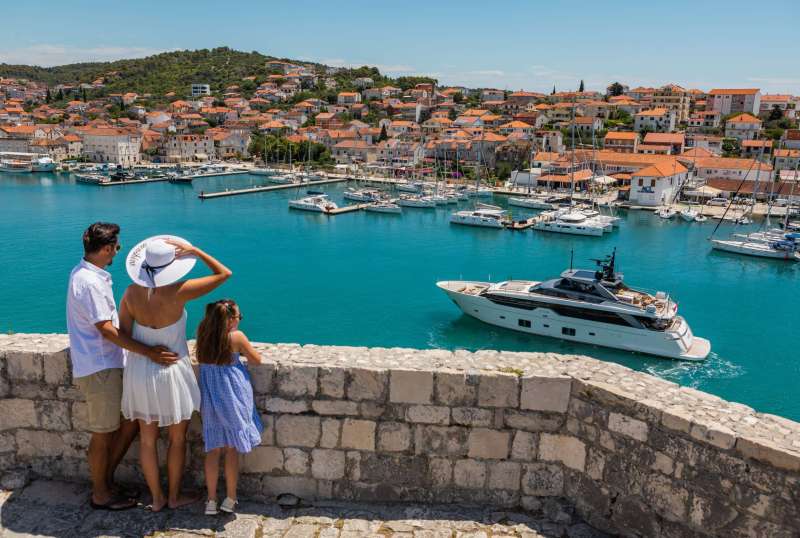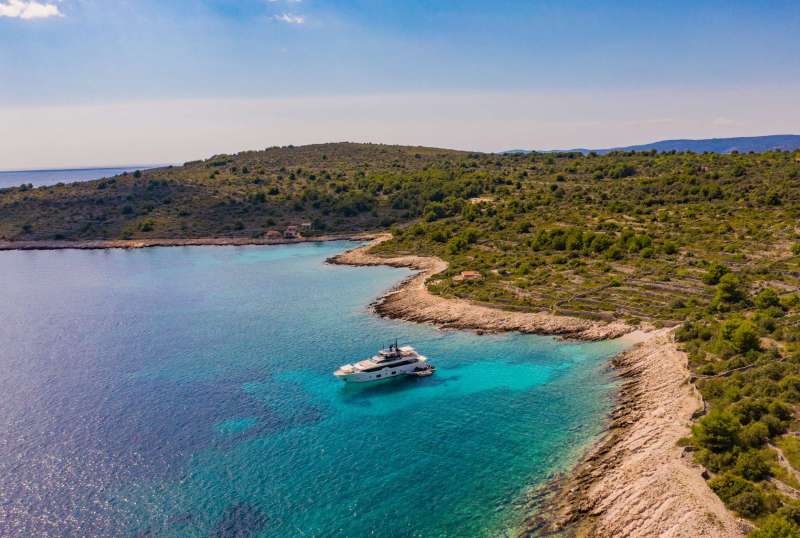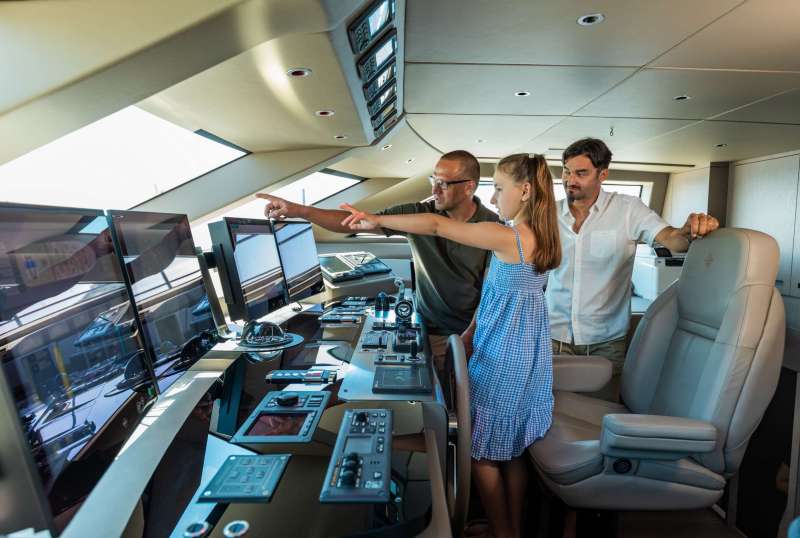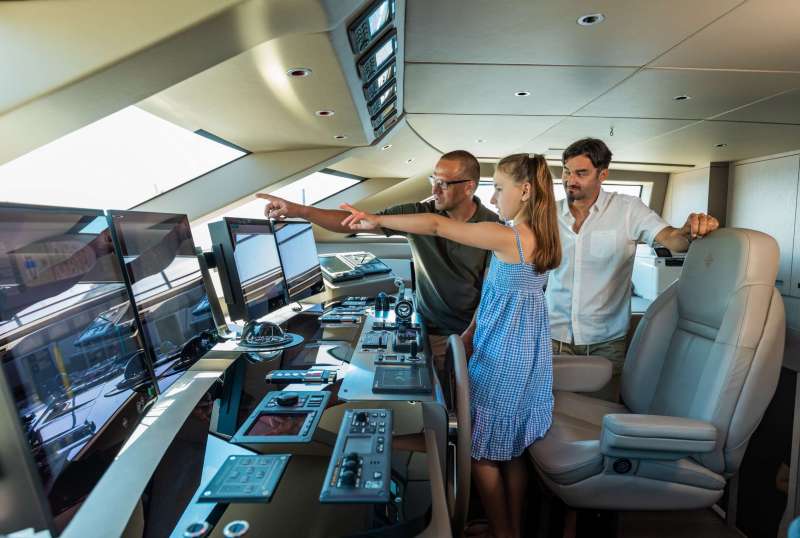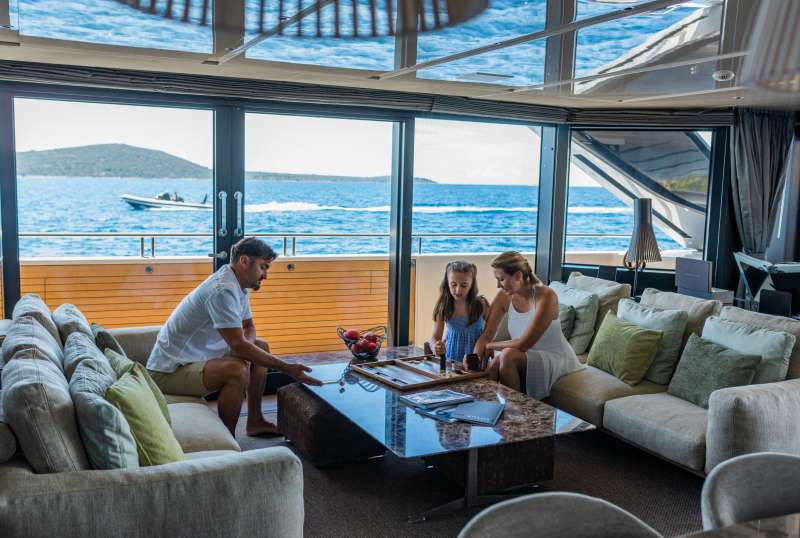 NOOR II
From €105,000/week
5 cabins
101 ft
San Lorenzo
11 guests
Built: 2020
7. HEERLIJCKHEID| 100FT
For charter guests looking for a soundless and comfy motor yacht charter, HEERLIJCKHEID is the perfect vessel. She is silent, accompanied by low vibration levels. Also, the zero-speed stabilizers for maximum comfort ensure the guests don't feel any rolling at sea and while dropping the anchor. This 100ft yacht can take you to the narrow secluded coves as she can moor in shallow waters.
HEERLIJCKHEID yacht charter is all about getting the best yachting exploration for the 9 guests from the experienced Captain (9 years), the first mate (6 years), and the chef (5 years).
TOYS AND AMENITIES
Do you want to work out a bit after indulging the sumptuous meals? HEERLIJCKHEID has a solution for that- a gym with weights, equipment, and yoga mats. You can also Kite surf or explore the olive groves and historical monuments with the onboard Racing bicycle Velo Route EDR AF15.
Relieve your stress at the deck jacuzzi or try out different watersports as the toy list of HEERLIJCKHEID is vast- Diving gear & compressor, Wakeboard, Waterski, Tender BSC51 80hp RIB, Water scooter Seadoo GTR 215, Jetski Yahama Superjet 700, Jetsurf board, Seabob F5S, and Electric powered canoe.
8. VALENTINA II| 91FT
Even though VALENTINA II has an old exterior, the refitting in 2021 gives the guests all the modern amenities and eye soothing interior. The primary stateroom will let you enjoy the 360 degrees views of the Croatian natural beauty. The all-white lounging and dining areas are enough to refresh your mind after a busy day of water sports and site visitations.
TOYS AND AMENITIES
VALENTINA II has many water toys to entertain the guests: Williams 395 tender, Seabobs, Wakeboard, Waterski, Monoski, SUP Board, Towing doughnuts, and Kayak for 2 people.
Also, the guests can access onboard Snorkeling gear and Fishing gear. You can get fishing and water activity tips from the deckhand Mr.Luka and use the modern water toys easily.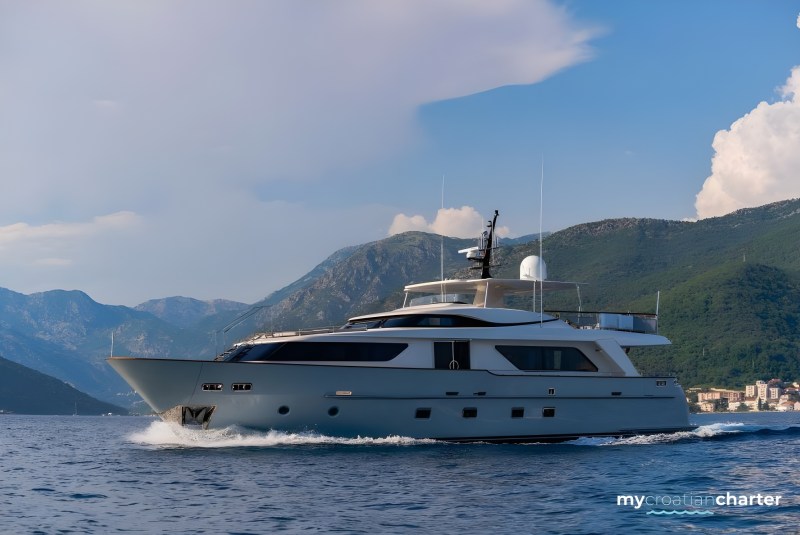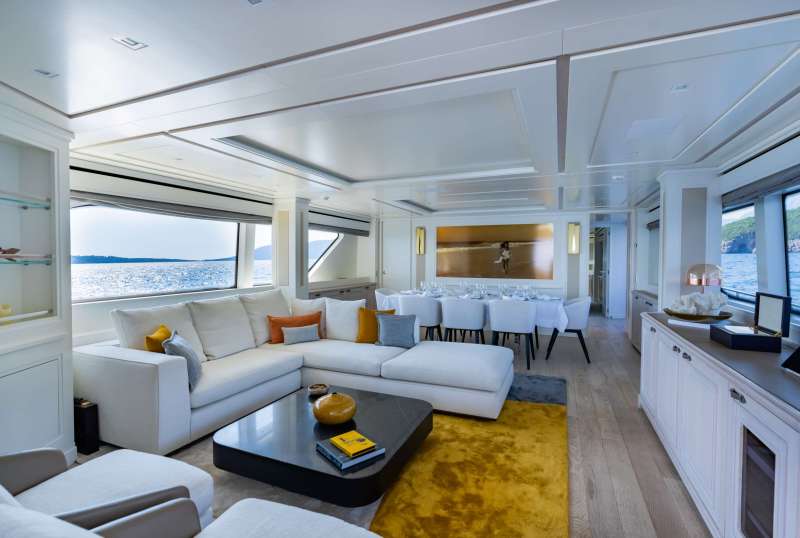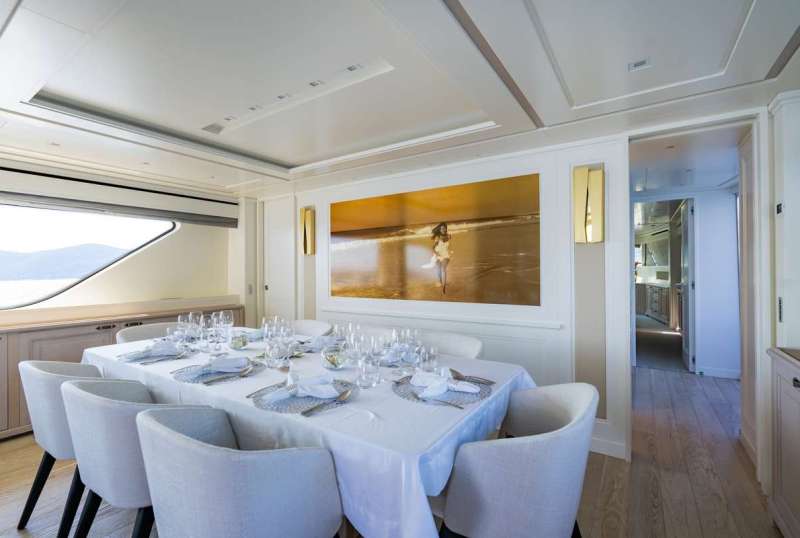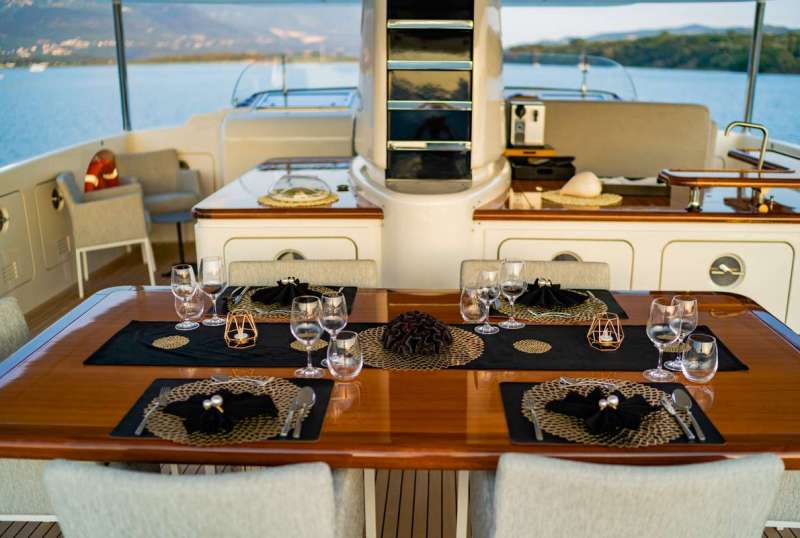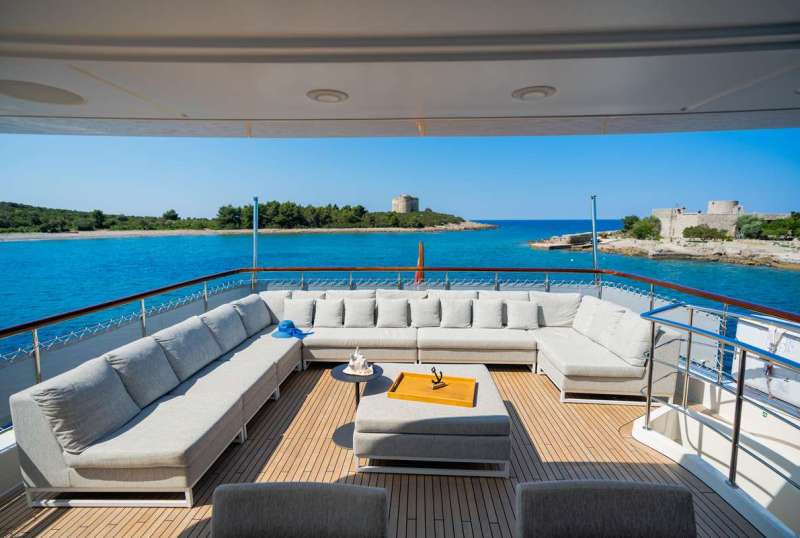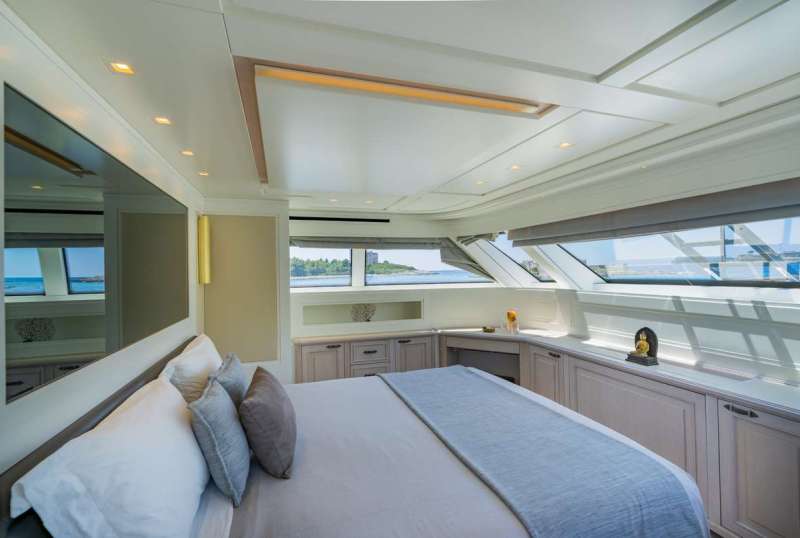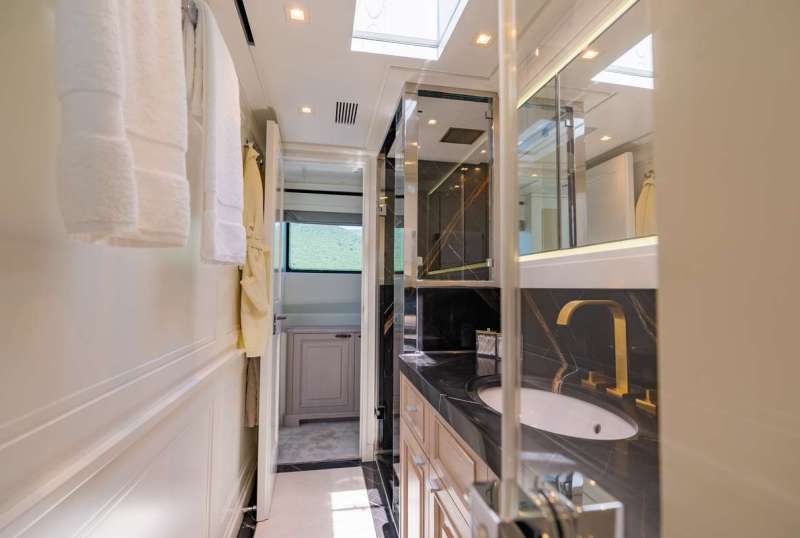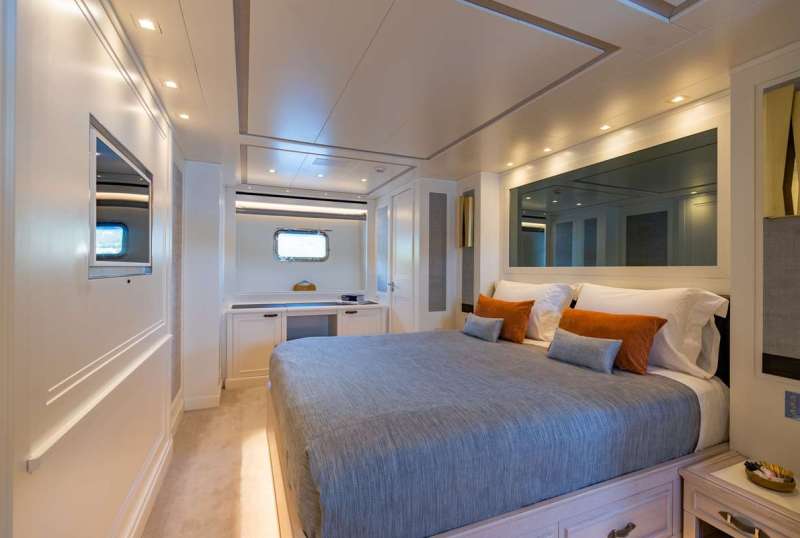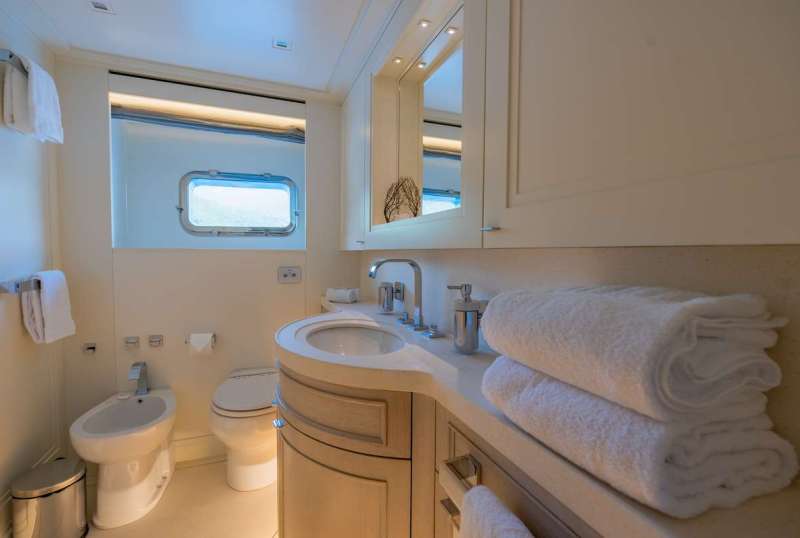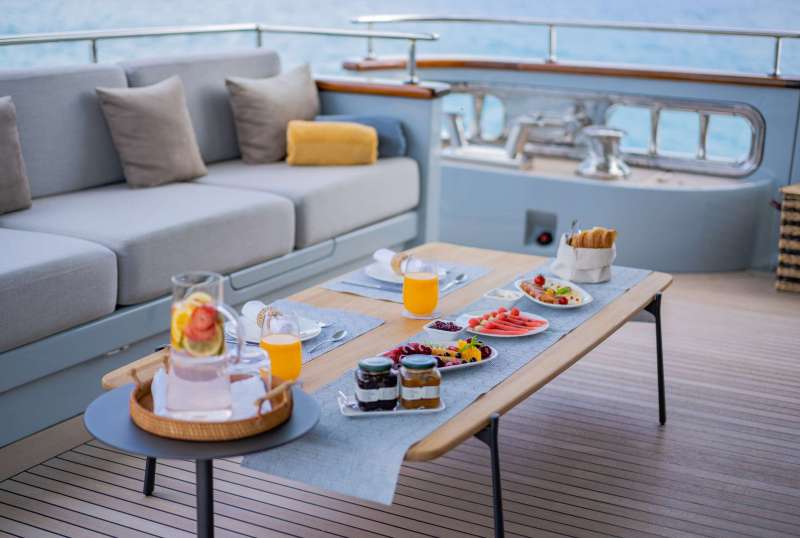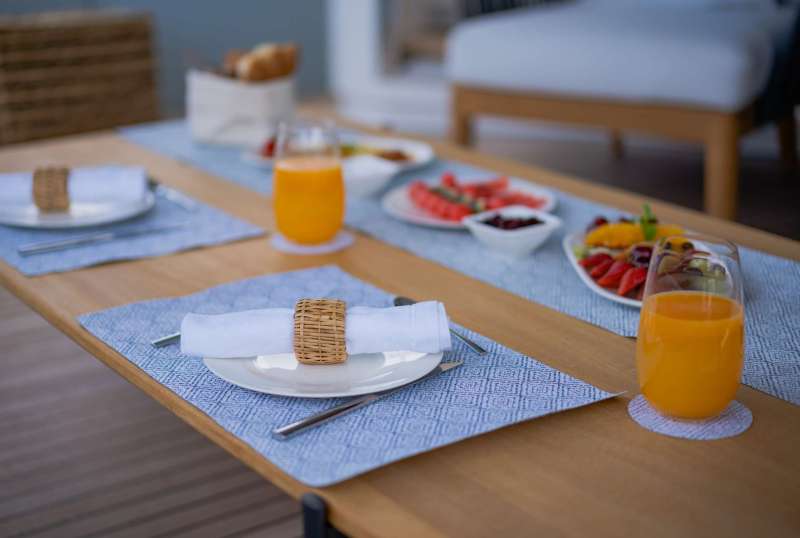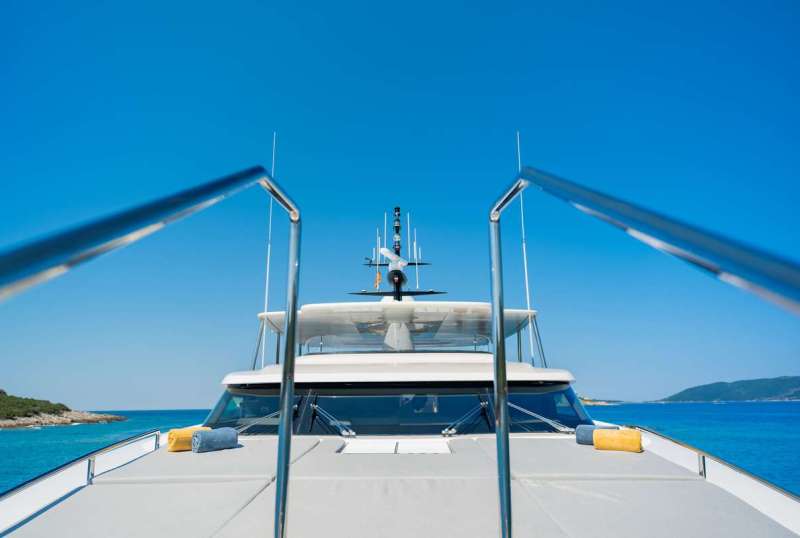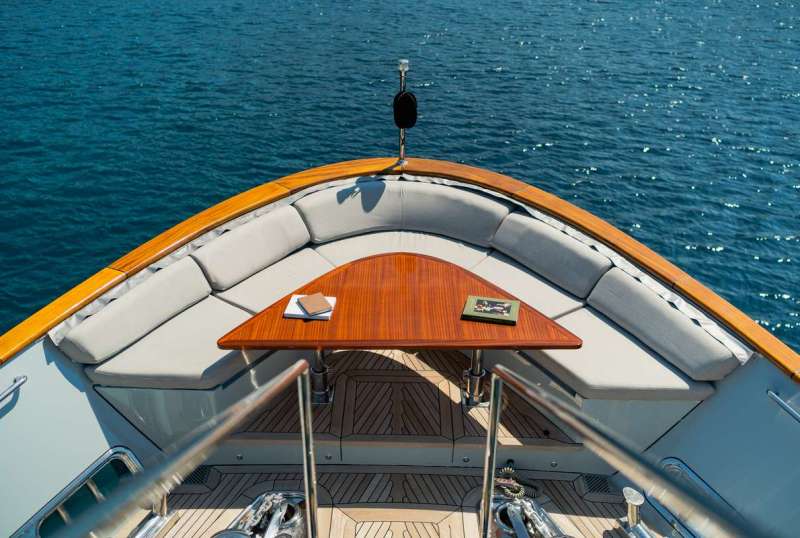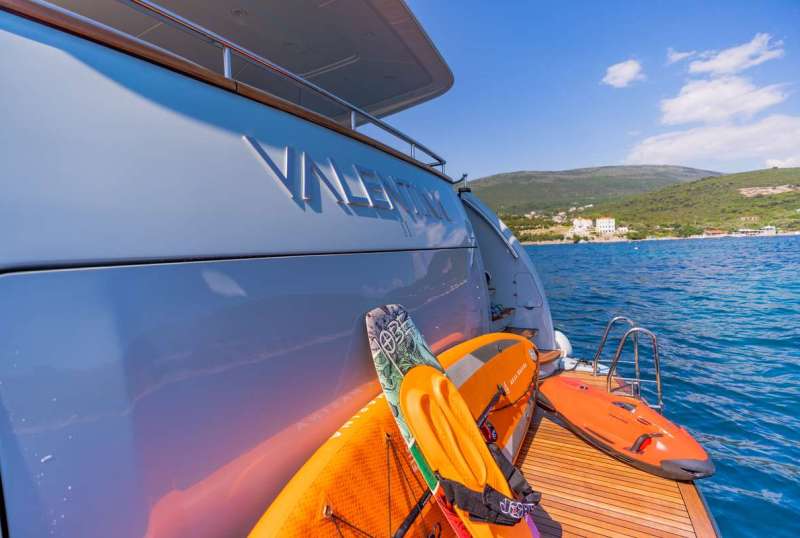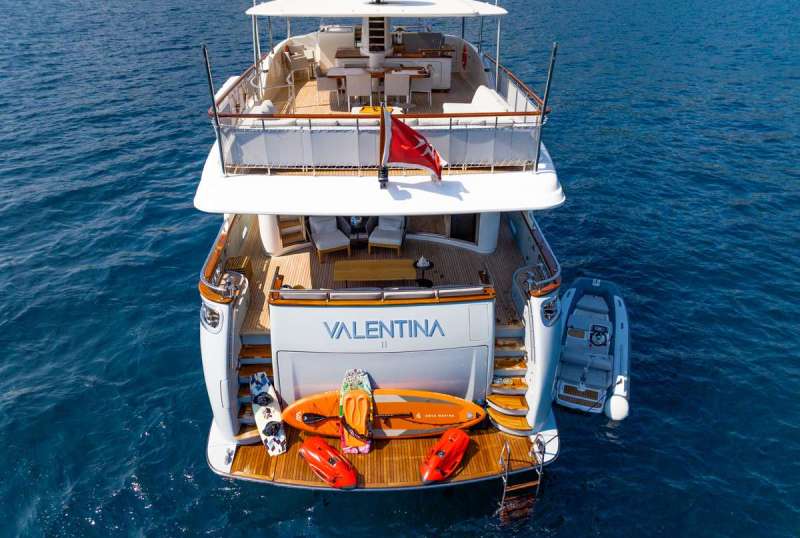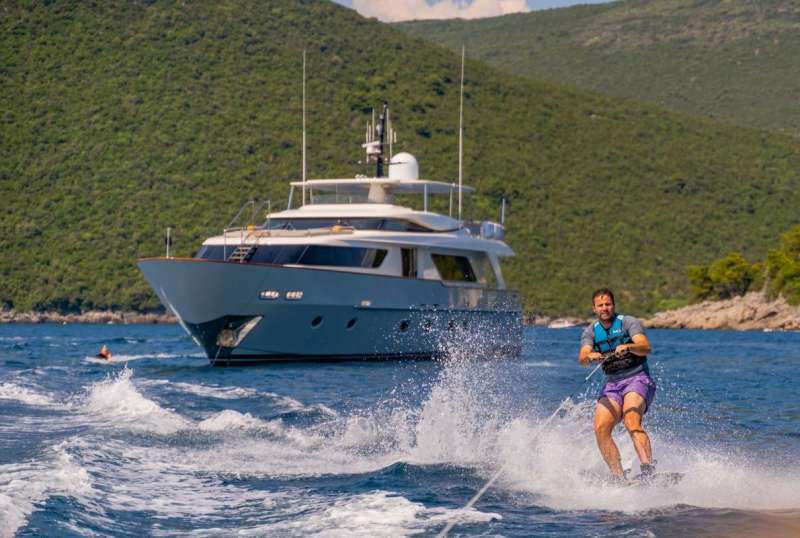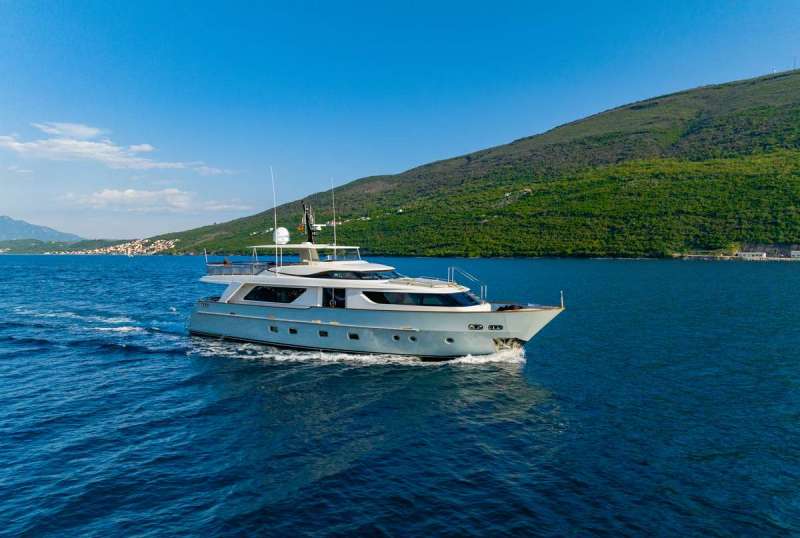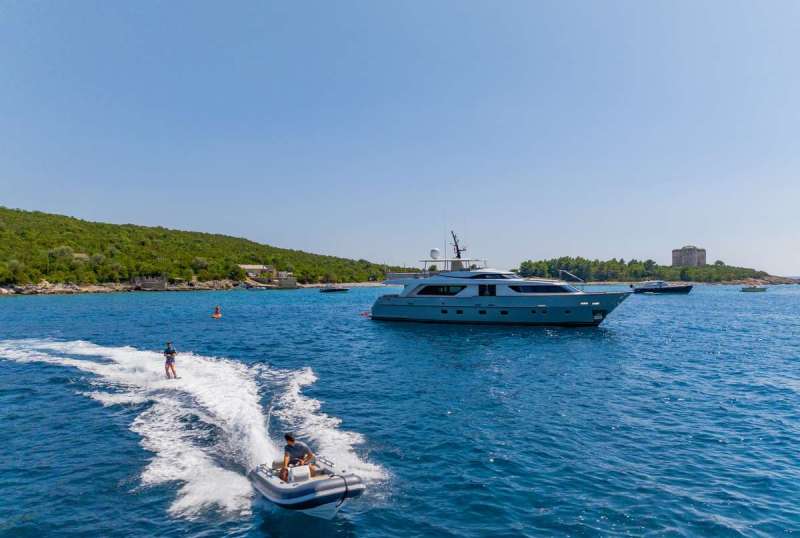 VALENTINA II
From €62,000/week
4 cabins
90 ft
San Lorenzo
8 guests
Refit: 2021
120 Litres/Hr
9. SEVEN| 91FT
SEVEN is another unique Asymmetric yacht (Sanlorenzo SL90) with an expanding layout, unlike many 21st-century yachts. The asymmetry increases the living, dining, and salon spaces. So, you can lounge all day and enjoy the panoramic without feeling inside a yacht. The aesthetic layout includes modern artwork, clean curves, sleek lines, and a soothing color palette. The glass staircase to the flybridge is the pinnacle of the yacht's unique interior design.
Meant for 8 guests, SEVEN has a VIP cabin, master cabins, and natural lighting provided by the floor-to-ceiling windows. The South African Captain is a great companion as he knows all about the Mediterranean Sea and, surprisingly, cricket!
TOYS AND AMENITIES
Similar to other modern luxury yachts, SEVEN provides GoCycle electric bikes to guests for land tourism. Also, she has snorkeling gear for underwater activities.
As for the tools, SEVEN sports a newer collection, including Williams 435 Sportjet, Wakeboard, Waterski, Navbo, E-foil, and SUP.
10. KARAT II| 67FT
Sailing Yacht Charters in Croatia come in different sizes and amenities. KARAT II might be small compared to other motor yachts, but the roomy interior can host 8 guests with privacy. She also has the core amenities of a superyacht. KARAT II has a spacious flybridge with shade, sun beds, a full BBQ and bar, two spacious lounges, and a midship dining area. You can also try al fresco dining at the aft deck lounge. As a 2-crew member yacht charter, Captain Marinovic has all the knowledge needed for the Croatian sea.
TOYS AND AMENITIES
Guests get the best of the Mediterranean syn at the hydraulic swimming platform or enjoy water activities with Williams tender turbo jet 325, stand-up paddle-board, and seabob (upon request before the charter).
KARAT II has onboard gear available for underwater activities too. You can snorkel under the mysterious sea with the Captain's insider tips.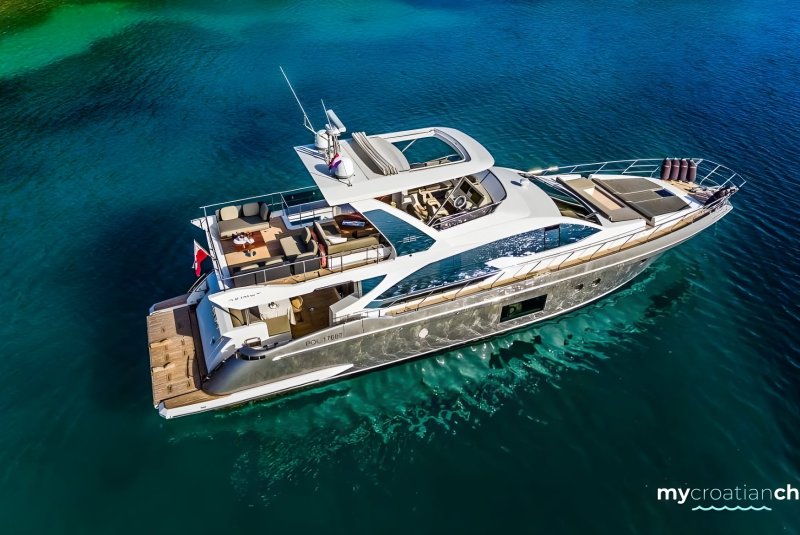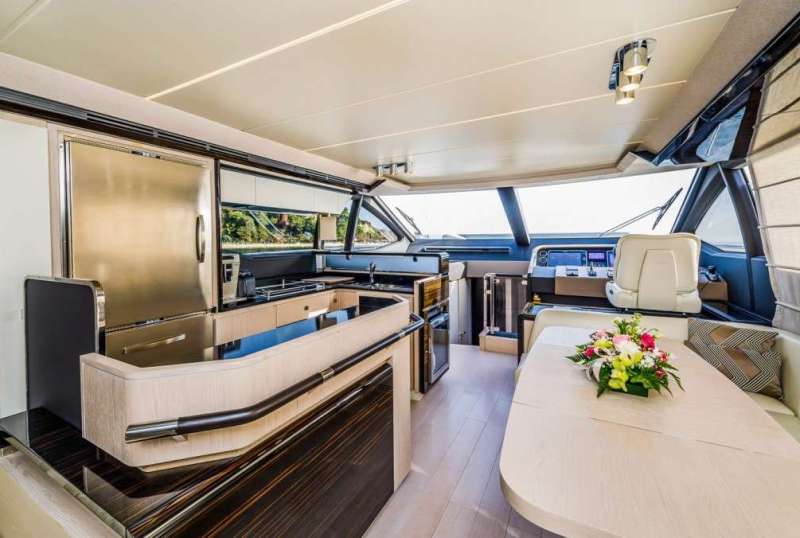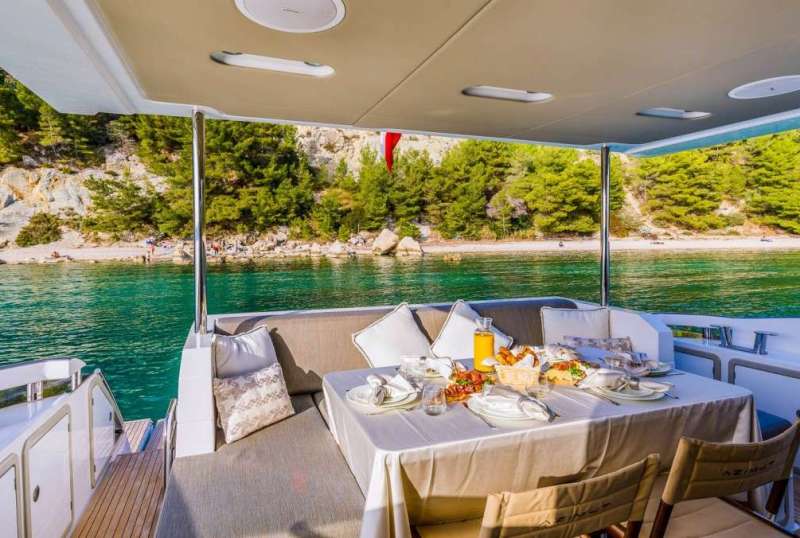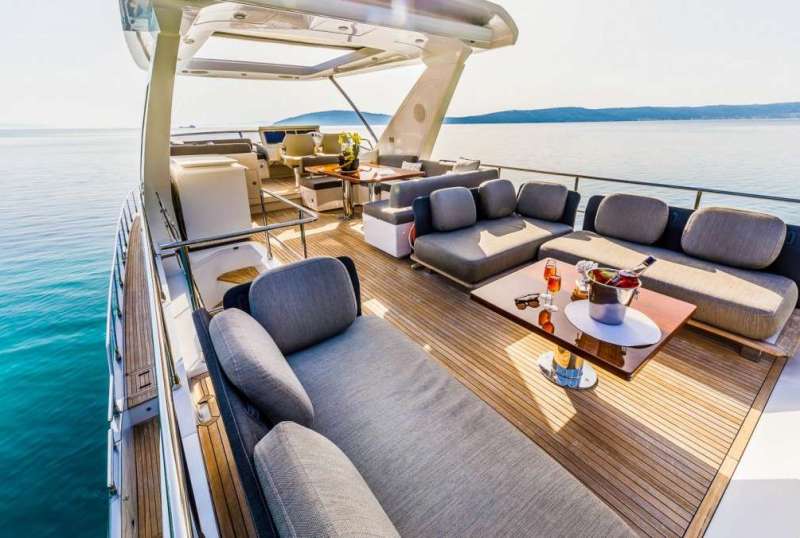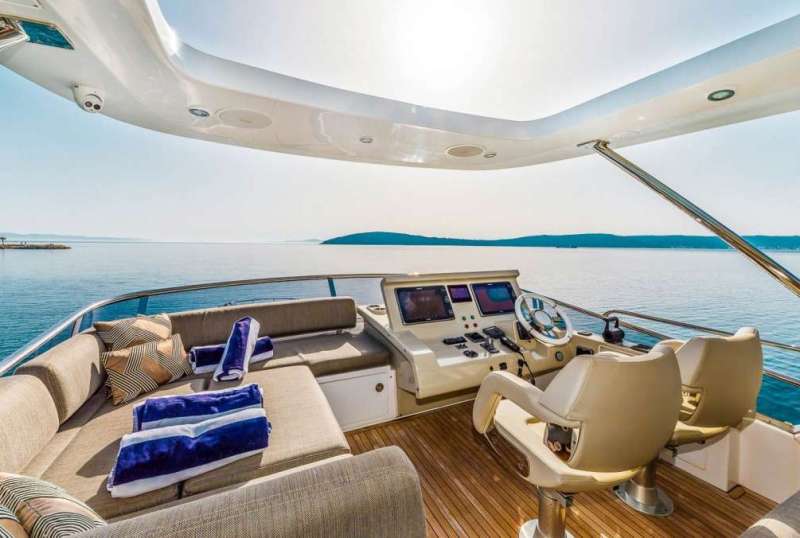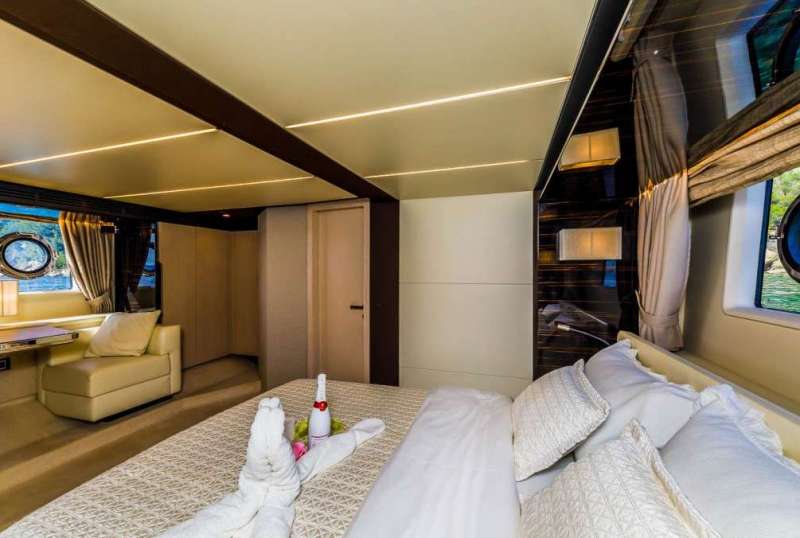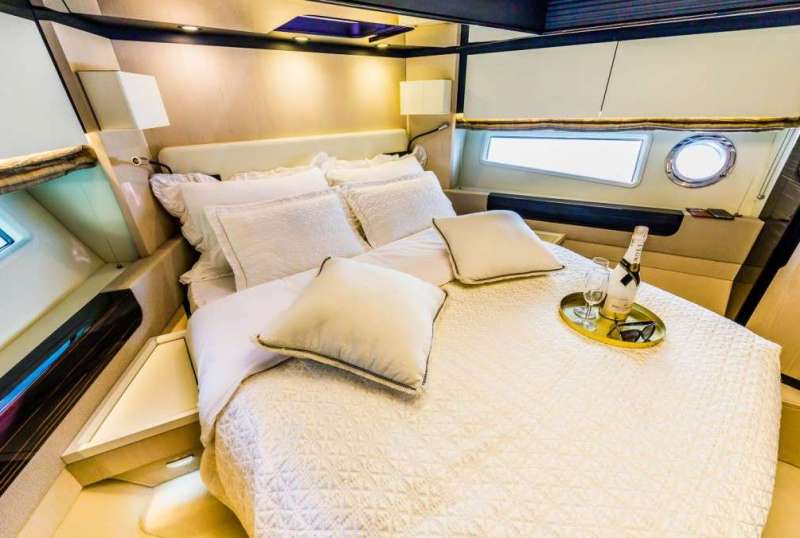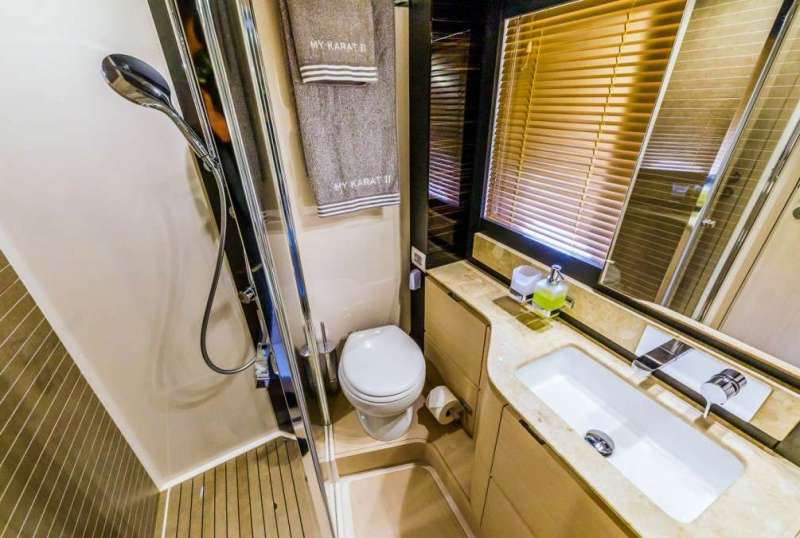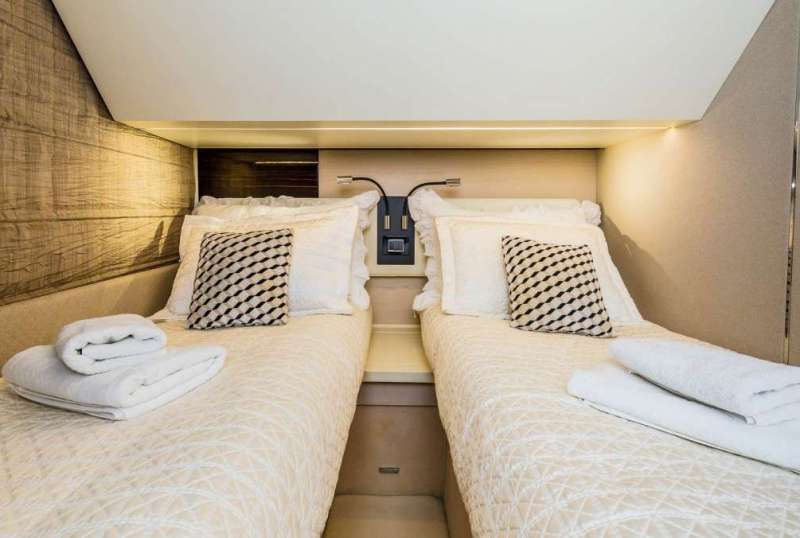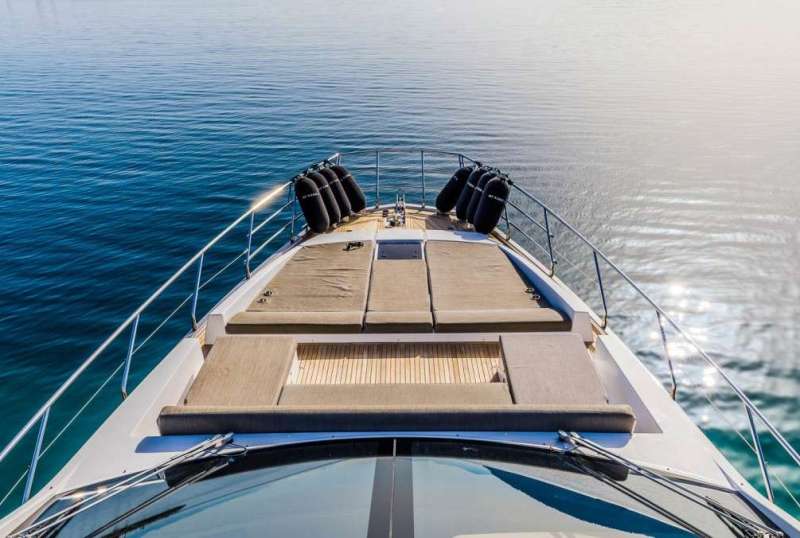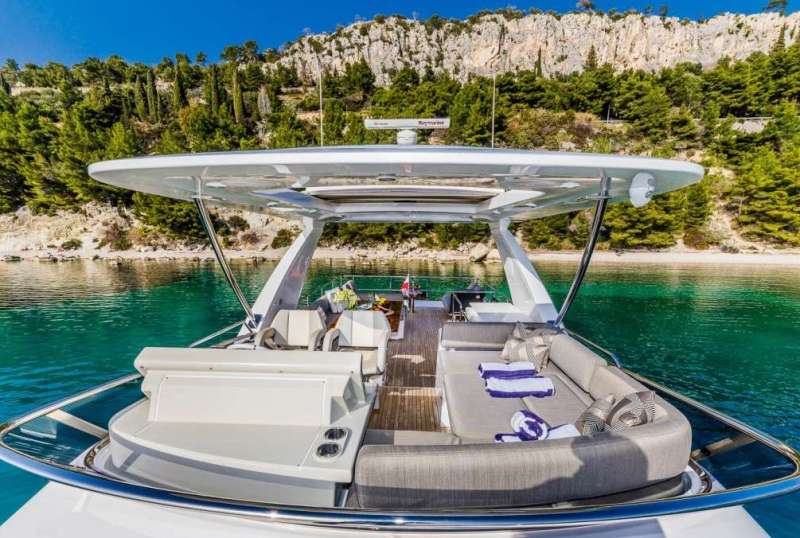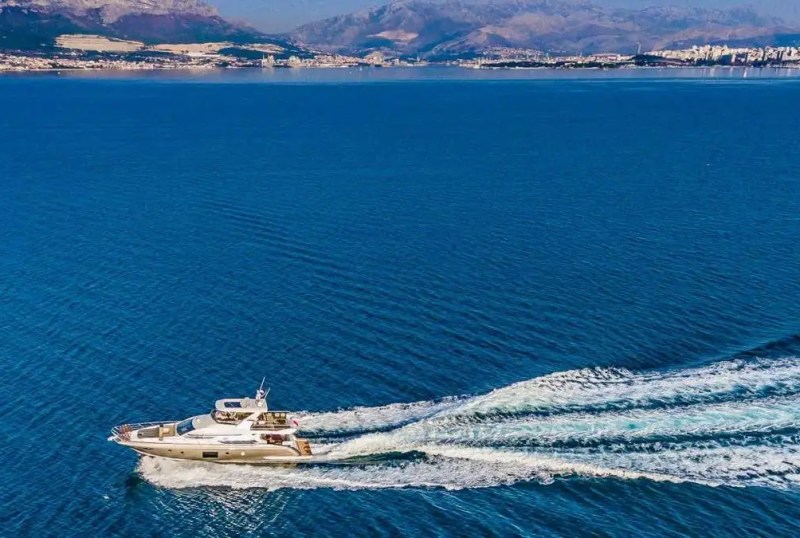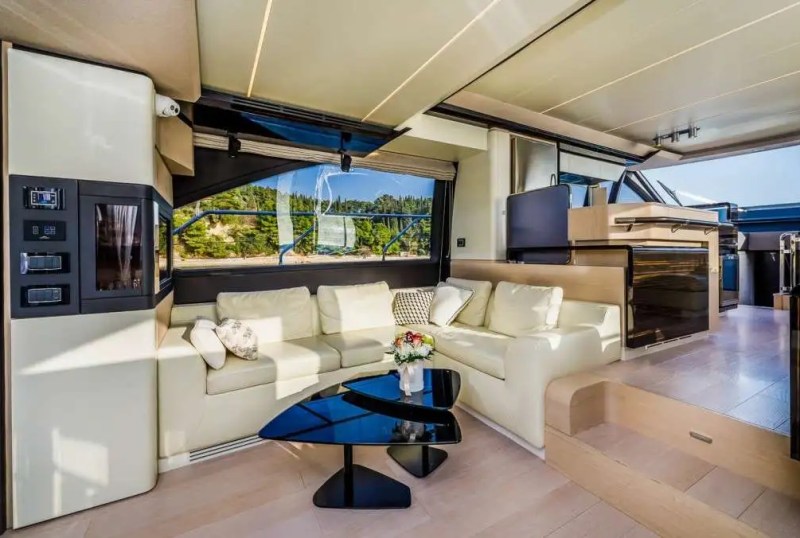 My Karat II
From €23,900/week
4 cabins
66 ft
Azimut
8 guests
Built: 2017
150 Litres/Hr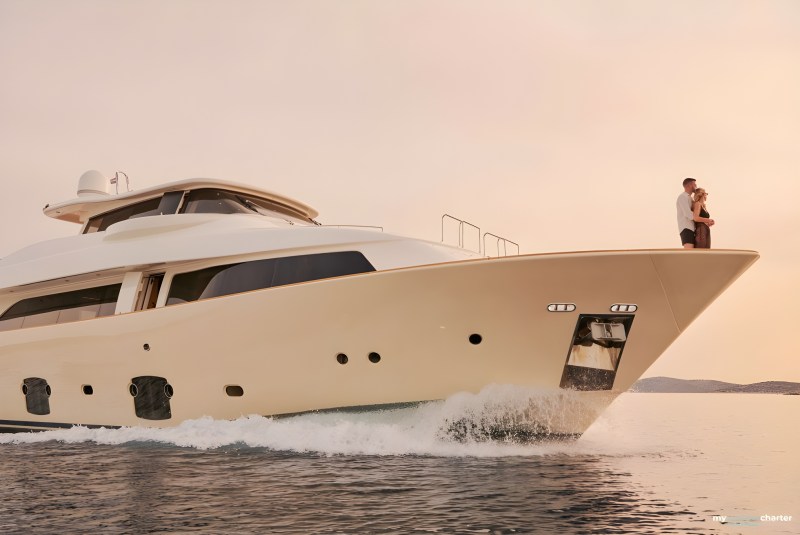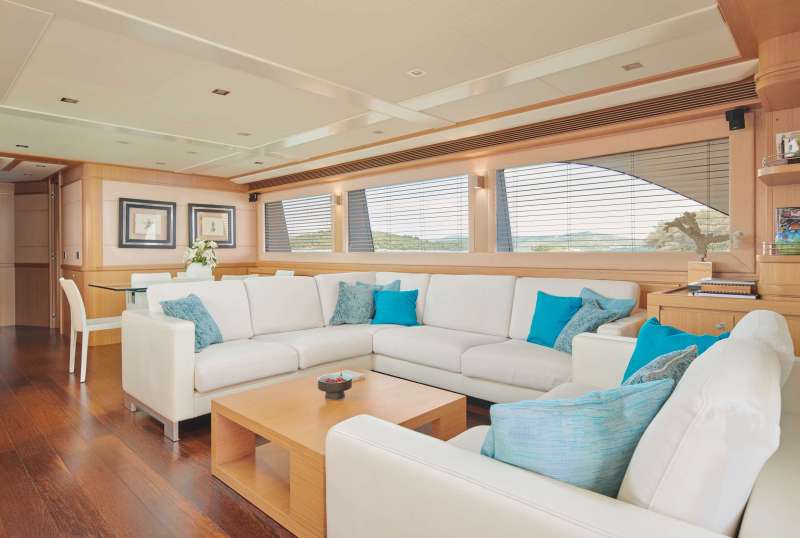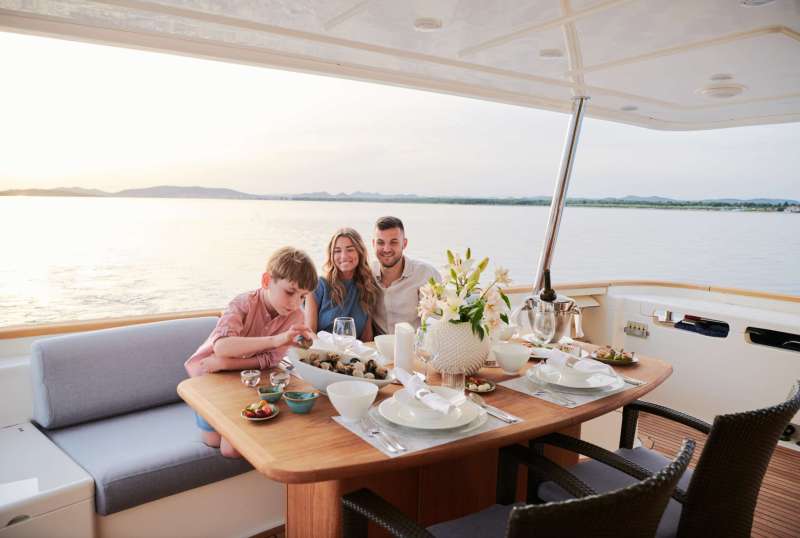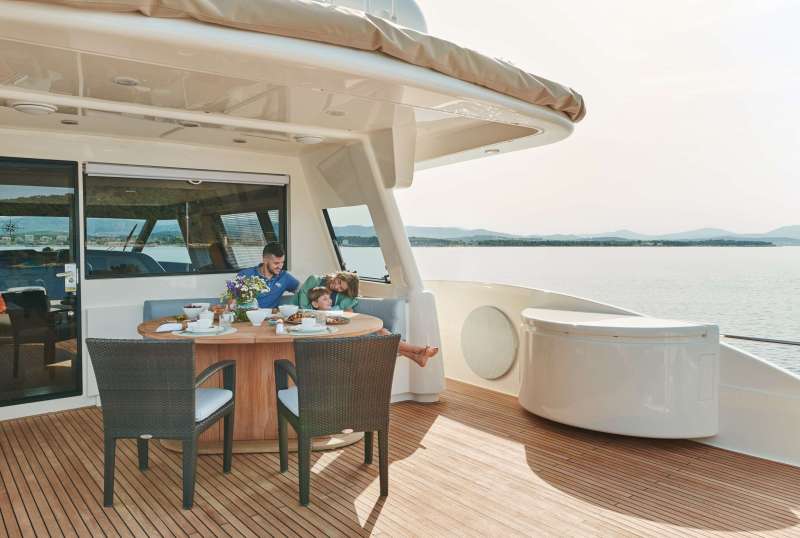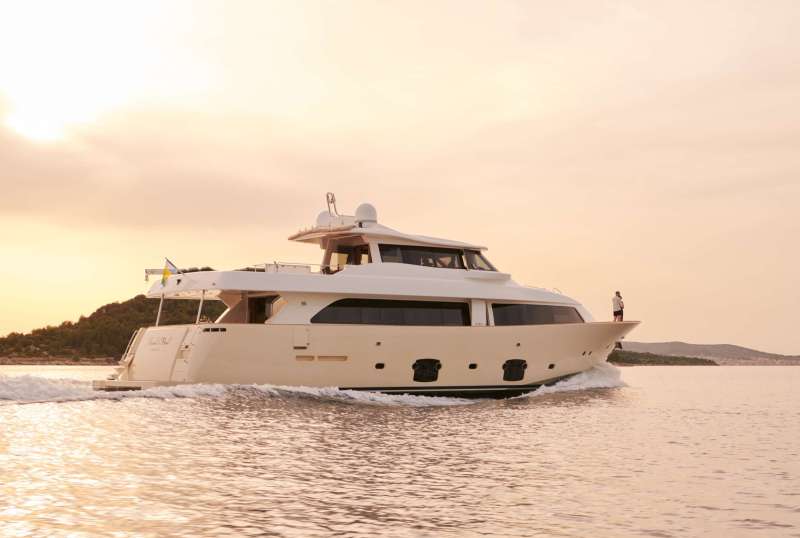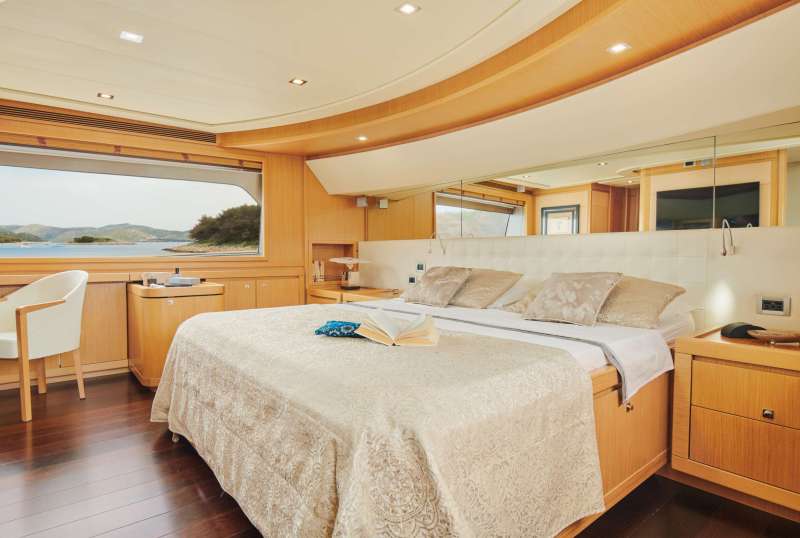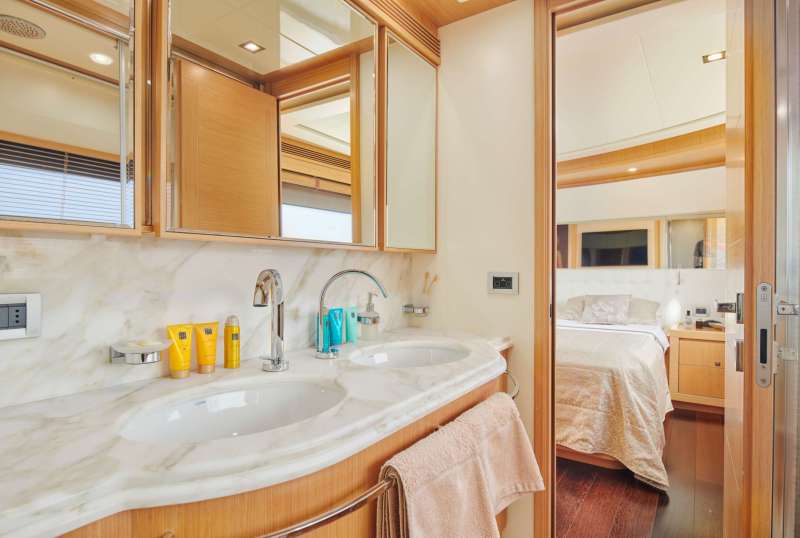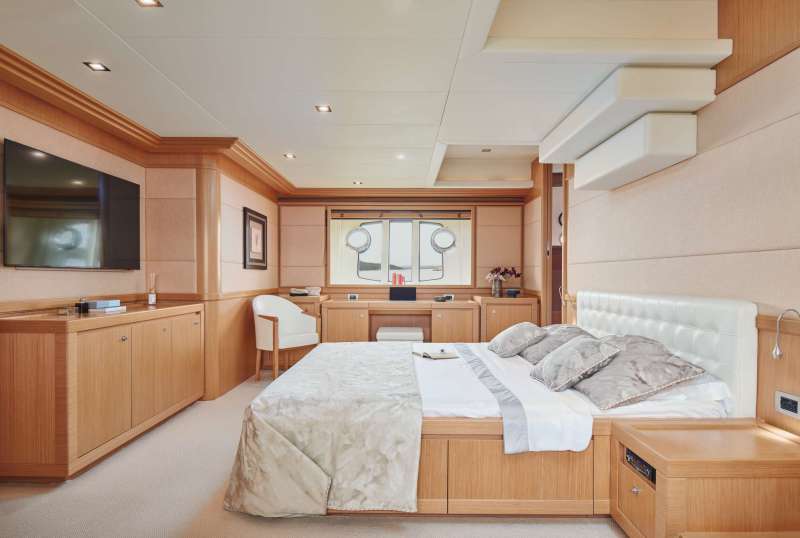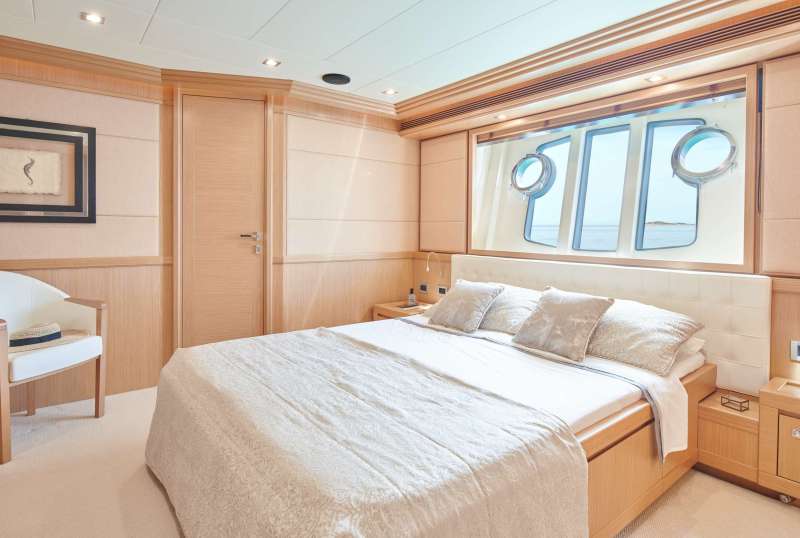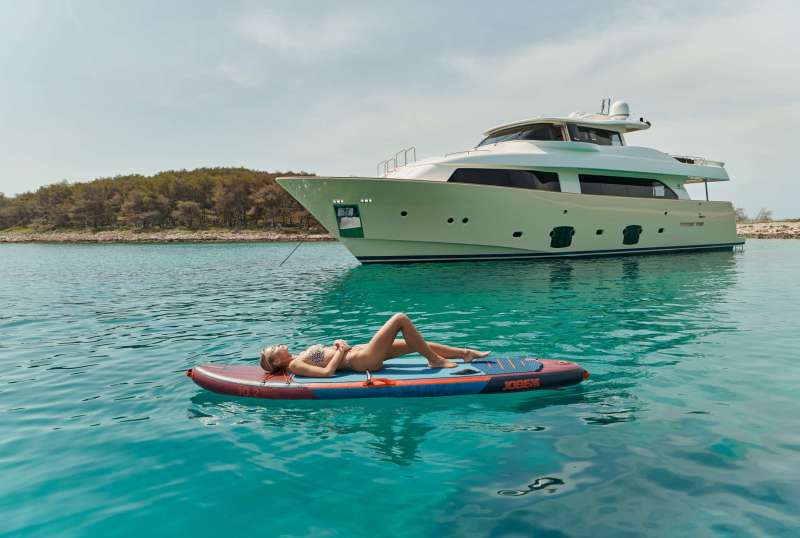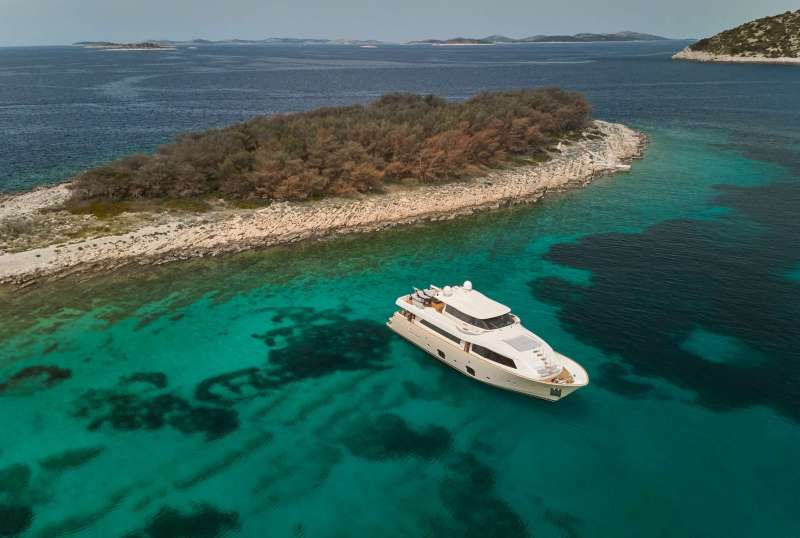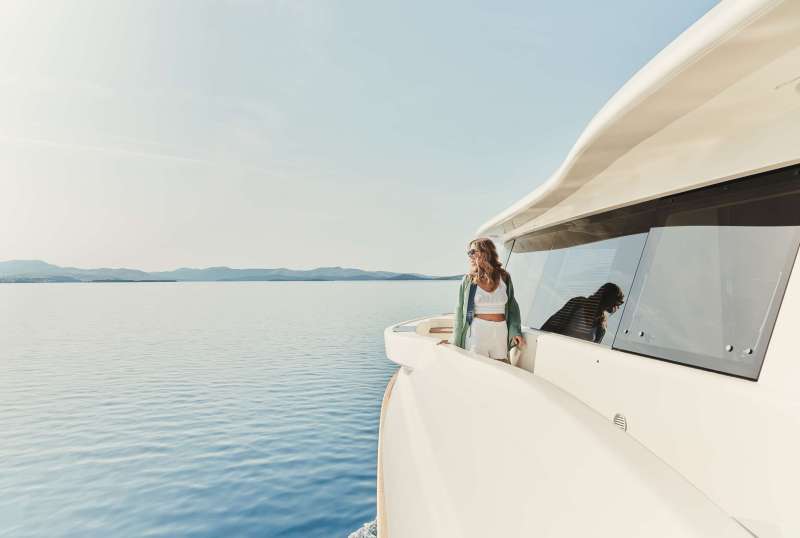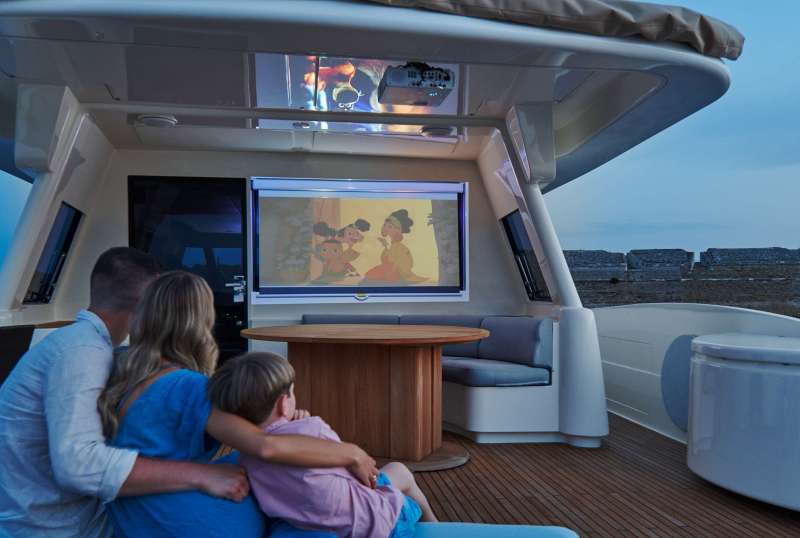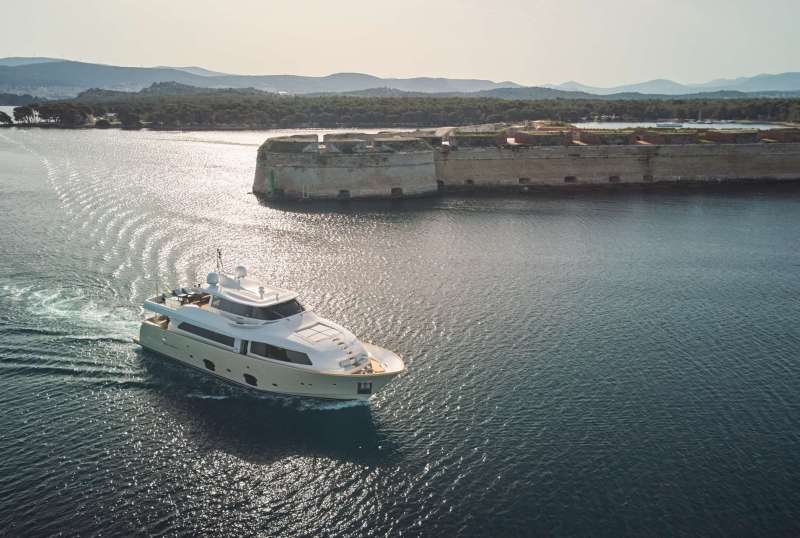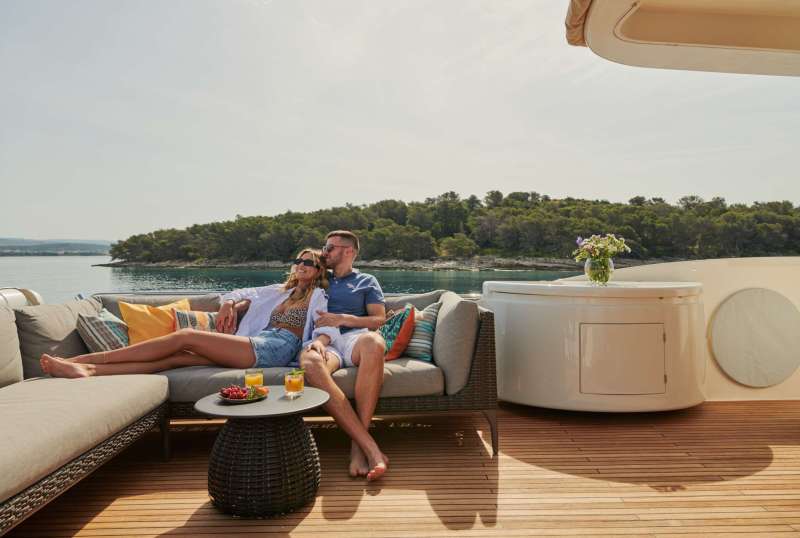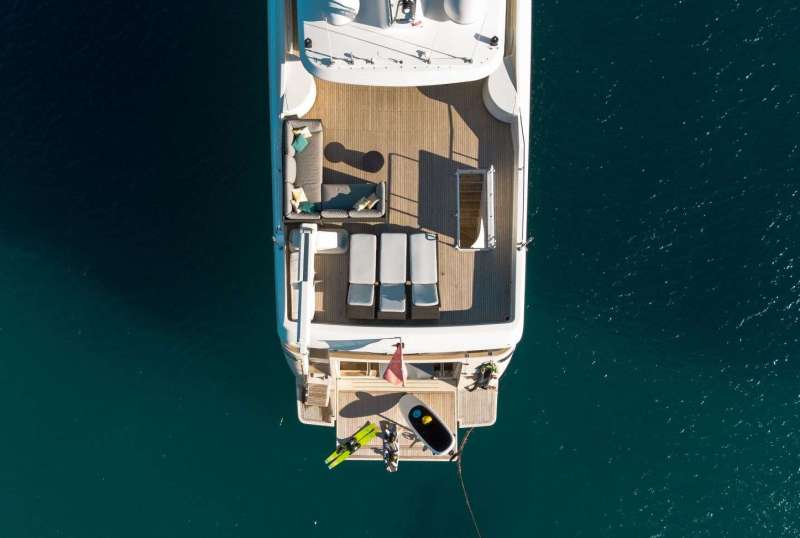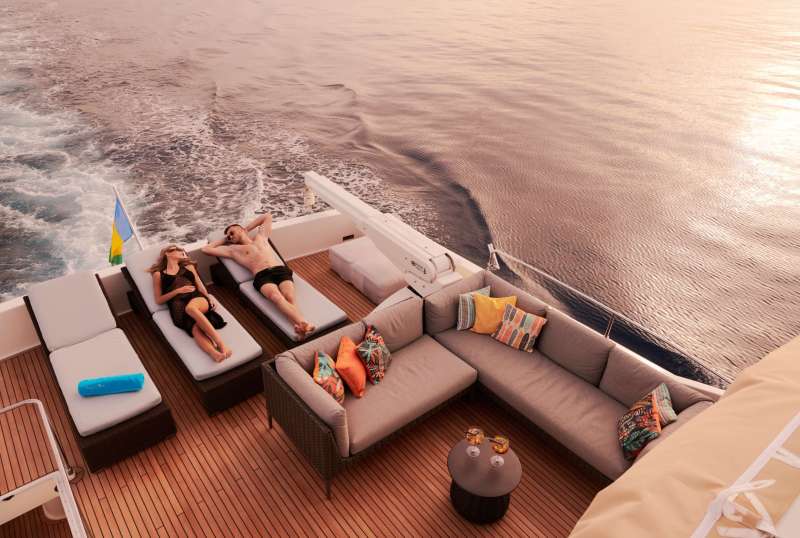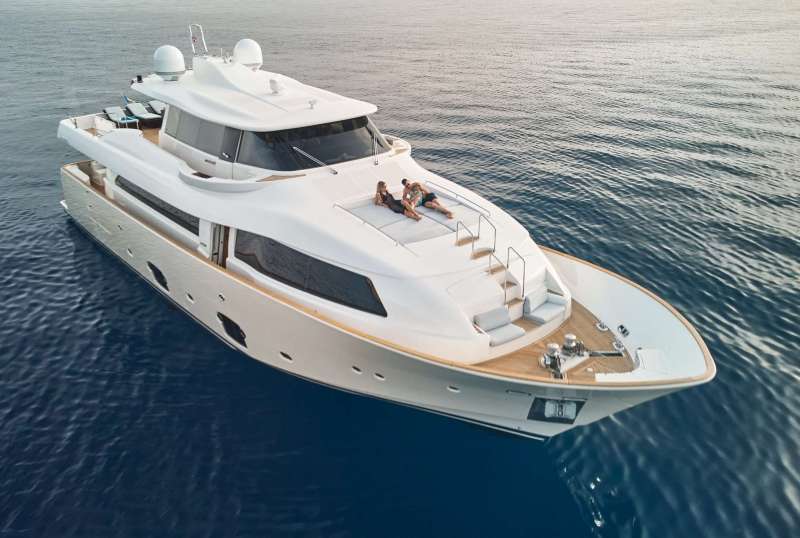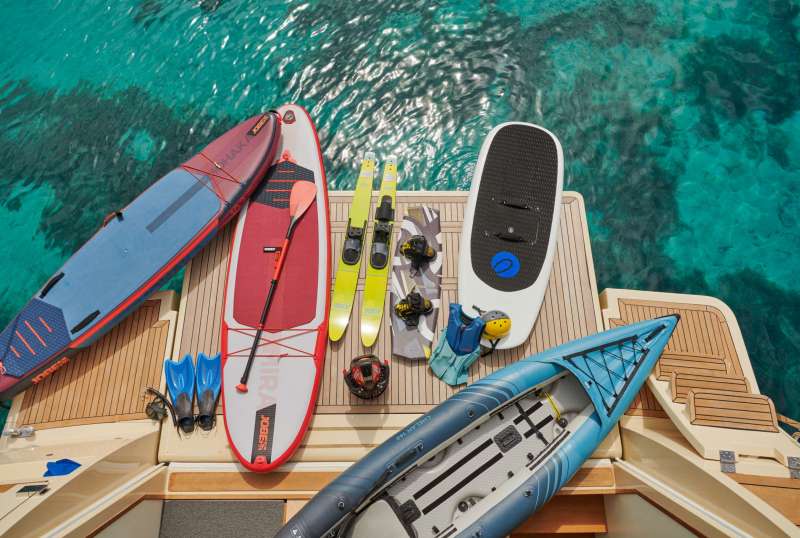 FRIEND'S BOAT
From €42,000/week
4 cabins
86 ft
Ferretti
8 guests
Built: 2008
150 Litres/Hr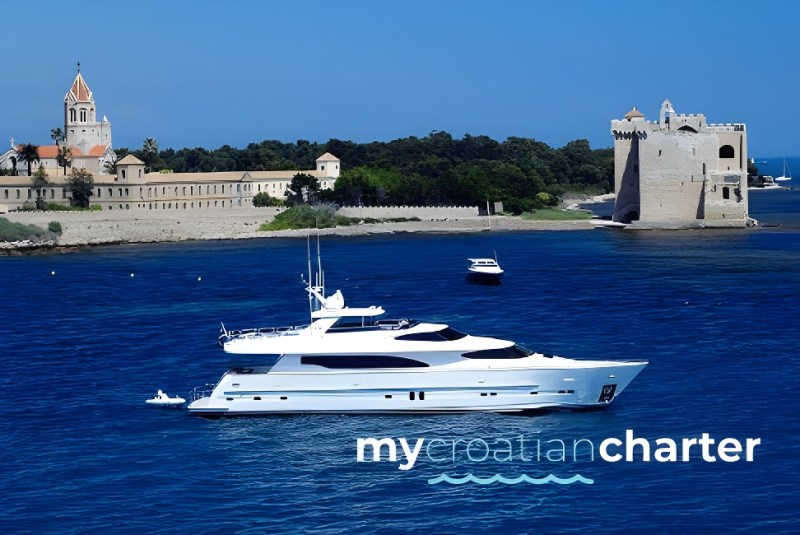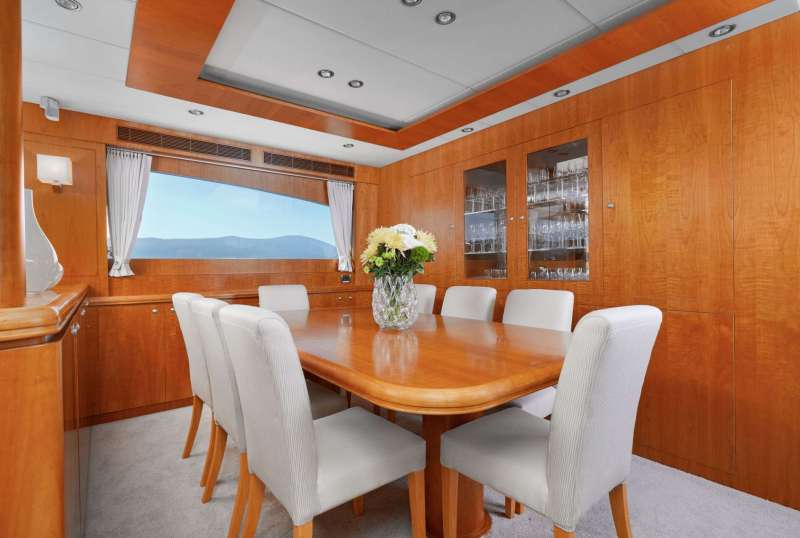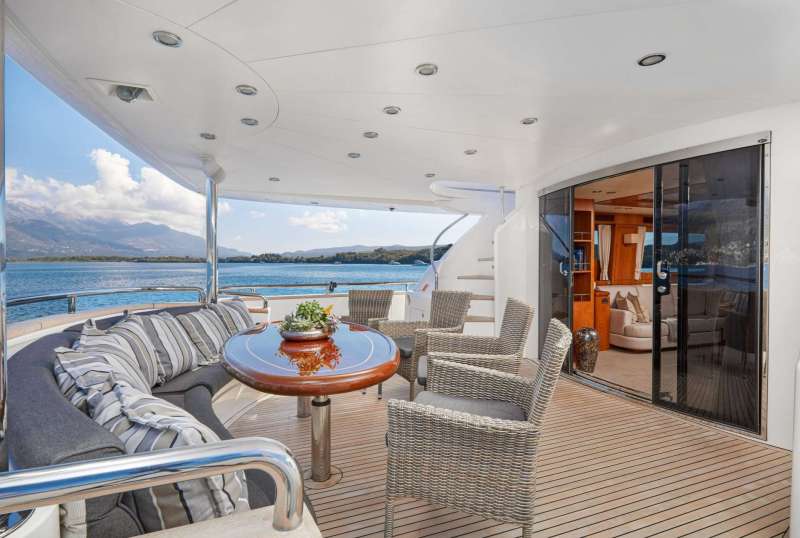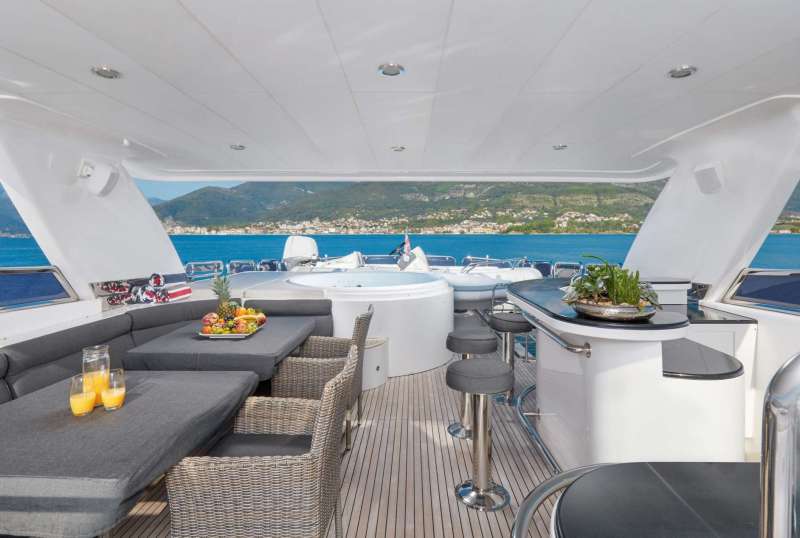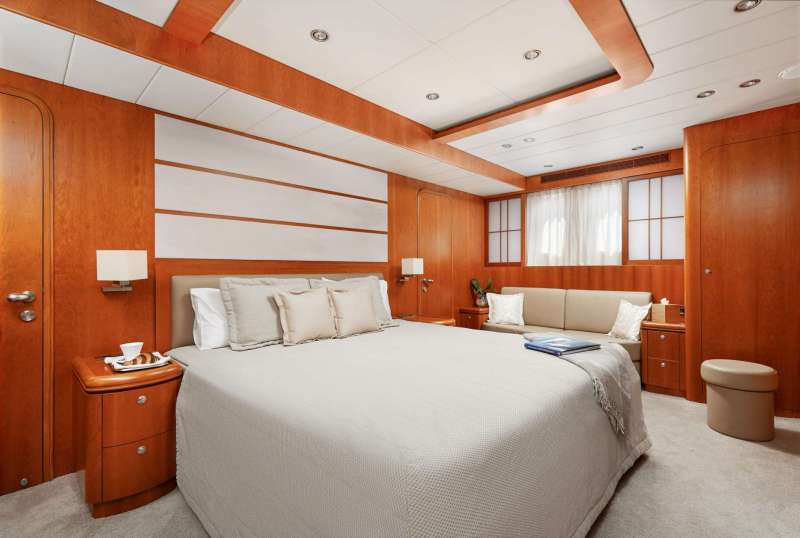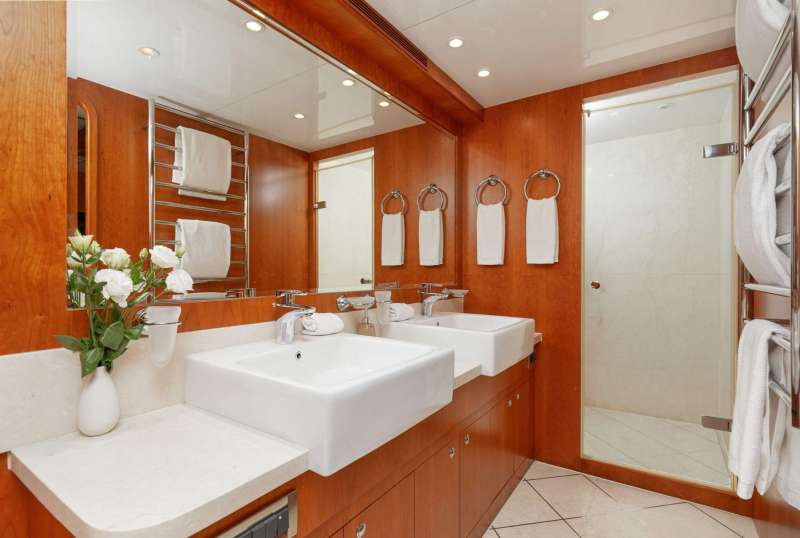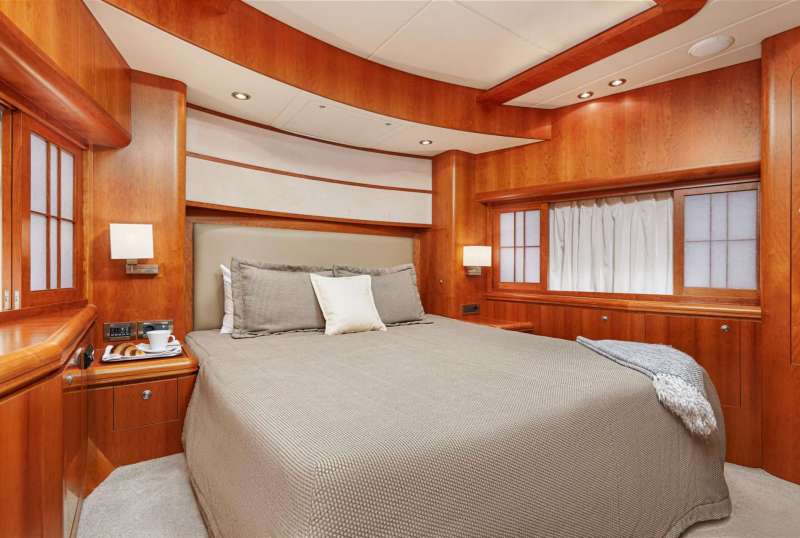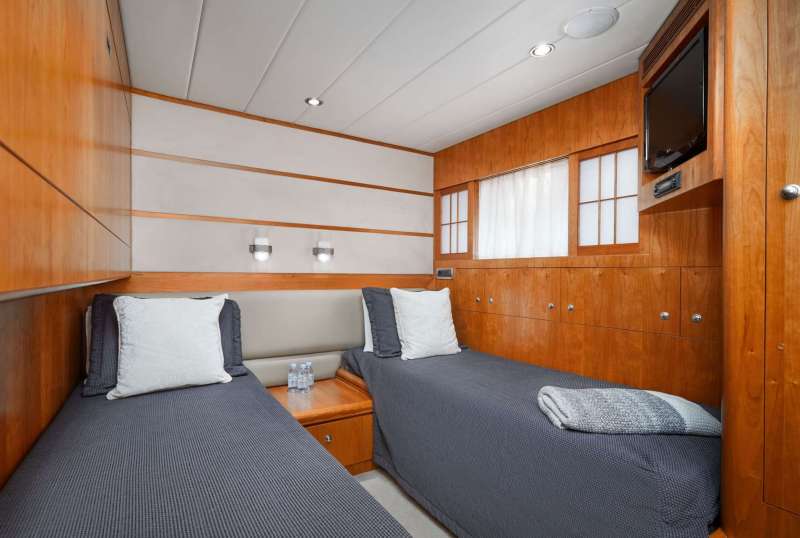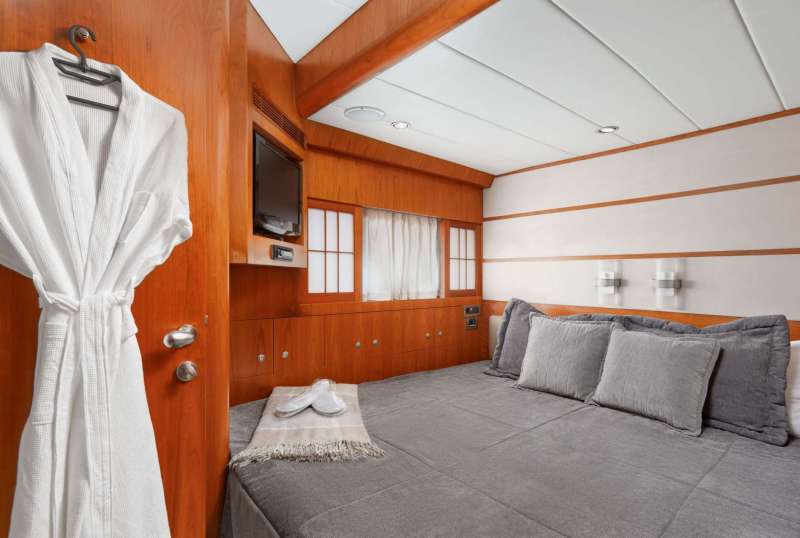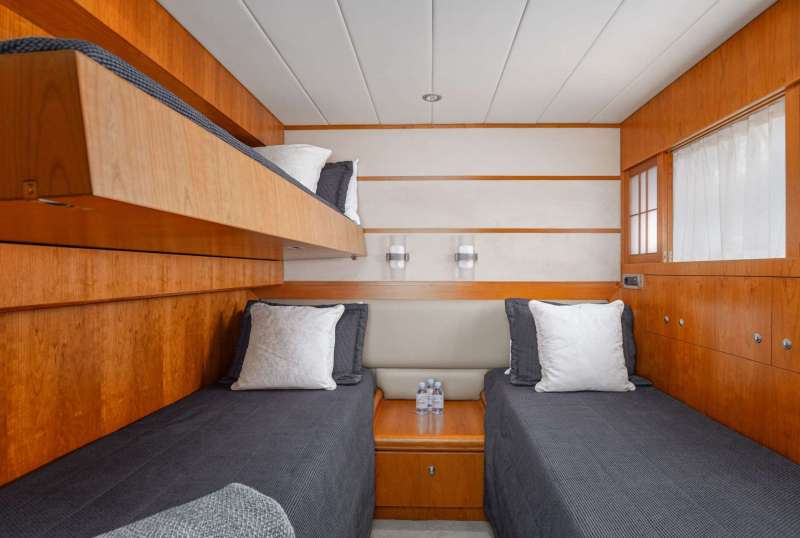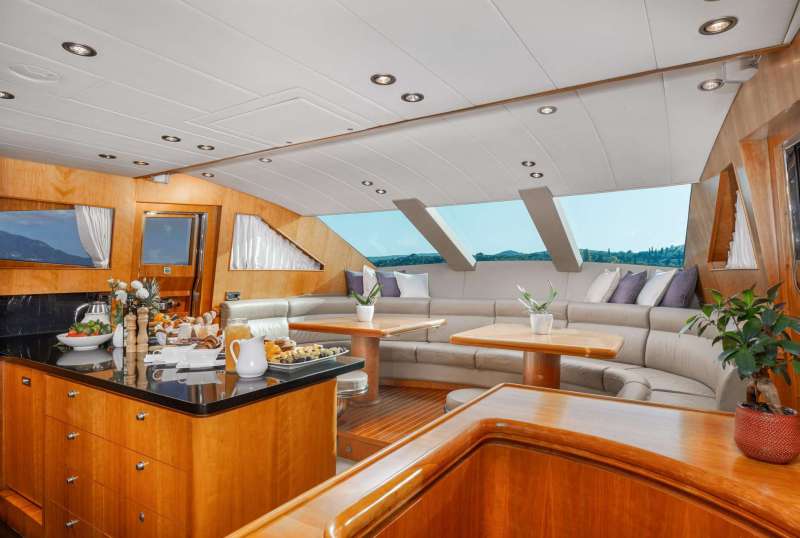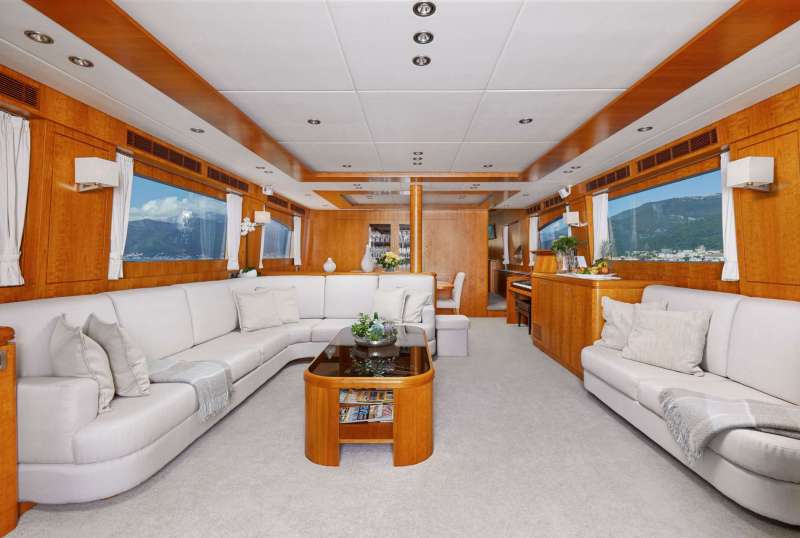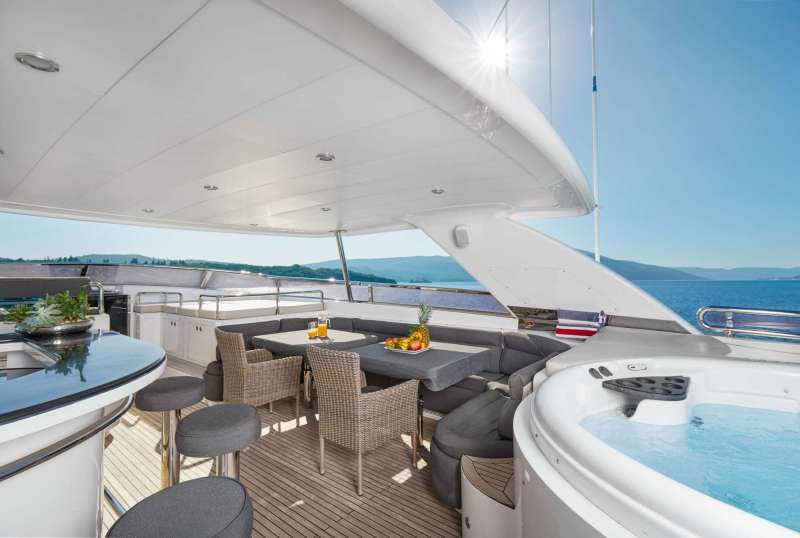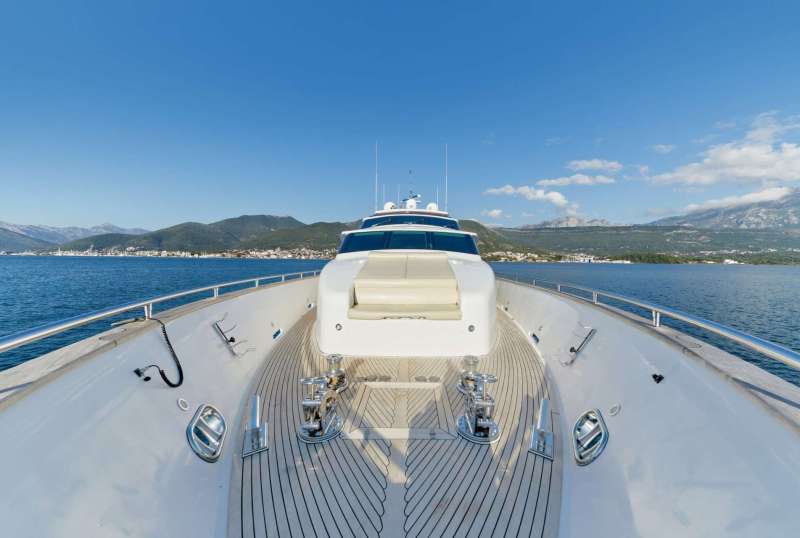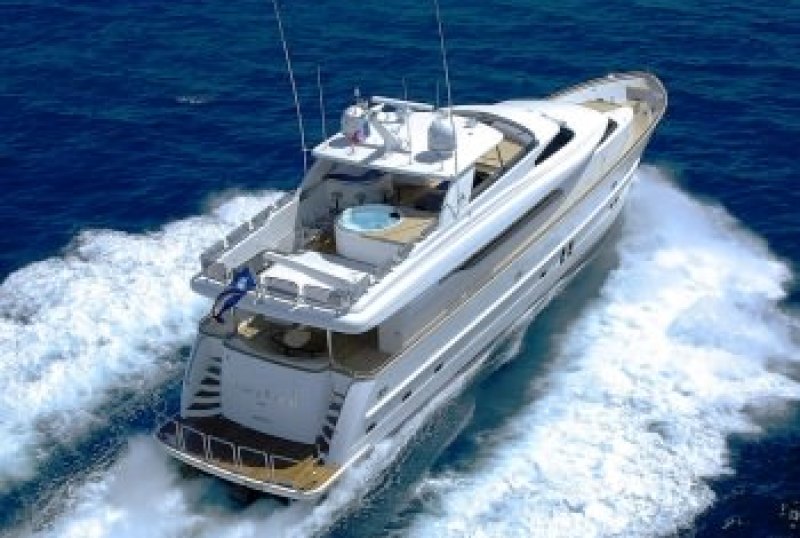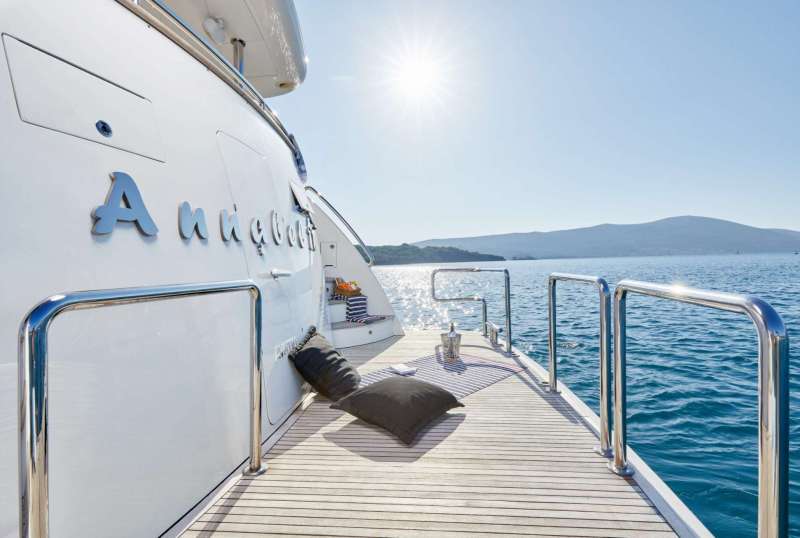 ANNABEL II
From €42,000/week
4 cabins
97 ft
Horizon
10 guests
Refit: 2018
130 Litres/Hr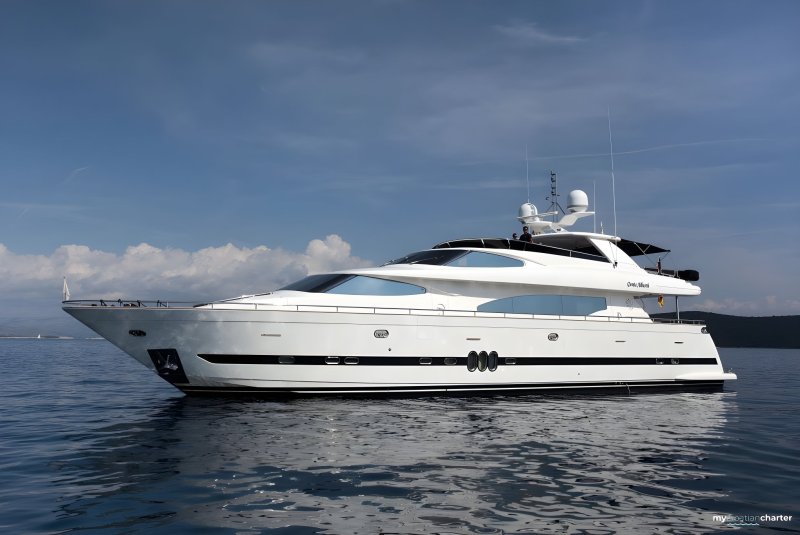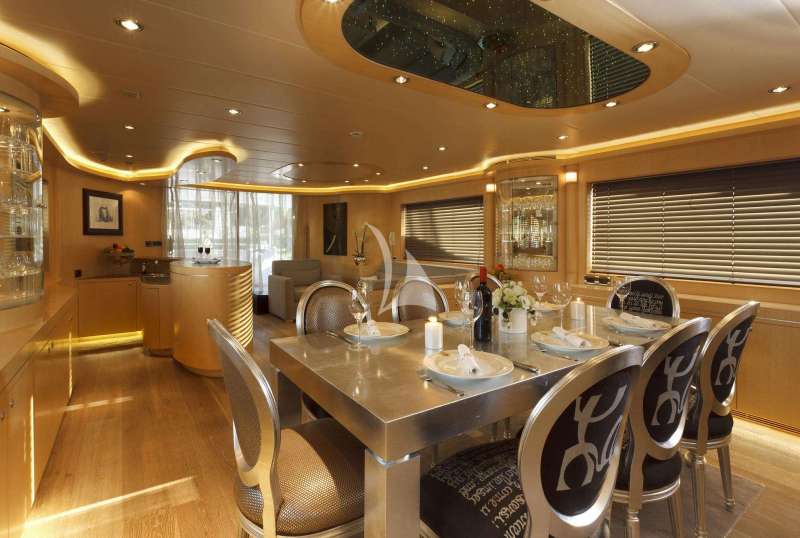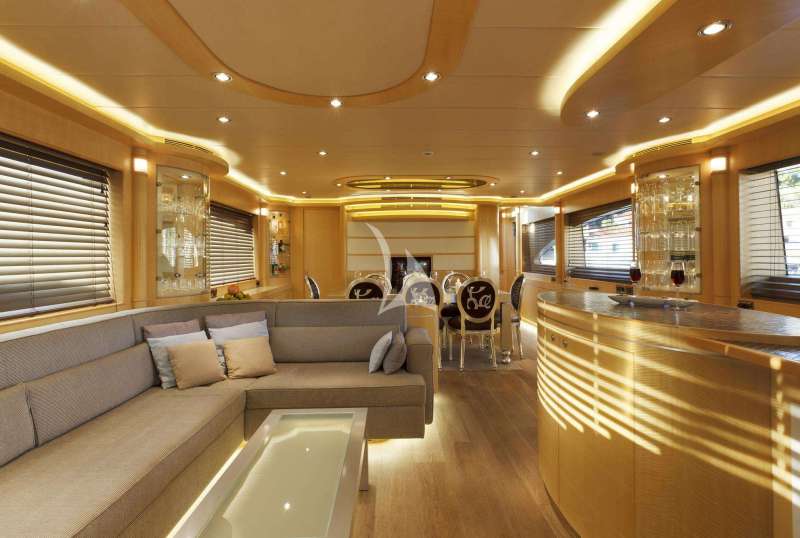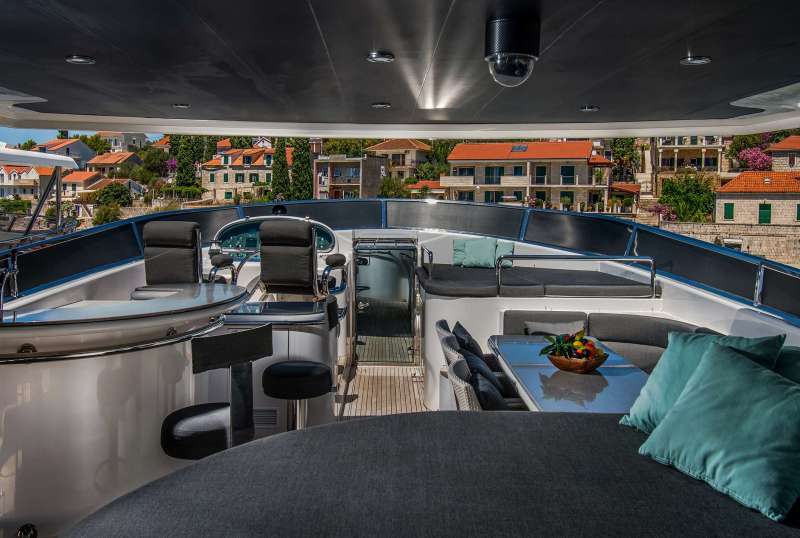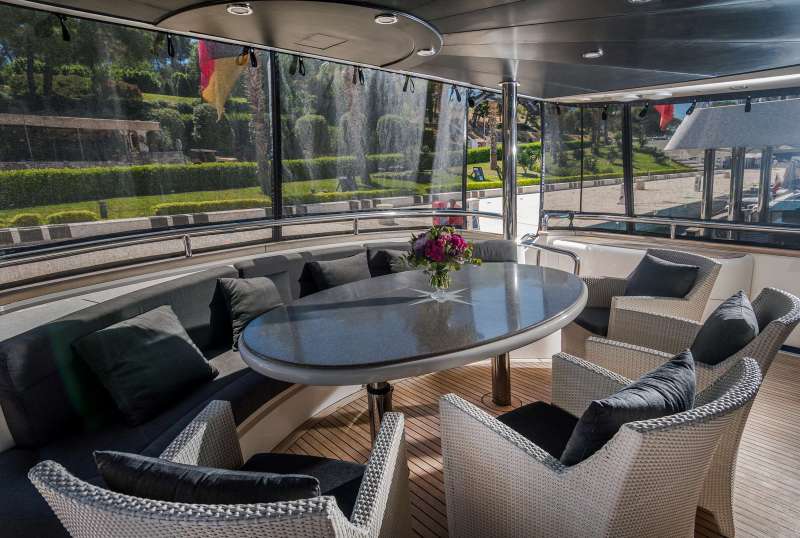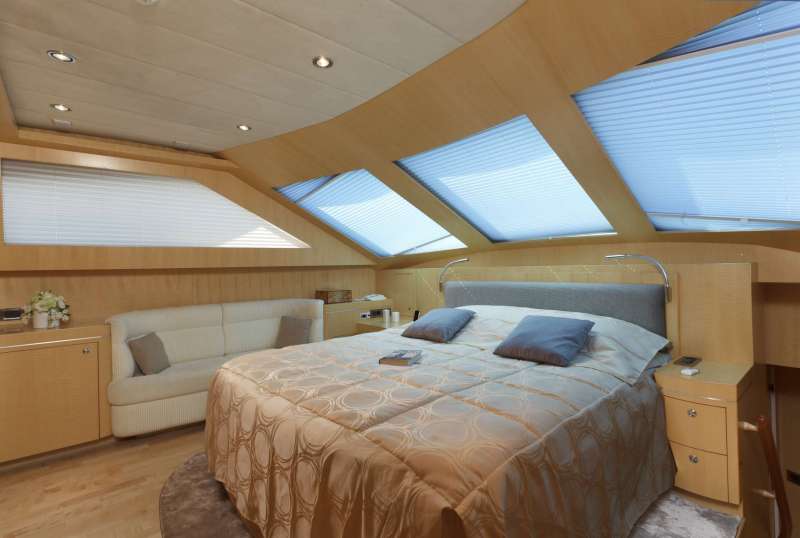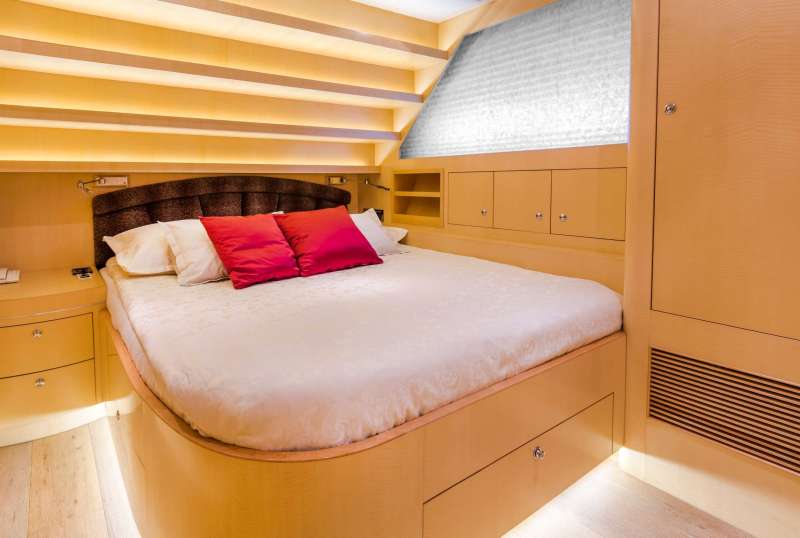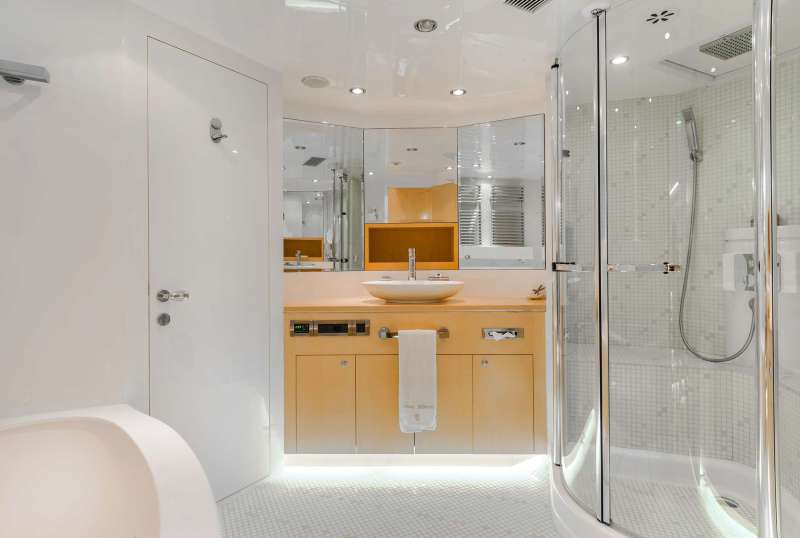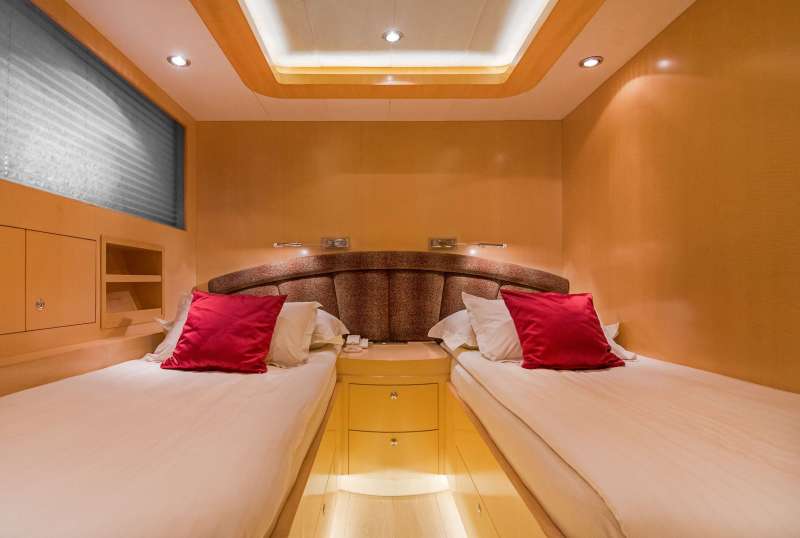 CONTE ALBERTI
From €40,000/week
4 cabins
89 ft
Horizon
8 guests
Refit: 2020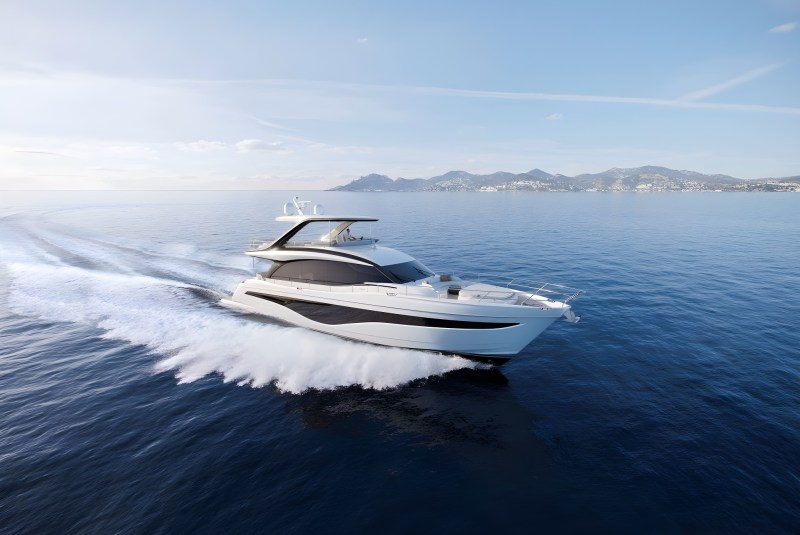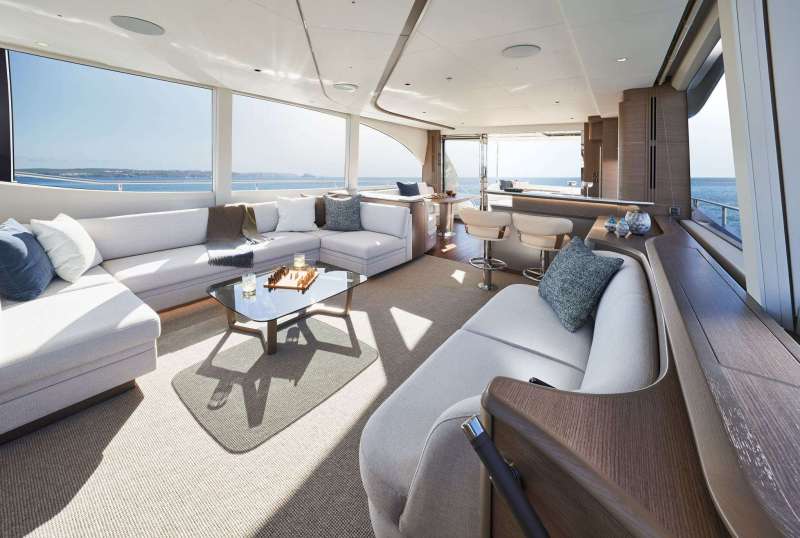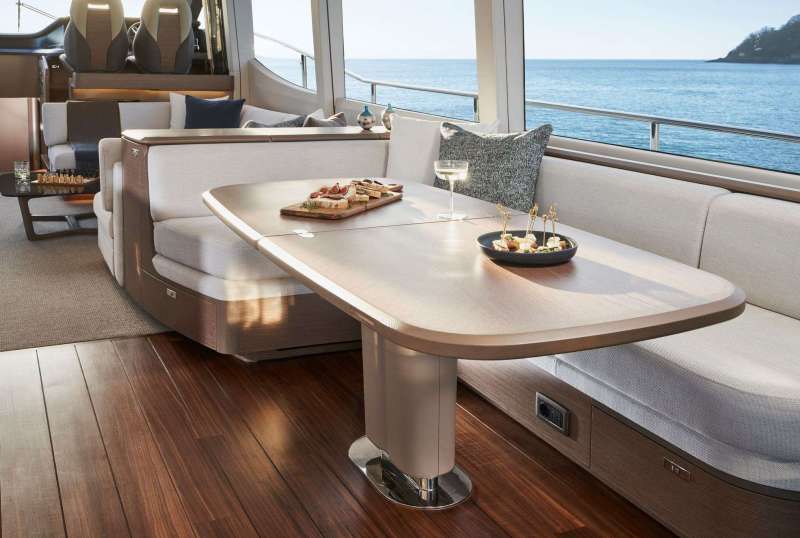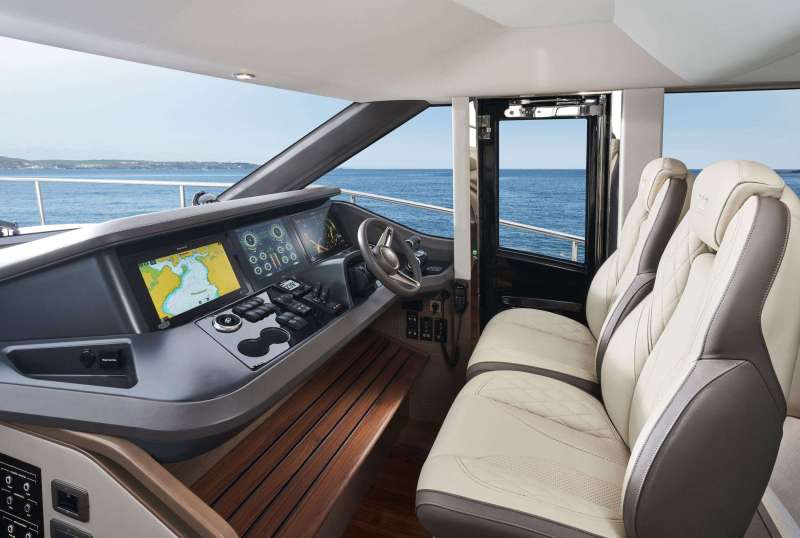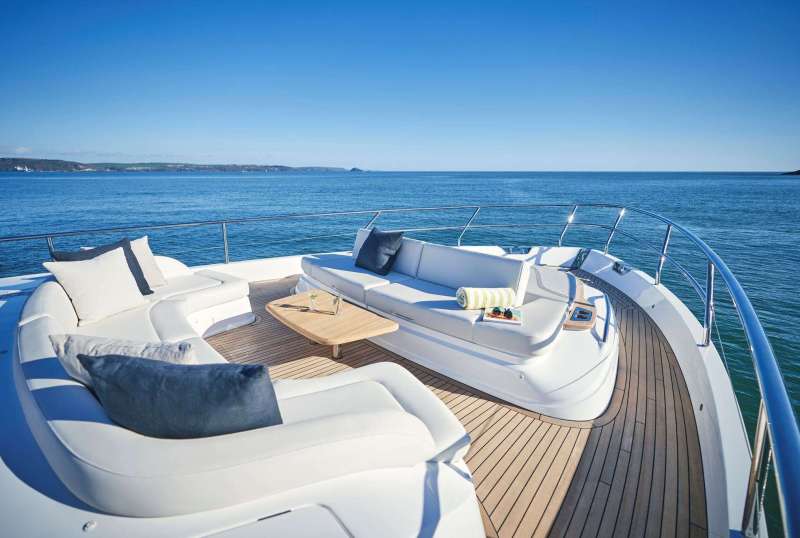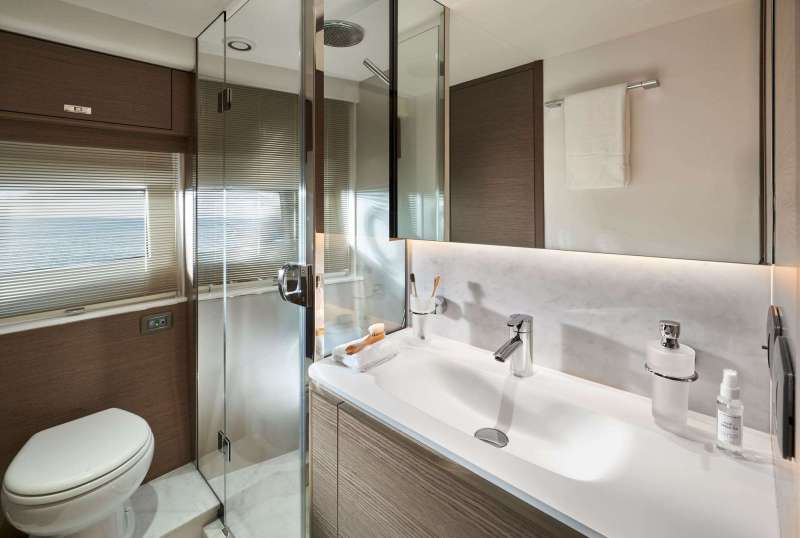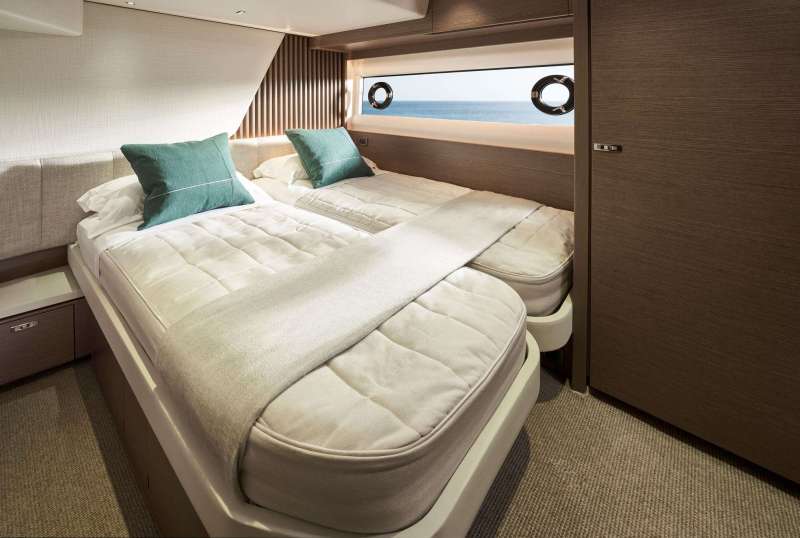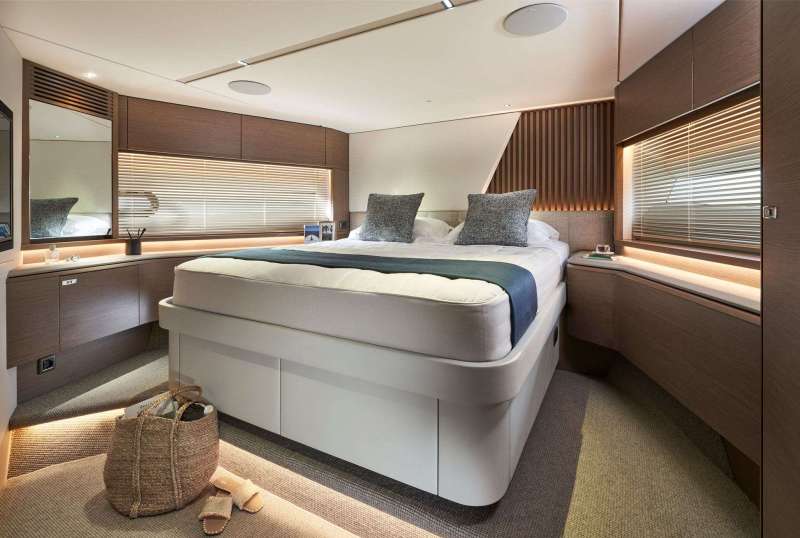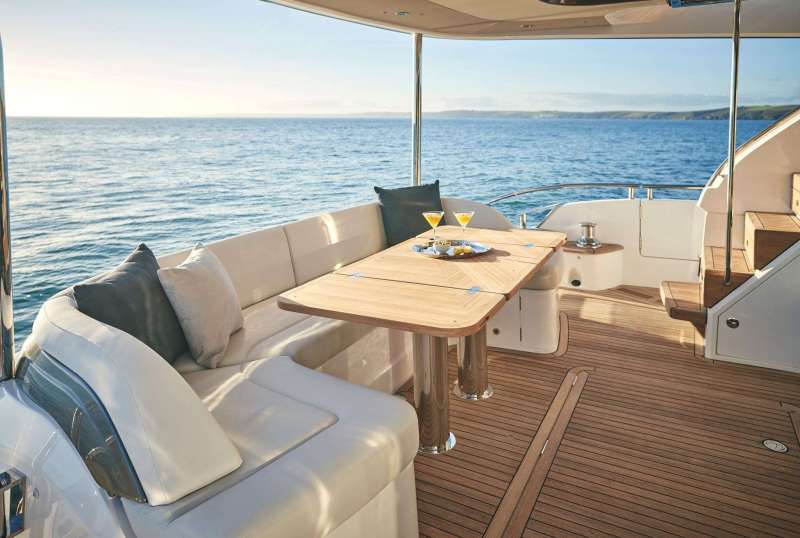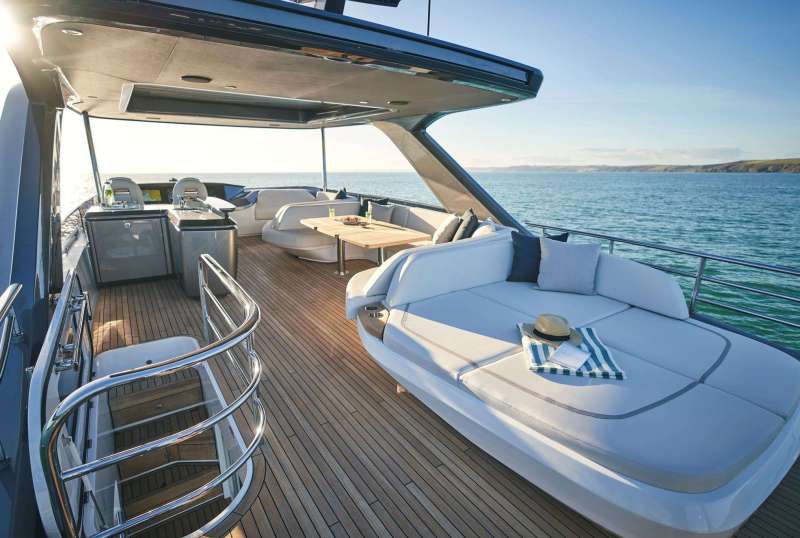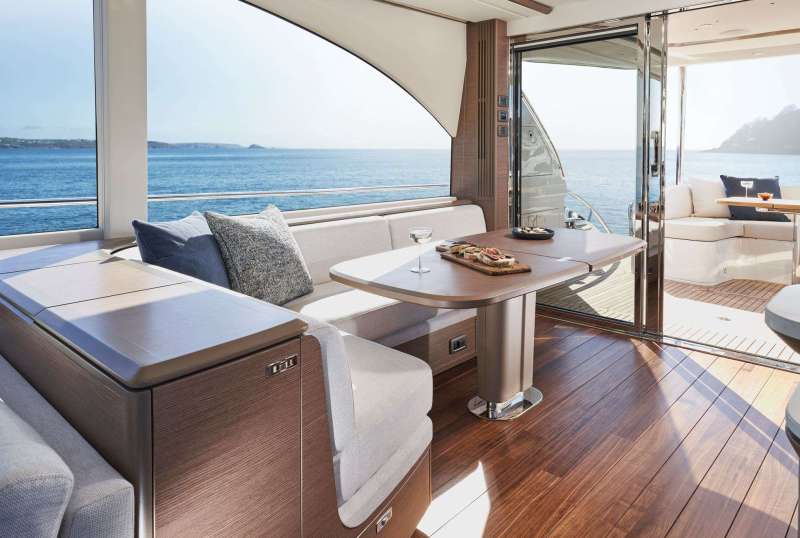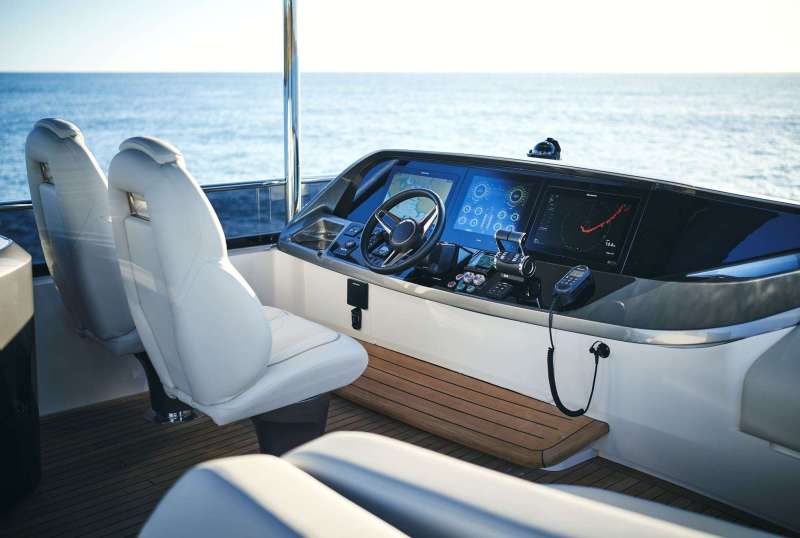 ELIZABETH
From €38,000/week
4 cabins
74 ft
Princess, UK
8 guests
Built: 2022
500 Litres/Hr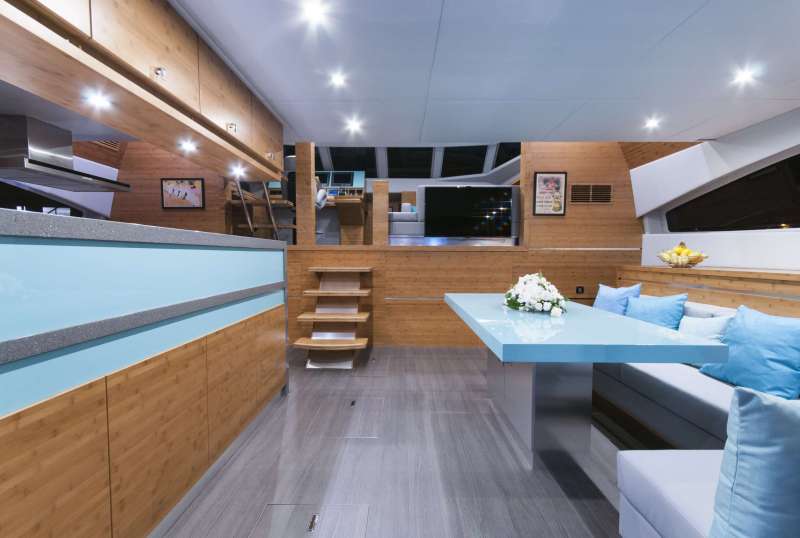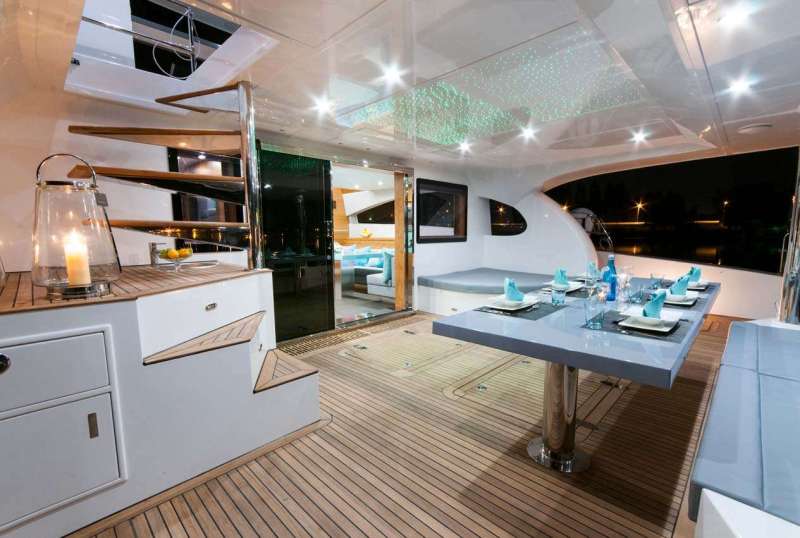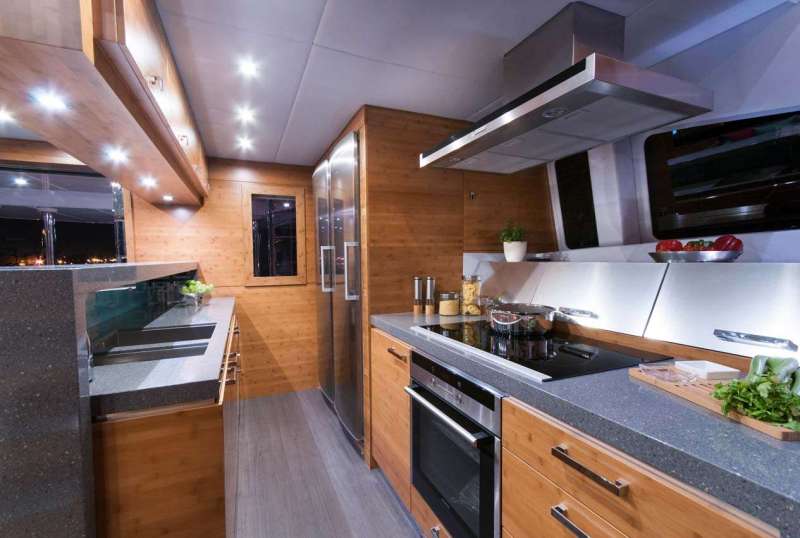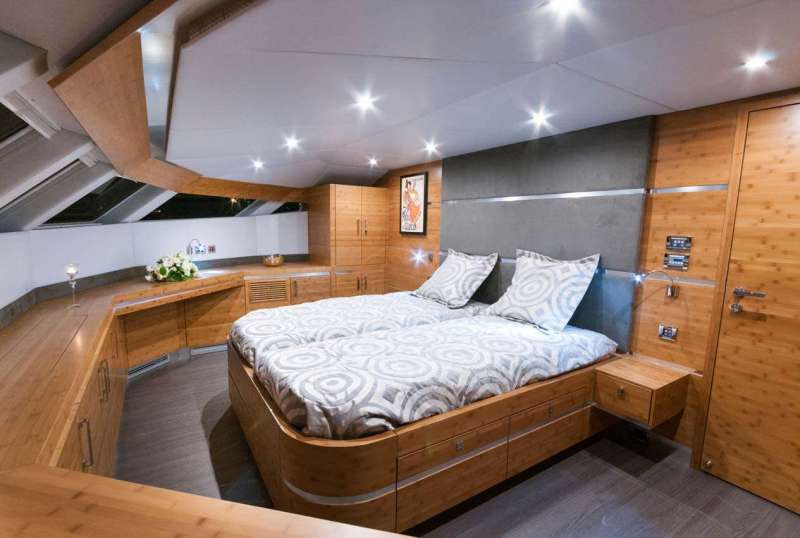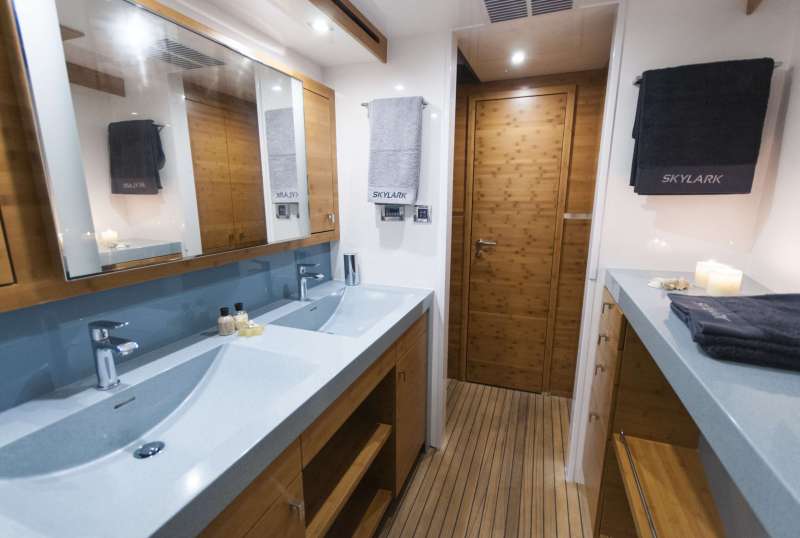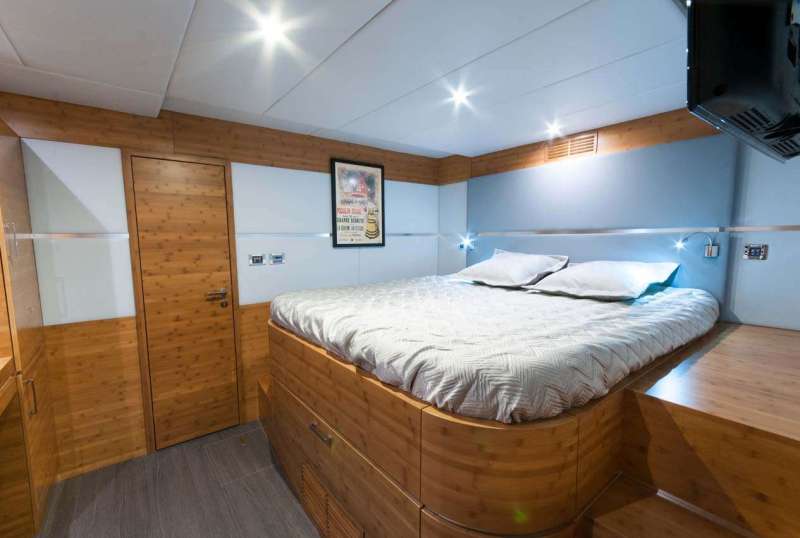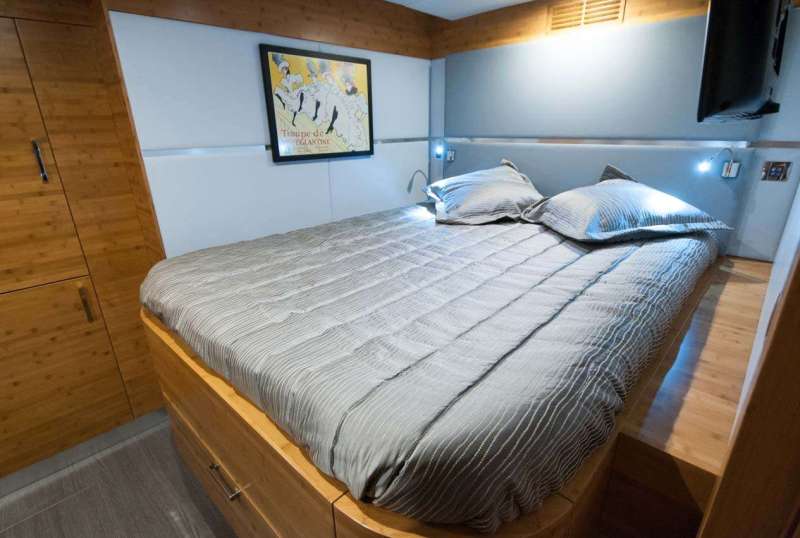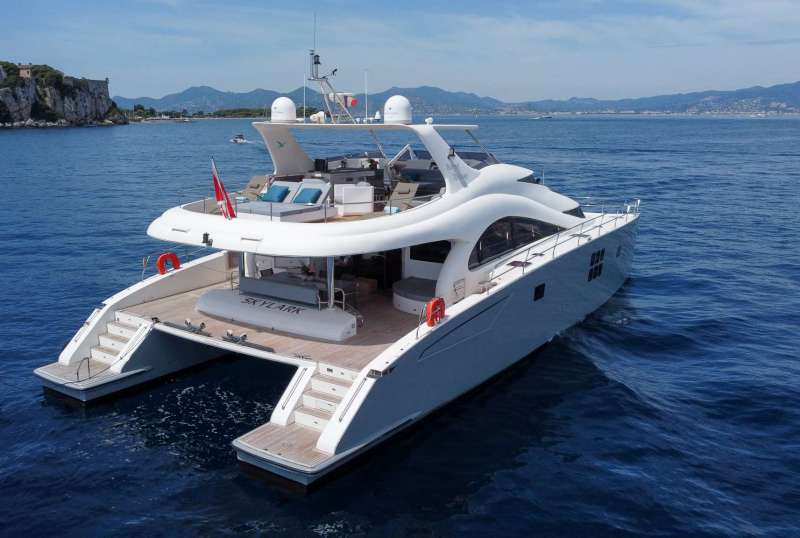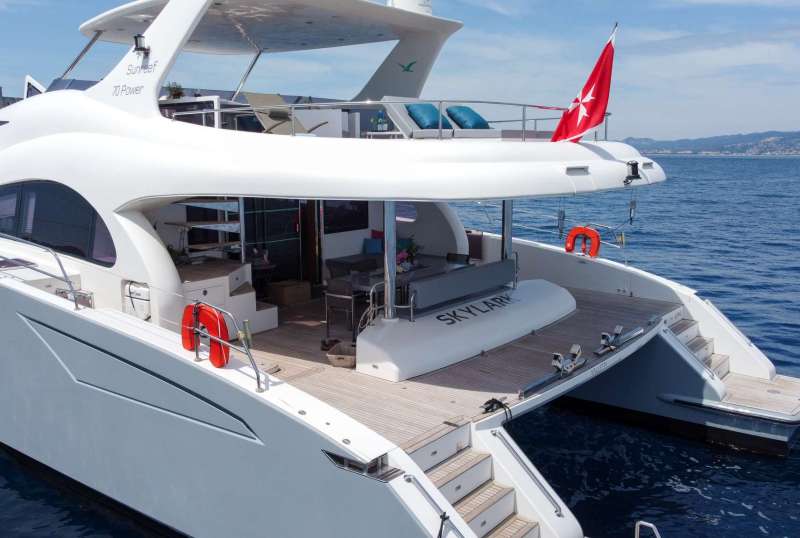 SKYLARK
From €35,000/week
4 cabins
70 ft
Sunreef Yachts
8 guests
Built: 2012
45 Litres/Hr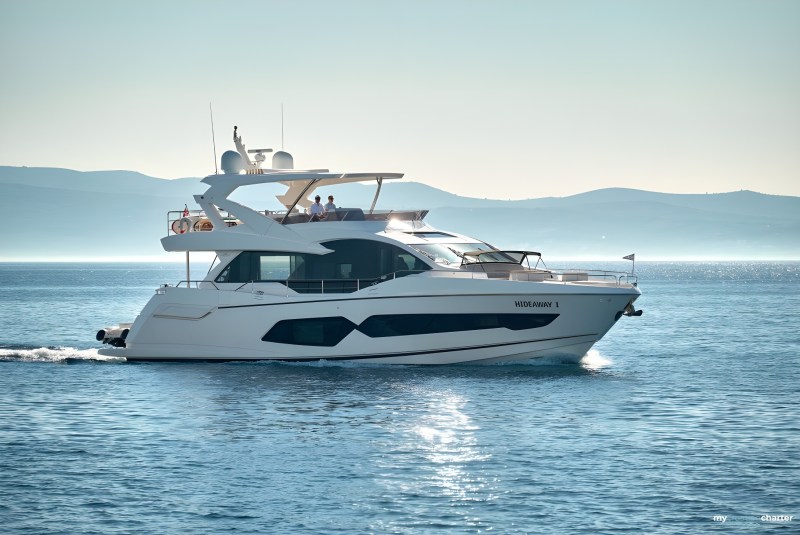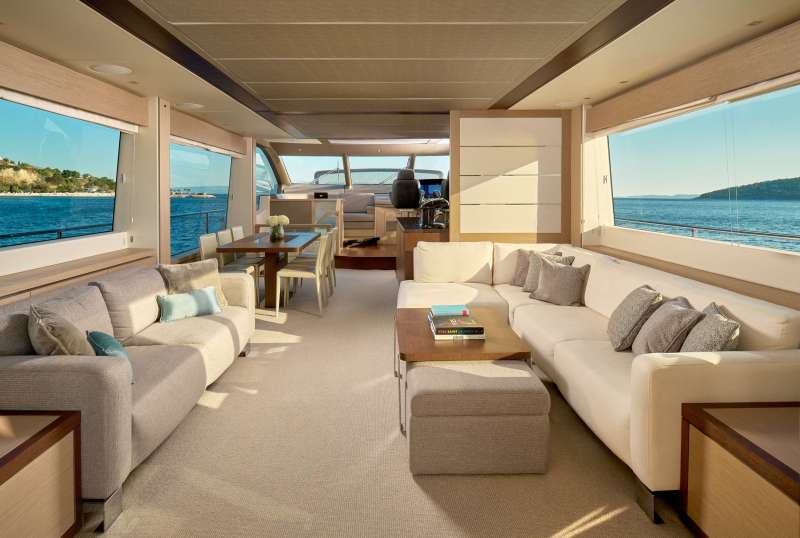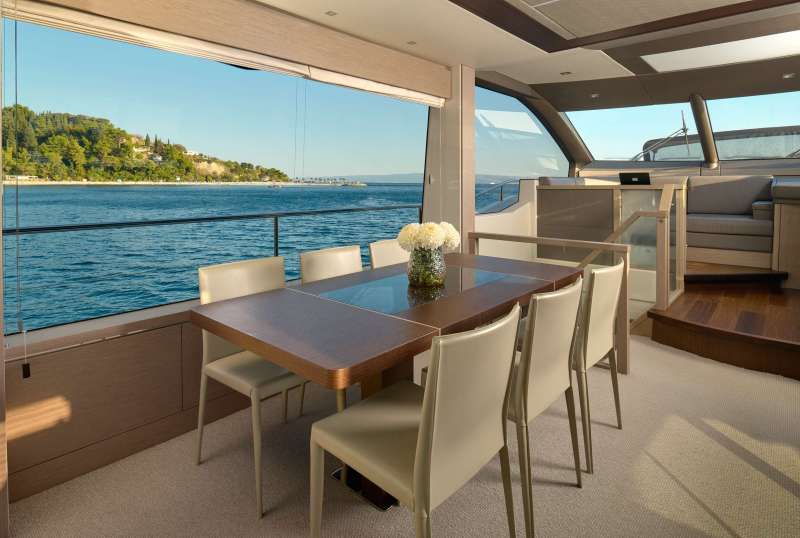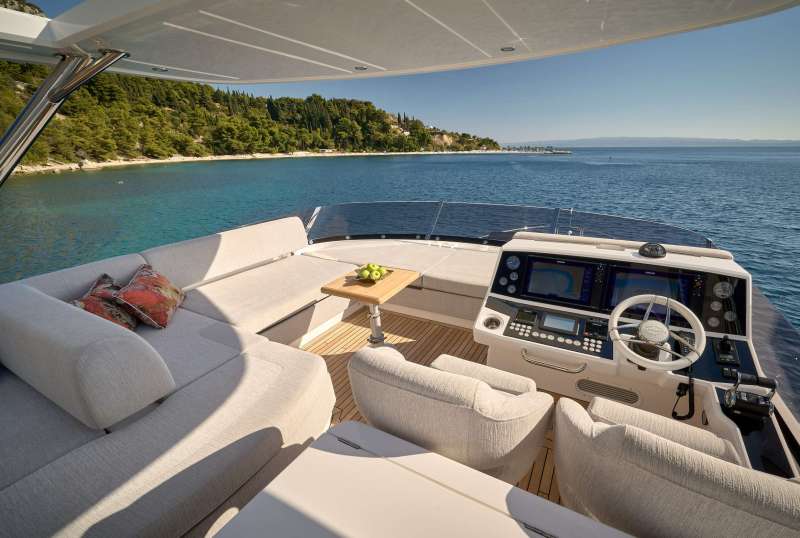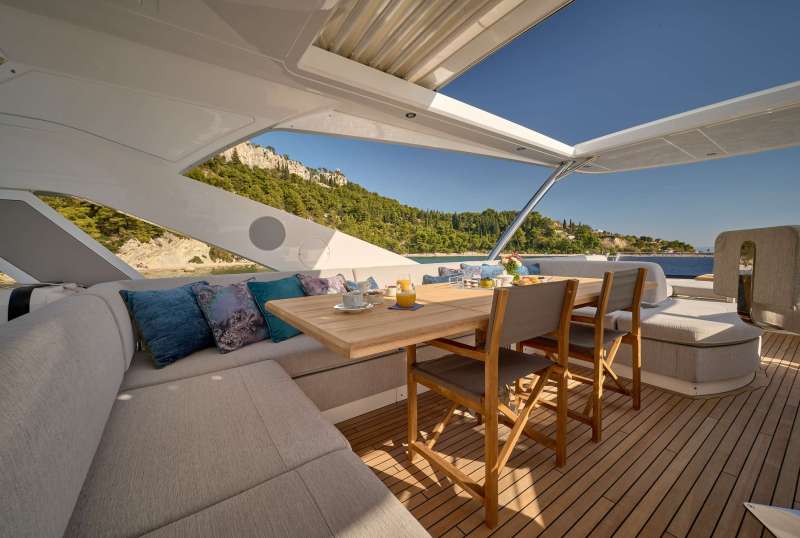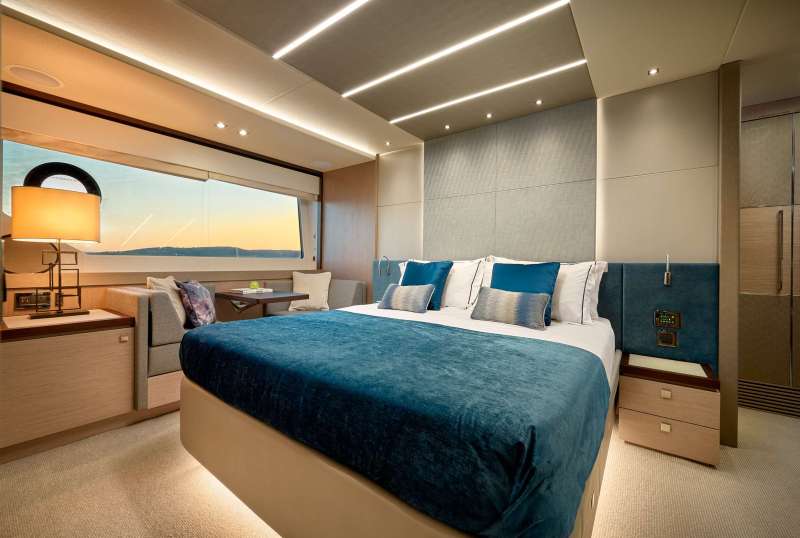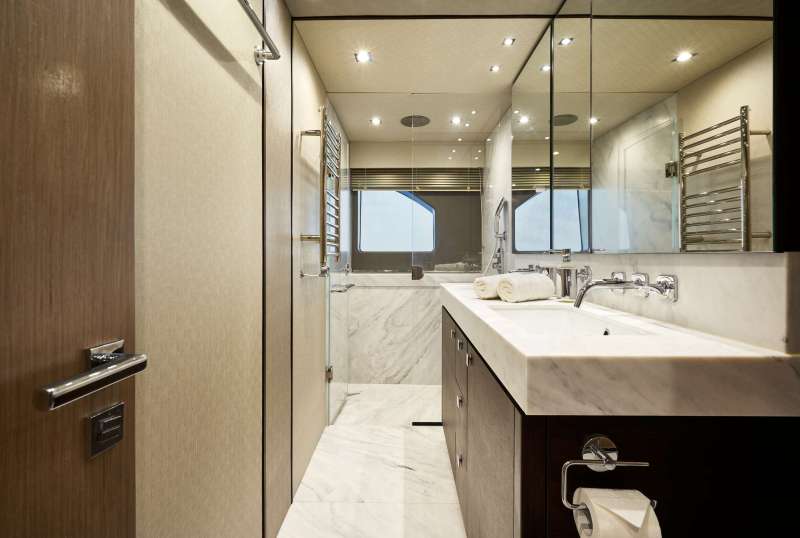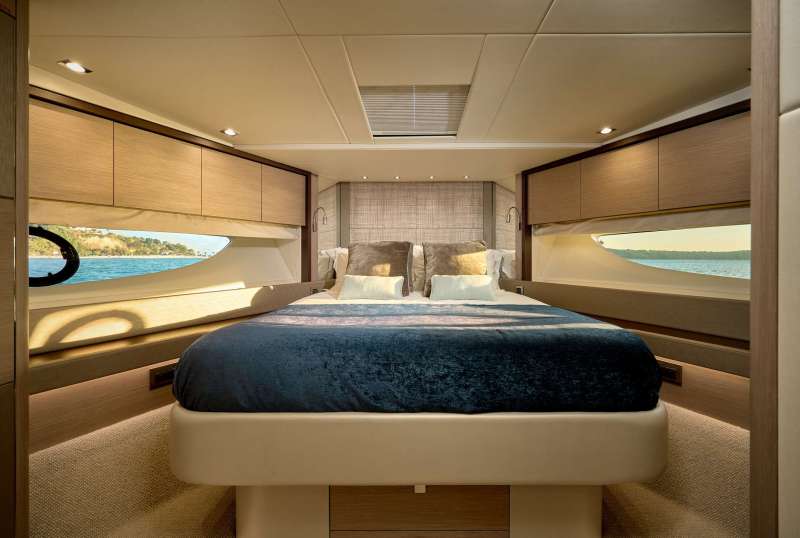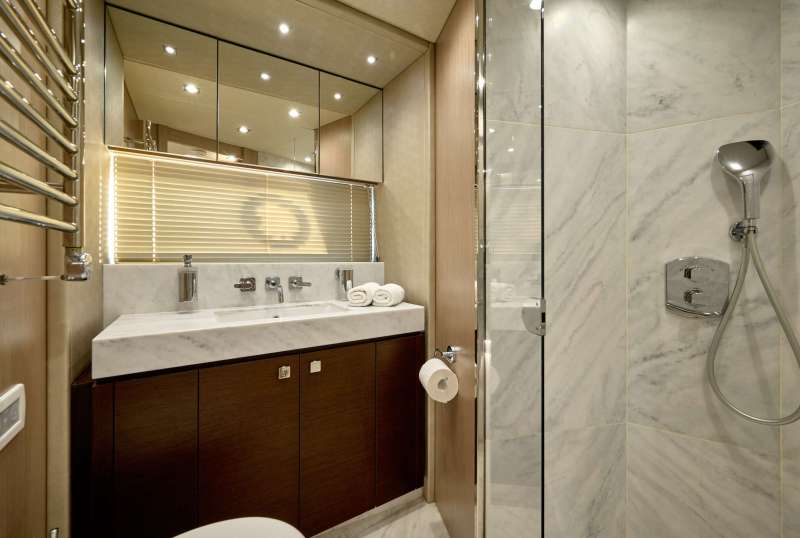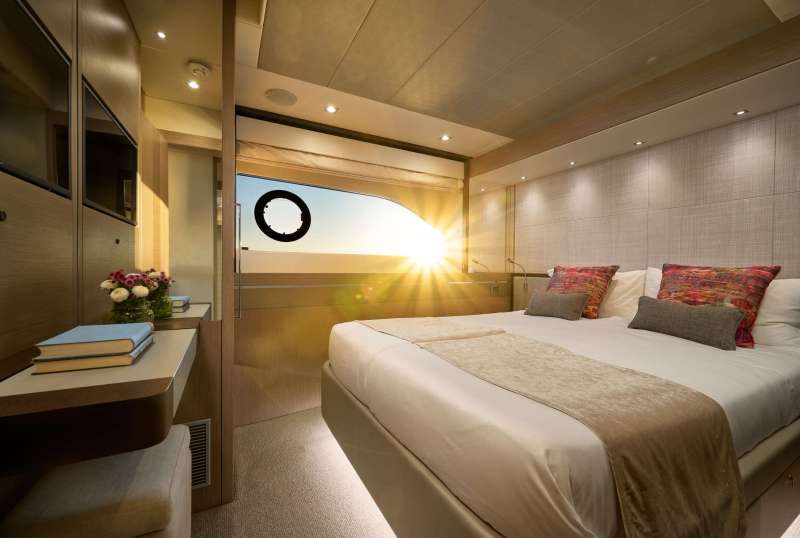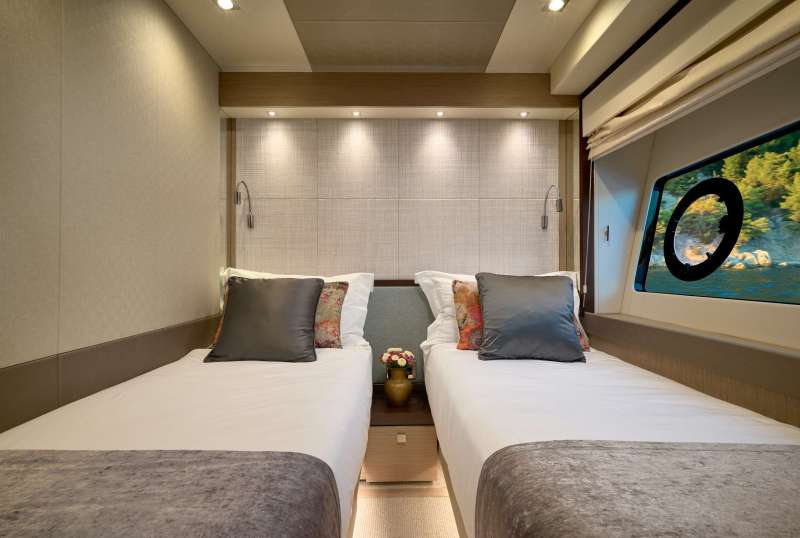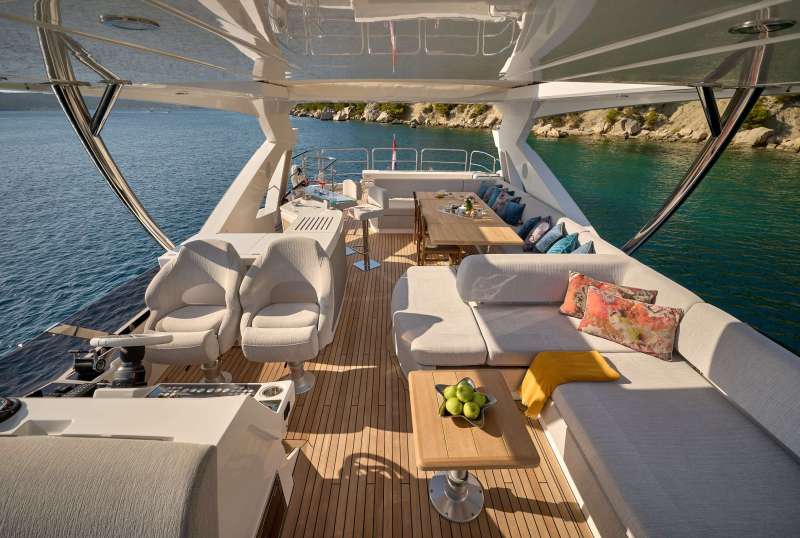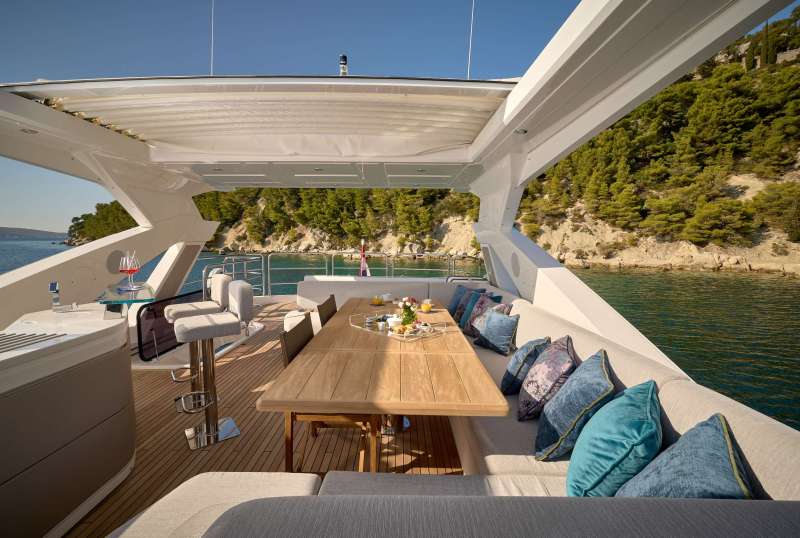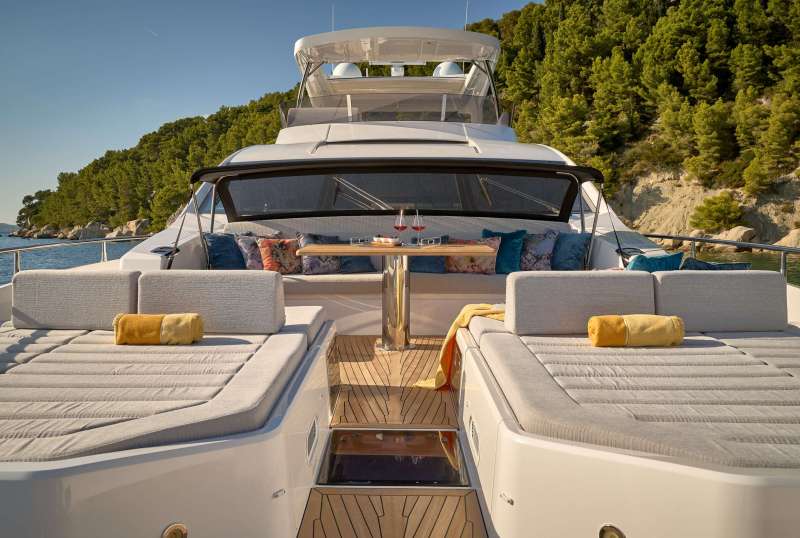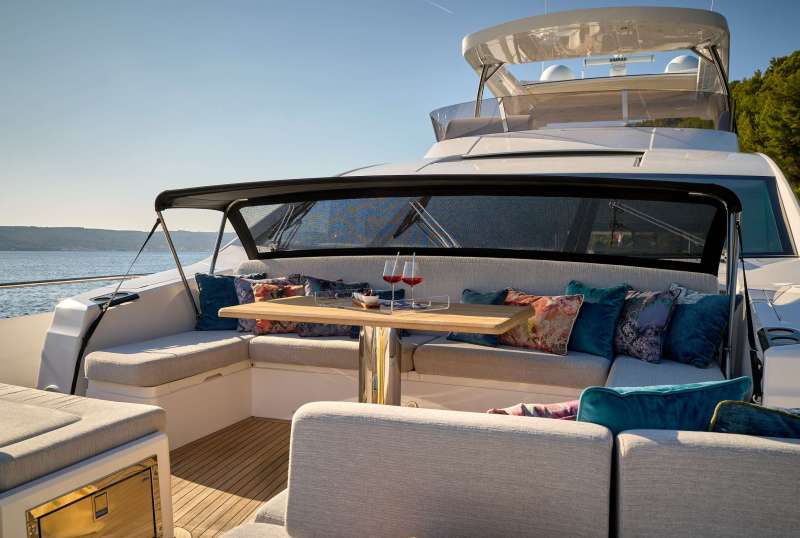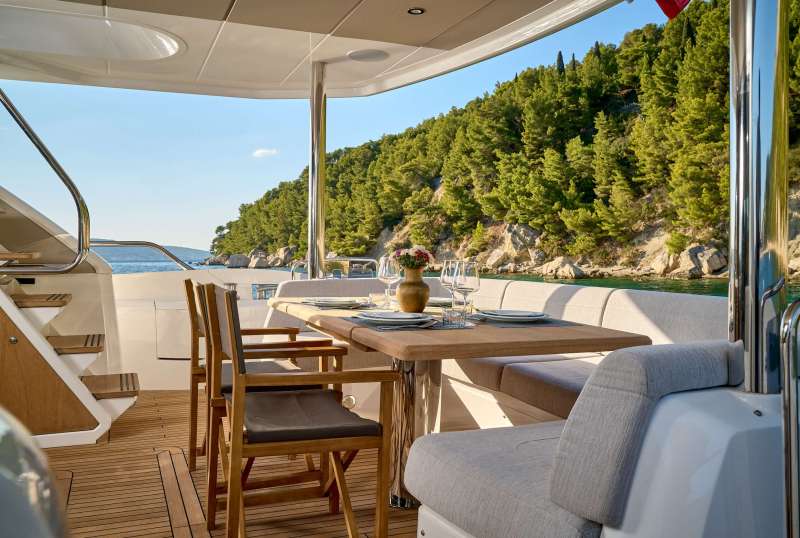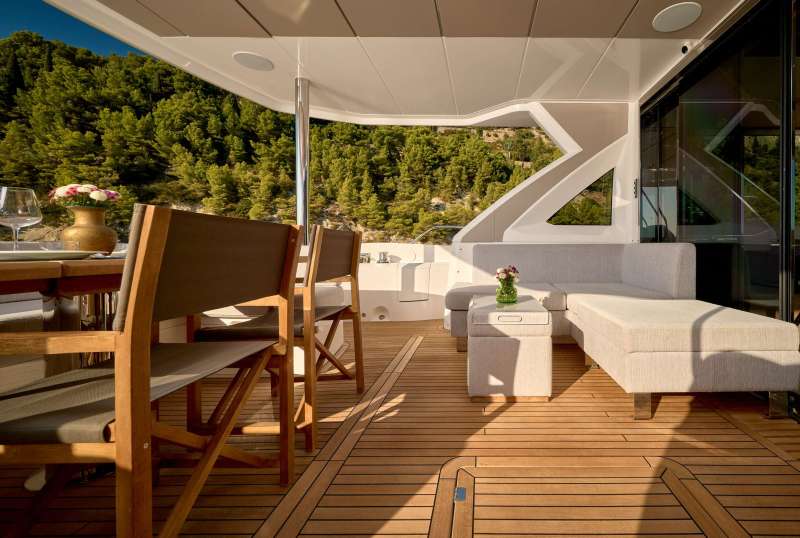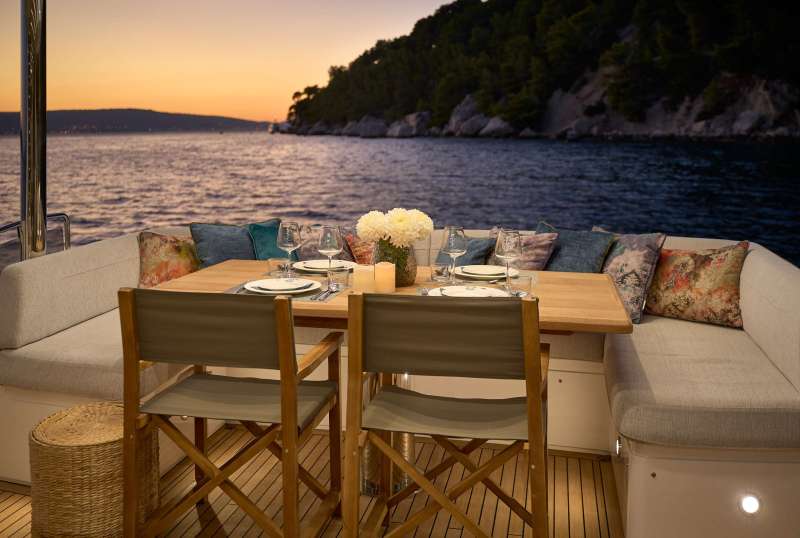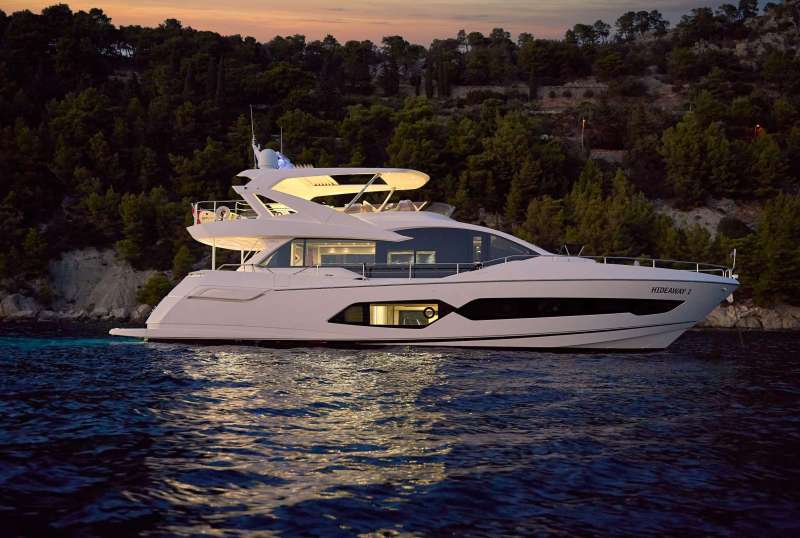 Hideaway
From €34,000/week
4 cabins
77 ft
Sunseeker
8 guests
Built: 2018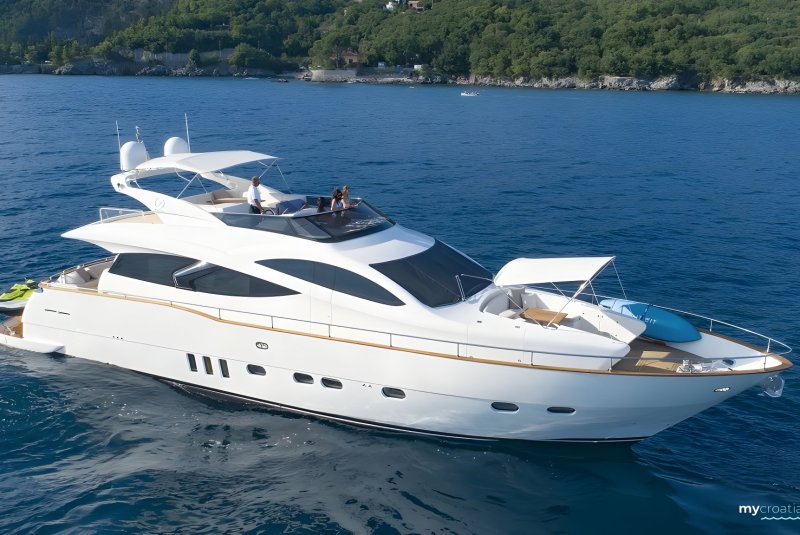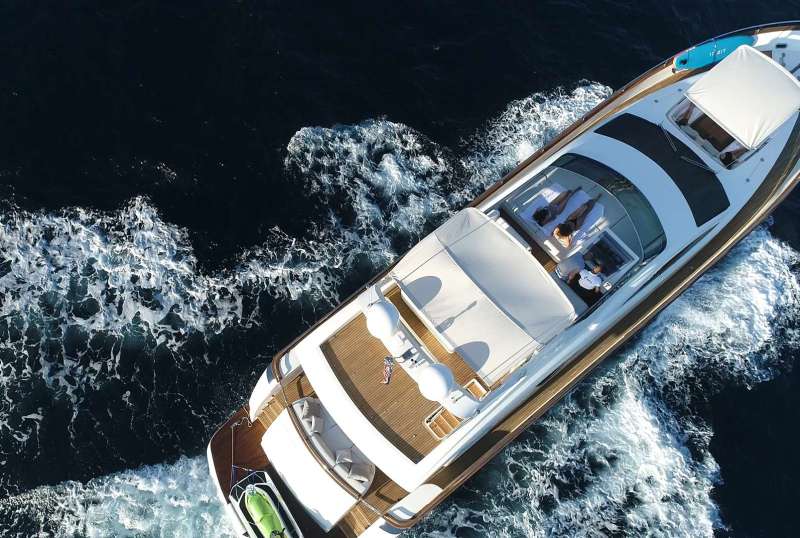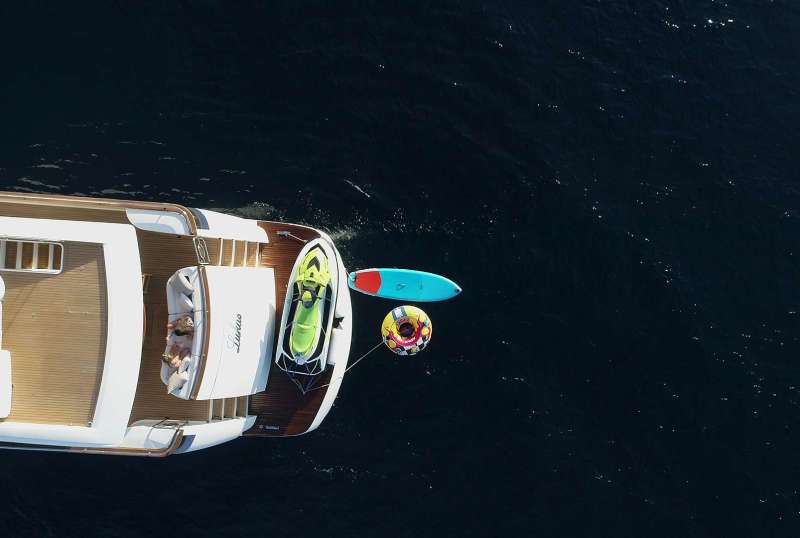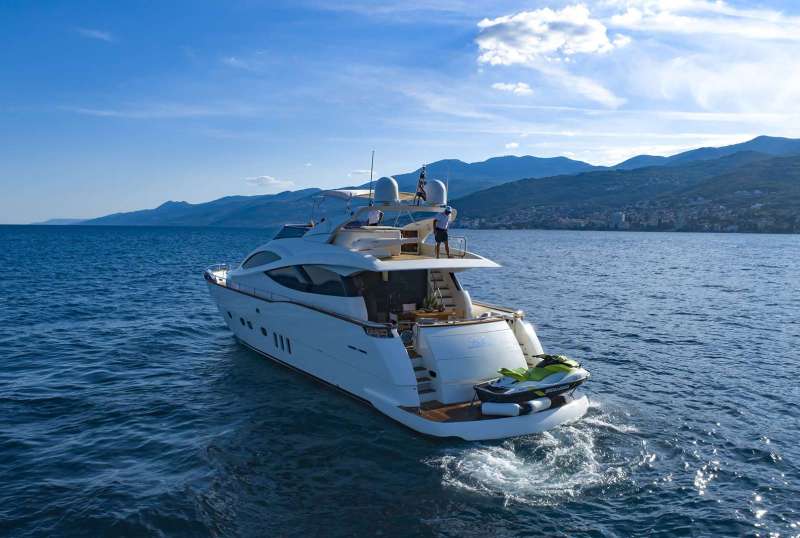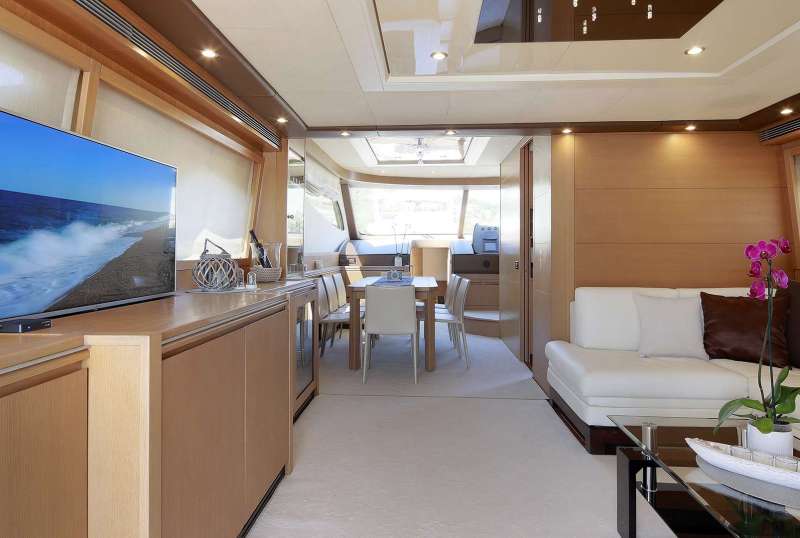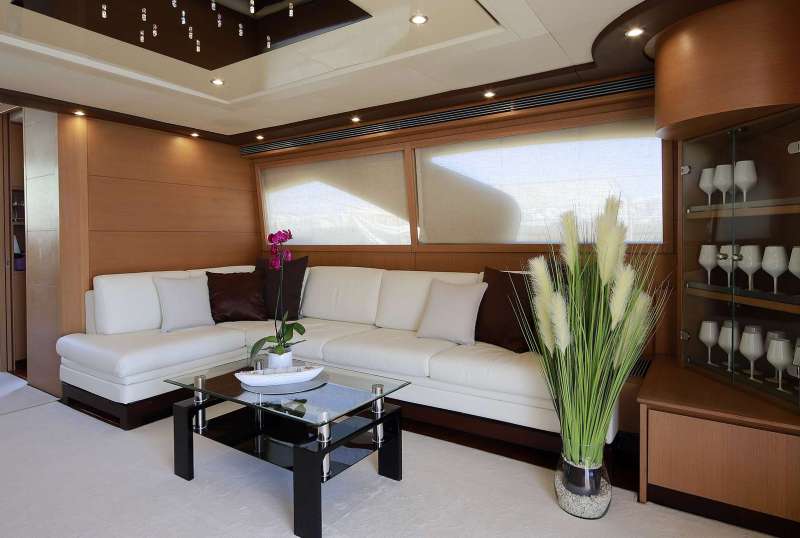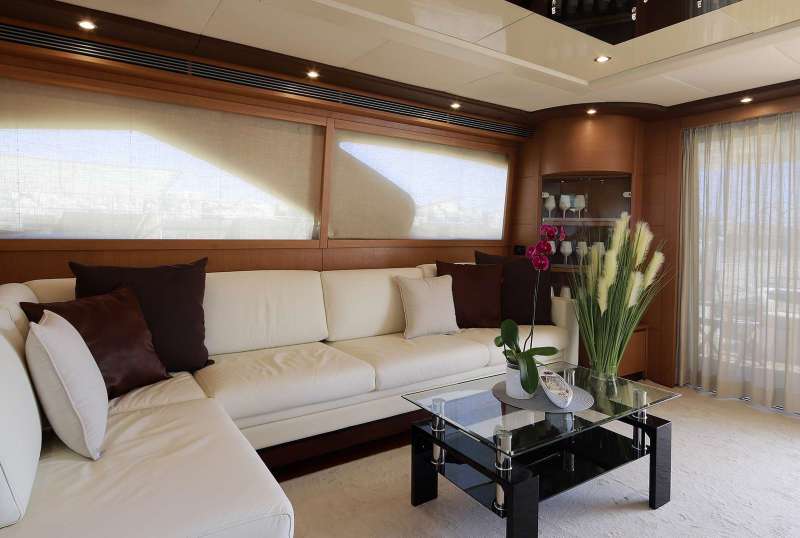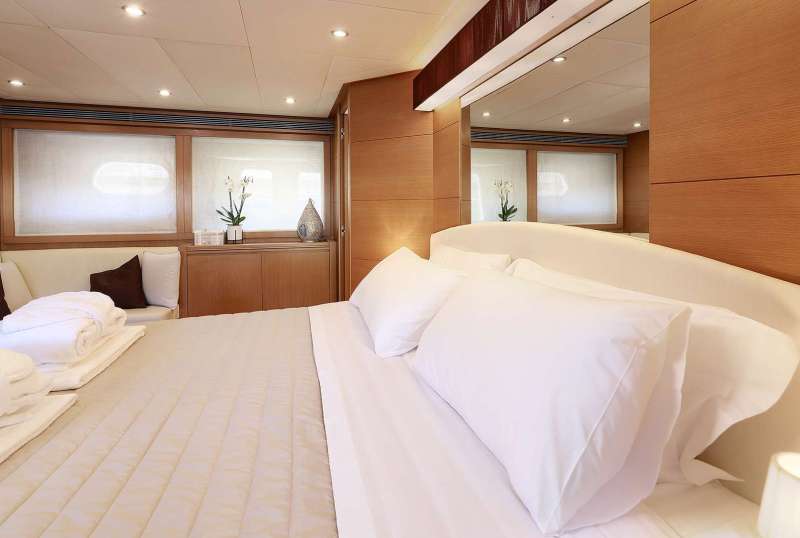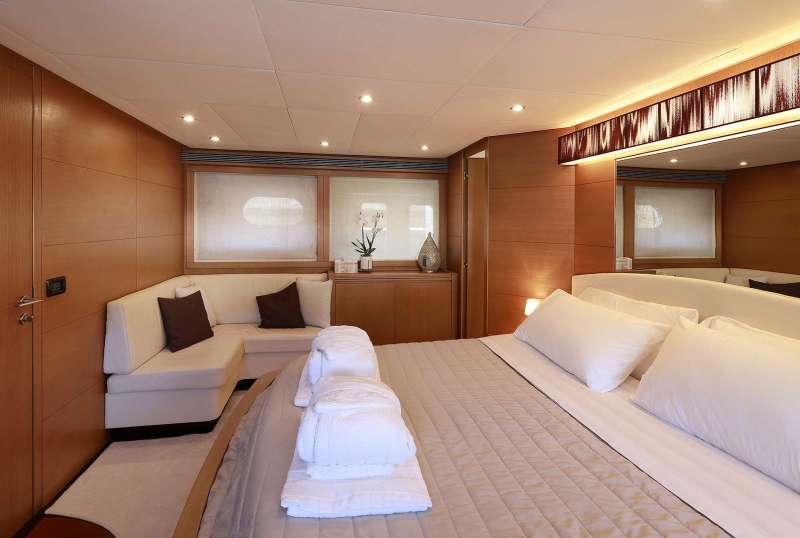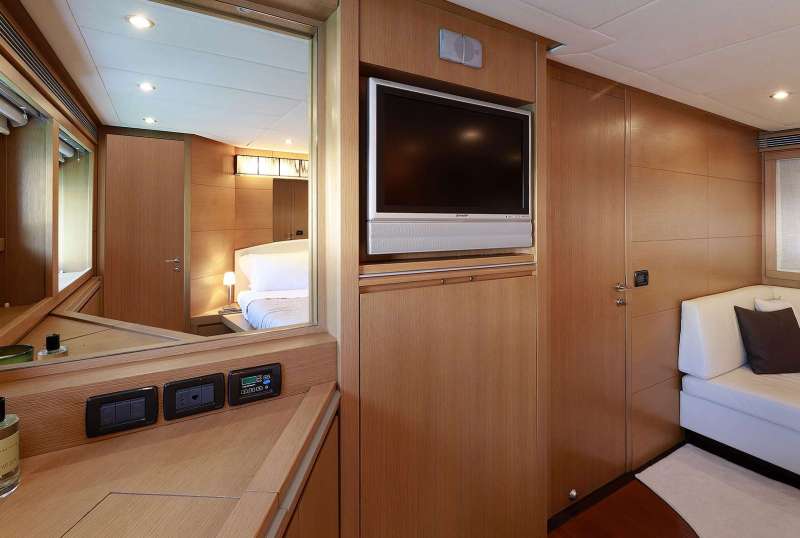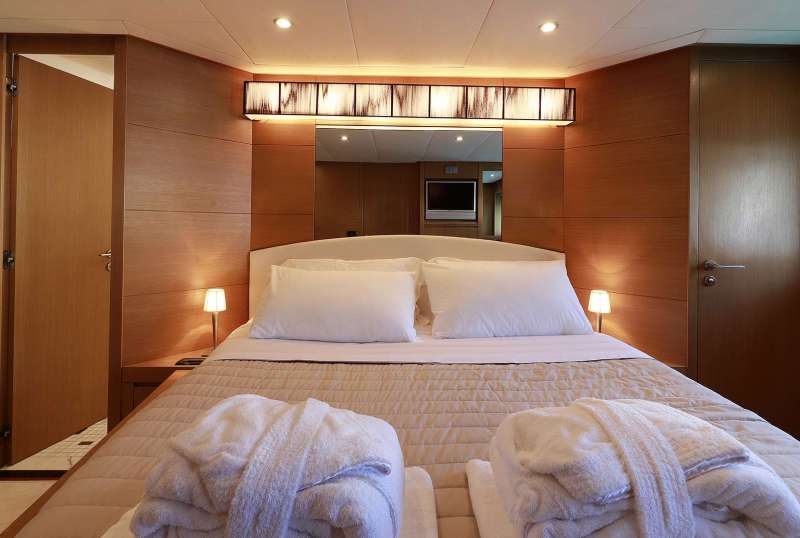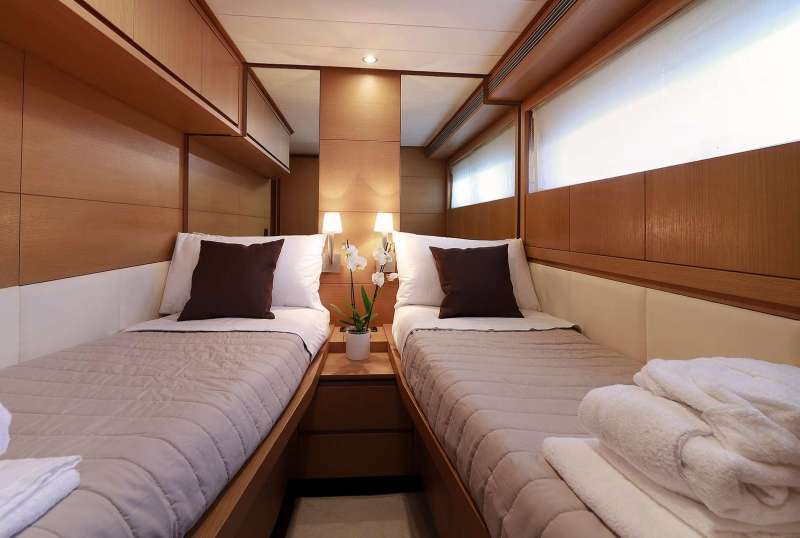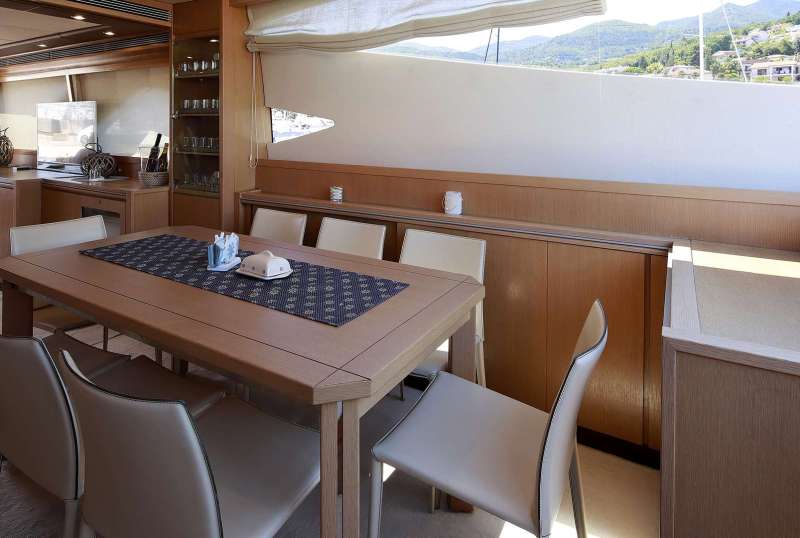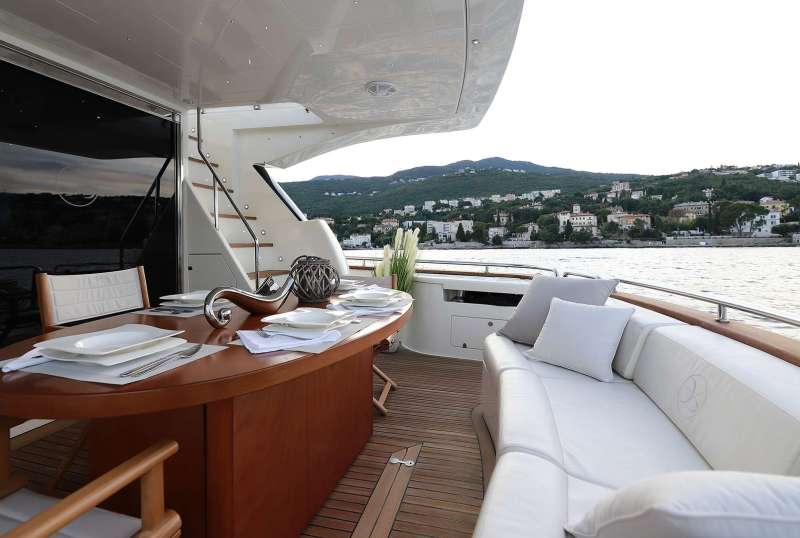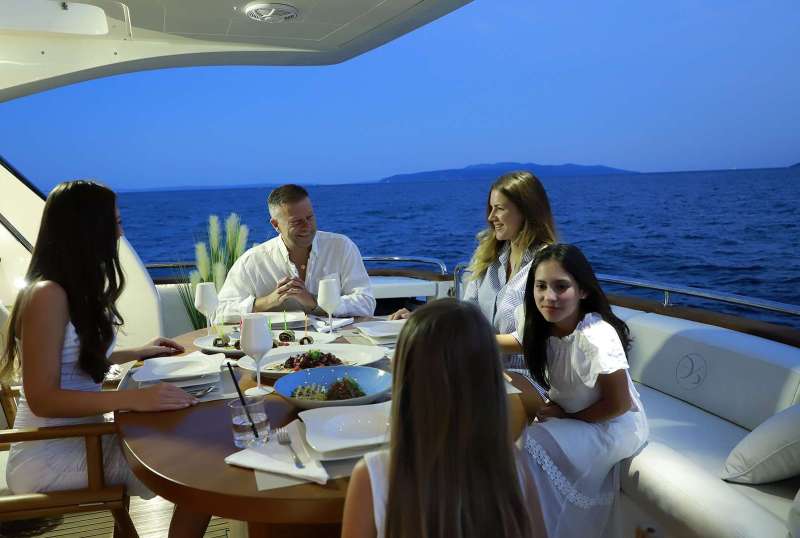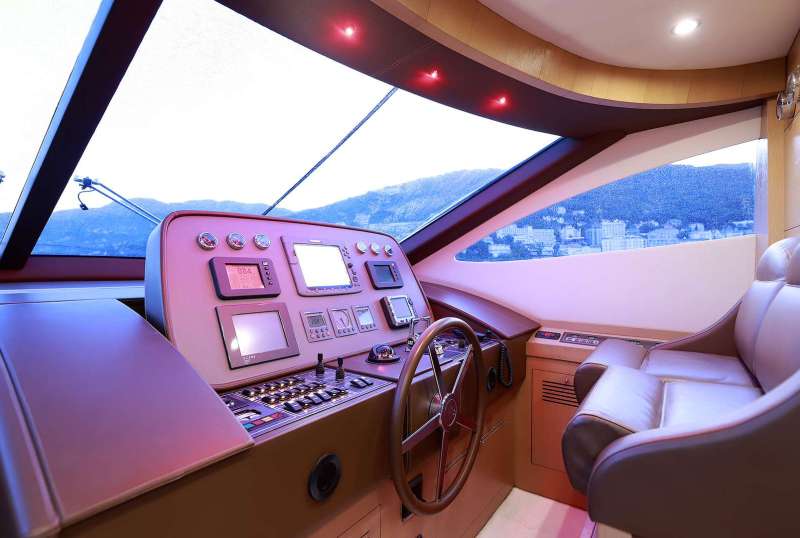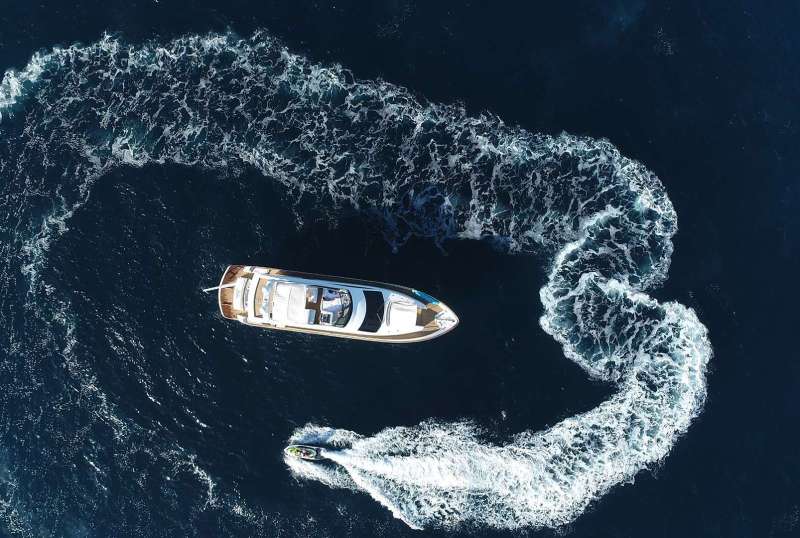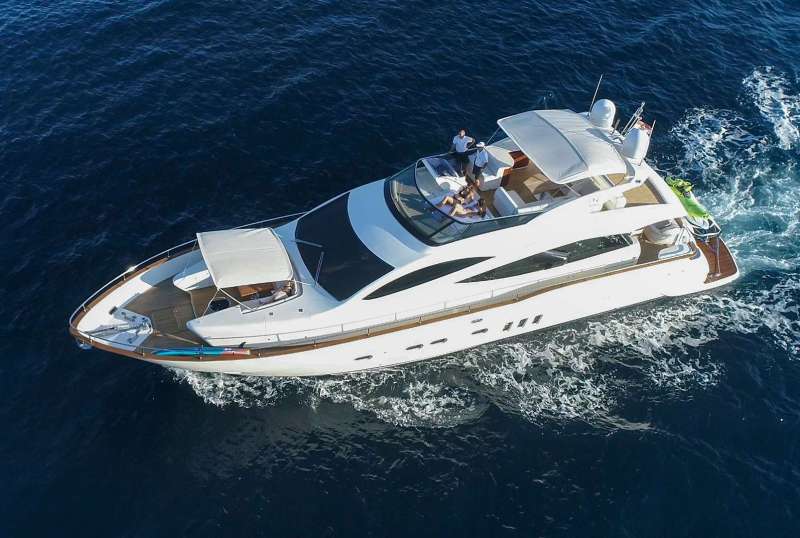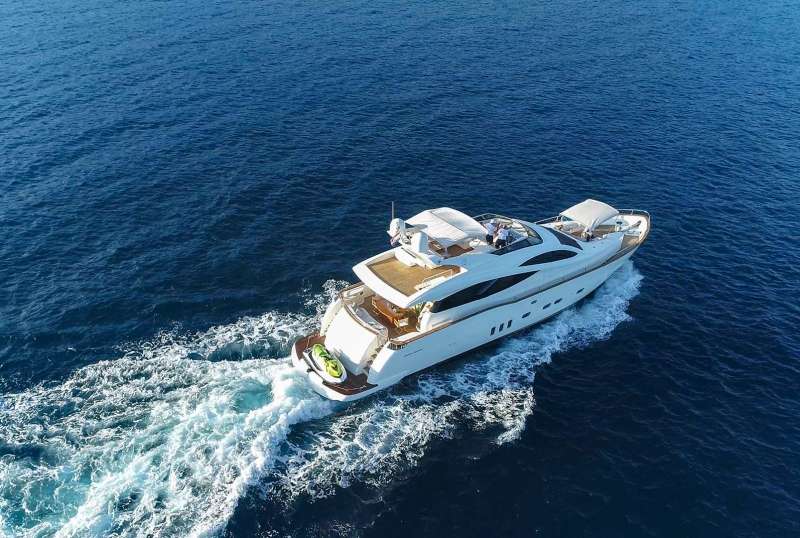 LUKAS
From €31,970/week
4 cabins
78 ft
Filippetti Yachts
8 guests
Refit: 2019
330 Litres/Hr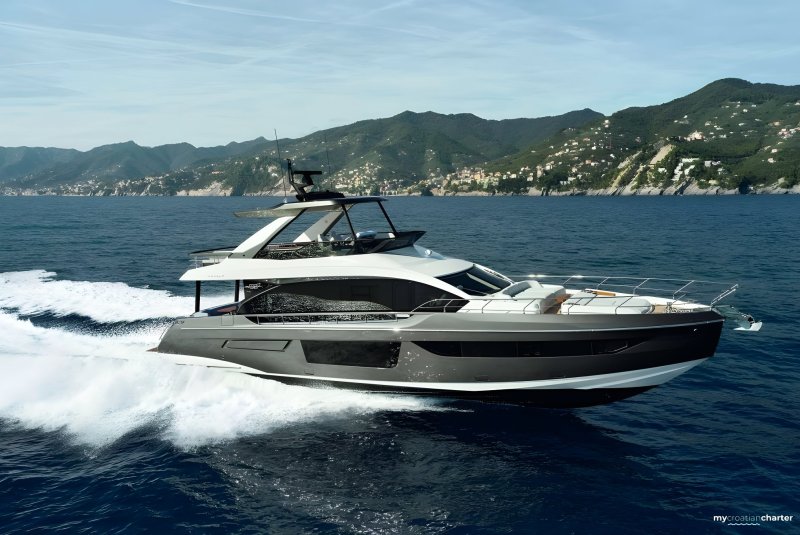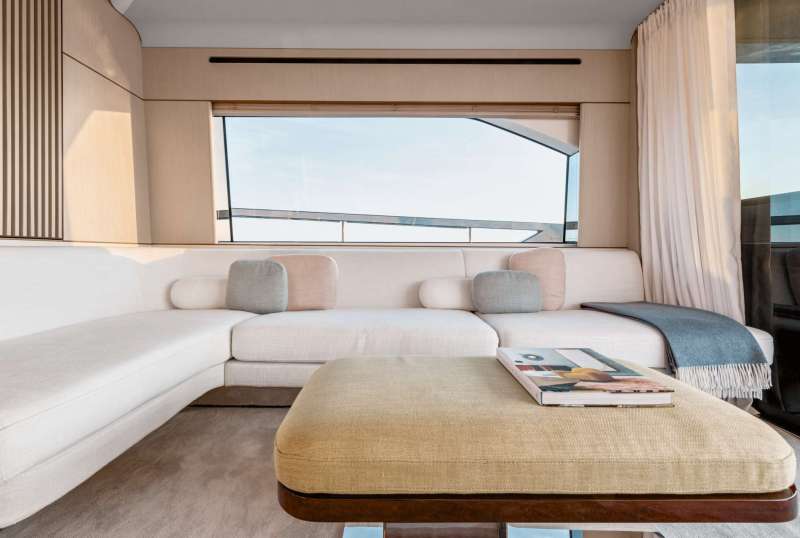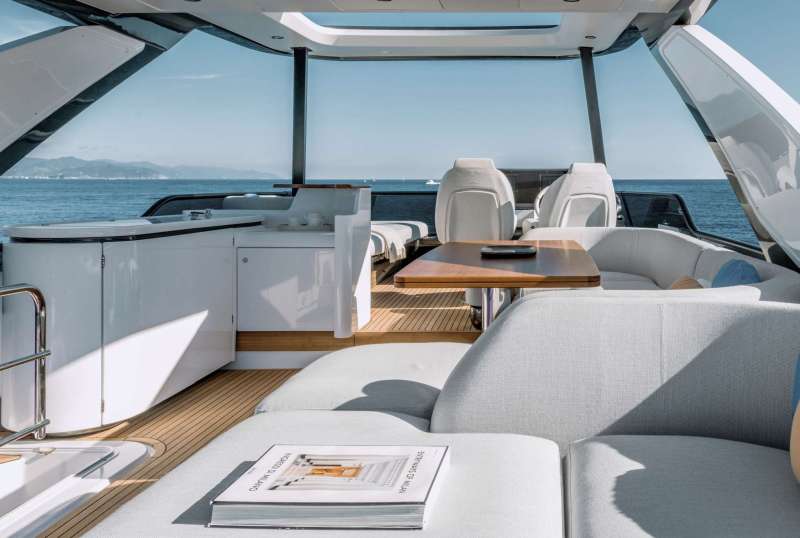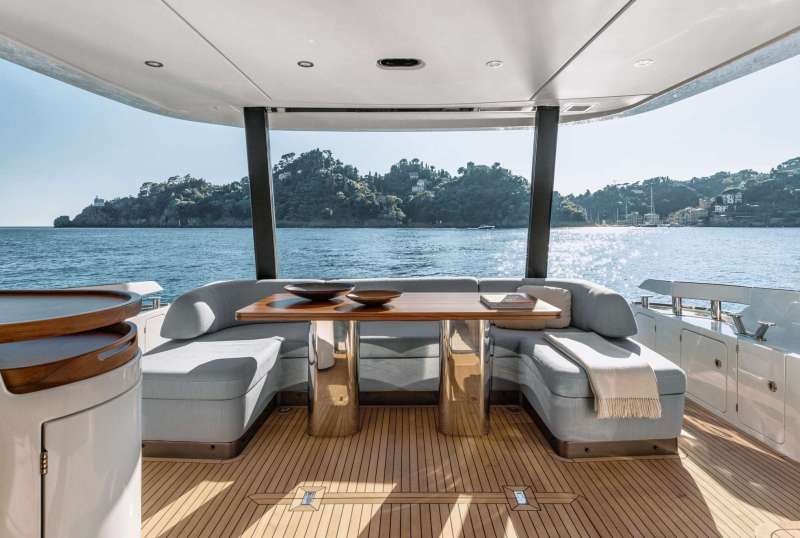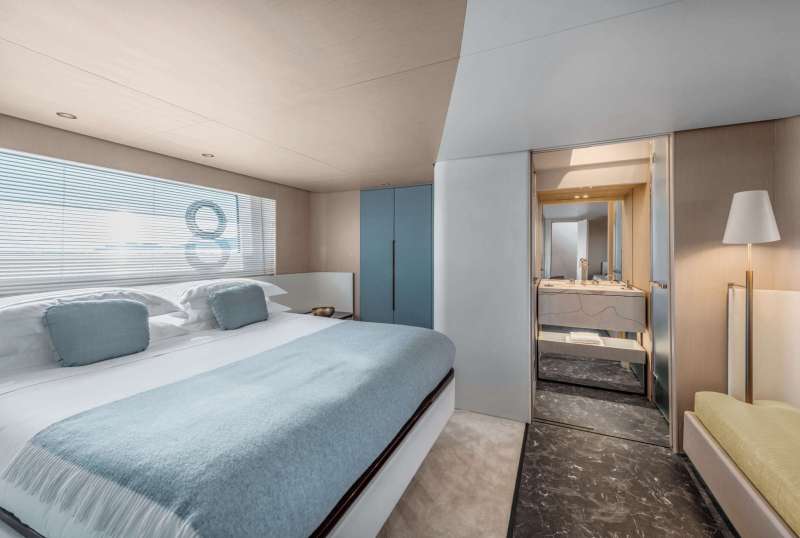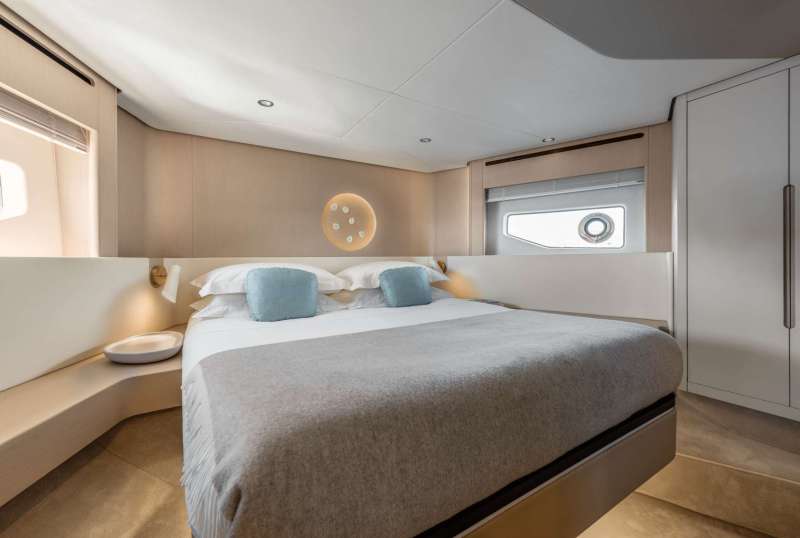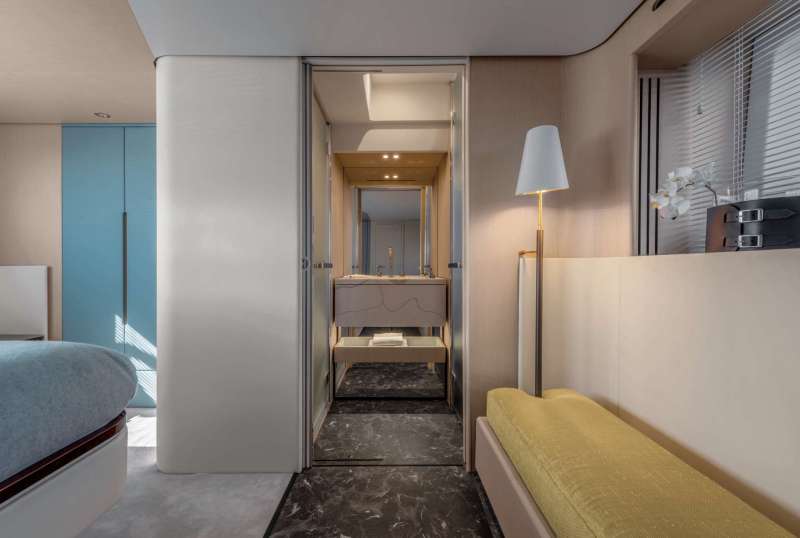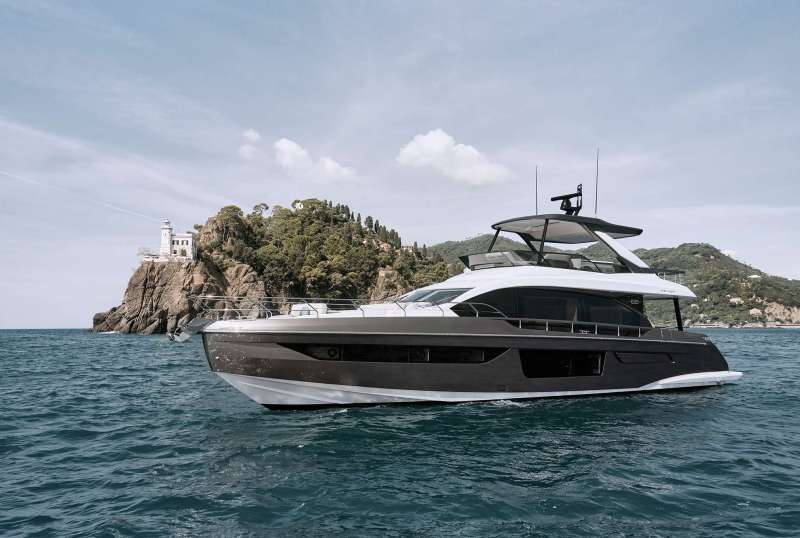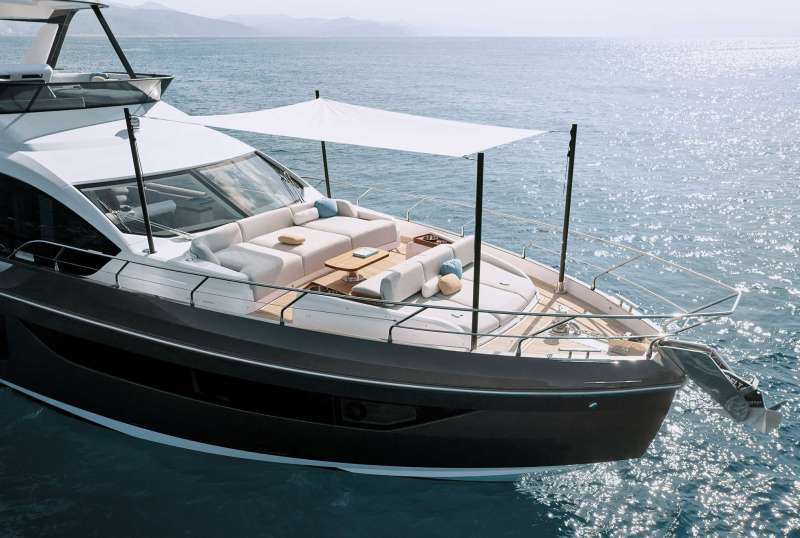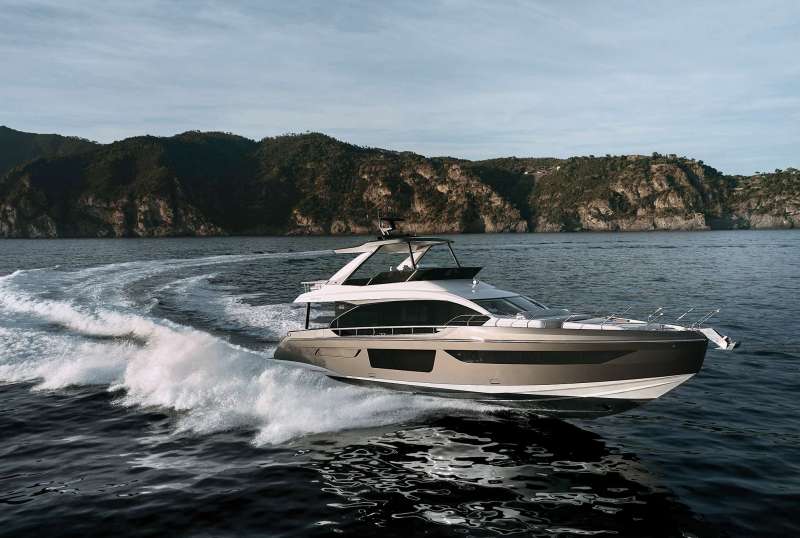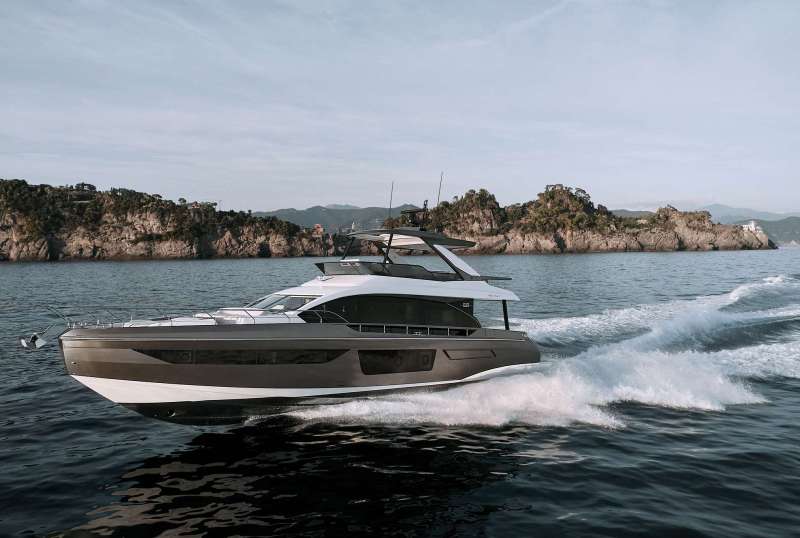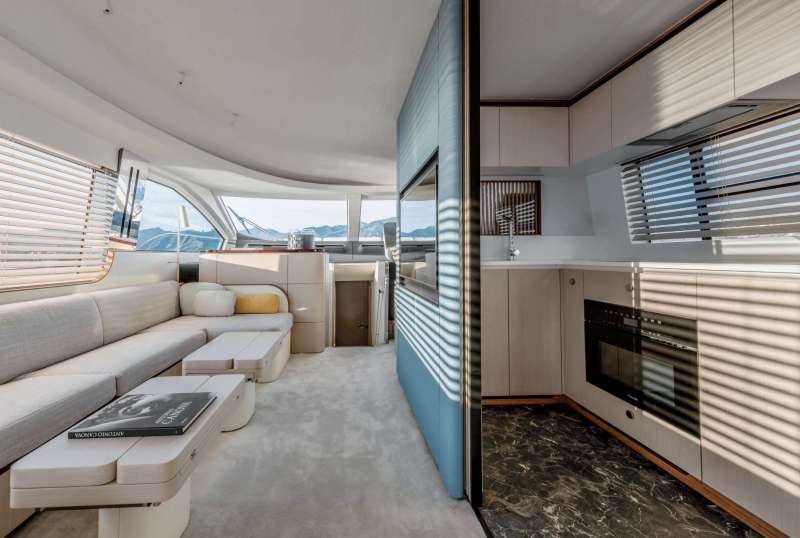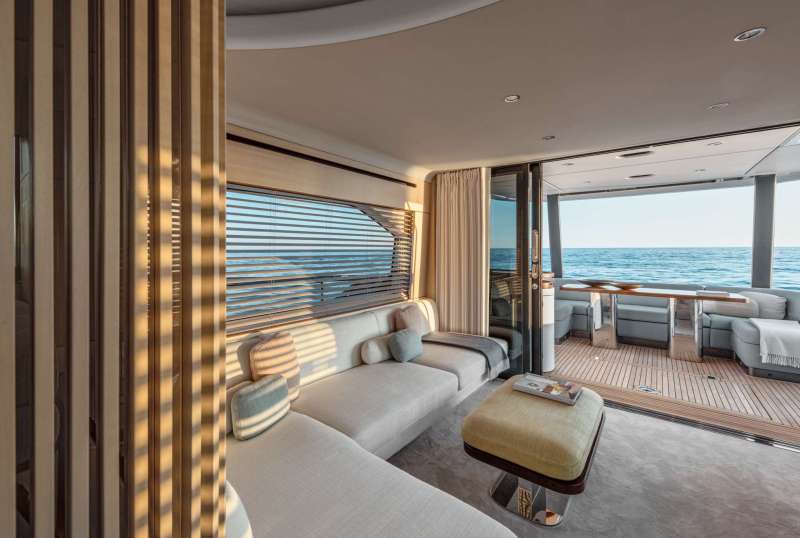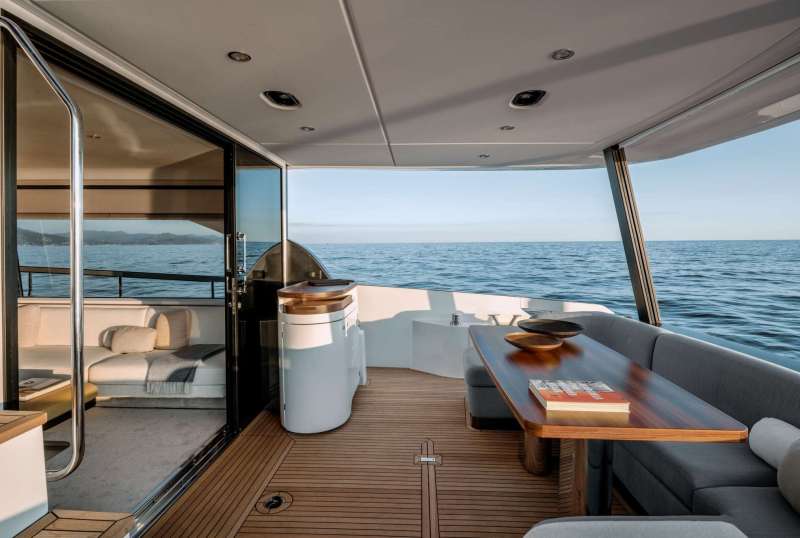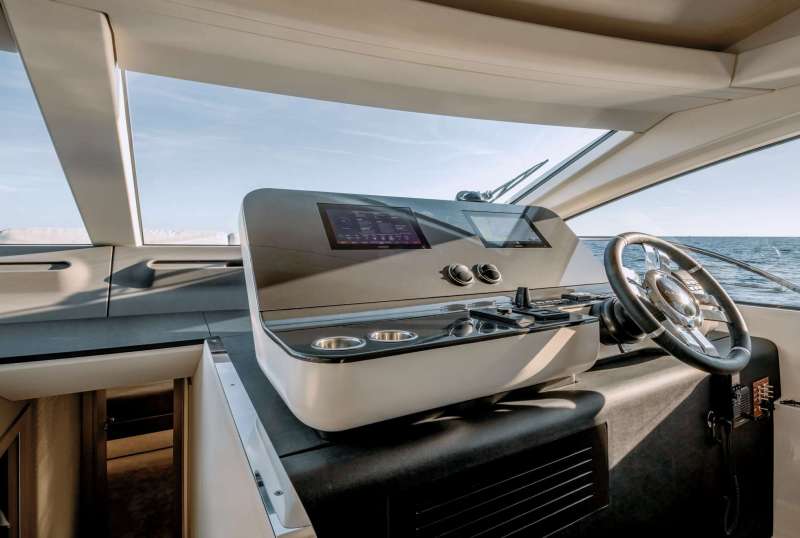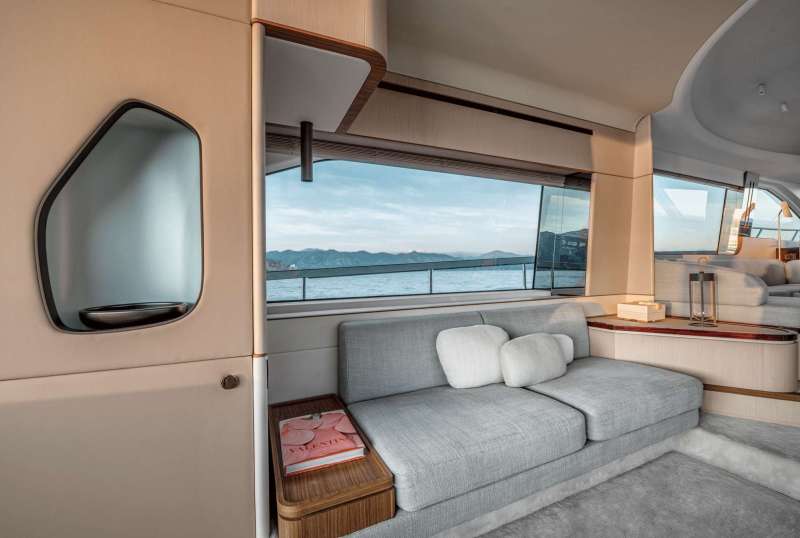 DONNA
From €31,650/week
4 cabins
68 ft
Azimut
8 guests
Built: 2023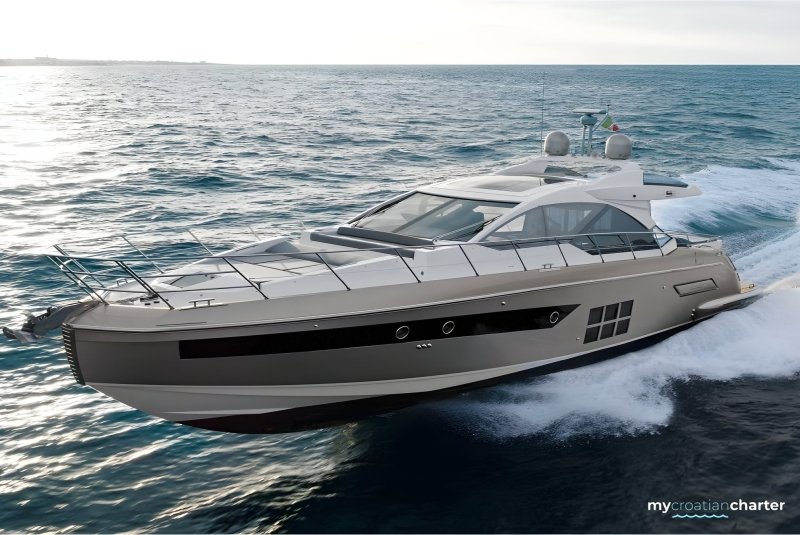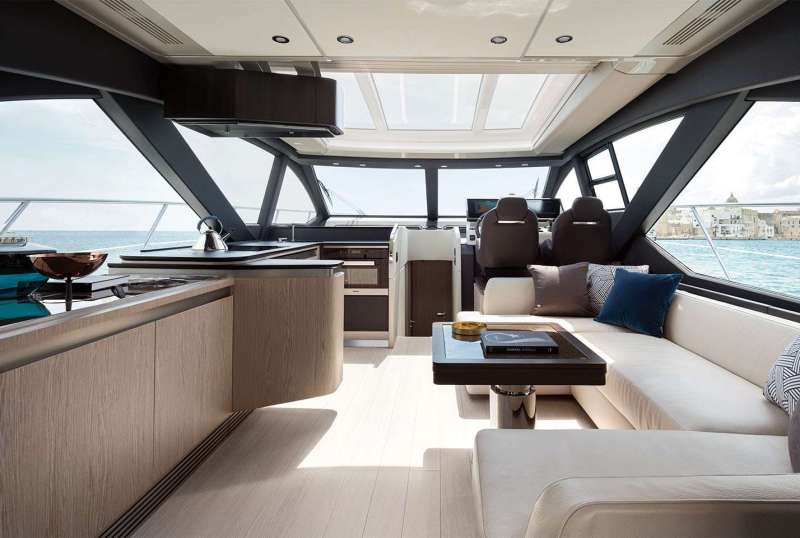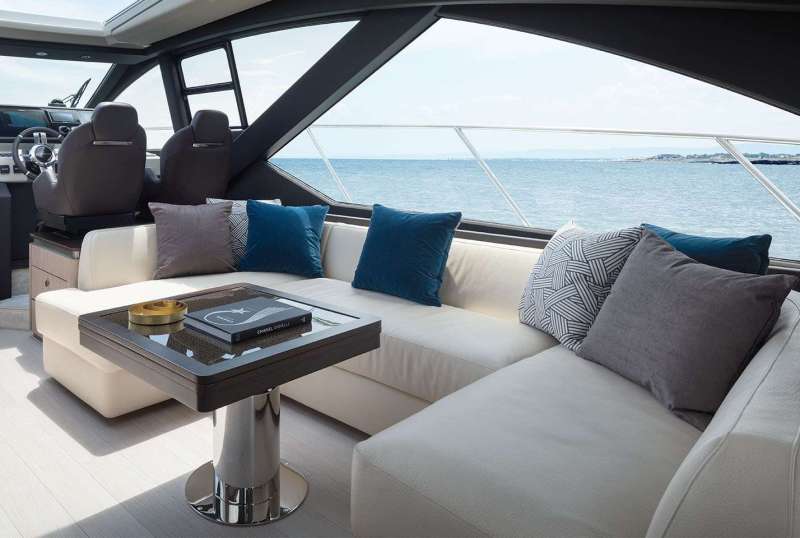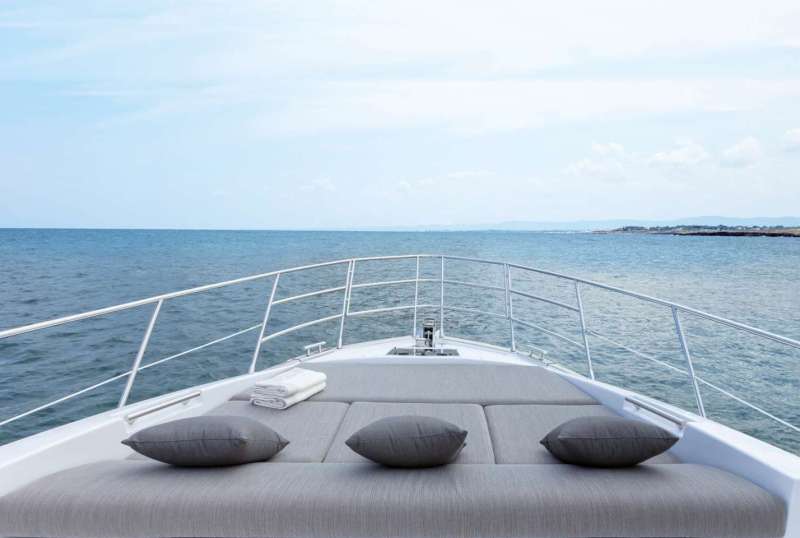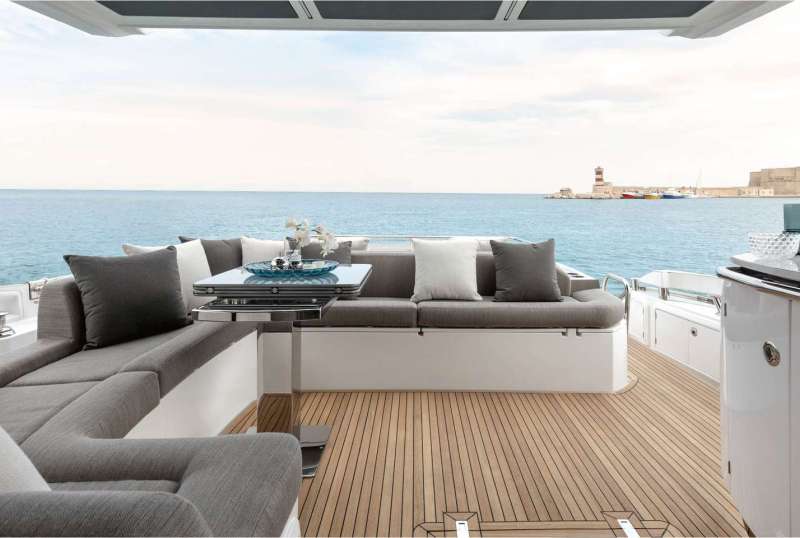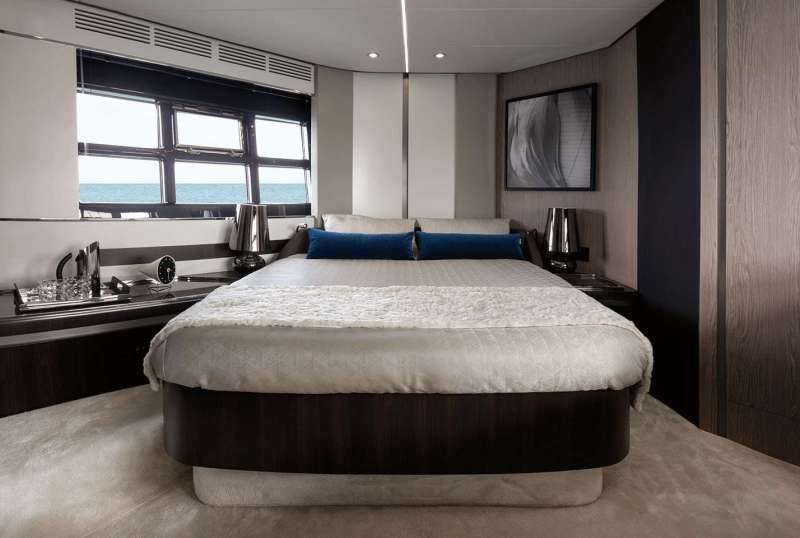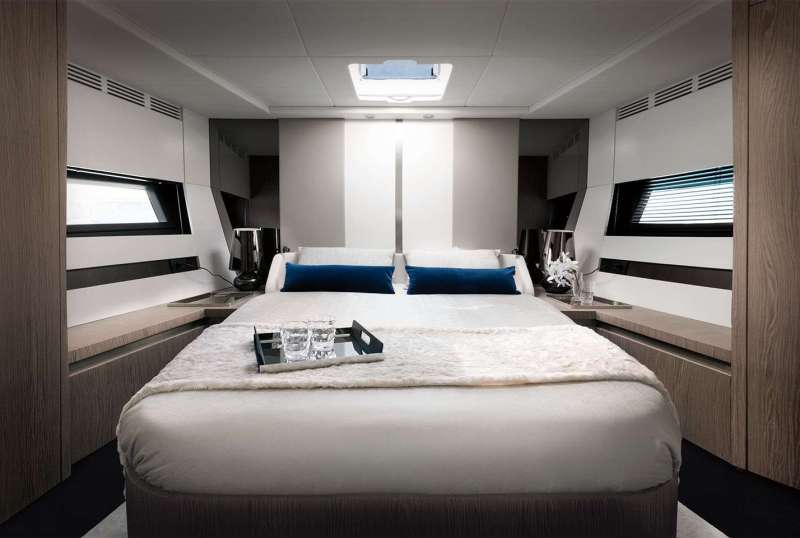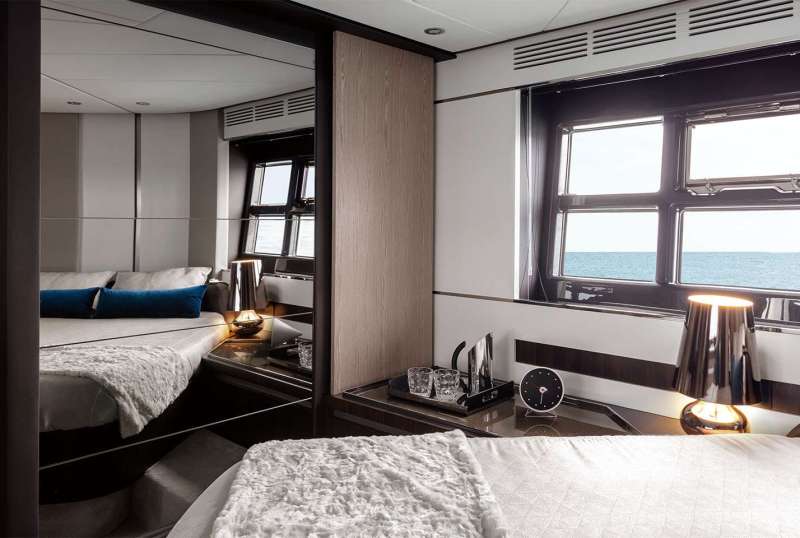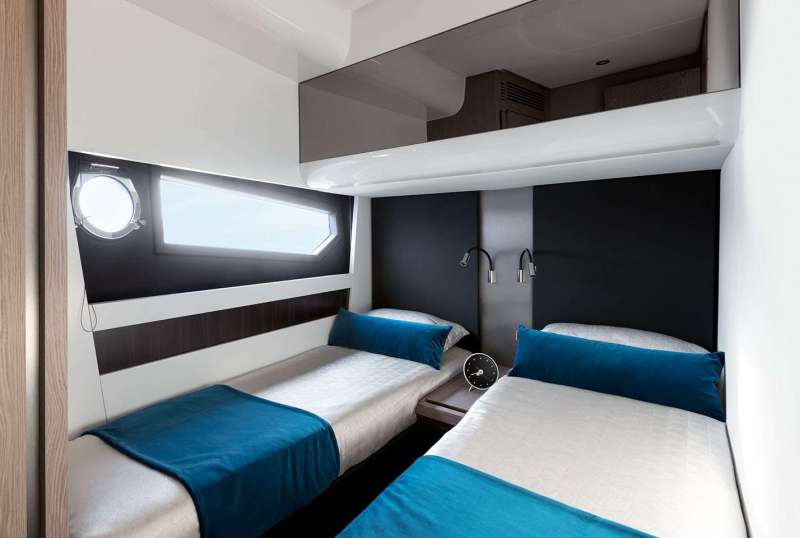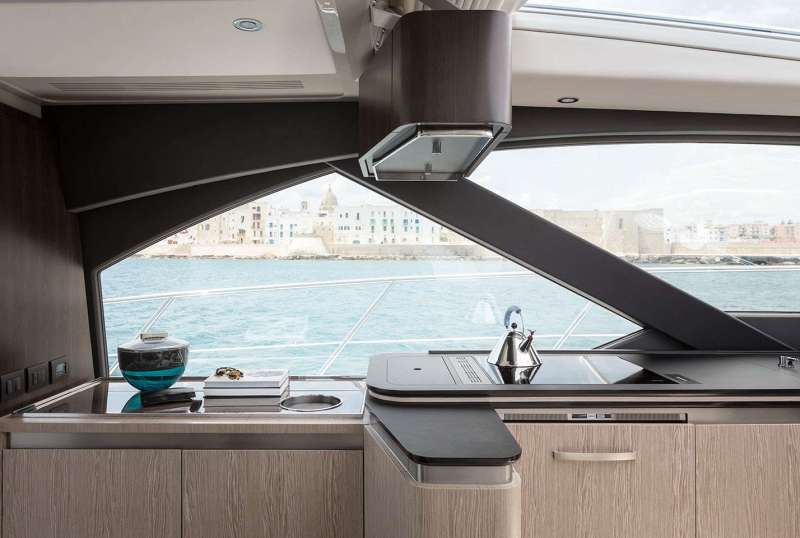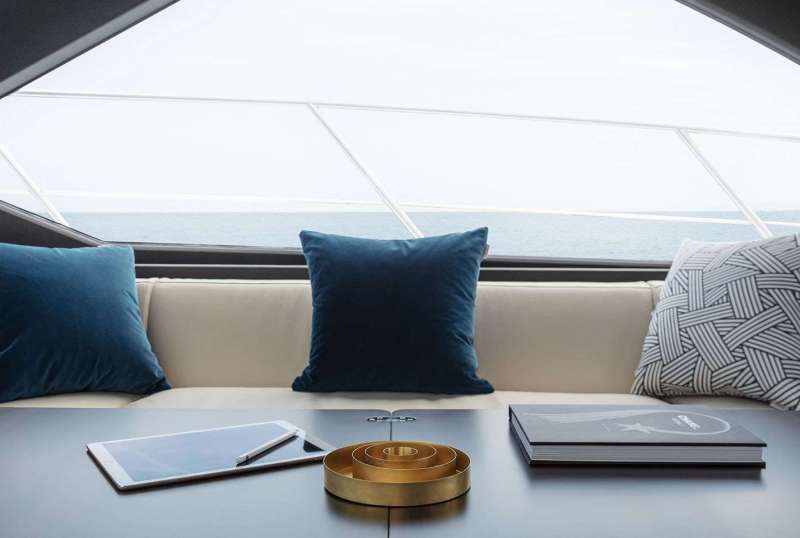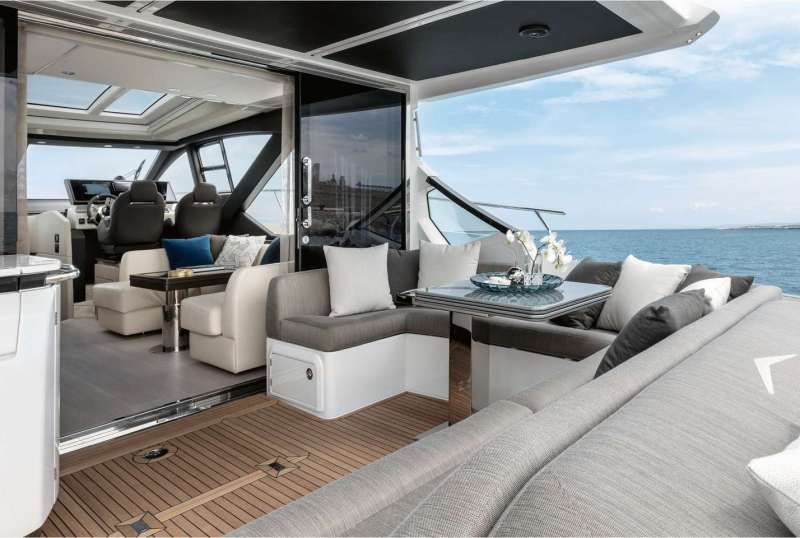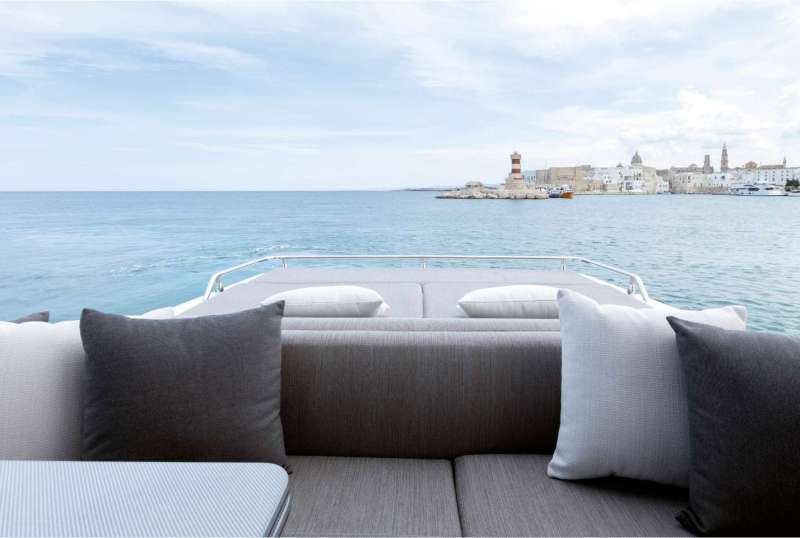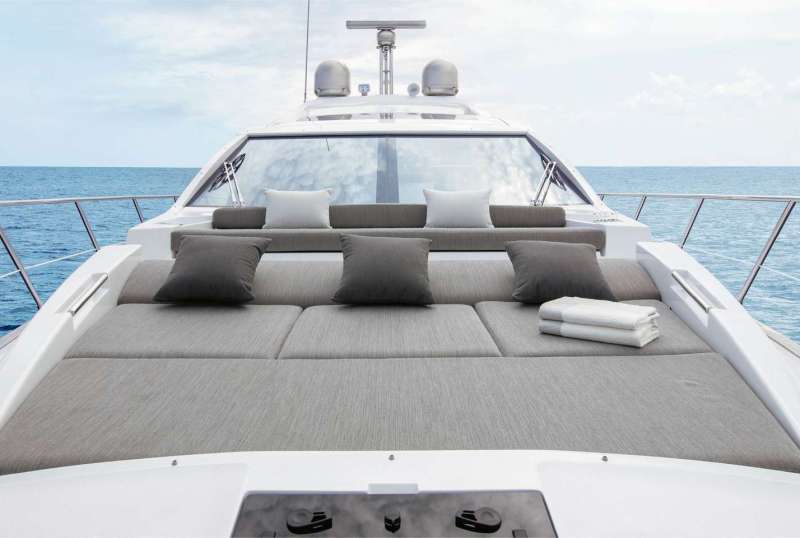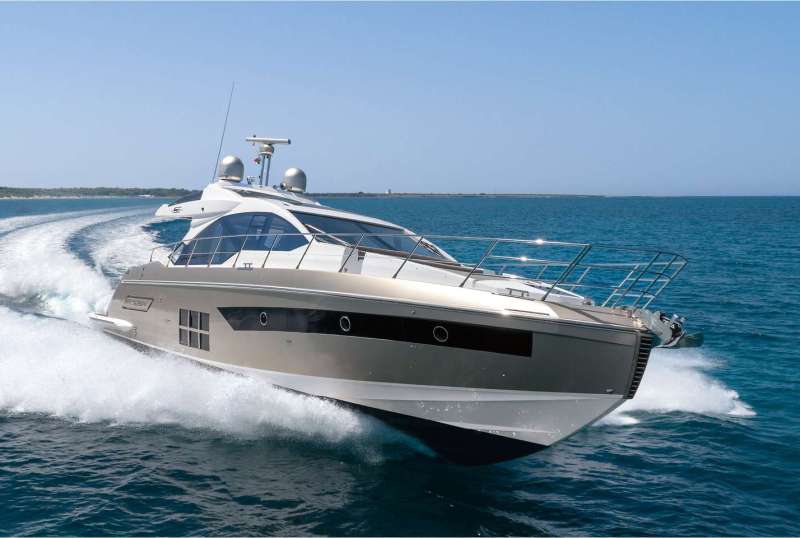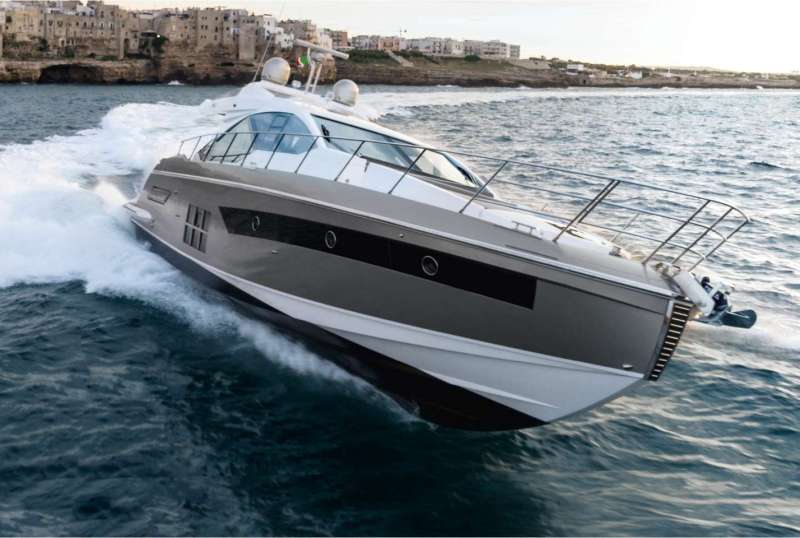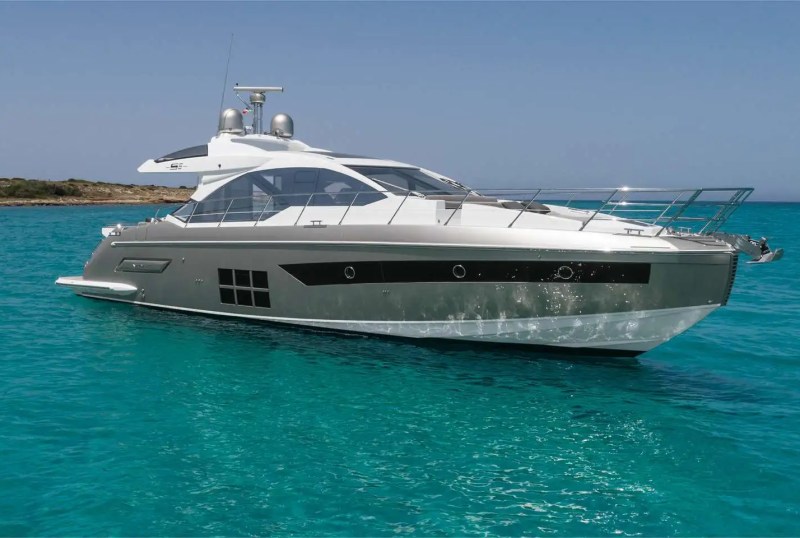 Azimut S6 Leda
From €31,500/week
3 cabins
59 ft
Azimut
6 guests
Built: 2022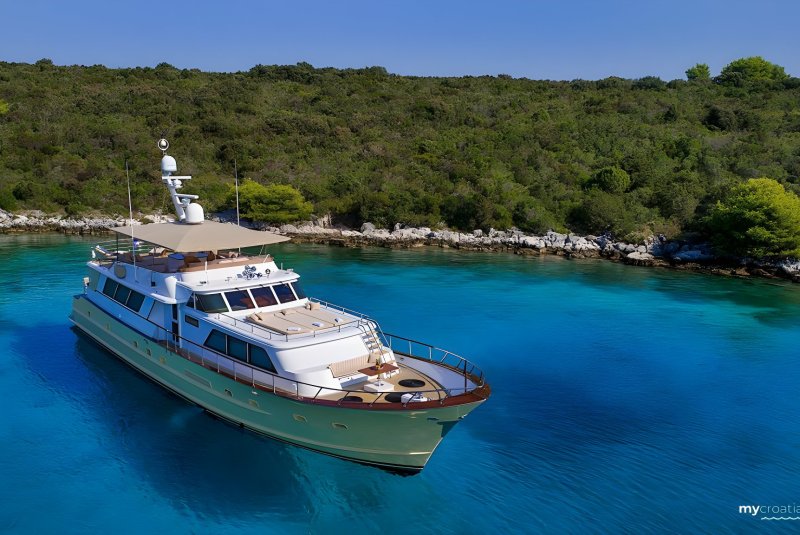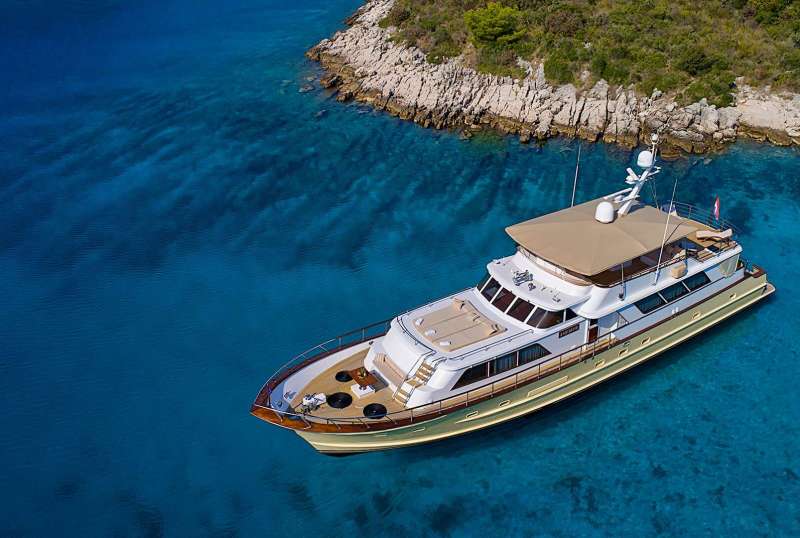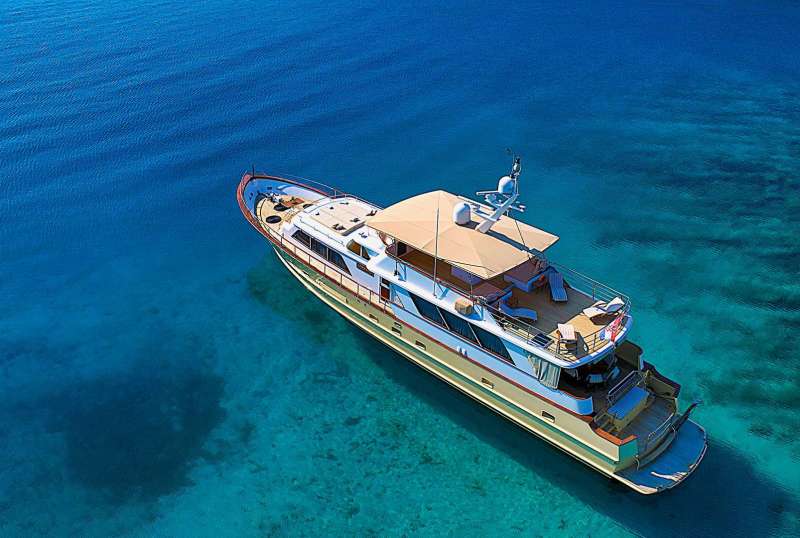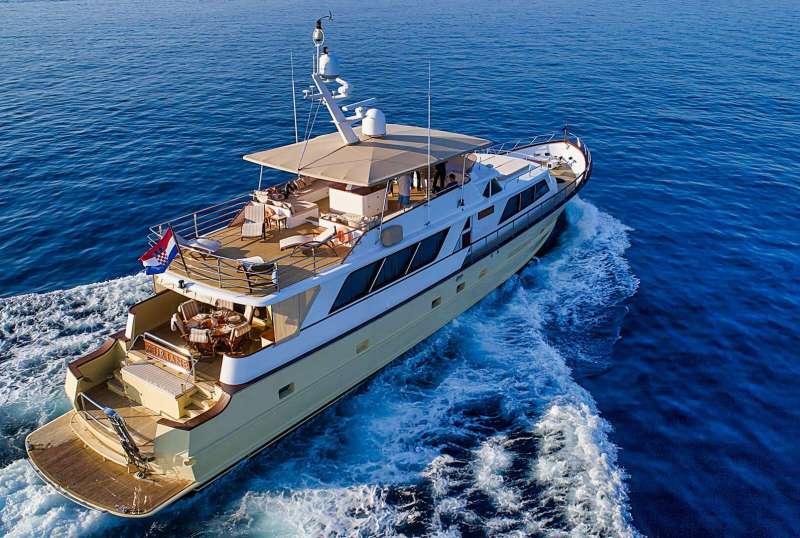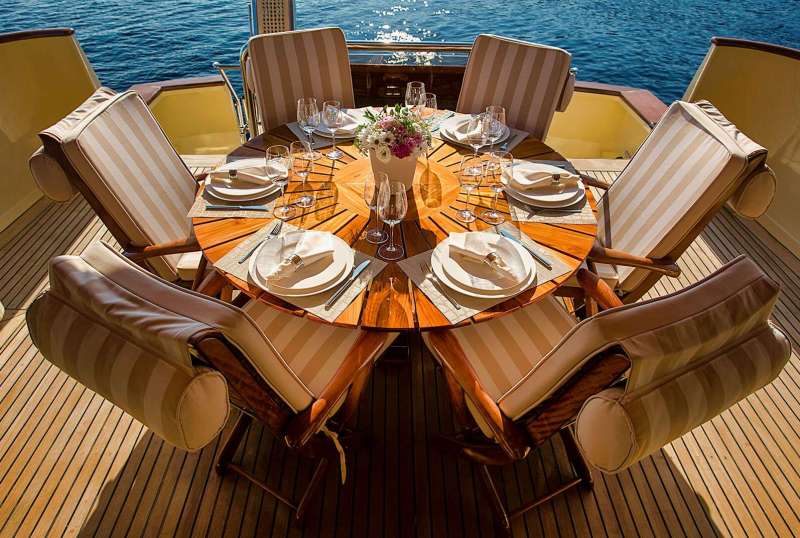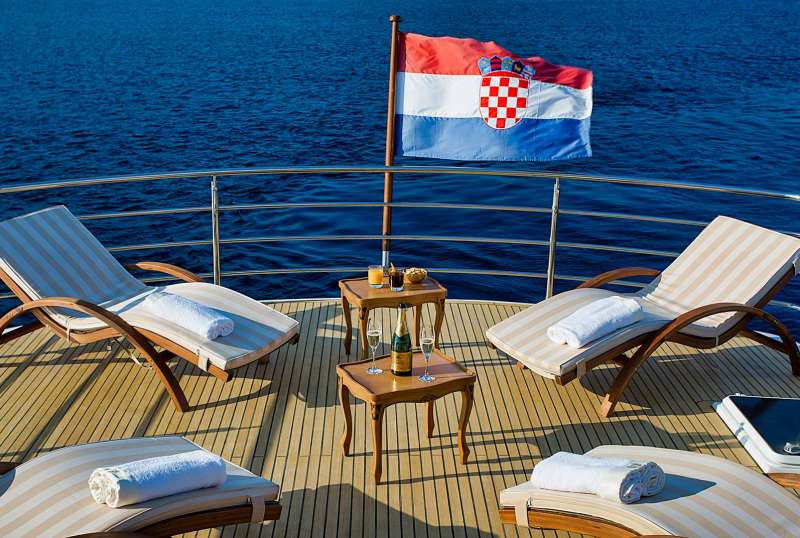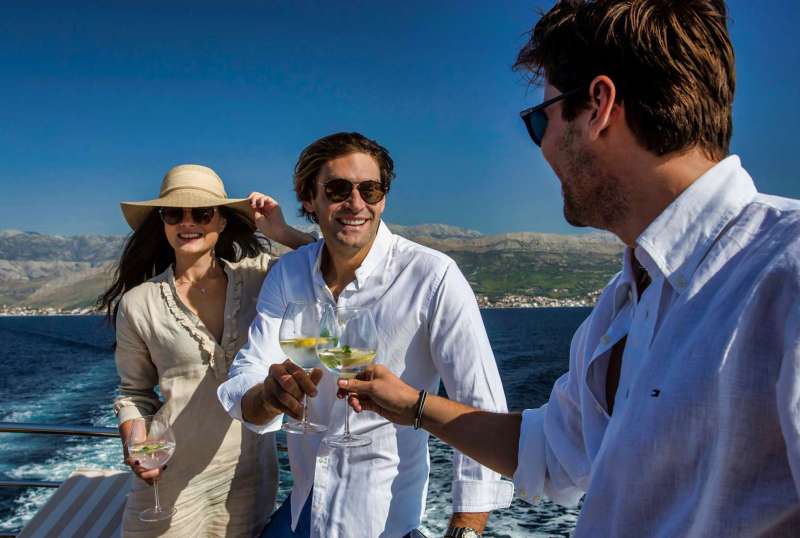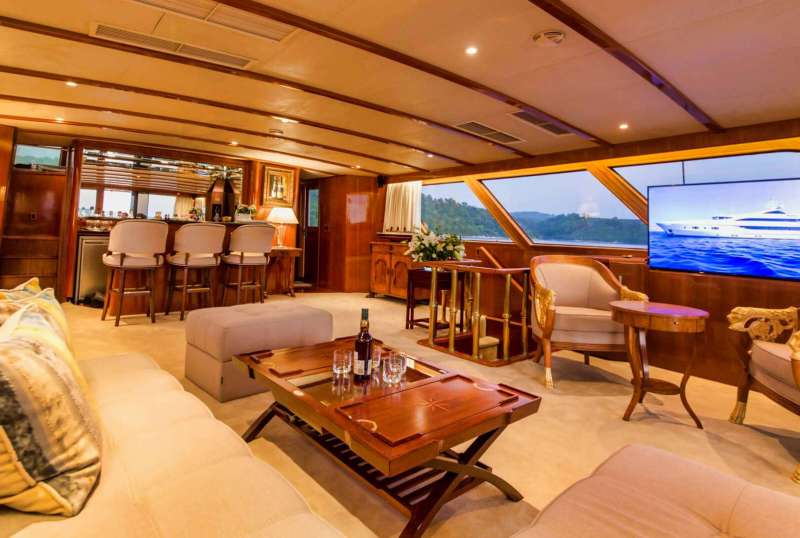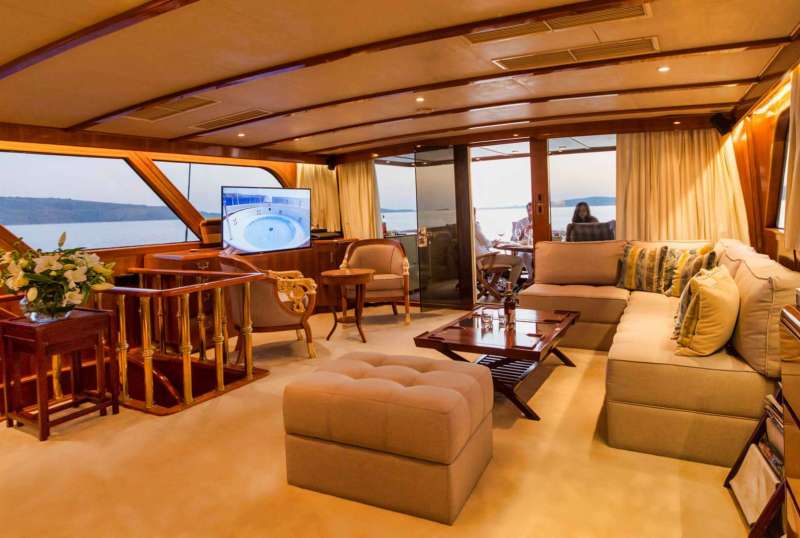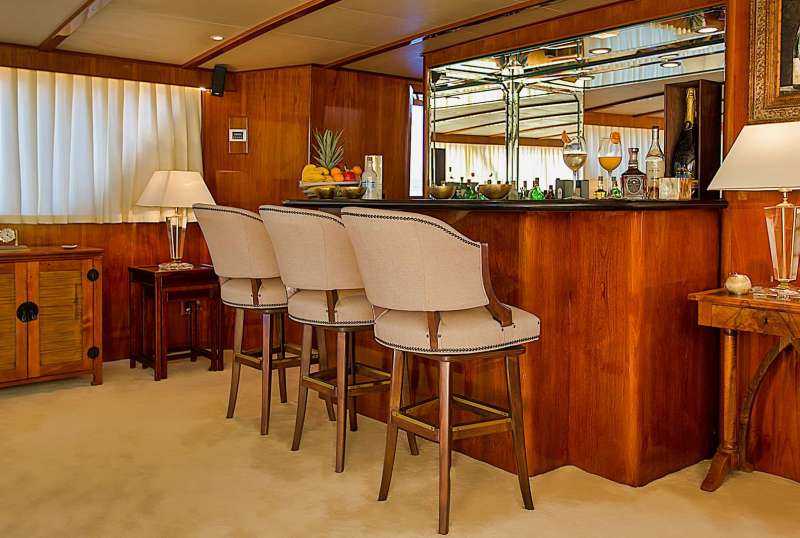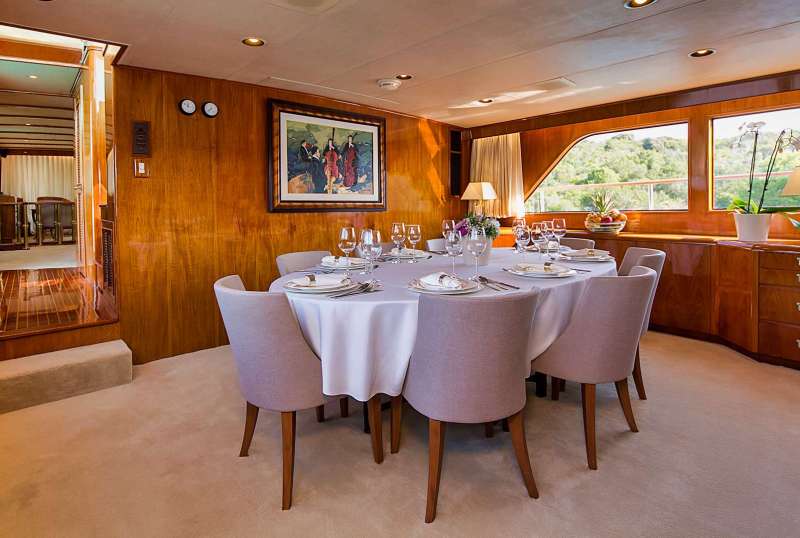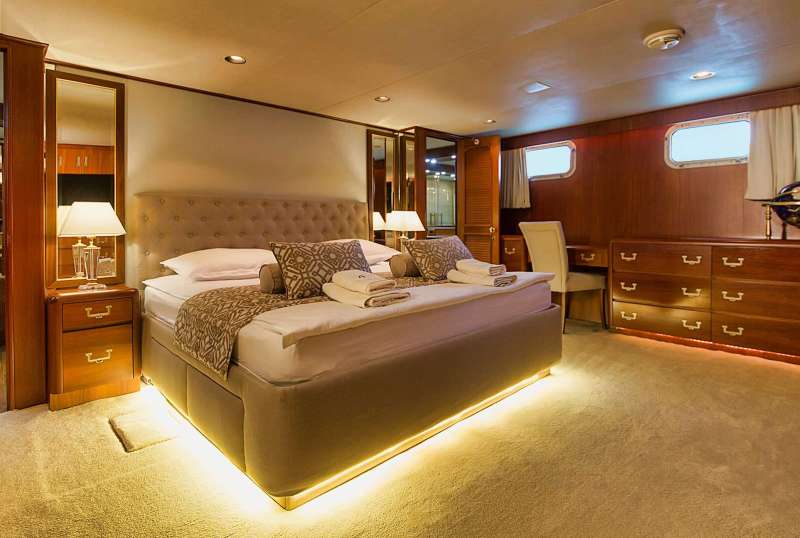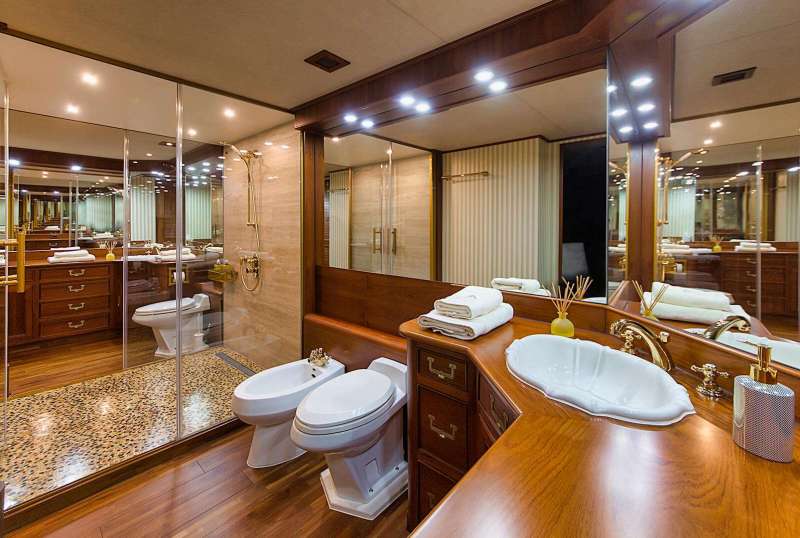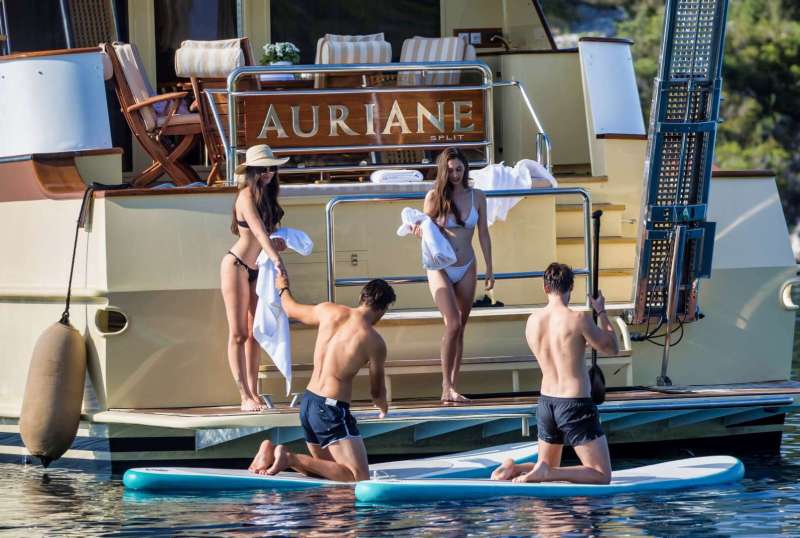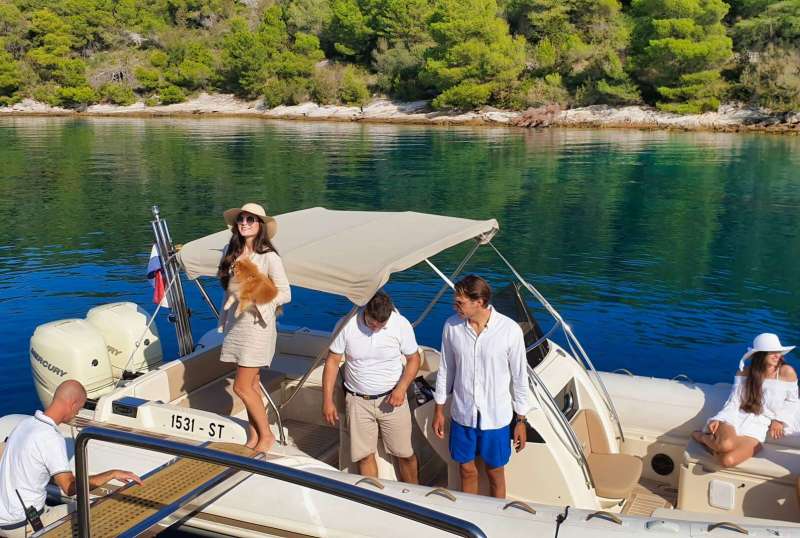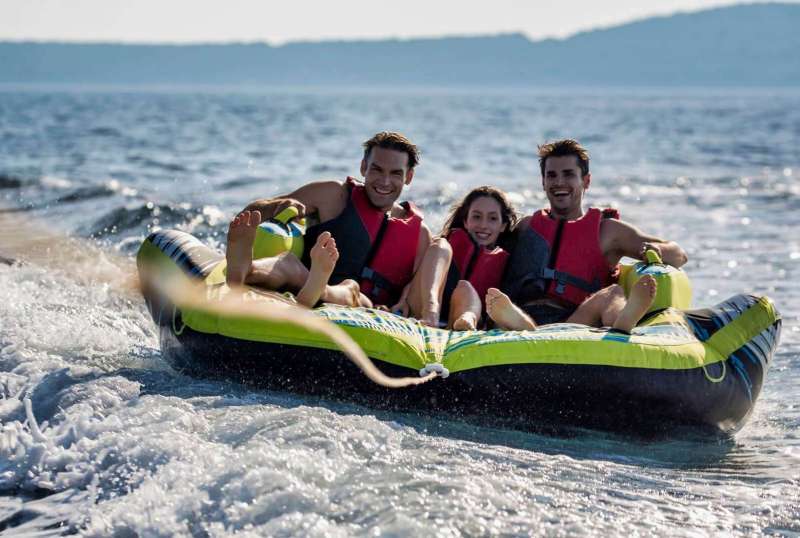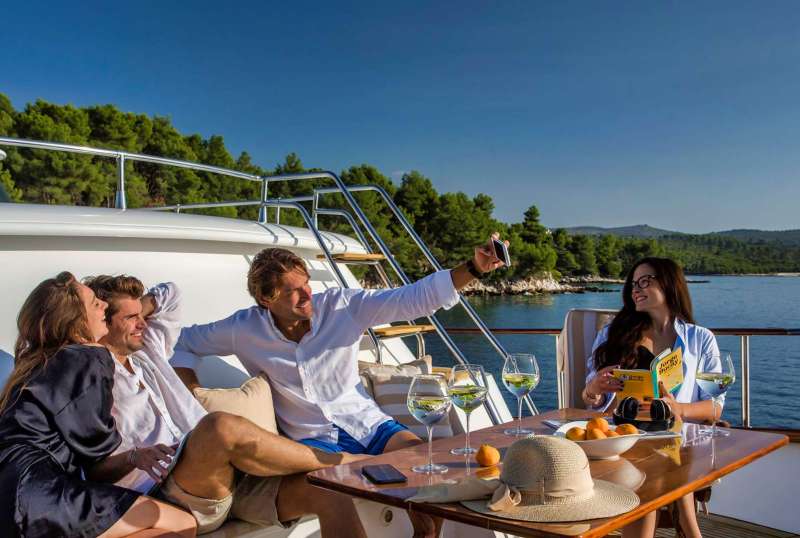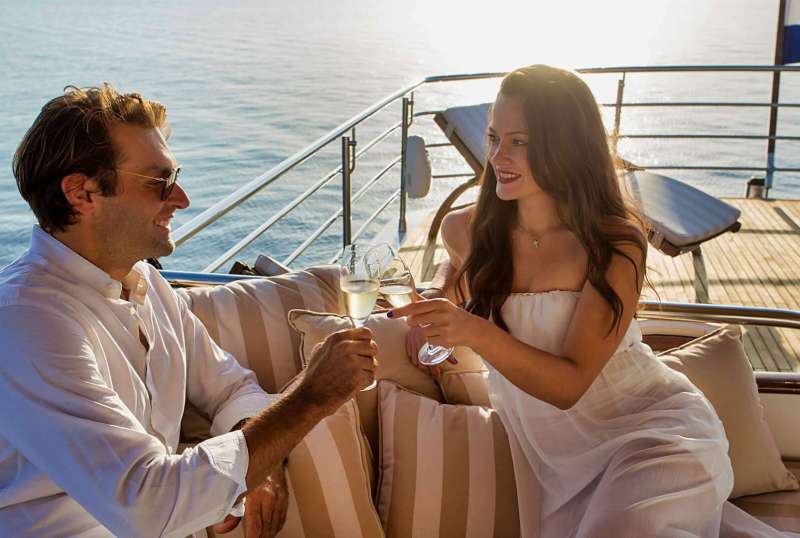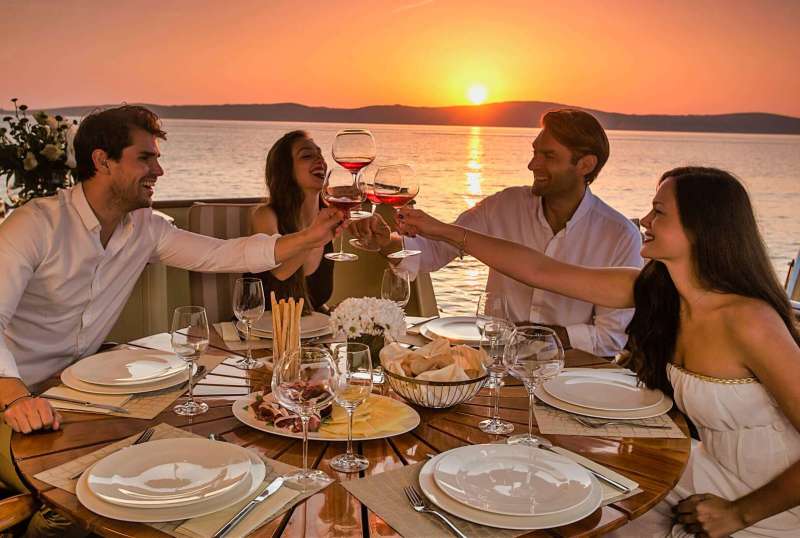 AURIANE
From €30,974/week
3 cabins
101 ft
Broward
6 guests
Refit: 2021
175 Litres/Hr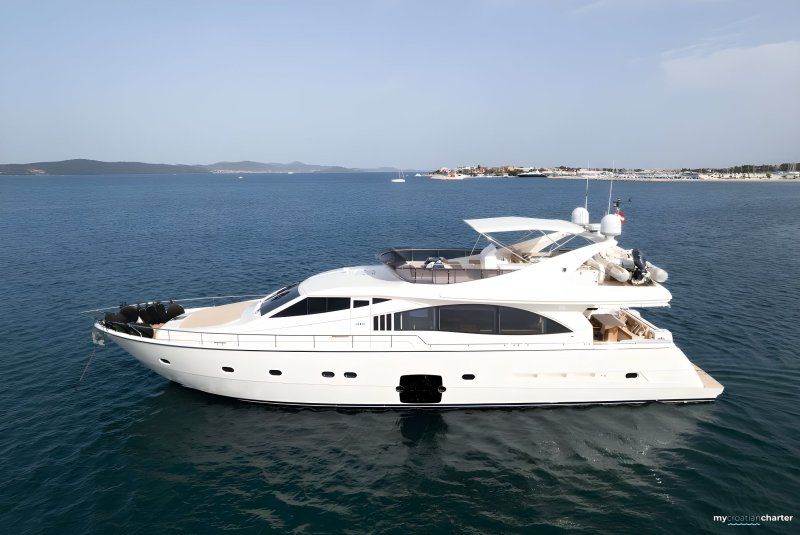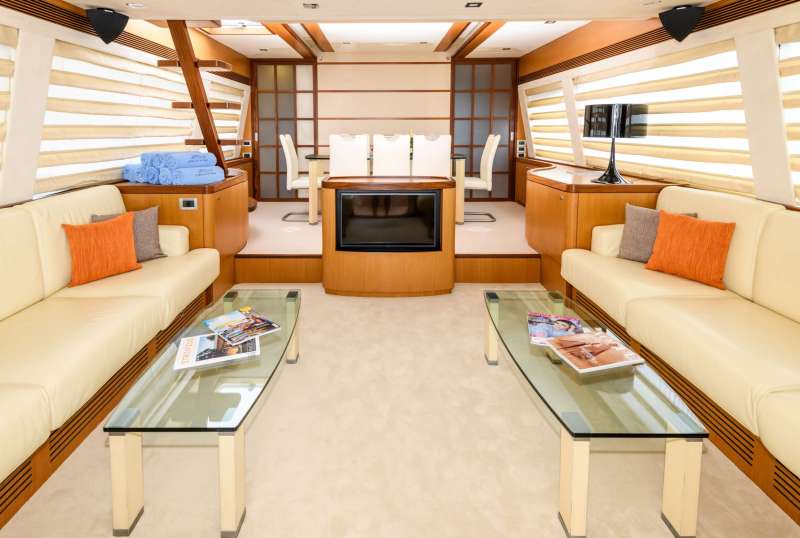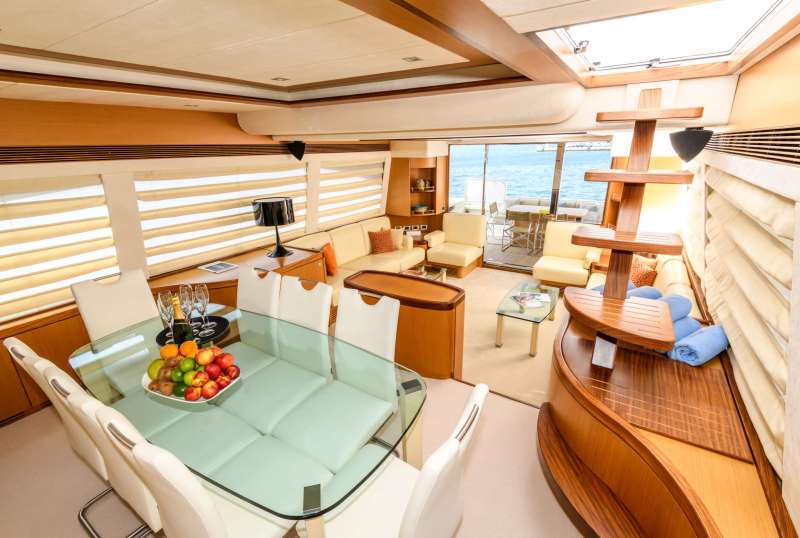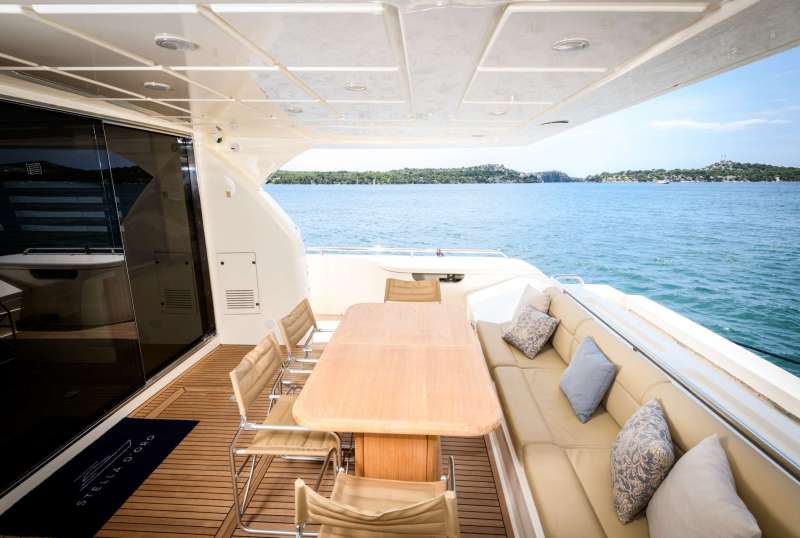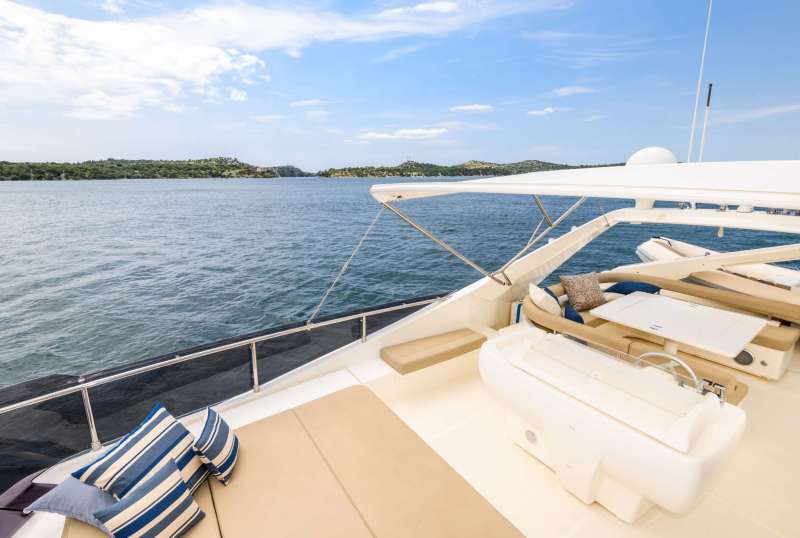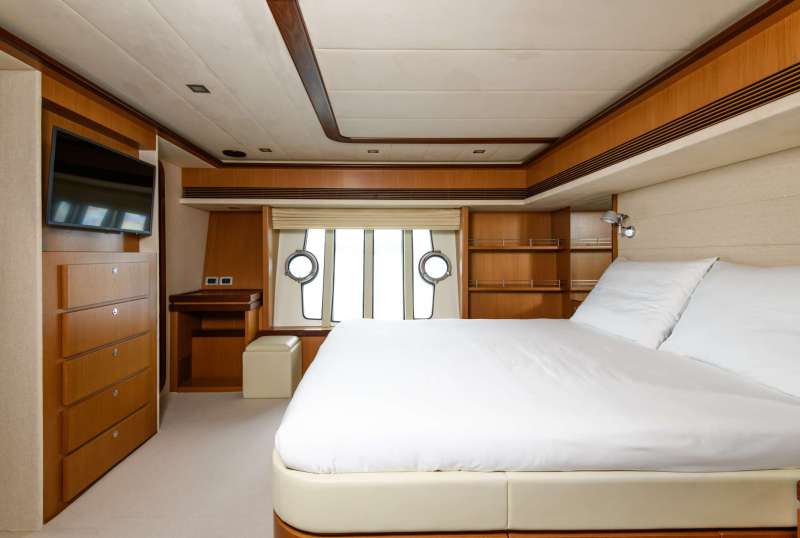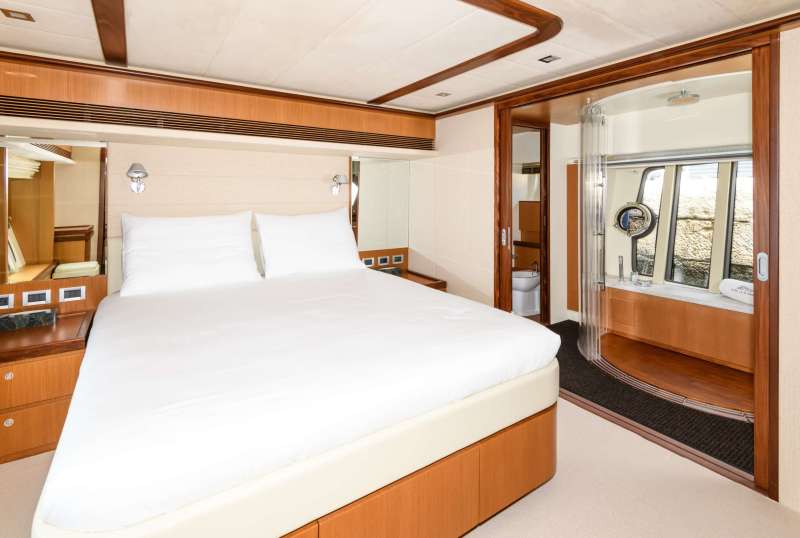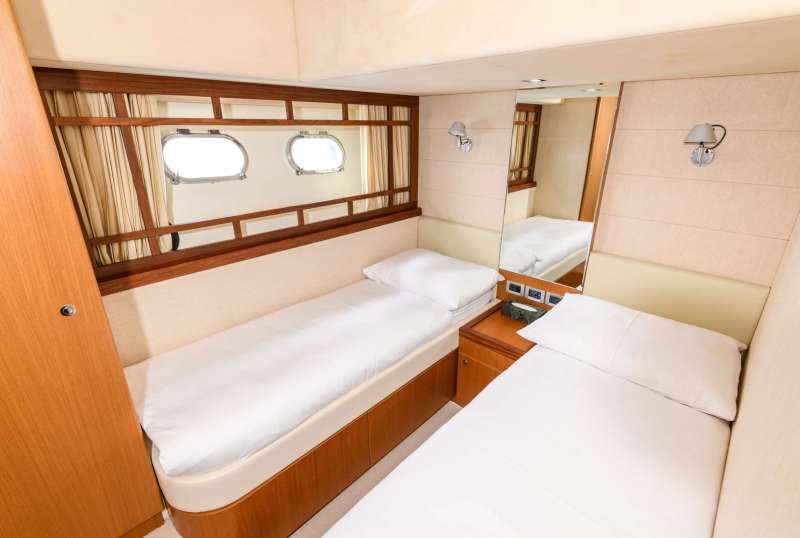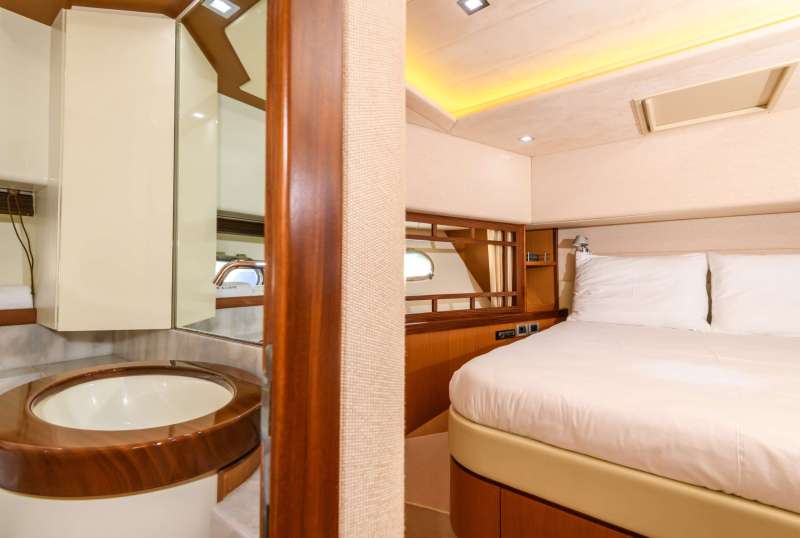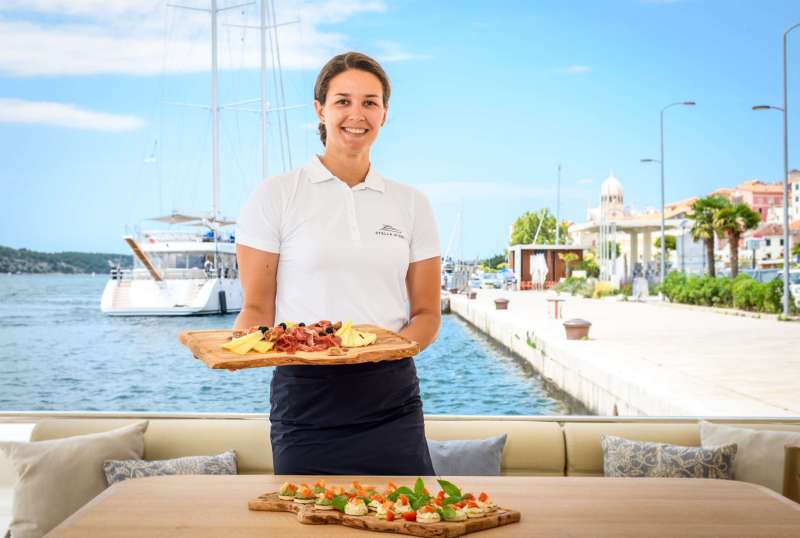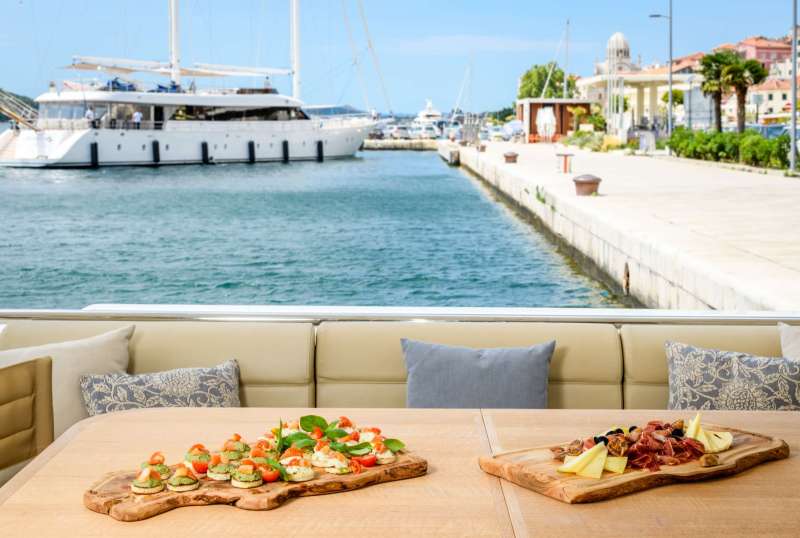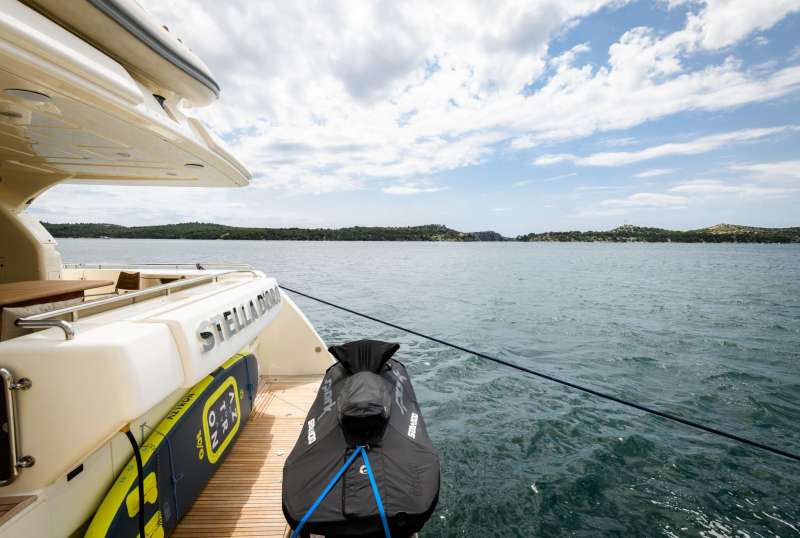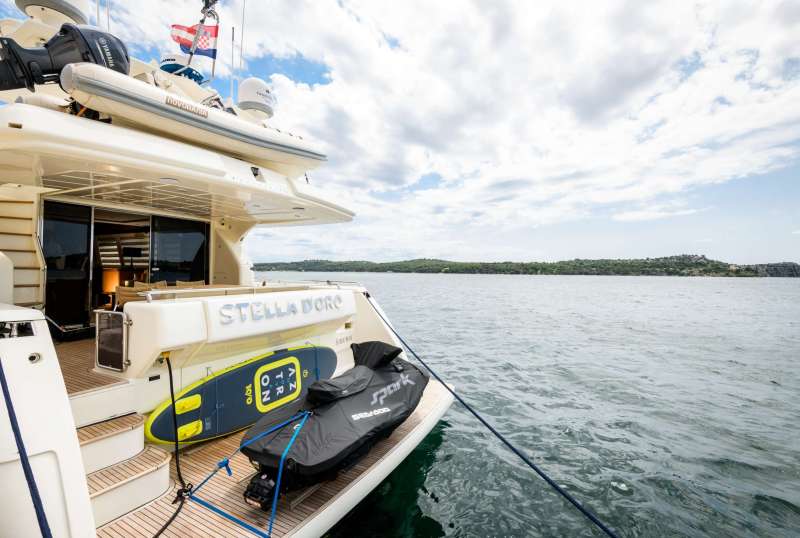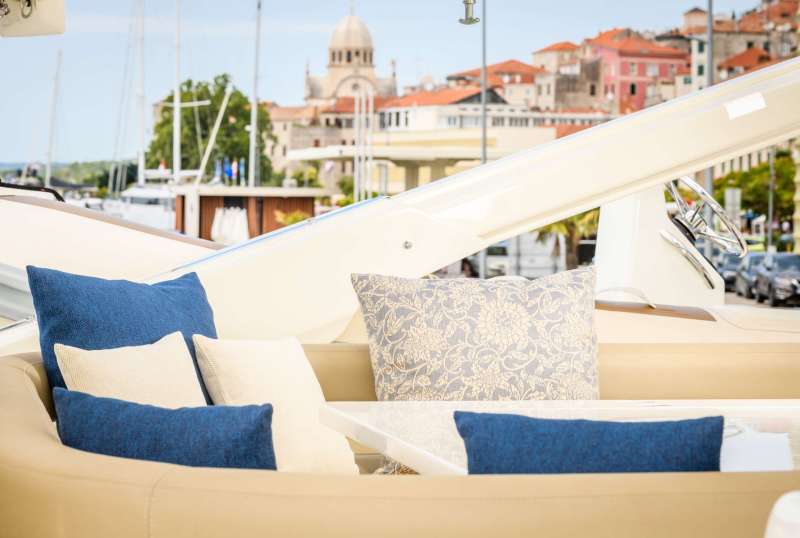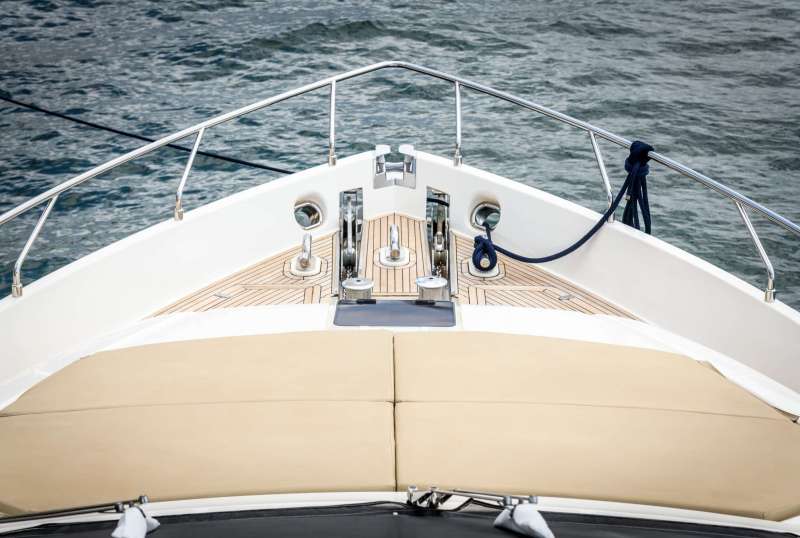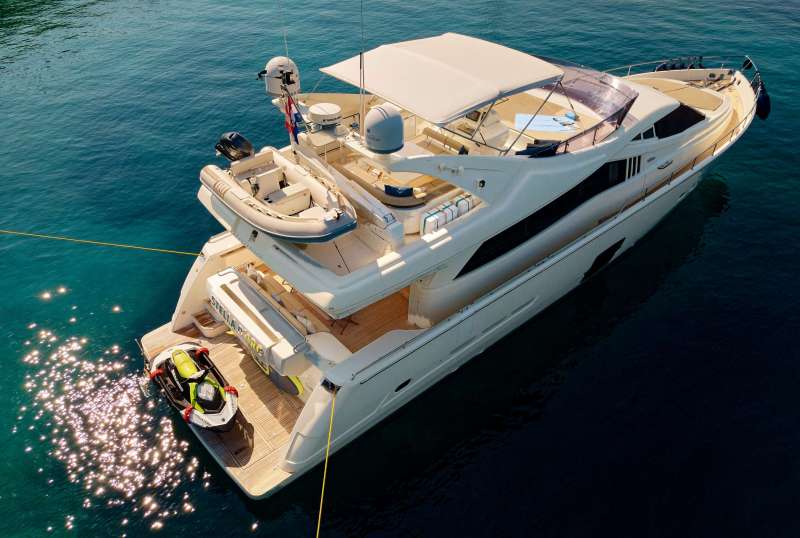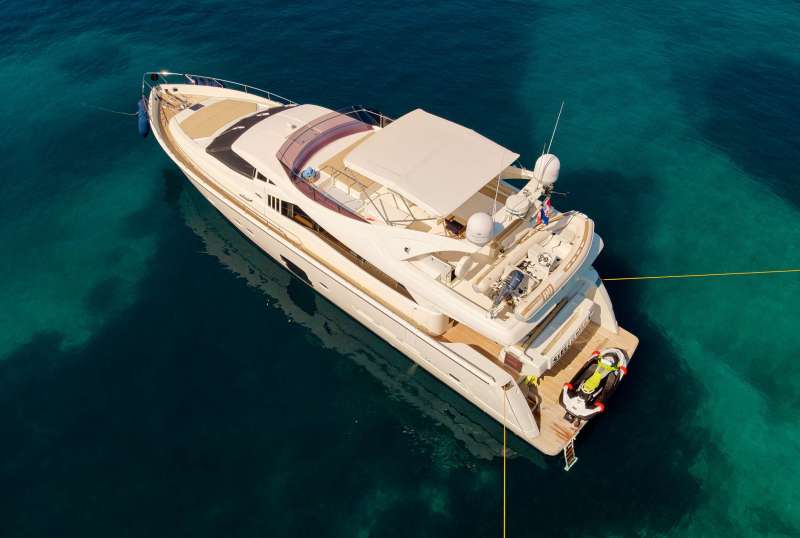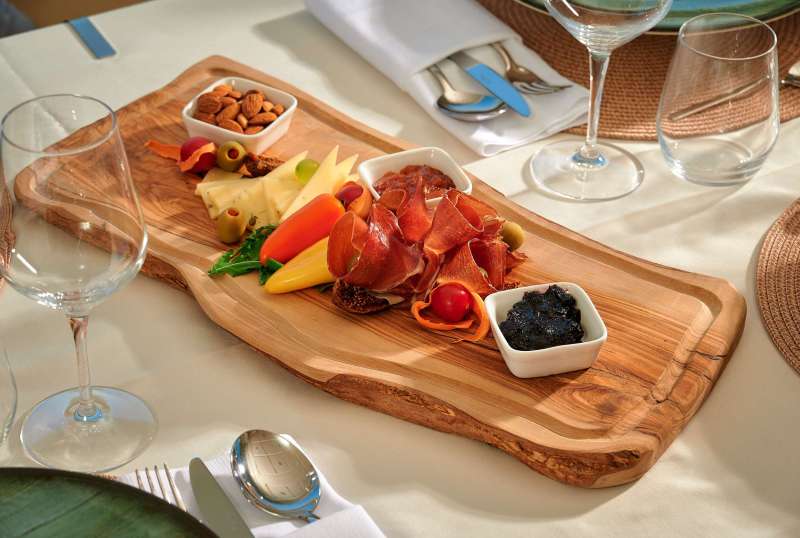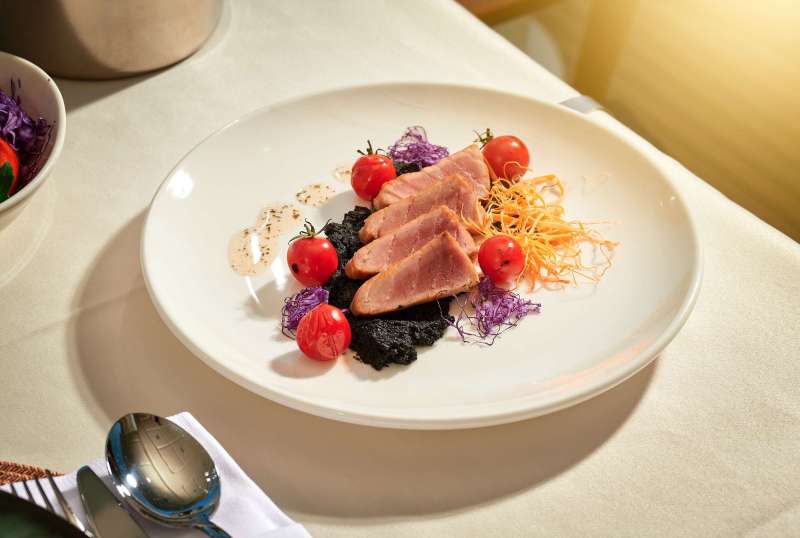 Stella D'Oro
From €30,000/week
4 cabins
74 ft
Ferretti
8 guests
Refit: 2023
350 L/h @ 20 Litres/Hr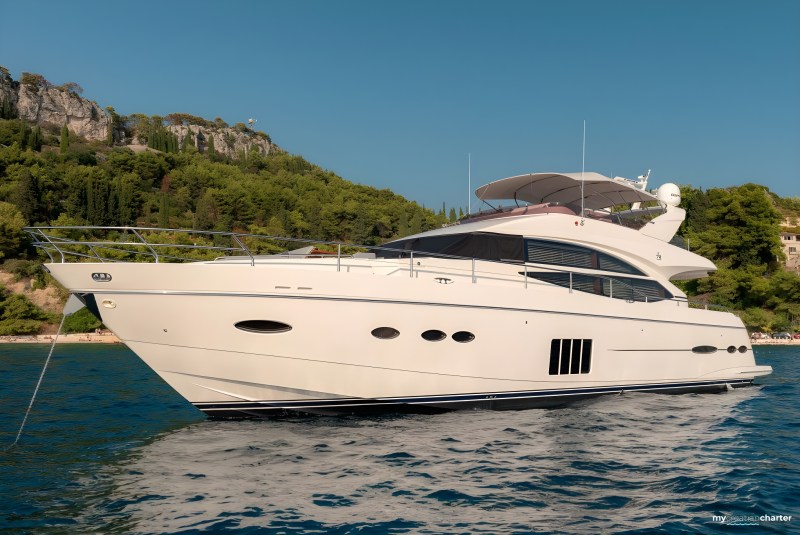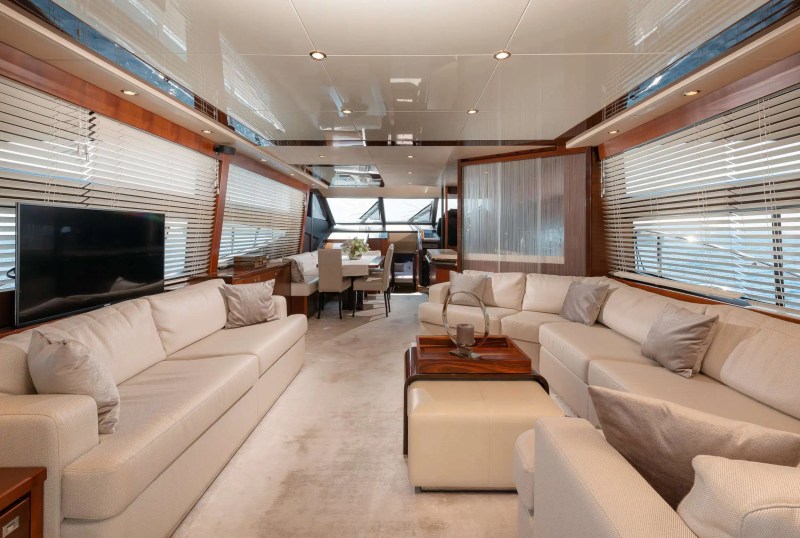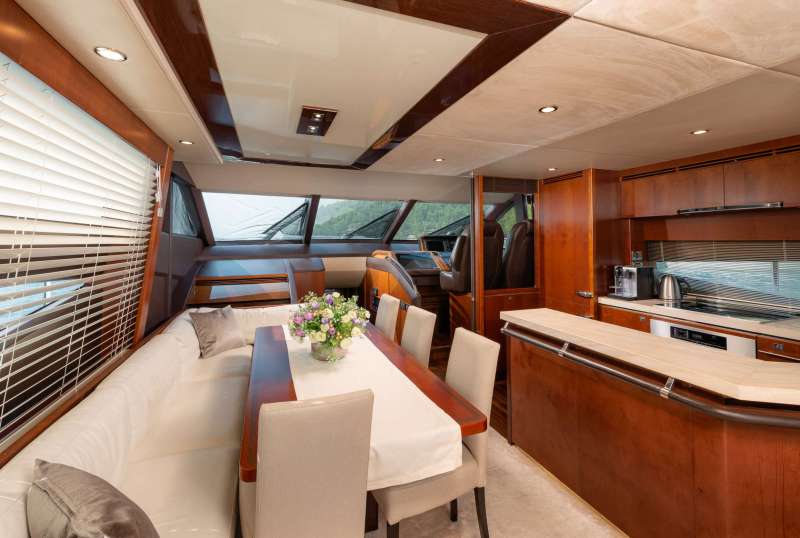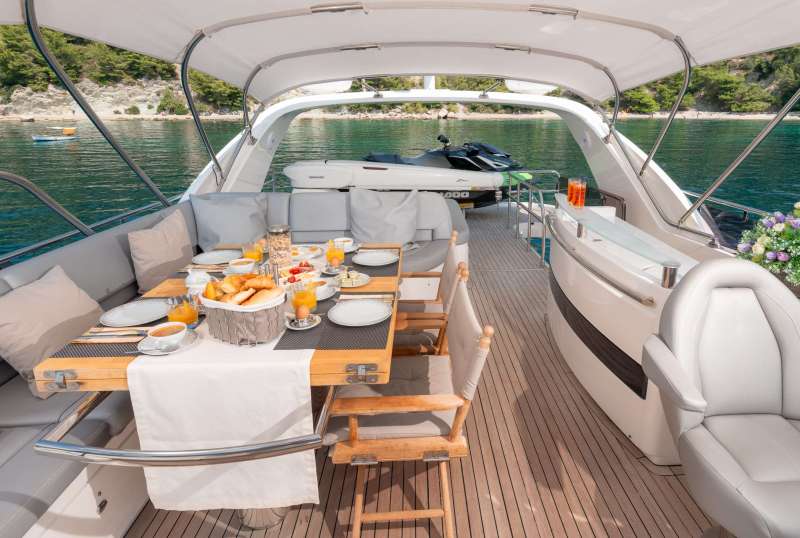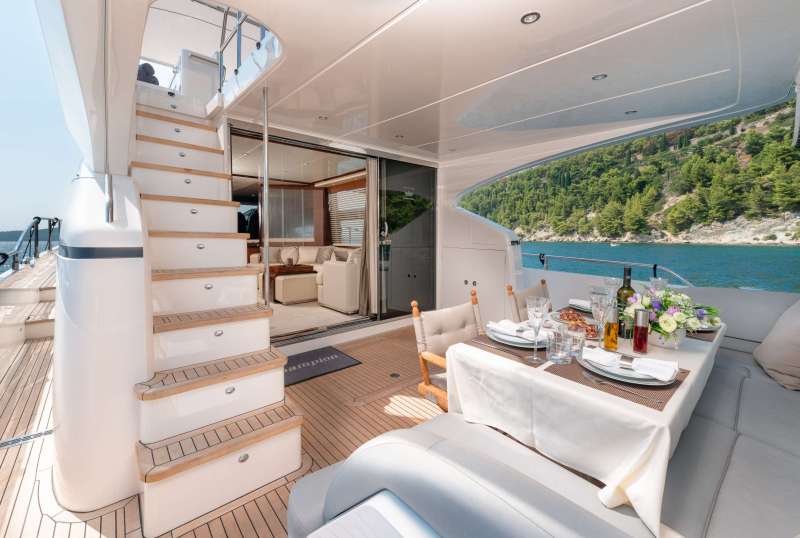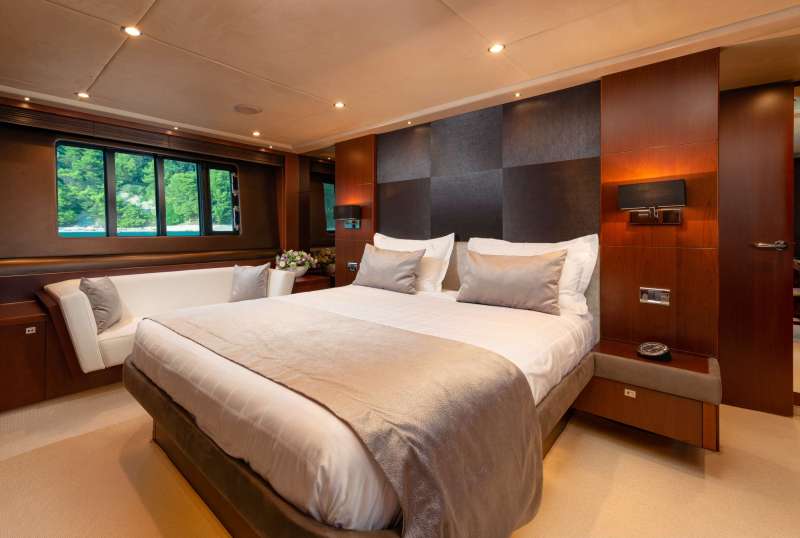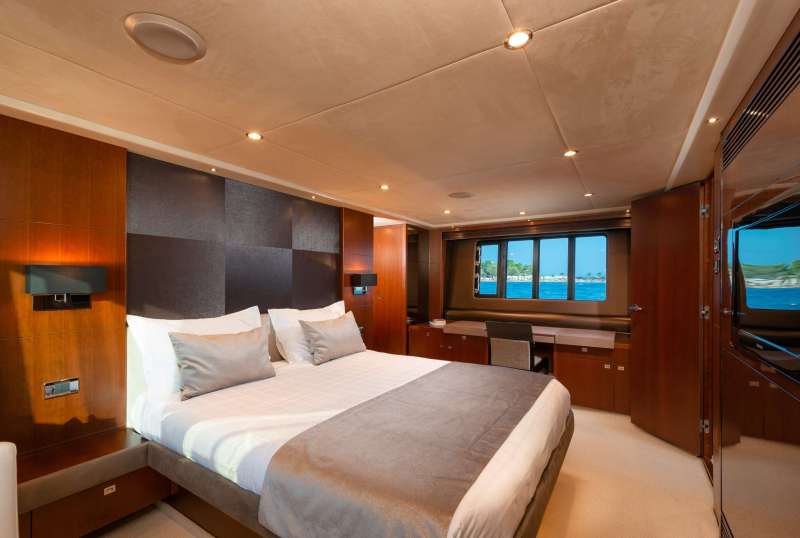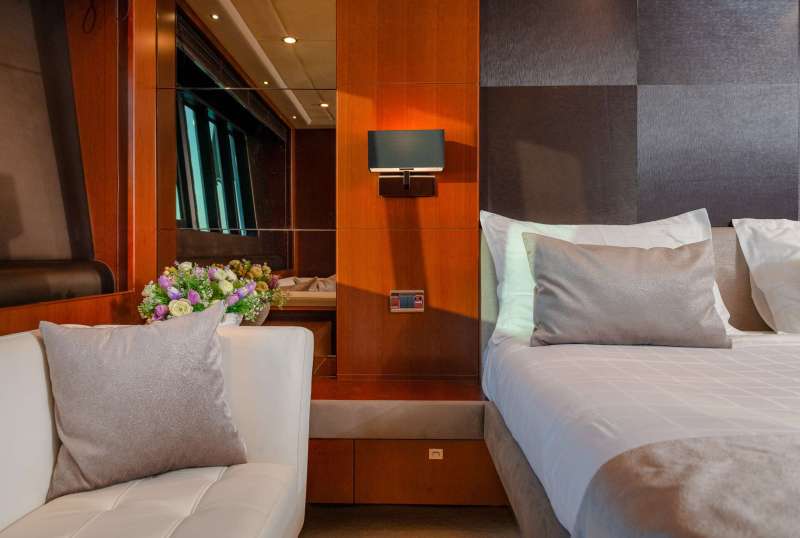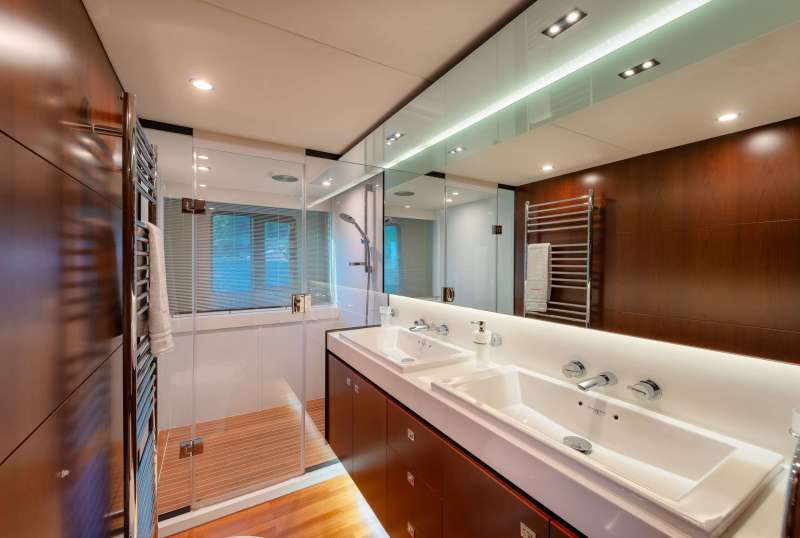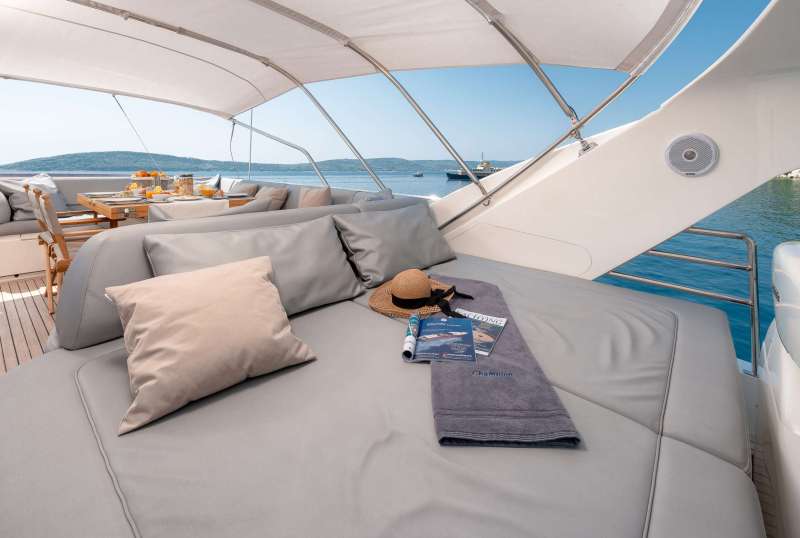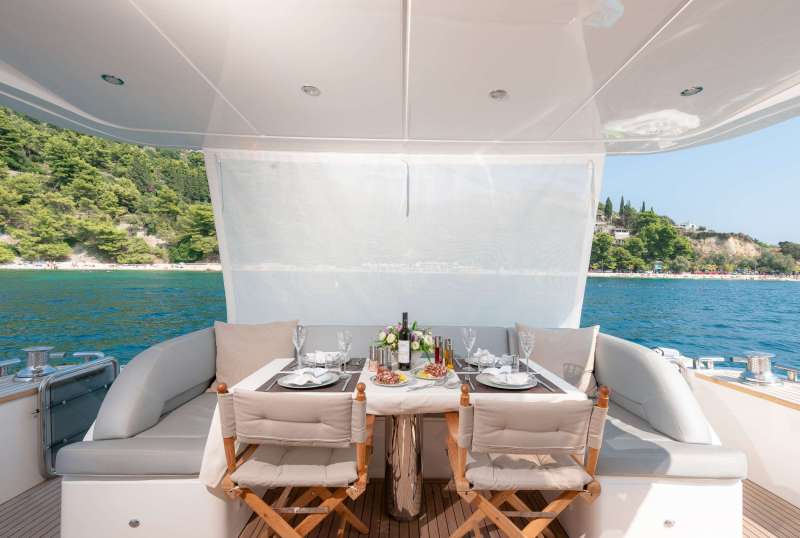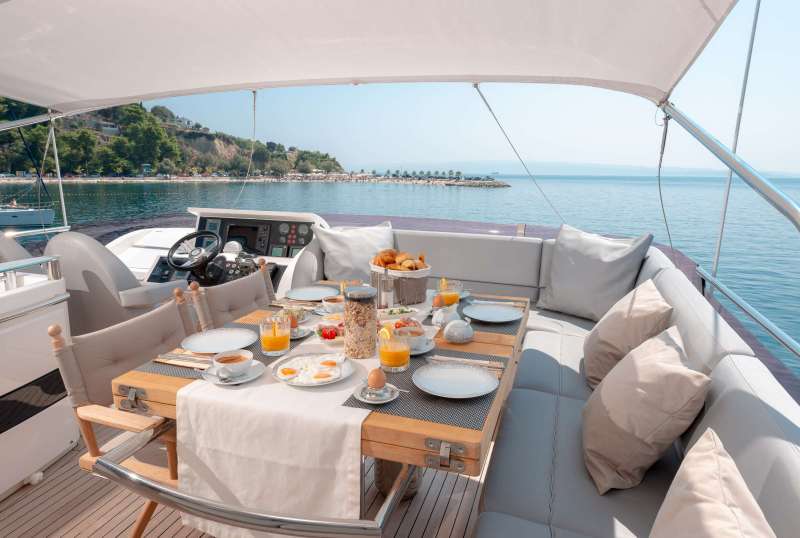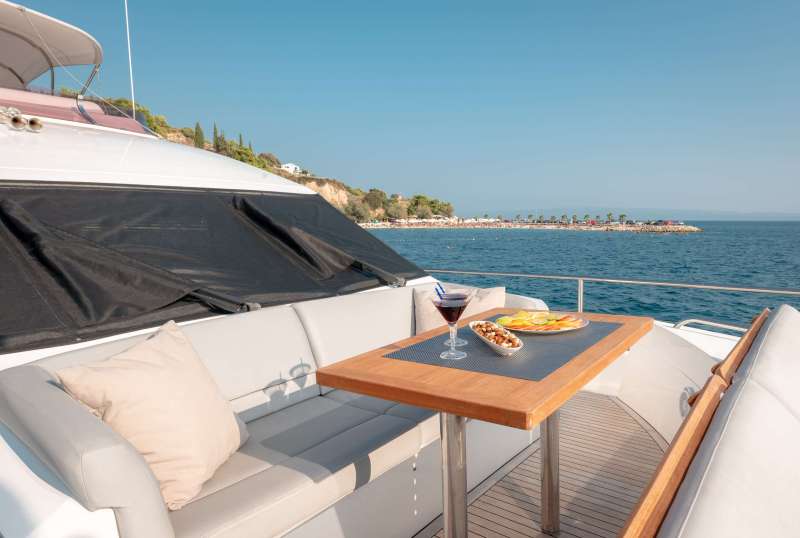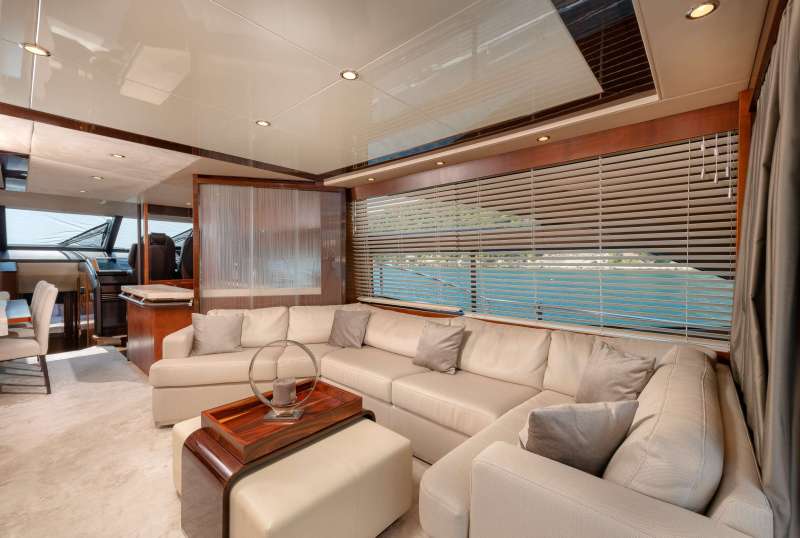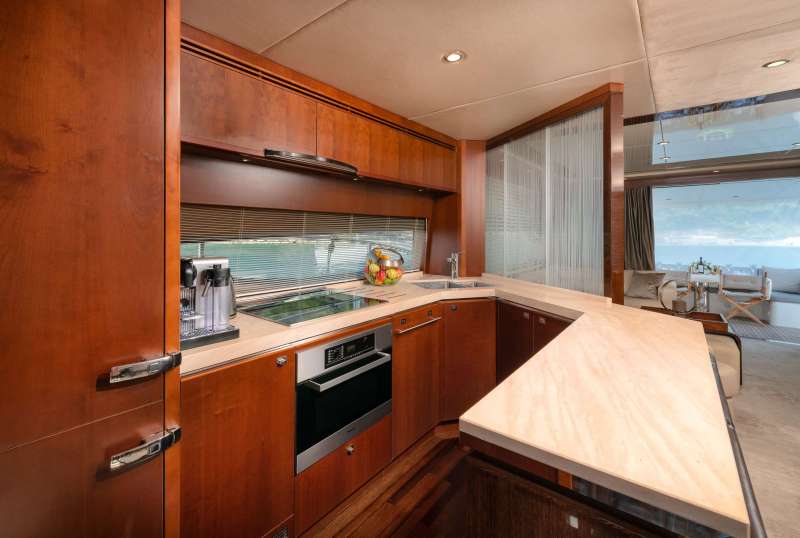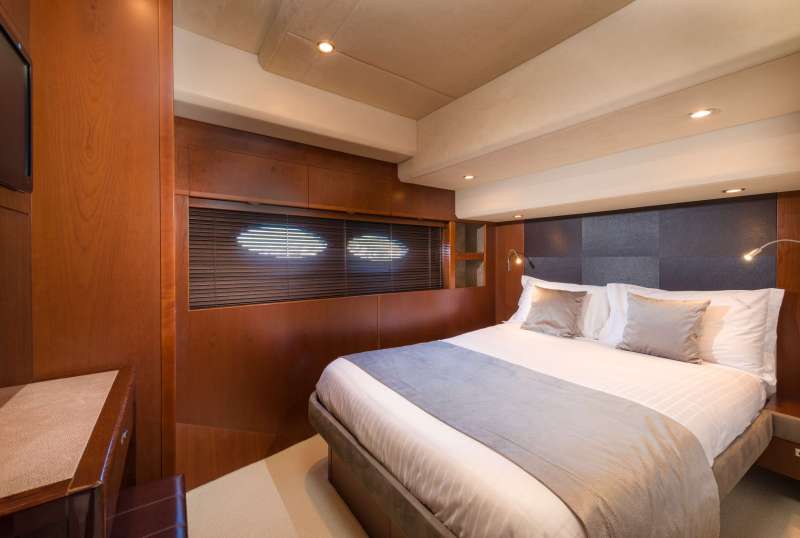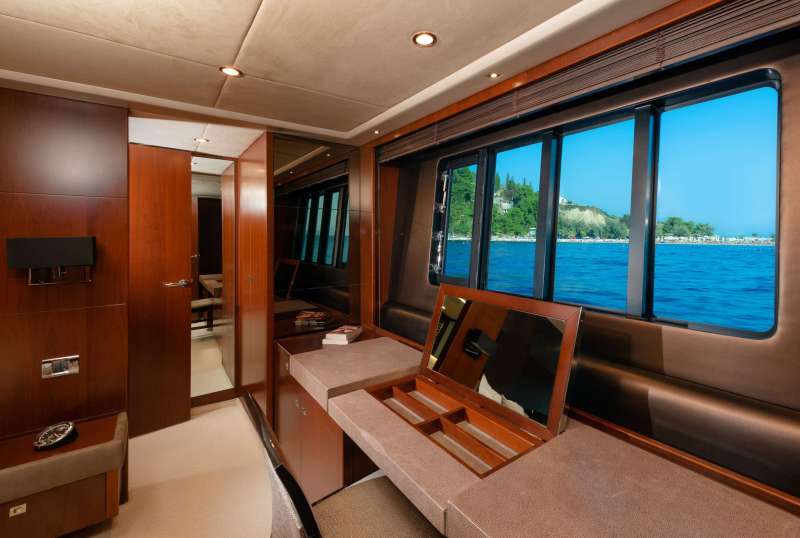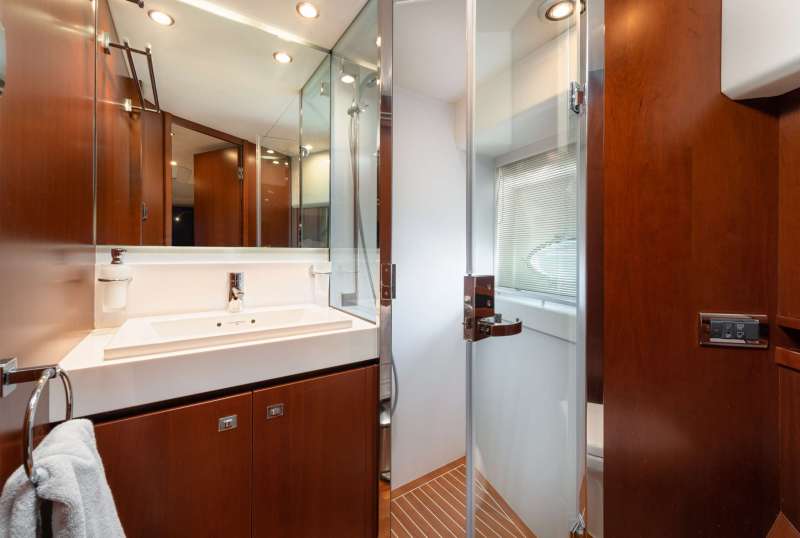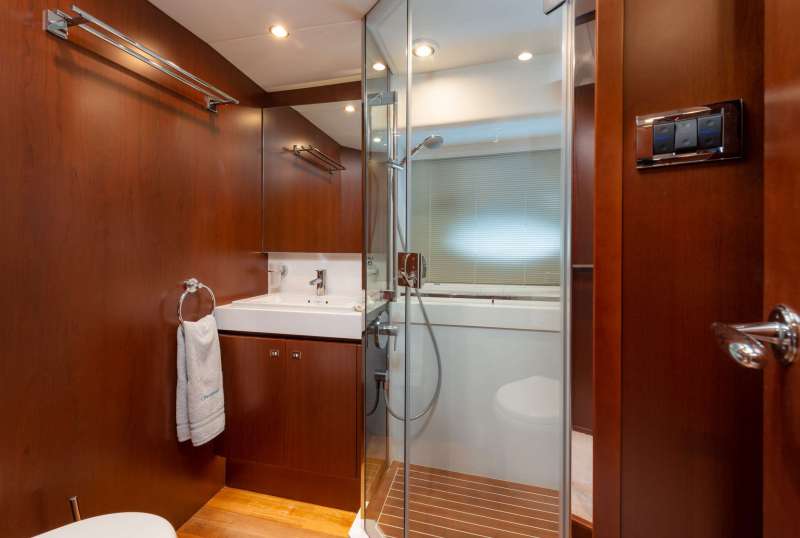 Princess 72 Fly Champion
From €29,900/week
4 cabins
73 ft
Princess, UK
8 guests
Built: 2011