Large Groups (12-40 guests) Yacht Charters Croatia
Croatia Yacht Charter for Large Groups
Unlike many charter destinations, the Croatian coast doesn't have any limitations on guest numbers – the regular size of charter guests consists of 15-20 people, which can stretch to 50+ guests as well. Traveling with a large group on the coastline and inland Croatia can be challenging with a small, stuffy boat. The variety of larger yachts- motor yachts, catamarans, sailing boats, and monohulls- lets the guests enjoy the spacious cabins, open decks, and water toys as much as they wish.
Croatia yacht rentals advantages
Croatia charter yachts usually have the owner or the owner's son as the captain and 6 to 9 charter experts onboard. The experienced captains have chartered along the stunning coastline of Croatia from Trieste to Montenegro for decades. If you're looking for unexplored secluded anchorages – sorry to say – that's a myth! Nevertheless, a seasoned captain with the right connections might take you to the right bay in Kornati or choose the perfect times to visit a Hvar and other popular destinations.

The large vessels ensure a safe sailing experience as the waters are calm. Even when the wind is strong, the captain can drop anchor and berth at nearby islands as there are many islands on the coastline. Equipped with modern safety equipment and generous deck and cabin space, a Croatia yacht charter is bound to bless a group of families or friends with an unforgettable yacht charter vacation.
Types of Yacht Charters in Croatia
Unlike the motor yachts from the past, new yachts have a customized spacious deck- housing a minimum of 6 cabins to a maximum of 19 cabins. Discover the Adriatic Coast on a luxury yacht charter in Croatia, exploring the beautiful pockets of Hvar, Split, Dubrovnik, and the Dalmatian Islands. Charter guests have more options with a private yacht of more than 100 feet in size. There are monohulls, sailing yachts, catamarans, and custom-built superyachts with generous onboard space.

If you want speed to cover most of the Kornati Archipelago, you should browse the details of the spacious motor yacht Riva- a majestic custom-built superyacht with 18 cabins. This 158 vessel comes with great price point and facilities compared to other regular boats such as catamarans and monohulls,

Similar to Riva, Karizma is a huge 157 feet vessel. But the price is lower than a same-sized superyacht, as Karizma is a sailboat. If you would like to set sail with Karizma, you might have to wait till 2024, as the 2023 season is already booked. Inquire with the charter agency for a gap, even if it's low season, as Karizma's price will have a big jump in 2024 (€40,000 to €60,000).

If your group size is exactly 12 people, inquire about Rara Avis, which is a great bargain. She has a good-sized 108 feet sailboat with 6 cabins- perfect for 12 people. These are other boats to charter through the calm Croatian waters, which you can browse from the website.

Yachts over 100 feet are stable and safe for their solid construction. So, first-time sea explorers, children, and elderly people can enjoy the Croatian coastline without seasickness. Also, a crewed yacht charter in Croatia is best among other sailing destinations, considering the Captain's experience of the sea, exclusive itinerary suggestions, and knowledge of the skippers.
What are Motor Sailors?
Motor sailors are a unique class of custom-built motor yachts that come equipped with both sails and motors. Although they aren't designed for speed, typically cruising at a leisurely pace of 10-12 knots, motor sailors are perfect for comfortable cruising and aesthetics over high-speed performance. With a capacity of 12+ guests, motor sailors are well-suited for larger groups seeking a luxurious, relaxed yacht charter vacation. These vessels are built with stability in mind, making them an excellent option for clients who prefer not to book a catamaran or powerboat but still want a smooth ride.

In Croatia, motor sailors are particularly popular for their unique combination of style, comfort, and versatility. Whether exploring the coastline or lounging in the sun on the deck, motor sailors offer an unforgettable experience for clients seeking a one-of-a-kind sailing adventure.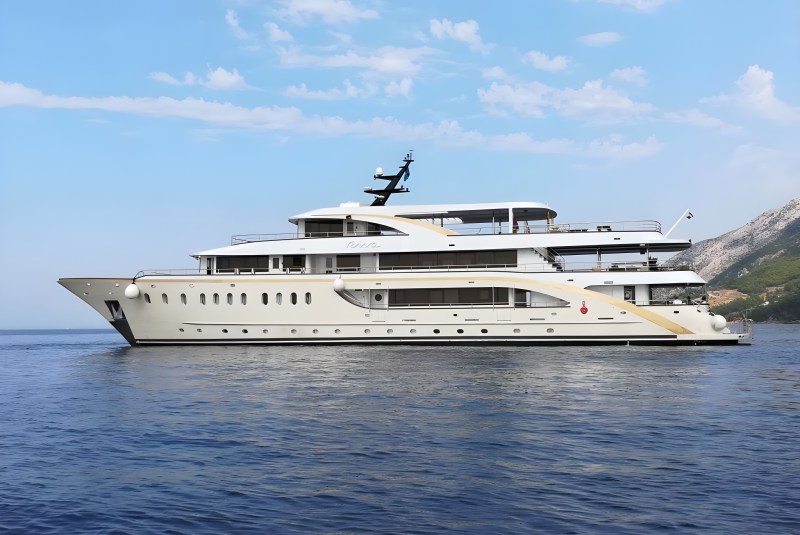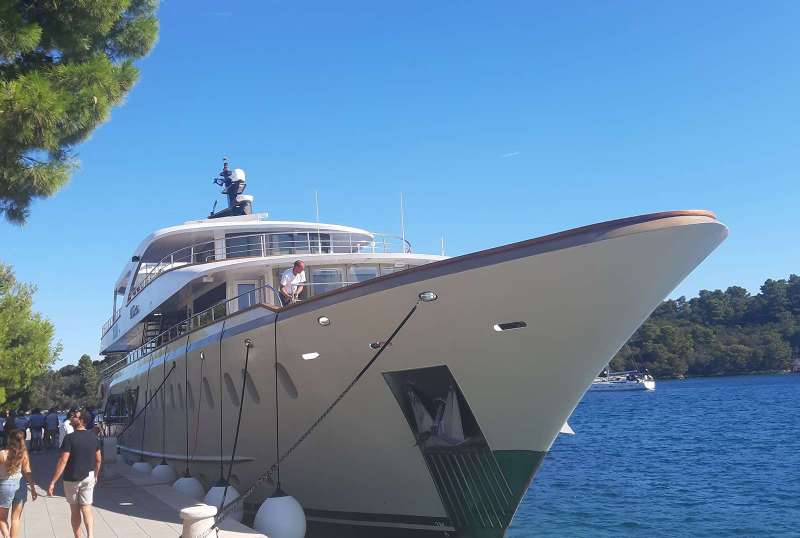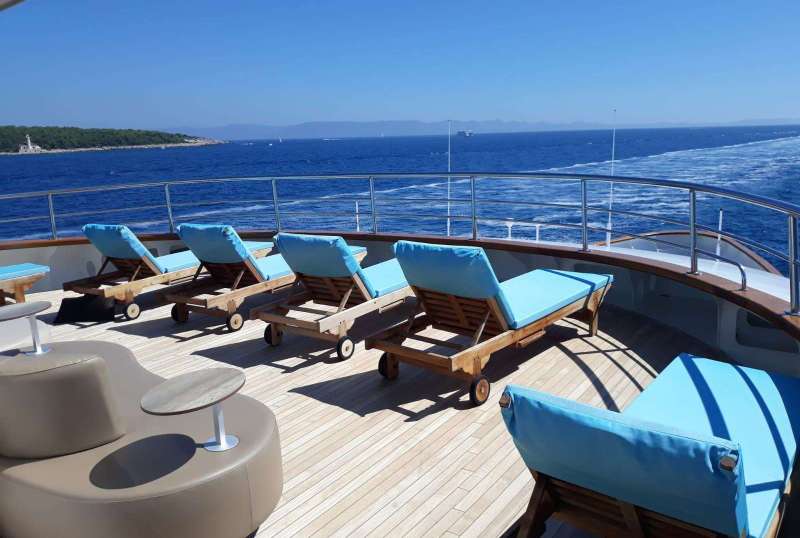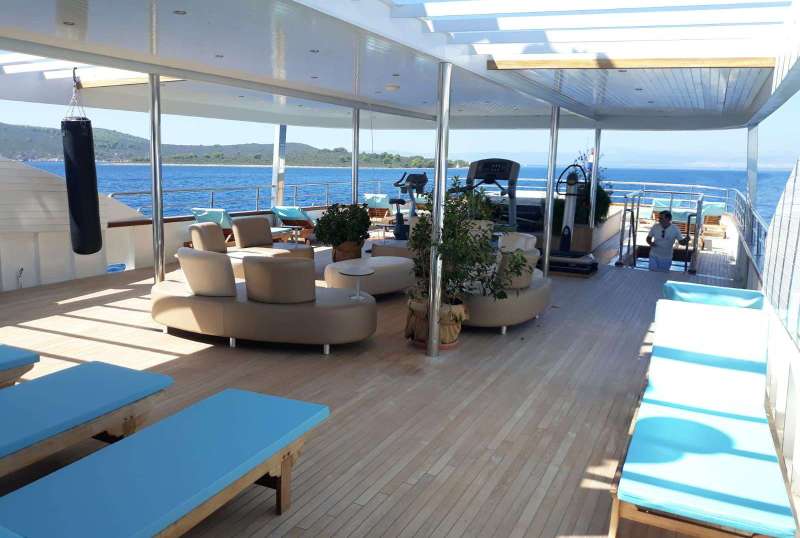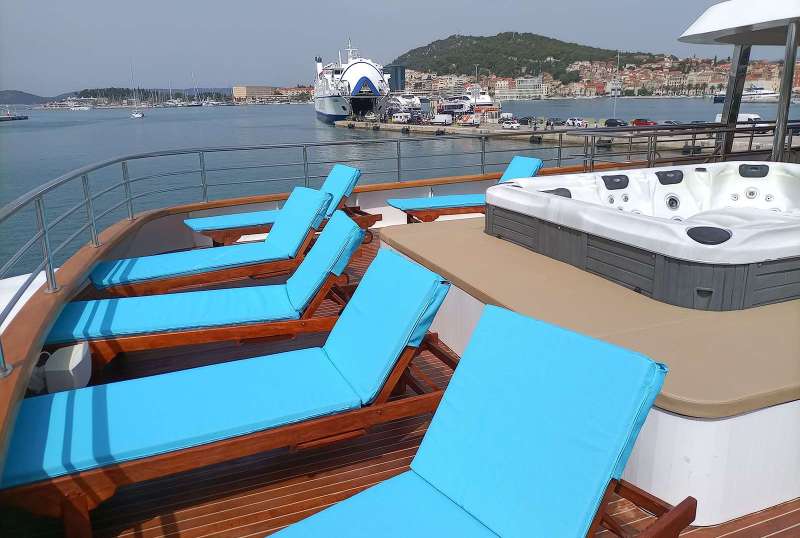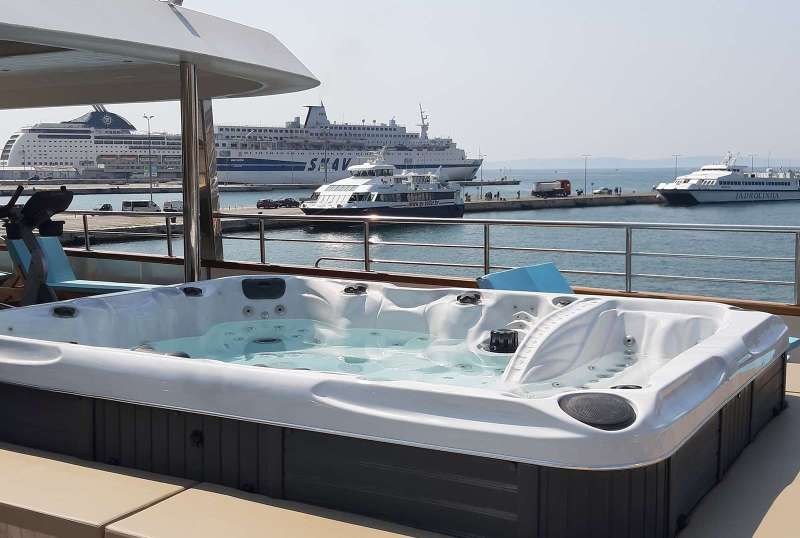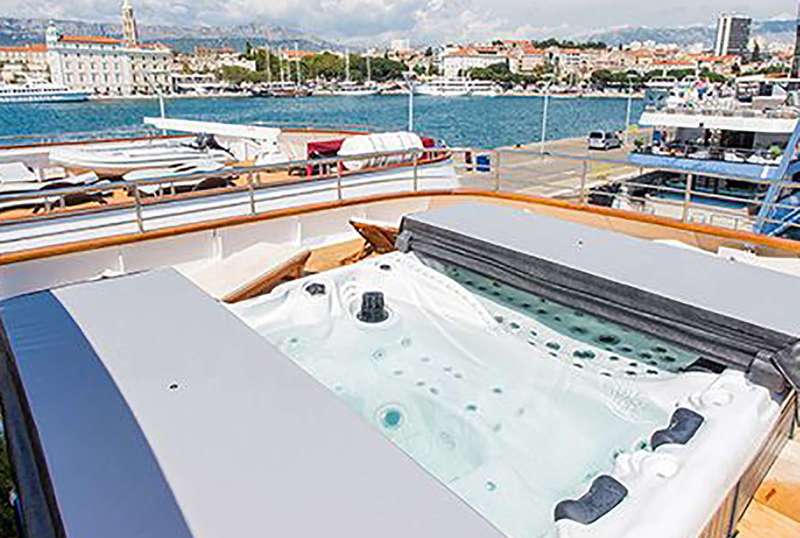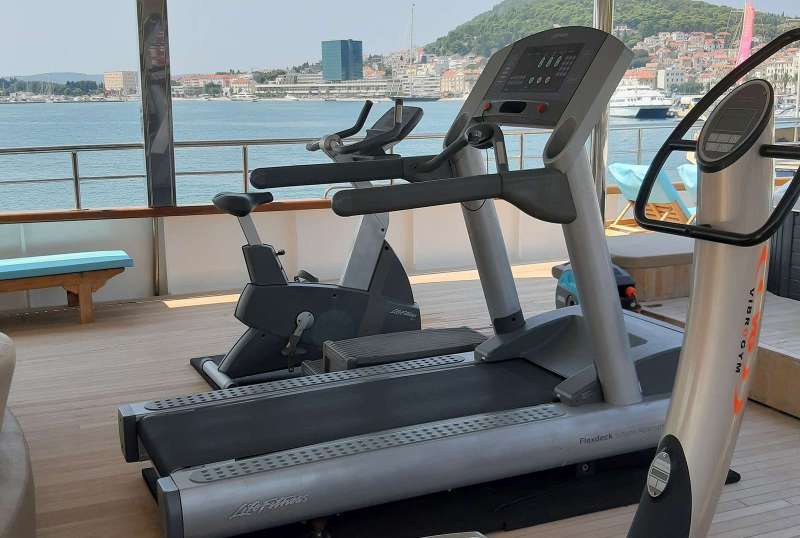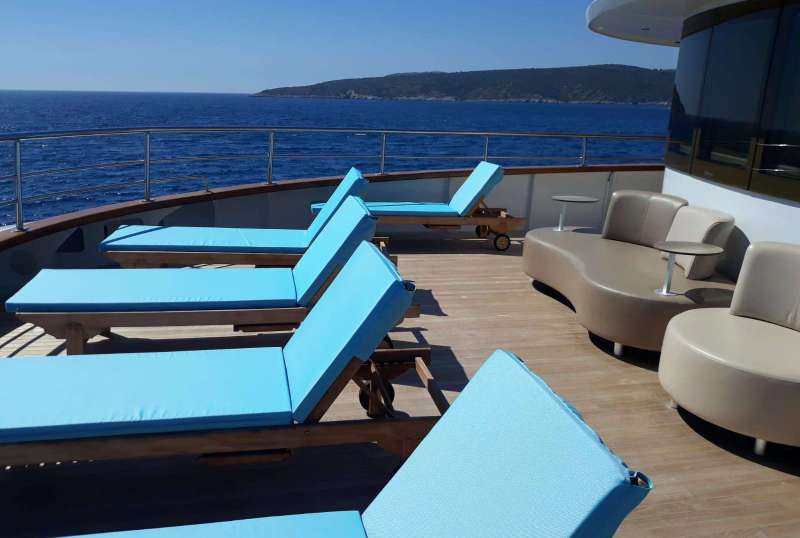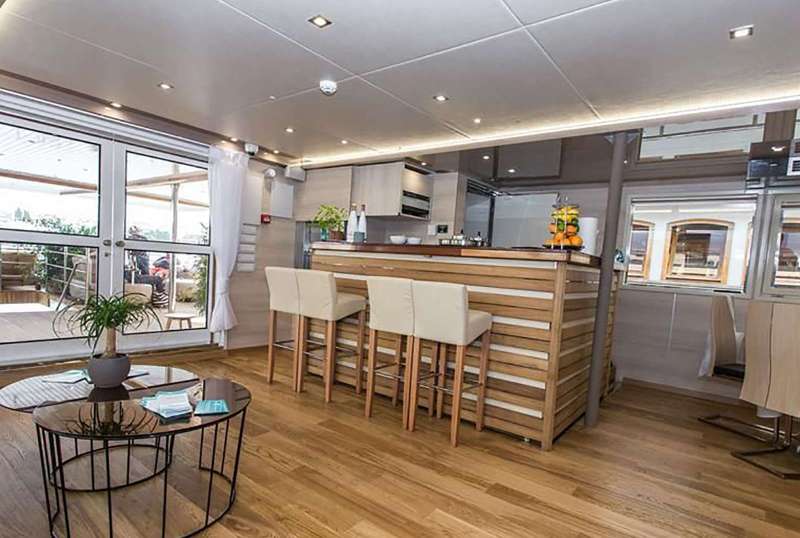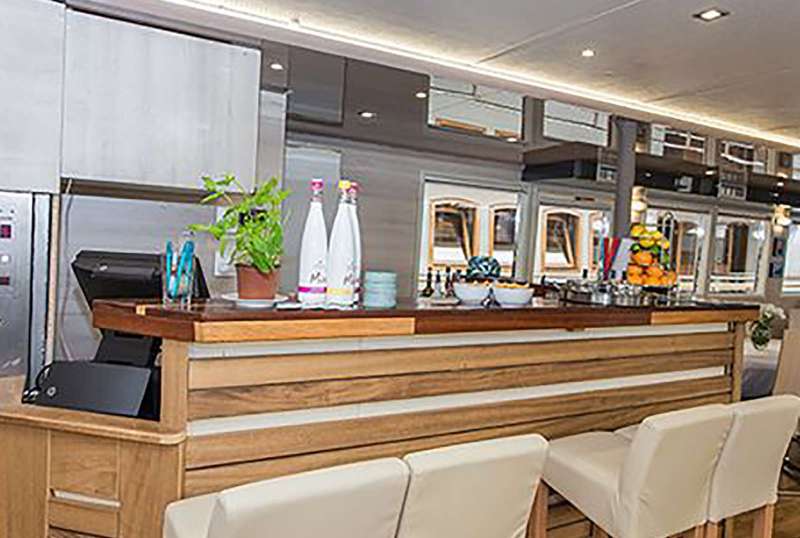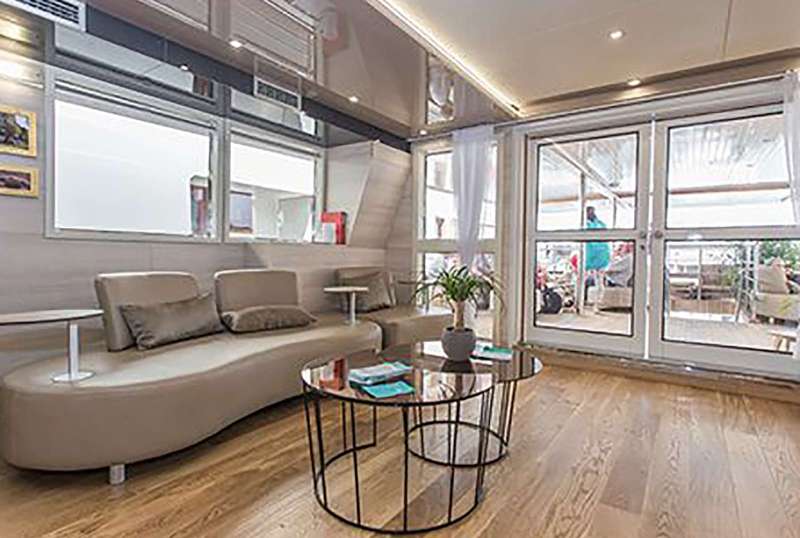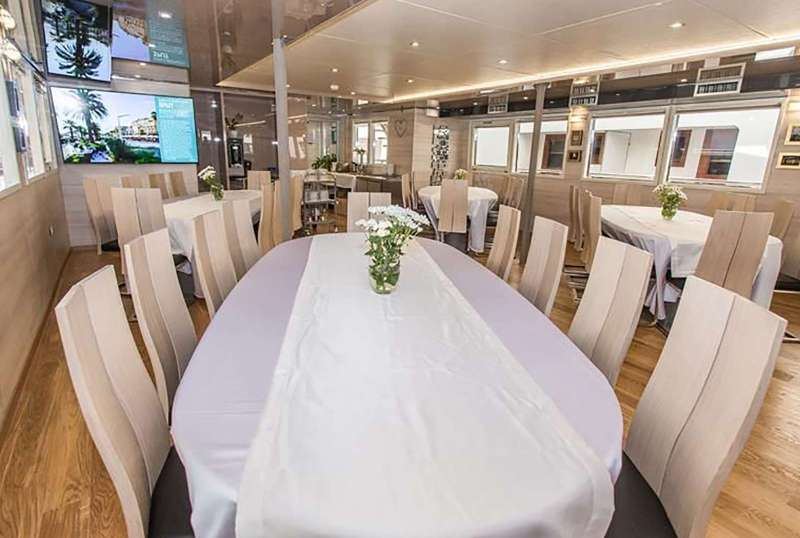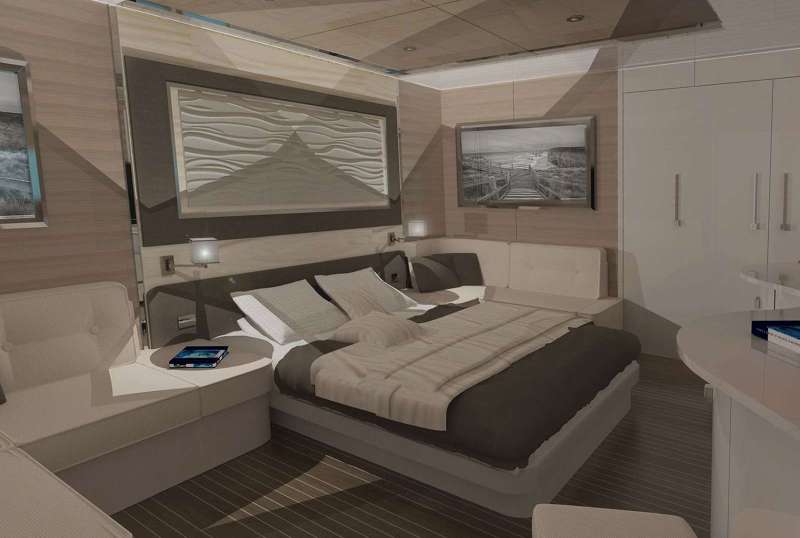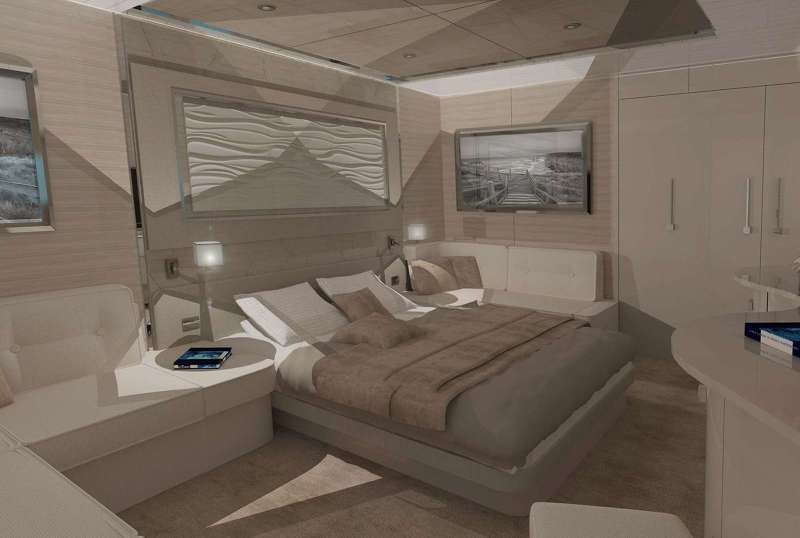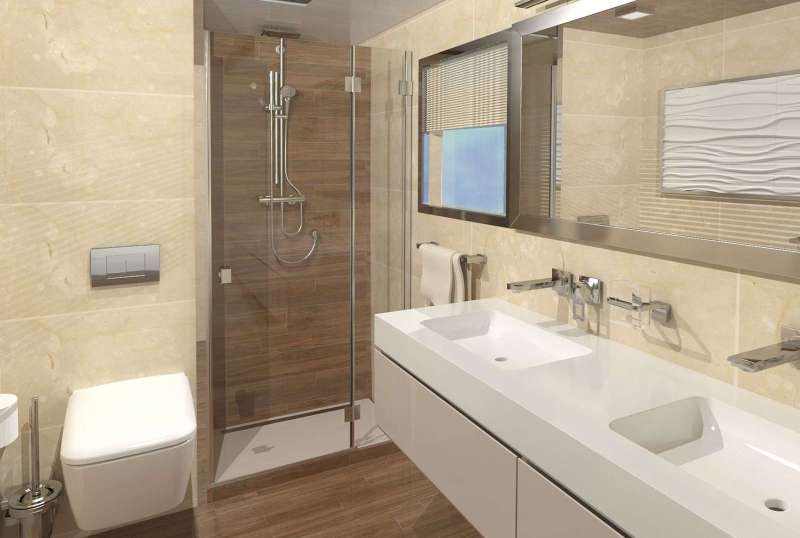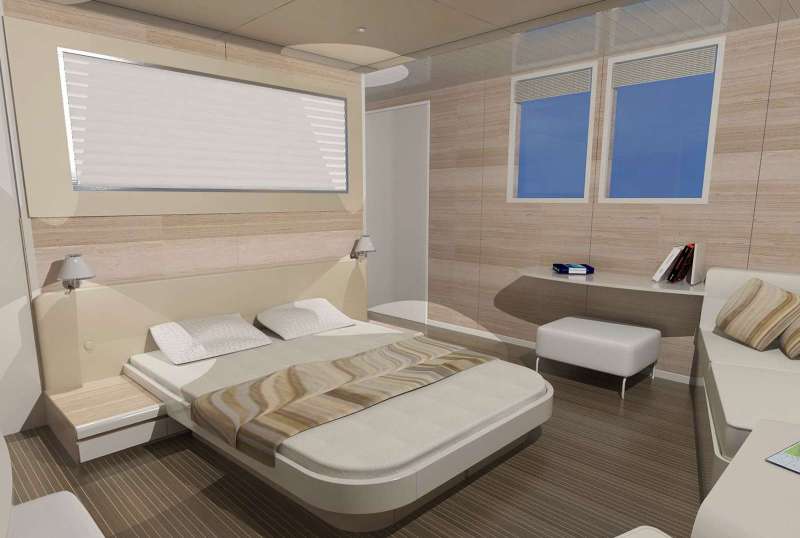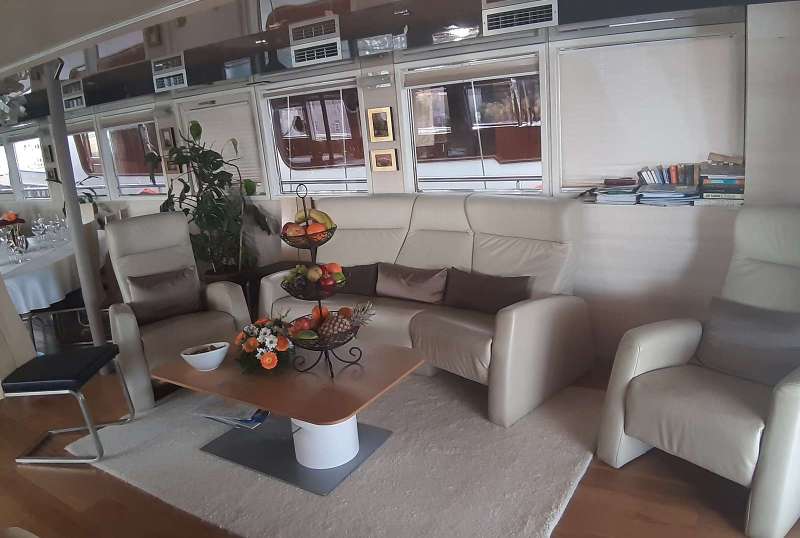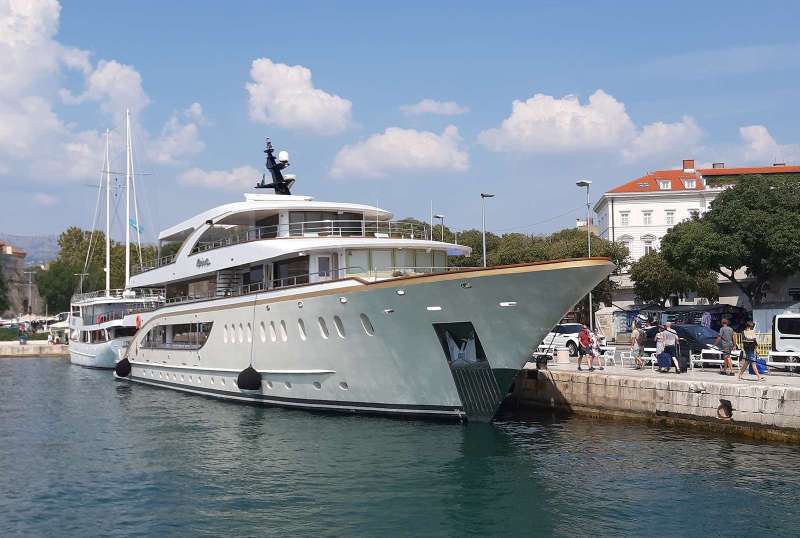 Riva
From €60,000/week

10+ cabins

158 ft

Custom

36 guests

Built: 2018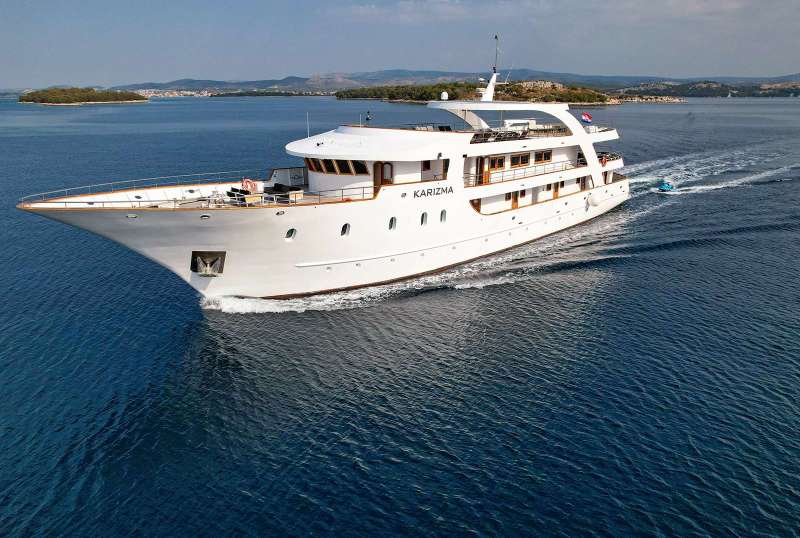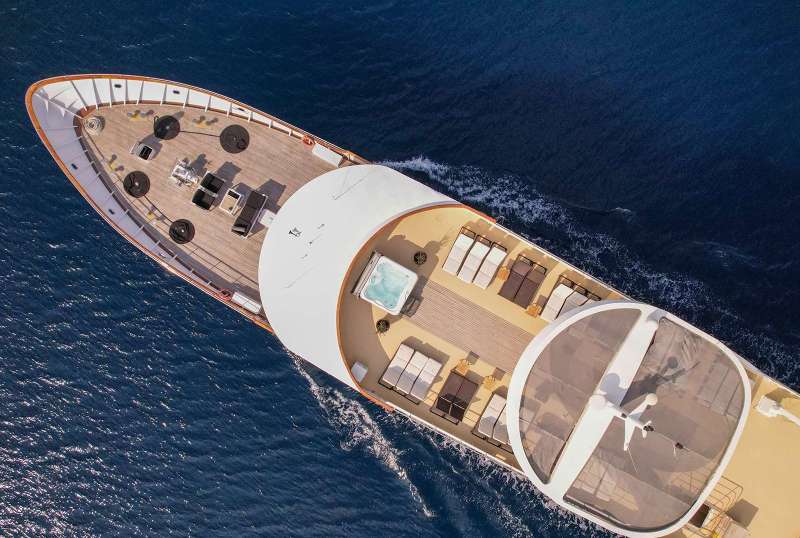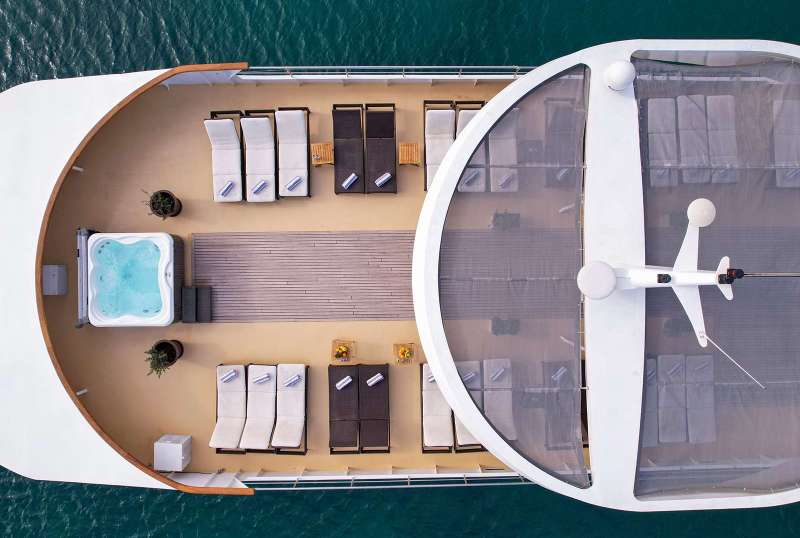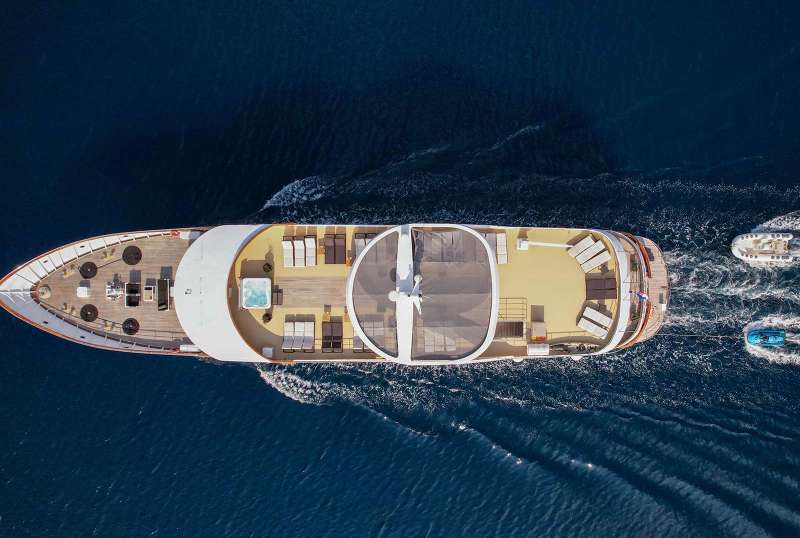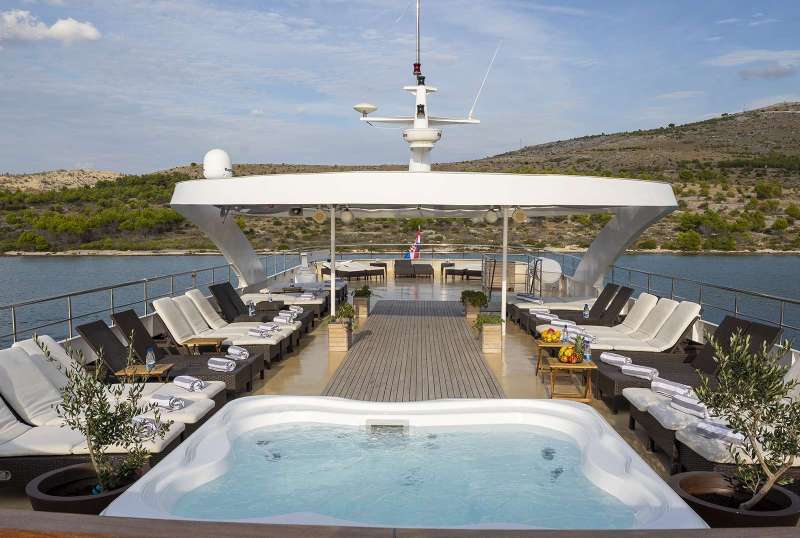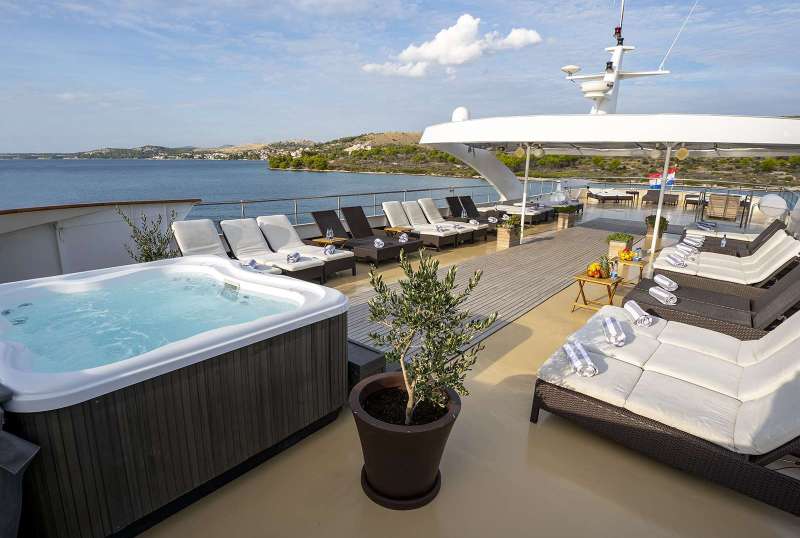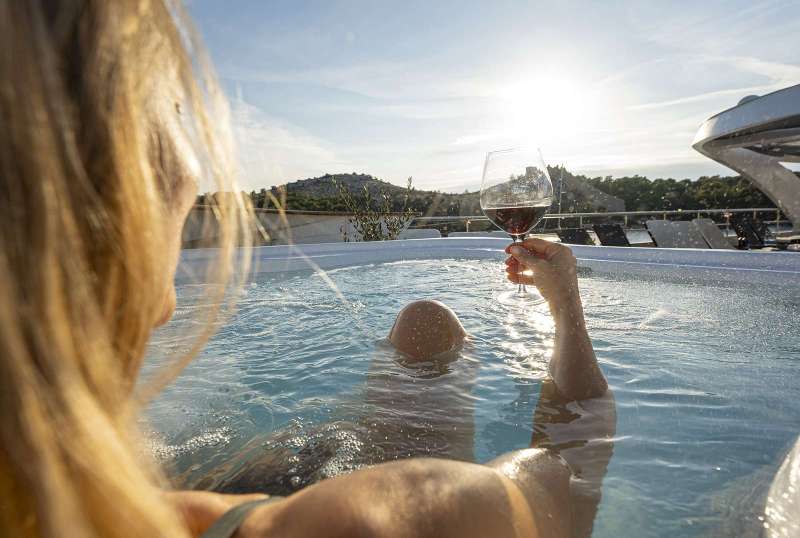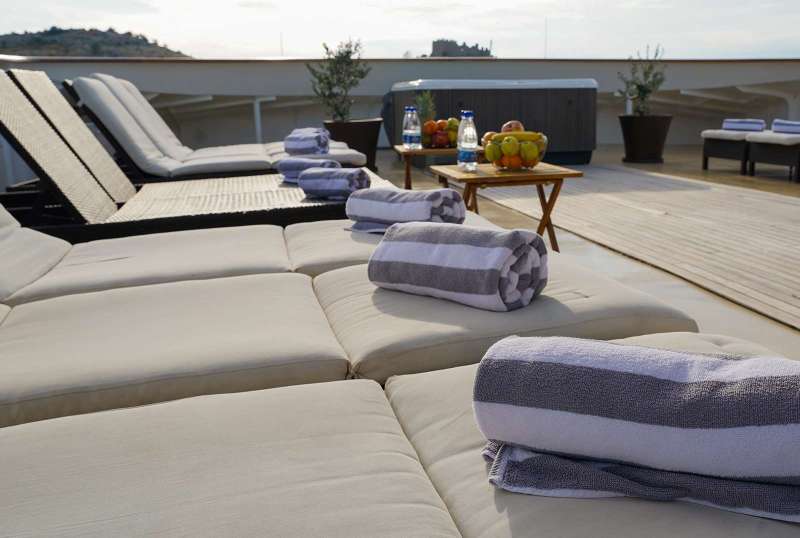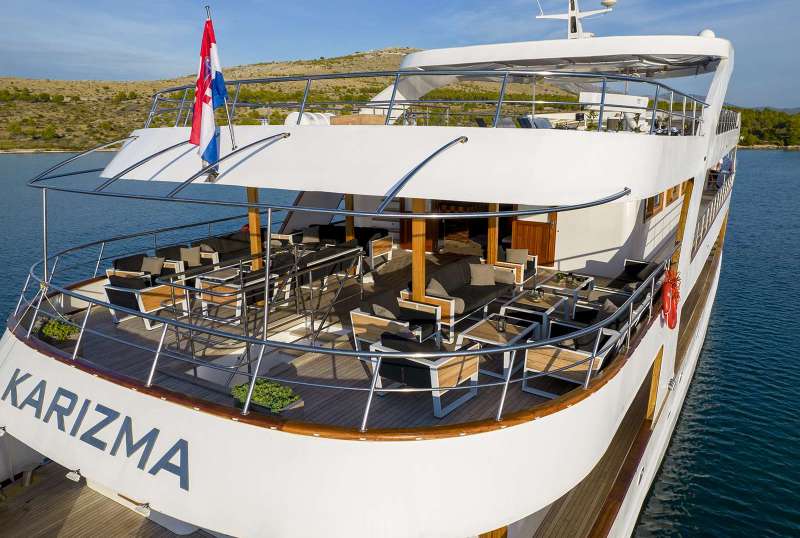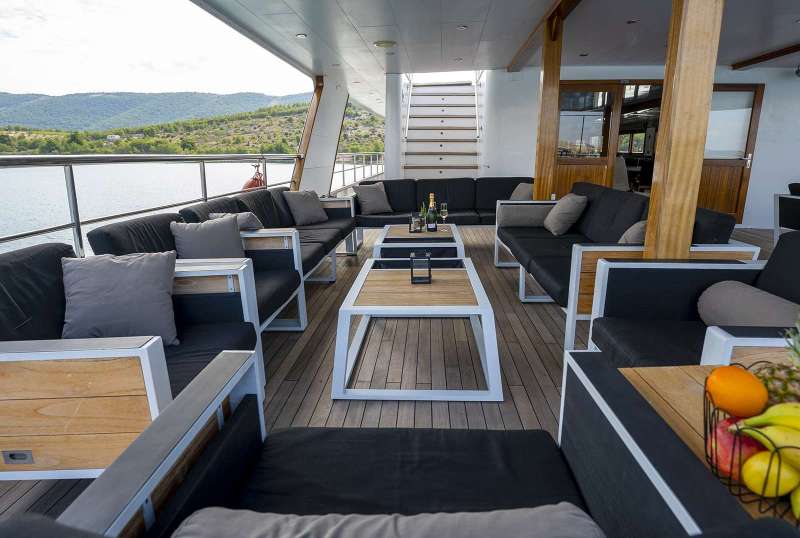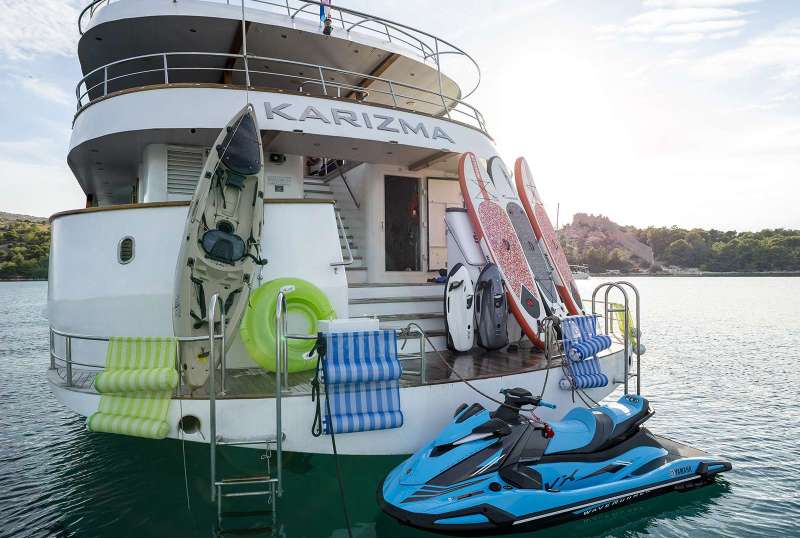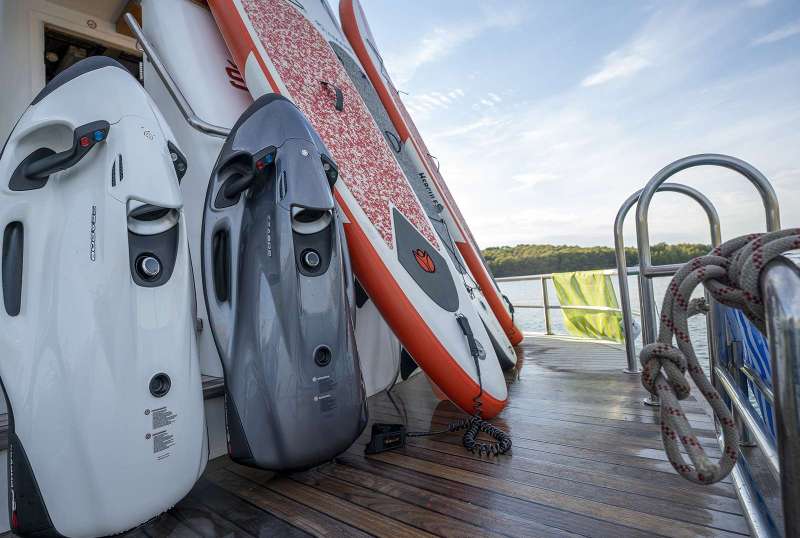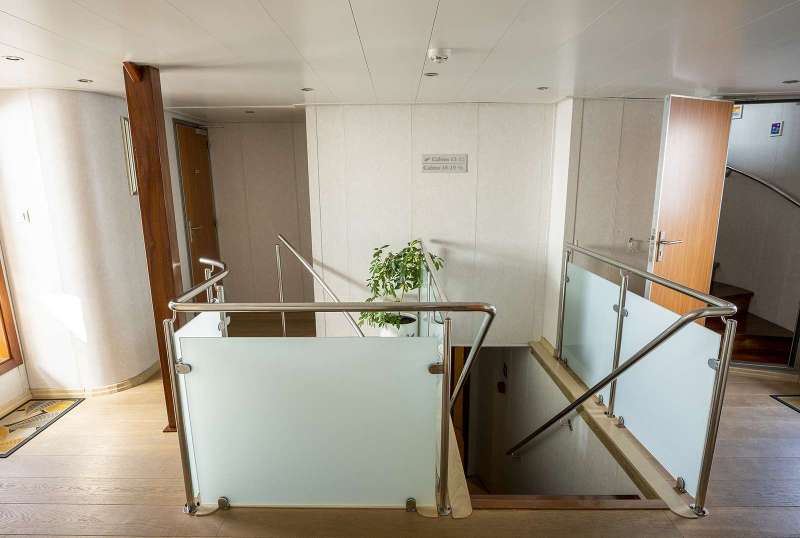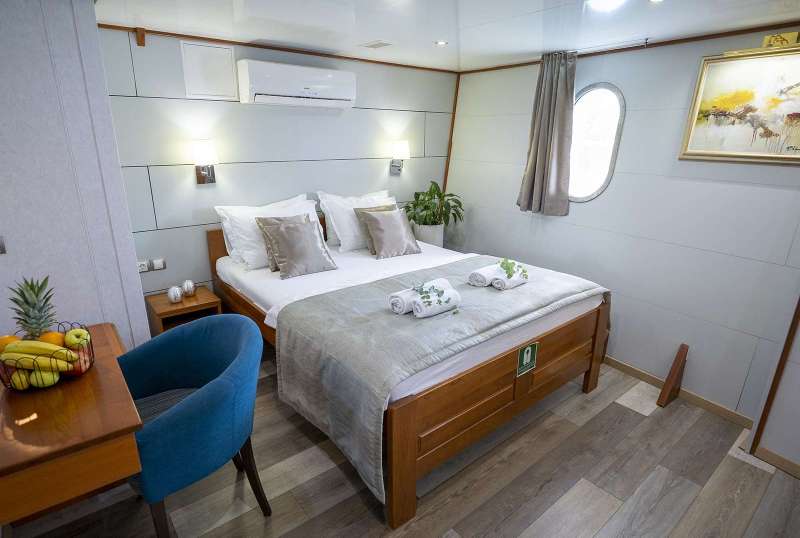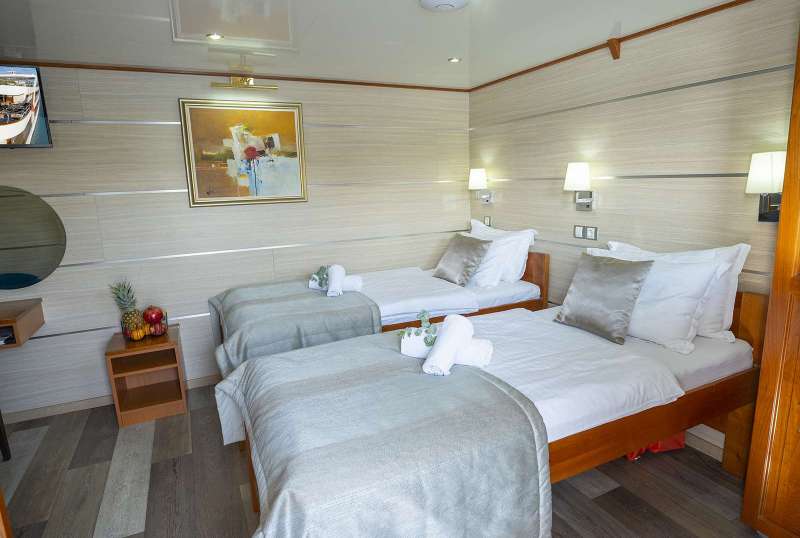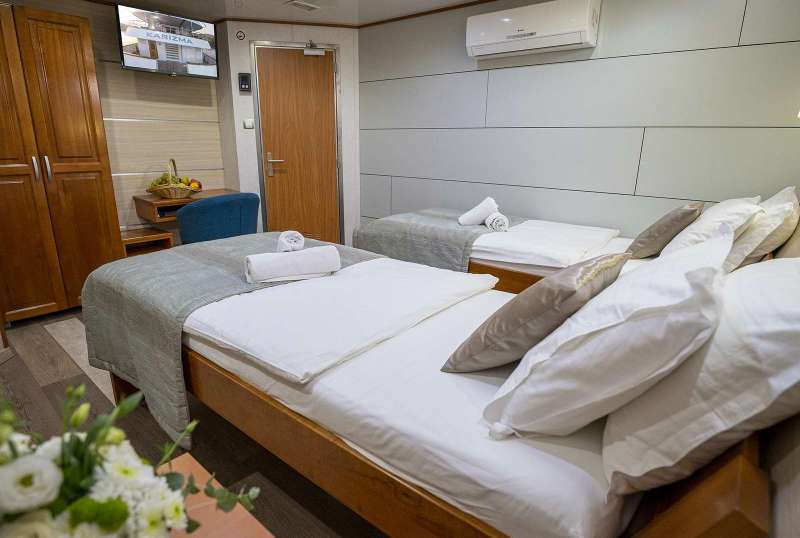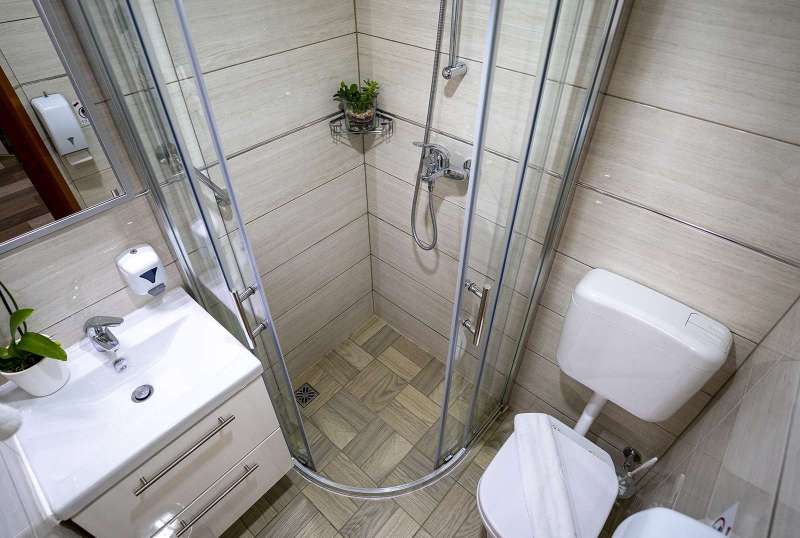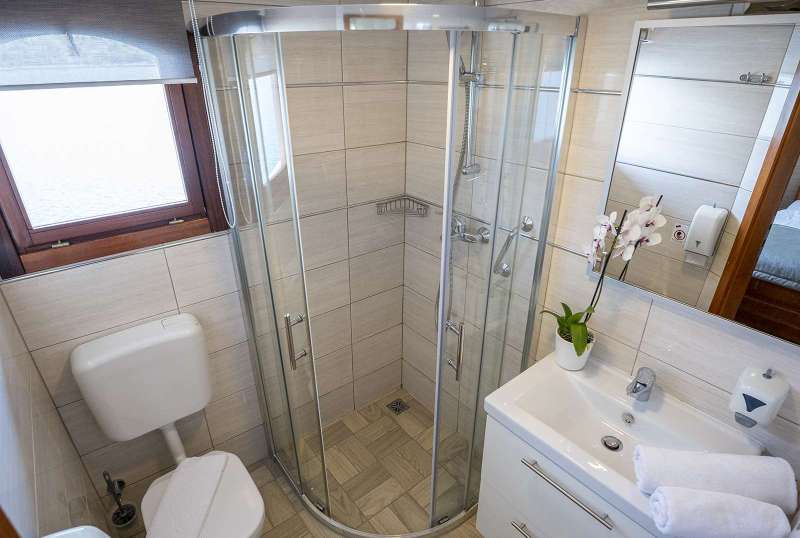 Karizma
From €40,000/week

10+ cabins

157 ft

Custom

36 guests

Built: 2016
Popular Destinations for Yacht Rentals in Croatia
A luxury motor yacht comes with the advantage of covering the large island clusters of Croatia. Explore the southern Dalmatian coast, rich in biodiversity and stunning landscape, consisting of popular sailing destinations like Hvar, Vis, Korcula, and Lostovo. Visit Dubrovnik, the largest city in the southern Dalmatia Region, which became popular after the "Game of Thrones" was shot here. Hvar is popular for its lively nightlife, and guests often stay the night there rather than staying on the boat. Discover the medieval city and relics of the past at Trogir. Spend time in Šibenik to stroll around the ancient city with fortresses.
Croatia yacht charter itinerary
The desired itinerary for yacht charter Croatia depends on which islands the guest would like to visit and the number of vacation days. One-week charter in Croatia starts from Trogir and covers Hvar, Korcula, Lastovo, Vis, Maslinica, Solta, and returns to Trogir. The charter surrounding Kornati archipelago has an 8-day, 7-night itinerary covering Skadin, Sibenik, Piskera, Telascica, Zut, Murter, Vodice, and Zlarin.

The itinerary suggestions for the charter start from Trogir has the most remarkable attractions of mainland Croatia such as the historical monuments of Hvar town and Split, the UNESCO world heritage site of Trogir old town, the catacombs (underground graveyard) of Lastovo, etc. We suggest the guests stay the night at Hvar town for the vibrant nightlife famous for fine cuisine, festivals, and beach parties. If you are into watersports, there are many secluded coves hidden by pine forests to anchor and enjoy water activities. The yacht charter route has modern berthing points such as ACI Marina, which can house super yachts and other large water vessels.

The Sibenik channel itinerary focuses more on the sea, lush vineyards, and the natural national parks (Krka National Park, Brijuni National Park) of Croatia. This region has the largest marina in the Adriatic Sea. So, a sailing yacht charter for a large group can easily dock at the port. A fast superyacht makes island hopping around the Kornati national park cluster easier and faster. The other top attraction from this region is Kornati Marine Park, the Byzantine fortress in Tureta, the rich naval history of Zut and the surrounding islands, and Jezera and Zlarin- known for restaurants, bars, and souvenir shops.

Kornati Charter is a great adventure for water sports and underwater activities. You can swim at Mir Lake, try water activities at Kornati Island, and snorkel and scuba dive at Mortar. Yachts have experienced skippers and deckhands to guide you through underwater activities. So, first-timers don't have to worry about safety and primary training.
Croatia Luxury Yacht Charter Highlights for Larger Groups
Popular Marinas and Moorings in Croatia have docking spots for larger yachts.
Croatia has a windy season. There are so many large islands within a short distance, so you can anchor easily if the wind gets intense.
Motor boats and catamarans increased in size over time and have the capacity to host 12-36 guests (6-19 cabins) in general.
Onboard water sports, toys, and gear include snorkeling, jetskis, jacuzzi, and board games.
Korant Istria, Kvarner, Sibenik, Split, and Dalmatia have large, secure berthing areas for superyachts and luxury yachts over 100 feet.
Full of charming anchorages, Croatia offers yachting enthusiasts to anchor wherever they wish- rather than the port. Such anchoring gives the opportunity of trying out water sports at secluded coves and beautiful beaches.
Yacht charter fees will be increased from 2024. As 90% of the yachts appropriate for larger groups are booked for 2023, consult the charter company for yacht charter availability and pricing.
Recurrent guests gave rave reviews about the hands-on service and great boats.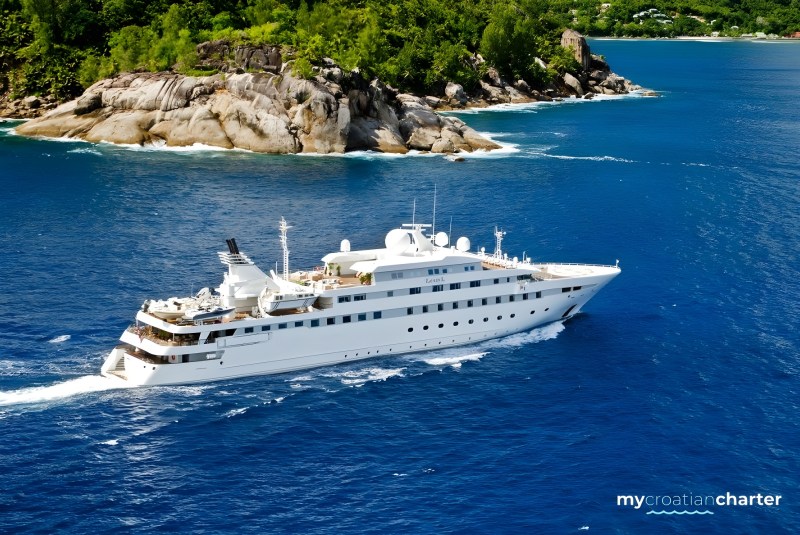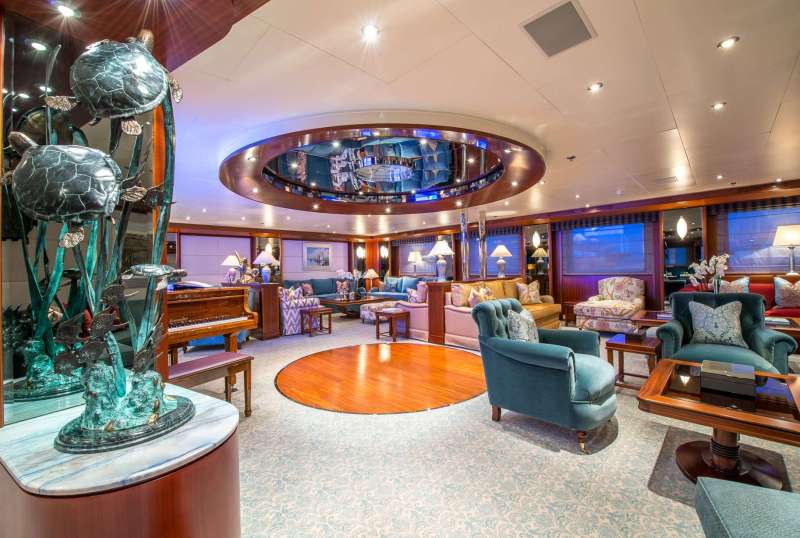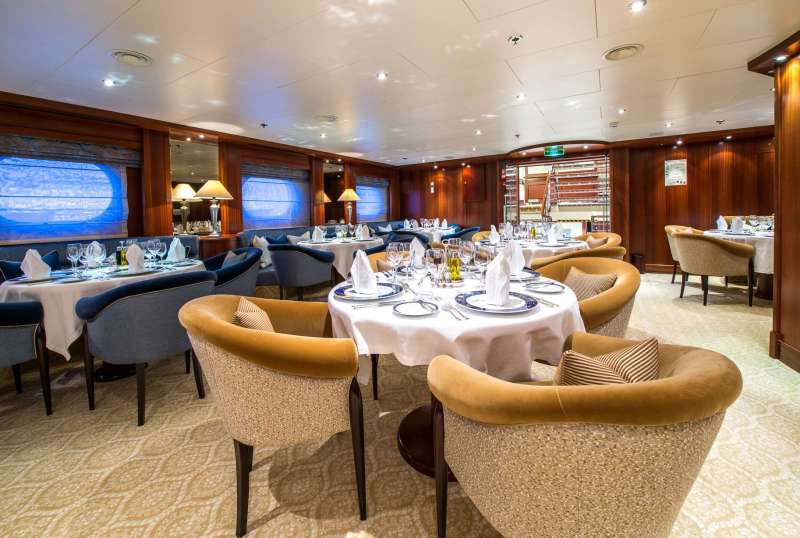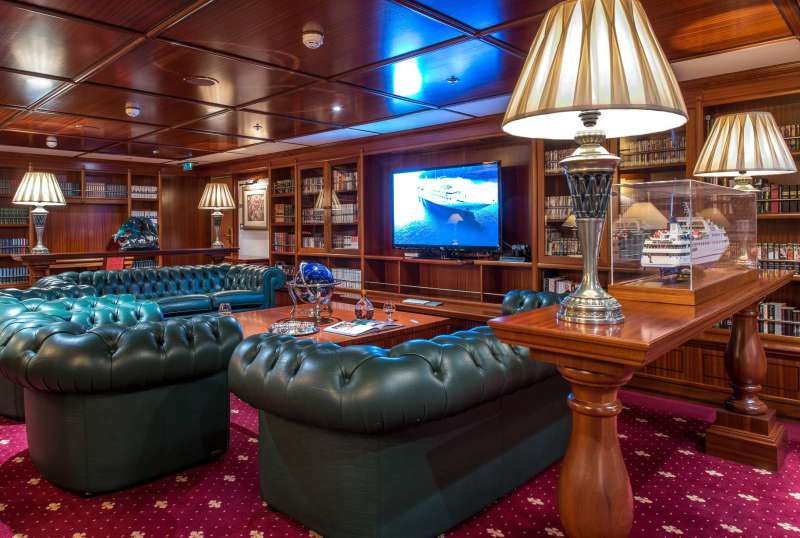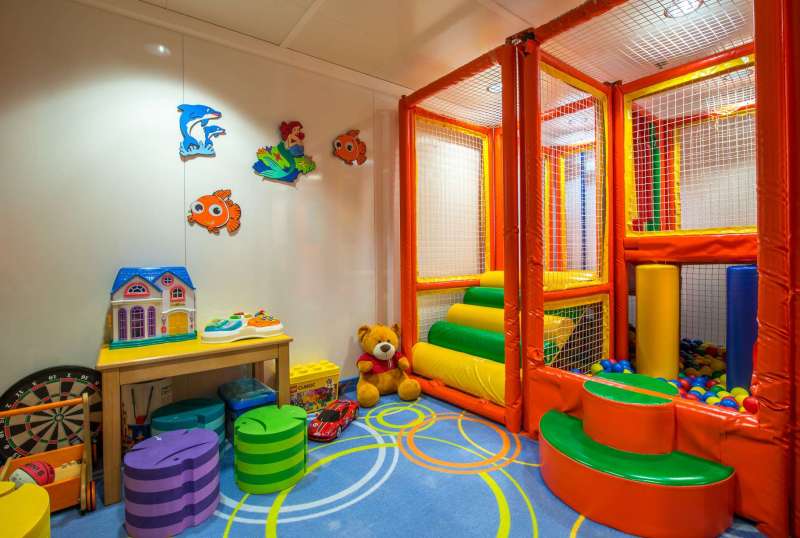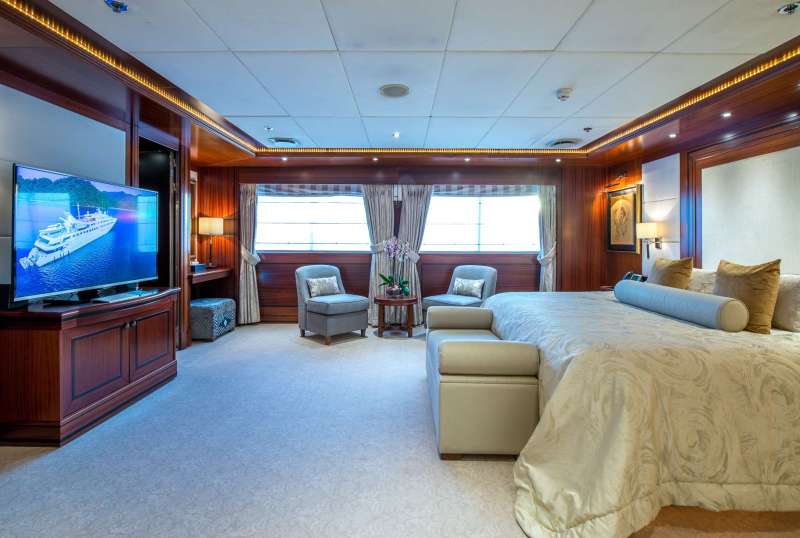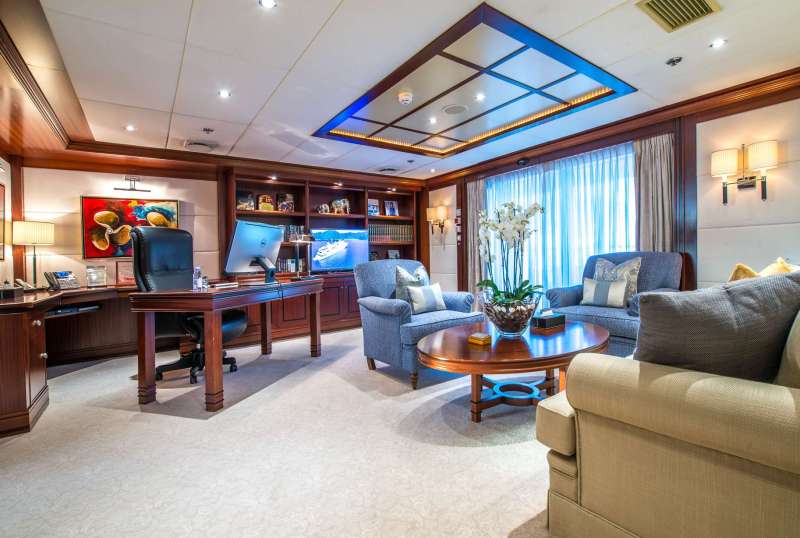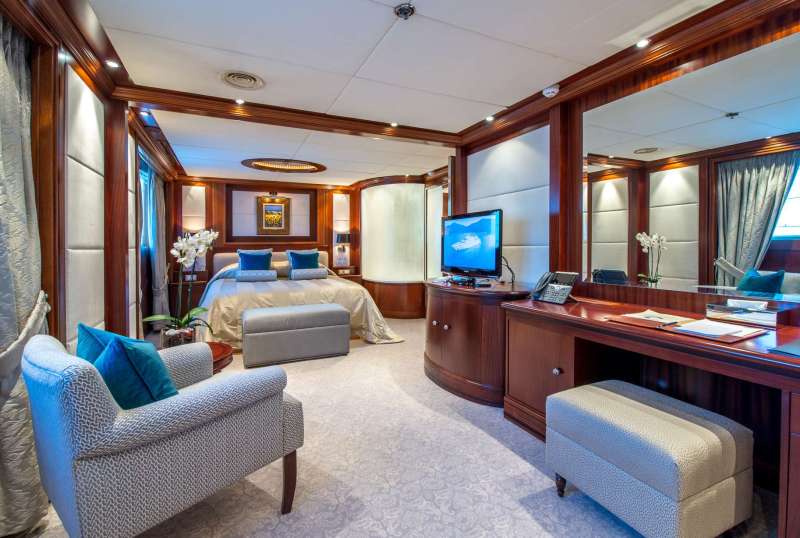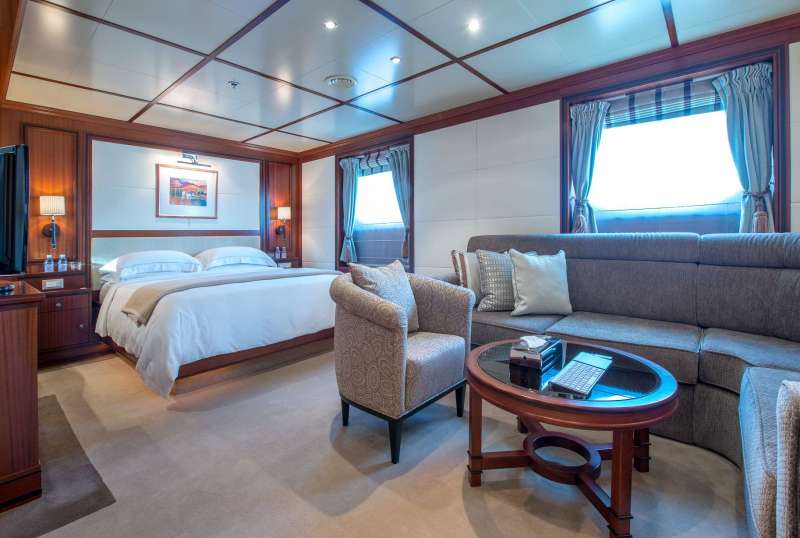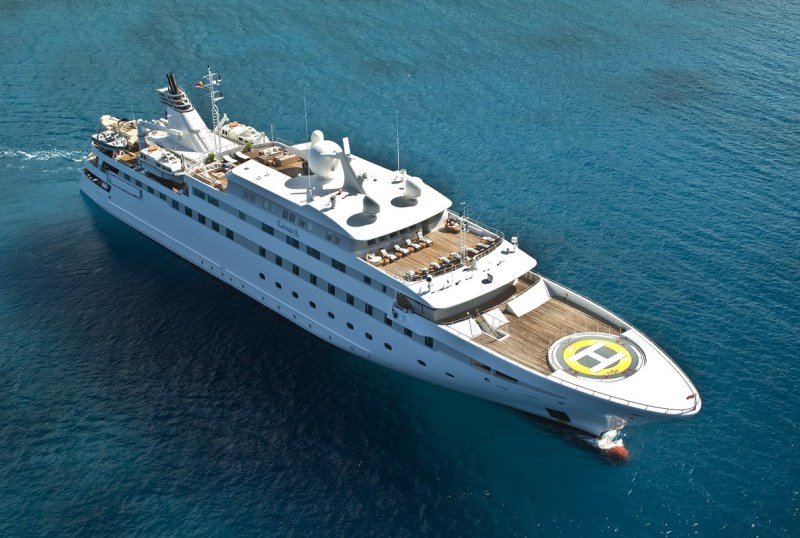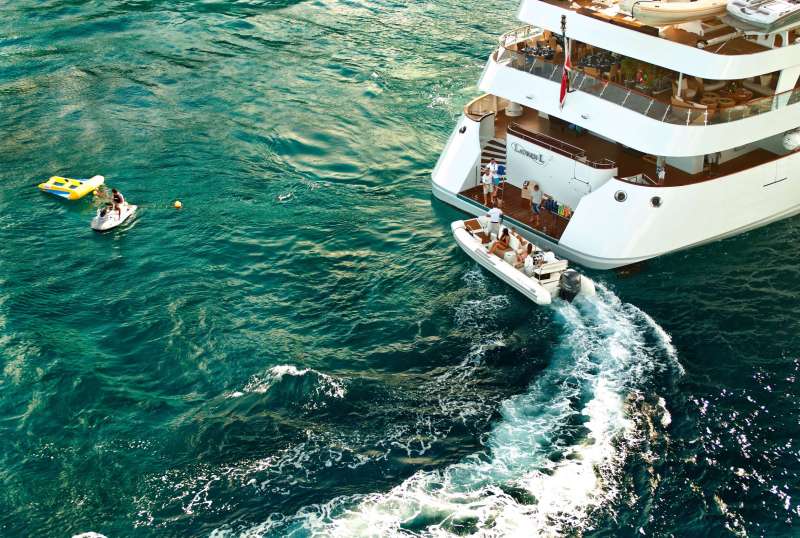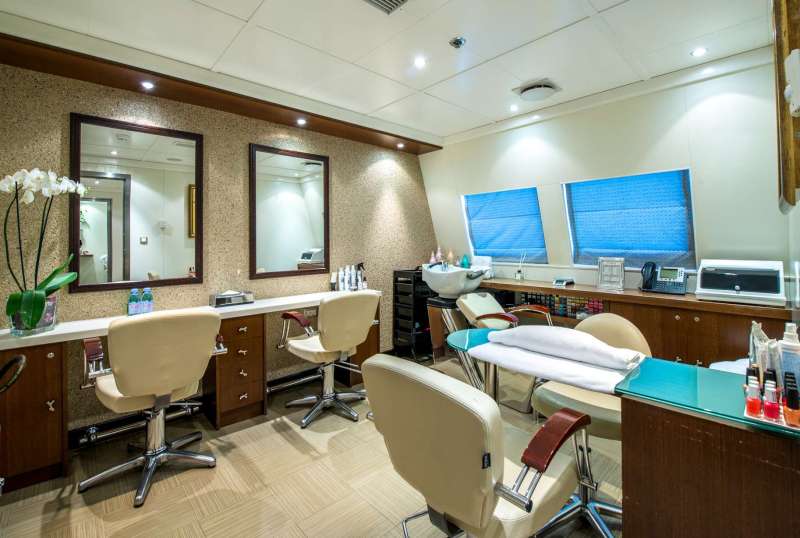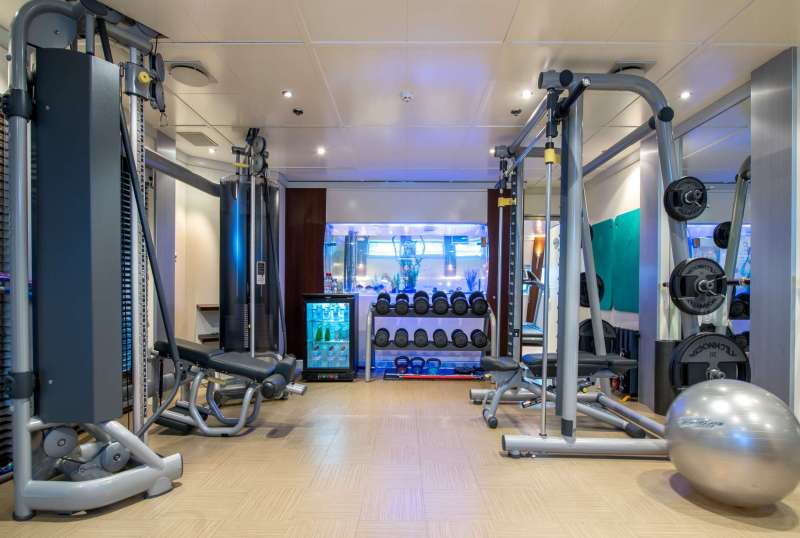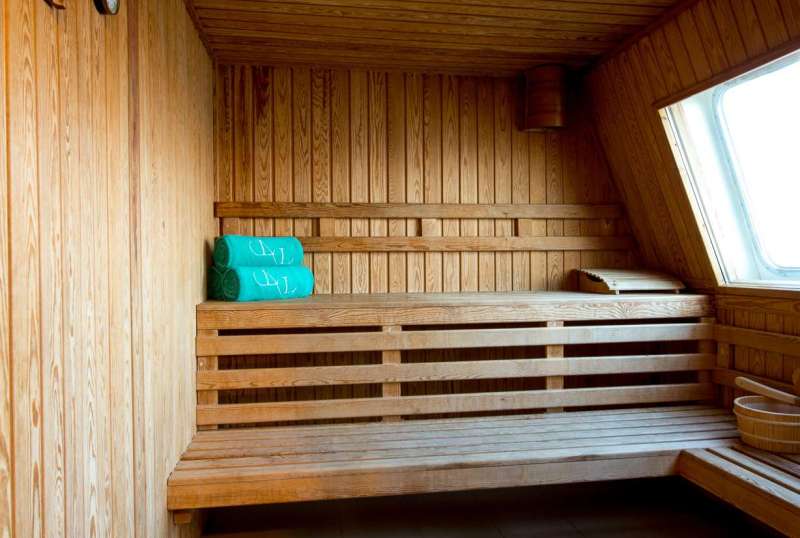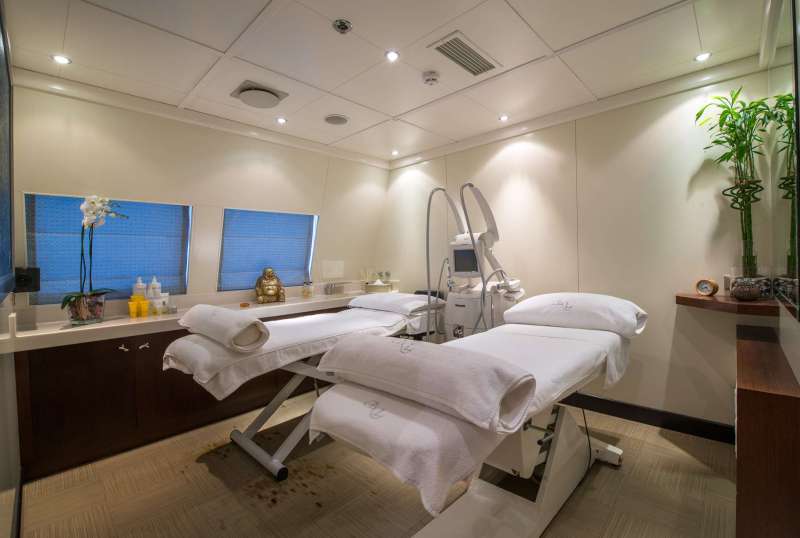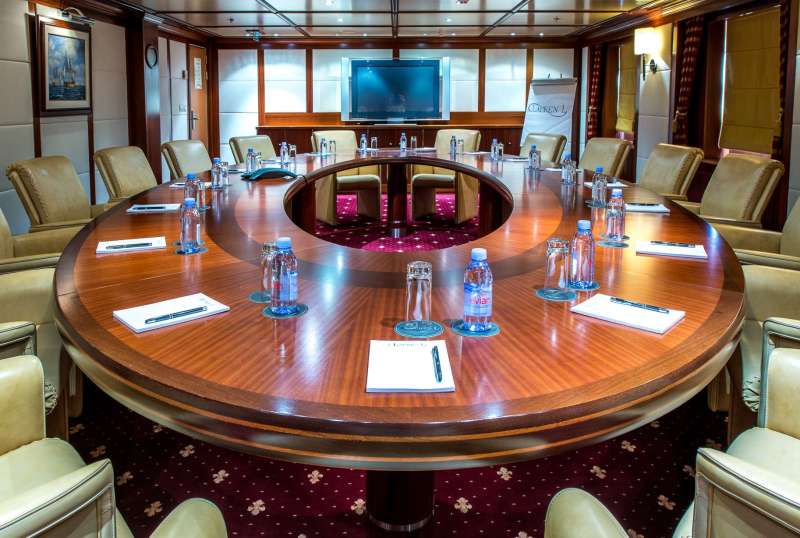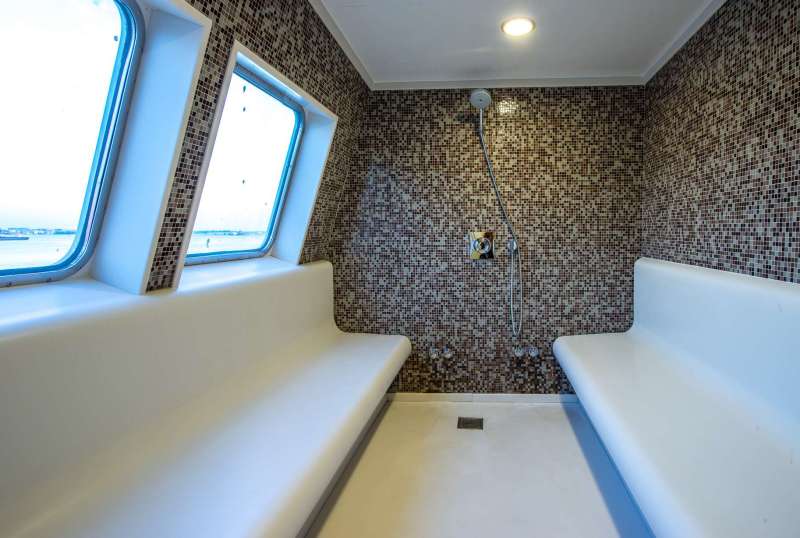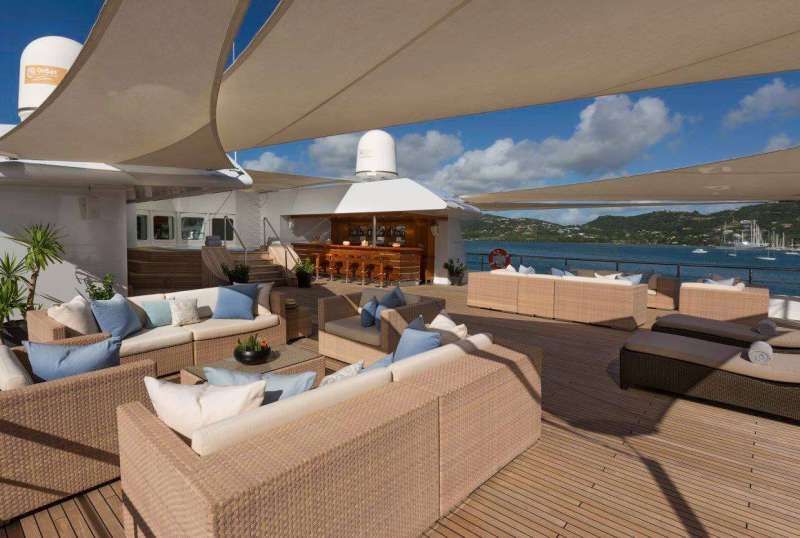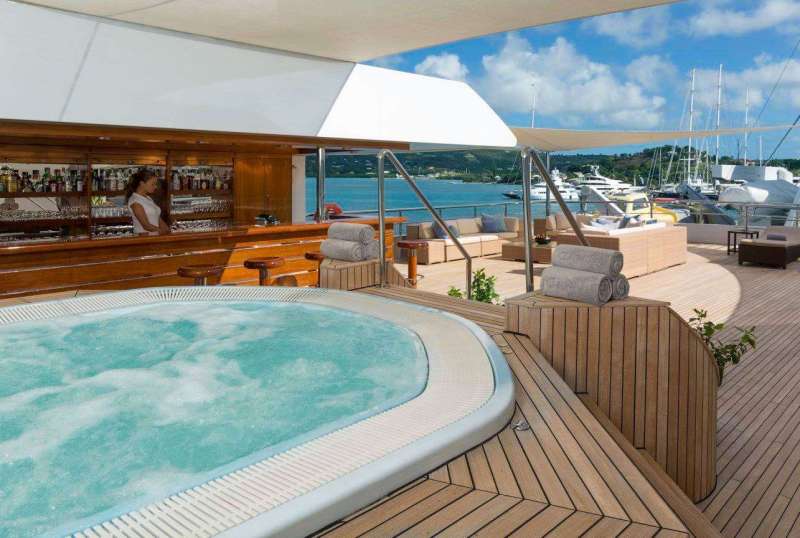 LAUREN L
From €695,000/week
10+ cabins
295 ft
Cassens Werft
36 guests
Refit: 2008/2015
500 Litres/Hr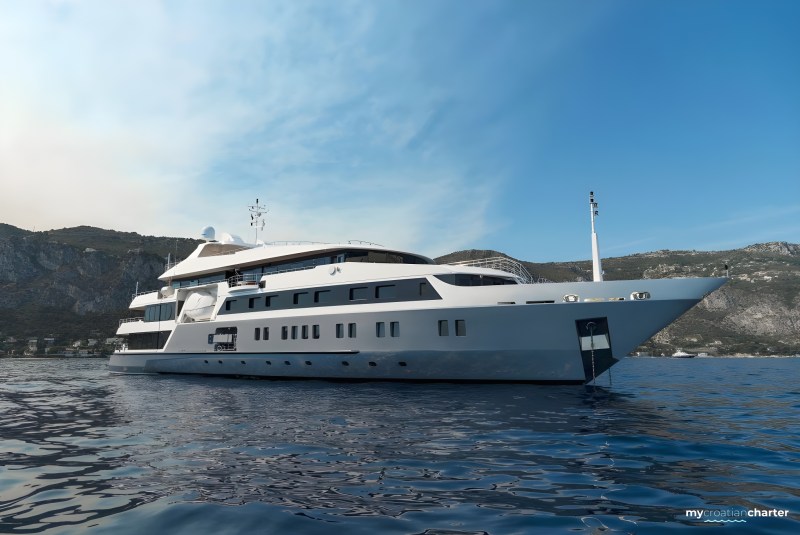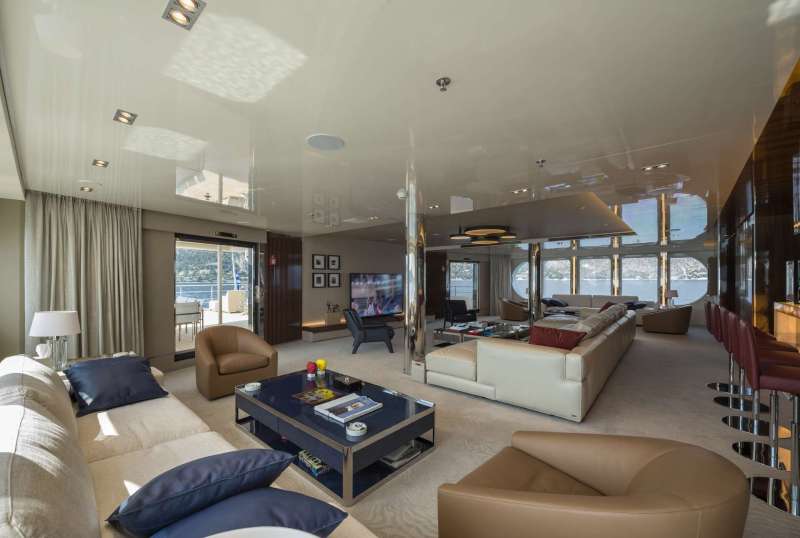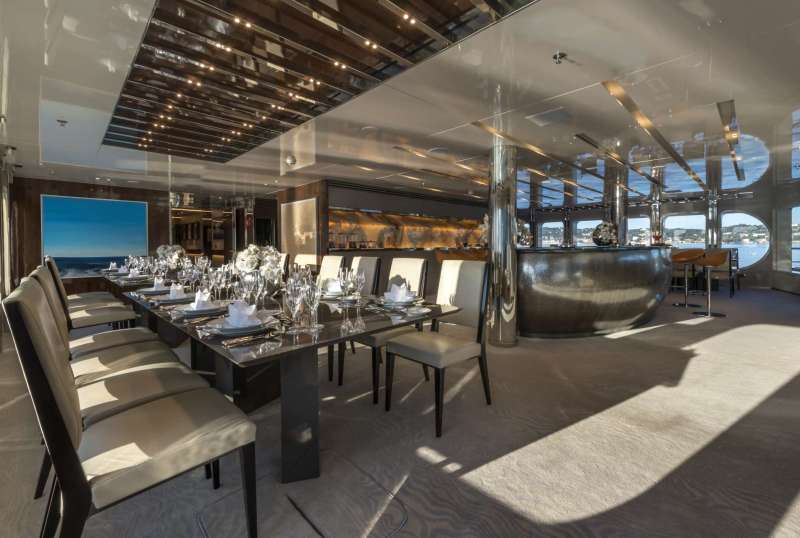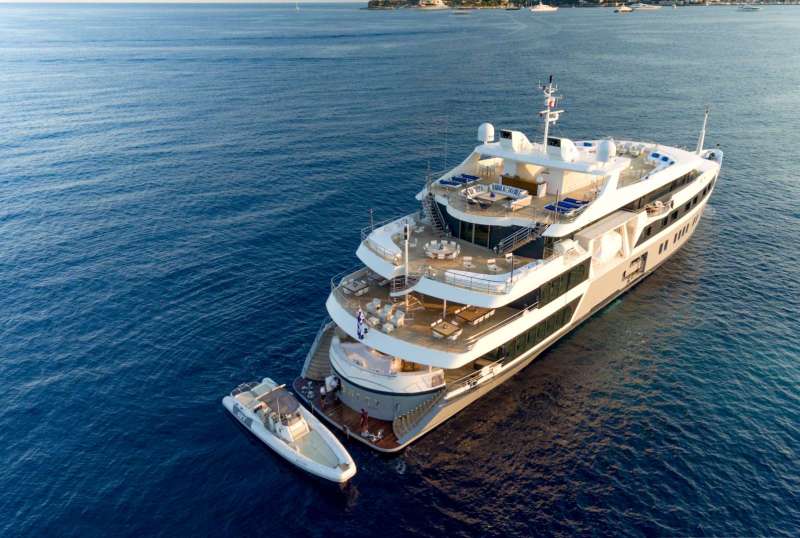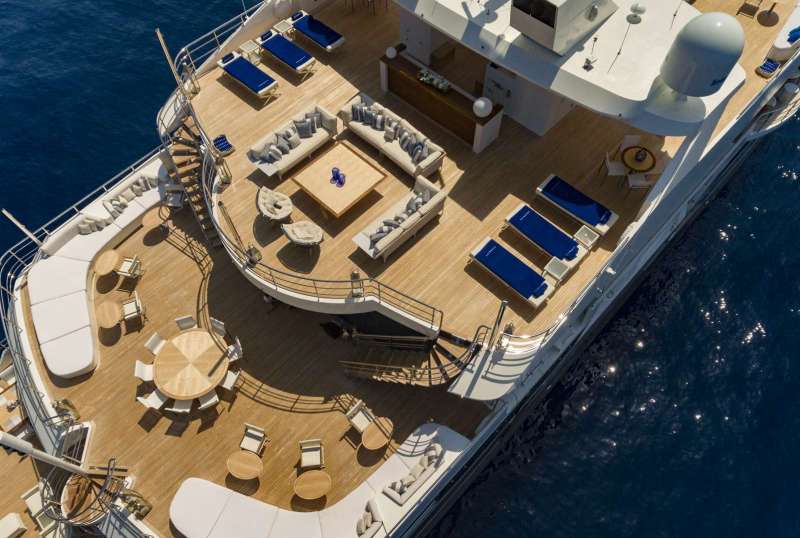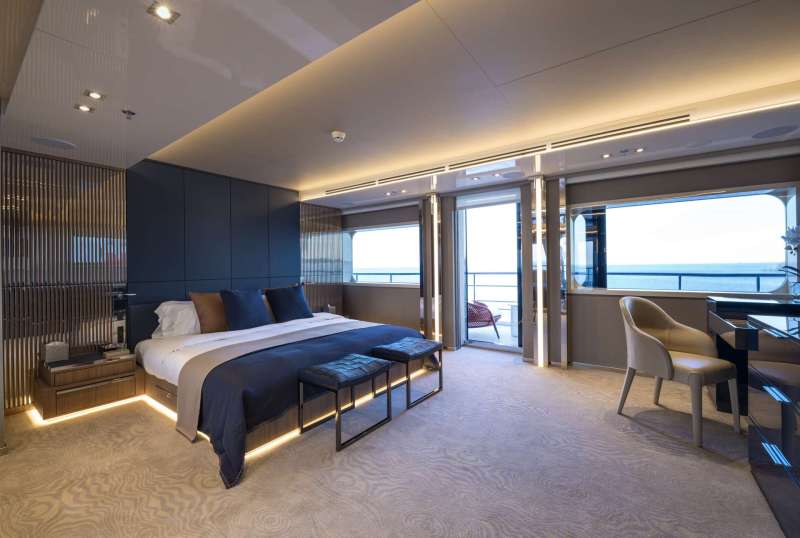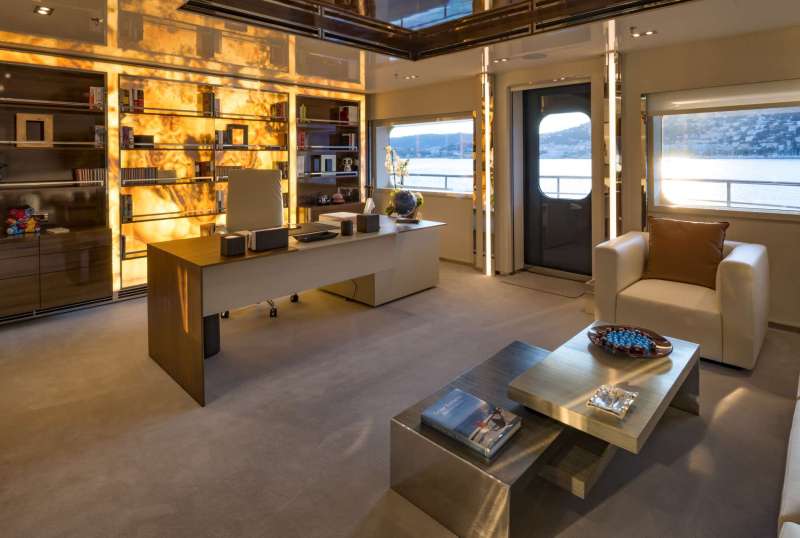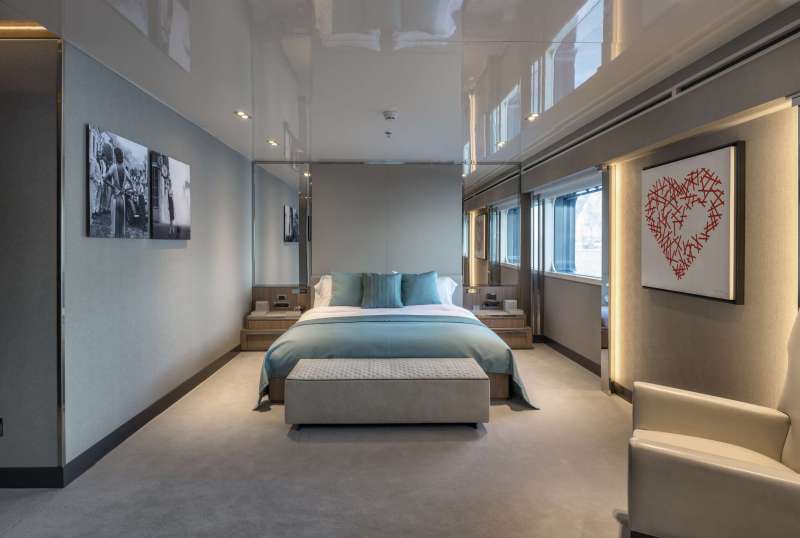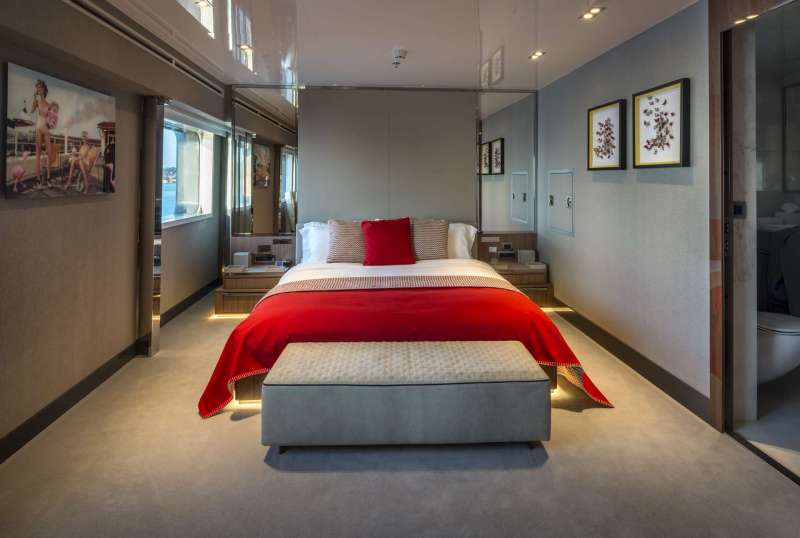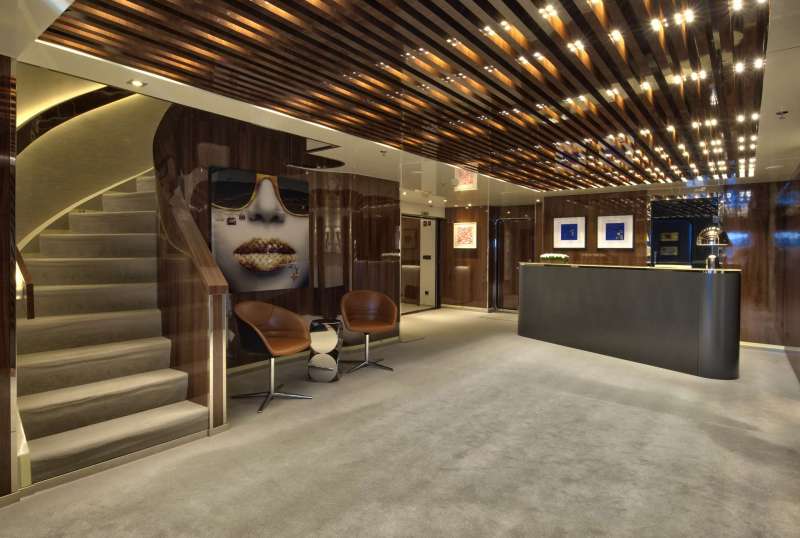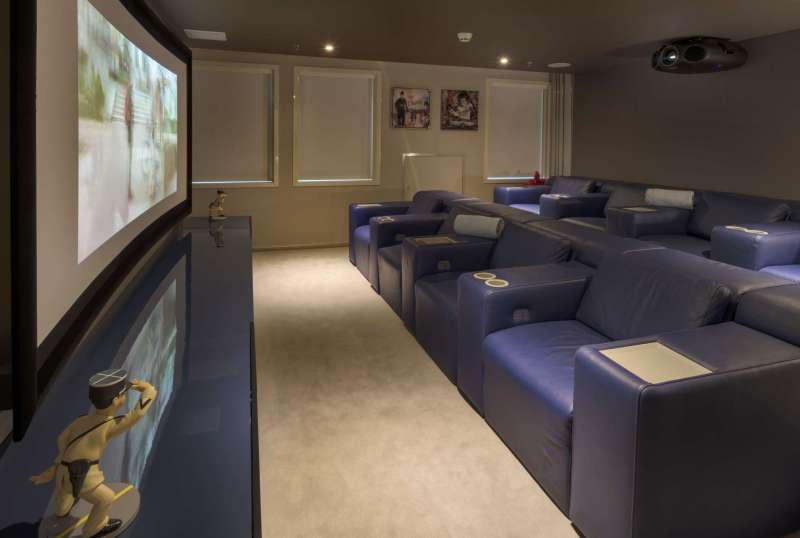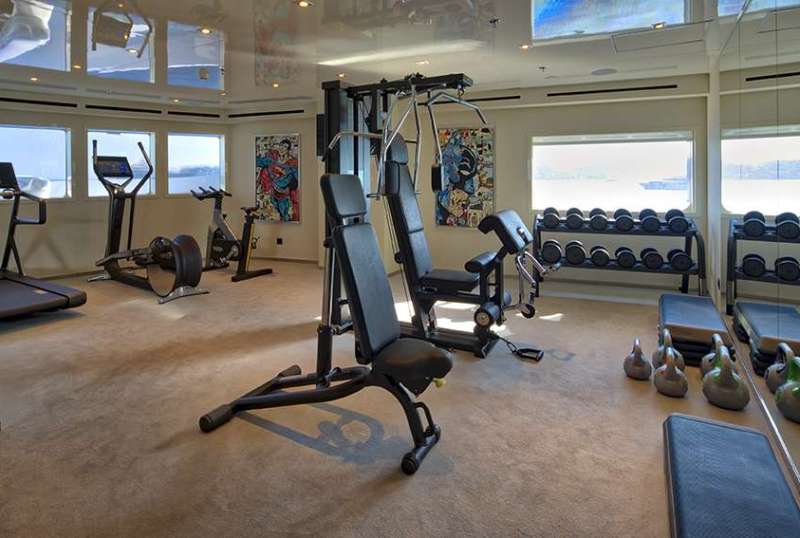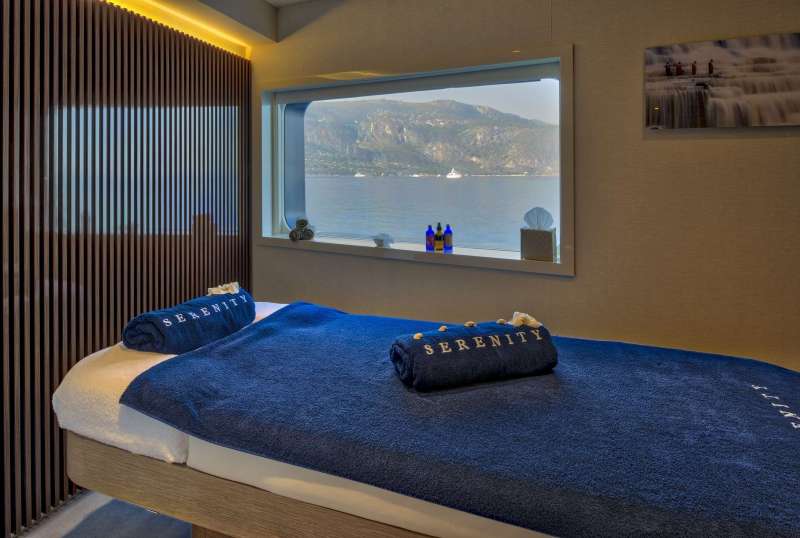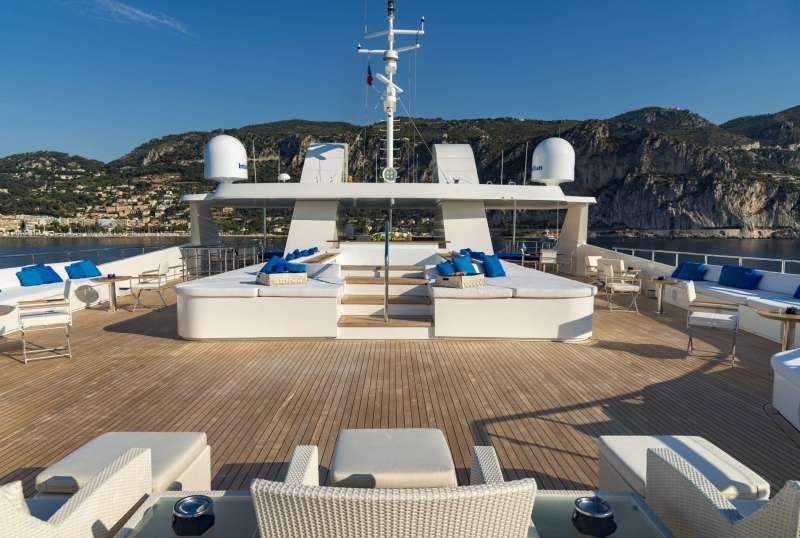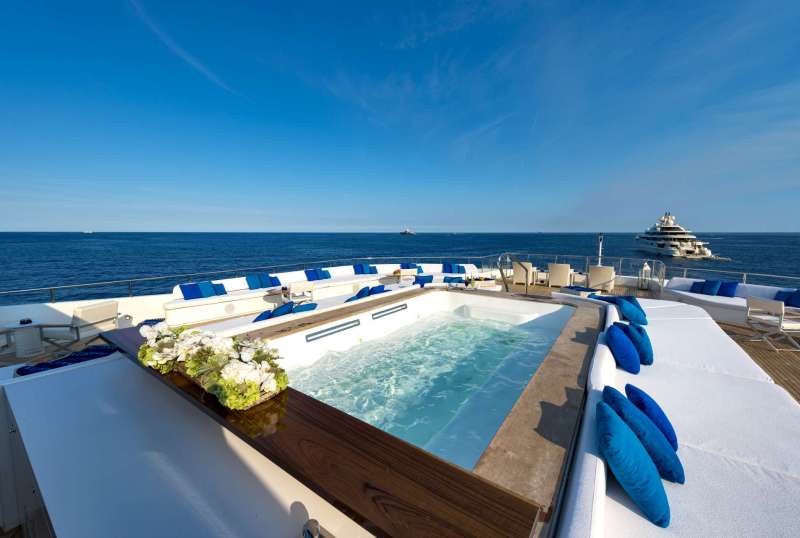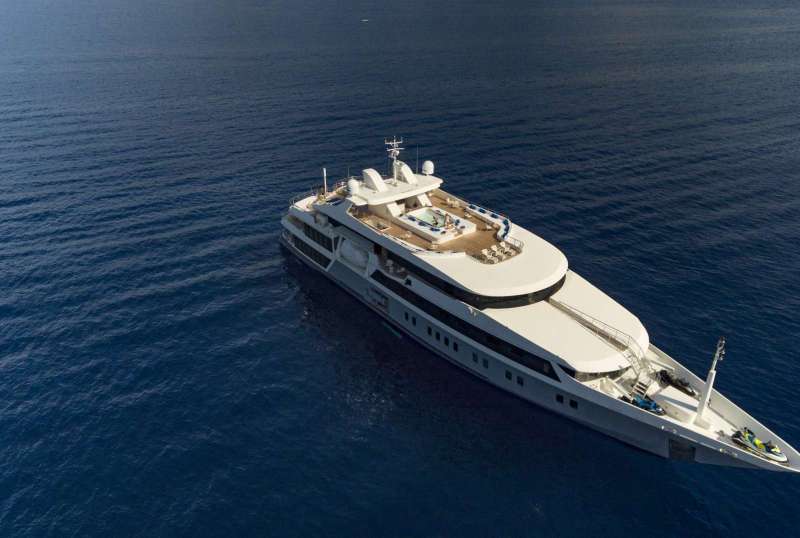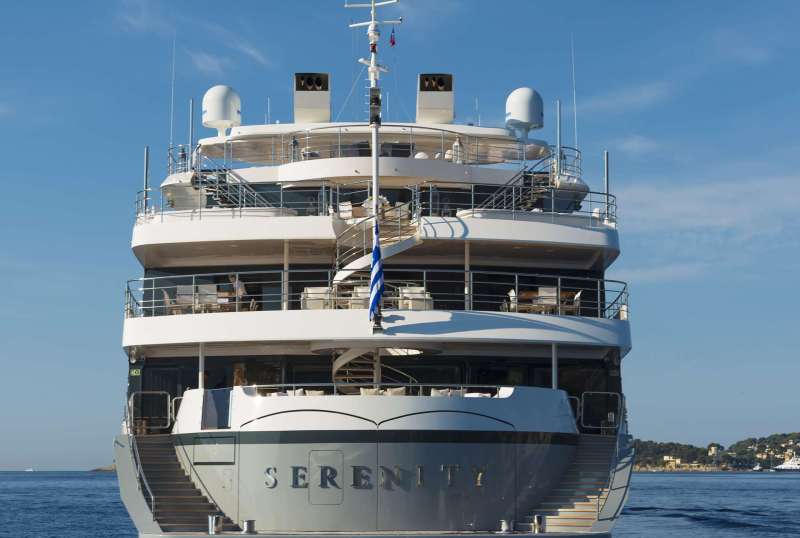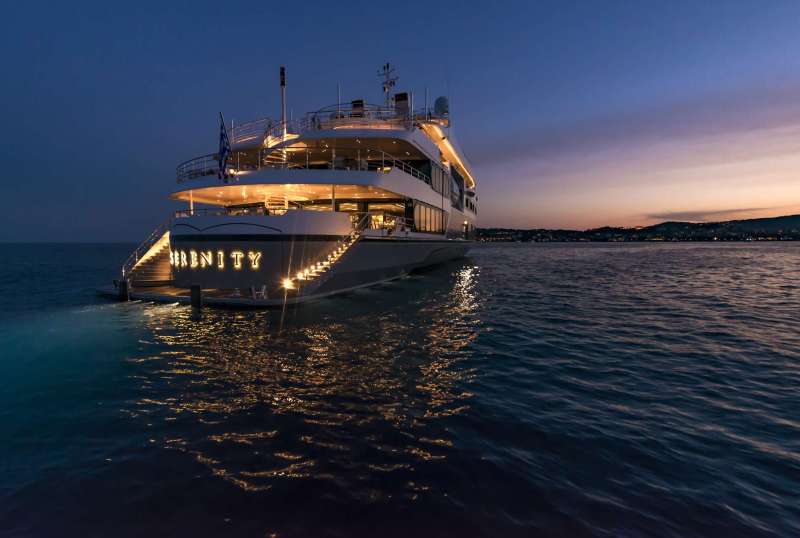 SERENITY
From €550,000/week
10+ cabins
236 ft
Austal/Oceanfast
30 guests
Refit: 2017
390 Litres/Hr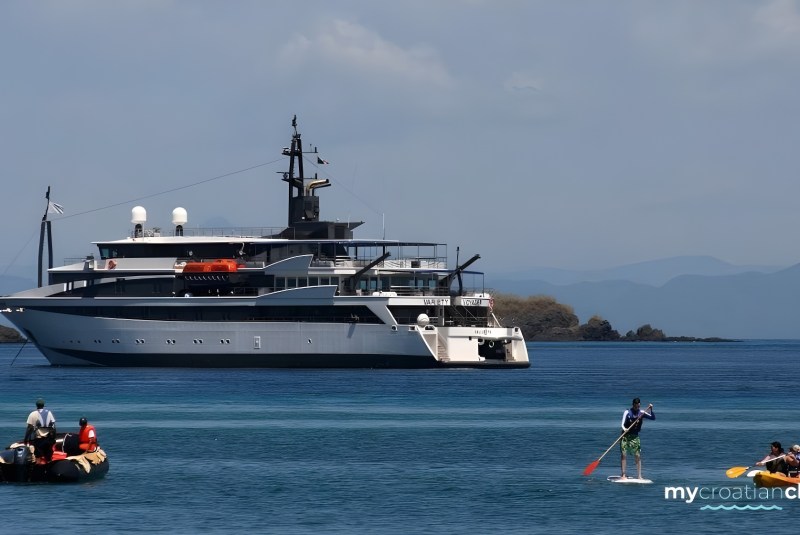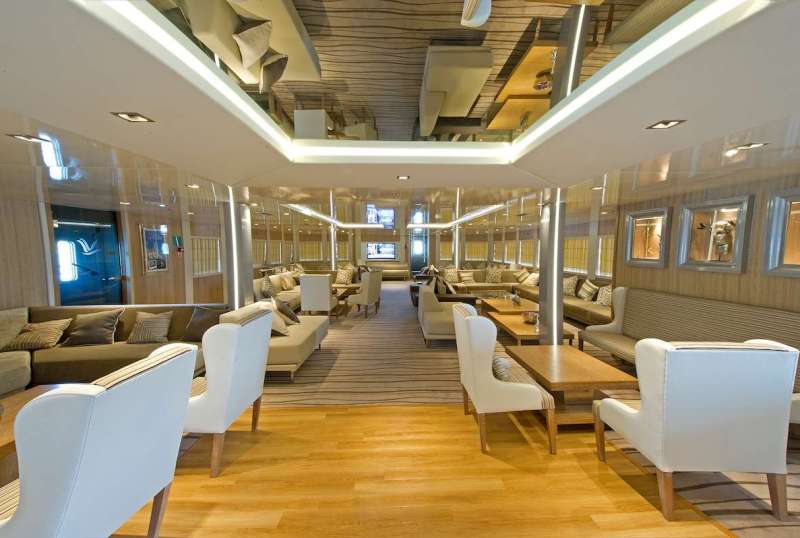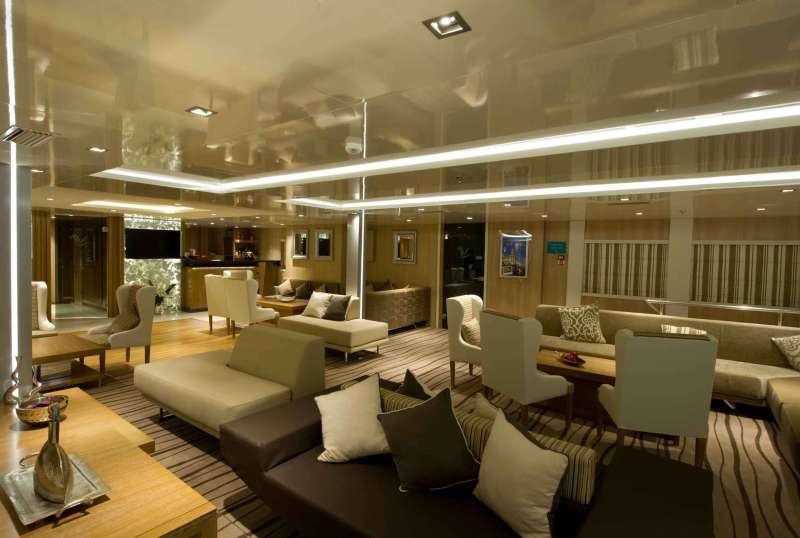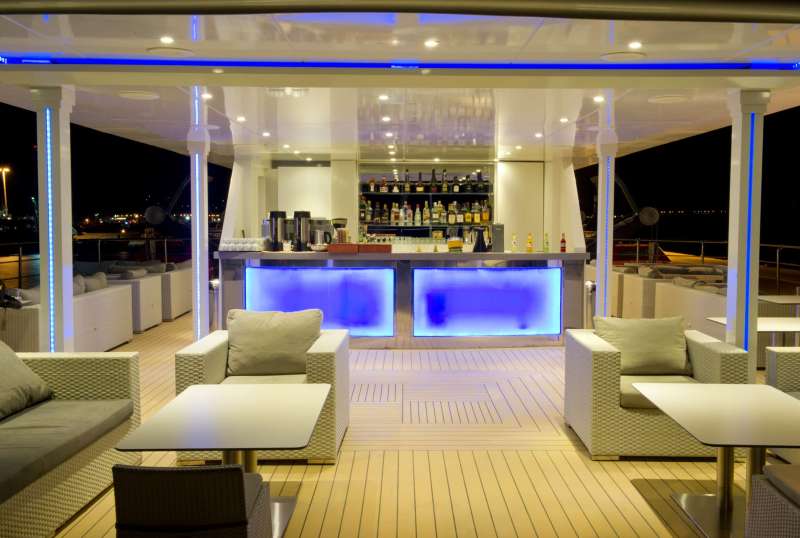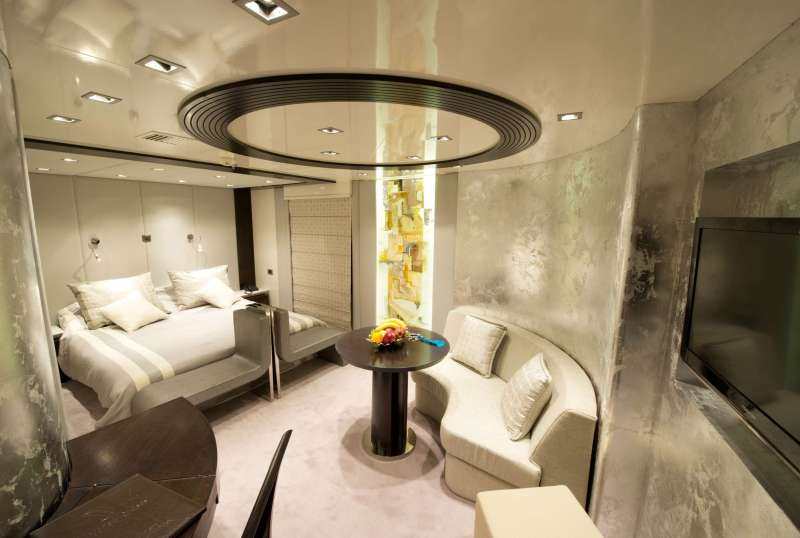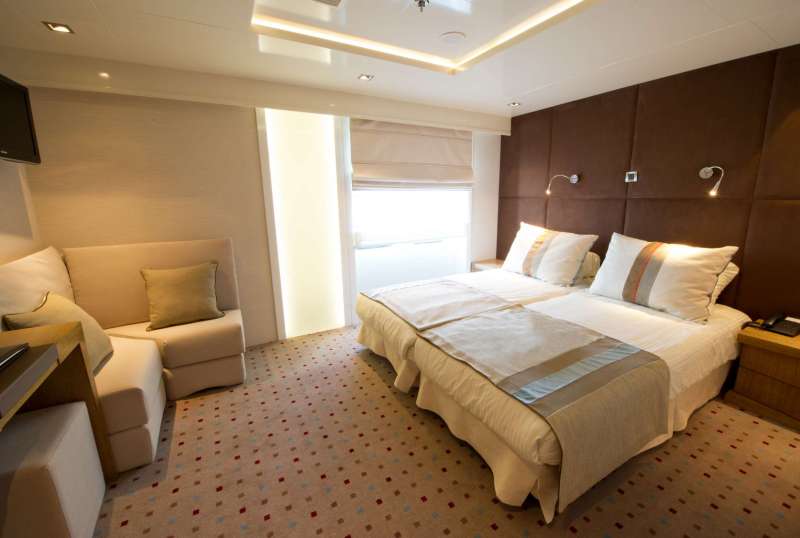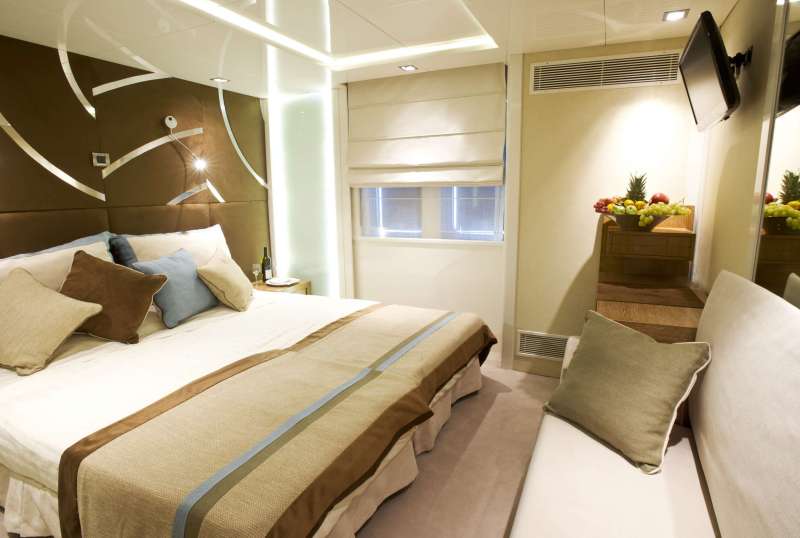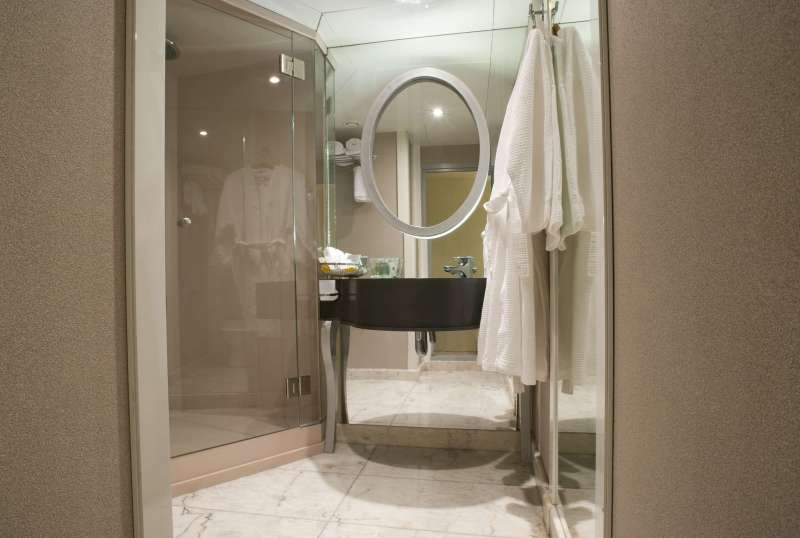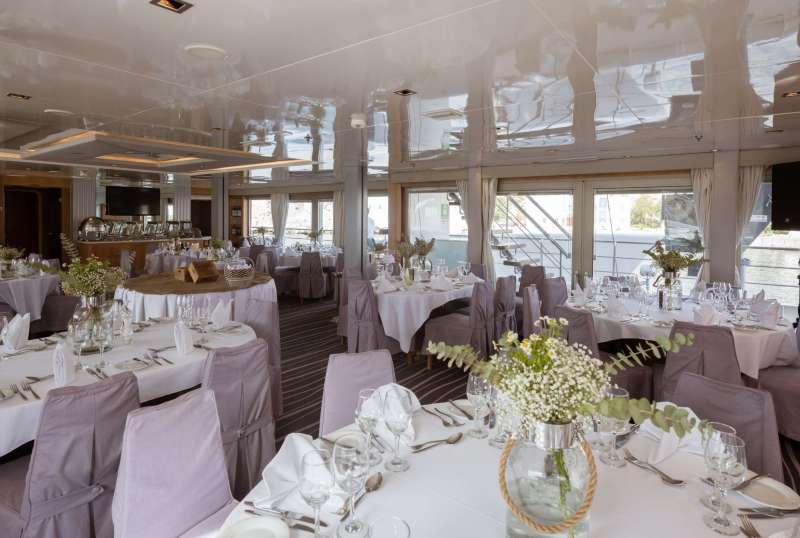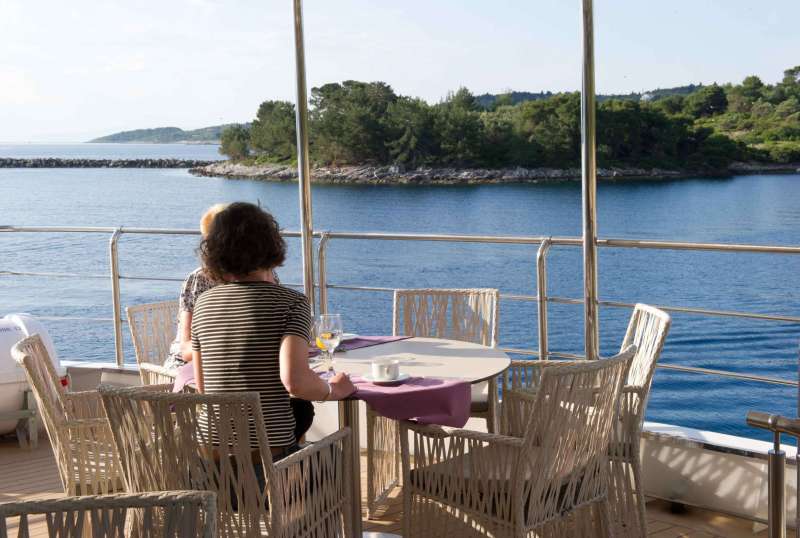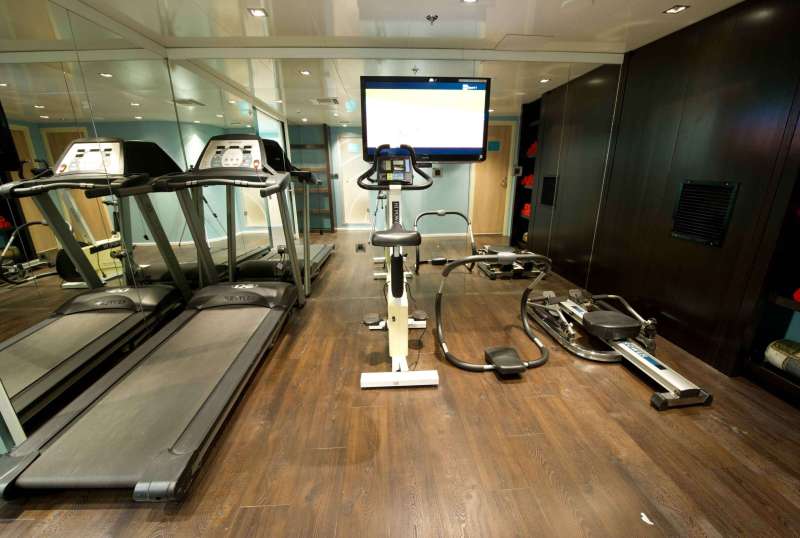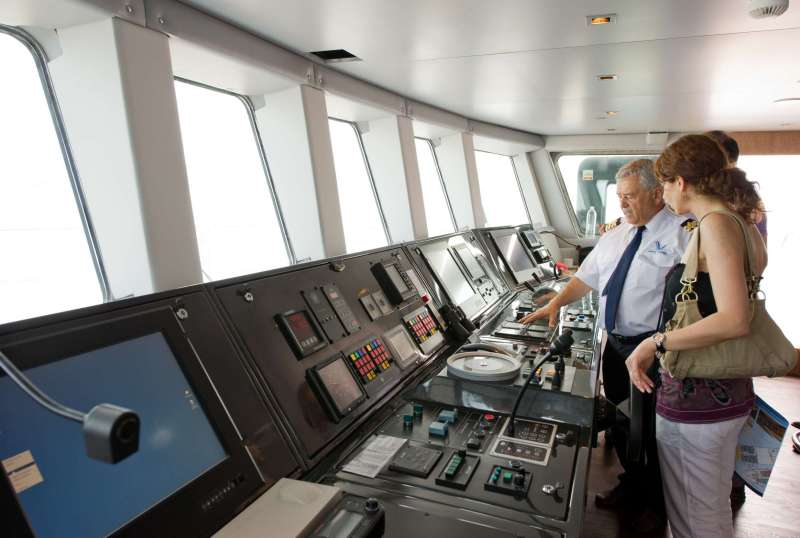 Variety Voyager
From €247,650/week
10+ cabins
223 ft
Custom
71 guests
Built: 2012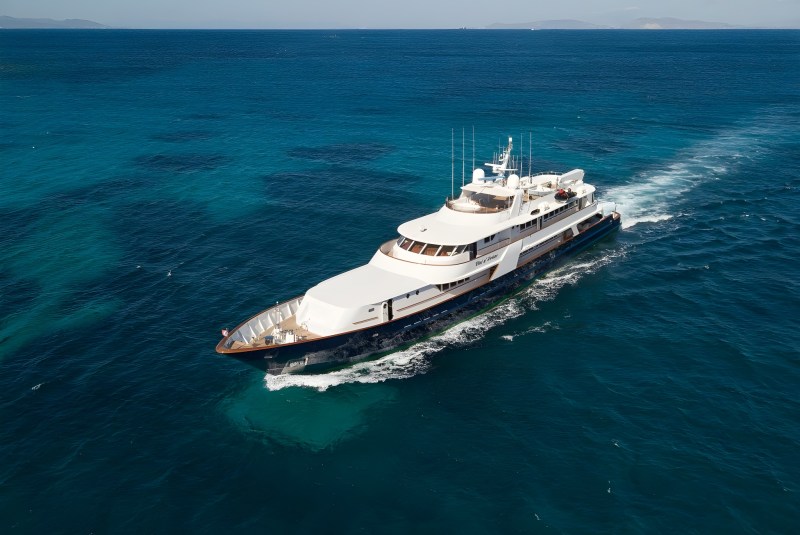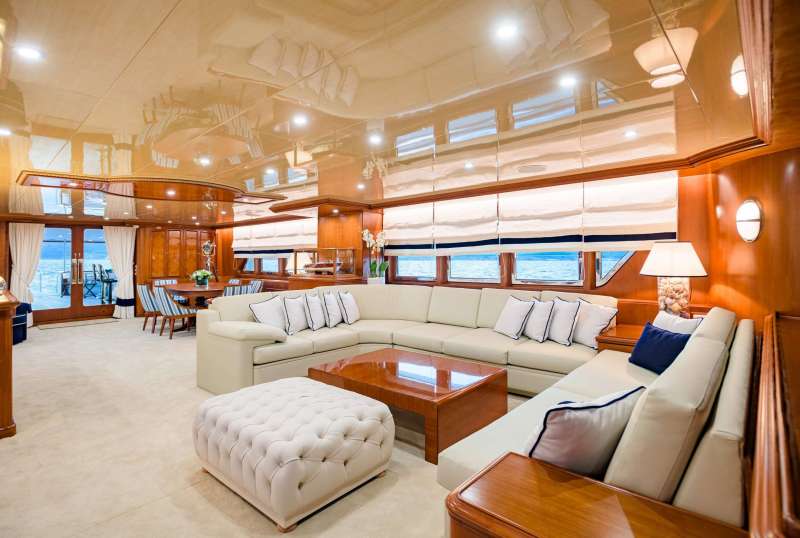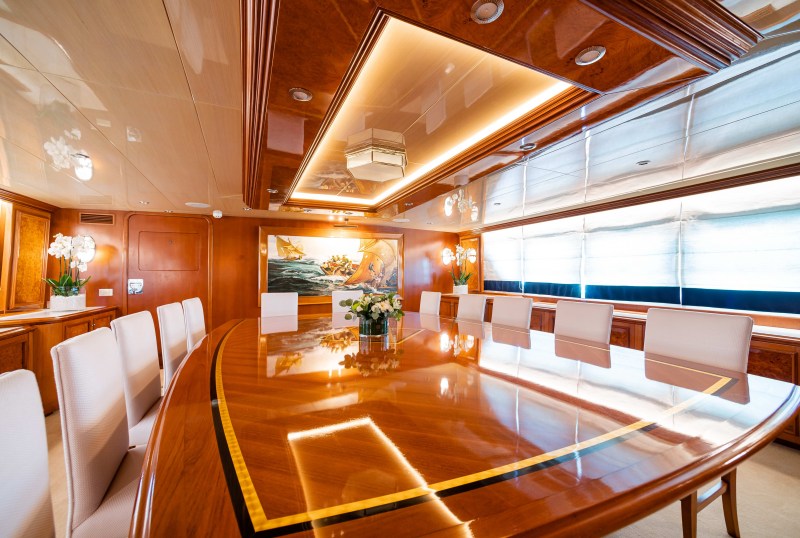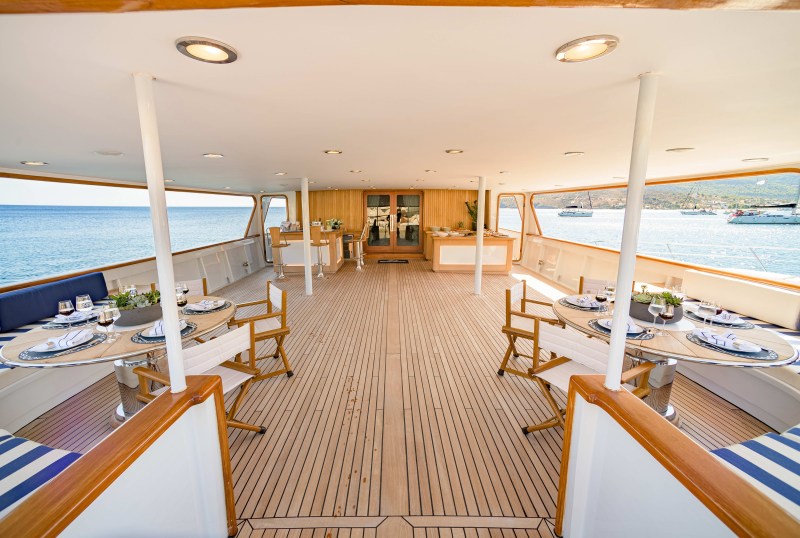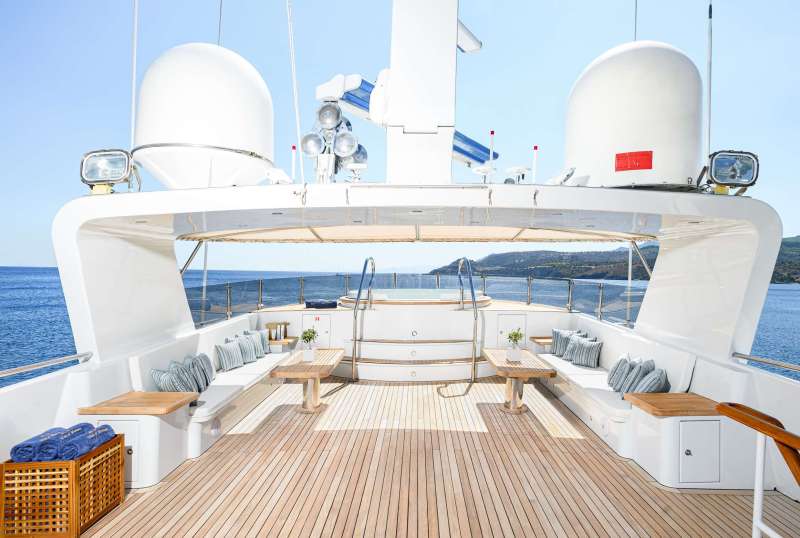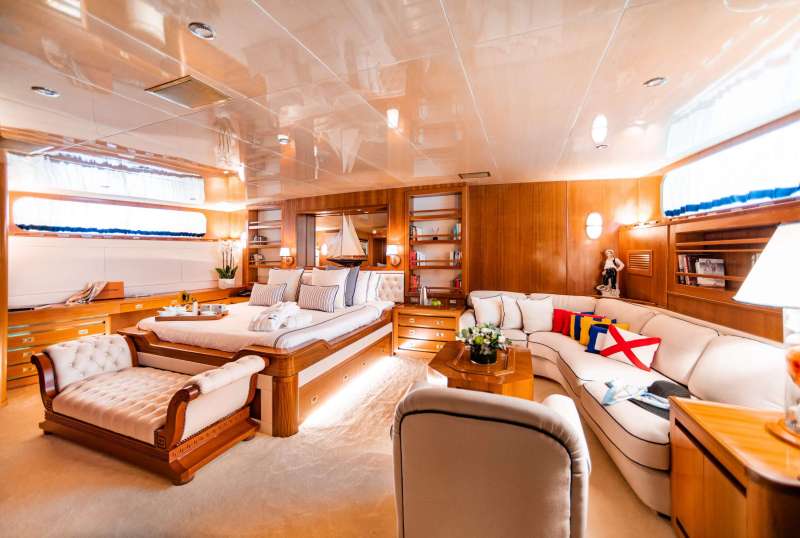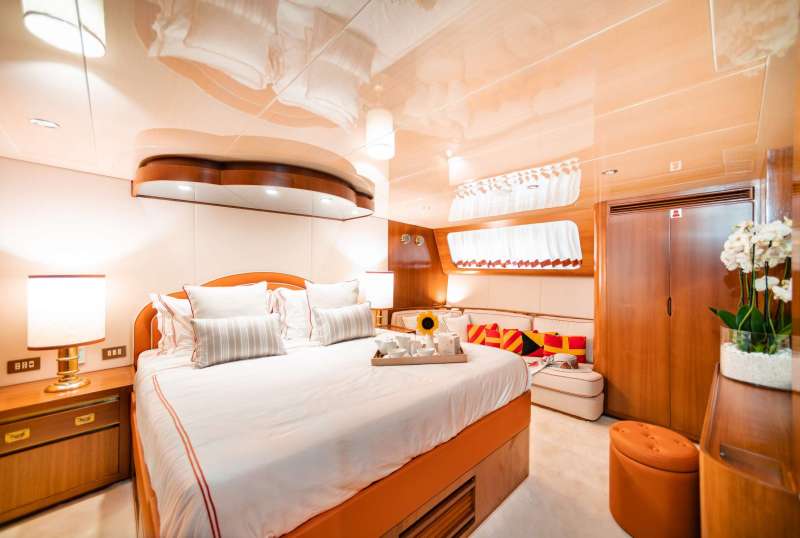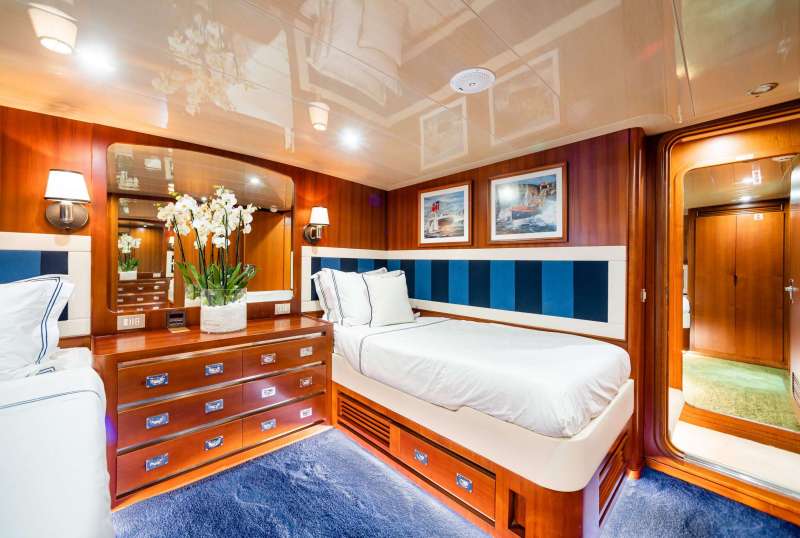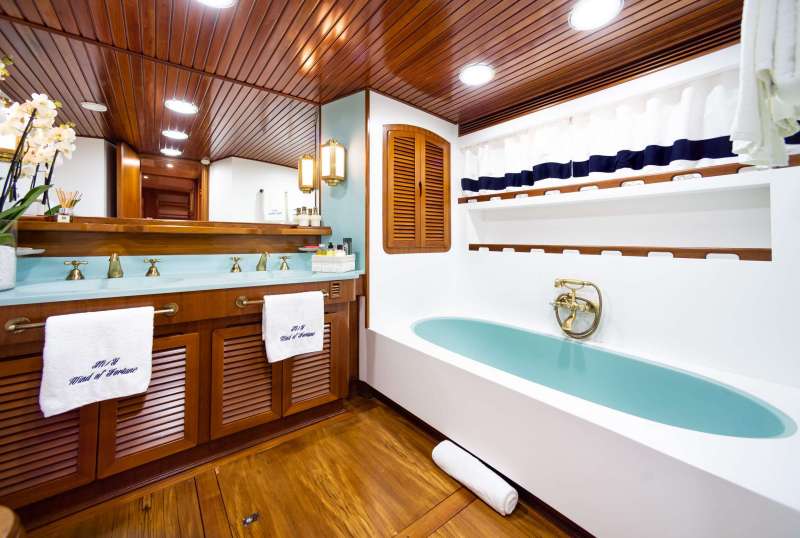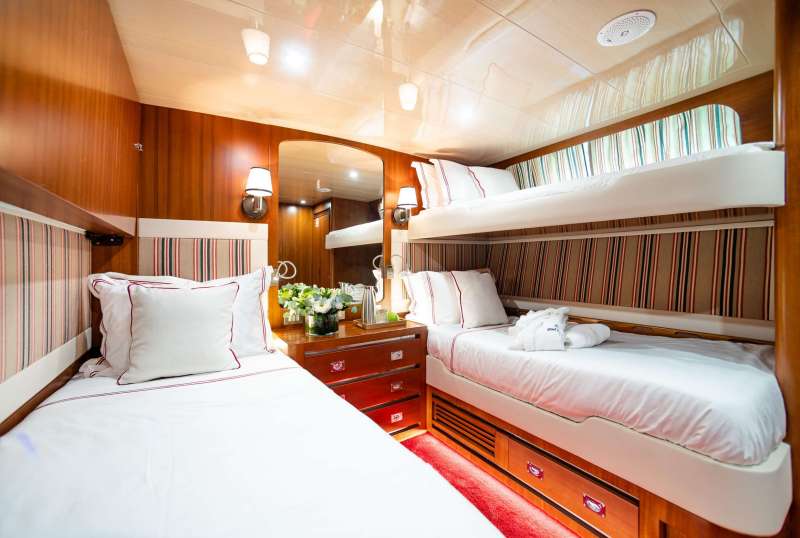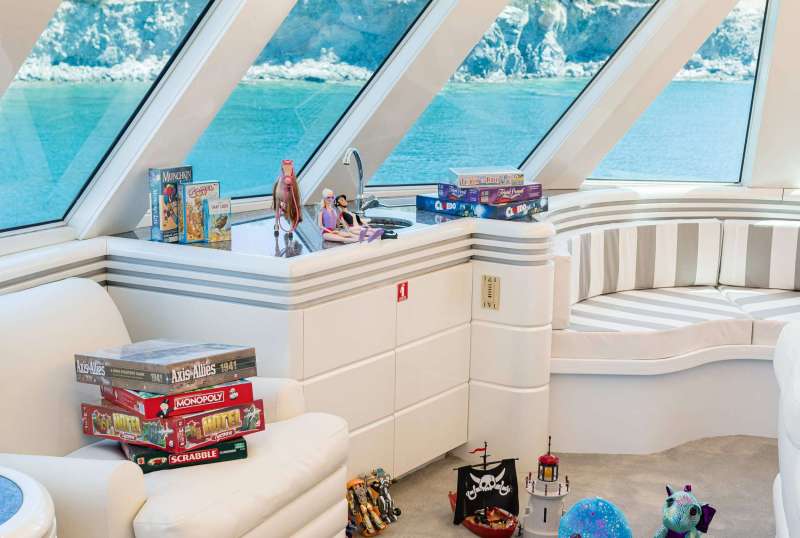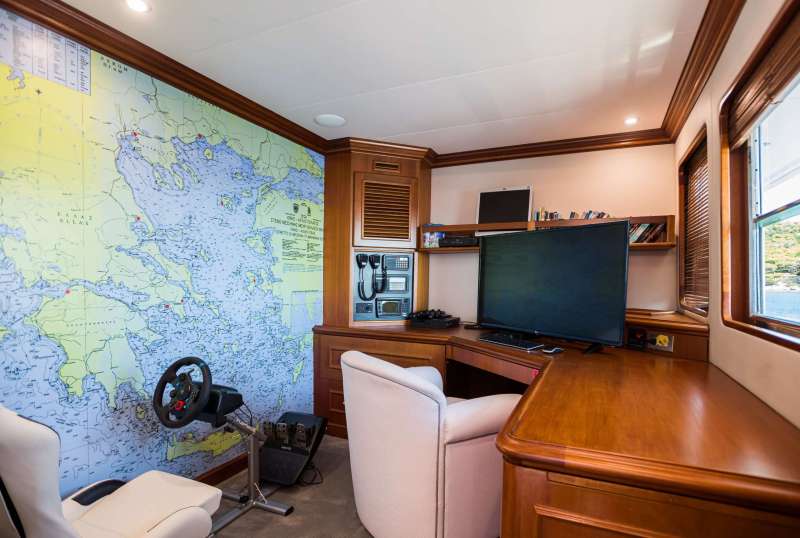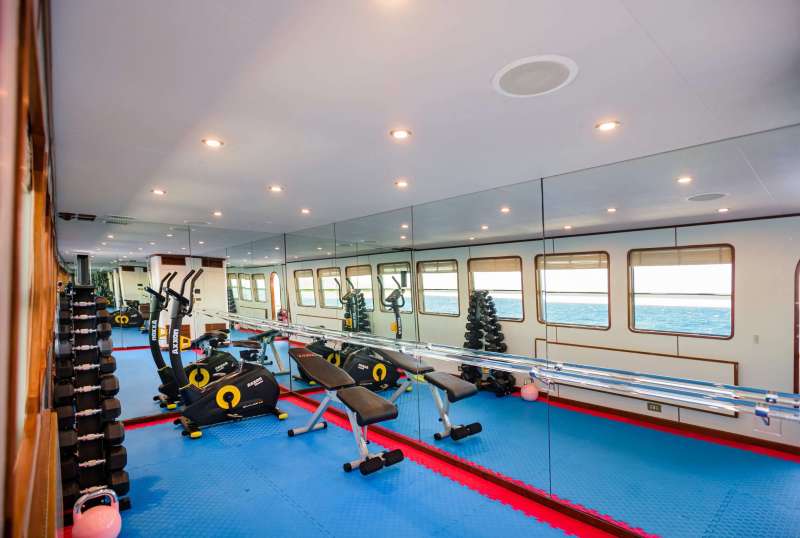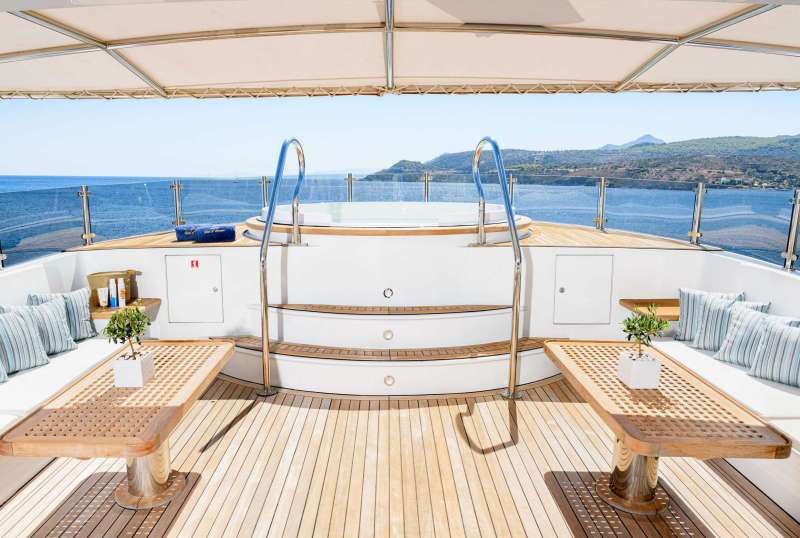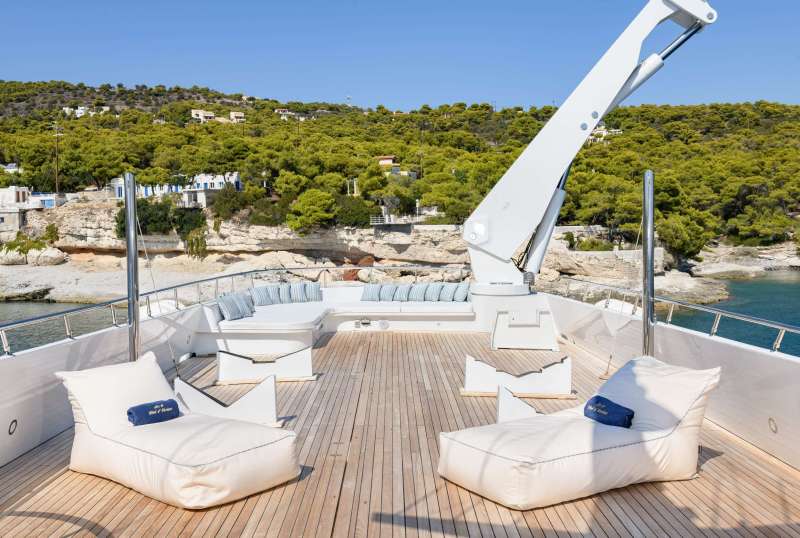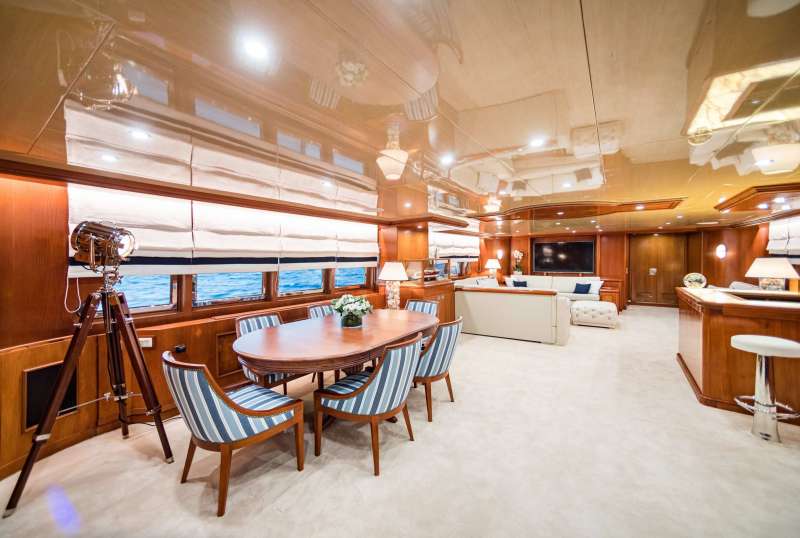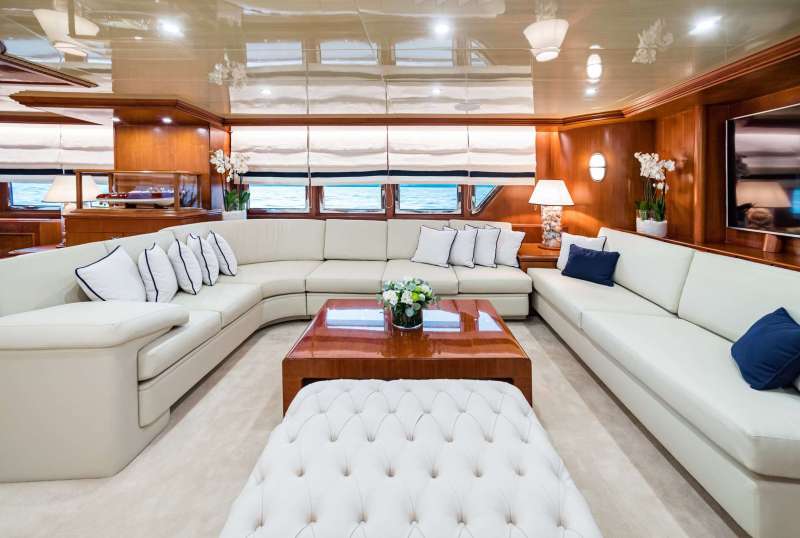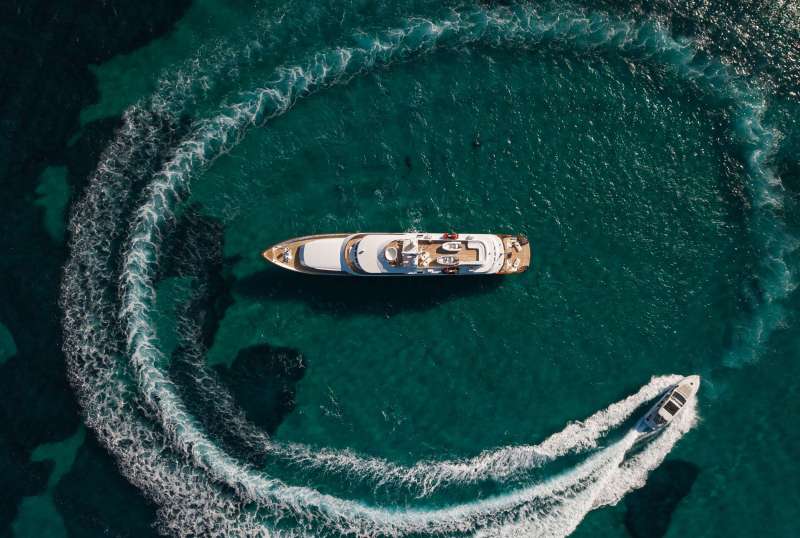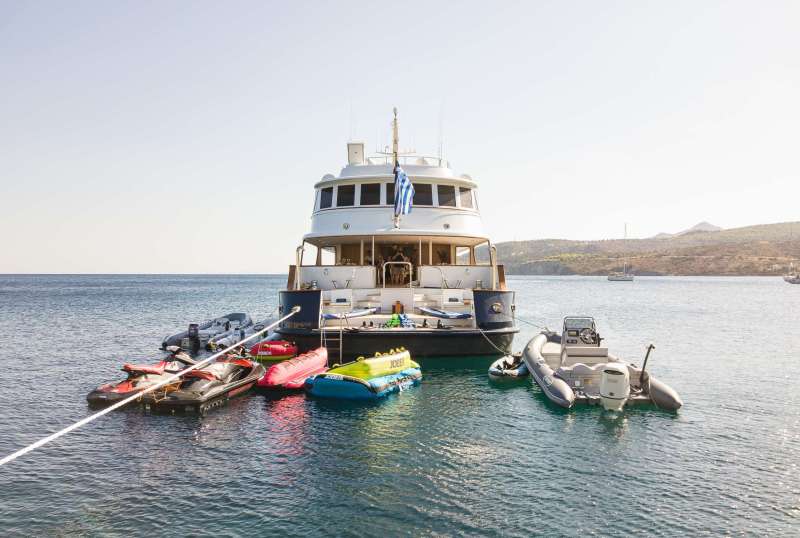 WIND OF FORTUNE
From €130,000/week
7 cabins
170 ft
CRN Ancona
16 guests
Refit: 2020
390 Litres/Hr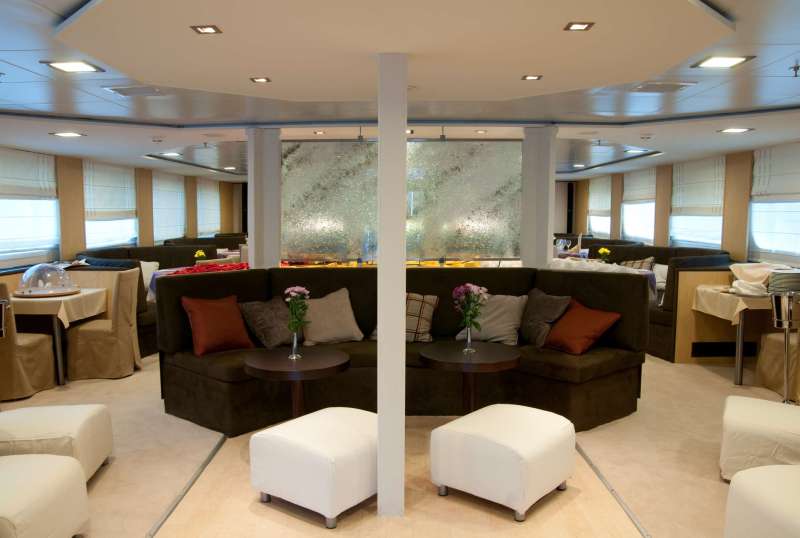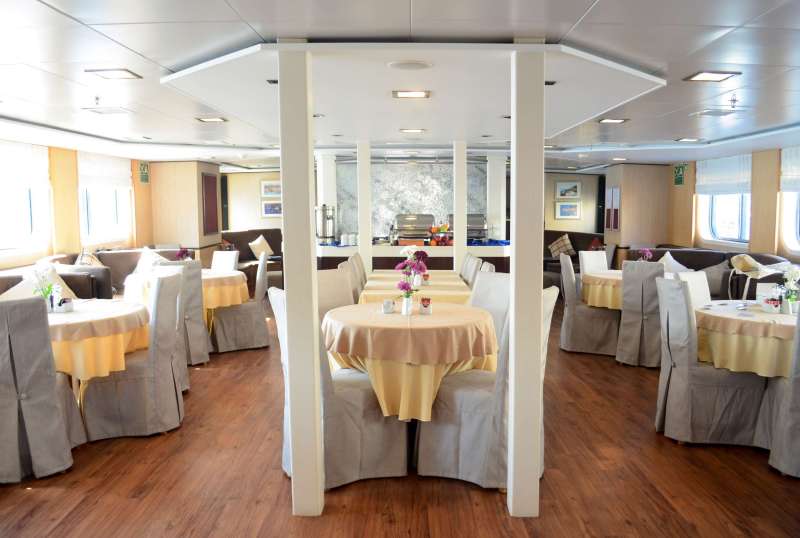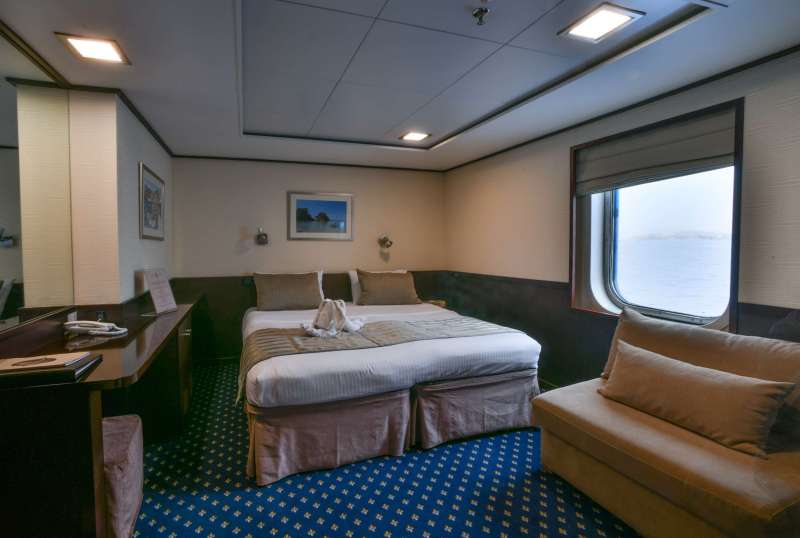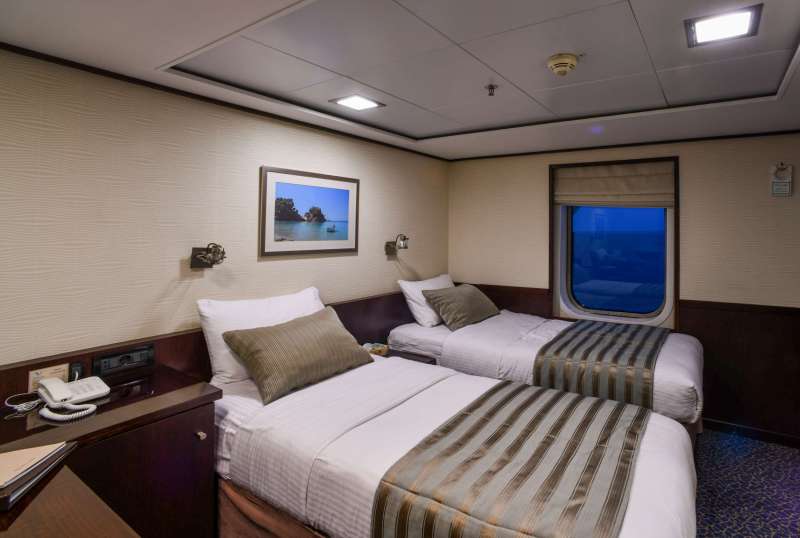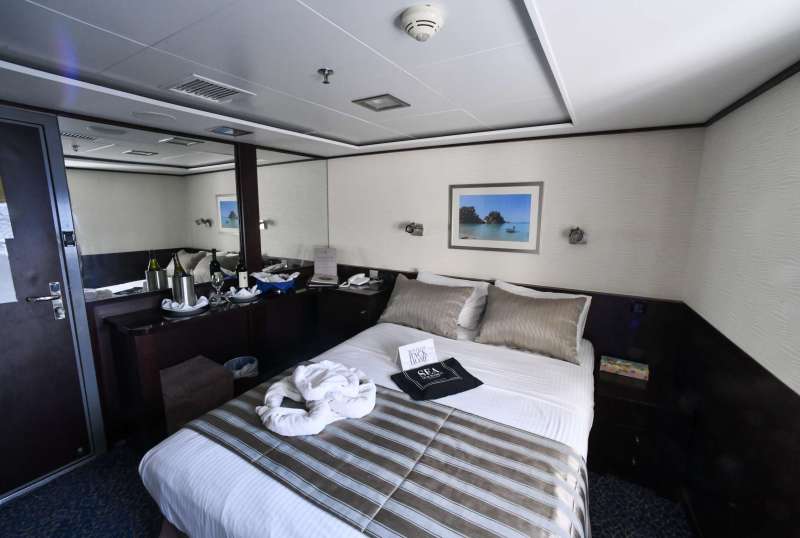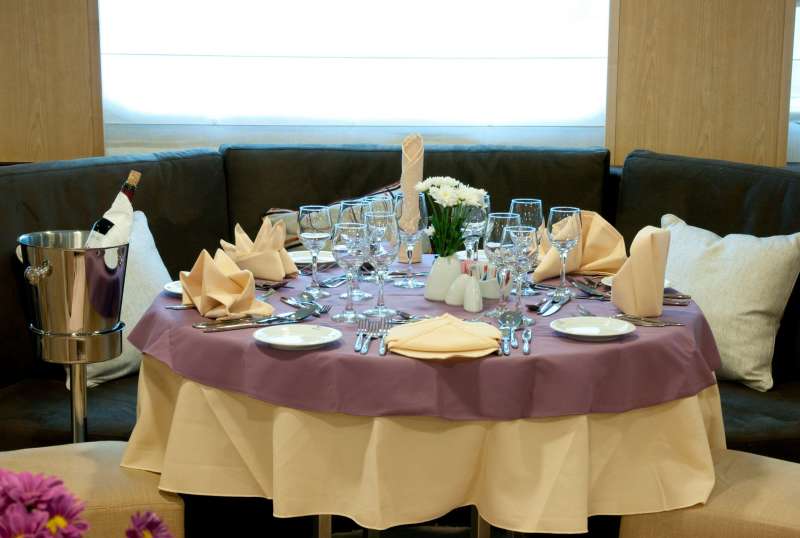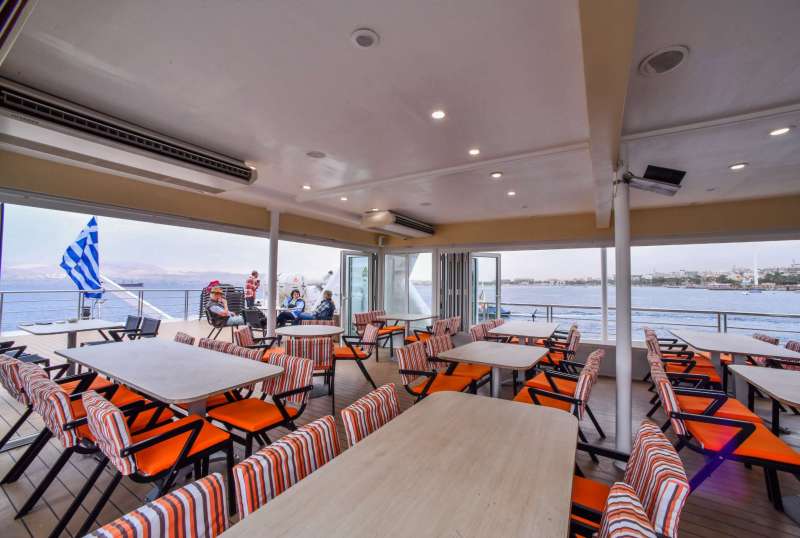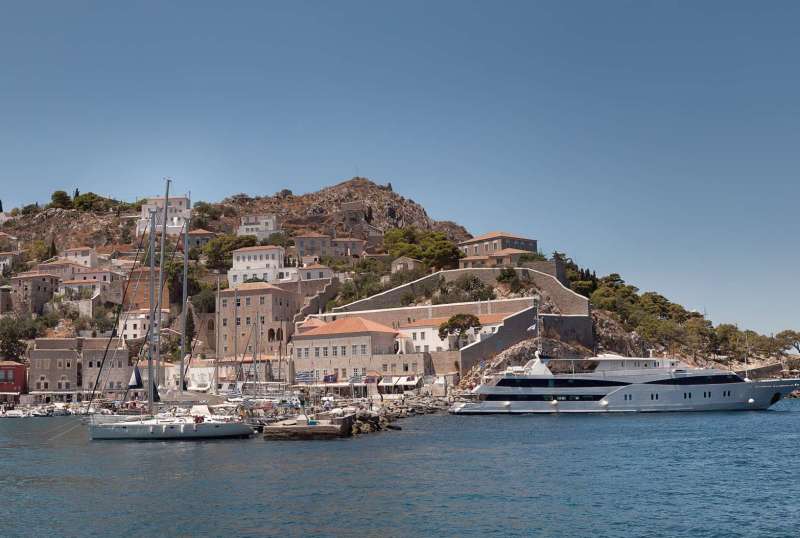 Harmony V
From €129,400/week
10+ cabins
180 ft
Custom
49 guests
Refit: 2017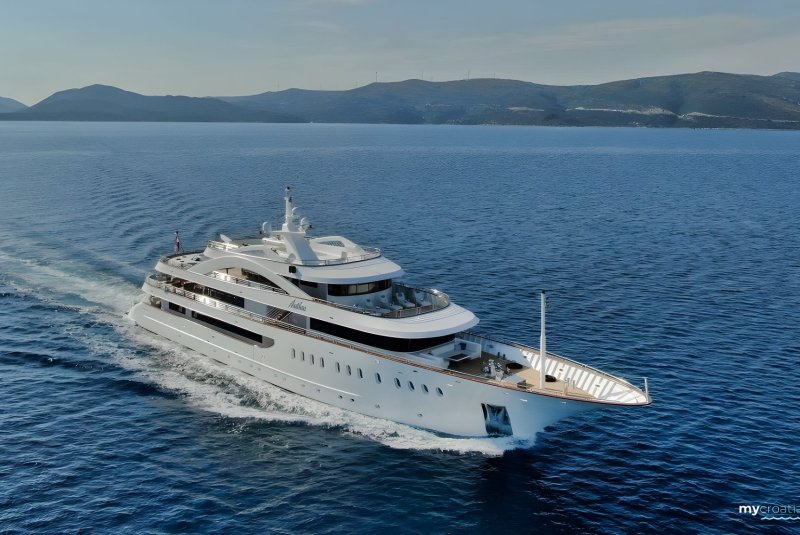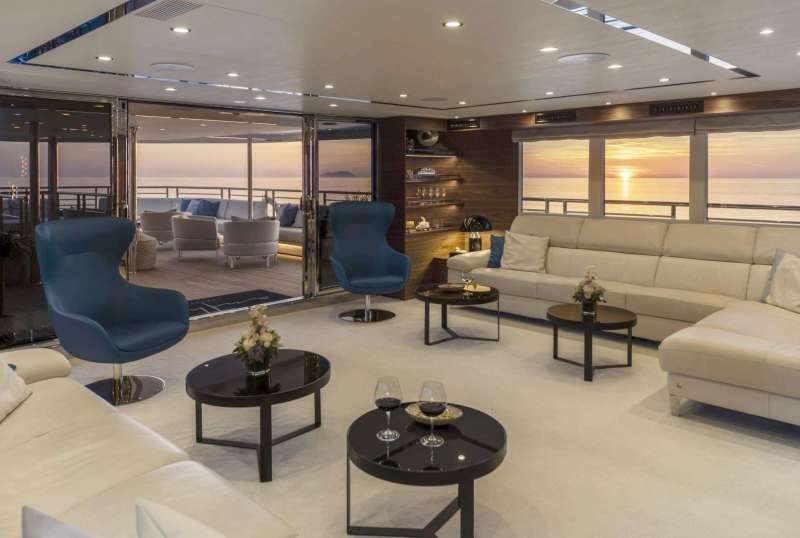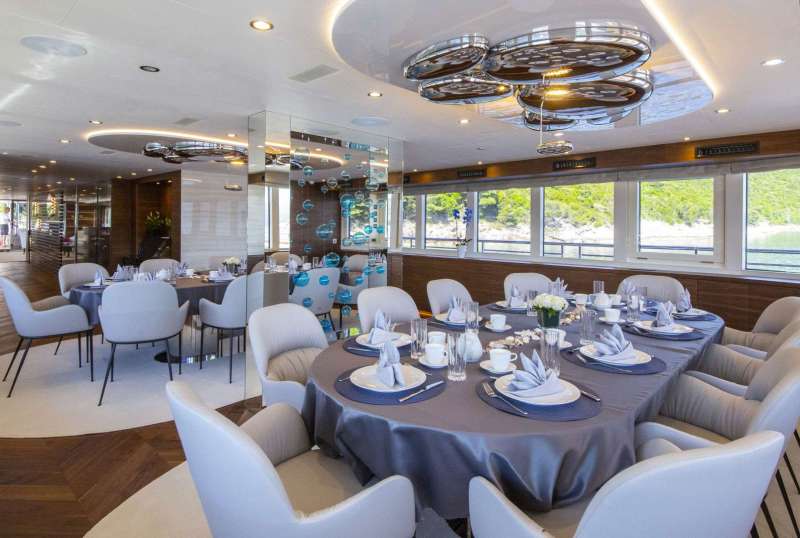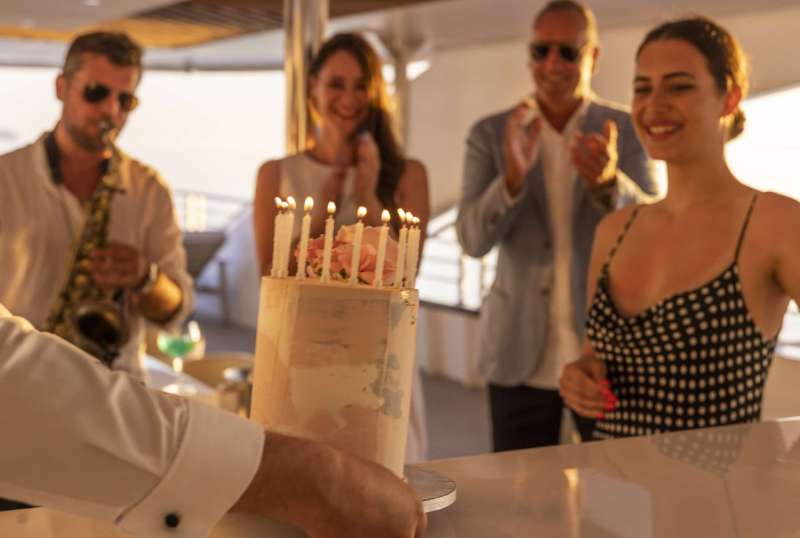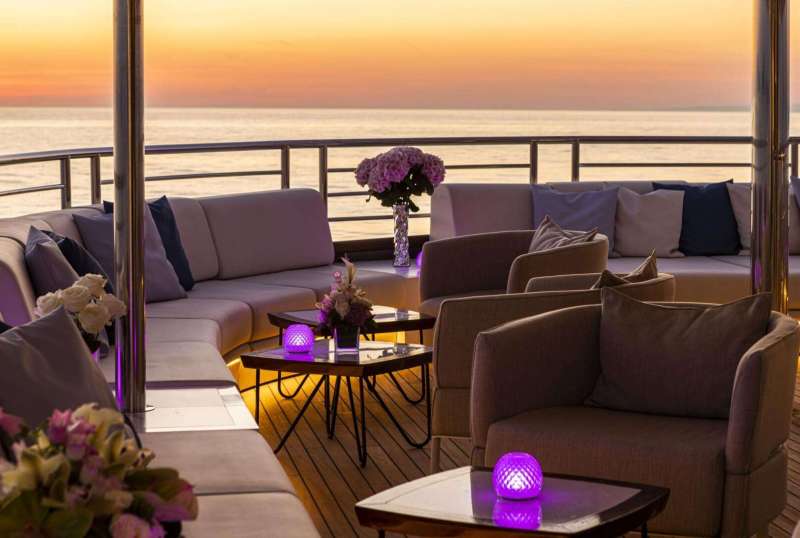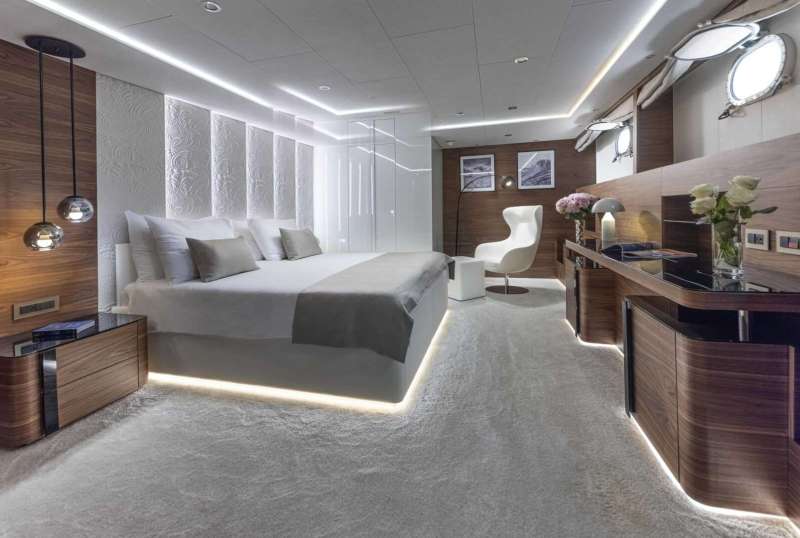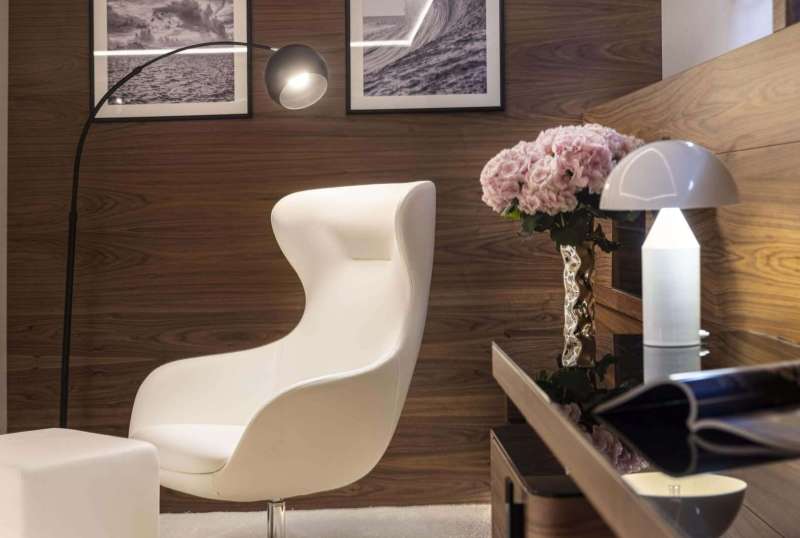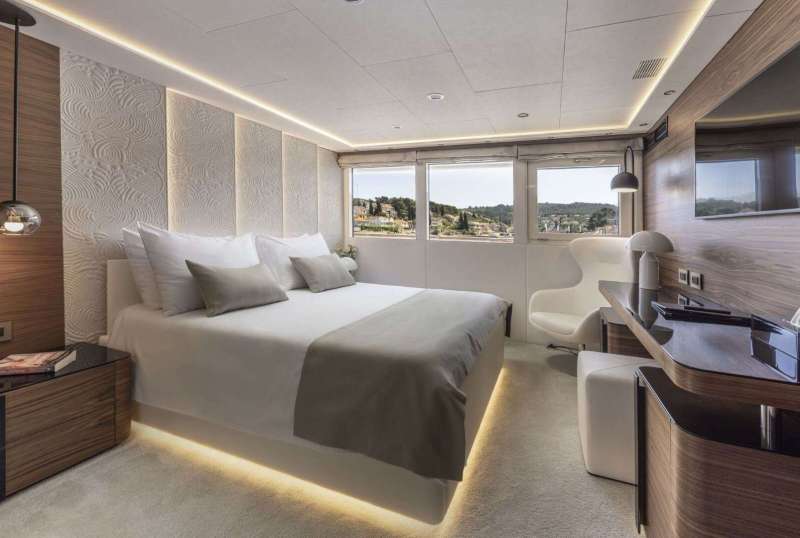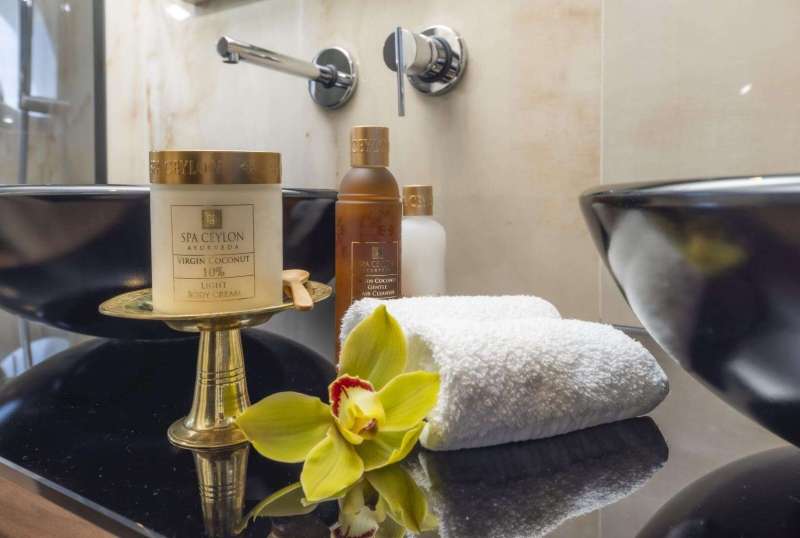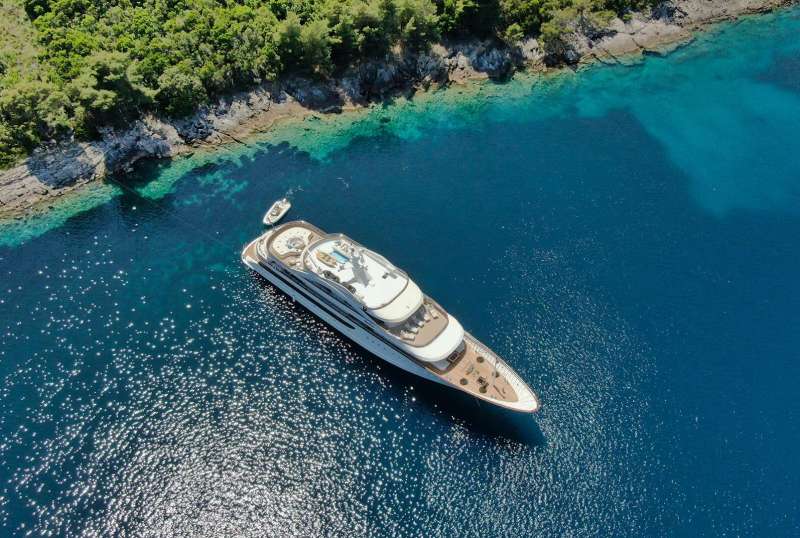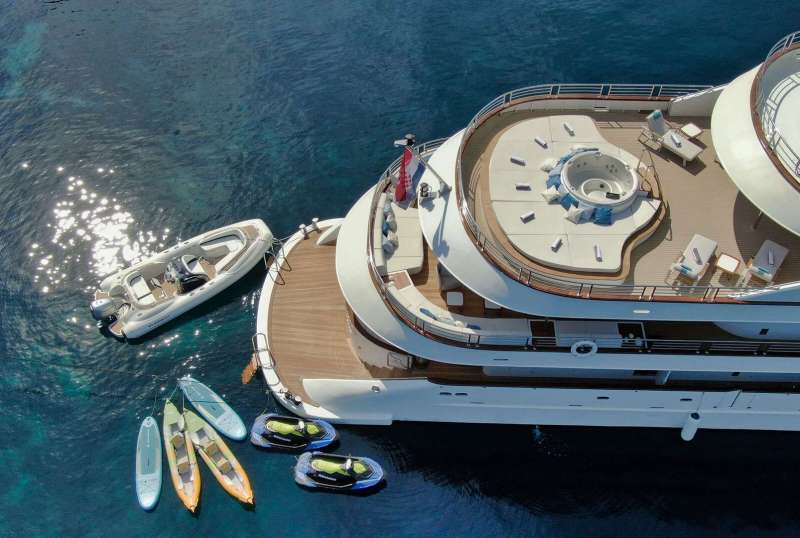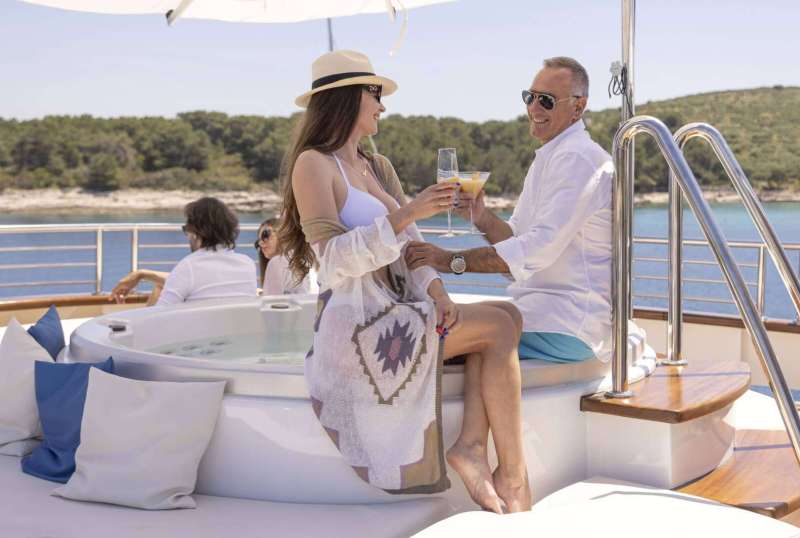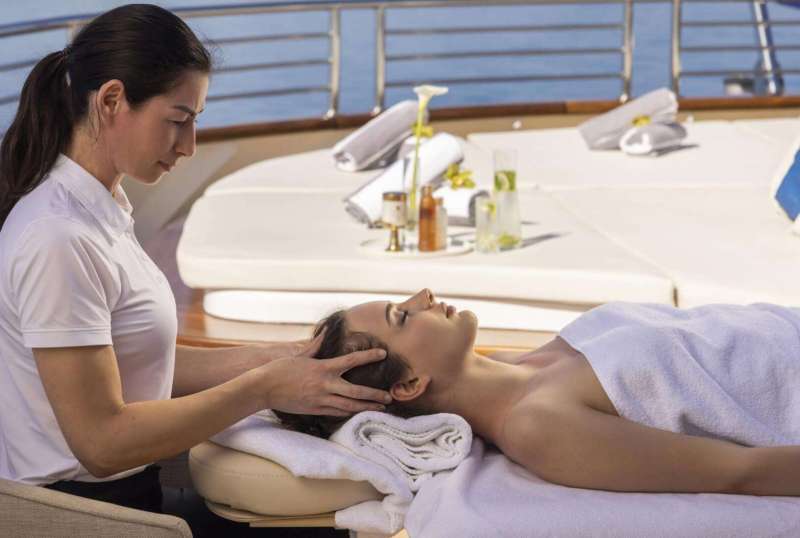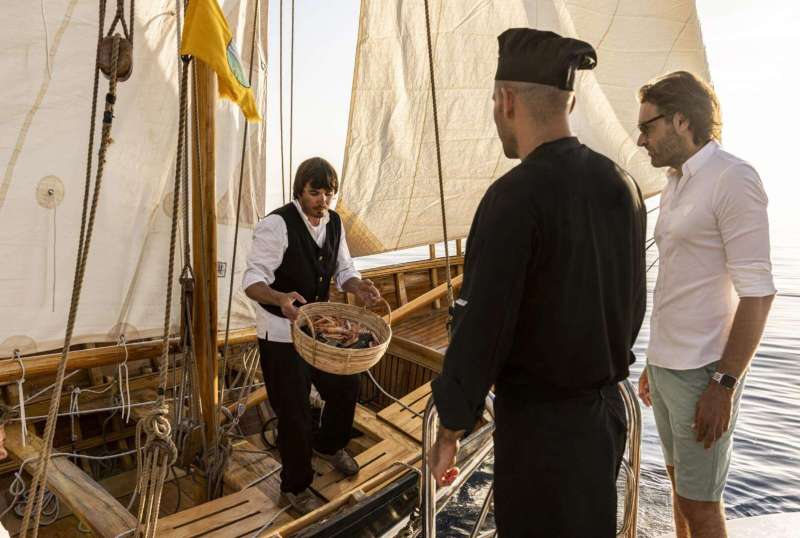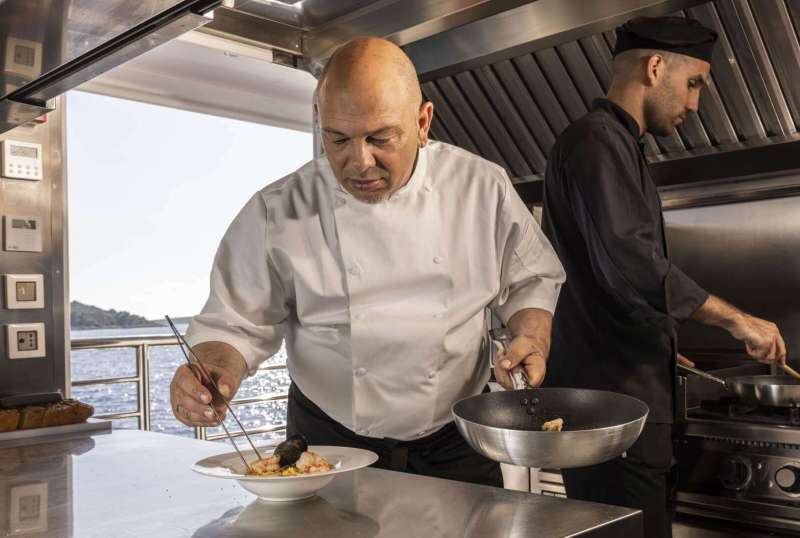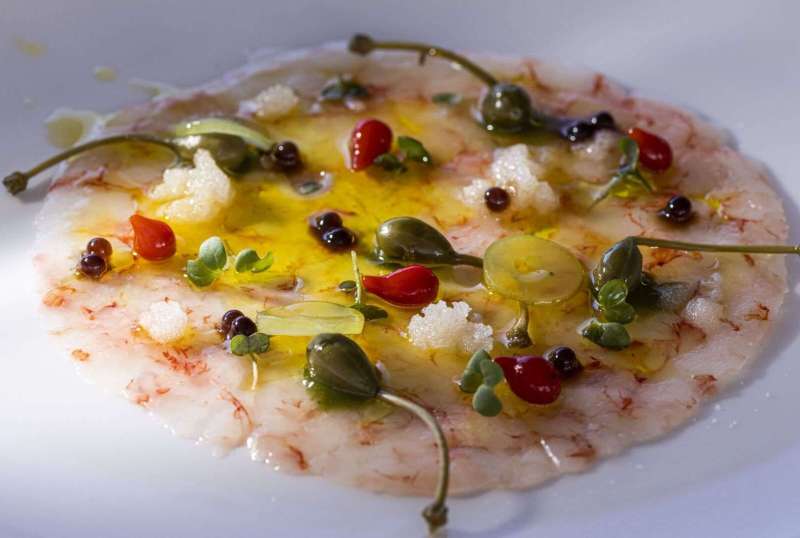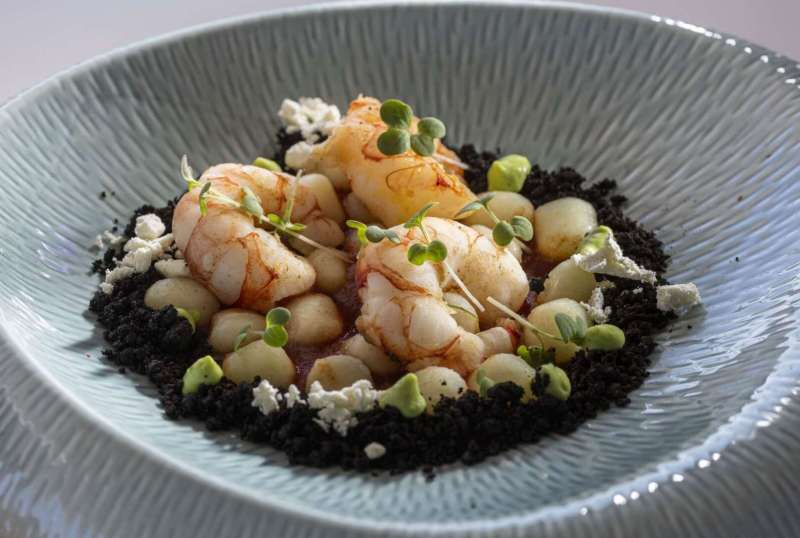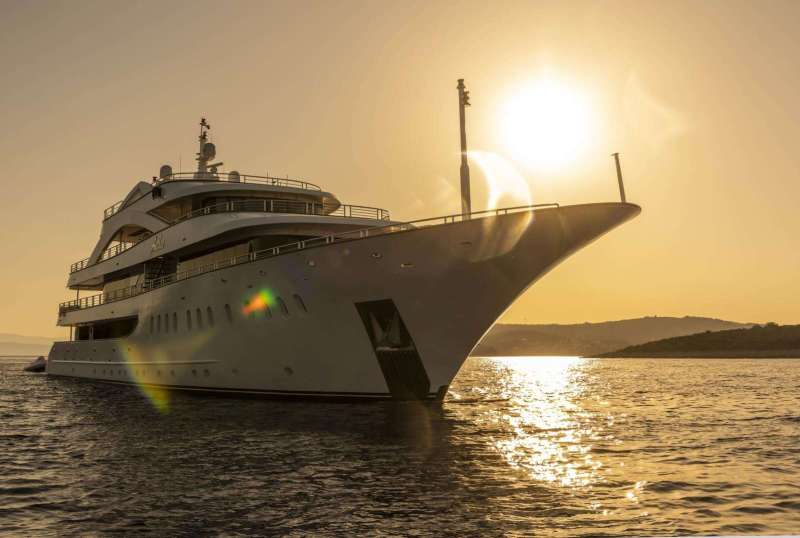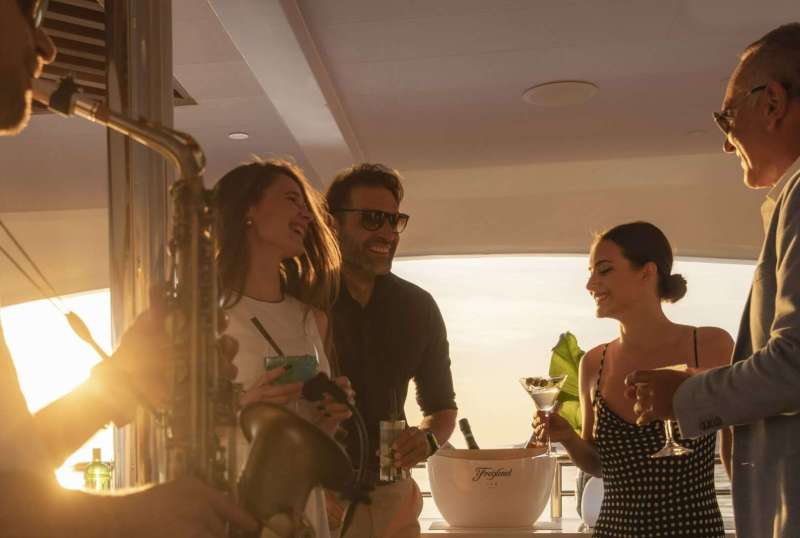 ANTHEA
From €120,000/week
10+ cabins
170 ft
Custom
20 guests
Built: 2021
100 Litres/Hr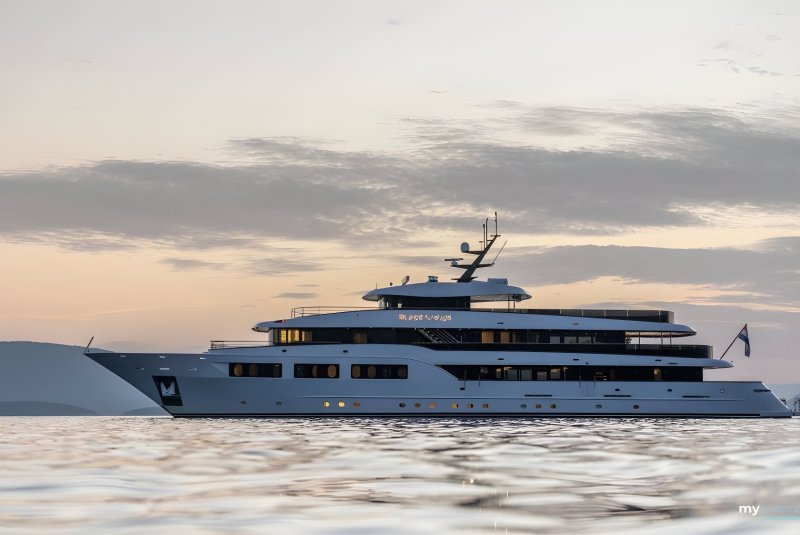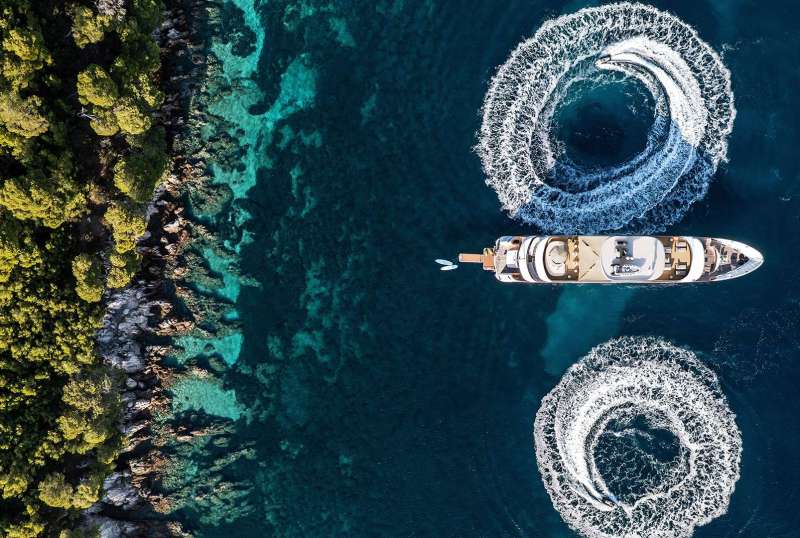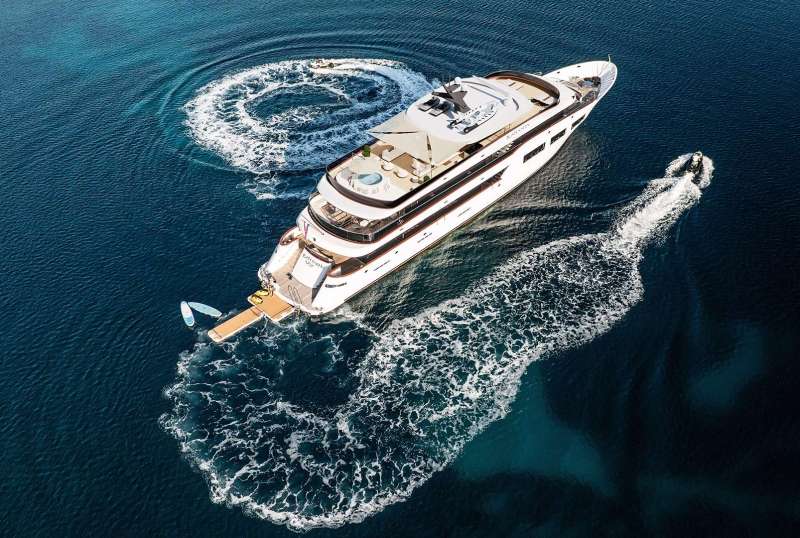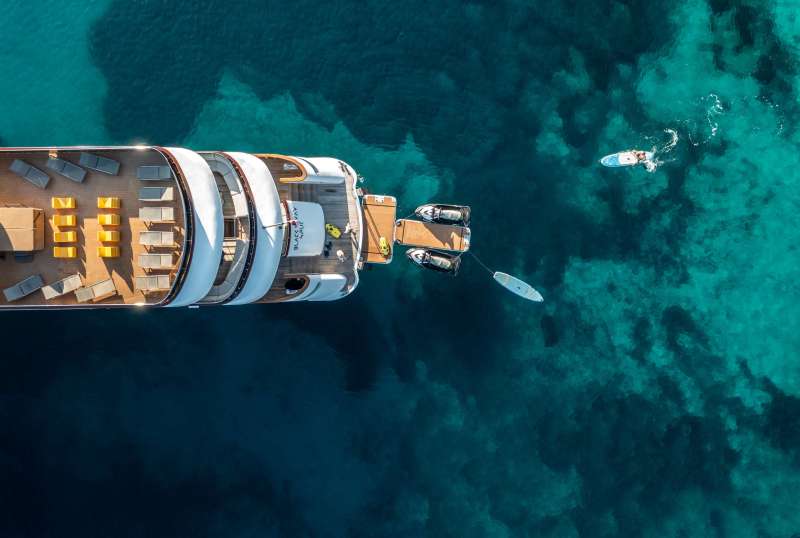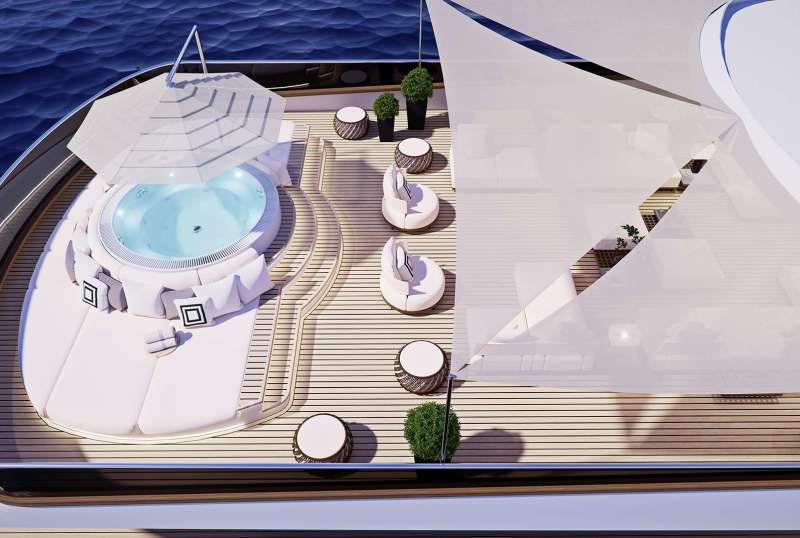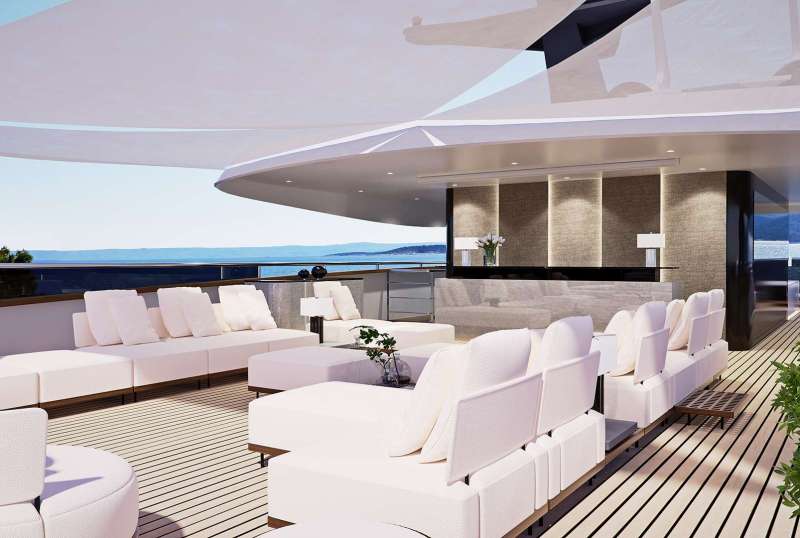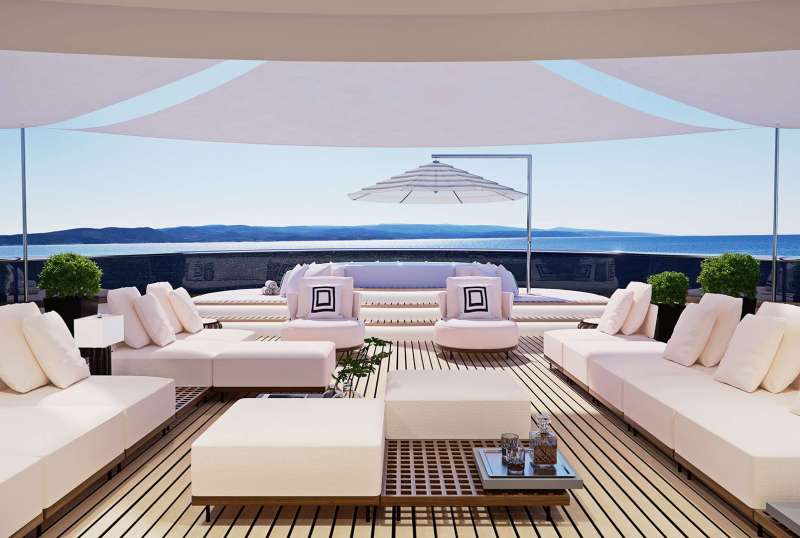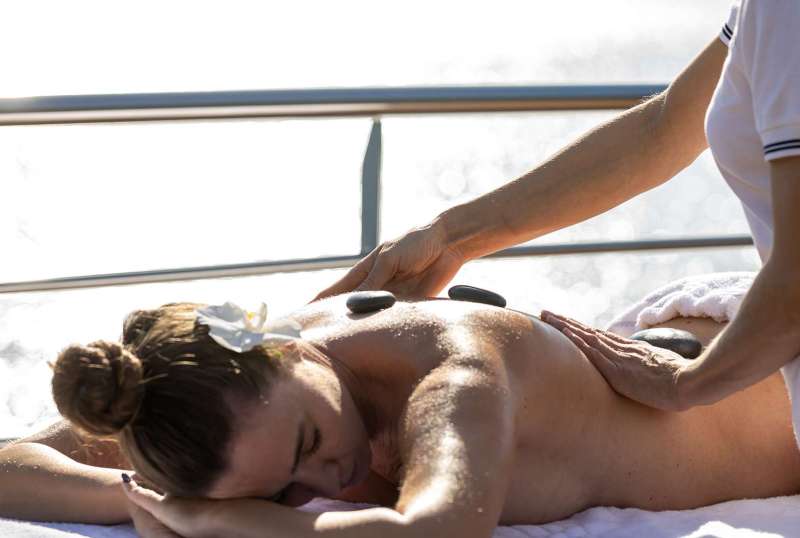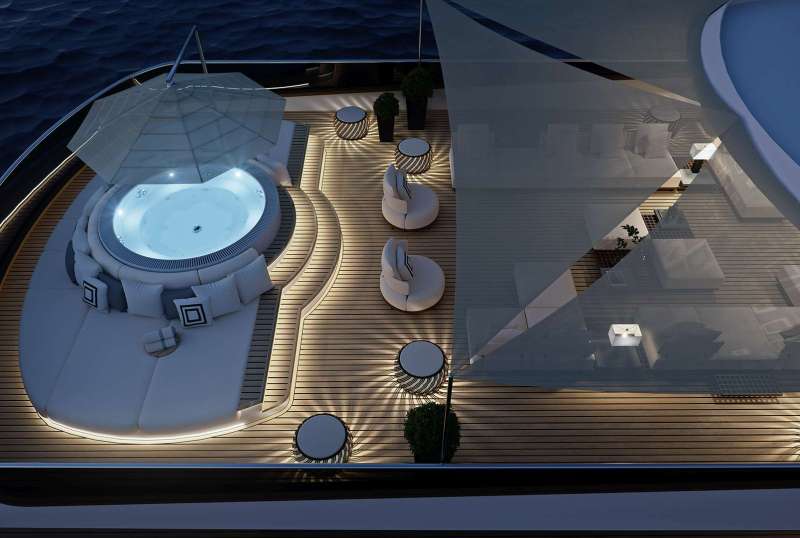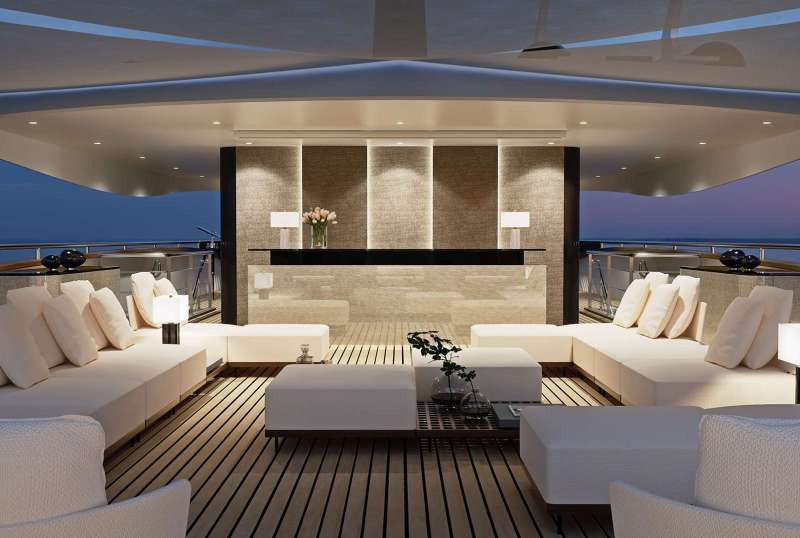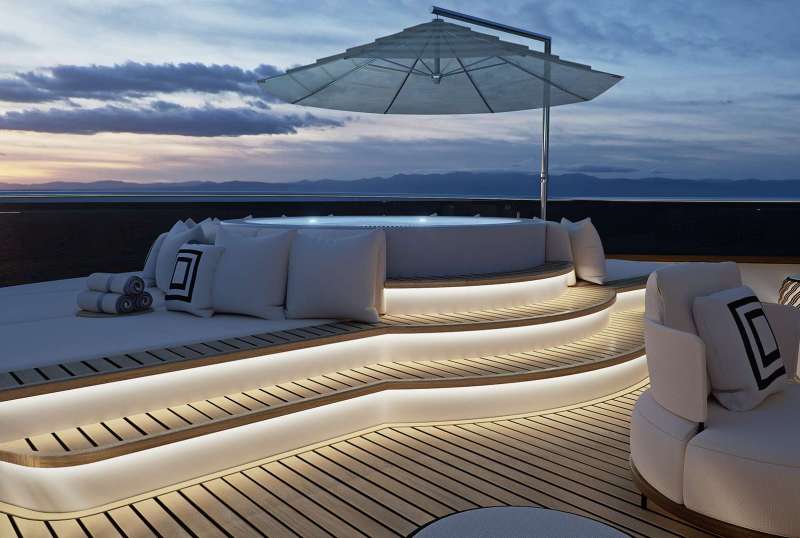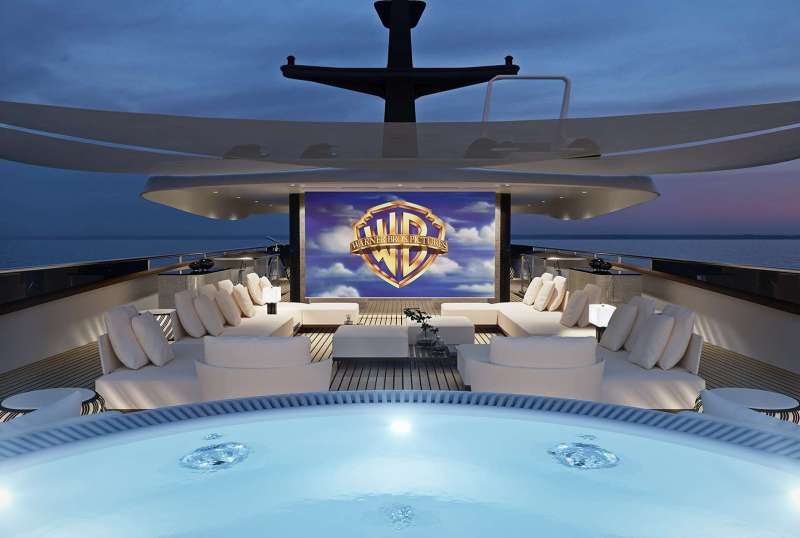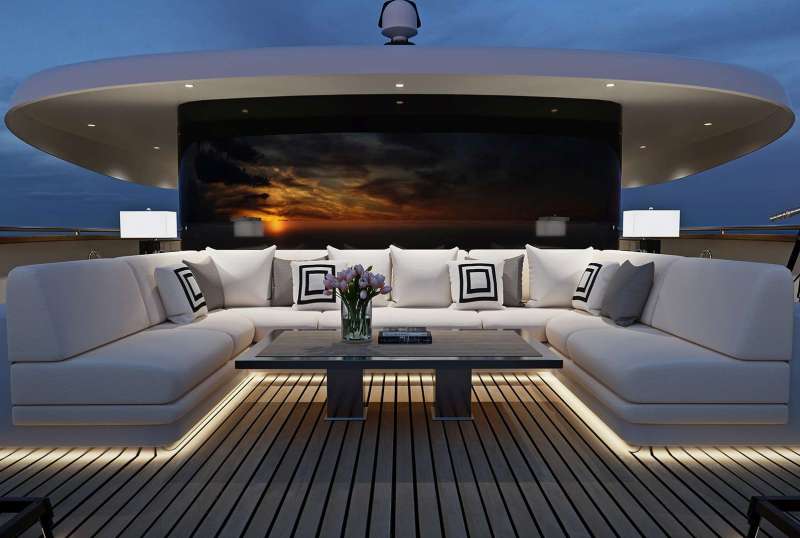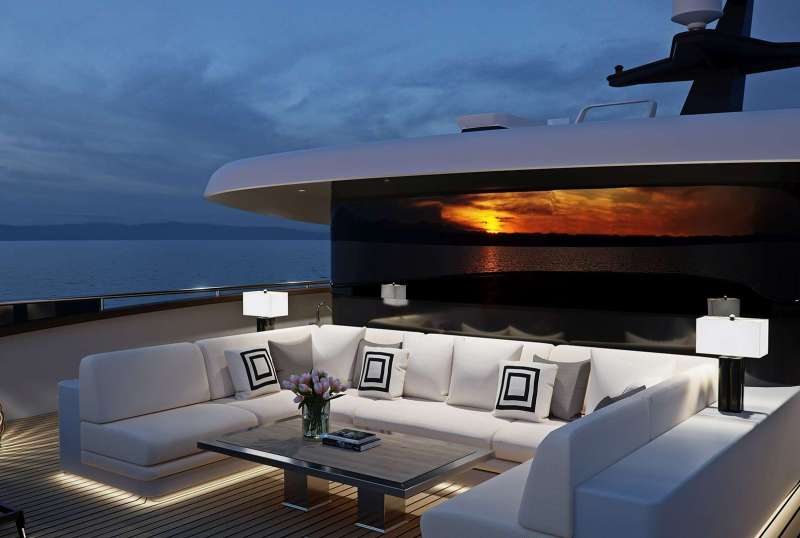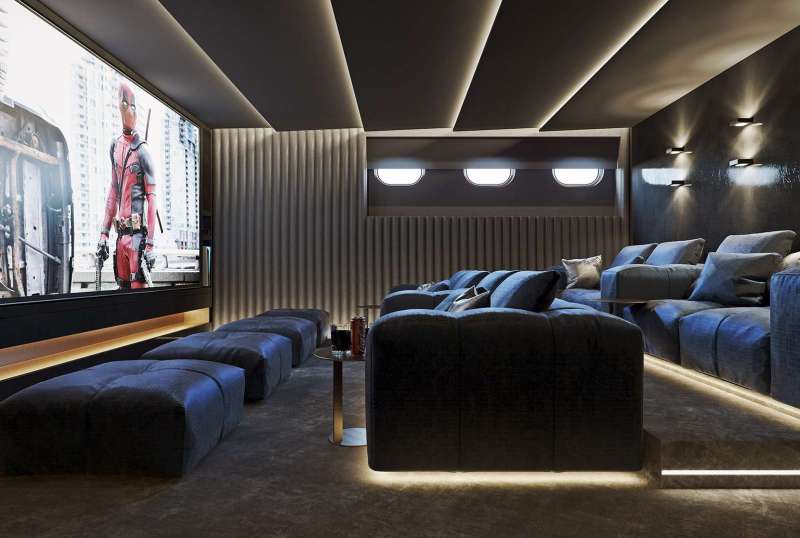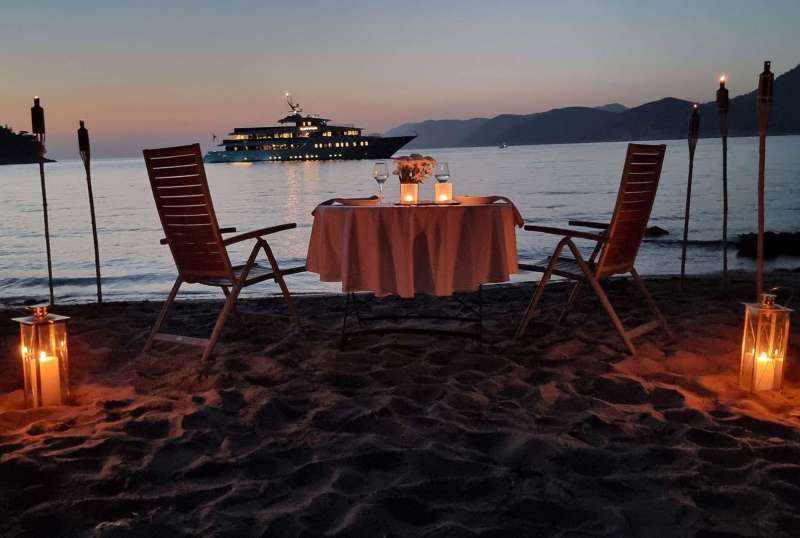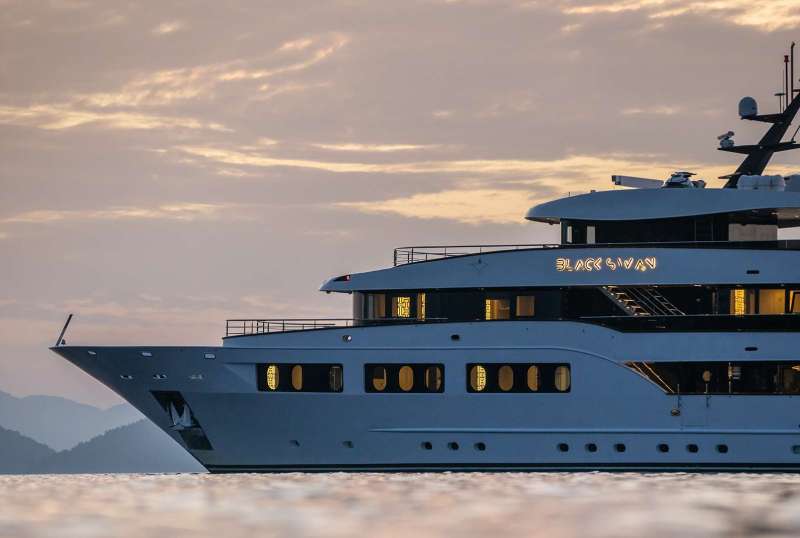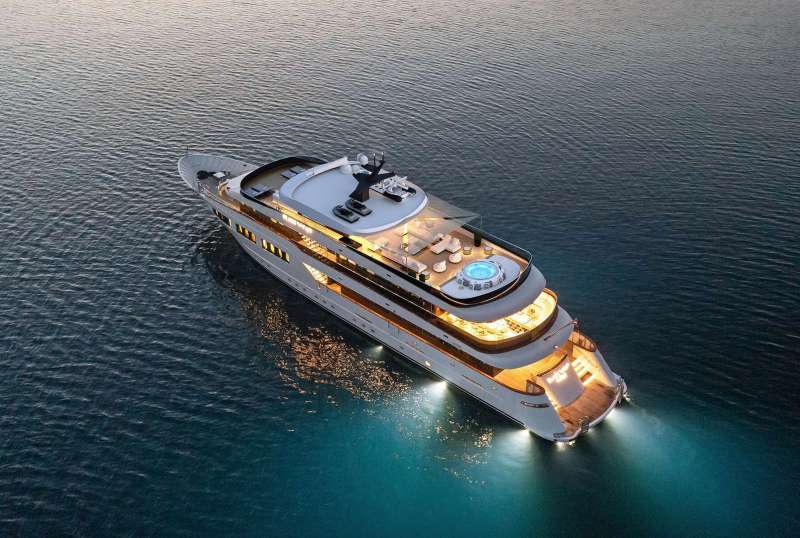 BLACK SWAN
From €110,000/week
10+ cabins
164 ft
Custom
20 guests
Refit: 2024
120 Litres/Hr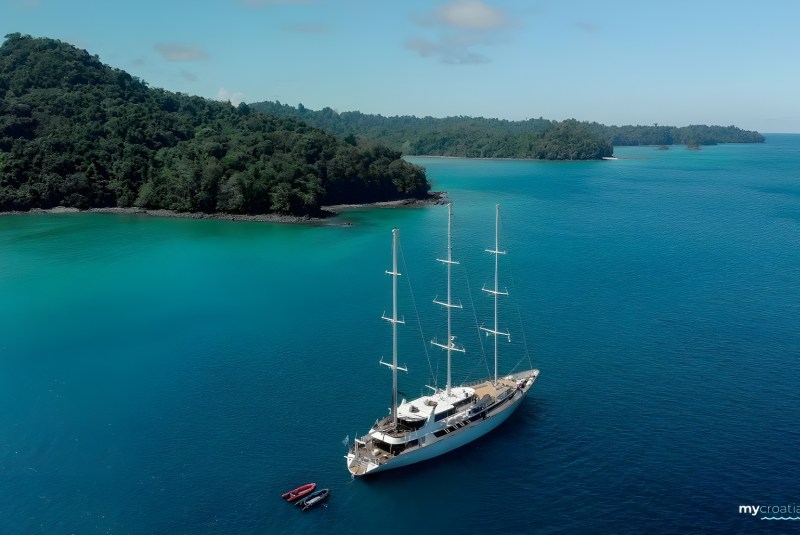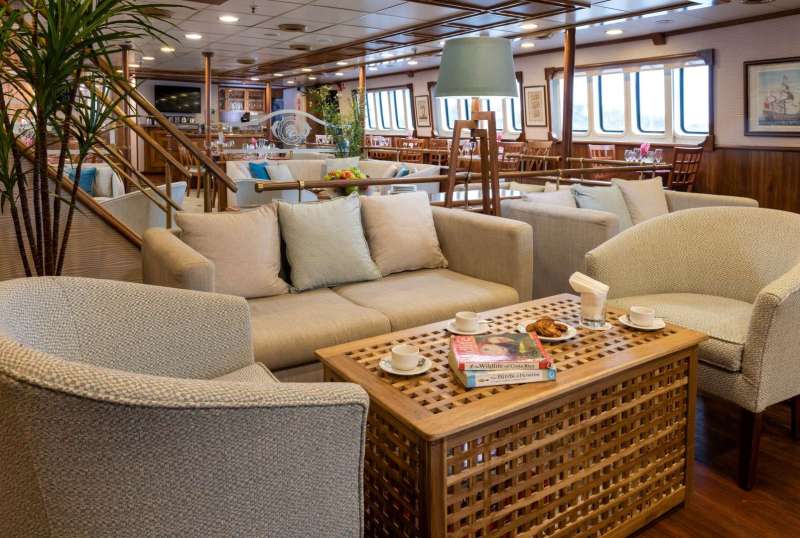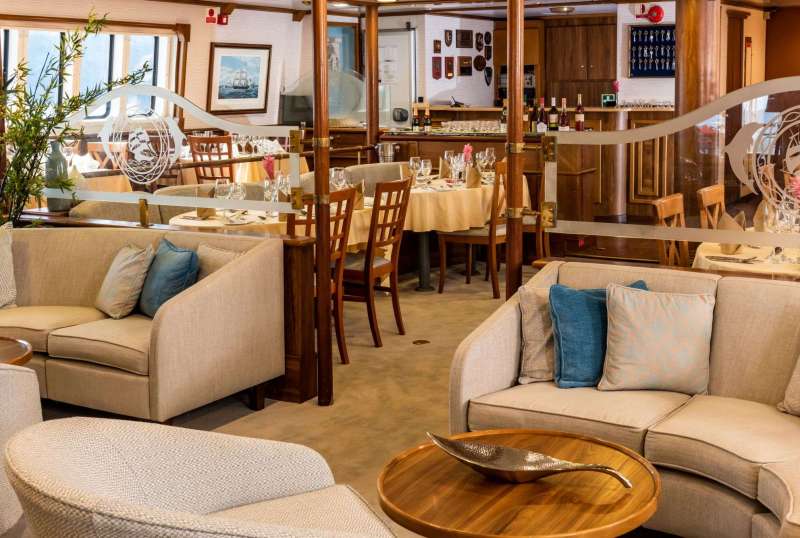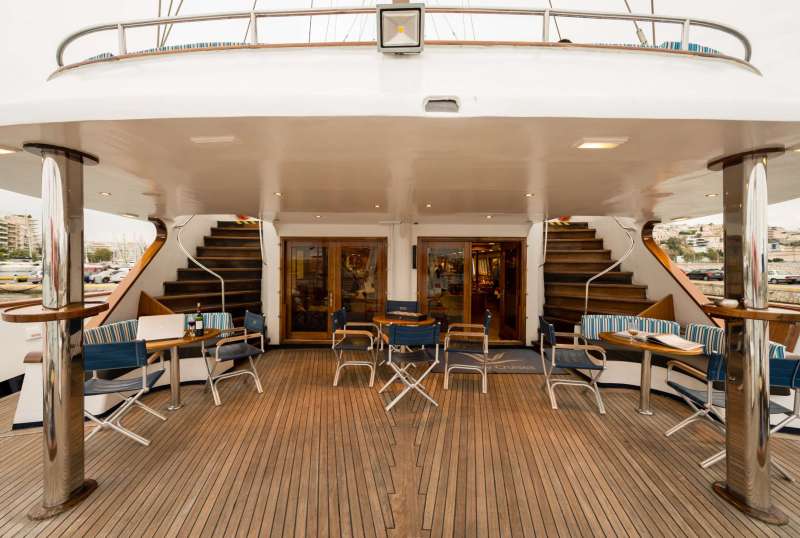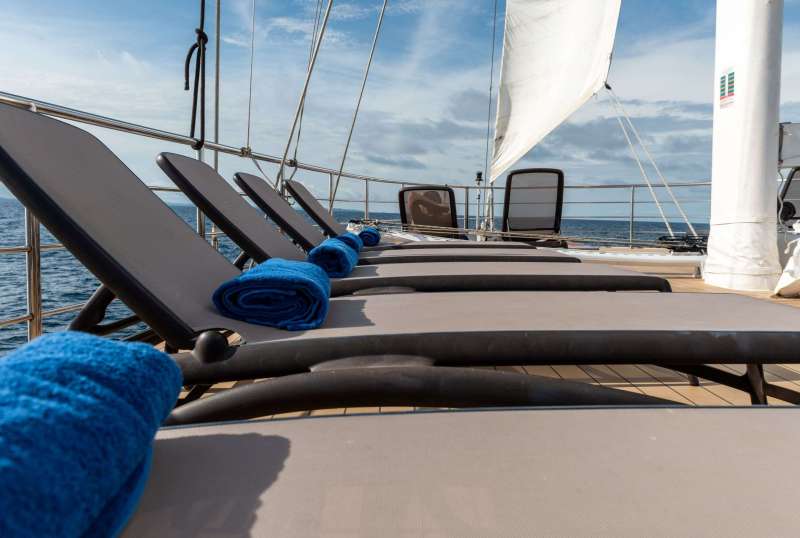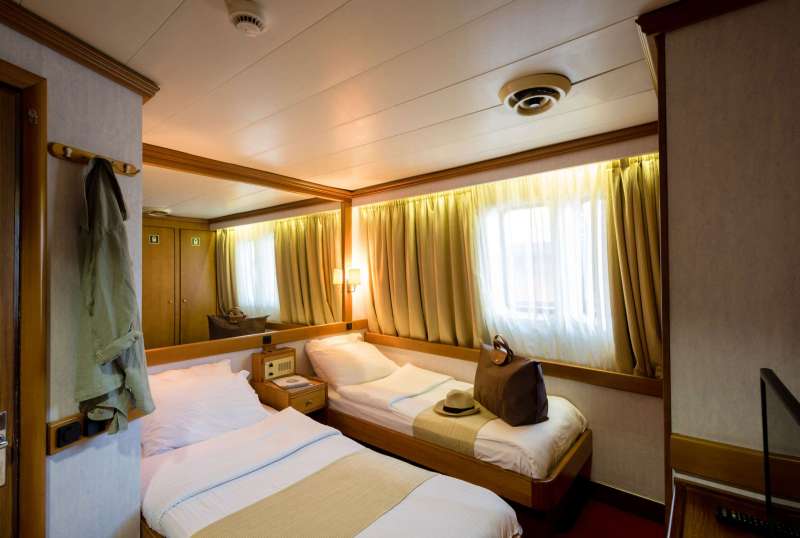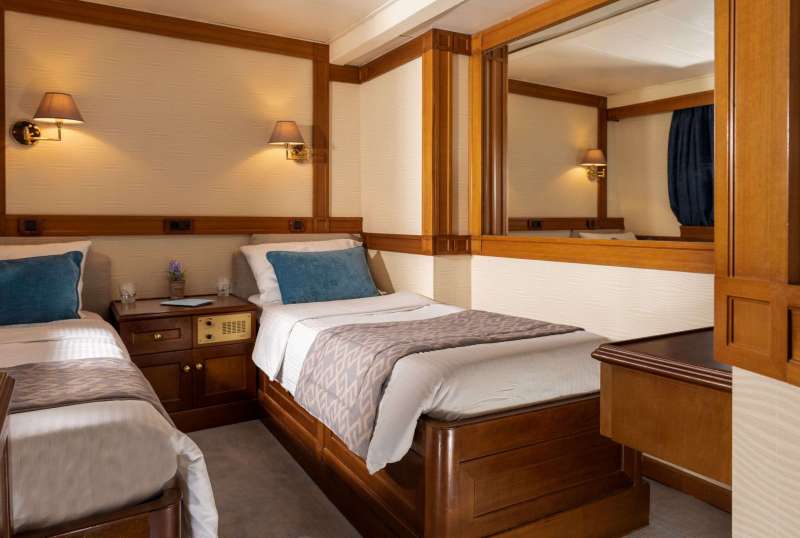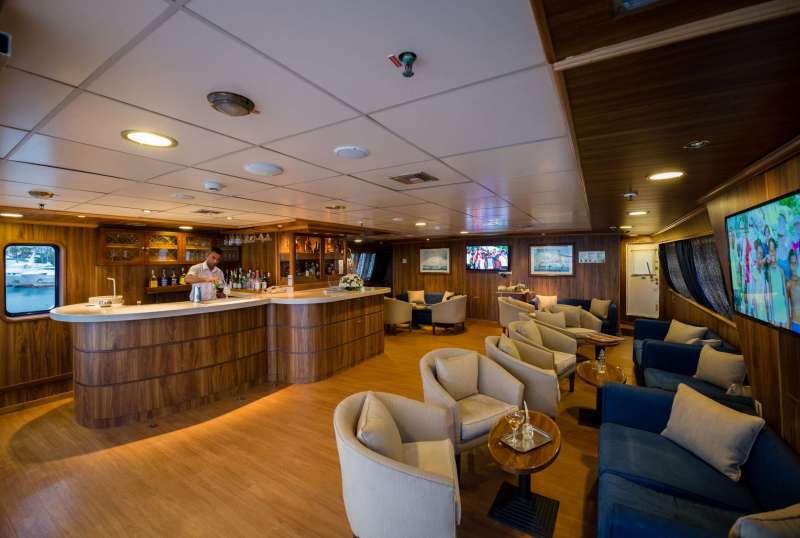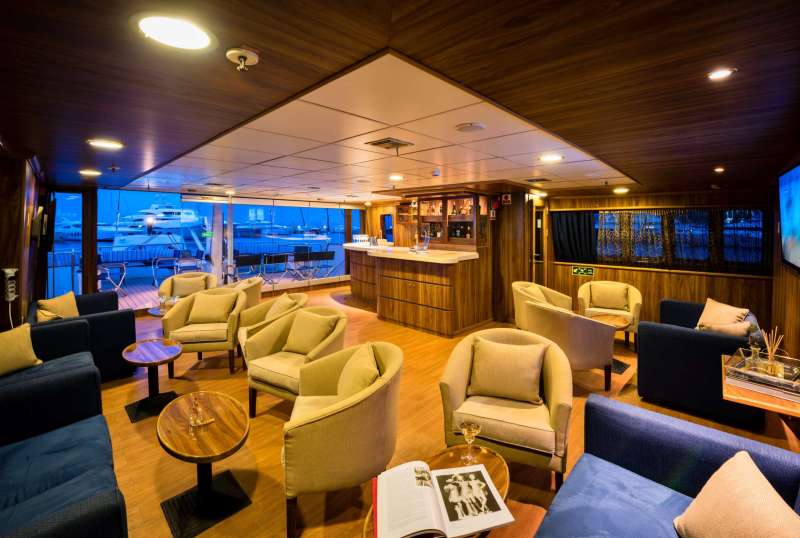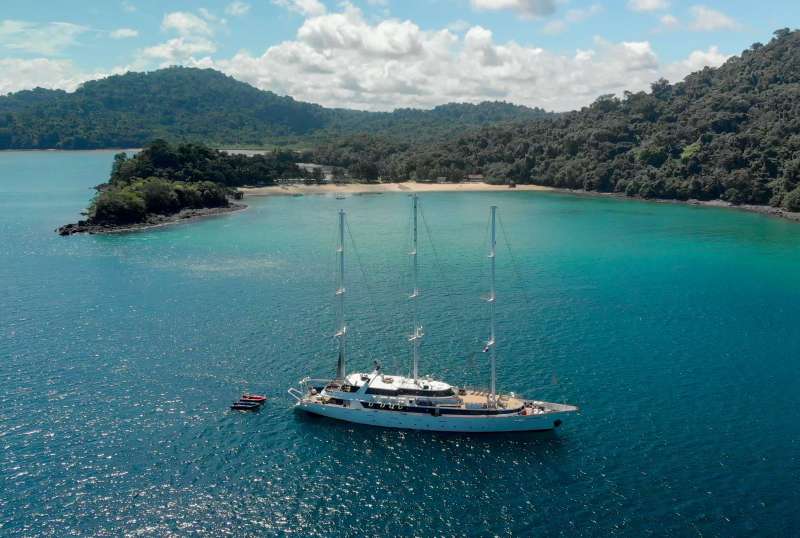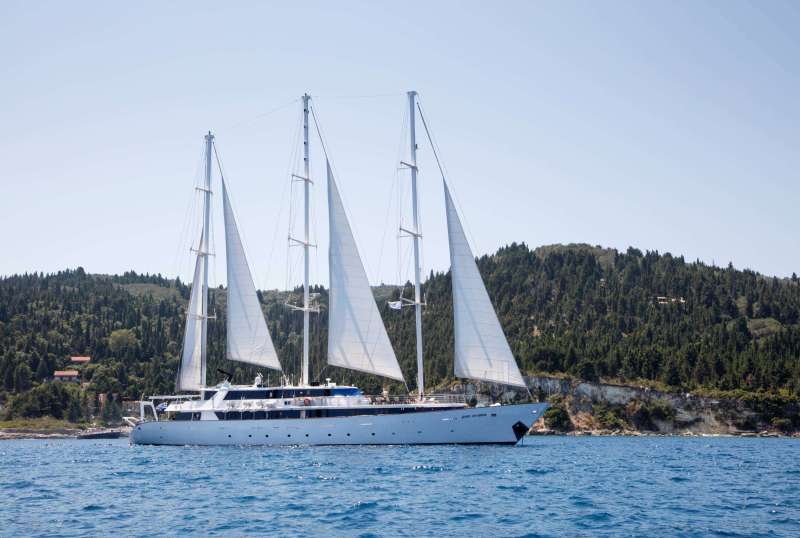 Panorama
From €107,000/week
10+ cabins
177 ft
Custom
49 guests
Built: 1993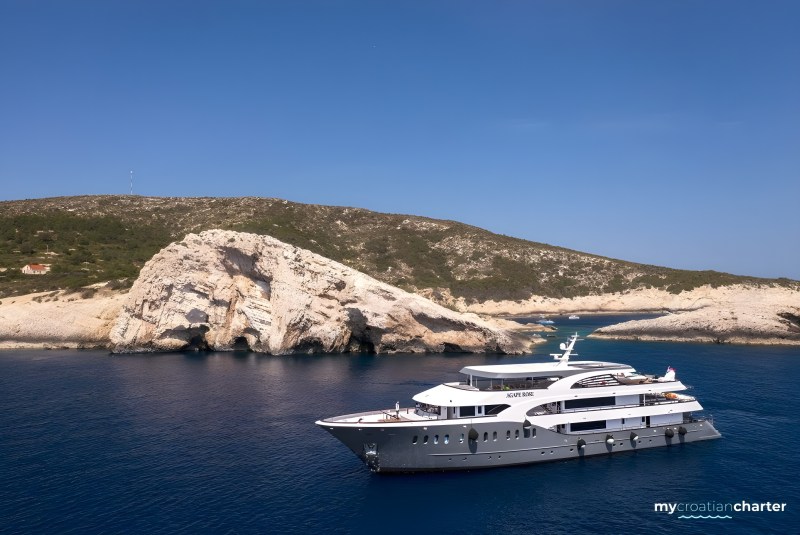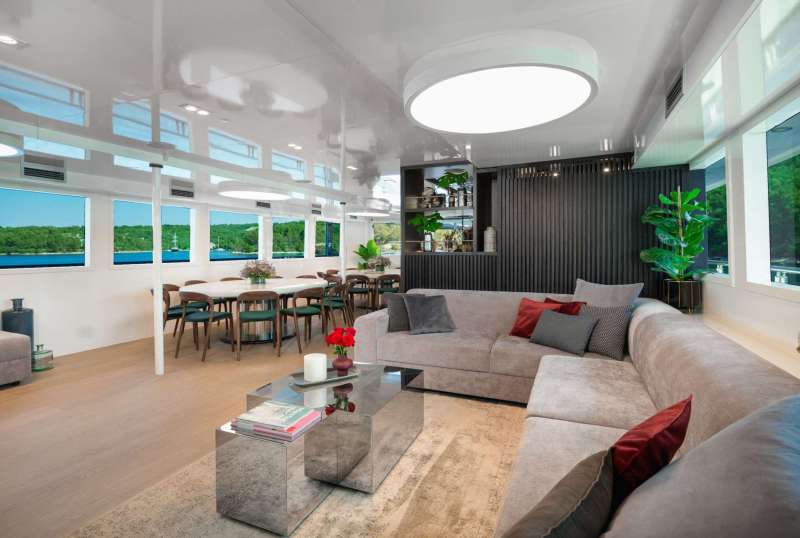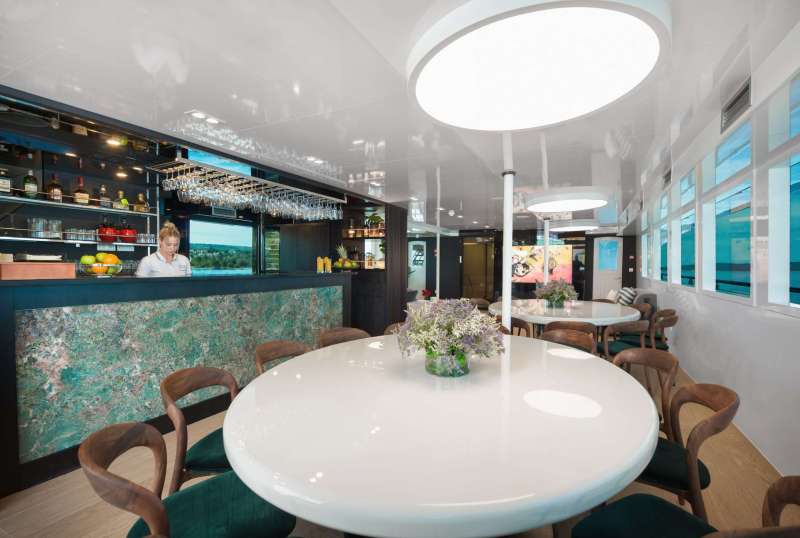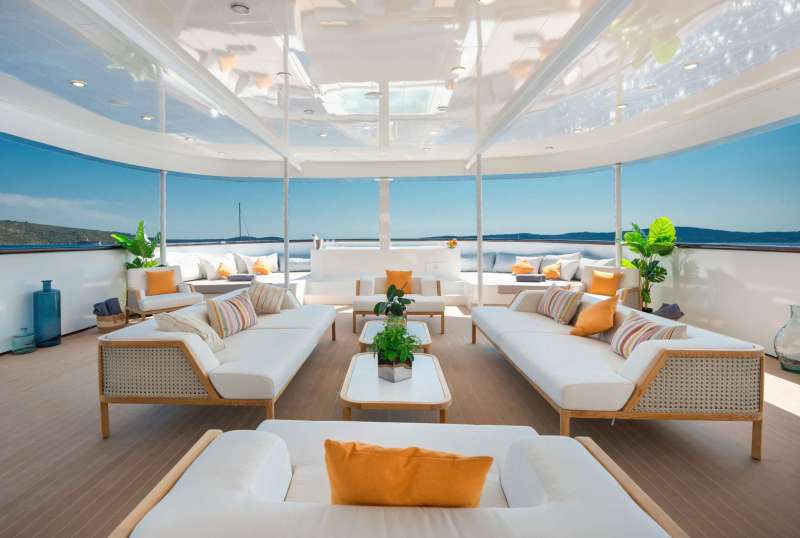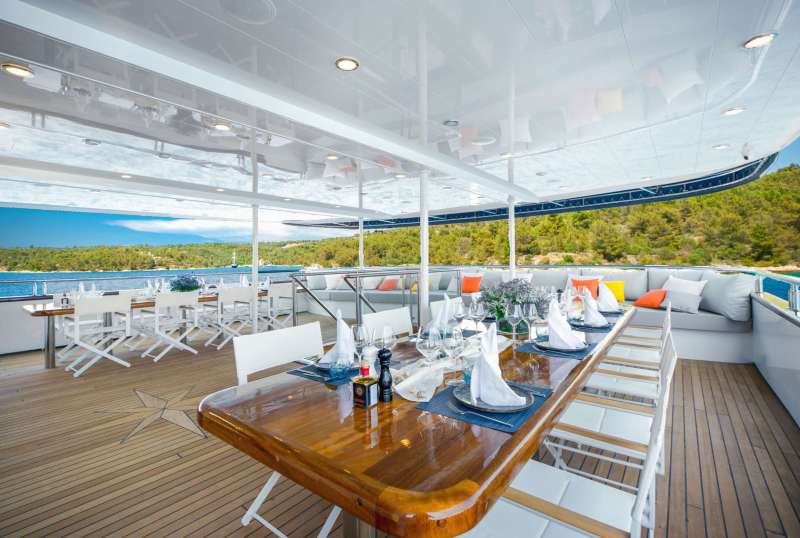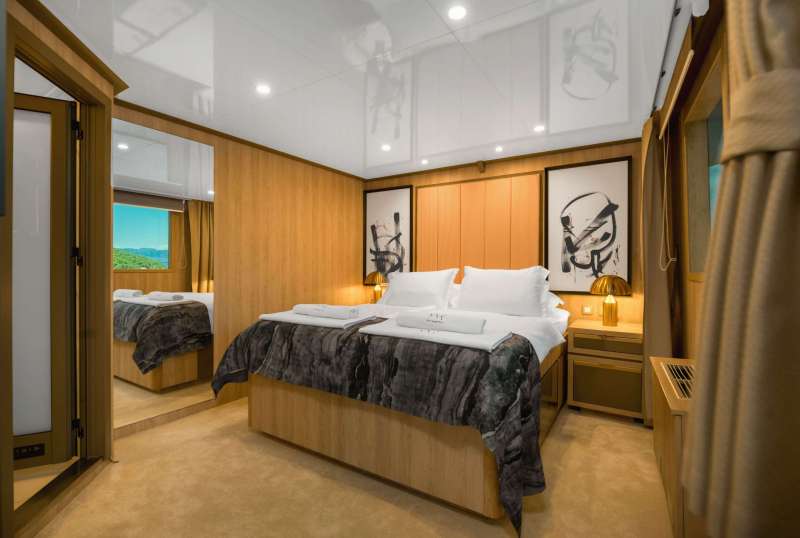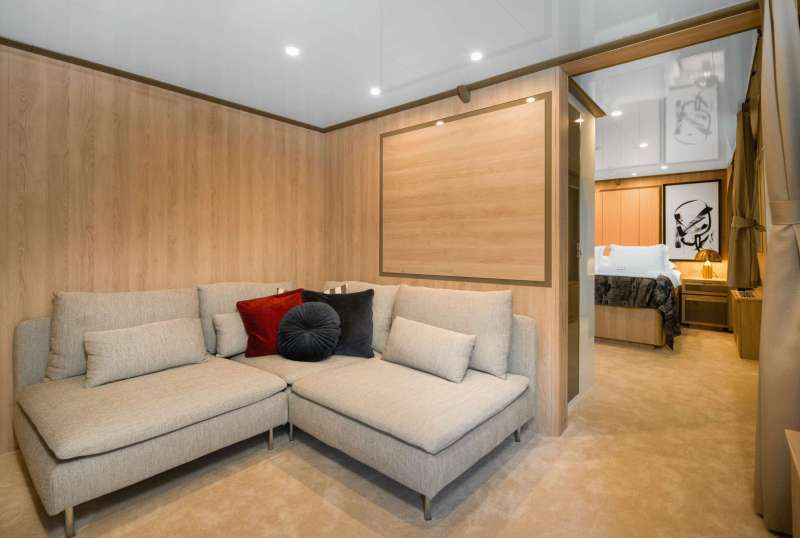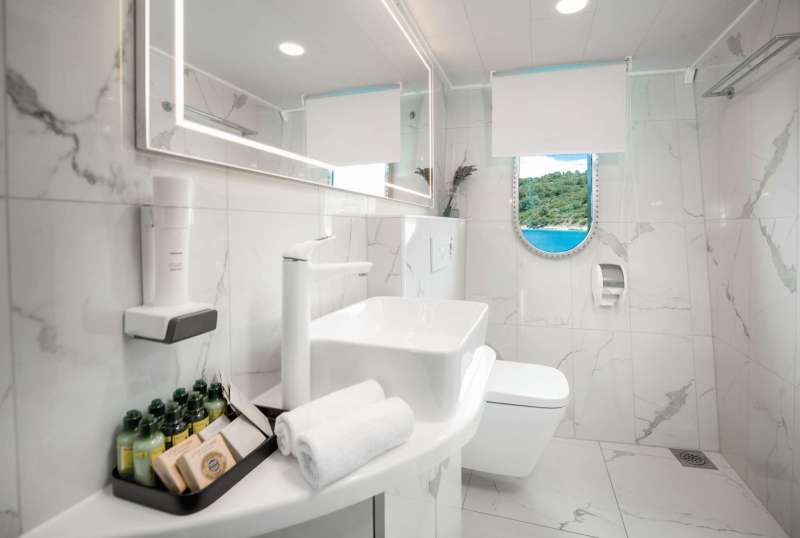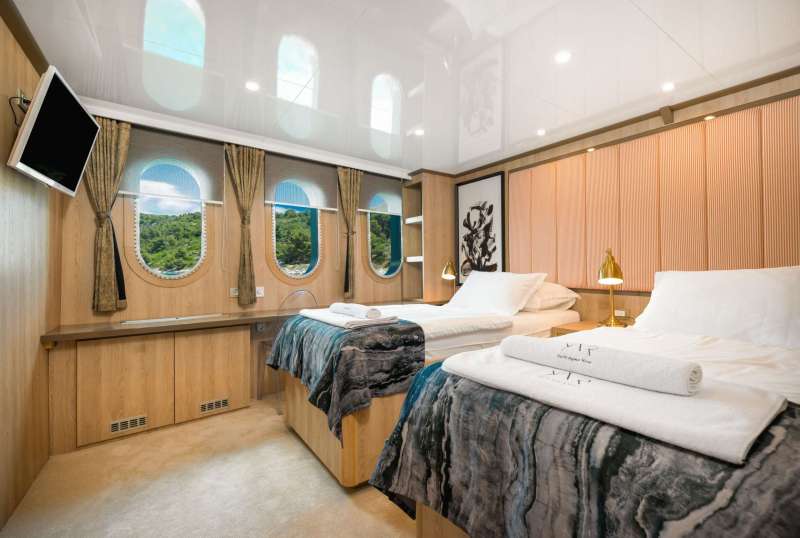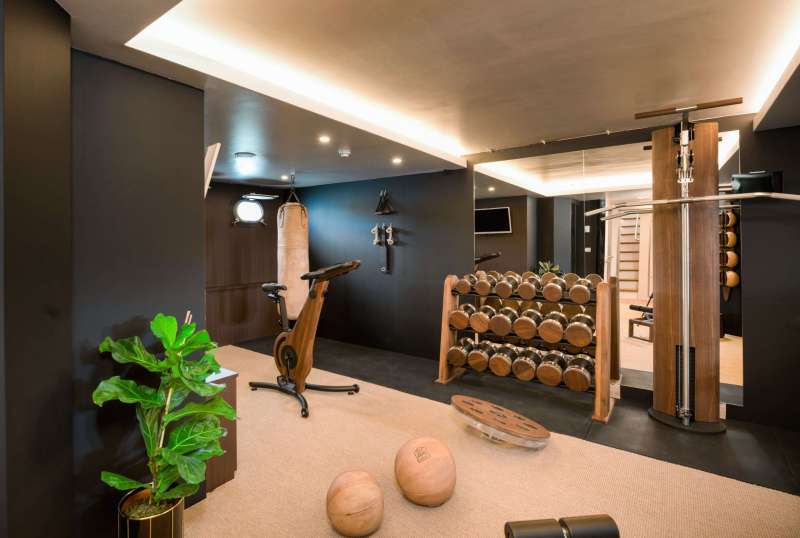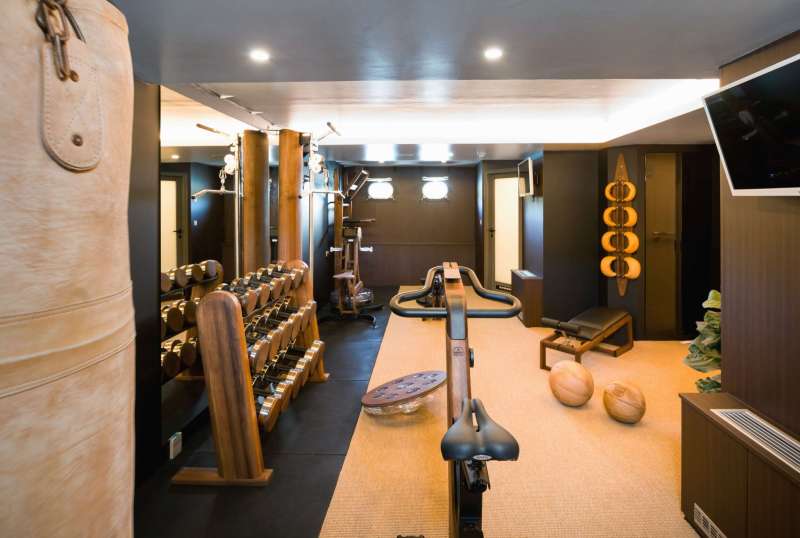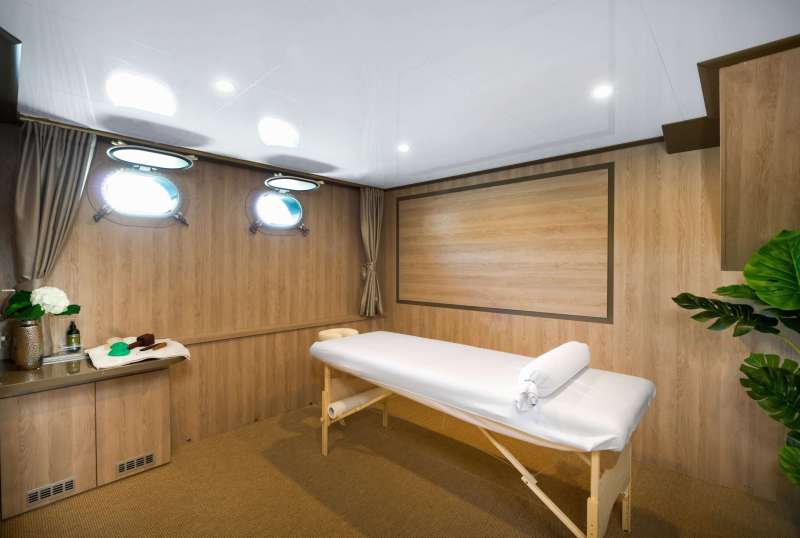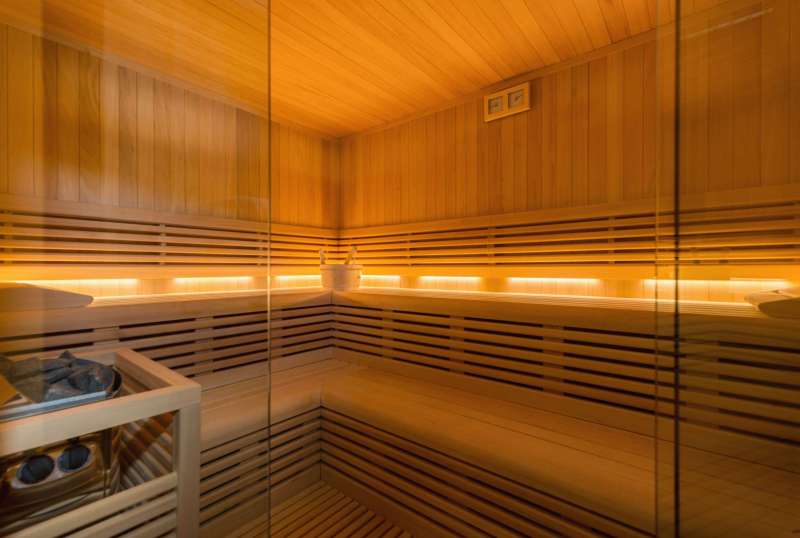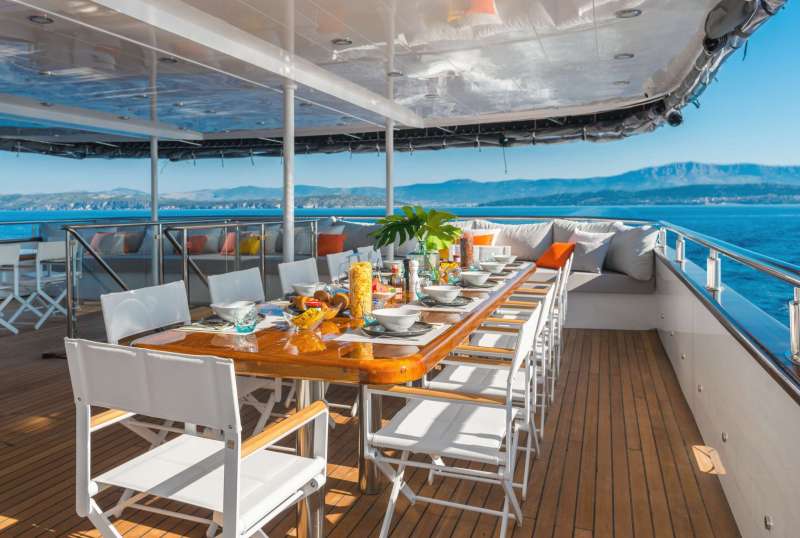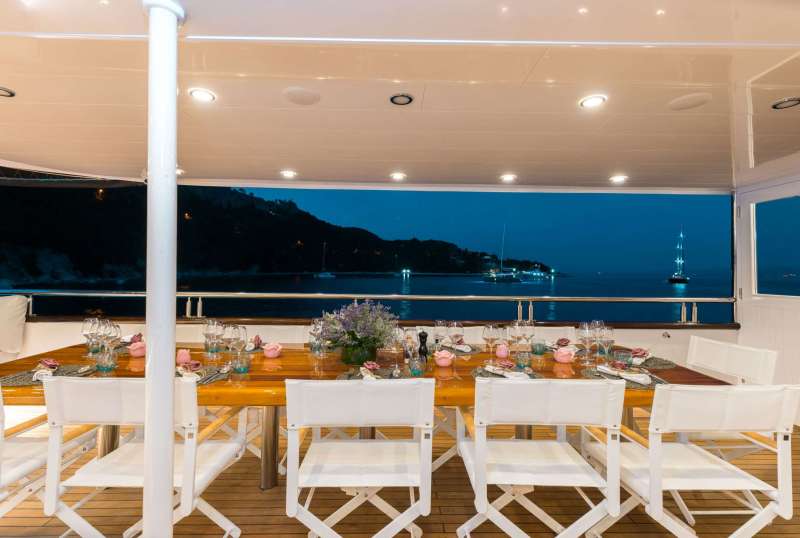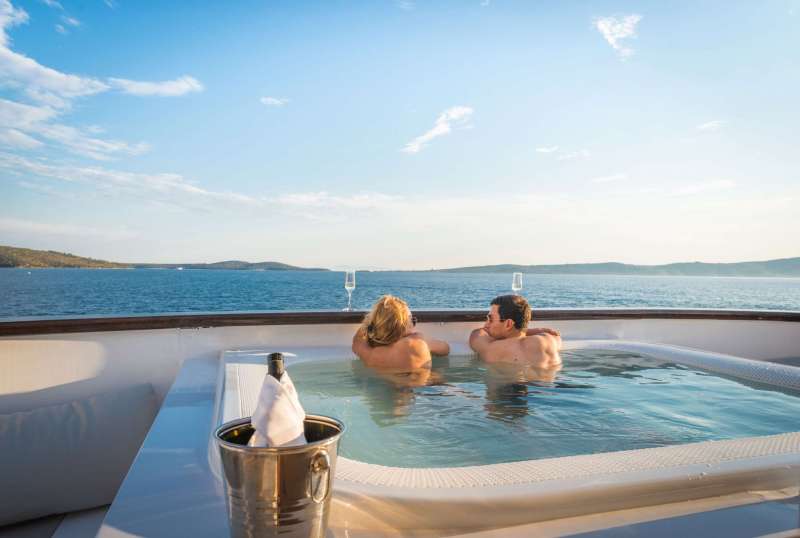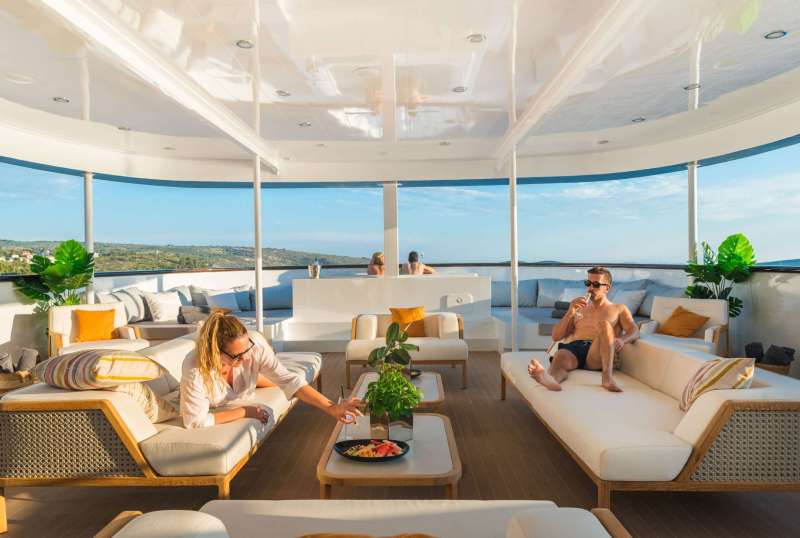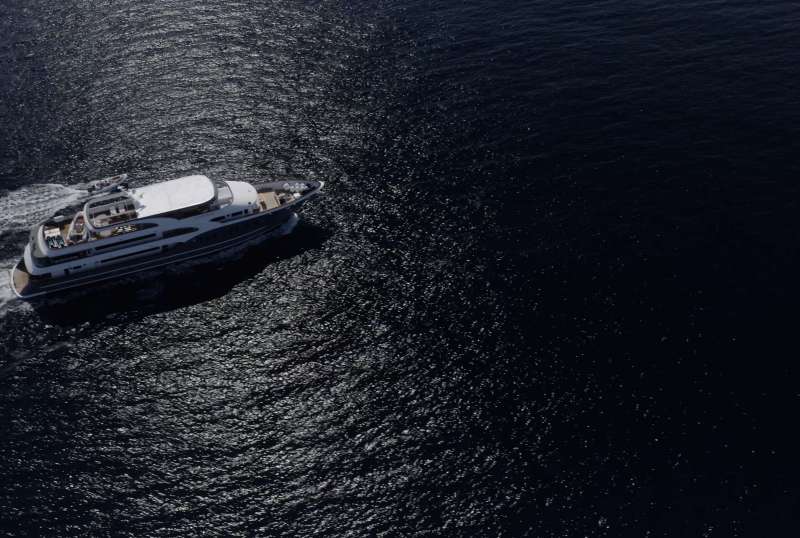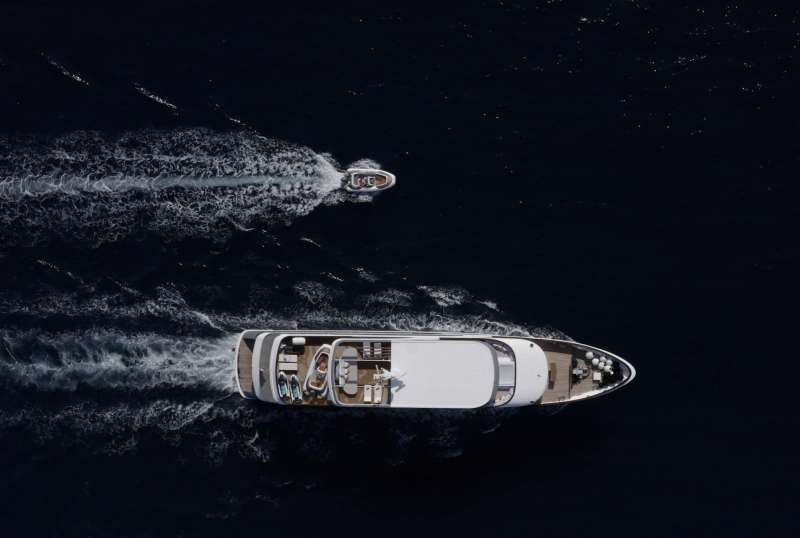 Agape Rose
From €105,000/week
10+ cabins
159 ft
Custom
24 guests
Refit: 2021
120 Litres/Hr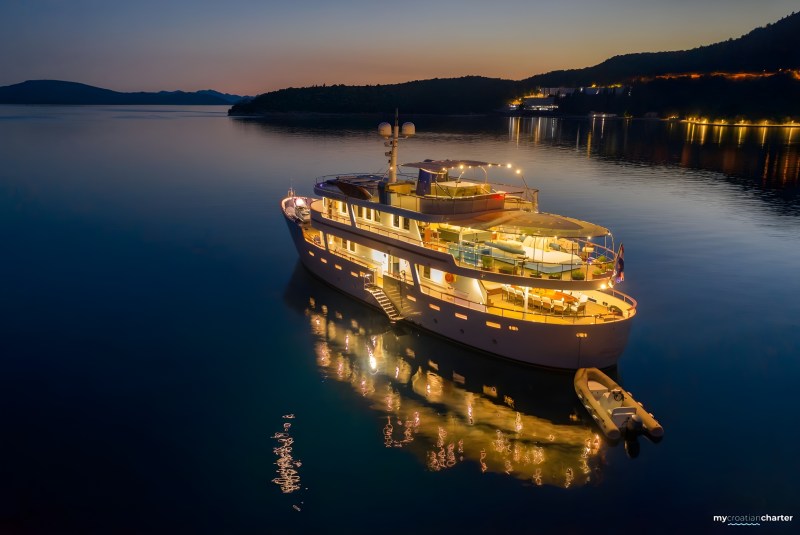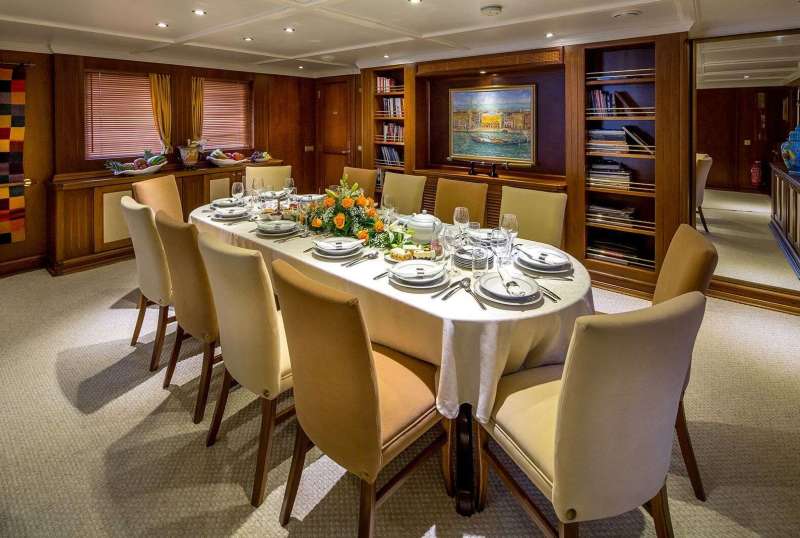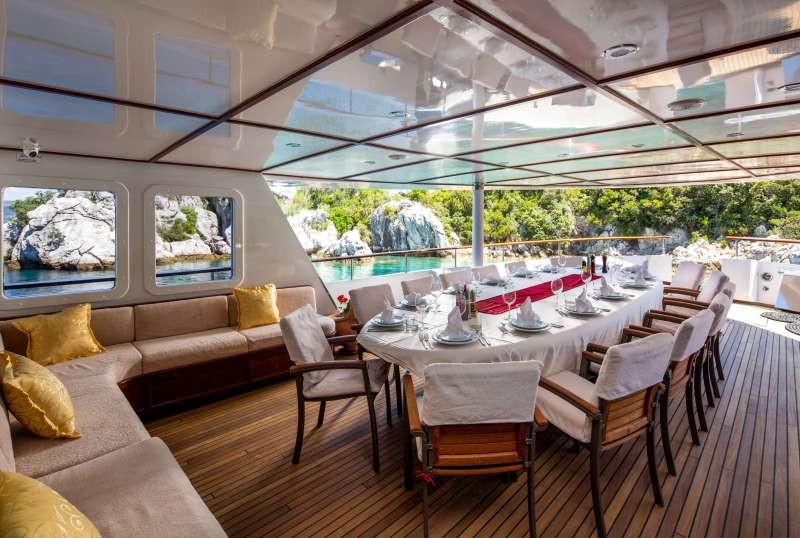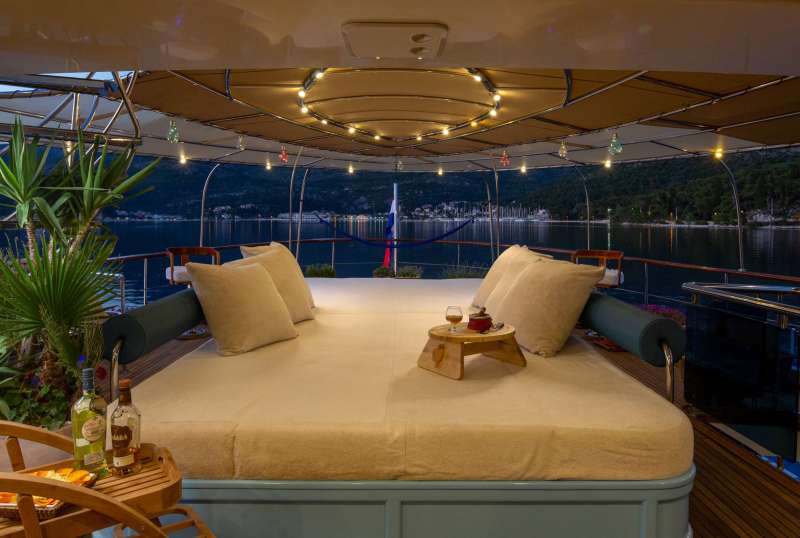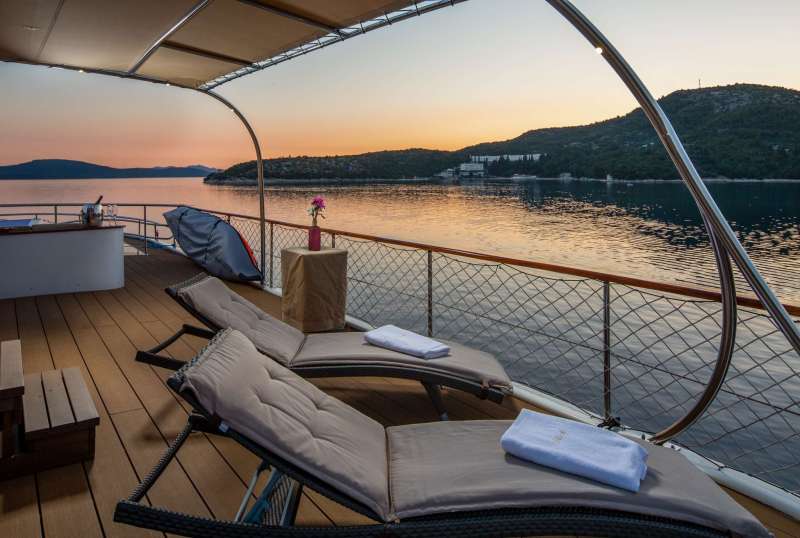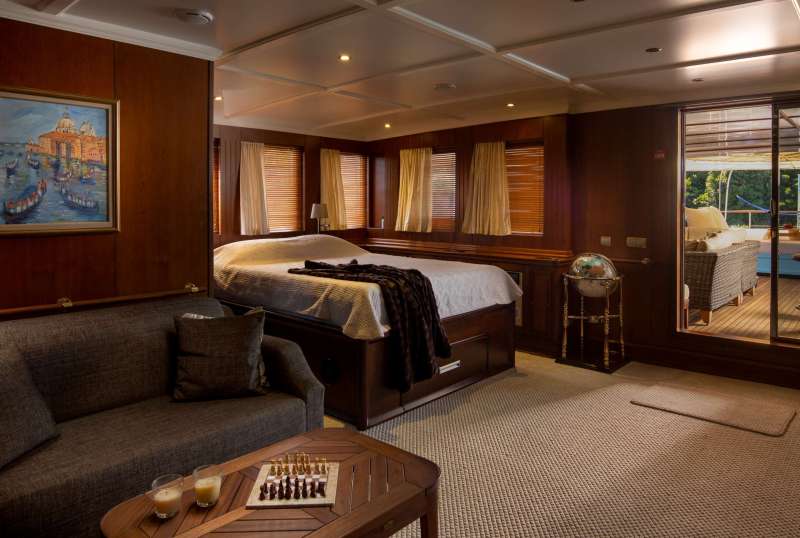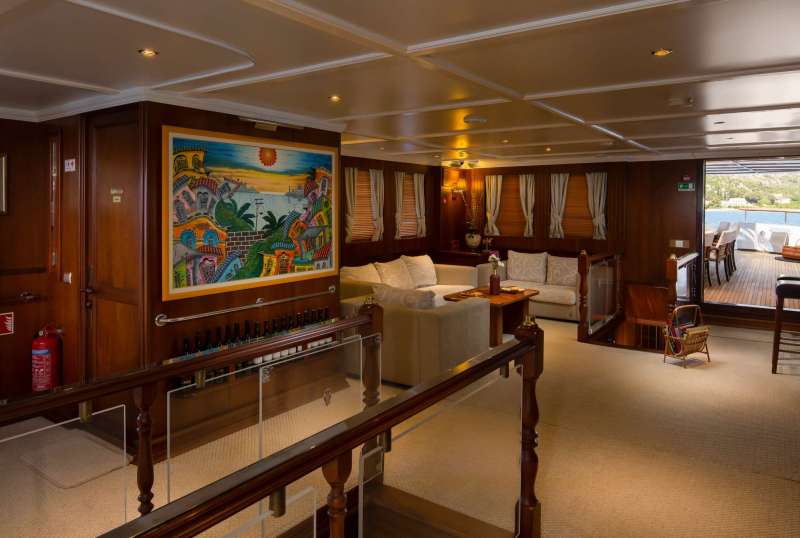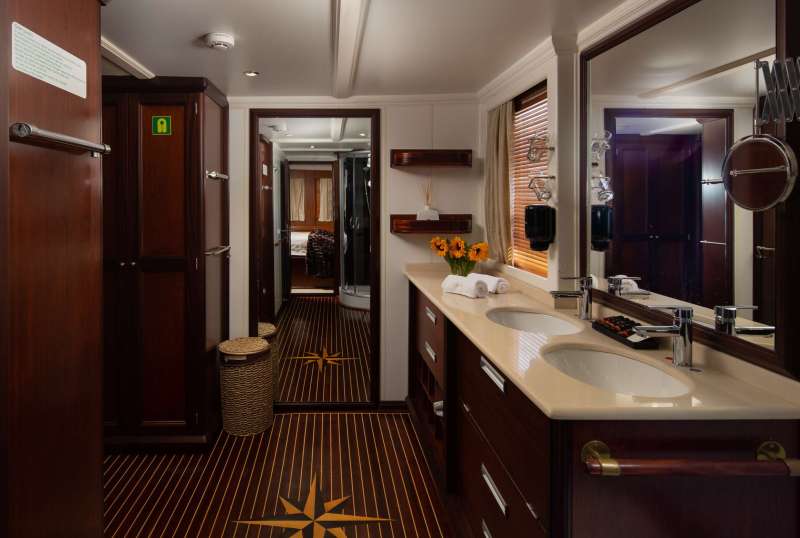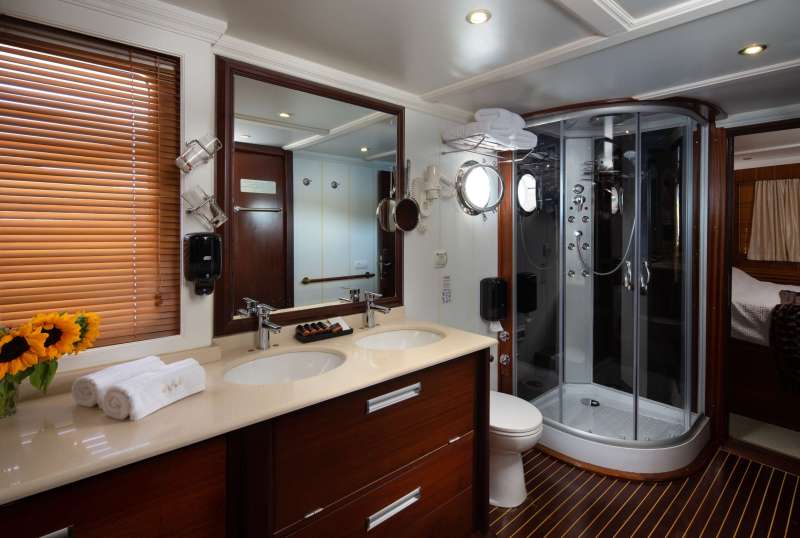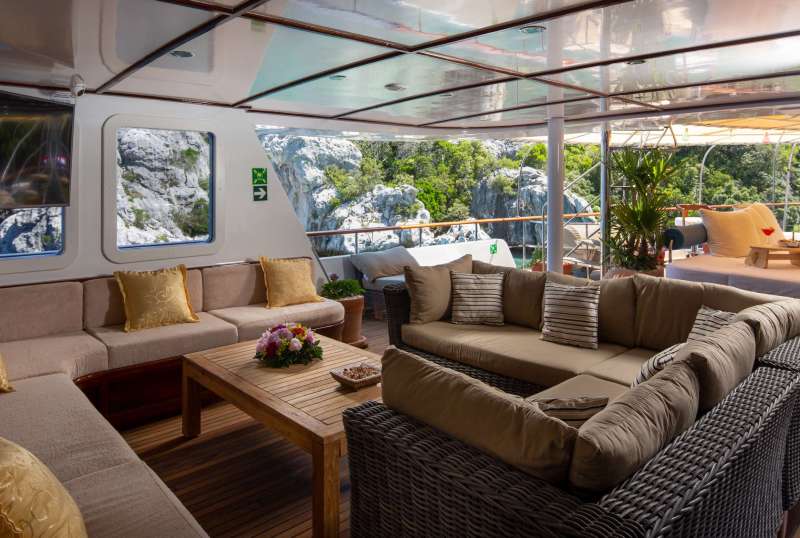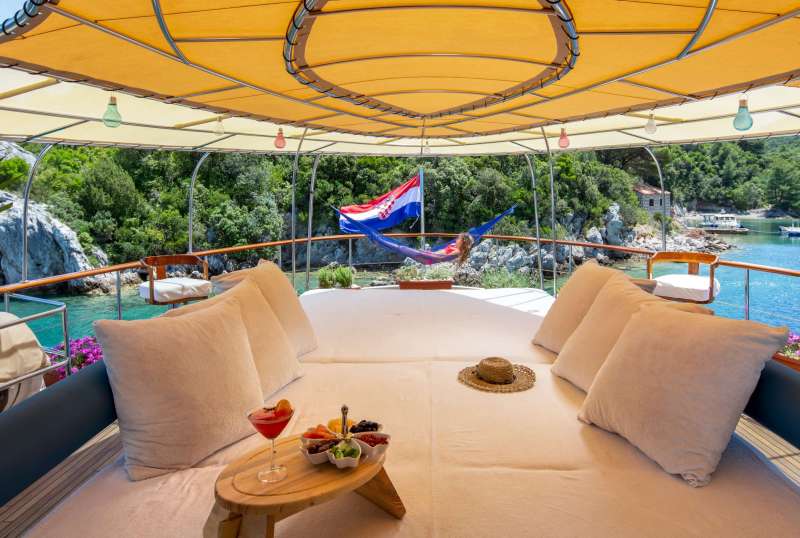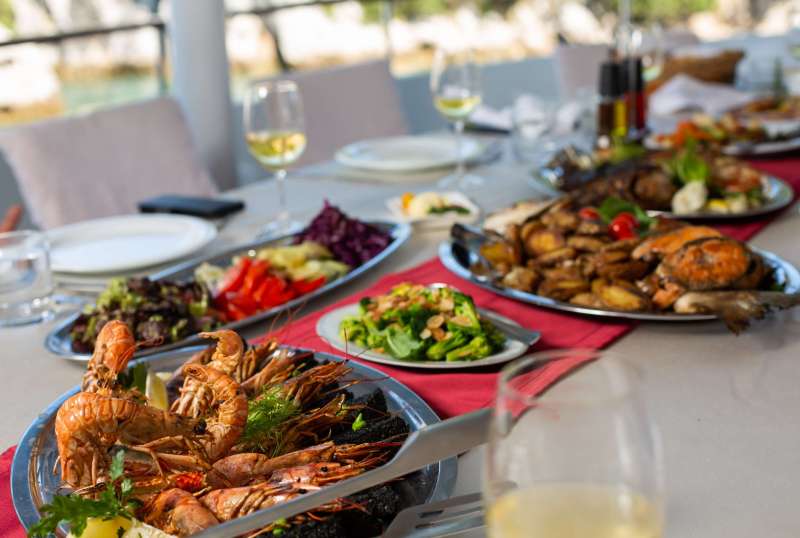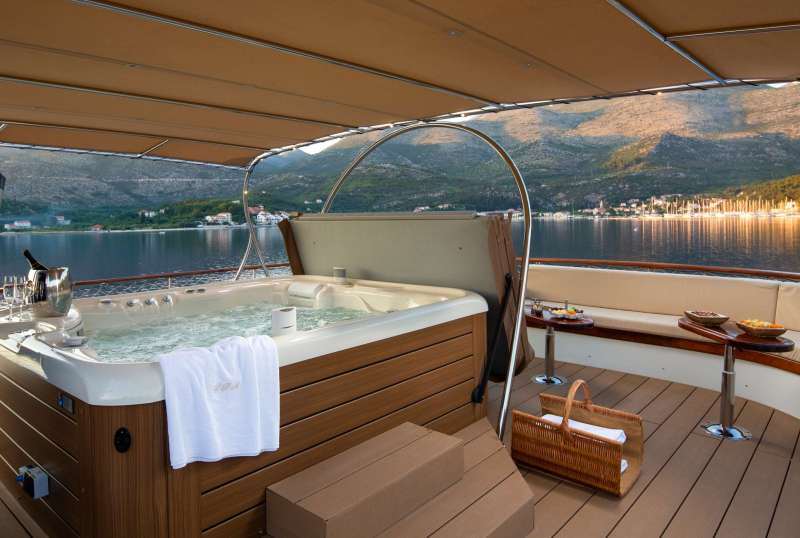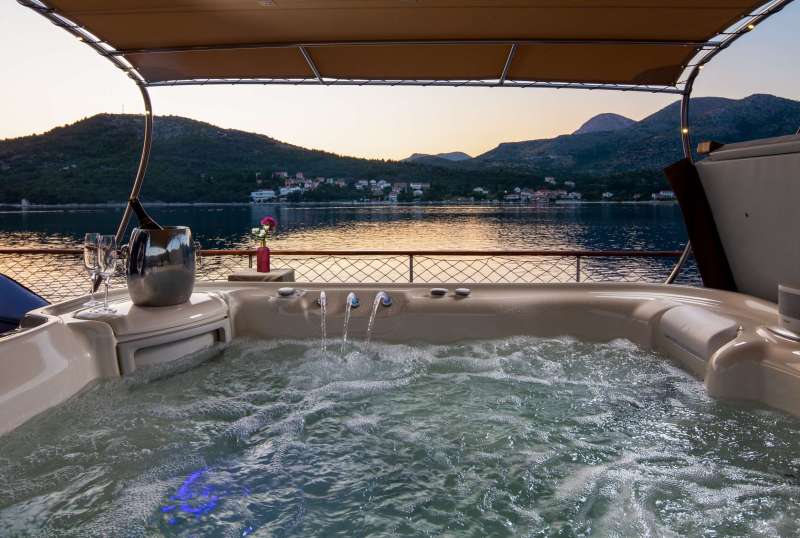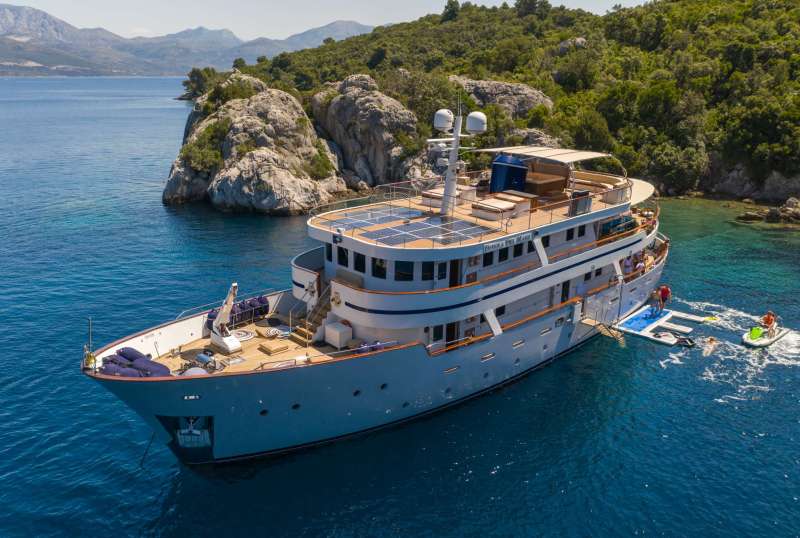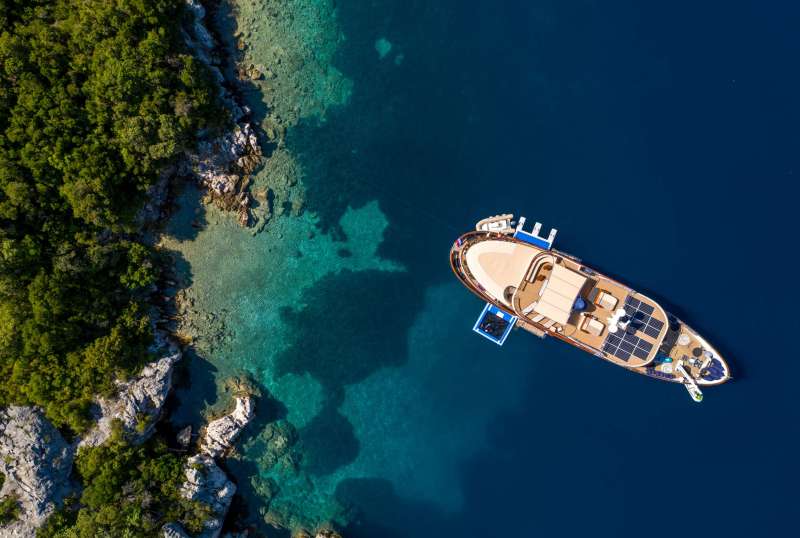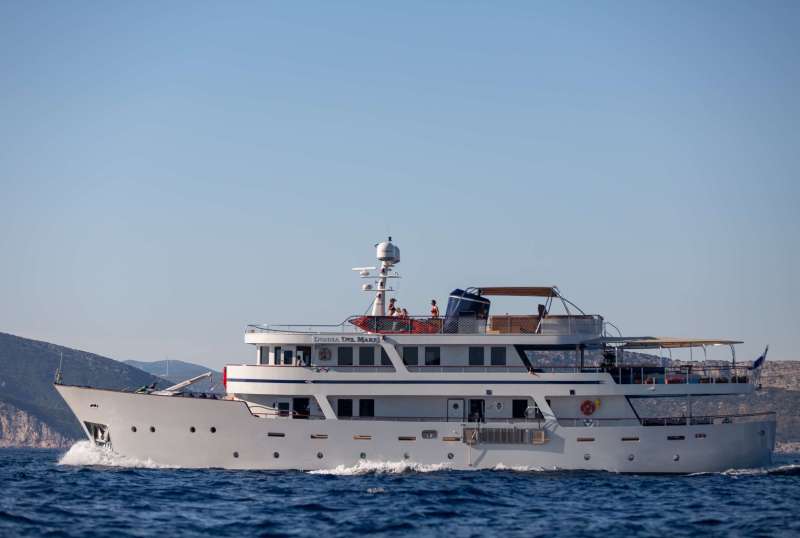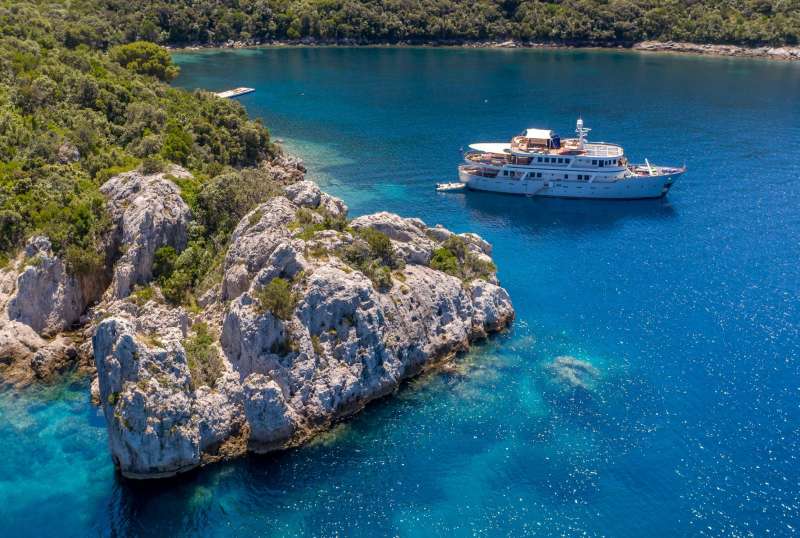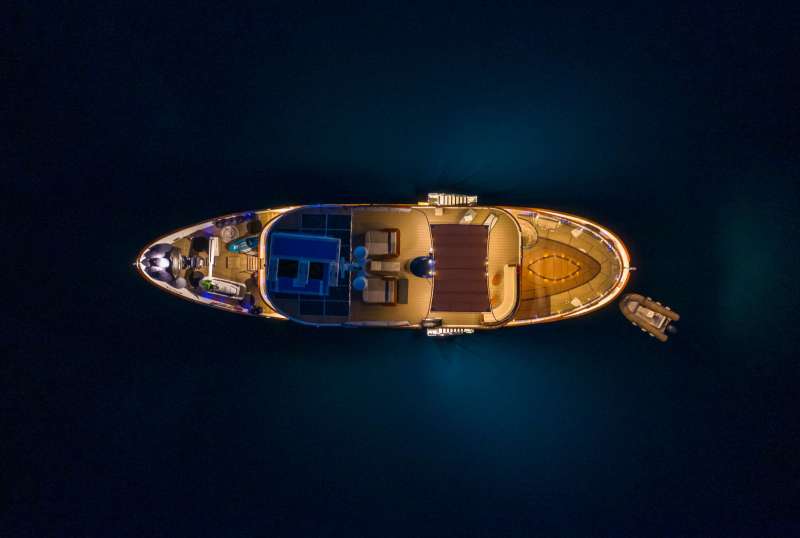 DONNA DEL MARE
From €105,000/week
7 cabins
131 ft
Aegean Build
16 guests
Refit: 2020
180 Litres/Hr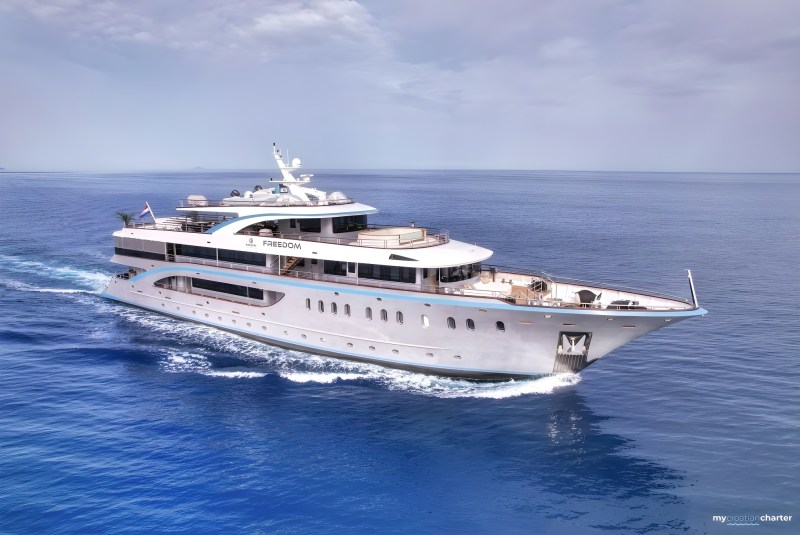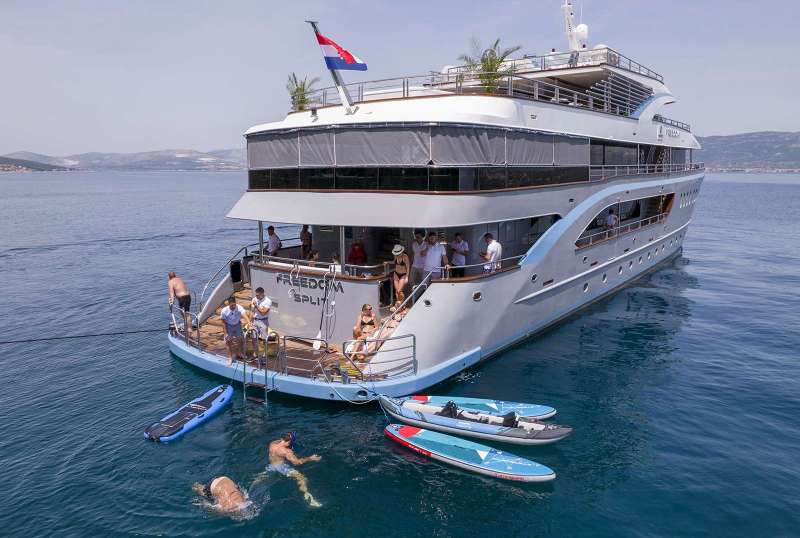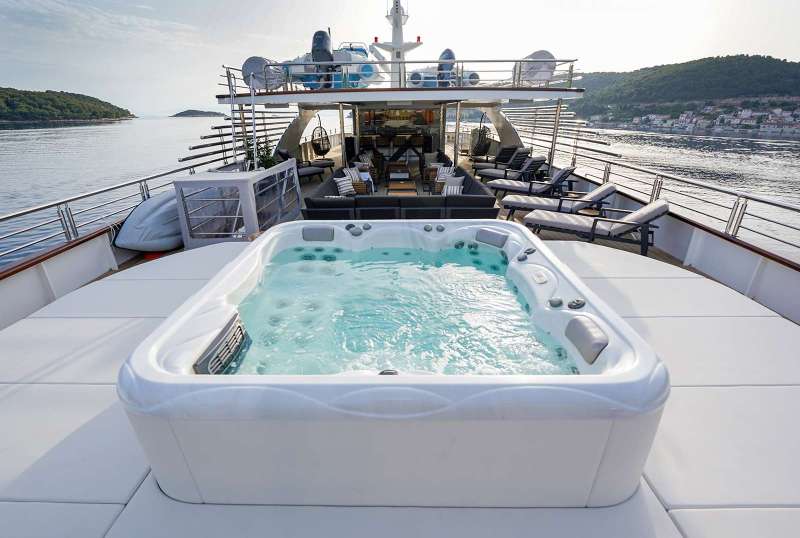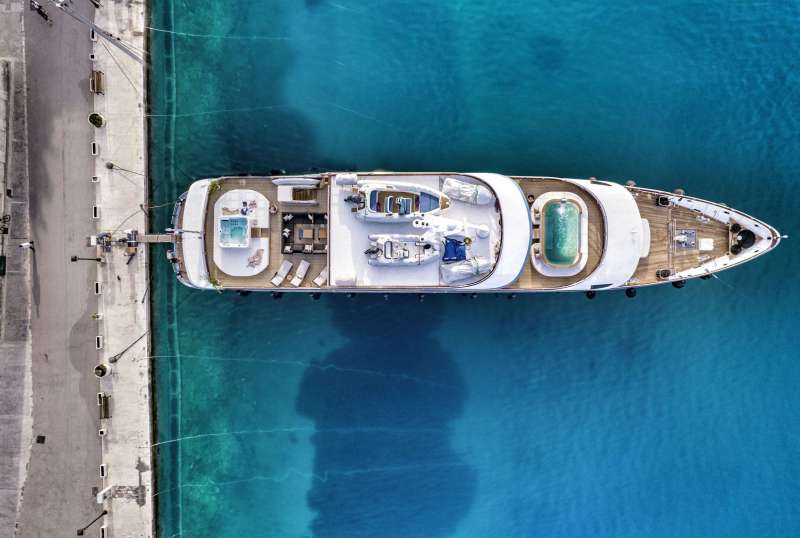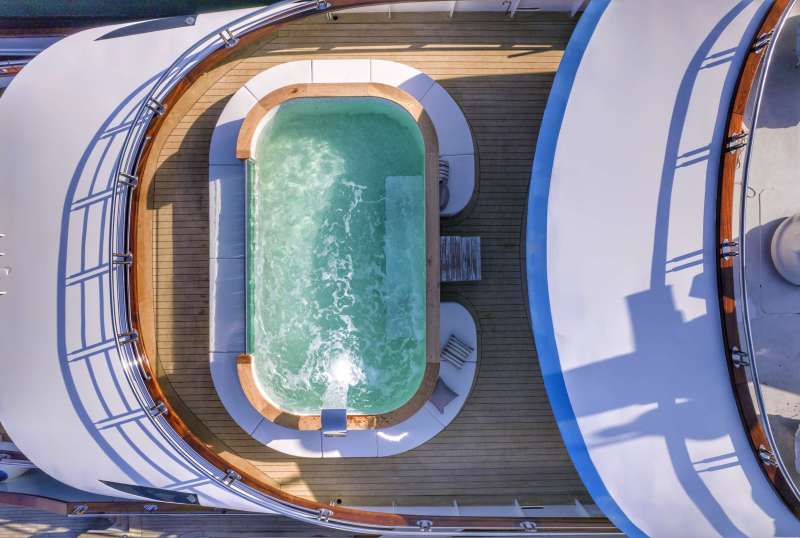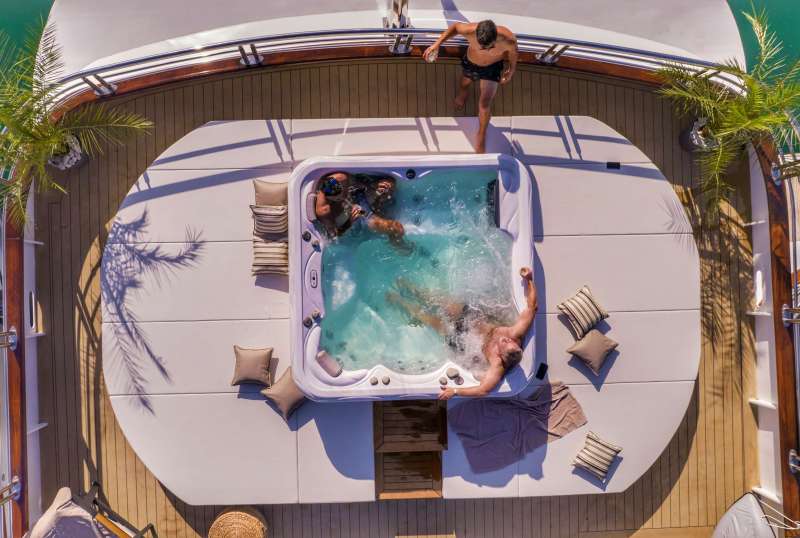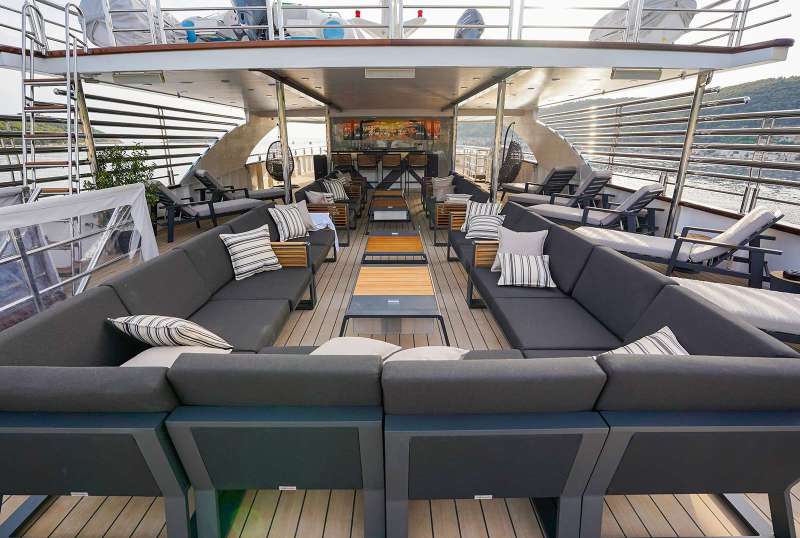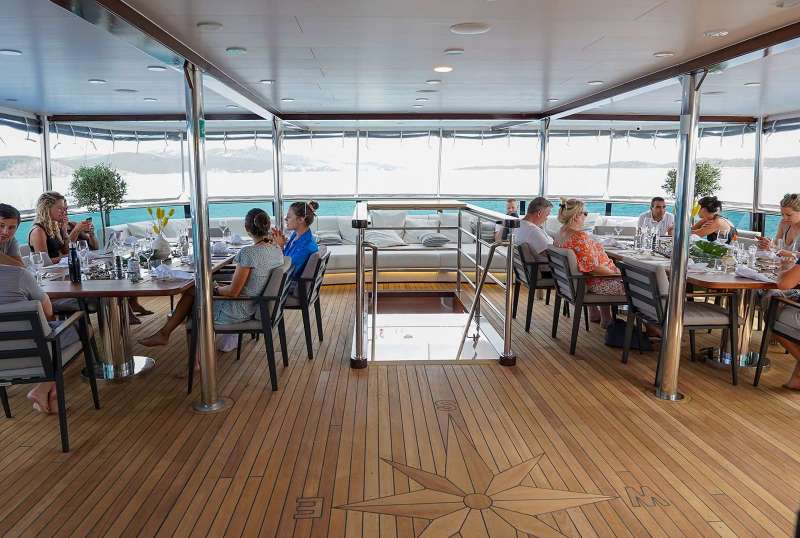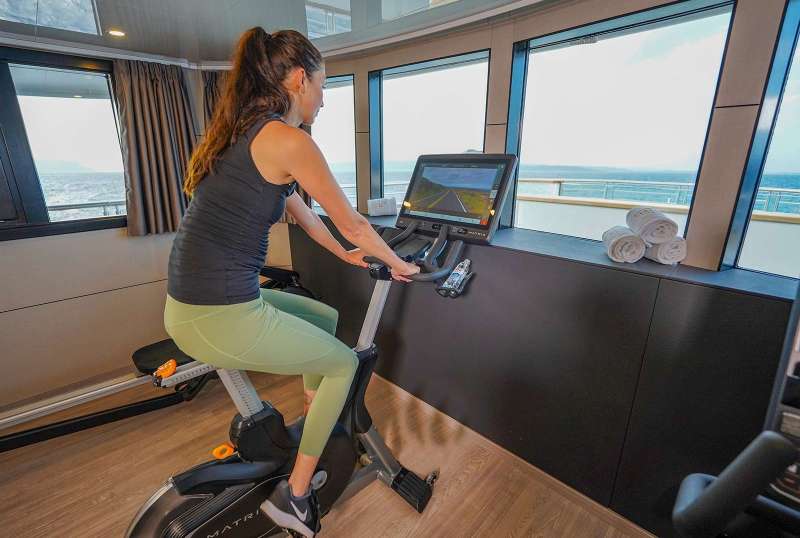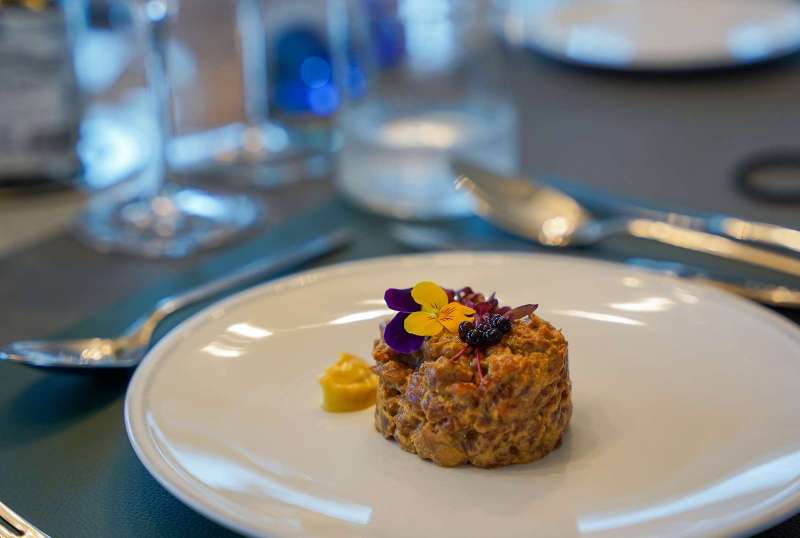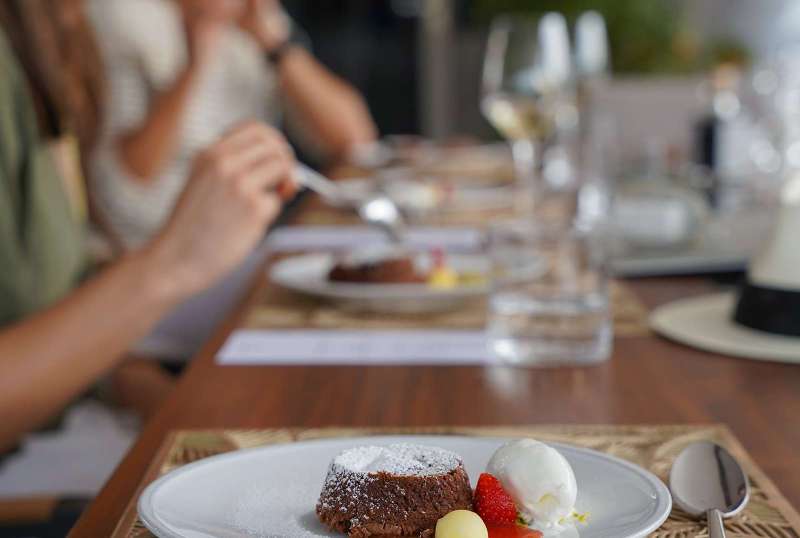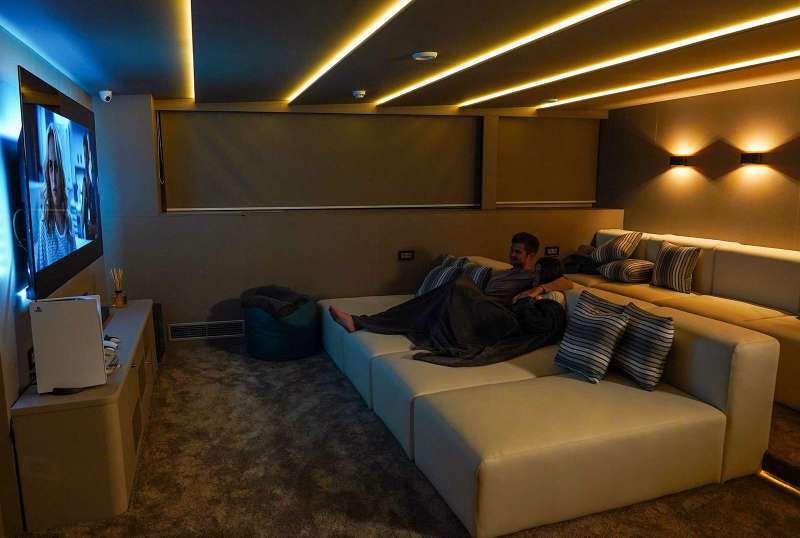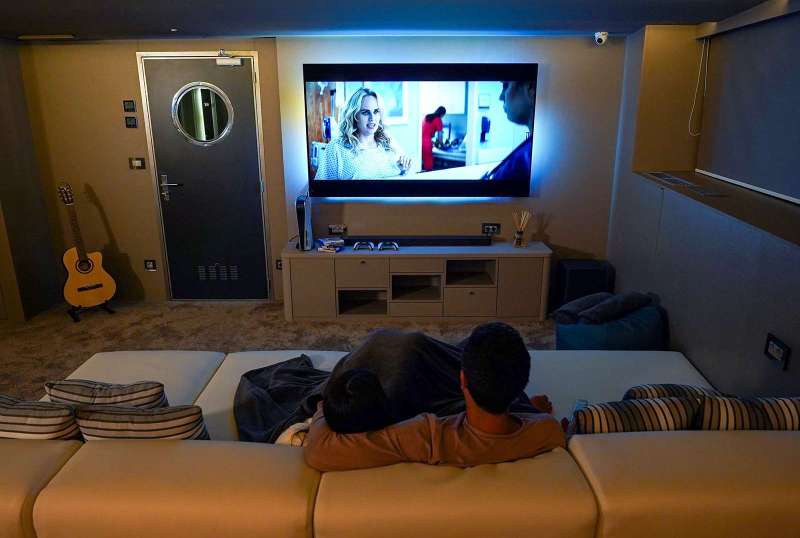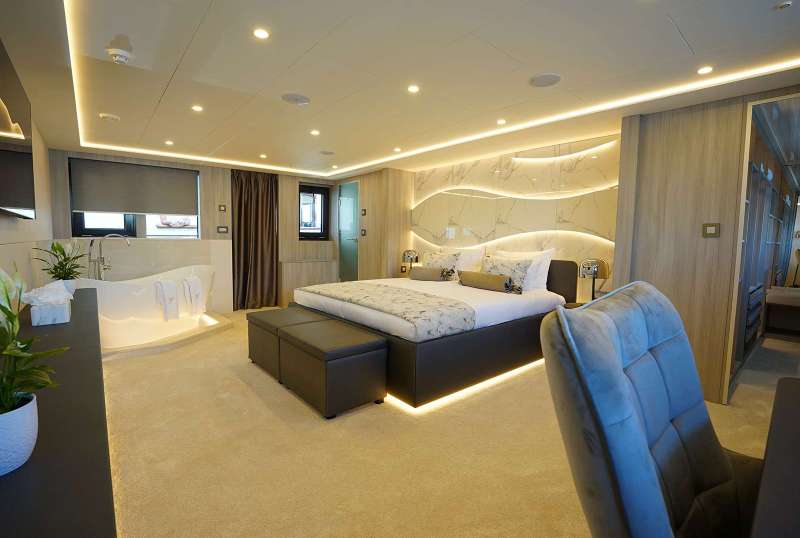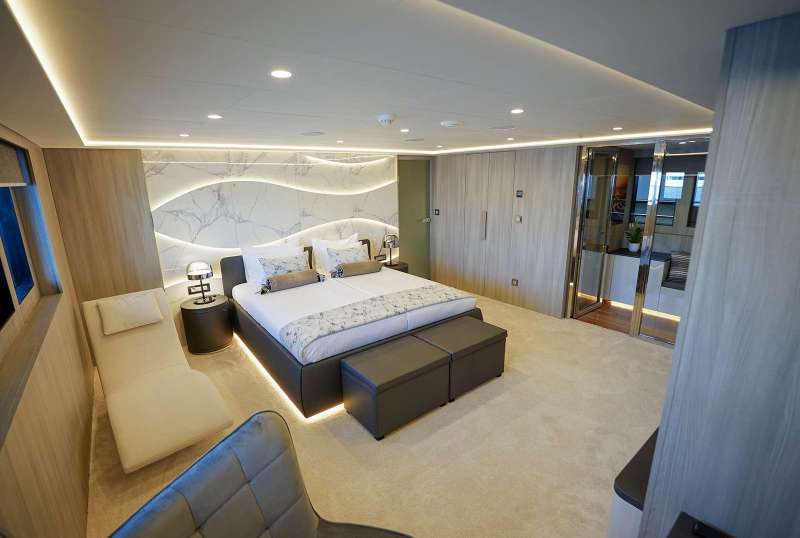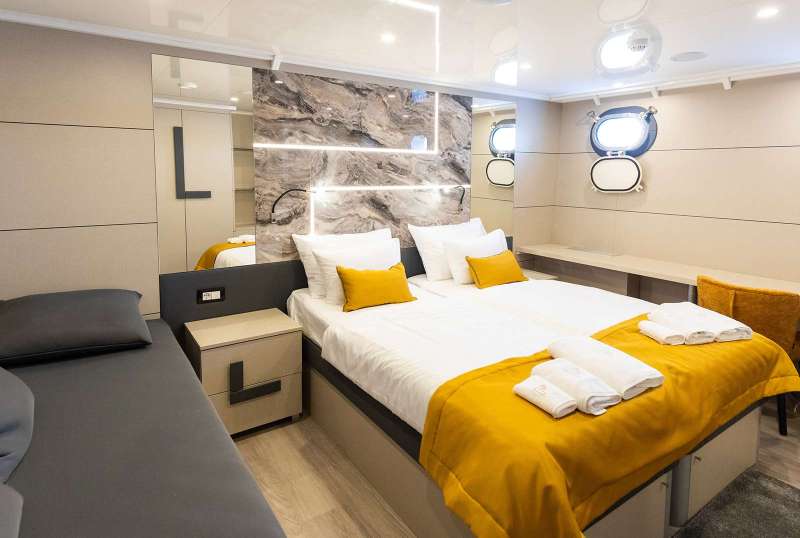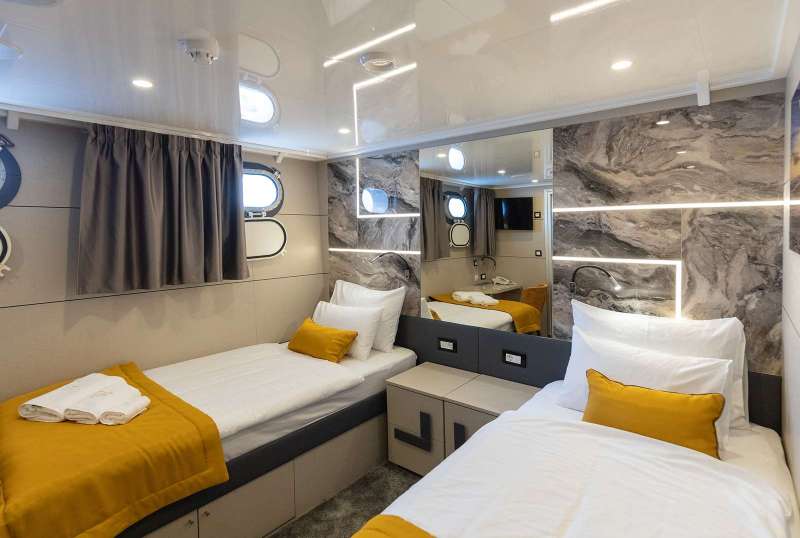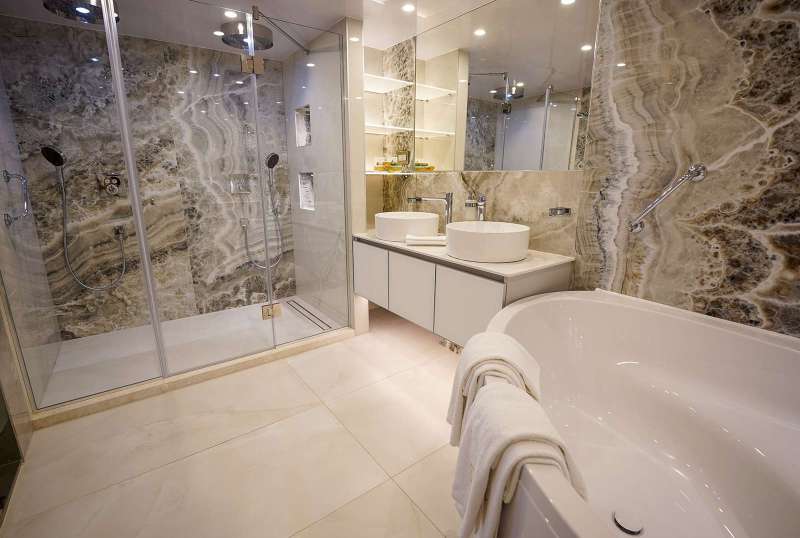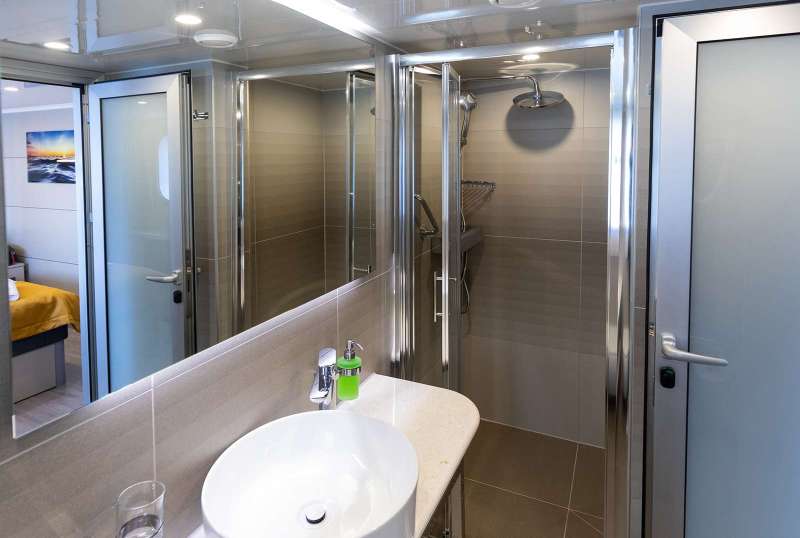 Freedom
From €100,000/week
10+ cabins
158 ft
Custom
23 guests
Built: 2019
80 Litres/Hr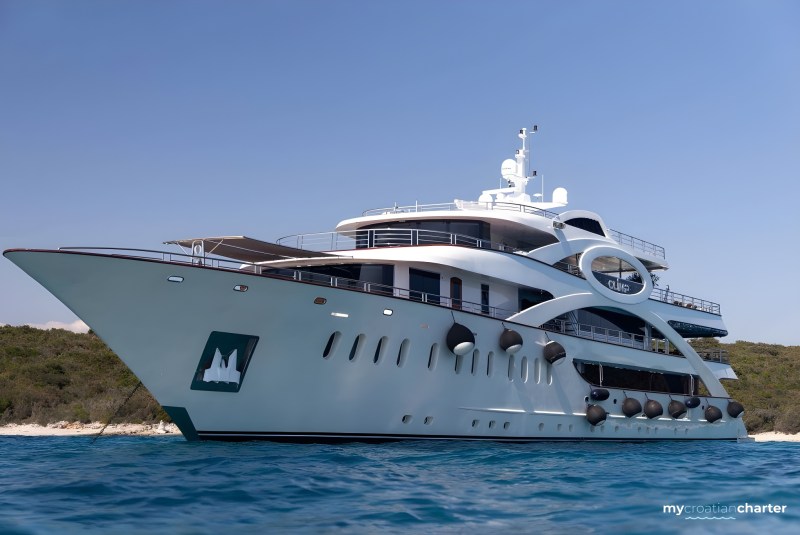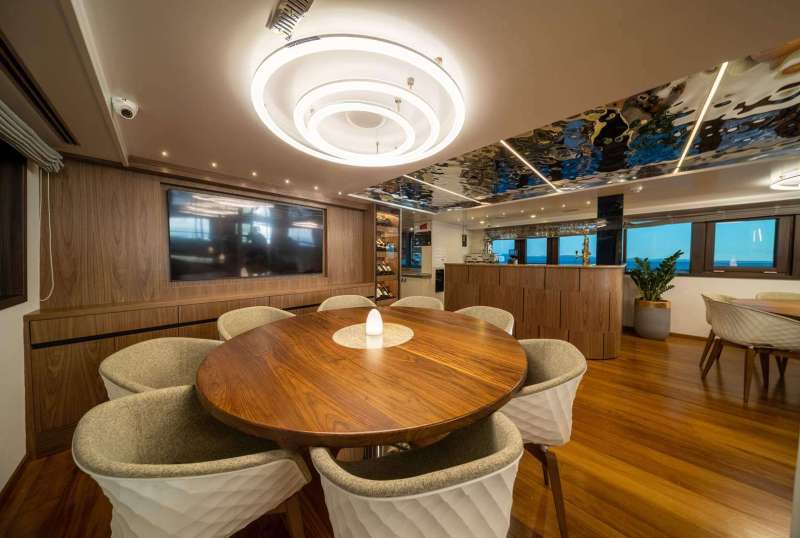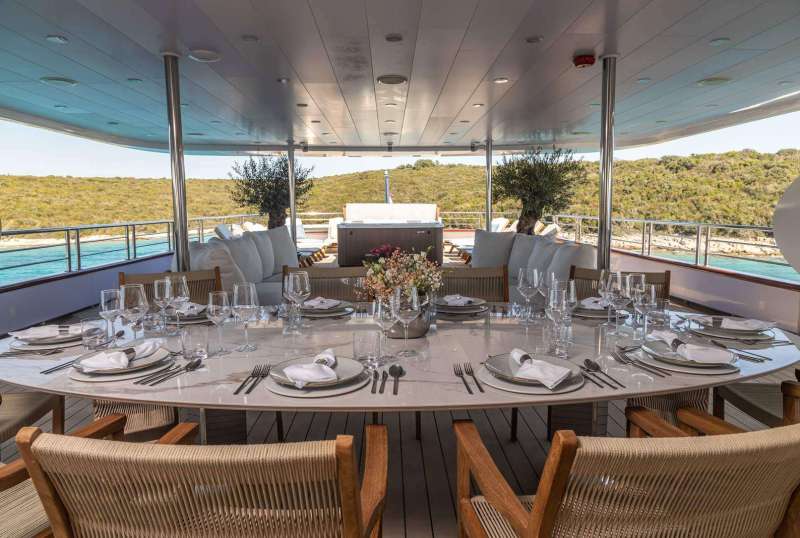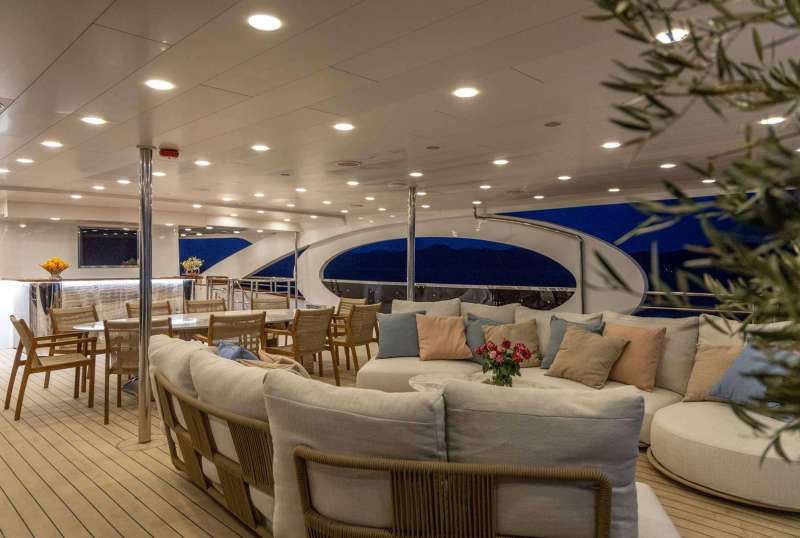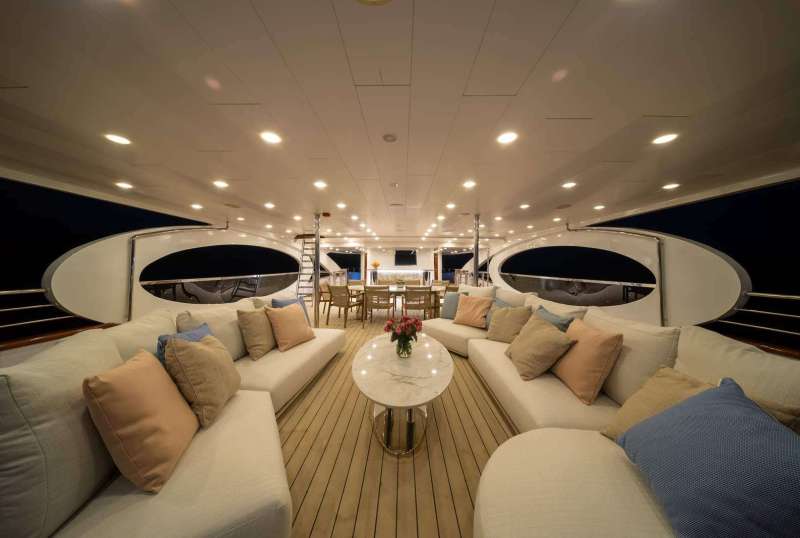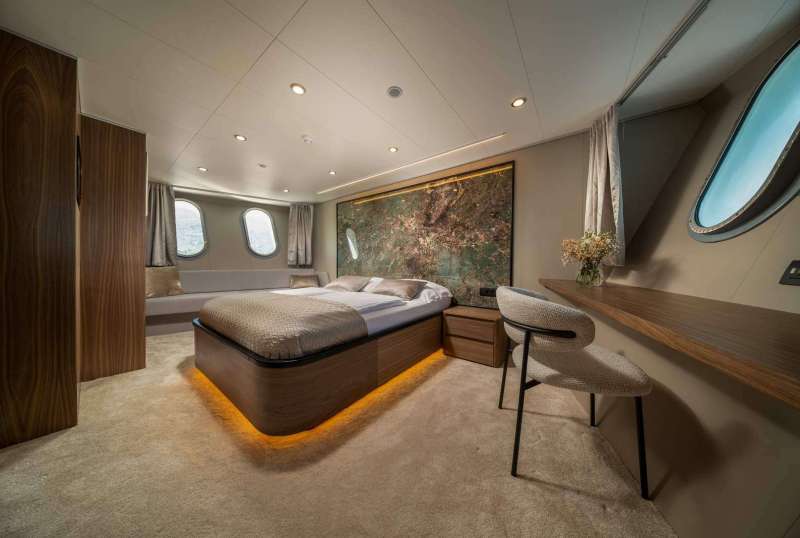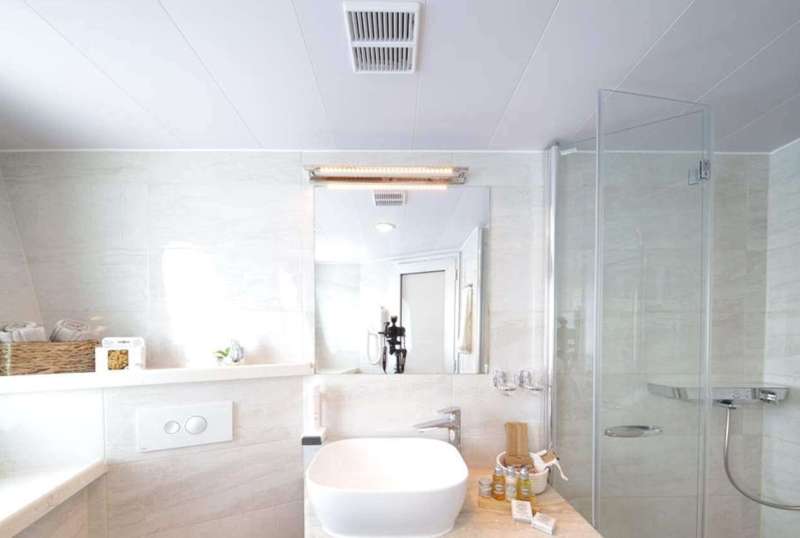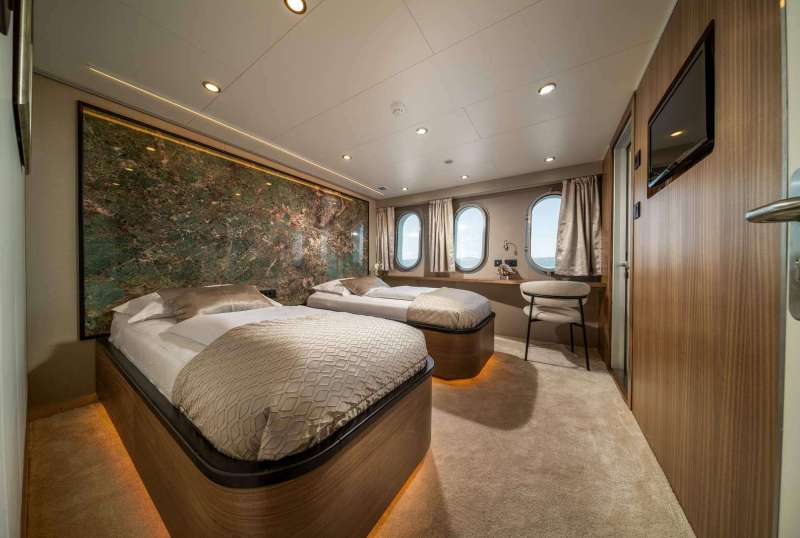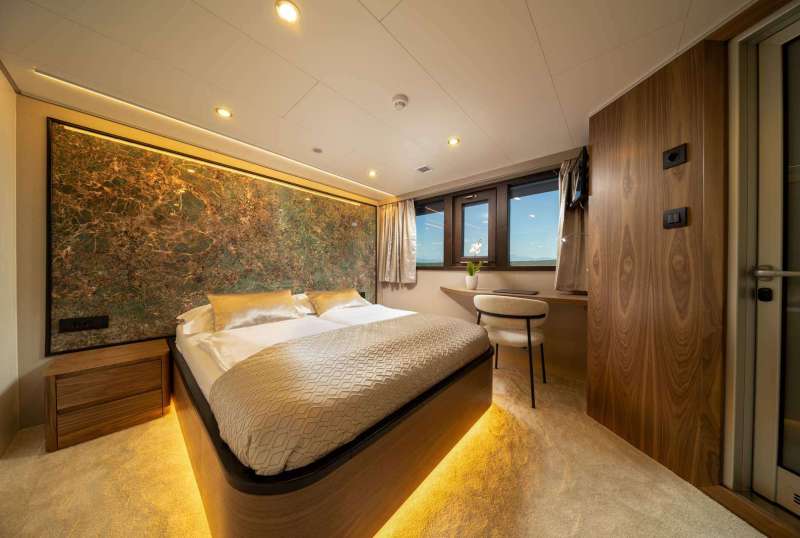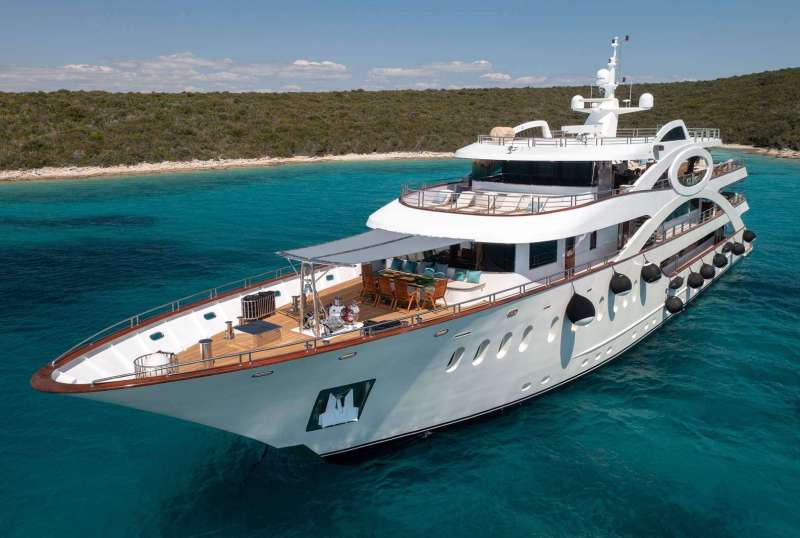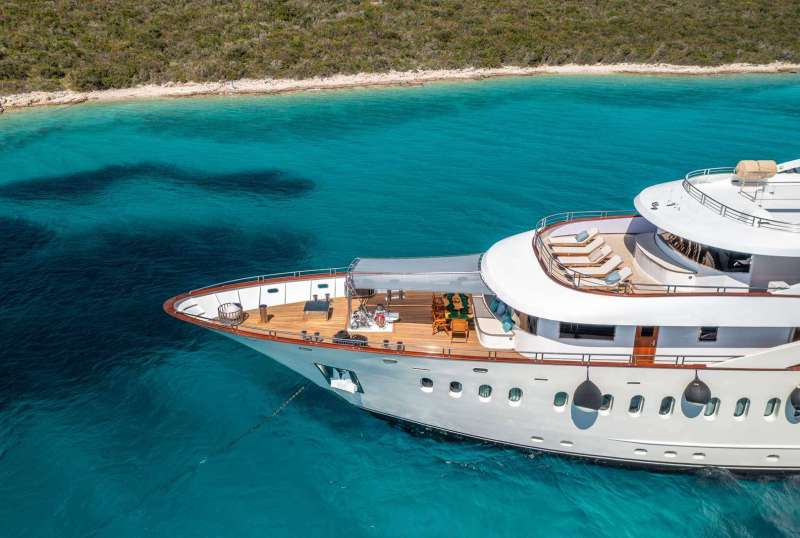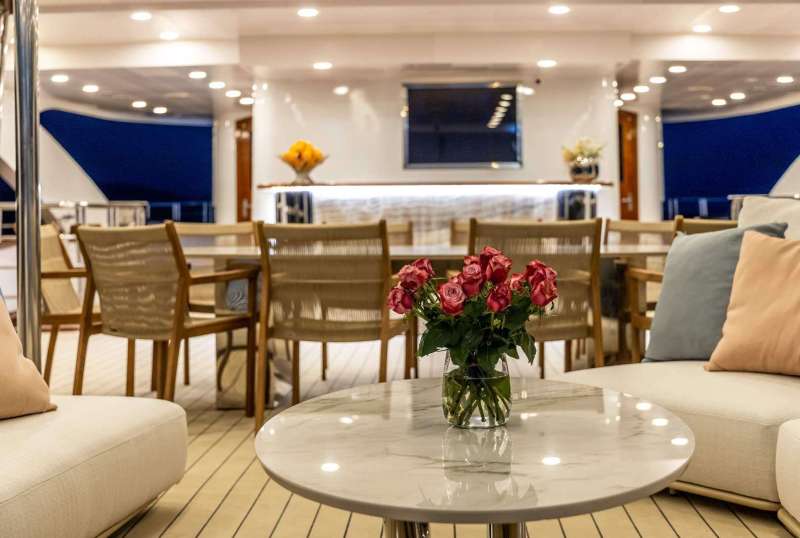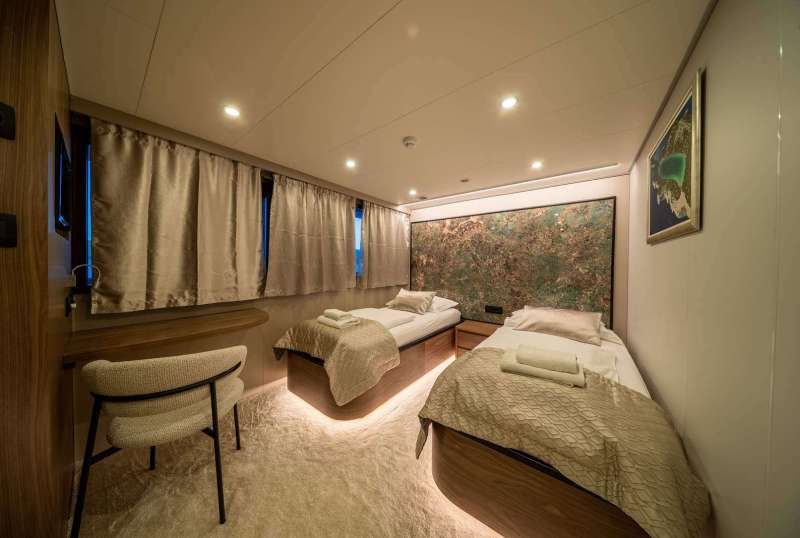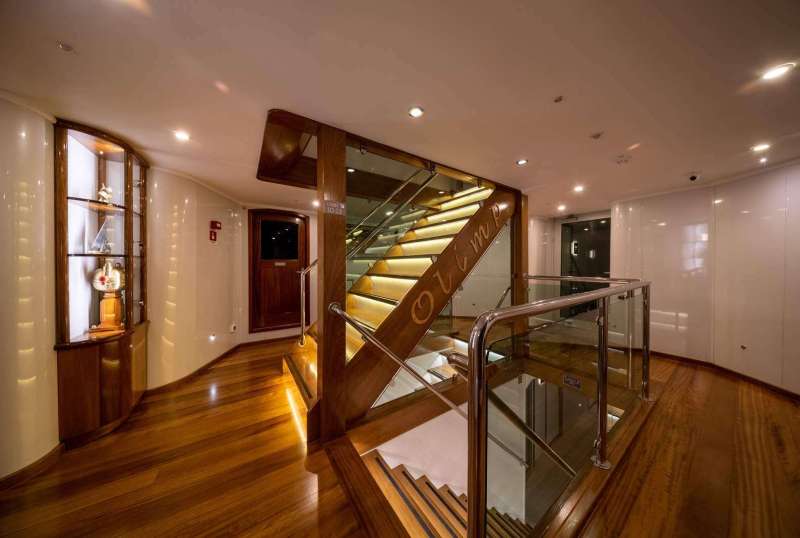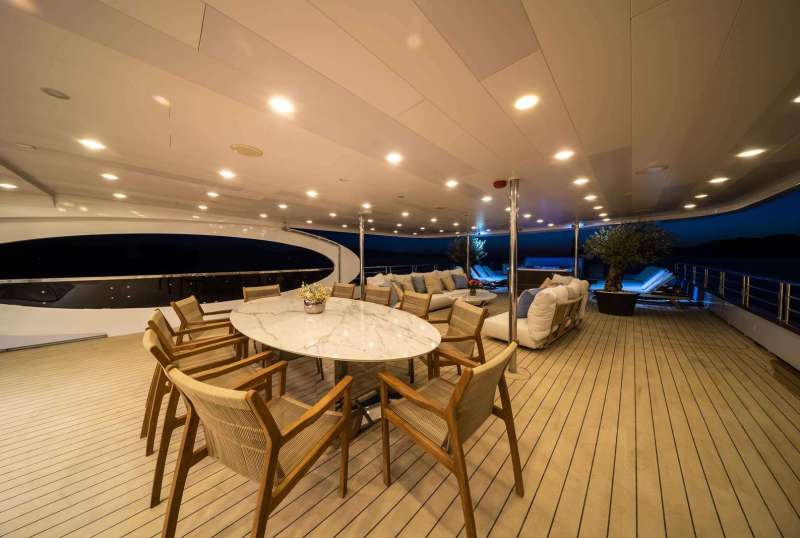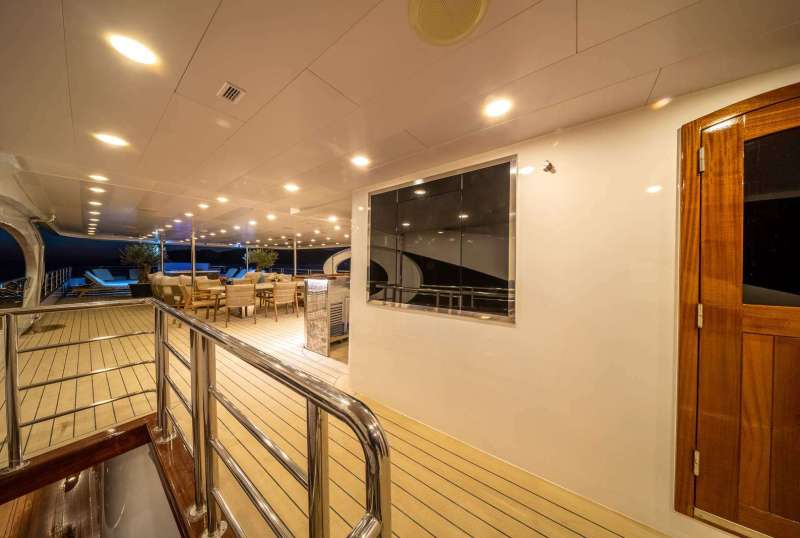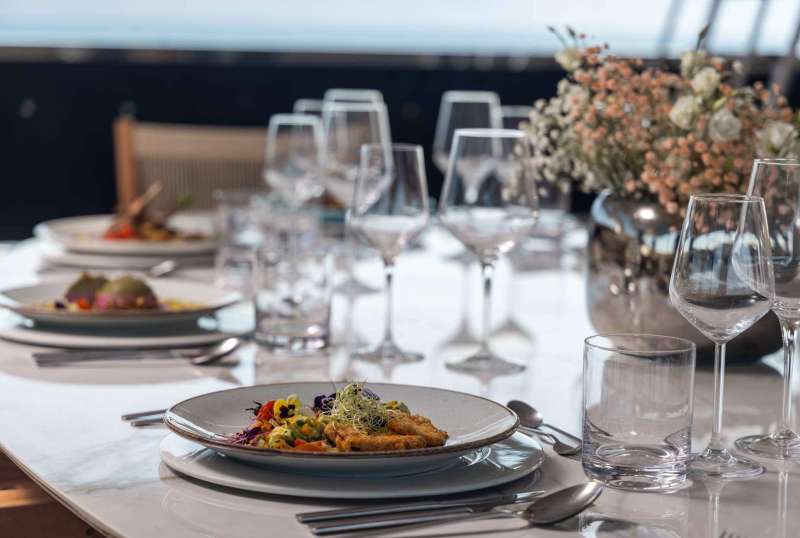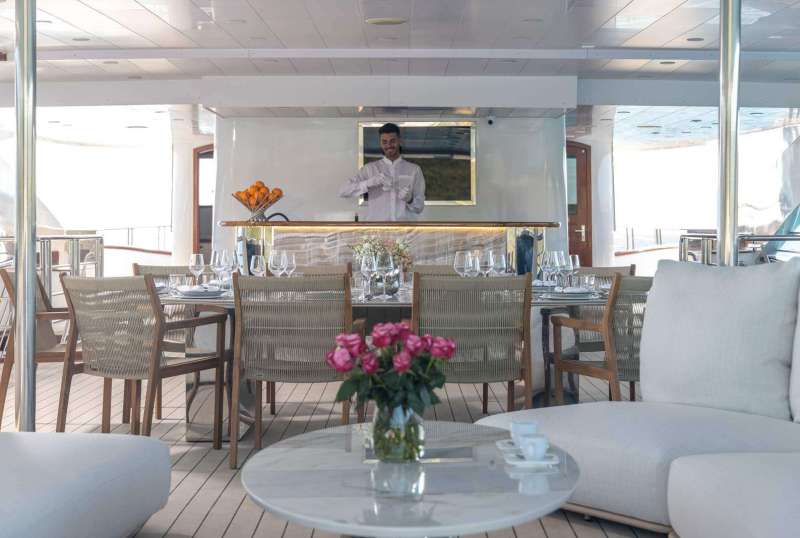 Olimp
From €90,000/week
10+ cabins
160 ft
Custom
20 guests
Refit: 2022