GRAND BLEU VINTAGE Yacht Description
GRAND BLEU VINTAGE yacht is a 95.00 ft long sailboat monohull and spends the summer season in Croatia. It was built by CNB Bordeaux in 2003. A refit was done in 2013. The yacht layout features 4 cabins and accommodates 8 guests. The cabin arrangement is following: 1 king cabin, 2 queen cabins, 1 twin cabin.
The sailboat features CUMMINGS 350 HP. 2 GENERATORS (30 KW AND 17 KW) brand new from 2019 Ballast 2*3 700L, Bow thruster Maw power engines and a generator.
Accommodation
8 guests can be accommodated in 4 cabins as below:
- 1 Master equipped with a sofa and a desk. Large en-suite bathroom with 2 washbowls.
- 1 cabin with a double bed
- 1 cabin a double bed convertible into twin beds
- 1 cabin with two single beds
All cabins have en-suite bathroom and head.
All cabins are with: A/C with private control, plugs, hair dryer.
Cabin Breakdown
GRAND BLEU VINTAGE Yacht Details
€39,000 - €43,000
Weekly price low-high season
Price Terms
Plus Expenses
Price Details
High season rate: €43,000
Summer 2021 - weekly rates:
May- June - September - October: € 39,000 + 25% APA + VAT /based on MYBA terms.
July - August: € 43,000 + 25% APA + VAT /based on MYBA terms. One-week-minimum charter rate

All rates are for 7 nights, 8 days. Charters of less than 7 nights on request depending on schedule and season (5-night-minimum rate)
For short charters, please use the divide-by-6 rule for figuring short charter premiums. Charters of 6 nights, use 6/7ths (six sevenths) of the weekly rate.


GRAND BLEU VINTAGE yacht charter price
| # of charter days | Base Price | APA (deposit for provisioning, fuel, docking fees, etc) | Taxes: 13%%, exceptions available | Total | | Note |
| --- | --- | --- | --- | --- | --- | --- |
| 14 day charter | 78,000€ to 86,000€ | 15,600€ to 25,800€ | 10,140€ to 11,180€ | 103,740€ to 122,980€ | | Discounts outside the main season are common. |
| 7 day charter | 39,000€ to 43,000€ | 7,800€ to 12,900€ | 5,070€ to 5,590€ | 51,870€ to 61,490€ | | Standard charter rate, base for all calculations. |
| 3 day charter | 19,500€ to 21,500€ | 3,900€ to 6,450€ | 2,535€ to 2,795€ | 25,935€ to 30,745€ | | The usual formula is the 7 day charter rate divided by 6, times the number of days (3). Boat policy might differ. 39,000€ / 6 * 3 days = 19,500€ |
| 1 day charter | 6,500€ to 8,600€ | 1,300€ to 2,150€ | 845€ to 932€ | 8,645€ to 11,682€ | | Please inquire, the possibility/availability of a 1 day charter needs to be verified. |
All prices are generated by a calculator and serve as a guide for new charterers. Any additional information of the Price Details section has priority over above. Availability is always subject to confirmation. Gratuity not included for it's discretionary character, usually 5%-25% of the Base Price.
GRAND BLEU VINTAGE Yacht Charter Locations
Summer Season
Amenities
Minimum Child Age:
any age is welcome
Specifications
BBQ: No
AC: Full
Generator: Yes
Internet: Onboard WIFI
Cruising Speed: 10
Max Speed: 14
More Specifications
Yacht Insurance:
GENERALLY
Diving Yacht offers Rendezvous Diving only
Communication:
SAT PHONE - FAX AND EMAIL - MOBILE PHONE
Air Compressor:
Not Onboard
Scuba On Board:
Yacht offers Rendezvous Diving only
Fishing
Green Initiatives
Other Green Efforts:
GRAND BLEU VINTAGE makes purified drinking water.
Water Sports
Dinghy Size:
Surmarine ST 370 (3,7 meters)
Other Entertainment
Wireless speakers
Hifi and DVD home cinema
TV flat screen in saloon
Hifi sound system in saloon and cockpit
Games, books, MP3
Apple TV, Ipod station
Winecooler, Ice maker and Water maker
Crew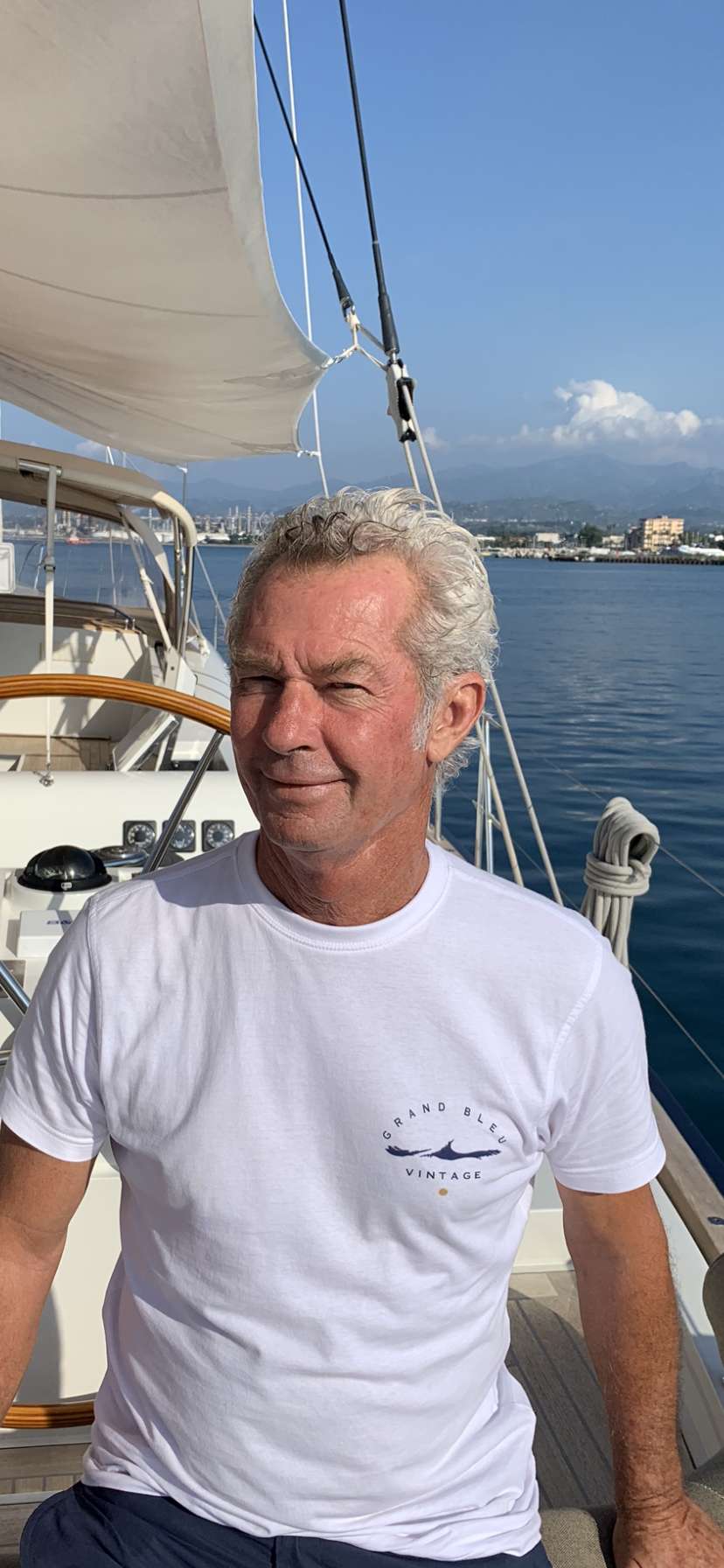 Captain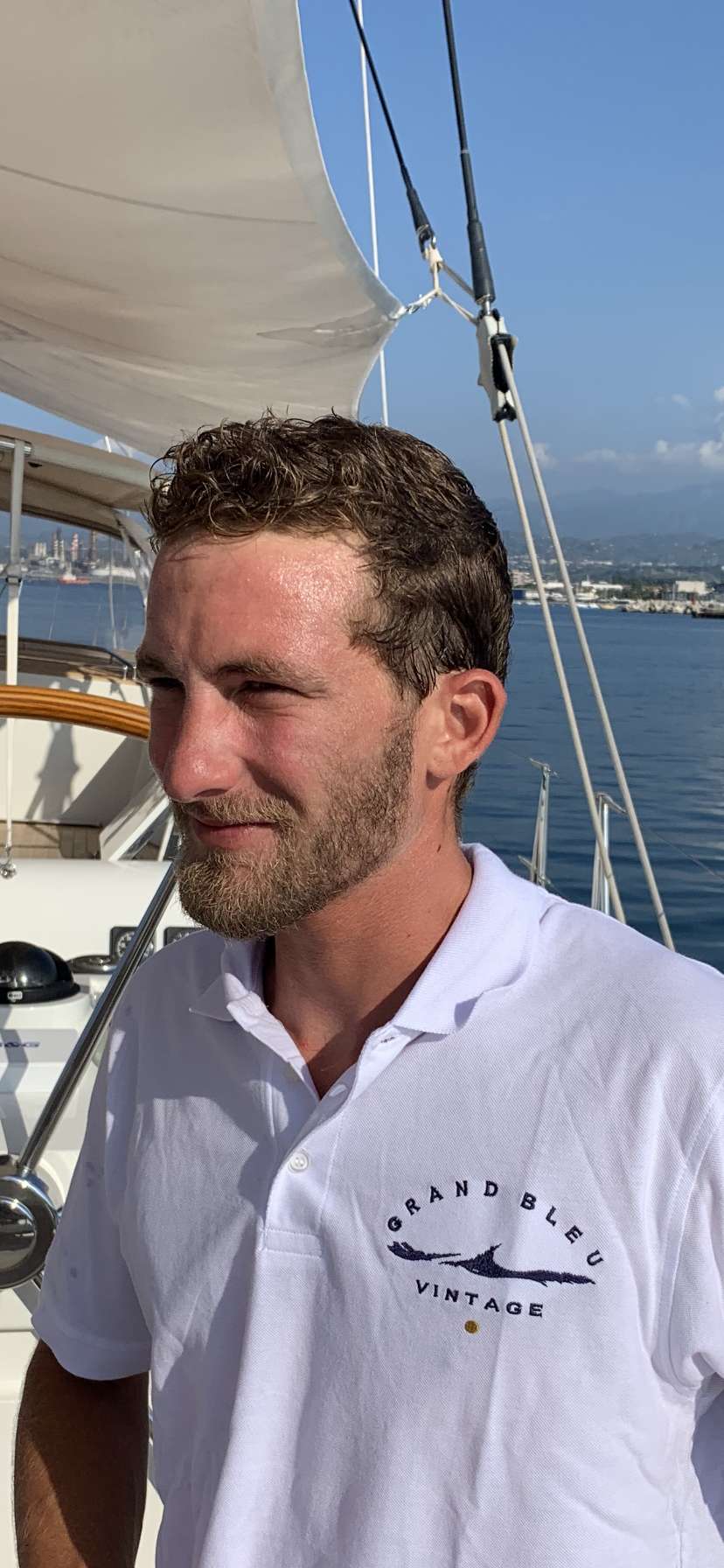 Second Mate
Chef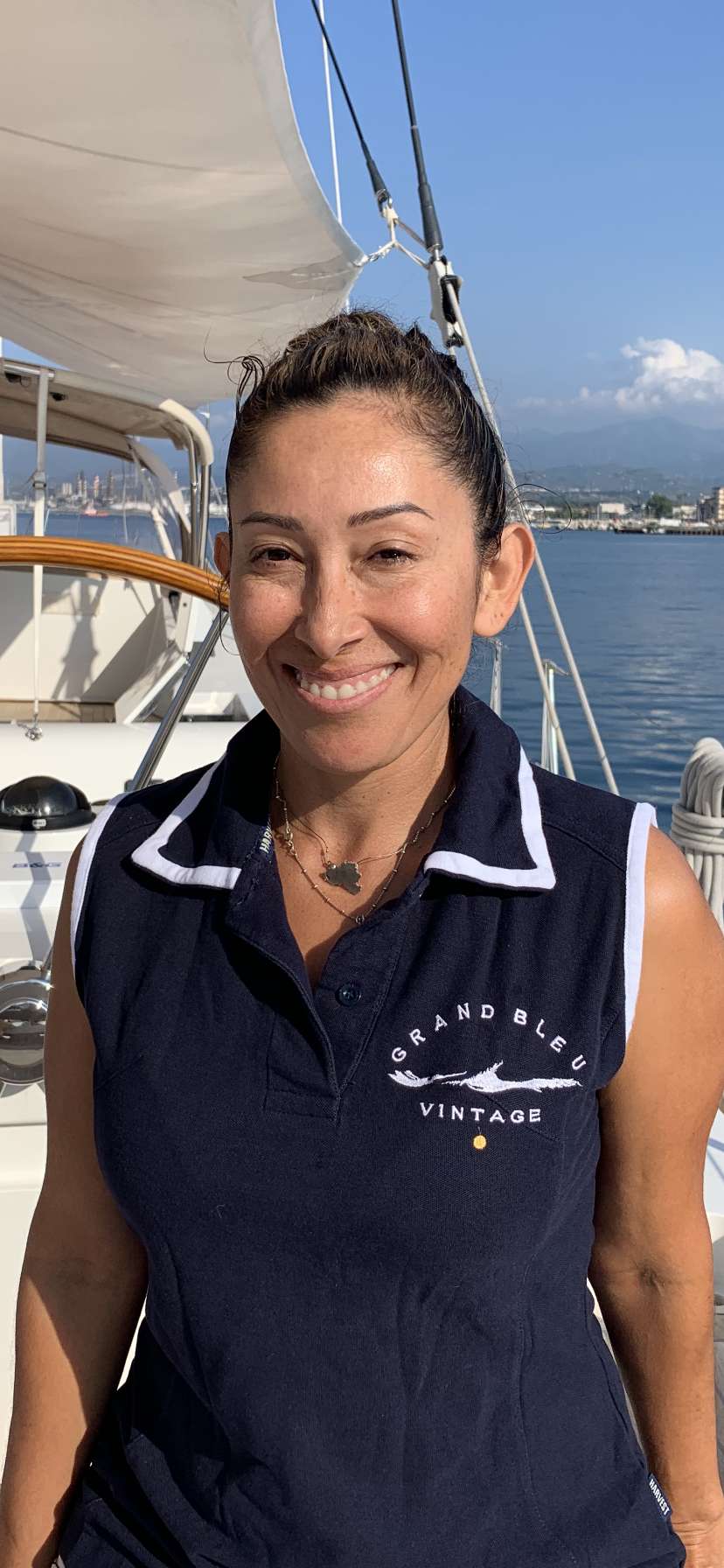 Hostess
CAPTAIN: Pascal MINIAOU
Nationality : French, born in 1962
Language: French - fluent English.
Qualifications: Captain Class 4, MCA, Stcw95

Pascal worked as a sport shop manager for three years before deciding to crew on sail boats such as the 80' Umatalu, the 75' Serenité and the Swan 651 See Flo. During his five years of training, he sailed in the Mediterranean, the West Indies, Brazil and took part in several Atlantic crossings. He is now perfectly at home in the charter world on board large sailing yachts.
He also monitored the building of a 75' sail boat, 'Kermor' and stepped on board as Captain for a round the world cruise which took him to all the seas and oceans of the world between 1993 and 2002.
Since then, he has sailed on various boats, such as the Swan 72' Elysion Blue, the 130' Globana M, the motor yacht Pegasus, the 82' Falcon, and Sirius of Man, a Predateur 100, before embarking on Grand Bleu Vintage in February 2007.
In addition to his excellent seamanship and technical skills, Pascal loves water skiing and downhill skiing, he plays golf and enjoys natural history, astronomy and photography.
Quiet and cheerful, Pascal is an attentive and welcoming host. His extensive experience allows him to deal confidently with any situation.


FISRT MATE: Guillaume DROUET,
Nationality : French, born in 1994
Language: French - English fluent
Qualifications: Captain 200 - Medical 2

Guillaume comes from the French Riviera where he discovered his passion for the marine environment at a very young age.
He studied in different military establishments, which taught him discipline and determination.
Passionate about sliding sports, he has followed the waves from the East Coast to the West. During his travels, he extended his passion to fishing, underwater hunting, deep sea apnea diving and yachting.
Guillaume is recognized for his dedication to excellence and his eagerness to learn new techniques and get new skills. He has been part of Grand Bleu Vintage's crew since 2018.

CHEF : Cesar CORTIAL
Nationality : French, born in 1996
Languages : French, Fluent English
Qualifications : BTEC National Diploma (Hotel)
BTEC Higher National Diploma (Hotel & Catering)
Training in 2021 at Paul Bocuse School (France)

Born in Provence, passionate by food since he discovered the cuisine of his grand mother, he went straight away to culinary school in Nice. During this period, he got the chance to work with Michelin-starred chefs as Georges Blanc and Édouard Loubet. Those chefs had a big influence on his cuisine .
At the age of 18 years old, he left the south of France to go to London where he met a new food culture.
After 2 years in London, he decided to get closer to the nature and worked for the 2-star chef Simon Rogan, owner of a farm and a gastronomic restaurant.
He is in its second summer season onboard Grand Bleu Vintage.
"With all the things that I learned in the restaurants I worked in, I wanted to propose and serve my own cuisine. That why I chose a beautiful sailing yacht to offer the best of my French cuisine with a British twist."

HOSTESS: Indira BELTRAN
Nationality : French and Venezuelian, born in 1974
Languages : Fluent in Spanish, French, English
Indira worked for a few years as a housekeeper and in child care on a private estate. In 2006, her enthusiasm for sailing led her to embark on Dear Friends (Cat 65') in Ft Lauderdale, the Keys and Sarasota, Florida. The following two years, she was hostess on Exit Strategy, a Cheoy Lee Expe yacht 90', operating between Ft Lauderdale, the Keys and the Bahamas.
Her taste for the sea and travel prepared her for coming to the Mediterranean where she was hostess on Xaroco, a Ferretti 95', in Spain and from May 2010 to 2016 on Grand Bleu Vintage.
After 4 years on several other yachts to improve her skills, she came back on GBV in June 2020. She has a sunny hardworking dispostion and is always ready to respond to the needs and preferences of her guests, who are always touched by her kindness.


Menu
Reviews
Charter 7th to 14th August 2021, Dubrovnik-Split
"About our trip in Croatia:

Yacht is in excellent and clean condition.
The crew, led by Pascal, deserves the grade 1 !!
Pascal too, of course.
Special mention should be made of the gifted young chef César. My guest Norbert Sch, who earned a Michelin star himself, is convinced that César will be a great newcomer ... just great what was offered to us.
Indira served us superbly around the clock, as did Guillaume.

We are already looking forward to the next trip with the beautiful yacht and the wonderful crew."

Charter 24th to 31st July 2021, Split-Split
« Chers tous,

Vous trouverez ci-dessous un petit bilan de notre formidable croisière sur Grand Bleu.

Bateau
Exceptionnel
En excellent état
Très bon entretien général

Staff
Exceptionnel
Un professionnalisme et un sens du service rarement vus.

Capitaine Pascal
Très expérimenté,
Beaucoup d'écoute et de recul,
Grande souplesse,
Activités et programme variés,
Grand sentiment de sécurité.

Chef Cesar
Cuisine à base d'émulsion unique,
Un vrai étoilé,
Un vrai sans faute
C'était délicieux toute la semaine.

Hotesse Indira
Grande gentillesse,
Toujours aux petits soins,
Efficace au quotidien.

Second Guillaume
Efficace et attentif,
Compétent sur toutes les activités.

Programme
Bien équilibré dans l'ensemble.

Météo
Il a manqué hélas une journée de vent

Nous laissons la famille XXX compléter.
A refaire sans hésitation.
Les pourboires arrivent… 👌👏⛵️

Merci à tous pour ce formidable moment tellement privilégié ».

Charter 2nd to 9th August 2020, Split-Split
"As already communicated by phone, our trip was more than perfect and pleasant. Pascal once again gave us an unforgettable time as captain with his great crew.
I would particularly like to highlight Cesar as perfect chef of french cuisine.
All in all nice and safe too. I am looking forward to the next trip with hopefully the same line-up ..
Thank you !
best regards
Paul "
Charter 15th to 20th July 2019, Naples-Naples
Bonjour Pascal, nous avons des très beaux souvenirs de notre première croisière en famille, avec les enfants! Nous espérons refaire une autre, peut-être l'année prochaine. Merci à toute l'équipe pour notre séjour magnifique à bord! Bon week-end.
Charter 26th May to 2nd June 2019, Milazzo-Milazzo
"Our family absolutely loved our experience on Grand Bleu Vintage. The boat itself is beautiful and maintained to a stunning standard by its crew: everything works, everything is spotless. The crew led by Pascal is very competent, flexible, and discreet. Hippolyte is a gourmet chef who ensured that we raved about every meal and despite the obvious space limitations, he also managed to ensure his presentation was impeccable. Clemence, our hostess, attended to us with a smile and always attentive to your needs or desires. Guillaume not only looked after the boat but went the extra mile to keep our two kids engaged and entertained with water sports, fishing and beach frolics. Overall, our stay on Grand Bleu Vintage will count among our family's happiest memories. A big thank you to the team."
Charter 26th May-2nd June 2019, Milazzo-Milazzo
"Our family absolutely loved our experience on Grand Bleu Vintage. The boat itself is beautiful and maintained to a stunning standard by its crew: everything works, everything is spotless. The crew led by Pascal is very competent, flexible, and discreet. Hippolyte is a gourmet chef who ensured that we raved about every meal and despite the obvious space limitations, he also managed to ensure his presentation was impeccable. Clemence, our hostess, attended to us with a smile and always attentive to your needs or desires. Guillaume not only looked after the boat but went the extra mile to keep our two kids engaged and entertained with water sports, fishing and beach frolics. Overall, our stay on Grand Bleu Vintage will count among our family's happiest memories. A big thank you to the team."


Charter 23rd June - 7th July 2018, Palma - Palma
« Dear Pascal!

Thanks for 2 wonderful weeks! We had a great time and I gained 3 kilos... We really appreciated the trip. The four of you is such a good team! Experienced crew that we always are safe with, Hippolyte's fantastic cuisine, Clemence that looks after us to the smallest detail all day long, Guillaume that is quick and young - activates the children and supports you well. And you Pascal - Captain that overlooks everything and fixes big and small things!

There are many things to mention. However; the boat is execellent - a real sailboat that is sturdy, stable and calm - with everything we need of comfort - and all technical things works well. It is like a home when we are there. And most of all the people - you - that are both calm and discrete and gives plenty of room for us feeling at home on a boat that is after all a limited area. The friendly relations we have with you and the fact that we can all be a big family without stress, made also this holiday fantastic for us.

Give my regards to everyone! »

Charter 8th – 13th July, 2017 Antibes-Antibes:
All in all it was great.
- The crew is very professional, helpful, service-minded.
- The boat is "impeccable". Clean, well-kept and maintained.
- The equipment is of the highest sort and kept in good shape.
- The atmosphere was very pleasing, relaxed and we were left to our privacy.
- The meals were delicious and lovely presented.
- The captain was very reliable and had always a good overview. He never looses his temper.
- Prices are fair.
It was a fantastic experience and we could think of doing it next year again.
Charter June 24-July 05, 2017, Olbia-Bonifacio
Guest's comment:

« We had extremely nice days at the Grand Bleu Vintage in Sardinia and Corsica June 24th –July 5th. We really liked the boat and the sailing - and the crew was excellent. They worked very well together as a team and made us all feel welcome and at home. Caring and smiling. Always. Nothing to complain about. We have chartered boats before.This was the best crew by far until now! They seem to enjoy to work together.

Pascal is experienced on board and the boss – as it should be – very friendly and caring. Hippolyte made excellent food for us several times every day – always fresh and made with dedication – and a nice person to learn to know. Clemence helped us in all possible ways – kept the boat tidy, served the food, provided whatever we needed early and late – positive and friendly. Ivan is a first class sailor and also supported the crew, kept the children busy with watersports and helped us whenever needed – always with a smile.»

Broker's comment:

« Thank you for taking such good care of my clients - I know they had a wonderful time and I will do all I can to get them onboard again next year. »
Charter July 4-14, 2016 Kotor-Split
Thanks for the one of the best week of my life ! The crew was amazing and I hope we will cross our roads again ! all the best.

Un grand merci pour cette semaine remplie de bonheur culinaire, de la voile a vitesse grand V avec un equipage si sympathique. A tres bientot.

Charter 16th-23rd May 2016 - Sicily
Capt. Pascal,

This is the email which I just sent to Hippolyte. I forward it to you so that you know Dave and I say "Bravo" to you for making excellent choice in your selection of crew. Julien and Anne Sophie also are excellent at what they do. All 8 of us on board the Grand Bleu Vintage felt so very well taken of last week. You run a wonderful ship! Merci Beaucoup pour nos jours splendids!

Cher Chef Hippolyte,

Dave and I have visited Portofino and Cinque Terre. We are now en route to the Amalfi coast. We have eaten at some very fine restaurants in our long lives. But few compare to the fantastic meals which you served to us aboard Grand Bleu Vintage -- day after day after day! It was truly amazing: we never expected to eat so well aboard a sailboat with a little galley! Bravo, et Merci Beaucoup!!



Charter 12-21th of August - Palerm-Millazzo
From the guest to the broker: I would like to give 15% of gratuity to the crew as they have been amazingly professional, kind and careful for us.
Charter 23-30 August 2014 (Kotor-Split)
The feedback is that we very much enjoyed the week.

The crew were excellent and so was the yacht.

Charter 15-22 Feb 2014
We have just returned from a memorable cruise on your yacht Grand Bleu Vintage.
We were a party of seven. We would all like to thank you for allowing us onboard your beautiful yacht which is clearly your pride and joy. We also thank you for having such a wonderful Captain and crew which made up a perfect team. They were extremely courteous and very professional. Nothing was too much trouble for them. We had a fabulous time. Great sailing and great food !
Thank you so much for giving us this privilege.
Yours truly,
Charter 4 -11 January 14
Dear Pascal:
I am back in my office in Sao Paulo and wanted to thank you again for a wonderful week. We were very impressed by the professionalism of the whole crew (in particular Hypolite s cooking!), the quality of the boat and your enthusiasm in meeting our wishes. We wish you a successful season in the forthcoming months. Regards to all,
Antonio B
Charter 20 - 29 December 2013
They were extremely happy with their choice of yacht and the sailing and diving worked perfectly for them.
"Captain Pascal was flexible in the itinerary and Julien was unfailingly helpful and skilled at teaching the boys to wakeboard, Hypolite cooked up countless different and delicious meals, and Indira did a great job keeping everything clean and tidy. It is a good team and they all get on well".
Charter 12-21 July 13- Corsica
We spent last week on the Grand Bleu Vintage for a charter in Corsica. We want to express to you how great this experience has been for all of us. This was a premiere for our girls but our husband and I had already been on 4 or 5 other charters before. This is thanks to your beautiful and comfortable boat, and particulary thanks to a very wonderful crew. Captain Pascal has been an outstanding captain, leading us through the best places of Corsica with patience and kindness, very attentive to our requests and tastes, being also particularly didactic about sailing with us and our kids. Indira's only concern has been our comfort and she has been treating us like kings and princesses with permanent attentions. Chef Hippo made all the efforts to please us and taylor to our specific tastes and food constraints. Julien has been a cheerful and kind mate, very patient also with all of us in all kinds of activities and always with a positive mind.
Before coming, I was worried being 4 of us with a crew of 4 but they have been so discreet that it has been a real pleasure at all times. When we wished for company and discussion they were there and when we wished to stay as a family they disappeared.
As you understand, we are very motivated to reexperience a charter with your boat and with this crew next year, because this will give us the garanty of having a very good time and a unique experience......
Lauren E.

June 20-26 / 2010 - Croatia
Dear Reia, Thanks for all your hard work. The week was fantastic. We all loved the boat and especially the crew. They did an amazing job of looking after us for the week. Pascal is a great captain and made all the family feel safe as well as ensuring that we had a wonderful schedule. 

Thanks again. We will be back next year. 

Mark.


July 10-17, 2011 - Corsica
Hello,
It's been on my mind to write you for over a month now, to let you know about the fantastic charter we had aboard Grand Bleu Vintage this summer. My wife Terry and I along with our good friends were aboard her for a week as we cruised from Antibe to Corsica.

I have chartered large power and sailing yachts over 3 dozen times in locations from Tonga to Canada, all over the Caribbean and the Med. This crew and boat were in our top 5 of all time. As you probably know, the key to a really great charter is always the crew. And this was no exception. Pascal has put together a great team. The fact that this group worked together as well last summer shows as they are really a nice team.

I have to say a special word about Hyppolite, the chef. The quality of the food, the presentation, the selection of the menus, the way he listened to his guests were all absolutely perfect. In fact, my wife and I felt this was consistently the finest food we had ever had on a yacht. We particularly loved how he got all that taste and variety into our meals and we didn't gain any weight. Maybe it is true that "French women don't get fat", which was the name of a popular little book here in the USA a couple years ago.

Well, I know you must get lots of note of commendation, but I didn't want our wonderful experience to go without comment. I wouldn't have changed a thing (except for perhaps a bit more wind!)

Please feel free to use us as a reference for anyone interested in GBV or their crew.

Best Regards,

Paul K

Charter June 24-July 05, 2017, Olbia-Bonifacio
« We had extremely nice days at the Grand Bleu Vintage in Sardinia and Corsica June 24th – July 5th. We really liked the boat and the sailing - and the crew was excellent. They worked very well together as a team and made us all feel welcome and at home. Caring and smiling. Always. Nothing to complain about. We have chartered boats before. This was the best crew by far until now! They seem to enjoy to work together.

Pascal is experienced on board and the boss – as it should be – very friendly and caring. Hippolyte made excellent food for us several times every day – always fresh and made with dedication – and a nice person to learn to know. Clemence helped us in all possible ways – kept the boat tidy, served the food, provided whatever we needed early and late – positive and friendly. Ivan is a first class sailor and also supported the crew, kept the children busy with watersports and helped us whenever needed – always with a smile. »

Gallery
6
1303
http://www.centralyachtagent.com/snapins/json-ebrochure.php?idin=1303&uid=2395&user=2395
4
Sail
N
https://www.centralyachtagent.com/yachtadmin/yachtimg/yacht1303/1303brochure88.jpg
8
W. Med -Naples/Sicily, W. Med -Riviera/Cors/Sard., Croatia
95.00
23,00
11,50

Waterskis for children and adults
Monoskies
Wake board
2 paddle boards
Towing ring
Snorkeling gears
Fishing gears

Swim platform
Sun bathing cushions
Bimini and sun awning
Deck shower
Deck fridge with drinks in the cockpit - Free service for guests.
Surmarine ST 370 dinghy (3,7 meters) with Yamaha 40 HP engine, stored in the transom.
a:35:{s:12:"salon_stereo";s:3:"Yes";s:8:"salon_tv";s:3:"Yes";s:6:"sat_tv";s:2:"No";s:17:"multimedia_system";s:3:"Yes";s:4:"nude";s:3:"Inq";s:5:"books";s:3:"Yes";s:9:"crew_pets";s:2:"No";s:8:"pet_type";s:0:"";s:10:"guest_pets";s:2:"No";s:9:"camcorder";s:1:"0";s:14:"number_dine_in";s:0:"";s:11:"water_maker";s:3:"yes";s:14:"water_capacity";s:0:"";s:9:"ice_maker";s:3:"Yes";s:14:"number_of_dvds";s:0:"";s:13:"number_of_cds";s:3:"Yes";s:11:"board_games";s:3:"Yes";s:10:"sun_awning";s:3:"Yes";s:6:"bimini";s:3:"Yes";s:13:"special_diets";s:3:"Yes";s:6:"kosher";s:3:"Yes";s:3:"bbq";s:2:"No";s:12:"gay_charters";s:3:"Yes";s:17:"yachtNudeCharters";s:3:"Inq";s:10:"hairdryers";s:3:"Yes";s:22:"number_of_port_hatches";s:0:"";s:7:"smoking";s:11:"on the deck";s:11:"crew_smokes";s:2:"No";s:11:"children_ok";s:3:"Yes";s:17:"minimum_child_age";s:18:"any age is welcome";s:9:"generator";s:3:"Yes";s:8:"inverter";s:3:"yes";s:8:"voltages";s:3:"220";s:7:"hammock";s:0:"";s:10:"windscoops";s:0:"";}
Full
No
Onboard WIFI
Yes
CUMMINGS 350 HP. 2 GENERATORS (30 KW AND 17 KW) brand new from 2019 Ballast 2*3 700L, Bow thruster Maw power
2003
CNB Bordeaux

- 1 Master equipped with a sofa and a desk. Large en-suite bathroom with 2 washbowls.
- 1 cabin with a double bed
- 1 cabin a double bed convertible into twin beds
- 1 cabin with two single beds
All cabins have en-suite bathroom and head.

All cabins are with: A/C with private control, plugs, hair dryer.


8 guests can be accommodated in 4 cabins as below:
EUR
39000
39000
43000
Summer 2021 - weekly rates: May- June - September - October: € 39,000 + 25% APA + VAT /based on MYBA terms. July - August: € 43,000 + 25% APA + VAT /based on MYBA terms. One-week-minimum charter rate All rates are for 7 nights, 8 days. Charters of less than 7 nights on request depending on schedule and season (5-night-minimum rate) For short charters, please use the divide-by-6 rule for figuring short charter premiums. Charters of 6 nights, use 6/7ths (six sevenths) of the weekly rate.

Nationality : French, born in 1962
Language: French - fluent English.
Qualifications: Captain Class 4, MCA, Stcw95

Pascal worked as a sport shop manager for three years before deciding to crew on sail boats such as the 80' Umatalu, the 75' Serenité and the Swan 651 See Flo. During his five years of training, he sailed in the Mediterranean, the West Indies, Brazil and took part in several Atlantic crossings. He is now perfectly at home in the charter world on board large sailing yachts.
He also monitored the building of a 75' sail boat, 'Kermor' and stepped on board as Captain for a round the world cruise which took him to all the seas and oceans of the world between 1993 and 2002.
Since then, he has sailed on various boats, such as the Swan 72' Elysion Blue, the 130' Globana M, the motor yacht Pegasus, the 82' Falcon, and Sirius of Man, a Predateur 100, before embarking on Grand Bleu Vintage in February 2007.
In addition to his excellent seamanship and technical skills, Pascal loves water skiing and downhill skiing, he plays golf and enjoys natural history, astronomy and photography.
Quiet and cheerful, Pascal is an attentive and welcoming host. His extensive experience allows him to deal confidently with any situation.


FISRT MATE: Guillaume DROUET,
Nationality : French, born in 1994
Language: French - English fluent
Qualifications: Captain 200 - Medical 2

Guillaume comes from the French Riviera where he discovered his passion for the marine environment at a very young age.
He studied in different military establishments, which taught him discipline and determination.
Passionate about sliding sports, he has followed the waves from the East Coast to the West. During his travels, he extended his passion to fishing, underwater hunting, deep sea apnea diving and yachting.
Guillaume is recognized for his dedication to excellence and his eagerness to learn new techniques and get new skills. He has been part of Grand Bleu Vintage's crew since 2018.

CHEF : Cesar CORTIAL
Nationality : French, born in 1996
Languages : French, Fluent English
Qualifications : BTEC National Diploma (Hotel)
BTEC Higher National Diploma (Hotel & Catering)
Training in 2021 at Paul Bocuse School (France)

Born in Provence, passionate by food since he discovered the cuisine of his grand mother, he went straight away to culinary school in Nice. During this period, he got the chance to work with Michelin-starred chefs as Georges Blanc and Édouard Loubet. Those chefs had a big influence on his cuisine .
At the age of 18 years old, he left the south of France to go to London where he met a new food culture.
After 2 years in London, he decided to get closer to the nature and worked for the 2-star chef Simon Rogan, owner of a farm and a gastronomic restaurant.
He is in its second summer season onboard Grand Bleu Vintage.
"With all the things that I learned in the restaurants I worked in, I wanted to propose and serve my own cuisine. That why I chose a beautiful sailing yacht to offer the best of my French cuisine with a British twist."

HOSTESS: Indira BELTRAN
Nationality : French and Venezuelian, born in 1974
Languages : Fluent in Spanish, French, English
Indira worked for a few years as a housekeeper and in child care on a private estate. In 2006, her enthusiasm for sailing led her to embark on Dear Friends (Cat 65') in Ft Lauderdale, the Keys and Sarasota, Florida. The following two years, she was hostess on Exit Strategy, a Cheoy Lee Expe yacht 90', operating between Ft Lauderdale, the Keys and the Bahamas.
Her taste for the sea and travel prepared her for coming to the Mediterranean where she was hostess on Xaroco, a Ferretti 95', in Spain and from May 2010 to 2016 on Grand Bleu Vintage.
After 4 years on several other yachts to improve her skills, she came back on GBV in June 2020. She has a sunny hardworking dispostion and is always ready to respond to the needs and preferences of her guests, who are always touched by her kindness.

";s:5:"photo";s:0:"";s:4:"size";s:1:"4";s:12:"captain_name";s:14:"Pascal MINIAOU";s:14:"captain_nation";s:6:"FRENCH";s:12:"captain_born";s:4:"1962";s:15:"captain_license";s:19:"CAPTAIN CLASS 4 MCA";s:18:"captain_yr_sailing";s:2:"20";s:21:"captain_yr_chartering";s:2:"20";s:17:"captain_languages";s:16:"FRENCH - ENGLISH";s:9:"crew_name";s:16:"Guillaume DROUET";s:16:"crew_nationality";s:6:"French";s:12:"crew_license";s:11:"Captain 200";s:15:"crew_yr_sailing";s:1:"5";s:18:"crew_yr_chartering";s:1:"5";s:7:"crewimg";a:4:{i:1;a:2:{s:3:"url";s:72:"https://www.centralyachtagent.com/yachtadmin/yachtlg/yacht1303/1303crew1";s:4:"desc";s:7:"Captain";}i:2;a:2:{s:3:"url";s:72:"https://www.centralyachtagent.com/yachtadmin/yachtlg/yacht1303/1303crew2";s:4:"desc";s:11:"Second Mate";}i:3;a:2:{s:3:"url";s:76:"https://www.centralyachtagent.com/yachtadmin/yachtlg/yacht1303/1303crew3.jpg";s:4:"desc";s:4:"Chef";}i:4;a:2:{s:3:"url";s:72:"https://www.centralyachtagent.com/yachtadmin/yachtlg/yacht1303/1303crew4";s:4:"desc";s:7:"Hostess";}}}
a:16:{s:4:"info";s:4387:"CAPTAIN: Pascal MINIAOU
https://www.centralyachtagent.com/yachtadmin/yachtlg/yacht1303/1303brochure1.jpg
Grand Bleu Vintage is an exercise in elegance, comfort and impeccable hospitality. Designed by the renowned Philippe Briand and built by CNB Bordeaux, she exudes quality and performance in every situation. Whether under sail or at anchor guests will find Grand Bleu Vintage comfortable and luxurious. The deck salon offers guests the opportunity to relax and unwind in the warm breezes of the Mediterranean while sipping an aperitif before dinner or simply reading a great book. Guests have the choice to dine on deck or below in the light and airy salon. The crew of 4 members is gracious and dedicated to the enjoyment of their guests. Captain Pascal has been on board for 14 years. He has an incredible knowledge of the Mediterranean and can guide you to the best sailing and beautiful anchorages where you can enjoy a swim in crystal waters or star-gazing unimpeded by artificial light. Furthermore, in the team, there is a professional chef who takes great care in catering to guests preferences.
a:18:{i:2;a:2:{s:3:"url";s:80:"https://www.centralyachtagent.com/yachtadmin/yachtlg/yacht1303/1303brochure2.jpg";s:4:"desc";s:9:"Undersail";}i:3;a:2:{s:3:"url";s:80:"https://www.centralyachtagent.com/yachtadmin/yachtlg/yacht1303/1303brochure3.jpg";s:4:"desc";s:9:"At anchor";}i:4;a:2:{s:3:"url";s:80:"https://www.centralyachtagent.com/yachtadmin/yachtlg/yacht1303/1303brochure4.jpg";s:4:"desc";s:15:"Forward cockpit";}i:5;a:2:{s:3:"url";s:80:"https://www.centralyachtagent.com/yachtadmin/yachtlg/yacht1303/1303brochure5.jpg";s:4:"desc";s:28:"Cocktail time in the cockpit";}i:6;a:2:{s:3:"url";s:80:"https://www.centralyachtagent.com/yachtadmin/yachtlg/yacht1303/1303brochure6.jpg";s:4:"desc";s:16:"The master cabin";}i:7;a:2:{s:3:"url";s:80:"https://www.centralyachtagent.com/yachtadmin/yachtlg/yacht1303/1303brochure7.jpg";s:4:"desc";s:27:"The master ensuite bathroom";}i:8;a:2:{s:3:"url";s:80:"https://www.centralyachtagent.com/yachtadmin/yachtlg/yacht1303/1303brochure8.jpg";s:4:"desc";s:30:"The master cabin with the desk";}i:9;a:2:{s:3:"url";s:80:"https://www.centralyachtagent.com/yachtadmin/yachtlg/yacht1303/1303brochure9.jpg";s:4:"desc";s:35:"Guest middle twin cabin (starboard)";}i:10;a:2:{s:3:"url";s:81:"https://www.centralyachtagent.com/yachtadmin/yachtlg/yacht1303/1303brochure10.jpg";s:4:"desc";s:36:"Guest middle double cabin (portside)";}i:11;a:2:{s:3:"url";s:81:"https://www.centralyachtagent.com/yachtadmin/yachtlg/yacht1303/1303brochure11.jpg";s:4:"desc";s:35:"Guest after double cabin (portside)";}i:12;a:2:{s:3:"url";s:81:"https://www.centralyachtagent.com/yachtadmin/yachtlg/yacht1303/1303brochure12.jpg";s:4:"desc";s:9:"The salon";}i:13;a:2:{s:3:"url";s:81:"https://www.centralyachtagent.com/yachtadmin/yachtlg/yacht1303/1303brochure13.jpg";s:4:"desc";s:26:"The salon with dining area";}i:14;a:2:{s:3:"url";s:81:"https://www.centralyachtagent.com/yachtadmin/yachtlg/yacht1303/1303brochure14.jpg";s:4:"desc";s:24:"Breakfast in the cockpit";}i:15;a:2:{s:3:"url";s:81:"https://www.centralyachtagent.com/yachtadmin/yachtlg/yacht1303/1303brochure15.jpg";s:4:"desc";s:17:"Bathing plateform";}i:16;a:2:{s:3:"url";s:81:"https://www.centralyachtagent.com/yachtadmin/yachtlg/yacht1303/1303brochure16.jpg";s:4:"desc";s:7:"Bimini ";}i:17;a:2:{s:3:"url";s:81:"https://www.centralyachtagent.com/yachtadmin/yachtlg/yacht1303/1303brochure17.jpg";s:4:"desc";s:10:"Sun Awning";}i:18;a:2:{s:3:"url";s:81:"https://www.centralyachtagent.com/yachtadmin/yachtlg/yacht1303/1303brochure18.jpg";s:4:"desc";s:6:"Upwind";}i:19;a:2:{s:3:"url";s:81:"https://www.centralyachtagent.com/yachtadmin/yachtlg/yacht1303/1303brochure19.jpg";s:4:"desc";s:11:"Aerial view";}}
<p style="text-align: center;"><span style="font-family: terminal, monaco, monospace;">STARTERS</span></p> <p style="text-align: center;"><span style="font-family: terminal, monaco, monospace;">Mackerel tartar, savora emulsion, young herbs and pickles</span></p> <p style="text-align: center;"><span style="font-family: terminal, monaco, monospace;">Fresh tomato and peach salad, basil, burrata foam</span></p> <p style="text-align: center;"><span style="font-family: terminal, monaco, monospace;">Scallops carpaccio, Granny Smith apple, calamansi dressing, smoke cream</span></p> <p style="text-align: center;"><span style="font-family: terminal, monaco, monospace;">Poached eggs, lovage coulis, girolles, toast truffle gouda</span></p> <p style="text-align: center;">&nbsp;</p> <p style="text-align: center;"><span style="font-family: terminal, monaco, monospace;">MAIN COURSES</span></p> <p style="text-align: center;"><span style="font-family: terminal, monaco, monospace;">Roasted lamb rack with herb crust, potato &ldquo;gratin&rdquo;, lamb jus infused with thyme</span></p> <p style="text-align: center;"><span style="font-family: terminal, monaco, monospace;">Truffle risotto</span></p> <p style="text-align: center;"><span style="font-family: terminal, monaco, monospace;">Roasted sweetbread, pan fried potato, samphire, grapefruit and sage sauce</span></p> <p style="text-align: center;"><span style="font-family: terminal, monaco, monospace;">Linguine with lobster, lobster sauce</span></p> <p style="text-align: center;"><span style="font-family: terminal, monaco, monospace;">Duck breast, hispi cabbage, truffle puree, wasabi foam</span></p> <p style="text-align: center;"><span style="font-family: terminal, monaco, monospace;">Roasted monkfish, pak cho&iuml;, barley, saffron sauce</span></p> <p style="text-align: center;"><span style="font-family: terminal, monaco, monospace;">Slow cook lamb lag, &ldquo;ratatouille&rdquo;, Anna potato</span></p> <p style="text-align: center;"><span style="font-family: terminal, monaco, monospace;">Courgettes stuffed, shellfish, &ldquo;beurre blanc&rdquo;</span></p> <p style="text-align: center;"><span style="font-family: terminal, monaco, monospace;">Fish soup from Mediterranean rock fish, &ldquo;rouille&rdquo;, croutons</span></p> <p style="text-align: center;"><span style="font-family: terminal, monaco, monospace;">Red mullet, braise fennel, red pepper, red mullet sauce</span></p> <p style="text-align: center;">&nbsp;</p> <p style="text-align: center;"><span style="font-family: terminal, monaco, monospace;">DESSERTS</span></p> <p style="text-align: center;"><span style="font-family: terminal, monaco, monospace;">Chocolate fondant</span></p> <p style="text-align: center;"><span style="font-family: terminal, monaco, monospace;">Seasonal fruits tart</span></p> <p style="text-align: center;"><span style="font-family: terminal, monaco, monospace;">Strawberry cake &ldquo;Fraisier&rdquo;</span></p> <p style="text-align: center;"><span style="font-family: terminal, monaco, monospace;">Seasonal &ldquo;bavarois&rdquo;</span></p> <p style="text-align: center;"><span style="font-family: terminal, monaco, monospace;">Caramelised flan</span></p> <p style="text-align: center;"><span style="font-family: terminal, monaco, monospace;">Tatin tart</span></p> <p style="text-align: center;"><span style="font-family: terminal, monaco, monospace;">Fruits carpaccio</span></p> <p style="text-align: center;">&nbsp;</p>
a:10:{i:1;a:1:{s:3:"url";s:76:"https://www.centralyachtagent.com/yachtadmin/yachtlg/yacht1303/1303menu1.jpg";}i:2;a:1:{s:3:"url";s:76:"https://www.centralyachtagent.com/yachtadmin/yachtlg/yacht1303/1303menu2.jpg";}i:3;a:1:{s:3:"url";s:76:"https://www.centralyachtagent.com/yachtadmin/yachtlg/yacht1303/1303menu3.jpg";}i:4;a:1:{s:3:"url";s:76:"https://www.centralyachtagent.com/yachtadmin/yachtlg/yacht1303/1303menu4.jpg";}i:5;a:1:{s:3:"url";s:76:"https://www.centralyachtagent.com/yachtadmin/yachtlg/yacht1303/1303menu5.jpg";}i:6;a:1:{s:3:"url";s:76:"https://www.centralyachtagent.com/yachtadmin/yachtlg/yacht1303/1303menu6.jpg";}i:7;a:1:{s:3:"url";s:76:"https://www.centralyachtagent.com/yachtadmin/yachtlg/yacht1303/1303menu7.jpg";}i:8;a:1:{s:3:"url";s:76:"https://www.centralyachtagent.com/yachtadmin/yachtlg/yacht1303/1303menu8.jpg";}i:9;a:1:{s:3:"url";s:76:"https://www.centralyachtagent.com/yachtadmin/yachtlg/yacht1303/1303menu9.jpg";}i:10;a:1:{s:3:"url";s:77:"https://www.centralyachtagent.com/yachtadmin/yachtlg/yacht1303/1303menu10.jpg";}}
https://player.vimeo.com/video/168161122
http://www.cyabrochure.com/ebn/2395/pdhaX/1303/1
http://www.cyabrochure.com/ebn/2395/pdhaX/1303/3
a:24:{s:4:"tube";s:1:"1";s:6:"guests";s:1:"8";s:8:"maxspeed";s:2:"14";s:11:"pref_pickup";N;s:12:"other_pickup";N;s:5:"draft";s:5:"11,50";s:14:"cruising_speed";s:2:"10";s:7:"helipad";s:2:"No";s:2:"ac";s:4:"Full";s:8:"ac_night";s:2:"No";s:5:"built";s:4:"2003";s:10:"turnaround";s:9:"72 hours ";s:6:"cabins";s:1:"4";s:4:"king";s:1:"1";s:5:"queen";s:1:"2";s:6:"double";s:1:"0";s:6:"single";s:1:"0";s:4:"twin";s:1:"1";s:7:"pullman";s:1:"0";s:7:"showers";s:1:"4";s:6:"basins";s:1:"5";s:5:"heads";s:1:"4";s:14:"electric_heads";s:1:"4";s:7:"jacuzzi";s:2:"No";}
a:7:{s:4:"flag";s:6:"FRENCH";s:8:"homeport";s:7:"Antibes";s:13:"resort_course";s:0:"";s:12:"yacht_permit";s:1:"2";s:13:"yacht_license";s:1:"2";s:9:"yacht_mca";s:1:"2";s:15:"yacht_insurance";s:9:"GENERALLY";}

Hifi and DVD home cinema
TV flat screen in saloon
Hifi sound system in saloon and cockpit
Games, books, MP3
Apple TV, Ipod station
Winecooler, Ice maker and Water maker
Wireless speakers
a:22:{s:11:"dinghy_size";s:29:"Surmarine ST 370 (3,7 meters)";s:12:"kayaks_1_pax";s:2:"No";s:12:"kayaks_2_pax";s:2:"No";s:9:"dinghy_hp";s:2:"40";s:13:"floating_mats";s:3:"Yes";s:10:"dinghy_pax";s:1:"6";s:13:"swim_platform";s:3:"Yes";s:16:"water_skis_adult";s:3:"Yes";s:15:"boarding_ladder";s:3:"Yes";s:15:"water_skis_kids";s:3:"Yes";s:14:"sailing_dinghy";s:0:"";s:8:"jet_skis";s:2:"No";s:11:"beach_games";s:3:"Yes";s:12:"wave_runners";s:1:"0";s:9:"kneeboard";s:3:"Yes";s:10:"windsurfer";s:1:"0";s:12:"snorkel_gear";s:3:"Yes";s:17:"underwater_camera";s:1:"0";s:7:"scurfer";s:1:"0";s:16:"underwater_video";s:1:"0";s:10:"wake_board";s:3:"Yes";s:11:"paddleboard";s:1:"2";}
1
2
0
0
1
0
2013
Yes
Yes
220
Antibes
Greece

- 1 Master equipped with a sofa and a desk. Large en-suite bathroom with 2 washbowls.
- 1 cabin with a double bed
- 1 cabin a double bed convertible into twin beds
- 1 cabin with two single beds
All cabins have en-suite bathroom and head.

All cabins are with: A/C with private control, plugs, hair dryer.

";s:14:"yachtHighPrice";s:13:"€43,000";s:13:"yachtLowPrice";s:13:"€39,000";s:21:"yachtHighNumericPrice";s:5:"43000";s:20:"yachtLowNumericPrice";s:5:"39000";s:19:"yachtCurrencySymbol";s:7:"€";s:13:"yachtCurrency";s:3:"EUR";s:17:"yachtPriceDetails";s:514:"Summer 2021 - weekly rates: May- June - September - October: € 39,000 + 25% APA + VAT /based on MYBA terms. July - August: € 43,000 + 25% APA + VAT /based on MYBA terms. One-week-minimum charter rate All rates are for 7 nights, 8 days. Charters of less than 7 nights on request depending on schedule and season (5-night-minimum rate) For short charters, please use the divide-by-6 rule for figuring short charter premiums. Charters of 6 nights, use 6/7ths (six sevenths) of the weekly rate. ";s:14:"yachtTermsType";s:13:"Plus Expenses";s:17:"yachtTermsTypeNum";s:1:"2";s:11:"yachtVcrDvd";s:3:"Yes";s:16:"yachtSalonStereo";s:3:"Yes";s:11:"yachtNumDvd";s:0:"";s:11:"yachtNumCds";s:3:"Yes";s:15:"yachtBoardGames";s:3:"Yes";s:13:"yachtNumBooks";s:3:"Yes";s:14:"yachtCamCorder";s:1:"0";s:14:"yachtNumDineIn";s:0:"";s:14:"yachtSunAwning";s:3:"Yes";s:12:"yachtHammock";s:0:"";s:15:"yachtWindScoops";s:0:"";s:15:"yachtDeckShower";s:3:"Yes";s:11:"yachtBimini";s:3:"Yes";s:17:"yachtSpecialDiets";s:3:"Yes";s:11:"yachtKosher";s:3:"Yes";s:8:"yachtBBQ";s:2:"No";s:16:"yachtGayCharters";s:3:"Yes";s:17:"yachtNudeCharters";s:3:"Inq";s:14:"yachtHairDryer";s:3:"Yes";s:13:"yachtNumHatch";s:0:"";s:15:"yachtGuestSmoke";s:11:"on the deck";s:13:"yachtGuestPet";s:2:"No";s:20:"yachtChildrenAllowed";s:3:"Yes";s:16:"yachtMinChildAge";s:18:"any age is welcome";s:14:"yachtGenerator";s:3:"Yes";s:12:"yachtEngines";s:109:"CUMMINGS 350 HP. 2 GENERATORS (30 KW AND 17 KW) brand new from 2019 Ballast 2*3 700L, Bow thruster Maw power";s:9:"yachtFuel";s:2:"40";s:13:"yachtInverter";s:3:"yes";s:13:"yachtVoltages";s:3:"220";s:15:"yachtWaterMaker";s:3:"yes";s:18:"yachtWaterCapacity";s:0:"";s:13:"yachtIceMaker";s:3:"Yes";s:11:"yachtDinghy";s:29:"Surmarine ST 370 (3,7 meters)";s:13:"yachtDinghyHp";s:2:"40";s:14:"yachtDinghyPax";s:1:"6";s:15:"yachtAdultWSkis";s:3:"Yes";s:13:"yachtKidsSkis";s:3:"Yes";s:12:"yachtJetSkis";s:2:"No";s:12:"yachtWaveRun";s:1:"0";s:14:"yachtKneeBoard";s:3:"Yes";s:18:"yachtStandUpPaddle";s:1:"2";s:13:"yachtWindSurf";s:1:"0";s:16:"yachtGearSnorkel";s:3:"Yes";s:9:"yachtTube";s:1:"1";s:12:"yachtScurfer";s:1:"0";s:14:"yachtWakeBoard";s:3:"Yes";s:14:"yacht1ManKayak";s:2:"No";s:14:"yacht2ManKayak";s:2:"No";s:11:"yachtSeaBob";s:2:"No";s:15:"yachtSeaScooter";s:2:"No";s:17:"yachtKiteBoarding";s:0:"";s:24:"yachtKiteBoardingDetails";s:0:"";s:15:"yachtFishPermit";s:0:"";s:14:"yachtFloatMats";s:3:"Yes";s:17:"yachtSwimPlatform";s:3:"Yes";s:19:"yachtBoardingLadder";s:3:"Yes";s:18:"yachtDinghySailing";s:0:"";s:15:"yachtGamesBeach";s:3:"Yes";s:16:"yachtFishingGear";s:3:"Yes";s:17:"yachtFishGearType";s:0:"";s:16:"yachtNumFishRods";s:0:"";s:18:"yachtUnderWaterCam";s:1:"0";s:20:"yachtUnderWaterVideo";s:1:"0";s:19:"yachtGreenMakeWater";s:3:"Yes";s:21:"yachtGreenReuseBottle";s:0:"";s:15:"yachtGreenOther";s:49:"GRAND BLEU VINTAGE makes purified drinking water.";s:17:"yachtScubaOnboard";s:35:"Yacht offers Rendezvous Diving only";s:17:"yachtResortCourse";s:0:"";s:15:"yachtFullCourse";s:0:"";s:16:"yachtLicenseInfo";s:1:"-";s:15:"yachtCompressor";s:11:"Not Onboard";s:17:"yachtNumDiveTanks";s:1:"0";s:11:"yachtNumBCS";s:1:"0";s:12:"yachtNumRegs";s:1:"0";s:16:"yachtNumWetSuits";s:1:"0";s:15:"yachtNumWeights";s:1:"0";s:14:"yachtNumDivers";s:1:"0";s:13:"yachtNumDives";s:0:"";s:18:"yachtNumNightDives";s:1:"0";s:18:"yachtNumDiveLights";s:1:"0";s:13:"yachtDiveInfo";s:10:"RDV diving";s:14:"yachtDiveCosts";s:10:"On request";s:9:"yachtPic1";s:80:"https://www.centralyachtagent.com/yachtadmin/yachtlg/yacht1303/1303brochure1.jpg";s:10:"yachtDesc1";s:1008:"Grand Bleu Vintage is an exercise in elegance, comfort and impeccable hospitality. Designed by the renowned Philippe Briand and built by CNB Bordeaux, she exudes quality and performance in every situation. Whether under sail or at anchor guests will find Grand Bleu Vintage comfortable and luxurious. The deck salon offers guests the opportunity to relax and unwind in the warm breezes of the Mediterranean while sipping an aperitif before dinner or simply reading a great book. Guests have the choice to dine on deck or below in the light and airy salon. The crew of 4 members is gracious and dedicated to the enjoyment of their guests. Captain Pascal has been on board for 14 years. He has an incredible knowledge of the Mediterranean and can guide you to the best sailing and beautiful anchorages where you can enjoy a swim in crystal waters or star-gazing unimpeded by artificial light. Furthermore, in the team, there is a professional chef who takes great care in catering to guests preferences. ";s:9:"yachtPic2";s:80:"https://www.centralyachtagent.com/yachtadmin/yachtlg/yacht1303/1303brochure2.jpg";s:10:"yachtDesc2";s:9:"Undersail";s:9:"yachtPic3";s:80:"https://www.centralyachtagent.com/yachtadmin/yachtlg/yacht1303/1303brochure3.jpg";s:10:"yachtDesc3";s:9:"At anchor";s:9:"yachtPic4";s:80:"https://www.centralyachtagent.com/yachtadmin/yachtlg/yacht1303/1303brochure4.jpg";s:10:"yachtDesc4";s:15:"Forward cockpit";s:9:"yachtPic5";s:80:"https://www.centralyachtagent.com/yachtadmin/yachtlg/yacht1303/1303brochure5.jpg";s:10:"yachtDesc5";s:28:"Cocktail time in the cockpit";s:9:"yachtPic6";s:80:"https://www.centralyachtagent.com/yachtadmin/yachtlg/yacht1303/1303brochure6.jpg";s:10:"yachtDesc6";s:16:"The master cabin";s:9:"yachtPic7";s:80:"https://www.centralyachtagent.com/yachtadmin/yachtlg/yacht1303/1303brochure7.jpg";s:10:"yachtDesc7";s:27:"The master ensuite bathroom";s:9:"yachtPic8";s:80:"https://www.centralyachtagent.com/yachtadmin/yachtlg/yacht1303/1303brochure8.jpg";s:10:"yachtDesc8";s:30:"The master cabin with the desk";s:9:"yachtPic9";s:80:"https://www.centralyachtagent.com/yachtadmin/yachtlg/yacht1303/1303brochure9.jpg";s:10:"yachtDesc9";s:35:"Guest middle twin cabin (starboard)";s:10:"yachtPic10";s:81:"https://www.centralyachtagent.com/yachtadmin/yachtlg/yacht1303/1303brochure10.jpg";s:11:"yachtDesc10";s:36:"Guest middle double cabin (portside)";s:10:"yachtPic11";s:81:"https://www.centralyachtagent.com/yachtadmin/yachtlg/yacht1303/1303brochure11.jpg";s:11:"yachtDesc11";s:35:"Guest after double cabin (portside)";s:10:"yachtPic12";s:81:"https://www.centralyachtagent.com/yachtadmin/yachtlg/yacht1303/1303brochure12.jpg";s:11:"yachtDesc12";s:9:"The salon";s:10:"yachtPic13";s:81:"https://www.centralyachtagent.com/yachtadmin/yachtlg/yacht1303/1303brochure13.jpg";s:11:"yachtDesc13";s:26:"The salon with dining area";s:10:"yachtPic14";s:81:"https://www.centralyachtagent.com/yachtadmin/yachtlg/yacht1303/1303brochure14.jpg";s:11:"yachtDesc14";s:24:"Breakfast in the cockpit";s:10:"yachtPic15";s:81:"https://www.centralyachtagent.com/yachtadmin/yachtlg/yacht1303/1303brochure15.jpg";s:11:"yachtDesc15";s:17:"Bathing plateform";s:10:"yachtPic16";s:81:"https://www.centralyachtagent.com/yachtadmin/yachtlg/yacht1303/1303brochure16.jpg";s:11:"yachtDesc16";s:7:"Bimini ";s:10:"yachtPic17";s:81:"https://www.centralyachtagent.com/yachtadmin/yachtlg/yacht1303/1303brochure17.jpg";s:11:"yachtDesc17";s:10:"Sun Awning";s:10:"yachtPic18";s:81:"https://www.centralyachtagent.com/yachtadmin/yachtlg/yacht1303/1303brochure18.jpg";s:11:"yachtDesc18";s:6:"Upwind";s:10:"yachtPic19";s:81:"https://www.centralyachtagent.com/yachtadmin/yachtlg/yacht1303/1303brochure19.jpg";s:11:"yachtDesc19";s:11:"Aerial view";s:11:"yachtLayout";s:82:"https://www.centralyachtagent.com/yachtadmin/yachtimg/yacht1303/1303brochure88.jpg";s:18:"yachtFullEbrochure";s:48:"http://www.cyabrochure.com/ebn/2395/pdhaX/1303/3";s:14:"yachtFullRates";s:48:"http://www.cyabrochure.com/ebn/2395/pdhaX/1303/4";s:14:"yachtOtherToys";s:428:"Surmarine ST 370 dinghy (3,7 meters) with Yamaha 40 HP engine, stored in the transom.
Waterskis for children and adults
Monoskies
Wake board
2 paddle boards
Towing ring
Snorkeling gears
Fishing gears

Swim platform
Sun bathing cushions
Bimini and sun awning
Deck shower
Deck fridge with drinks in the cockpit - Free service for guests.";s:19:"yachtOtherEntertain";s:229:"Wireless speakers
Hifi and DVD home cinema
TV flat screen in saloon
Hifi sound system in saloon and cockpit
Games, books, MP3
Apple TV, Ipod station
Winecooler, Ice maker and Water maker";s:16:"yachtCommunicate";s:40:"SAT PHONE - FAX AND EMAIL - MOBILE PHONE";s:15:"yachtSummerArea";s:58:"W. Med -Naples/Sicily, W. Med -Riviera/Cors/Sard., Croatia";s:15:"yachtWinterArea";s:0:"";s:12:"yachtShowers";s:1:"4";s:15:"yachtWashBasins";s:1:"5";s:10:"yachtHeads";s:1:"4";s:18:"yachtElectricHeads";s:1:"4";s:14:"yachtTpInHeads";s:0:"";s:15:"yachtSampleMenu";s:4178:"<p style="text-align: center;"><span style="font-family: terminal, monaco, monospace;">STARTERS</span></p> <p style="text-align: center;"><span style="font-family: terminal, monaco, monospace;">Mackerel tartar, savora emulsion, young herbs and pickles</span></p> <p style="text-align: center;"><span style="font-family: terminal, monaco, monospace;">Fresh tomato and peach salad, basil, burrata foam</span></p> <p style="text-align: center;"><span style="font-family: terminal, monaco, monospace;">Scallops carpaccio, Granny Smith apple, calamansi dressing, smoke cream</span></p> <p style="text-align: center;"><span style="font-family: terminal, monaco, monospace;">Poached eggs, lovage coulis, girolles, toast truffle gouda</span></p> <p style="text-align: center;">&nbsp;</p> <p style="text-align: center;"><span style="font-family: terminal, monaco, monospace;">MAIN COURSES</span></p> <p style="text-align: center;"><span style="font-family: terminal, monaco, monospace;">Roasted lamb rack with herb crust, potato &ldquo;gratin&rdquo;, lamb jus infused with thyme</span></p> <p style="text-align: center;"><span style="font-family: terminal, monaco, monospace;">Truffle risotto</span></p> <p style="text-align: center;"><span style="font-family: terminal, monaco, monospace;">Roasted sweetbread, pan fried potato, samphire, grapefruit and sage sauce</span></p> <p style="text-align: center;"><span style="font-family: terminal, monaco, monospace;">Linguine with lobster, lobster sauce</span></p> <p style="text-align: center;"><span style="font-family: terminal, monaco, monospace;">Duck breast, hispi cabbage, truffle puree, wasabi foam</span></p> <p style="text-align: center;"><span style="font-family: terminal, monaco, monospace;">Roasted monkfish, pak cho&iuml;, barley, saffron sauce</span></p> <p style="text-align: center;"><span style="font-family: terminal, monaco, monospace;">Slow cook lamb lag, &ldquo;ratatouille&rdquo;, Anna potato</span></p> <p style="text-align: center;"><span style="font-family: terminal, monaco, monospace;">Courgettes stuffed, shellfish, &ldquo;beurre blanc&rdquo;</span></p> <p style="text-align: center;"><span style="font-family: terminal, monaco, monospace;">Fish soup from Mediterranean rock fish, &ldquo;rouille&rdquo;, croutons</span></p> <p style="text-align: center;"><span style="font-family: terminal, monaco, monospace;">Red mullet, braise fennel, red pepper, red mullet sauce</span></p> <p style="text-align: center;">&nbsp;</p> <p style="text-align: center;"><span style="font-family: terminal, monaco, monospace;">DESSERTS</span></p> <p style="text-align: center;"><span style="font-family: terminal, monaco, monospace;">Chocolate fondant</span></p> <p style="text-align: center;"><span style="font-family: terminal, monaco, monospace;">Seasonal fruits tart</span></p> <p style="text-align: center;"><span style="font-family: terminal, monaco, monospace;">Strawberry cake &ldquo;Fraisier&rdquo;</span></p> <p style="text-align: center;"><span style="font-family: terminal, monaco, monospace;">Seasonal &ldquo;bavarois&rdquo;</span></p> <p style="text-align: center;"><span style="font-family: terminal, monaco, monospace;">Caramelised flan</span></p> <p style="text-align: center;"><span style="font-family: terminal, monaco, monospace;">Tatin tart</span></p> <p style="text-align: center;"><span style="font-family: terminal, monaco, monospace;">Fruits carpaccio</span></p> <p style="text-align: center;">&nbsp;</p>";s:13:"yachtMenu1Pic";s:0:"";s:13:"yachtMenu2Pic";s:0:"";s:13:"yachtMenu3Pic";s:0:"";s:13:"yachtMenu4Pic";s:0:"";s:13:"yachtMenu5Pic";s:0:"";s:13:"yachtMenu6Pic";s:0:"";s:13:"yachtMenu7Pic";s:0:"";s:13:"yachtMenu8Pic";s:0:"";s:13:"yachtMenu9Pic";s:0:"";s:14:"yachtMenu10Pic";s:0:"";s:9:"yachtCrew";s:1:"4";s:14:"yachtCrewSmoke";s:2:"No";s:13:"yachtCrewPets";s:2:"No";s:16:"yachtCrewPetType";s:0:"";s:16:"yachtCaptainName";s:14:"Pascal MINIAOU";s:18:"yachtCaptainNation";s:6:"FRENCH";s:16:"yachtCaptainBorn";s:4:"1962";s:15:"yachtCaptainLic";s:19:"CAPTAIN CLASS 4 MCA";s:18:"yachtCaptainYrSail";s:2:"20";s:19:"yachtCaptainYrChart";s:2:"20";s:16:"yachtCaptainLang";s:16:"FRENCH - ENGLISH";s:13:"yachtCrewName";s:16:"Guillaume DROUET";s:14:"yachtCrewTitle";s:10:"First Mate";s:15:"yachtCrewNation";s:6:"French";s:15:"yachtCrewYrBorn";s:4:"1994";s:12:"yachtCrewLic";s:11:"Captain 200";s:15:"yachtCrewYrSail";s:1:"5";s:16:"yachtCrewYrChart";s:1:"5";s:13:"yachtCrewLang";s:0:"";s:16:"yachtCrewProfile";s:4387:"CAPTAIN: Pascal MINIAOU
Nationality : French, born in 1962
Language: French - fluent English.
Qualifications: Captain Class 4, MCA, Stcw95

Pascal worked as a sport shop manager for three years before deciding to crew on sail boats such as the 80' Umatalu, the 75' Serenité and the Swan 651 See Flo. During his five years of training, he sailed in the Mediterranean, the West Indies, Brazil and took part in several Atlantic crossings. He is now perfectly at home in the charter world on board large sailing yachts.
He also monitored the building of a 75' sail boat, 'Kermor' and stepped on board as Captain for a round the world cruise which took him to all the seas and oceans of the world between 1993 and 2002.
Since then, he has sailed on various boats, such as the Swan 72' Elysion Blue, the 130' Globana M, the motor yacht Pegasus, the 82' Falcon, and Sirius of Man, a Predateur 100, before embarking on Grand Bleu Vintage in February 2007.
In addition to his excellent seamanship and technical skills, Pascal loves water skiing and downhill skiing, he plays golf and enjoys natural history, astronomy and photography.
Quiet and cheerful, Pascal is an attentive and welcoming host. His extensive experience allows him to deal confidently with any situation.


FISRT MATE: Guillaume DROUET,
Nationality : French, born in 1994
Language: French - English fluent
Qualifications: Captain 200 - Medical 2

Guillaume comes from the French Riviera where he discovered his passion for the marine environment at a very young age.
He studied in different military establishments, which taught him discipline and determination.
Passionate about sliding sports, he has followed the waves from the East Coast to the West. During his travels, he extended his passion to fishing, underwater hunting, deep sea apnea diving and yachting.
Guillaume is recognized for his dedication to excellence and his eagerness to learn new techniques and get new skills. He has been part of Grand Bleu Vintage's crew since 2018.

CHEF : Cesar CORTIAL
Nationality : French, born in 1996
Languages : French, Fluent English
Qualifications : BTEC National Diploma (Hotel)
BTEC Higher National Diploma (Hotel & Catering)
Training in 2021 at Paul Bocuse School (France)

Born in Provence, passionate by food since he discovered the cuisine of his grand mother, he went straight away to culinary school in Nice. During this period, he got the chance to work with Michelin-starred chefs as Georges Blanc and Édouard Loubet. Those chefs had a big influence on his cuisine .
At the age of 18 years old, he left the south of France to go to London where he met a new food culture.
After 2 years in London, he decided to get closer to the nature and worked for the 2-star chef Simon Rogan, owner of a farm and a gastronomic restaurant.
He is in its second summer season onboard Grand Bleu Vintage.
"With all the things that I learned in the restaurants I worked in, I wanted to propose and serve my own cuisine. That why I chose a beautiful sailing yacht to offer the best of my French cuisine with a British twist."

HOSTESS: Indira BELTRAN
Nationality : French and Venezuelian, born in 1974
Languages : Fluent in Spanish, French, English
Indira worked for a few years as a housekeeper and in child care on a private estate. In 2006, her enthusiasm for sailing led her to embark on Dear Friends (Cat 65') in Ft Lauderdale, the Keys and Sarasota, Florida. The following two years, she was hostess on Exit Strategy, a Cheoy Lee Expe yacht 90', operating between Ft Lauderdale, the Keys and the Bahamas.
Her taste for the sea and travel prepared her for coming to the Mediterranean where she was hostess on Xaroco, a Ferretti 95', in Spain and from May 2010 to 2016 on Grand Bleu Vintage.
After 4 years on several other yachts to improve her skills, she came back on GBV in June 2020. She has a sunny hardworking dispostion and is always ready to respond to the needs and preferences of her guests, who are always touched by her kindness.

";s:14:"yachtCrewPhoto";s:0:"";s:13:"yachtCrew1Pic";s:72:"https://www.centralyachtagent.com/yachtadmin/yachtlg/yacht1303/1303crew1";s:13:"yachtCrew2Pic";s:72:"https://www.centralyachtagent.com/yachtadmin/yachtlg/yacht1303/1303crew2";s:13:"yachtCrew3Pic";s:76:"https://www.centralyachtagent.com/yachtadmin/yachtlg/yacht1303/1303crew3.jpg";s:13:"yachtCrew4Pic";s:72:"https://www.centralyachtagent.com/yachtadmin/yachtlg/yacht1303/1303crew4";s:13:"yachtCrew5Pic";s:0:"";s:13:"yachtCrew6Pic";s:0:"";s:13:"yachtCrew7Pic";s:0:"";s:13:"yachtCrew8Pic";s:0:"";s:13:"yachtCrew9Pic";s:0:"";s:14:"yachtCrew10Pic";s:0:"";s:14:"yachtCrew1Name";s:14:"Pascal MINIAOU";s:14:"yachtCrew2Name";s:16:"Guillaume DROUET";s:14:"yachtCrew3Name";s:13:"Cesar CORTIAL";s:14:"yachtCrew4Name";s:14:"Indira BELTRAN";s:14:"yachtCrew5Name";s:0:"";s:14:"yachtCrew6Name";s:0:"";s:14:"yachtCrew7Name";s:0:"";s:14:"yachtCrew8Name";s:0:"";s:14:"yachtCrew9Name";s:0:"";s:15:"yachtCrew10Name";s:0:"";s:15:"yachtCrew1Title";s:7:"Captain";s:15:"yachtCrew2Title";s:11:"Second Mate";s:15:"yachtCrew3Title";s:4:"Chef";s:15:"yachtCrew4Title";s:7:"Hostess";s:15:"yachtCrew5Title";s:0:"";s:15:"yachtCrew6Title";s:0:"";s:15:"yachtCrew7Title";s:0:"";s:15:"yachtCrew8Title";s:0:"";s:15:"yachtCrew9Title";s:0:"";s:16:"yachtCrew10Title";s:0:"";s:9:"yachtFlag";s:6:"FRENCH";s:13:"yachtHomePort";s:7:"Antibes";s:14:"yachtWBasePort";s:7:"Antibes";s:8:"yachtRig";s:0:"";s:14:"yachtGrossTons";s:0:"";s:12:"yachtAcNight";s:2:"No";s:16:"yachtAcSurCharge";s:0:"";s:9:"yachtTubs";s:1:"0";s:20:"yachtLocationDetails";s:130:"Summer 2021 : Grand Bleu Vintage will be available in the South of France in June and in Italy and Croatia from July to September";s:10:"yachtTerms";s:4:"MYBA";s:13:"yachtCaptOnly";s:0:"";s:15:"yachtSpecialCon";s:0:"";s:14:"yachtContracts";s:0:"";s:21:"yachtConsumptionUnits";s:9:"Litres/Hr";s:10:"yachtRange";s:0:"";s:11:"yachtPermit";s:1:"2";s:12:"yachtLicense";s:1:"2";s:8:"yachtMca";s:1:"2";s:16:"yachtDeepSeaFish";s:0:"";s:10:"yachtSatTv";s:2:"No";s:9:"yachtIpod";s:3:"Yes";s:10:"yachtVideo";s:0:"";s:17:"yachtSailInstruct";s:3:"Yes";s:13:"yachtInternet";s:12:"Onboard WIFI";s:16:"yachtCaptainOnly";s:0:"";s:16:"yachtBrokerNotes";s:0:"";s:10:"yachtNumGC";i:20;s:8:"yachtGC1";s:603:""About our trip in Croatia:

Yacht is in excellent and clean condition.
The crew, led by Pascal, deserves the grade 1 !!
Pascal too, of course.
Special mention should be made of the gifted young chef César. My guest Norbert Sch, who earned a Michelin star himself, is convinced that César will be a great newcomer ... just great what was offered to us.
Indira served us superbly around the clock, as did Guillaume.

We are already looking forward to the next trip with the beautiful yacht and the wonderful crew."
";s:10:"yachtGC1P1";s:0:"";s:10:"yachtGC1P2";s:0:"";s:10:"yachtGC1P3";s:0:"";s:8:"yachtGC2";s:1553:"« Chers tous,

Vous trouverez ci-dessous un petit bilan de notre formidable croisière sur Grand Bleu.

Bateau
Exceptionnel
En excellent état
Très bon entretien général

Staff
Exceptionnel
Un professionnalisme et un sens du service rarement vus.

Capitaine Pascal
Très expérimenté,
Beaucoup d'écoute et de recul,
Grande souplesse,
Activités et programme variés,
Grand sentiment de sécurité.

Chef Cesar
Cuisine à base d'émulsion unique,
Un vrai étoilé,
Un vrai sans faute
C'était délicieux toute la semaine.

Hotesse Indira
Grande gentillesse,
Toujours aux petits soins,
Efficace au quotidien.

Second Guillaume
Efficace et attentif,
Compétent sur toutes les activités.

Programme
Bien équilibré dans l'ensemble.

Météo
Il a manqué hélas une journée de vent

Nous laissons la famille XXX compléter.
A refaire sans hésitation.
Les pourboires arrivent… 👌👏⛵️

Merci à tous pour ce formidable moment tellement privilégié ».
";s:10:"yachtGC2P1";s:0:"";s:10:"yachtGC2P2";s:0:"";s:10:"yachtGC2P3";s:0:"";s:8:"yachtGC3";s:409:""As already communicated by phone, our trip was more than perfect and pleasant. Pascal once again gave us an unforgettable time as captain with his great crew.
I would particularly like to highlight Cesar as perfect chef of french cuisine.
All in all nice and safe too. I am looking forward to the next trip with hopefully the same line-up ..
Thank you !
best regards
Paul "";s:10:"yachtGC3P1";s:0:"";s:10:"yachtGC3P2";s:0:"";s:10:"yachtGC3P3";s:0:"";s:8:"yachtGC4";s:330:"Bonjour Pascal, nous avons des très beaux souvenirs de notre première croisière en famille, avec les enfants! Nous espérons refaire une autre, peut-être l'année prochaine. Merci à toute l'équipe pour notre séjour magnifique à bord! Bon week-end. ";s:10:"yachtGC4P1";s:0:"";s:10:"yachtGC4P2";s:0:"";s:10:"yachtGC4P3";s:0:"";s:8:"yachtGC5";s:812:""Our family absolutely loved our experience on Grand Bleu Vintage. The boat itself is beautiful and maintained to a stunning standard by its crew: everything works, everything is spotless. The crew led by Pascal is very competent, flexible, and discreet. Hippolyte is a gourmet chef who ensured that we raved about every meal and despite the obvious space limitations, he also managed to ensure his presentation was impeccable. Clemence, our hostess, attended to us with a smile and always attentive to your needs or desires. Guillaume not only looked after the boat but went the extra mile to keep our two kids engaged and entertained with water sports, fishing and beach frolics. Overall, our stay on Grand Bleu Vintage will count among our family's happiest memories. A big thank you to the team."";s:10:"yachtGC5P1";s:0:"";s:10:"yachtGC5P2";s:0:"";s:10:"yachtGC5P3";s:0:"";s:8:"yachtGC6";s:828:""Our family absolutely loved our experience on Grand Bleu Vintage. The boat itself is beautiful and maintained to a stunning standard by its crew: everything works, everything is spotless. The crew led by Pascal is very competent, flexible, and discreet. Hippolyte is a gourmet chef who ensured that we raved about every meal and despite the obvious space limitations, he also managed to ensure his presentation was impeccable. Clemence, our hostess, attended to us with a smile and always attentive to your needs or desires. Guillaume not only looked after the boat but went the extra mile to keep our two kids engaged and entertained with water sports, fishing and beach frolics. Overall, our stay on Grand Bleu Vintage will count among our family's happiest memories. A big thank you to the team."

";s:10:"yachtGC6P1";s:0:"";s:10:"yachtGC6P2";s:0:"";s:10:"yachtGC6P3";s:0:"";s:8:"yachtGC7";s:1098:"« Dear Pascal!

Thanks for 2 wonderful weeks! We had a great time and I gained 3 kilos... We really appreciated the trip. The four of you is such a good team! Experienced crew that we always are safe with, Hippolyte's fantastic cuisine, Clemence that looks after us to the smallest detail all day long, Guillaume that is quick and young - activates the children and supports you well. And you Pascal - Captain that overlooks everything and fixes big and small things!

There are many things to mention. However; the boat is execellent - a real sailboat that is sturdy, stable and calm - with everything we need of comfort - and all technical things works well. It is like a home when we are there. And most of all the people - you - that are both calm and discrete and gives plenty of room for us feeling at home on a boat that is after all a limited area. The friendly relations we have with you and the fact that we can all be a big family without stress, made also this holiday fantastic for us.

Give my regards to everyone! »
";s:10:"yachtGC7P1";s:0:"";s:10:"yachtGC7P2";s:0:"";s:10:"yachtGC7P3";s:0:"";s:8:"yachtGC8";s:583:"All in all it was great.
- The crew is very professional, helpful, service-minded.
- The boat is "impeccable". Clean, well-kept and maintained.
- The equipment is of the highest sort and kept in good shape.
- The atmosphere was very pleasing, relaxed and we were left to our privacy.
- The meals were delicious and lovely presented.
- The captain was very reliable and had always a good overview. He never looses his temper.
- Prices are fair.
It was a fantastic experience and we could think of doing it next year again.";s:10:"yachtGC8P1";s:0:"";s:10:"yachtGC8P2";s:0:"";s:10:"yachtGC8P3";s:0:"";s:8:"yachtGC9";s:1262:"Guest's comment:

« We had extremely nice days at the Grand Bleu Vintage in Sardinia and Corsica June 24th –July 5th. We really liked the boat and the sailing - and the crew was excellent. They worked very well together as a team and made us all feel welcome and at home. Caring and smiling. Always. Nothing to complain about. We have chartered boats before.This was the best crew by far until now! They seem to enjoy to work together.

Pascal is experienced on board and the boss – as it should be – very friendly and caring. Hippolyte made excellent food for us several times every day – always fresh and made with dedication – and a nice person to learn to know. Clemence helped us in all possible ways – kept the boat tidy, served the food, provided whatever we needed early and late – positive and friendly. Ivan is a first class sailor and also supported the crew, kept the children busy with watersports and helped us whenever needed – always with a smile.»

Broker's comment:

« Thank you for taking such good care of my clients - I know they had a wonderful time and I will do all I can to get them onboard again next year. »";s:10:"yachtGC9P1";s:0:"";s:10:"yachtGC9P2";s:0:"";s:10:"yachtGC9P3";s:0:"";s:9:"yachtGC10";s:294:"Thanks for the one of the best week of my life ! The crew was amazing and I hope we will cross our roads again ! all the best.

Un grand merci pour cette semaine remplie de bonheur culinaire, de la voile a vitesse grand V avec un equipage si sympathique. A tres bientot.
";s:11:"yachtGC10P1";s:0:"";s:11:"yachtGC10P2";s:0:"";s:11:"yachtGC10P3";s:0:"";s:9:"yachtGC11";s:888:"Capt. Pascal,

This is the email which I just sent to Hippolyte. I forward it to you so that you know Dave and I say "Bravo" to you for making excellent choice in your selection of crew. Julien and Anne Sophie also are excellent at what they do. All 8 of us on board the Grand Bleu Vintage felt so very well taken of last week. You run a wonderful ship! Merci Beaucoup pour nos jours splendids!

Cher Chef Hippolyte,

Dave and I have visited Portofino and Cinque Terre. We are now en route to the Amalfi coast. We have eaten at some very fine restaurants in our long lives. But few compare to the fantastic meals which you served to us aboard Grand Bleu Vintage -- day after day after day! It was truly amazing: we never expected to eat so well aboard a sailboat with a little galley! Bravo, et Merci Beaucoup!!


";s:11:"yachtGC11P1";s:0:"";s:11:"yachtGC11P2";s:0:"";s:11:"yachtGC11P3";s:0:"";s:9:"yachtGC12";s:146:"From the guest to the broker: I would like to give 15% of gratuity to the crew as they have been amazingly professional, kind and careful for us. ";s:11:"yachtGC12P1";s:0:"";s:11:"yachtGC12P2";s:0:"";s:11:"yachtGC12P3";s:0:"";s:9:"yachtGC13";s:121:"The feedback is that we very much enjoyed the week.

The crew were excellent and so was the yacht.
";s:11:"yachtGC13P1";s:0:"";s:11:"yachtGC13P2";s:0:"";s:11:"yachtGC13P3";s:0:"";s:9:"yachtGC14";s:540:"We have just returned from a memorable cruise on your yacht Grand Bleu Vintage.
We were a party of seven. We would all like to thank you for allowing us onboard your beautiful yacht which is clearly your pride and joy. We also thank you for having such a wonderful Captain and crew which made up a perfect team. They were extremely courteous and very professional. Nothing was too much trouble for them. We had a fabulous time. Great sailing and great food !
Thank you so much for giving us this privilege.
Yours truly,";s:11:"yachtGC14P1";s:0:"";s:11:"yachtGC14P2";s:0:"";s:11:"yachtGC14P3";s:0:"";s:9:"yachtGC15";s:367:"Dear Pascal:
I am back in my office in Sao Paulo and wanted to thank you again for a wonderful week. We were very impressed by the professionalism of the whole crew (in particular Hypolite s cooking!), the quality of the boat and your enthusiasm in meeting our wishes. We wish you a successful season in the forthcoming months. Regards to all,
Antonio B";s:11:"yachtGC15P1";s:0:"";s:11:"yachtGC15P2";s:0:"";s:11:"yachtGC15P3";s:0:"";s:9:"yachtGC16";s:410:"They were extremely happy with their choice of yacht and the sailing and diving worked perfectly for them.
"Captain Pascal was flexible in the itinerary and Julien was unfailingly helpful and skilled at teaching the boys to wakeboard, Hypolite cooked up countless different and delicious meals, and Indira did a great job keeping everything clean and tidy. It is a good team and they all get on well".";s:11:"yachtGC16P1";s:0:"";s:11:"yachtGC16P2";s:0:"";s:11:"yachtGC16P3";s:0:"";s:9:"yachtGC17";s:1451:"We spent last week on the Grand Bleu Vintage for a charter in Corsica. We want to express to you how great this experience has been for all of us. This was a premiere for our girls but our husband and I had already been on 4 or 5 other charters before. This is thanks to your beautiful and comfortable boat, and particulary thanks to a very wonderful crew. Captain Pascal has been an outstanding captain, leading us through the best places of Corsica with patience and kindness, very attentive to our requests and tastes, being also particularly didactic about sailing with us and our kids. Indira's only concern has been our comfort and she has been treating us like kings and princesses with permanent attentions. Chef Hippo made all the efforts to please us and taylor to our specific tastes and food constraints. Julien has been a cheerful and kind mate, very patient also with all of us in all kinds of activities and always with a positive mind.
Before coming, I was worried being 4 of us with a crew of 4 but they have been so discreet that it has been a real pleasure at all times. When we wished for company and discussion they were there and when we wished to stay as a family they disappeared.
As you understand, we are very motivated to reexperience a charter with your boat and with this crew next year, because this will give us the garanty of having a very good time and a unique experience......
Lauren E.
";s:11:"yachtGC17P1";s:0:"";s:11:"yachtGC17P2";s:0:"";s:11:"yachtGC17P3";s:0:"";s:9:"yachtGC18";s:392:"Dear Reia, Thanks for all your hard work. The week was fantastic. We all loved the boat and especially the crew. They did an amazing job of looking after us for the week. Pascal is a great captain and made all the family feel safe as well as ensuring that we had a wonderful schedule. &#8232;&#8232;Thanks again. We will be back next year. &#8232;&#8232;Mark.

";s:11:"yachtGC18P1";s:0:"";s:11:"yachtGC18P2";s:0:"";s:11:"yachtGC18P3";s:0:"";s:9:"yachtGC19";s:1631:"Hello,
It's been on my mind to write you for over a month now, to let you know about the fantastic charter we had aboard Grand Bleu Vintage this summer. My wife Terry and I along with our good friends were aboard her for a week as we cruised from Antibe to Corsica.

I have chartered large power and sailing yachts over 3 dozen times in locations from Tonga to Canada, all over the Caribbean and the Med. This crew and boat were in our top 5 of all time. As you probably know, the key to a really great charter is always the crew. And this was no exception. Pascal has put together a great team. The fact that this group worked together as well last summer shows as they are really a nice team.

I have to say a special word about Hyppolite, the chef. The quality of the food, the presentation, the selection of the menus, the way he listened to his guests were all absolutely perfect. In fact, my wife and I felt this was consistently the finest food we had ever had on a yacht. We particularly loved how he got all that taste and variety into our meals and we didn't gain any weight. Maybe it is true that "French women don't get fat", which was the name of a popular little book here in the USA a couple years ago.

Well, I know you must get lots of note of commendation, but I didn't want our wonderful experience to go without comment. I wouldn't have changed a thing (except for perhaps a bit more wind!)

Please feel free to use us as a reference for anyone interested in GBV or their crew.

Best Regards,

Paul K
";s:11:"yachtGC19P1";s:0:"";s:11:"yachtGC19P2";s:0:"";s:11:"yachtGC19P3";s:0:"";s:9:"yachtGC20";s:1032:"« We had extremely nice days at the Grand Bleu Vintage in Sardinia and Corsica June 24th – July 5th. We really liked the boat and the sailing - and the crew was excellent. They worked very well together as a team and made us all feel welcome and at home. Caring and smiling. Always. Nothing to complain about. We have chartered boats before. This was the best crew by far until now! They seem to enjoy to work together.

Pascal is experienced on board and the boss – as it should be – very friendly and caring. Hippolyte made excellent food for us several times every day – always fresh and made with dedication – and a nice person to learn to know. Clemence helped us in all possible ways – kept the boat tidy, served the food, provided whatever we needed early and late – positive and friendly. Ivan is a first class sailor and also supported the crew, kept the children busy with watersports and helped us whenever needed – always with a smile. »
";s:11:"yachtGC20P1";s:0:"";s:11:"yachtGC20P2";s:0:"";s:11:"yachtGC20P3";s:0:"";s:15:"yachtInsCompany";s:9:"GENERALLY";s:11:"yachtPolicy";s:0:"";s:14:"yachtLiability";s:0:"";s:18:"yachtEffectiveDate";s:0:"";s:17:"yachtContractName";s:0:"";s:18:"yachtCoverageAreas";s:0:"";s:12:"yachtInsFlag";s:7:"BRITISH";s:16:"yachtInsHomeport";s:7:"ANTIBES";s:11:"yachtRegNum";s:13:"907047 London";s:14:"yachtConPhone1";s:17:"+ 33 685 11 69 01";s:14:"yachtConPhone2";s:0:"";s:14:"yachtConPhone3";s:0:"";s:11:"yachtConFax";s:0:"";s:17:"yachtWaveConEmail";s:35:"[email protected]";s:13:"yachtConOther";s:0:"";s:12:"yachtManager";s:41:"Blue Latitude Yachting - Nathalie Drogoul";s:16:"yachtManagerName";s:21:"Nathalie Gust Drogoul";s:17:"yachtManagerPhone";s:13:"+33 557808578";s:16:"yachtManagerToll";s:0:"";s:17:"yachtManagerEmail";s:35:"[email protected]";}
O:8:"stdClass":371:{s:7:"yachtId";s:4:"1303";s:9:"yachtName";s:18:"GRAND BLEU VINTAGE";s:17:"yachtPreviousName";s:0:"";s:9:"yachtLogo";s:0:"";s:9:"yachtType";s:4:"Sail";s:11:"yachtLength";s:2:"95";s:13:"yachtPowerCat";s:1:"N";s:8:"sizeFeet";s:8:"95.00 Ft";s:9:"sizeMeter";s:7:"28.00 m";s:9:"yachtBeam";s:5:"23,00";s:10:"yachtDraft";s:5:"11,50";s:10:"yachtUnits";s:4:"Feet";s:8:"yachtPax";s:1:"8";s:11:"yachtCabins";s:1:"4";s:9:"yachtKing";s:1:"1";s:10:"yachtQueen";s:1:"2";s:17:"yachtSingleCabins";s:1:"0";s:17:"yachtDoubleCabins";s:1:"0";s:15:"yachtTwinCabins";s:1:"1";s:18:"yachtPullmanCabins";s:1:"0";s:10:"yachtRefit";s:4:"2013";s:12:"yachtHelipad";s:2:"No";s:12:"yachtJacuzzi";s:2:"No";s:8:"yachtGym";s:2:"No";s:16:"yachtStabilizers";s:2:"No";s:14:"yachtElevators";s:2:"No";s:21:"yachtWheelChairAccess";s:2:"No";s:7:"yachtAc";s:4:"Full";s:15:"yachtPrefPickUp";s:0:"";s:16:"yachtOtherPickUp";s:0:"";s:15:"yachtTurnAround";s:9:"72 hours ";s:14:"yachtYearBuilt";s:4:"2003";s:12:"yachtBuilder";s:12:"CNB Bordeaux";s:14:"yachtBrokerWeb";s:41:"http://www.viewyacht.com/grandbleuvintage";s:12:"yachtUserWeb";s:48:"http://www.cyabrochure.com/ebn/2395/pdhaX/1303/1";s:13:"yachtVideoUrl";s:40:"https://player.vimeo.com/video/168161122";s:12:"yachtV360Url";N;s:16:"yachtCruiseSpeed";s:2:"10";s:13:"yachtMaxSpeed";s:2:"14";s:19:"yachtAccommodations";s:427:"8 guests can be accommodated in 4 cabins as below:
1137
a:61:{s:10:"07-21-2021";i:6;s:10:"07-22-2021";i:3;s:10:"07-23-2021";i:4;s:10:"07-24-2021";i:1;s:10:"07-25-2021";i:5;s:10:"07-26-2021";i:3;s:10:"07-27-2021";i:4;s:10:"07-28-2021";i:5;s:10:"07-29-2021";i:2;s:10:"07-30-2021";i:6;s:10:"07-31-2021";i:6;s:10:"08-01-2021";i:3;s:10:"08-02-2021";i:4;s:10:"08-03-2021";i:6;s:10:"08-04-2021";i:4;s:10:"08-05-2021";i:3;s:10:"08-06-2021";i:3;s:10:"08-07-2021";i:3;s:10:"08-08-2021";i:3;s:10:"08-09-2021";i:3;s:10:"08-10-2021";i:5;s:10:"08-11-2021";i:3;s:10:"08-12-2021";i:1;s:10:"08-13-2021";i:6;s:10:"08-14-2021";i:4;s:10:"08-15-2021";i:2;s:10:"08-16-2021";i:1;s:10:"08-17-2021";i:3;s:10:"08-18-2021";i:3;s:10:"08-19-2021";i:3;s:10:"08-20-2021";i:3;s:10:"08-21-2021";i:3;s:10:"08-22-2021";i:2;s:10:"08-23-2021";i:2;s:10:"08-24-2021";i:4;s:10:"08-25-2021";i:3;s:10:"08-26-2021";i:3;s:10:"08-27-2021";i:2;s:10:"08-28-2021";i:2;s:10:"08-29-2021";i:4;s:10:"08-30-2021";i:4;s:10:"08-31-2021";i:3;s:10:"09-01-2021";i:2;s:10:"09-02-2021";i:2;s:10:"09-03-2021";i:2;s:10:"09-04-2021";i:1;s:10:"09-05-2021";i:2;s:10:"09-06-2021";i:2;s:10:"09-07-2021";i:1;s:10:"09-08-2021";i:2;s:10:"09-09-2021";i:1;s:10:"09-10-2021";i:3;s:10:"09-12-2021";i:2;s:10:"09-13-2021";i:3;s:10:"09-14-2021";i:5;s:10:"09-15-2021";i:4;s:10:"09-16-2021";i:3;s:10:"09-17-2021";i:3;s:10:"09-18-2021";i:2;s:10:"09-19-2021";i:1;s:10:"09-23-2021";i:1;}
Summer 2021 : Grand Bleu Vintage will be available in the South of France in June and in Italy and Croatia from July to September
No
Yes
28.00 m
40
Litres/Hr
Summer 2021 - weekly rates: May- June - September - October: € 39,000 + 25% APA + VAT /based on MYBA terms. July - August: € 43,000 + 25% APA + VAT /based on MYBA terms. One-week-minimum charter rate All rates are for 7 nights, 8 days. Charters of less than 7 nights on request depending on schedule and season (5-night-minimum rate) For short charters, please use the divide-by-6 rule for figuring short charter premiums. Charters of 6 nights, use 6/7ths (six sevenths) of the weekly rate.
Plus Expenses
http://www.cyabrochure.com/ebn/2395/pdhaX/1303/4
a:3:{s:16:"green_initiative";s:3:"Yes";s:16:"reusable_bottles";s:0:"";s:19:"other_green_efforts";s:49:"GRAND BLEU VINTAGE makes purified drinking water.";}
a:15:{s:5:"tanks";s:1:"0";s:9:"wet_suits";s:1:"0";s:15:"number_of_dives";s:0:"";s:11:"night_dives";s:1:"0";s:9:"dive_info";s:10:"RDV diving";s:13:"communication";s:40:"SAT PHONE - FAX AND EMAIL - MOBILE PHONE";s:11:"full_course";s:0:"";s:14:"air_compressor";s:11:"Not Onboard";s:3:"bcs";s:1:"0";s:11:"weight_sets";s:1:"0";s:16:"number_of_divers";s:1:"0";s:20:"registrations_number";s:1:"0";s:11:"dive_lights";s:1:"0";s:10:"dive_costs";s:10:"On request";s:14:"scuba_on_board";s:35:"Yacht offers Rendezvous Diving only";}
a:4:{s:12:"fishing_gear";s:3:"Yes";s:17:"fishing_gear_type";s:0:"";s:4:"rods";s:0:"";s:16:"deep_sea_fishing";s:0:"";}
40
10
14
FRENCH
FRENCH
French
Yacht offers Rendezvous Diving only
No

Reviews

Charter 7th to 14th August 2021, Dubrovnik-Split

"About our trip in Croatia:

Yacht is in excellent and clean condition.
The crew, led by Pascal, deserves the grade 1 !!
Pascal too, of course.
Special mention should be made of the gifted young chef César. My guest Norbert Sch, who earned a Michelin star himself, is convinced that César will be a great newcomer ... just great what was offered to us.
Indira served us superbly around the clock, as did Guillaume.

We are already looking forward to the next trip with the beautiful yacht and the wonderful crew."


Charter 24th to 31st July 2021, Split-Split

« Chers tous,

Vous trouverez ci-dessous un petit bilan de notre formidable croisière sur Grand Bleu.

Bateau
Exceptionnel
En excellent état
Très bon entretien général

Staff
Exceptionnel
Un professionnalisme et un sens du service rarement vus.

Capitaine Pascal
Très expérimenté,
Beaucoup d'écoute et de recul,
Grande souplesse,
Activités et programme variés,
Grand sentiment de sécurité.

Chef Cesar
Cuisine à base d'émulsion unique,
Un vrai étoilé,
Un vrai sans faute
C'était délicieux toute la semaine.

Hotesse Indira
Grande gentillesse,
Toujours aux petits soins,
Efficace au quotidien.

Second Guillaume
Efficace et attentif,
Compétent sur toutes les activités.

Programme
Bien équilibré dans l'ensemble.

Météo
Il a manqué hélas une journée de vent

Nous laissons la famille XXX compléter.
A refaire sans hésitation.
Les pourboires arrivent… 👌👏⛵️

Merci à tous pour ce formidable moment tellement privilégié ».


Charter 2nd to 9th August 2020, Split-Split

"As already communicated by phone, our trip was more than perfect and pleasant. Pascal once again gave us an unforgettable time as captain with his great crew.
I would particularly like to highlight Cesar as perfect chef of french cuisine.
All in all nice and safe too. I am looking forward to the next trip with hopefully the same line-up ..
Thank you !
best regards
Paul "

Charter 15th to 20th July 2019, Naples-Naples

Bonjour Pascal, nous avons des très beaux souvenirs de notre première croisière en famille, avec les enfants! Nous espérons refaire une autre, peut-être l'année prochaine. Merci à toute l'équipe pour notre séjour magnifique à bord! Bon week-end.

Charter 26th May to 2nd June 2019, Milazzo-Milazzo

"Our family absolutely loved our experience on Grand Bleu Vintage. The boat itself is beautiful and maintained to a stunning standard by its crew: everything works, everything is spotless. The crew led by Pascal is very competent, flexible, and discreet. Hippolyte is a gourmet chef who ensured that we raved about every meal and despite the obvious space limitations, he also managed to ensure his presentation was impeccable. Clemence, our hostess, attended to us with a smile and always attentive to your needs or desires. Guillaume not only looked after the boat but went the extra mile to keep our two kids engaged and entertained with water sports, fishing and beach frolics. Overall, our stay on Grand Bleu Vintage will count among our family's happiest memories. A big thank you to the team."

Charter 26th May-2nd June 2019, Milazzo-Milazzo

"Our family absolutely loved our experience on Grand Bleu Vintage. The boat itself is beautiful and maintained to a stunning standard by its crew: everything works, everything is spotless. The crew led by Pascal is very competent, flexible, and discreet. Hippolyte is a gourmet chef who ensured that we raved about every meal and despite the obvious space limitations, he also managed to ensure his presentation was impeccable. Clemence, our hostess, attended to us with a smile and always attentive to your needs or desires. Guillaume not only looked after the boat but went the extra mile to keep our two kids engaged and entertained with water sports, fishing and beach frolics. Overall, our stay on Grand Bleu Vintage will count among our family's happiest memories. A big thank you to the team."



Charter 23rd June - 7th July 2018, Palma - Palma

« Dear Pascal!

Thanks for 2 wonderful weeks! We had a great time and I gained 3 kilos... We really appreciated the trip. The four of you is such a good team! Experienced crew that we always are safe with, Hippolyte's fantastic cuisine, Clemence that looks after us to the smallest detail all day long, Guillaume that is quick and young - activates the children and supports you well. And you Pascal - Captain that overlooks everything and fixes big and small things!

There are many things to mention. However; the boat is execellent - a real sailboat that is sturdy, stable and calm - with everything we need of comfort - and all technical things works well. It is like a home when we are there. And most of all the people - you - that are both calm and discrete and gives plenty of room for us feeling at home on a boat that is after all a limited area. The friendly relations we have with you and the fact that we can all be a big family without stress, made also this holiday fantastic for us.

Give my regards to everyone! »


Charter 8th – 13th July, 2017 Antibes-Antibes:

All in all it was great.
- The crew is very professional, helpful, service-minded.
- The boat is "impeccable". Clean, well-kept and maintained.
- The equipment is of the highest sort and kept in good shape.
- The atmosphere was very pleasing, relaxed and we were left to our privacy.
- The meals were delicious and lovely presented.
- The captain was very reliable and had always a good overview. He never looses his temper.
- Prices are fair.
It was a fantastic experience and we could think of doing it next year again.

Charter June 24-July 05, 2017, Olbia-Bonifacio

Guest's comment:

« We had extremely nice days at the Grand Bleu Vintage in Sardinia and Corsica June 24th –July 5th. We really liked the boat and the sailing - and the crew was excellent. They worked very well together as a team and made us all feel welcome and at home. Caring and smiling. Always. Nothing to complain about. We have chartered boats before.This was the best crew by far until now! They seem to enjoy to work together.

Pascal is experienced on board and the boss – as it should be – very friendly and caring. Hippolyte made excellent food for us several times every day – always fresh and made with dedication – and a nice person to learn to know. Clemence helped us in all possible ways – kept the boat tidy, served the food, provided whatever we needed early and late – positive and friendly. Ivan is a first class sailor and also supported the crew, kept the children busy with watersports and helped us whenever needed – always with a smile.»

Broker's comment:

« Thank you for taking such good care of my clients - I know they had a wonderful time and I will do all I can to get them onboard again next year. »

Charter July 4-14, 2016 Kotor-Split

Thanks for the one of the best week of my life ! The crew was amazing and I hope we will cross our roads again ! all the best.

Un grand merci pour cette semaine remplie de bonheur culinaire, de la voile a vitesse grand V avec un equipage si sympathique. A tres bientot.


Charter 16th-23rd May 2016 - Sicily

Capt. Pascal,

This is the email which I just sent to Hippolyte. I forward it to you so that you know Dave and I say "Bravo" to you for making excellent choice in your selection of crew. Julien and Anne Sophie also are excellent at what they do. All 8 of us on board the Grand Bleu Vintage felt so very well taken of last week. You run a wonderful ship! Merci Beaucoup pour nos jours splendids!

Cher Chef Hippolyte,

Dave and I have visited Portofino and Cinque Terre. We are now en route to the Amalfi coast. We have eaten at some very fine restaurants in our long lives. But few compare to the fantastic meals which you served to us aboard Grand Bleu Vintage -- day after day after day! It was truly amazing: we never expected to eat so well aboard a sailboat with a little galley! Bravo, et Merci Beaucoup!!




Charter 12-21th of August - Palerm-Millazzo

From the guest to the broker: I would like to give 15% of gratuity to the crew as they have been amazingly professional, kind and careful for us.

Charter 23-30 August 2014 (Kotor-Split)

The feedback is that we very much enjoyed the week.

The crew were excellent and so was the yacht.


Charter 15-22 Feb 2014

We have just returned from a memorable cruise on your yacht Grand Bleu Vintage.
We were a party of seven. We would all like to thank you for allowing us onboard your beautiful yacht which is clearly your pride and joy. We also thank you for having such a wonderful Captain and crew which made up a perfect team. They were extremely courteous and very professional. Nothing was too much trouble for them. We had a fabulous time. Great sailing and great food !
Thank you so much for giving us this privilege.
Yours truly,

Charter 4 -11 January 14

Dear Pascal:
I am back in my office in Sao Paulo and wanted to thank you again for a wonderful week. We were very impressed by the professionalism of the whole crew (in particular Hypolite s cooking!), the quality of the boat and your enthusiasm in meeting our wishes. We wish you a successful season in the forthcoming months. Regards to all,
Antonio B

Charter 20 - 29 December 2013

They were extremely happy with their choice of yacht and the sailing and diving worked perfectly for them.
"Captain Pascal was flexible in the itinerary and Julien was unfailingly helpful and skilled at teaching the boys to wakeboard, Hypolite cooked up countless different and delicious meals, and Indira did a great job keeping everything clean and tidy. It is a good team and they all get on well".

Charter 12-21 July 13- Corsica

We spent last week on the Grand Bleu Vintage for a charter in Corsica. We want to express to you how great this experience has been for all of us. This was a premiere for our girls but our husband and I had already been on 4 or 5 other charters before. This is thanks to your beautiful and comfortable boat, and particulary thanks to a very wonderful crew. Captain Pascal has been an outstanding captain, leading us through the best places of Corsica with patience and kindness, very attentive to our requests and tastes, being also particularly didactic about sailing with us and our kids. Indira's only concern has been our comfort and she has been treating us like kings and princesses with permanent attentions. Chef Hippo made all the efforts to please us and taylor to our specific tastes and food constraints. Julien has been a cheerful and kind mate, very patient also with all of us in all kinds of activities and always with a positive mind.
Before coming, I was worried being 4 of us with a crew of 4 but they have been so discreet that it has been a real pleasure at all times. When we wished for company and discussion they were there and when we wished to stay as a family they disappeared.
As you understand, we are very motivated to reexperience a charter with your boat and with this crew next year, because this will give us the garanty of having a very good time and a unique experience......
Lauren E.


June 20-26 / 2010 - Croatia

Dear Reia, Thanks for all your hard work. The week was fantastic. We all loved the boat and especially the crew. They did an amazing job of looking after us for the week. Pascal is a great captain and made all the family feel safe as well as ensuring that we had a wonderful schedule. &#8232;&#8232;Thanks again. We will be back next year. &#8232;&#8232;Mark.



July 10-17, 2011 - Corsica

Hello,
It's been on my mind to write you for over a month now, to let you know about the fantastic charter we had aboard Grand Bleu Vintage this summer. My wife Terry and I along with our good friends were aboard her for a week as we cruised from Antibe to Corsica.

I have chartered large power and sailing yachts over 3 dozen times in locations from Tonga to Canada, all over the Caribbean and the Med. This crew and boat were in our top 5 of all time. As you probably know, the key to a really great charter is always the crew. And this was no exception. Pascal has put together a great team. The fact that this group worked together as well last summer shows as they are really a nice team.

I have to say a special word about Hyppolite, the chef. The quality of the food, the presentation, the selection of the menus, the way he listened to his guests were all absolutely perfect. In fact, my wife and I felt this was consistently the finest food we had ever had on a yacht. We particularly loved how he got all that taste and variety into our meals and we didn't gain any weight. Maybe it is true that "French women don't get fat", which was the name of a popular little book here in the USA a couple years ago.

Well, I know you must get lots of note of commendation, but I didn't want our wonderful experience to go without comment. I wouldn't have changed a thing (except for perhaps a bit more wind!)

Please feel free to use us as a reference for anyone interested in GBV or their crew.

Best Regards,

Paul K


Charter June 24-July 05, 2017, Olbia-Bonifacio

« We had extremely nice days at the Grand Bleu Vintage in Sardinia and Corsica June 24th – July 5th. We really liked the boat and the sailing - and the crew was excellent. They worked very well together as a team and made us all feel welcome and at home. Caring and smiling. Always. Nothing to complain about. We have chartered boats before. This was the best crew by far until now! They seem to enjoy to work together.

Pascal is experienced on board and the boss – as it should be – very friendly and caring. Hippolyte made excellent food for us several times every day – always fresh and made with dedication – and a nice person to learn to know. Clemence helped us in all possible ways – kept the boat tidy, served the food, provided whatever we needed early and late – positive and friendly. Ivan is a first class sailor and also supported the crew, kept the children busy with watersports and helped us whenever needed – always with a smile. »


22
€
2
Inq
1631894044