ASHA Yacht Description
ASHA yacht is a 92.00 ft long motor yacht monohull and spends the summer and winter season in Croatia. It was built by Maiora in 2006. A refit was done in 2011. The yacht layout features 4 cabins and accommodates 9 guests. The cabin arrangement is following: 3 double cabins, 1 twin cabin.
The motor yacht features Engines: 2 MTU 16V 2000 M 91 HP 2000 each with gearboxes ZF Generators: 2 Silencers Onan of 32.5 + 22.5 kw with gas separation engines and a generator.
Accommodation
Experience the Mediterranean in style and comfort aboard this fast, fun and family friendly yacht. The distinct blue hull and sleek exterior make her a head turner in the most exclusive yachting locations. With accommodations for up to 9 guests, her layout offers everything from sunbathing, private dining, and entertainment areas both al fresco and inside the vessel. Come find out why ASHA has been one of the most popular charter vessels in the Mediterranean for past years!
Entering the yacht, guests will find a large salon with a comfortable sofa and a dining table seating 8 guests.
The aft deck features a table with a sofa and chairs offering comfortable al-fresco dining for 8 guests. The flybridge also boasts comfortable exterior dining for 8 guests, a Jacuzzi and ample sunbathing, as well as sofas where you can watch the Captain manoeuvre the yacht. There is also a wet bar with a fridge and ice maker.
ASHA accommodates 9 guests in 4 guest cabins, all ensuite, on the lower deck.
AFT DECK: Features a new table with a sofa and chairs offering comfortable exterior dining for 8 guests.
FLYBRIDGE: Features exterior comfortable dining for 8 guests, a jacuzzi and ample sunbathing, as well as sofas where you can watch the Captain manoeuvre the yacht. Wetbar with fridge and icemaker.
FORWARD SUNBATHING: Sunpad for forward sunbathing.
SWIM PLATFORM: With two sun chairs and an umbrella.
SALON & INTERIOR DINING: Large, comfortable sofa and a table for interior dining for 8 guests.
STATEROOMS:
The master stateroom situated below aft features a queen size bed, a sofa and a walk in closet leading to the ensuite, which has double zinks, a bath tub and a heated towel rack.
The VIP stateroom below forward has a queen size bed, a wardrobe and a en ensuite with a shower and a heated towel rack.
The Twin stateroom below (port side) has two single beds, a pullman bed, a wardrobe and an ensuite with a shower and a heated towel rack.
The Double stateroom below (starboard side) features a double bed, a wardrobe and an enquite with a shower and a heated towel rack.
Bed dimensions:
Master 200x160
VIP 190x160
Double 190x 140
Twin 190x 75 ( x2)
Audio Visual Equipment and Deck Facilities:
Decoders: British Sky
Salon: Flat Screen SHARP 32" TV with the latest Bose sound system (including the aft deck and the fly bridge)
Flatscreen TV and DVD in all cabins (26" in the Master and VIP, 15" in the double and the twin cabin) with Bose sound system and remote controls.
I-Pod connections in all cabins, saloon and fly bridge.
Wi-Fi
Communications:
Internet for guests (3G Card),
GSM Telephone and Fax
Cabin Breakdown
ASHA Yacht Details
€45,000 - €50,000
Weekly price low-high season
450 Litres/Hr
Consumption
Price Terms
Plus Expenses
Price Details
High season EUR 50,000 per week + 35% APA
Low season EUR 45,000 per week + 35% APA
Please inquire for delivery fees.
VAT will be rate applicable at time of charter.
€3,500 one way relocation fee Split to Dubrovnik whilst in Croatia
Amenities
Specifications
BBQ: 0
AC: Full
Generator: Yes
Internet: Onboard WIFI
More Specifications
Diving
Communication:
Internet for guests (3G Card),
GSM Telephone and Fax
Air Compressor:
Not Onboard
Scuba On Board:
Yacht offers Rendezvous Diving only
Fishing
Green Initiatives
Water Sports
Dinghy Size:
13' Avon RIB
Crew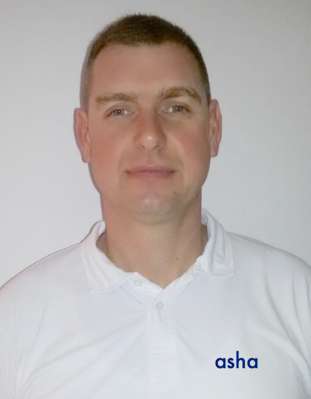 Captain
ZELJKO VIDAN | CAPTAIN | CROATIAN
Zeljko was born and raised in the beautiful historic town of Split, Croatia. Growing up he was always involved in various sports and outdoor activities in particular sailing. Zeljko participated in numerous sailing regattas and represented his yacht club locally and internationally. Having been raised on the Dalmatian coast his family has always been involved with boating and the sea. They own a vintage wooden boat that has been in the family for over 60 years and ran a multigenerational sail manufacturing company.
After graduating nautical school, Zeljko obtained maritime certificates and hands on experience. He started working on commercial vessels in the off shore oil and gas industry. After settling down and starting a family Zeljko transitioned to private and charter yachts. Most of his professional career was spent on yachts from 35 to 130 feet.
Zeljko has a true passion for yachting which he loves to share with the crew and charter guests. His hobbies include: sailing, biking, skiing, tennis and vintage boat restoration. Zeljko currently resides in Split with his wife Anamaria and daughter Karmen.
As the Captain Zeljko is responsible for the safety, overall running and financial management of the vessel, crew and guests. He ensures the safe and efficient operation of the yacht at all times, including compliance with all safety procedures and regulations, as well as adherence to International Flag, Port State and local laws and regulations. The Captain has a close relationship with his crew and provides leadership, guidance and support, while encouraging both teamwork and individual accountability.
Licenses & Certificates: Master of a ship up to 500 GT (STCW II/3), Officer in charge of the navigation watch on a ship of 500 GT or more (STCW II/1), GMDSS general radio operator`s certificate (STCW IV/2), ARPA (operational level), Application of leadership and team working skills (STCW A-II/1, A-III/1,A-III/6), Bridge resource management (STCW A-II/1,A-II/2), Basic training (STCW VI/1), Passenger ship safety (STCW V/2), Proficiency in survival craft and rescue boats operations (STCW VI/2-1), Medical first aid (STCW VI/4-1), Advanced fire-fighting (STCW VI/3), Security awareness (STCW VI/6-1), Seafarer with designated security duties (STCW VI/6-2), Rating forming a part of the navigational watch (STCW II/4)

ROBERT BABIC | CHEF | CROATIAN
Robert was born and raised in Rijeka, Croatia on the northern part of the Adriatic coast. Cooking was a big part of his upbringing and he enjoyed helping his mother in the kitchen since he can remember. After graduating from high school, he further wanted to explore his passion and applied to Culinary School where he participated in many prestigious and international gastronomic competitions with remarkable results. Robert graduated with a degree as Bachelor of Culinary Arts and started his career in Italy. In 2002 he opened his own restaurant specializing in continental and Mediterranean food. After 16 years he decided to combine his passion for cooking and his love for the sea. Yachting seemed to be a natural choice and he is excited to combine them as Chef on M/Y ASHA. It is his goal to surpass guest expectations and adhering to any of their necessary dietary restrictions. As a highly accomplished chef with 20 years of experience in highly rated restaurants he possesses a wide range of knowledge and experience.
Robert currently resides in Rijeka with his wife and two children, Lucas and Annai. In his free time, he enjoys swimming, soccer, diving, hiking and skiing. He is fluent in Spanish, English and Croatian.

MARCO DRAGUN | DECKHAND | CROATIAN
Marko was born and raised in the sunny coastal town of Kastela, Croatia where he still resides with his wife and son. He is a graduate of Maritime Nautical school with a degree in electrical engineering. Since he was young he loved being around the water and enjoyed surfing, sailing and rowing. Marko started in yachting 10 years ago and travelled most the Mediterranean including Croatia, Spain, South of France, Monaco, Italy, Greece, Corsica and Montenegro. He has worked on yachts ranging from 50 to 170 feet.
His hobbies include mountain biking, computers, travelling, sailing, windsurfing, spearfishing, swimming and water sports.

DINKA RADULIC | CHIEF STEWARDESS | CROATIAN
With a Bachelor's Degree in Tourism and Communications from the University of Split, Dinka excels in her job as Stewardess onboard ASHA. She has a strong background in service and excellent housekeeping skills and has worked as chief stewardess and solo stewardess on a variety of yachts ranging from 26m to 40m. Always popular with charter guests and crew alike, she loves to arrange formal evenings and theme nights and can mix up a tasty cocktail.
When not working on ASHA, Dinka loves to travel and enjoys experiencing new countries and cultures. She has volunteered all around the world and loves diving, horse-riding, and design.
Licenses & Certificates: STCW 95, Basic Safety Training, ENG 1 Medical, Silver Service Training, Level 2 Food Safety and Hygiene for catering and Proficiency in Designated Security Course. She is fluent in English and Croatian and has conversational Italian.

Gallery
6
5410
http://www.centralyachtagent.com/snapins/ebrochure-xml.php?idin=5410&uid=265&user=265
4
Power
N
9
W. Med -Naples/Sicily, W. Med -Riviera/Cors/Sard., Croatia
Croatia
92.00
20
7

2018 Yamaha VX Cruiser HO Waverunner
2 tandem kayaks
16 ft bounce park
3 seat towable lounge
Banana boat
Trampoline
10 person flamingo
Waterskis
Monoski
Snorkeling Equipment
Donut
Fishing Rods
2 Inflatable Paddle Boards
Jacuzzi on flybridge
Yoga Mats
Free weights
Board games
4m / 13' Avon RIB DL 4.00 Jet - housed in garage
a:34:{s:12:"salon_stereo";s:3:"Yes";s:8:"salon_tv";s:3:"Yes";s:6:"sat_tv";s:3:"Yes";s:17:"multimedia_system";s:3:"Yes";s:4:"nude";s:3:"Inq";s:5:"books";s:0:"";s:9:"crew_pets";s:2:"No";s:8:"pet_type";s:0:"";s:10:"guest_pets";s:2:"No";s:9:"camcorder";s:1:"0";s:14:"number_dine_in";s:0:"";s:11:"water_maker";s:0:"";s:14:"water_capacity";s:0:"";s:9:"ice_maker";s:1:"0";s:14:"number_of_dvds";s:0:"";s:13:"number_of_cds";s:0:"";s:11:"board_games";s:1:"0";s:10:"sun_awning";s:3:"Yes";s:6:"bimini";s:1:"0";s:13:"special_diets";s:3:"Inq";s:6:"kosher";s:3:"Inq";s:3:"bbq";s:1:"0";s:12:"gay_charters";s:3:"Inq";s:10:"hairdryers";s:1:"0";s:22:"number_of_port_hatches";s:0:"";s:7:"smoking";s:0:"";s:11:"crew_smokes";s:3:"Inq";s:11:"children_ok";s:3:"Yes";s:17:"minimum_child_age";s:0:"";s:9:"generator";s:3:"Yes";s:8:"inverter";s:0:"";s:8:"voltages";s:0:"";s:7:"hammock";s:0:"";s:10:"windscoops";s:0:"";}
Full
0
Onboard WIFI
Yes
Engines: 2 MTU 16V 2000 M 91 HP 2000 each with gearboxes ZF Generators: 2 Silencers Onan of 32.5 + 22.5 kw with gas separation
2006
Maiora


Entering the yacht, guests will find a large salon with a comfortable sofa and a dining table seating 8 guests.

The aft deck features a table with a sofa and chairs offering comfortable al-fresco dining for 8 guests. The flybridge also boasts comfortable exterior dining for 8 guests, a Jacuzzi and ample sunbathing, as well as sofas where you can watch the Captain manoeuvre the yacht. There is also a wet bar with a fridge and ice maker.

ASHA accommodates 9 guests in 4 guest cabins, all ensuite, on the lower deck.

AFT DECK: Features a new table with a sofa and chairs offering comfortable exterior dining for 8 guests.

FLYBRIDGE: Features exterior comfortable dining for 8 guests, a jacuzzi and ample sunbathing, as well as sofas where you can watch the Captain manoeuvre the yacht. Wetbar with fridge and icemaker.

FORWARD SUNBATHING: Sunpad for forward sunbathing.

SWIM PLATFORM: With two sun chairs and an umbrella.

SALON & INTERIOR DINING: Large, comfortable sofa and a table for interior dining for 8 guests.

STATEROOMS:

The master stateroom situated below aft features a queen size bed, a sofa and a walk in closet leading to the ensuite, which has double zinks, a bath tub and a heated towel rack.

The VIP stateroom below forward has a queen size bed, a wardrobe and a en ensuite with a shower and a heated towel rack.

The Twin stateroom below (port side) has two single beds, a pullman bed, a wardrobe and an ensuite with a shower and a heated towel rack.

The Double stateroom below (starboard side) features a double bed, a wardrobe and an enquite with a shower and a heated towel rack.

Bed dimensions:
Master 200x160
VIP 190x160
Double 190x 140
Twin 190x 75 ( x2)


Audio Visual Equipment and Deck Facilities:

Decoders: British Sky

Salon: Flat Screen SHARP 32" TV with the latest Bose sound system (including the aft deck and the fly bridge)

Flatscreen TV and DVD in all cabins (26" in the Master and VIP, 15" in the double and the twin cabin) with Bose sound system and remote controls.

I-Pod connections in all cabins, saloon and fly bridge.

Wi-Fi

Communications:
Internet for guests (3G Card),
GSM Telephone and Fax
Experience the Mediterranean in style and comfort aboard this fast, fun and family friendly yacht. The distinct blue hull and sleek exterior make her a head turner in the most exclusive yachting locations. With accommodations for up to 9 guests, her layout offers everything from sunbathing, private dining, and entertainment areas both al fresco and inside the vessel. Come find out why ASHA has been one of the most popular charter vessels in the Mediterranean for past years!
EUR
45000
45000
€50,000
High season EUR 50,000 per week + 35% APA Low season EUR 45,000 per week + 35% APA Please inquire for delivery fees. VAT will be rate applicable at time of charter. €3,500 one way relocation fee Split to Dubrovnik whilst in Croatia

Zeljko was born and raised in the beautiful historic town of Split, Croatia. Growing up he was always involved in various sports and outdoor activities in particular sailing. Zeljko participated in numerous sailing regattas and represented his yacht club locally and internationally. Having been raised on the Dalmatian coast his family has always been involved with boating and the sea. They own a vintage wooden boat that has been in the family for over 60 years and ran a multigenerational sail manufacturing company.
After graduating nautical school, Zeljko obtained maritime certificates and hands on experience. He started working on commercial vessels in the off shore oil and gas industry. After settling down and starting a family Zeljko transitioned to private and charter yachts. Most of his professional career was spent on yachts from 35 to 130 feet.
Zeljko has a true passion for yachting which he loves to share with the crew and charter guests. His hobbies include: sailing, biking, skiing, tennis and vintage boat restoration. Zeljko currently resides in Split with his wife Anamaria and daughter Karmen.
As the Captain Zeljko is responsible for the safety, overall running and financial management of the vessel, crew and guests. He ensures the safe and efficient operation of the yacht at all times, including compliance with all safety procedures and regulations, as well as adherence to International Flag, Port State and local laws and regulations. The Captain has a close relationship with his crew and provides leadership, guidance and support, while encouraging both teamwork and individual accountability.
Licenses & Certificates: Master of a ship up to 500 GT (STCW II/3), Officer in charge of the navigation watch on a ship of 500 GT or more (STCW II/1), GMDSS general radio operator`s certificate (STCW IV/2), ARPA (operational level), Application of leadership and team working skills (STCW A-II/1, A-III/1,A-III/6), Bridge resource management (STCW A-II/1,A-II/2), Basic training (STCW VI/1), Passenger ship safety (STCW V/2), Proficiency in survival craft and rescue boats operations (STCW VI/2-1), Medical first aid (STCW VI/4-1), Advanced fire-fighting (STCW VI/3), Security awareness (STCW VI/6-1), Seafarer with designated security duties (STCW VI/6-2), Rating forming a part of the navigational watch (STCW II/4)

ROBERT BABIC | CHEF | CROATIAN
Robert was born and raised in Rijeka, Croatia on the northern part of the Adriatic coast. Cooking was a big part of his upbringing and he enjoyed helping his mother in the kitchen since he can remember. After graduating from high school, he further wanted to explore his passion and applied to Culinary School where he participated in many prestigious and international gastronomic competitions with remarkable results. Robert graduated with a degree as Bachelor of Culinary Arts and started his career in Italy. In 2002 he opened his own restaurant specializing in continental and Mediterranean food. After 16 years he decided to combine his passion for cooking and his love for the sea. Yachting seemed to be a natural choice and he is excited to combine them as Chef on M/Y ASHA. It is his goal to surpass guest expectations and adhering to any of their necessary dietary restrictions. As a highly accomplished chef with 20 years of experience in highly rated restaurants he possesses a wide range of knowledge and experience.
Robert currently resides in Rijeka with his wife and two children, Lucas and Annai. In his free time, he enjoys swimming, soccer, diving, hiking and skiing. He is fluent in Spanish, English and Croatian.

MARCO DRAGUN | DECKHAND | CROATIAN
Marko was born and raised in the sunny coastal town of Kastela, Croatia where he still resides with his wife and son. He is a graduate of Maritime Nautical school with a degree in electrical engineering. Since he was young he loved being around the water and enjoyed surfing, sailing and rowing. Marko started in yachting 10 years ago and travelled most the Mediterranean including Croatia, Spain, South of France, Monaco, Italy, Greece, Corsica and Montenegro. He has worked on yachts ranging from 50 to 170 feet.
His hobbies include mountain biking, computers, travelling, sailing, windsurfing, spearfishing, swimming and water sports.

DINKA RADULIC | CHIEF STEWARDESS | CROATIAN
With a Bachelor's Degree in Tourism and Communications from the University of Split, Dinka excels in her job as Stewardess onboard ASHA. She has a strong background in service and excellent housekeeping skills and has worked as chief stewardess and solo stewardess on a variety of yachts ranging from 26m to 40m. Always popular with charter guests and crew alike, she loves to arrange formal evenings and theme nights and can mix up a tasty cocktail.
When not working on ASHA, Dinka loves to travel and enjoys experiencing new countries and cultures. She has volunteered all around the world and loves diving, horse-riding, and design.
Licenses & Certificates: STCW 95, Basic Safety Training, ENG 1 Medical, Silver Service Training, Level 2 Food Safety and Hygiene for catering and Proficiency in Designated Security Course. She is fluent in English and Croatian and has conversational Italian.
";s:5:"photo";s:0:"";s:4:"size";s:1:"4";s:12:"captain_name";s:12:"Zeljko Vidan";s:14:"captain_nation";s:8:"Croatian";s:12:"captain_born";s:1:"0";s:15:"captain_license";s:0:"";s:18:"captain_yr_sailing";s:1:"0";s:21:"captain_yr_chartering";s:1:"0";s:17:"captain_languages";s:0:"";s:9:"crew_name";s:0:"";s:16:"crew_nationality";s:0:"";s:12:"crew_license";s:0:"";s:15:"crew_yr_sailing";s:1:"0";s:18:"crew_yr_chartering";s:1:"0";s:7:"crewimg";a:1:{i:1;a:2:{s:3:"url";s:72:"https://www.centralyachtagent.com/yachtadmin/yachtlg/yacht5410/5410crew1";s:4:"desc";s:7:"Captain";}}}
a:16:{s:4:"info";s:5390:"ZELJKO VIDAN | CAPTAIN | CROATIAN
https://www.centralyachtagent.com/yachtadmin/yachtlg/yacht5410/5410brochure1.jpg
a:16:{i:2;a:2:{s:3:"url";s:80:"https://www.centralyachtagent.com/yachtadmin/yachtlg/yacht5410/5410brochure2.jpg";s:4:"desc";s:0:"";}i:3;a:2:{s:3:"url";s:80:"https://www.centralyachtagent.com/yachtadmin/yachtlg/yacht5410/5410brochure3.jpg";s:4:"desc";s:0:"";}i:4;a:2:{s:3:"url";s:80:"https://www.centralyachtagent.com/yachtadmin/yachtlg/yacht5410/5410brochure4.jpg";s:4:"desc";s:0:"";}i:5;a:2:{s:3:"url";s:80:"https://www.centralyachtagent.com/yachtadmin/yachtlg/yacht5410/5410brochure5.jpg";s:4:"desc";s:0:"";}i:6;a:2:{s:3:"url";s:80:"https://www.centralyachtagent.com/yachtadmin/yachtlg/yacht5410/5410brochure6.jpg";s:4:"desc";s:0:"";}i:7;a:2:{s:3:"url";s:80:"https://www.centralyachtagent.com/yachtadmin/yachtlg/yacht5410/5410brochure7.jpg";s:4:"desc";s:0:"";}i:8;a:2:{s:3:"url";s:80:"https://www.centralyachtagent.com/yachtadmin/yachtlg/yacht5410/5410brochure8.jpg";s:4:"desc";s:0:"";}i:9;a:2:{s:3:"url";s:80:"https://www.centralyachtagent.com/yachtadmin/yachtlg/yacht5410/5410brochure9.jpg";s:4:"desc";s:0:"";}i:10;a:2:{s:3:"url";s:81:"https://www.centralyachtagent.com/yachtadmin/yachtlg/yacht5410/5410brochure10.jpg";s:4:"desc";s:0:"";}i:11;a:2:{s:3:"url";s:81:"https://www.centralyachtagent.com/yachtadmin/yachtlg/yacht5410/5410brochure11.jpg";s:4:"desc";s:0:"";}i:12;a:2:{s:3:"url";s:81:"https://www.centralyachtagent.com/yachtadmin/yachtlg/yacht5410/5410brochure12.jpg";s:4:"desc";s:0:"";}i:13;a:2:{s:3:"url";s:81:"https://www.centralyachtagent.com/yachtadmin/yachtlg/yacht5410/5410brochure13.jpg";s:4:"desc";s:0:"";}i:14;a:2:{s:3:"url";s:81:"https://www.centralyachtagent.com/yachtadmin/yachtlg/yacht5410/5410brochure14.jpg";s:4:"desc";s:0:"";}i:15;a:2:{s:3:"url";s:81:"https://www.centralyachtagent.com/yachtadmin/yachtlg/yacht5410/5410brochure15.jpg";s:4:"desc";s:0:"";}i:16;a:2:{s:3:"url";s:81:"https://www.centralyachtagent.com/yachtadmin/yachtlg/yacht5410/5410brochure16.jpg";s:4:"desc";s:0:"";}i:17;a:2:{s:3:"url";s:81:"https://www.centralyachtagent.com/yachtadmin/yachtlg/yacht5410/5410brochure17.jpg";s:4:"desc";s:0:"";}}
https://www.cyabrochure.com/ebn/265/pbaX/5410/1
https://www.cyabrochure.com/ebn/265/pbaX/5410/3
a:24:{s:4:"tube";s:3:"Yes";s:6:"guests";s:1:"9";s:8:"maxspeed";s:2:"27";s:11:"pref_pickup";s:0:"";s:12:"other_pickup";s:0:"";s:5:"draft";s:1:"7";s:14:"cruising_speed";s:2:"17";s:7:"helipad";s:2:"No";s:2:"ac";s:4:"Full";s:8:"ac_night";s:3:"Yes";s:5:"built";s:4:"2006";s:10:"turnaround";s:0:"";s:6:"cabins";s:1:"4";s:4:"king";s:1:"0";s:5:"queen";s:1:"0";s:6:"double";s:1:"3";s:6:"single";s:1:"0";s:4:"twin";s:1:"1";s:7:"pullman";s:1:"0";s:7:"showers";s:1:"0";s:6:"basins";s:1:"0";s:5:"heads";s:1:"0";s:14:"electric_heads";s:1:"0";s:7:"jacuzzi";s:3:"Yes";}
a:7:{s:4:"flag";s:14:"Cayman islands";s:8:"homeport";s:11:"Cannes/Nice";s:13:"resort_course";s:0:"";s:12:"yacht_permit";s:1:"2";s:13:"yacht_license";s:1:"2";s:9:"yacht_mca";s:1:"1";s:15:"yacht_insurance";s:0:"";}
a:22:{s:11:"dinghy_size";s:12:"13' Avon RIB";s:12:"kayaks_1_pax";s:1:"0";s:12:"kayaks_2_pax";s:3:"Yes";s:9:"dinghy_hp";s:0:"";s:13:"floating_mats";s:1:"0";s:10:"dinghy_pax";s:0:"";s:13:"swim_platform";s:3:"Yes";s:16:"water_skis_adult";s:3:"Yes";s:15:"boarding_ladder";s:0:"";s:15:"water_skis_kids";s:1:"0";s:14:"sailing_dinghy";s:0:"";s:8:"jet_skis";s:3:"Yes";s:11:"beach_games";s:1:"0";s:12:"wave_runners";s:1:"0";s:9:"kneeboard";s:1:"0";s:10:"windsurfer";s:1:"0";s:12:"snorkel_gear";s:3:"Yes";s:17:"underwater_camera";s:1:"0";s:7:"scurfer";s:1:"0";s:16:"underwater_video";s:1:"0";s:10:"wake_board";s:1:"0";s:11:"paddleboard";s:3:"Yes";}
0
0
0
3
1
0
2011
0
0
Cannes/Nice
Croatia
5410 ASHA Power 92 N 92.00 Ft 28.00 m 20 7 Feet 9 4 0 0 0 3 1 0 2011 No Yes Full 2006 Maiora http://www.viewyacht.com/asha https://www.cyabrochure.com/ebn/265/pbaX/5410/1 17 27 Experience the Mediterranean in style and comfort aboard this fast, fun and family friendly yacht. The distinct blue hull and sleek exterior make her a head turner in the most exclusive yachting locations. With accommodations for up to 9 guests, her layout offers everything from sunbathing, private dining, and entertainment areas both al fresco and inside the vessel. Come find out why ASHA has been one of the most popular charter vessels in the Mediterranean for past years! <br /> <br /> Entering the yacht, guests will find a large salon with a comfortable sofa and a dining table seating 8 guests. <br /> <br /> The aft deck features a table with a sofa and chairs offering comfortable al-fresco dining for 8 guests. The flybridge also boasts comfortable exterior dining for 8 guests, a Jacuzzi and ample sunbathing, as well as sofas where you can watch the Captain manoeuvre the yacht. There is also a wet bar with a fridge and ice maker.<br /> <br /> ASHA accommodates 9 guests in 4 guest cabins, all ensuite, on the lower deck. <br /> <br /> AFT DECK: Features a new table with a sofa and chairs offering comfortable exterior dining for 8 guests.<br /> <br /> FLYBRIDGE: Features exterior comfortable dining for 8 guests, a jacuzzi and ample sunbathing, as well as sofas where you can watch the Captain manoeuvre the yacht. Wetbar with fridge and icemaker. <br /> <br /> FORWARD SUNBATHING: Sunpad for forward sunbathing. <br /> <br /> SWIM PLATFORM: With two sun chairs and an umbrella. <br /> <br /> SALON &amp; INTERIOR DINING: Large, comfortable sofa and a table for interior dining for 8 guests. <br /> <br /> STATEROOMS:<br /> <br /> The master stateroom situated below aft features a queen size bed, a sofa and a walk in closet leading to the ensuite, which has double zinks, a bath tub and a heated towel rack.<br /> <br /> The VIP stateroom below forward has a queen size bed, a wardrobe and a en ensuite with a shower and a heated towel rack. <br /> <br /> The Twin stateroom below (port side) has two single beds, a pullman bed, a wardrobe and an ensuite with a shower and a heated towel rack. <br /> <br /> The Double stateroom below (starboard side) features a double bed, a wardrobe and an enquite with a shower and a heated towel rack.<br /> <br /> Bed dimensions:<br /> Master 200x160<br /> VIP 190x160<br /> Double 190x 140<br /> Twin 190x 75 ( x2)<br /> <br /> <br /> Audio Visual Equipment and Deck Facilities:<br /> <br /> Decoders: British Sky <br /> <br /> Salon: Flat Screen SHARP 32" TV with the latest Bose sound system (including the aft deck and the fly bridge) <br /> <br /> Flatscreen TV and DVD in all cabins (26" in the Master and VIP, 15" in the double and the twin cabin) with Bose sound system and remote controls. <br /> <br /> I-Pod connections in all cabins, saloon and fly bridge. <br /> <br /> Wi-Fi<br /> <br /> Communications:<br /> Internet for guests (3G Card), <br /> GSM Telephone and Fax &#8364;50,000 &#8364;45,000 45000 50000 EUR &#8364; High season EUR 50,000 per week + 35% APA Low season EUR 45,000 per week + 35% APA Please inquire for delivery fees. VAT will be rate applicable at time of charter. &euro;3,500 one way relocation fee Split to Dubrovnik whilst in Croatia Plus Expenses Yes Yes 0 0 Yes 0 0 Inq Inq 0 Inq Inq 0 No Yes Yes Engines: 2 MTU 16V 2000 M 91 HP 2000 each with gearboxes ZF Generators: 2 Silencers Onan of 32.5 + 22.5 kw with gas separation 450 0 13' Avon RIB Yes 0 Yes 0 0 Yes 0 Yes Yes 0 0 0 Yes 0 Yes 0 No 0 0 Yacht offers Rendezvous Diving only - Not Onboard 0 0 0 0 0 0 0 0 https://www.centralyachtagent.com/yachtadmin/yachtimg/yacht5410/5410brochure1.jpg https://www.centralyachtagent.com/yachtadmin/yachtimg/yacht5410/5410brochure2.jpg https://www.centralyachtagent.com/yachtadmin/yachtimg/yacht5410/5410brochure3.jpg https://www.centralyachtagent.com/yachtadmin/yachtimg/yacht5410/5410brochure4.jpg https://www.centralyachtagent.com/yachtadmin/yachtimg/yacht5410/5410brochure5.jpg https://www.centralyachtagent.com/yachtadmin/yachtimg/yacht5410/5410brochure6.jpg https://www.centralyachtagent.com/yachtadmin/yachtimg/yacht5410/5410brochure7.jpg https://www.centralyachtagent.com/yachtadmin/yachtimg/yacht5410/5410brochure8.jpg https://www.centralyachtagent.com/yachtadmin/yachtimg/yacht5410/5410brochure9.jpg https://www.centralyachtagent.com/yachtadmin/yachtimg/yacht5410/5410brochure10.jpg https://www.centralyachtagent.com/yachtadmin/yachtimg/yacht5410/5410brochure11.jpg https://www.centralyachtagent.com/yachtadmin/yachtimg/yacht5410/5410brochure12.jpg https://www.centralyachtagent.com/yachtadmin/yachtimg/yacht5410/5410brochure13.jpg https://www.centralyachtagent.com/yachtadmin/yachtimg/yacht5410/5410brochure14.jpg https://www.centralyachtagent.com/yachtadmin/yachtimg/yacht5410/5410brochure15.jpg https://www.centralyachtagent.com/yachtadmin/yachtimg/yacht5410/5410brochure16.jpg https://www.centralyachtagent.com/yachtadmin/yachtimg/yacht5410/5410brochure17.jpg https://www.cyabrochure.com/ebn/265/pbaX/5410/3 https://www.cyabrochure.com/ebn/265/pbaX/5410/4 4m / 13' Avon RIB DL 4.00 Jet - housed in garage<br /> 2018 Yamaha VX Cruiser HO Waverunner<br /> 2 tandem kayaks<br /> 16 ft bounce park<br /> 3 seat towable lounge<br /> Banana boat<br /> Trampoline<br /> 10 person flamingo<br /> Waterskis <br /> Monoski <br /> Snorkeling Equipment <br /> Donut <br /> Fishing Rods <br /> 2 Inflatable Paddle Boards<br /> Jacuzzi on flybridge<br /> Yoga Mats<br /> Free weights<br /> Board games Internet for guests (3G Card), <br /> GSM Telephone and Fax W. Med -Naples/Sicily, W. Med -Riviera/Cors/Sard., Croatia Croatia 0 0 0 0 https://www.centralyachtagent.com/yachtadmin/yachtlg/yacht5410/5410brochure1.jpg https://www.centralyachtagent.com/yachtadmin/yachtlg/yacht5410/5410brochure2.jpg https://www.centralyachtagent.com/yachtadmin/yachtlg/yacht5410/5410brochure3.jpg https://www.centralyachtagent.com/yachtadmin/yachtlg/yacht5410/5410brochure4.jpg https://www.centralyachtagent.com/yachtadmin/yachtlg/yacht5410/5410brochure5.jpg https://www.centralyachtagent.com/yachtadmin/yachtlg/yacht5410/5410brochure6.jpg https://www.centralyachtagent.com/yachtadmin/yachtlg/yacht5410/5410brochure7.jpg https://www.centralyachtagent.com/yachtadmin/yachtlg/yacht5410/5410brochure8.jpg https://www.centralyachtagent.com/yachtadmin/yachtlg/yacht5410/5410brochure9.jpg https://www.centralyachtagent.com/yachtadmin/yachtlg/yacht5410/5410brochure10.jpg https://www.centralyachtagent.com/yachtadmin/yachtlg/yacht5410/5410brochure11.jpg https://www.centralyachtagent.com/yachtadmin/yachtlg/yacht5410/5410brochure12.jpg https://www.centralyachtagent.com/yachtadmin/yachtlg/yacht5410/5410brochure13.jpg https://www.centralyachtagent.com/yachtadmin/yachtlg/yacht5410/5410brochure14.jpg https://www.centralyachtagent.com/yachtadmin/yachtlg/yacht5410/5410brochure15.jpg https://www.centralyachtagent.com/yachtadmin/yachtlg/yacht5410/5410brochure16.jpg https://www.centralyachtagent.com/yachtadmin/yachtlg/yacht5410/5410brochure17.jpg 4 Inq No Zeljko Vidan Croatian 0 0 0 0 0 ZELJKO VIDAN | CAPTAIN | CROATIAN<br /> Zeljko was born and raised in the beautiful historic town of Split, Croatia. Growing up he was always involved in various sports and outdoor activities in particular sailing. Zeljko participated in numerous sailing regattas and represented his yacht club locally and internationally. Having been raised on the Dalmatian coast his family has always been involved with boating and the sea. They own a vintage wooden boat that has been in the family for over 60 years and ran a multigenerational sail manufacturing company.<br /> After graduating nautical school, Zeljko obtained maritime certificates and hands on experience. He started working on commercial vessels in the off shore oil and gas industry. After settling down and starting a family Zeljko transitioned to private and charter yachts. Most of his professional career was spent on yachts from 35 to 130 feet.<br /> Zeljko has a true passion for yachting which he loves to share with the crew and charter guests. His hobbies include: sailing, biking, skiing, tennis and vintage boat restoration. Zeljko currently resides in Split with his wife Anamaria and daughter Karmen.<br /> As the Captain Zeljko is responsible for the safety, overall running and financial management of the vessel, crew and guests. He ensures the safe and efficient operation of the yacht at all times, including compliance with all safety procedures and regulations, as well as adherence to International Flag, Port State and local laws and regulations. The Captain has a close relationship with his crew and provides leadership, guidance and support, while encouraging both teamwork and individual accountability.<br /> Licenses &amp; Certificates: Master of a ship up to 500 GT (STCW II/3), Officer in charge of the navigation watch on a ship of 500 GT or more (STCW II/1), GMDSS general radio operator`s certificate (STCW IV/2), ARPA (operational level), Application of leadership and team working skills (STCW A-II/1, A-III/1,A-III/6), Bridge resource management (STCW A-II/1,A-II/2), Basic training (STCW VI/1), Passenger ship safety (STCW V/2), Proficiency in survival craft and rescue boats operations (STCW VI/2-1), Medical first aid (STCW VI/4-1), Advanced fire-fighting (STCW VI/3), Security awareness (STCW VI/6-1), Seafarer with designated security duties (STCW VI/6-2), Rating forming a part of the navigational watch (STCW II/4)<br /> <br /> ROBERT BABIC | CHEF | CROATIAN<br /> Robert was born and raised in Rijeka, Croatia on the northern part of the Adriatic coast. Cooking was a big part of his upbringing and he enjoyed helping his mother in the kitchen since he can remember. After graduating from high school, he further wanted to explore his passion and applied to Culinary School where he participated in many prestigious and international gastronomic competitions with remarkable results. Robert graduated with a degree as Bachelor of Culinary Arts and started his career in Italy. In 2002 he opened his own restaurant specializing in continental and Mediterranean food. After 16 years he decided to combine his passion for cooking and his love for the sea. Yachting seemed to be a natural choice and he is excited to combine them as Chef on M/Y ASHA. It is his goal to surpass guest expectations and adhering to any of their necessary dietary restrictions. As a highly accomplished chef with 20 years of experience in highly rated restaurants he possesses a wide range of knowledge and experience.<br /> Robert currently resides in Rijeka with his wife and two children, Lucas and Annai. In his free time, he enjoys swimming, soccer, diving, hiking and skiing. He is fluent in Spanish, English and Croatian.<br /> <br /> MARCO DRAGUN | DECKHAND | CROATIAN <br /> Marko was born and raised in the sunny coastal town of Kastela, Croatia where he still resides with his wife and son. He is a graduate of Maritime Nautical school with a degree in electrical engineering. Since he was young he loved being around the water and enjoyed surfing, sailing and rowing. Marko started in yachting 10 years ago and travelled most the Mediterranean including Croatia, Spain, South of France, Monaco, Italy, Greece, Corsica and Montenegro. He has worked on yachts ranging from 50 to 170 feet.<br /> His hobbies include mountain biking, computers, travelling, sailing, windsurfing, spearfishing, swimming and water sports.<br /> <br /> DINKA RADULIC | CHIEF STEWARDESS | CROATIAN <br /> With a Bachelor's Degree in Tourism and Communications from the University of Split, Dinka excels in her job as Stewardess onboard ASHA. She has a strong background in service and excellent housekeeping skills and has worked as chief stewardess and solo stewardess on a variety of yachts ranging from 26m to 40m. Always popular with charter guests and crew alike, she loves to arrange formal evenings and theme nights and can mix up a tasty cocktail.<br /> When not working on ASHA, Dinka loves to travel and enjoys experiencing new countries and cultures. She has volunteered all around the world and loves diving, horse-riding, and design.<br /> Licenses &amp; Certificates: STCW 95, Basic Safety Training, ENG 1 Medical, Silver Service Training, Level 2 Food Safety and Hygiene for catering and Proficiency in Designated Security Course. She is fluent in English and Croatian and has conversational Italian.<br /> https://www.centralyachtagent.com/yachtadmin/yachtlg/yacht5410/5410crew1 Zeljko Vidan Captain Cayman islands Cannes/Nice Croatia Yes 0 Licensed to charter in Croatia Summer 2020 will be based in SOF MYBA High season EUR 50,000 per week + 35% APA Low season EUR 45,000 per week + 35% APA Please inquire for delivery fees. VAT will be rate applicable at time of charter. &euro;3,500 one way relocation fee Split to Dubrovnik whilst in Croatia Litres/Hr 380 2 2 1 Yes Yes Onboard WIFI Refit 2017: New hull paint<br /> <br /> Refit 2011: Asha underwent an extensive refit in April 2011. The refit included extending the swim platform making the length of the yacht 92', which has allow space for two sun chairs and an umbrella on the swim platform. The refit also included installing zero speed stabilizers and underwater lights, adding a jacuzzi on the flybridge, painting the hull dark blue and changing the external soft furnishings to matching dark blue. A new TV was installed on the flybridge for day and night use. <br /> <br /> The interior refit included new carpets throughout, new soft furnishings in the salon and in all guest cabins and new artwork and other decorations throughout. All the ensuites were equipped with heated towel racks. 954-816-5910 [email protected] Worth Avenue Yachts - Jenny Mullen Jenny Mullen 19548165910 [email protected]
1197
a:61:{s:10:"09-21-2020";i:2;s:10:"09-22-2020";i:3;s:10:"09-23-2020";i:2;s:10:"09-24-2020";i:2;s:10:"09-25-2020";i:2;s:10:"09-26-2020";i:3;s:10:"09-27-2020";i:2;s:10:"09-28-2020";i:2;s:10:"09-29-2020";i:2;s:10:"09-30-2020";i:1;s:10:"10-01-2020";i:1;s:10:"10-02-2020";i:2;s:10:"10-03-2020";i:3;s:10:"10-04-2020";i:2;s:10:"10-05-2020";i:2;s:10:"10-06-2020";i:2;s:10:"10-07-2020";i:2;s:10:"10-09-2020";i:1;s:10:"10-10-2020";i:2;s:10:"10-11-2020";i:2;s:10:"10-12-2020";i:3;s:10:"10-13-2020";i:2;s:10:"10-14-2020";i:2;s:10:"10-15-2020";i:2;s:10:"10-16-2020";i:2;s:10:"10-17-2020";i:2;s:10:"10-18-2020";i:2;s:10:"10-19-2020";i:2;s:10:"10-20-2020";i:3;s:10:"10-21-2020";i:2;s:10:"10-22-2020";i:2;s:10:"10-23-2020";i:2;s:10:"10-24-2020";i:2;s:10:"10-25-2020";i:3;s:10:"10-26-2020";i:2;s:10:"10-27-2020";i:2;s:10:"10-28-2020";i:2;s:10:"10-29-2020";i:2;s:10:"10-30-2020";i:3;s:10:"10-31-2020";i:2;s:10:"11-01-2020";i:2;s:10:"11-02-2020";i:2;s:10:"11-03-2020";i:2;s:10:"11-04-2020";i:2;s:10:"11-05-2020";i:1;s:10:"11-06-2020";i:2;s:10:"11-11-2020";i:1;s:10:"11-12-2020";i:1;s:10:"11-15-2020";i:1;s:10:"11-17-2020";i:2;s:10:"11-18-2020";i:1;s:10:"11-19-2020";i:1;s:10:"11-20-2020";i:1;s:10:"11-24-2020";i:1;s:10:"11-25-2020";i:1;s:10:"11-27-2020";i:1;s:10:"11-28-2020";i:2;s:10:"12-01-2020";i:1;s:10:"12-02-2020";i:1;s:10:"12-04-2020";i:1;s:10:"12-05-2020";i:1;}
Licensed to charter in Croatia Summer 2020 will be based in SOF
No
28.00 m
450
Litres/Hr
380
High season EUR 50,000 per week + 35% APA Low season EUR 45,000 per week + 35% APA Please inquire for delivery fees. VAT will be rate applicable at time of charter. €3,500 one way relocation fee Split to Dubrovnik whilst in Croatia
Plus Expenses
https://www.cyabrochure.com/ebn/265/pbaX/5410/4
a:3:{s:16:"green_initiative";s:0:"";s:16:"reusable_bottles";s:0:"";s:19:"other_green_efforts";s:0:"";}

GSM Telephone and Fax";s:11:"full_course";s:0:"";s:14:"air_compressor";s:11:"Not Onboard";s:3:"bcs";s:1:"0";s:11:"weight_sets";s:1:"0";s:16:"number_of_divers";s:1:"0";s:20:"registrations_number";s:1:"0";s:11:"dive_lights";s:1:"0";s:10:"dive_costs";s:0:"";s:14:"scuba_on_board";s:35:"Yacht offers Rendezvous Diving only";}
a:15:{s:5:"tanks";s:1:"0";s:9:"wet_suits";s:1:"0";s:15:"number_of_dives";s:0:"";s:11:"night_dives";s:1:"0";s:9:"dive_info";s:0:"";s:13:"communication";s:59:"Internet for guests (3G Card),
a:4:{s:12:"fishing_gear";s:2:"No";s:17:"fishing_gear_type";s:0:"";s:4:"rods";s:0:"";s:16:"deep_sea_fishing";s:0:"";}